Add a pop of color to your Mediterranean dishes with this easy Turmeric Baked Falafel! The perfect addition to salad, bowls or pita sandwiches. Vegan & gluten-free! Made in partnership with my friends at Pompeian! 💛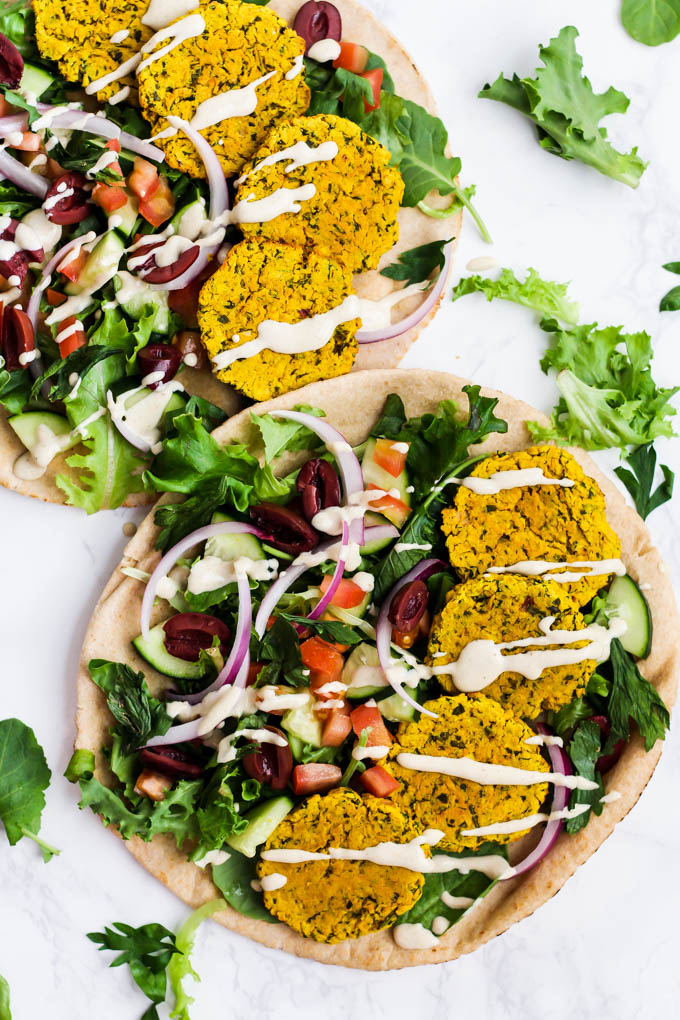 If there's one global cuisine I could eat every single day for the rest of my life, it's Mediterranean. Like, give me allllll the hummus and tahini and fresh vegetables. Of course Mexican food has a special place in my heart, but I'd probably go into a food coma from eating endless chips & guac every day (maybe worth it?).
But hummus? Nah, that never gets old.
Fun fact: I actually used to hate hummus (I remember my first bite), but thankfully I came to my senses and joined Team Hummus. 🏆 *cue We Are the Champions*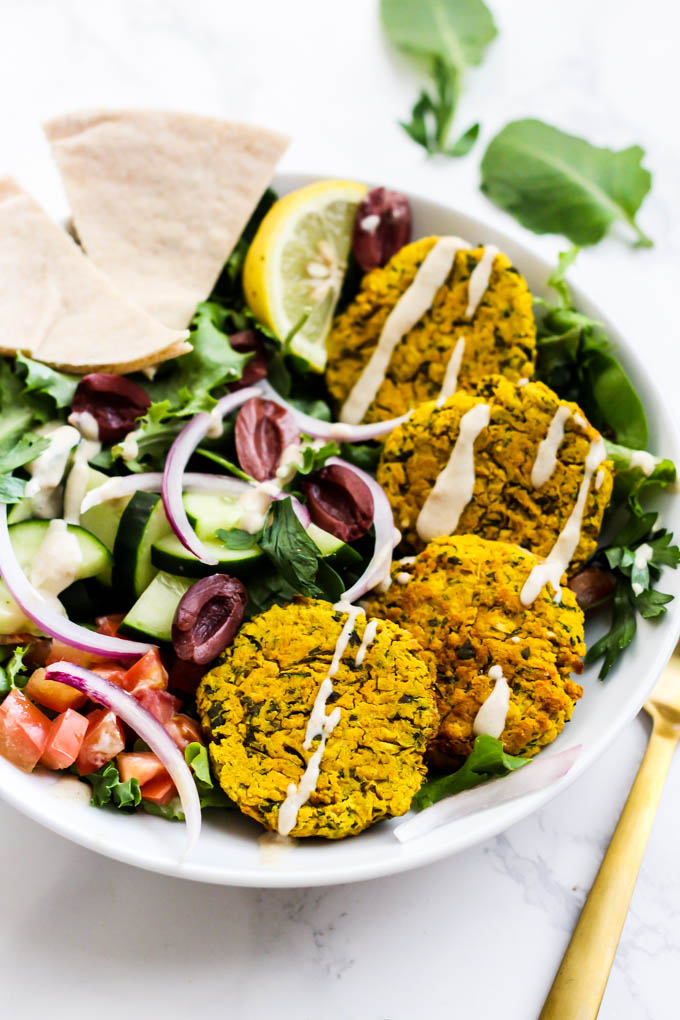 Of course along with my love for hummus, there's also a strong love for everything else Mediterranean: chickpeas, olives, pita, lentil soup, fresh vegetables… I could go on for days. My dream destination is actually Greece, so if anyone wants to be my traveling buddy, I'm accepting applications. Warning: there will be lots of hummus involved.
Since I can't get to Greece right now, one of the next best things is to make it fresh right in my kitchen. I haven't made falafel in awhile, so I got to work on this easy baked falafel with TURMERIC!
Yes, friends, it's as magical as it looks.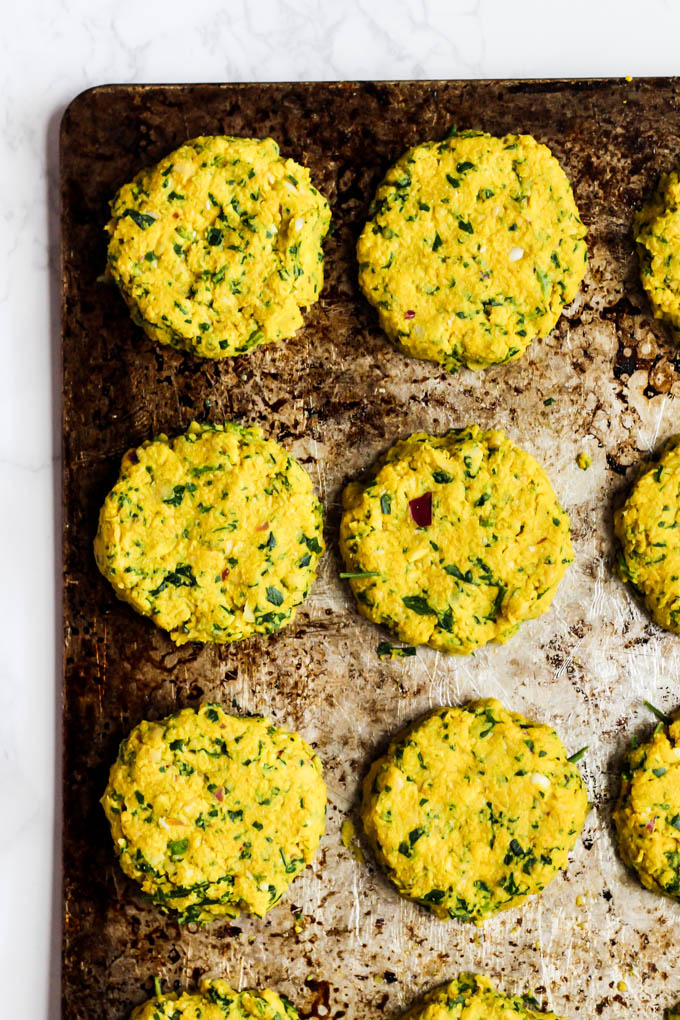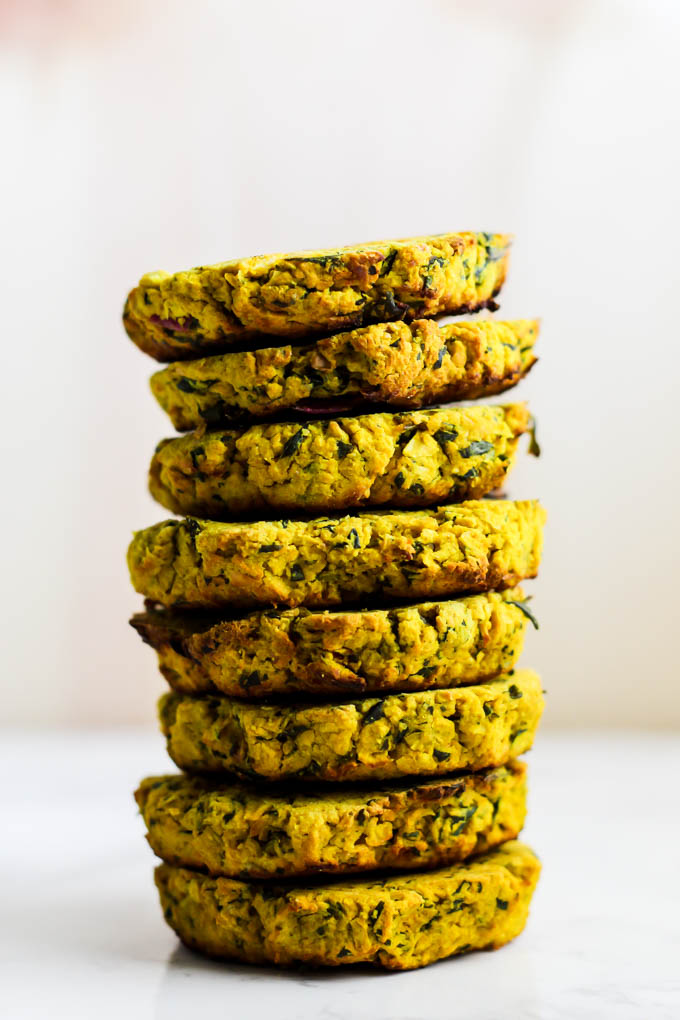 The beauty of this falafel recipe is that it's pretty forgiving – as long as you start with chickpeas, lots of fresh parsley and cilantro and the right seasonings, the rest is pretty simple. If your mix is too wet, add more of the binder (I used oat flour). If it's too dry, add more olive oil or tahini.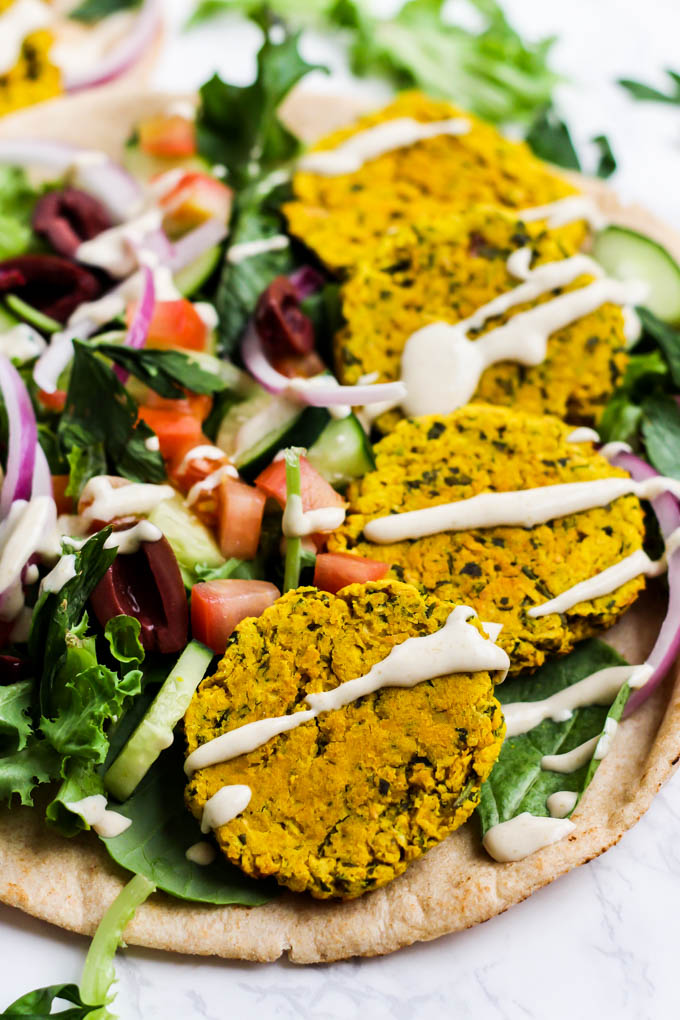 I used Pompeian Organic Extra Virgin Olive Oil in the baked falafel because it gives it a rich, authentic flavor. When I do use olive oil, I make sure to use high-quality ones like those from Pompeian.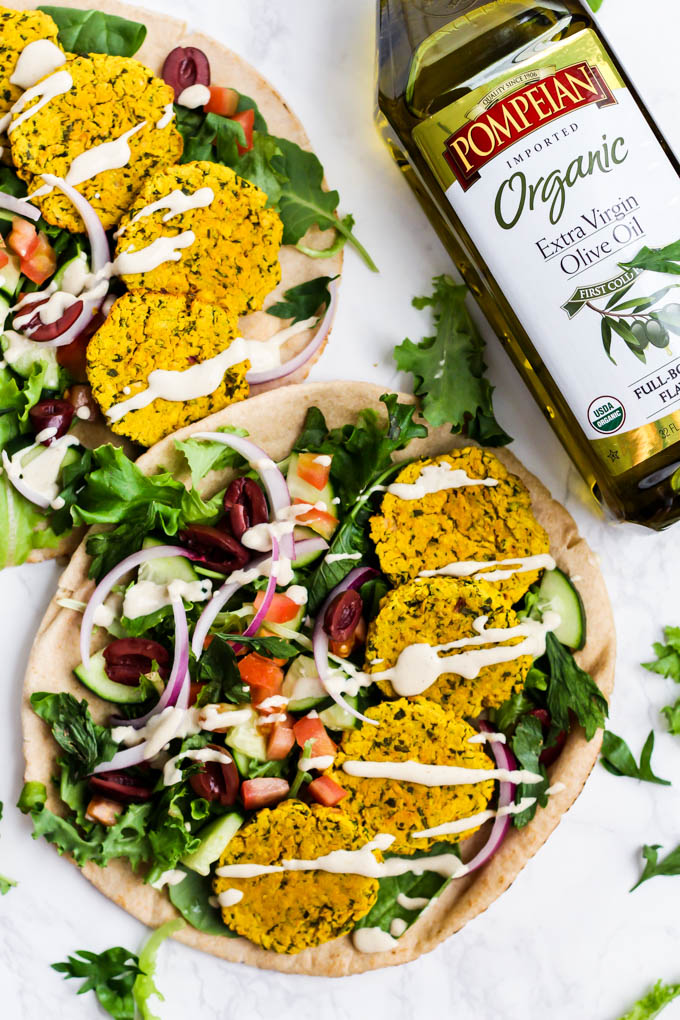 Since Pompeian is all about using trendy ingredients in the kitchen, I decided to use an unexpected ingredient in this baked falafel: turmeric! We've already talked a lot about turmeric in this recipe for Turmeric Lemon Ginger Tea (my fave morning drink!), but here are some quick facts:
Traditionally used in Indian cooking
Antioxidant properties fight free radicals in the body
Contains anti-inflammatory compounds
Linked to better brain function
Used as a natural food coloring
I hope that convinces you to try adding just a little turmeric to your life! Tip: start with this baked falafel recipe. 😋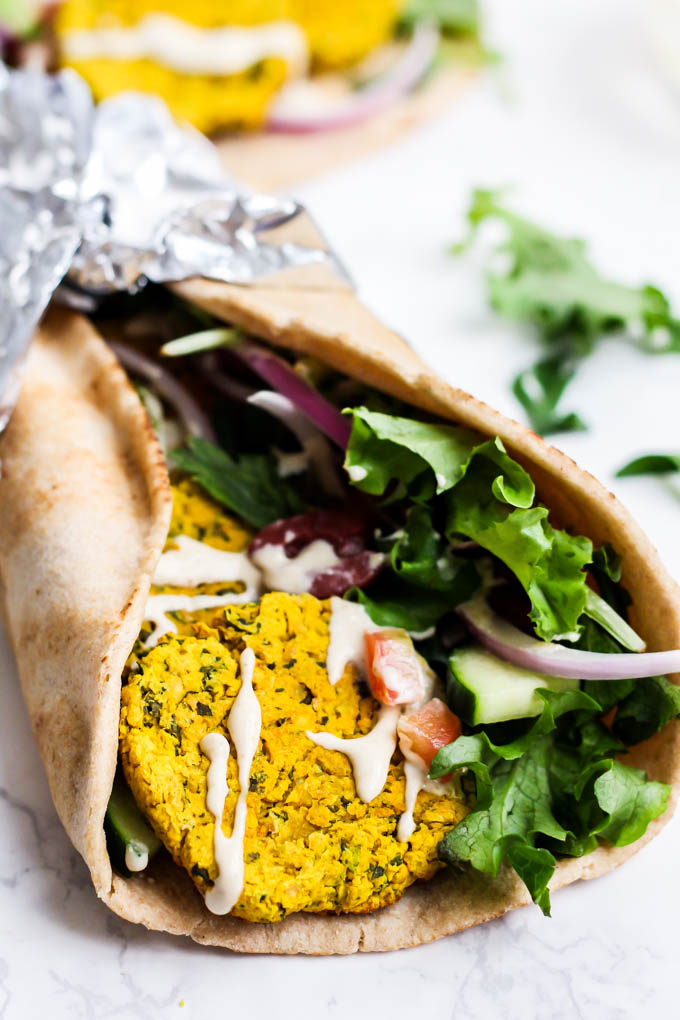 The possibilities are endless for this falafel! I made an open-faced pita, a pita sandwich and a salad. All are great for easy, packable lunches and 30-minute dinners.
However you enjoy it, I know you're going to LOVE this super simple recipe!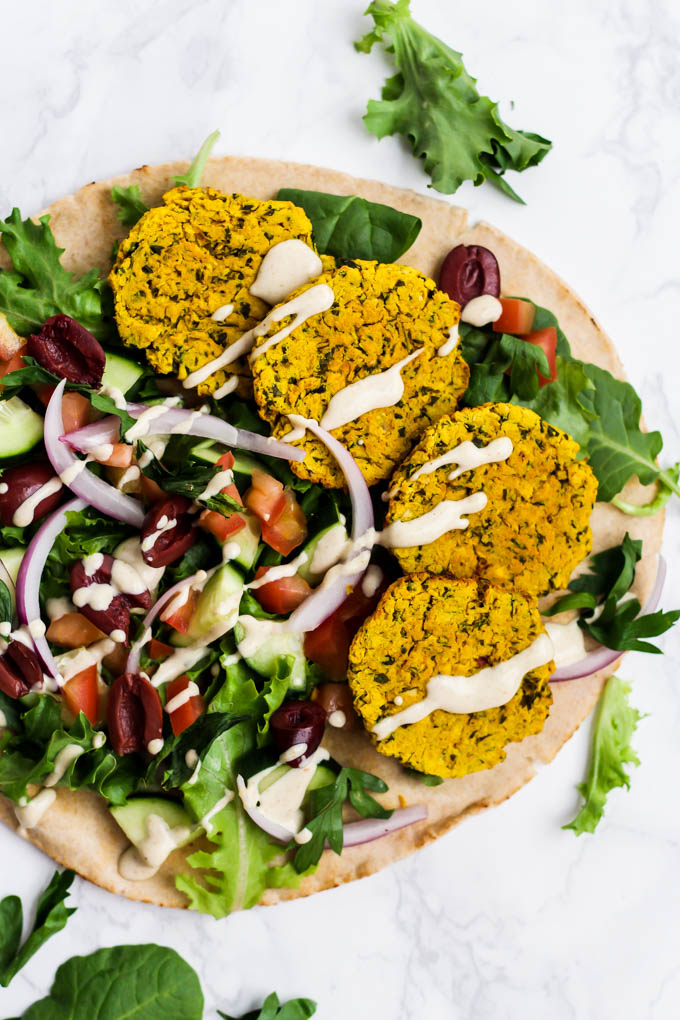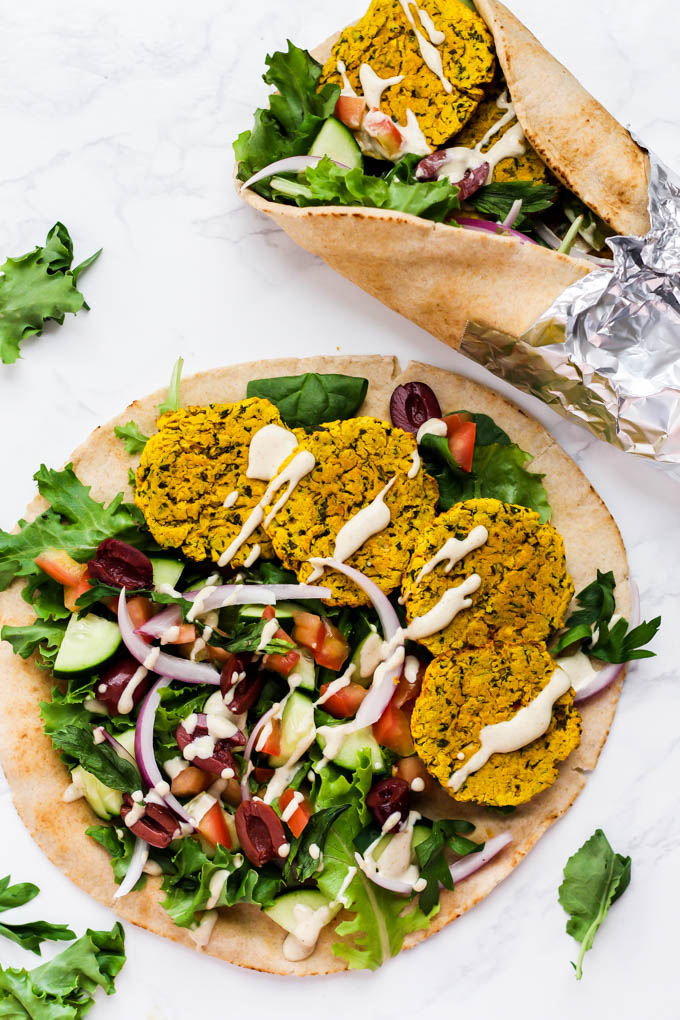 Print
How to make:
Turmeric Baked Falafel (vegan & gluten-free)
Add a pop of color to your Mediterranean dishes with this easy Turmeric Baked Falafel! The perfect addition to salad, bowls or pita sandwiches. Vegan & gluten-free!
Ingredients
2

15-ounce cans chickpeas, drained and rinsed

1/2 cup

fresh cilantro, chopped

1/2 cup

fresh parsley, chopped

1/2 cup

red onion, roughly chopped

4

garlic cloves
Juice of

1

lemon

1 tablespoon

Pompeian Organic Extra Virgin Olive Oil, plus more for greasing the pan

1 tablespoon

ground cumin

2 teaspoons

ground turmeric

1 teaspoon

salt
Dash of cayenne pepper (optional)

1/2 cup

oat flour*
For salads & pita sandwiches: greens, whole wheat pita, tomatoes, cucumbers, red onion, olives, parsley, hummus, tahini or vegan tzatziki
Instructions
Preheat oven to 400F. Grease a baking sheet with olive oil.
In the bowl of a food processor, add chickpeas, cilantro, parsley, onion and garlic. Pulse until chopped and well-combined, with some chunky texture.
Add lemon juice, olive oil, cumin, turmeric, salt and cayenne pepper. Pulse a few times to combine.
Add oat flour, starting with 1/2 cup. Pulse until a firm dough forms, adding more oat flour if necessary.
Form 14-16 balls of dough, flatten them with your hands and place on the baking sheet.
Bake for 15 minutes, then flip. Bake for another 15 minutes.
Optional: Broil on low for 5 minutes to get falafel extra crispy.
Serve falafel on top of salad or in a pita sandwich!
Notes
*To make your own own oat flour, simply blend rolled oats into a fine flour using a high-speed blender or food processor.
Thanks to Pompeian for sponsoring this post! I love working with brands whose products I really love and would honestly recommend. Thank you for supporting this blog that I love oh-so-much!
SaveSave