Turmeric adds a pop of color and flavor to this vegan Baked Falafel recipe! These baked falafels are great in salads, bowls and pita sandwiches. Made in partnership with my friends at Pompeian! 💛
Turmeric Baked Falafel
If there's one global cuisine I could eat every single day for the rest of my life, it's Mediterranean. Like, give me allllll the hummus and tahini and fresh vegetables. Of course Mexican food has a special place in my heart, but I'd probably go into a food coma from eating endless chips & guac every day (maybe worth it?).
But hummus? Nah, that never gets old.
Of course along with my love for hummus, there's also a strong love for everything else Mediterranean: chickpeas, olives, pita, lentil soup, fresh vegetables… I could go on for days.
By far one of my favorite vegan Mediterranean recipes is falafel. I actually haven't made falafel in awhile, so as soon as the craving hit, I got to work on this easy baked falafel with TURMERIC!
Yes, friends, it's as magical as it looks.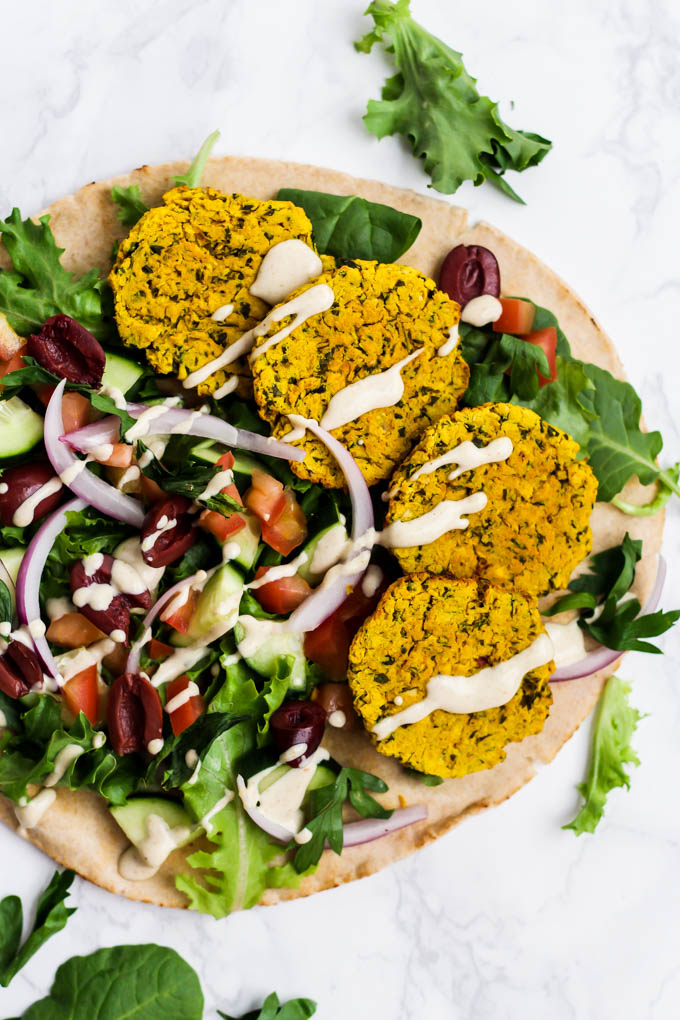 Ingredients for Turmeric Baked Falafel
This baked falafel recipe packs in a ton of flavor thanks to plenty of fresh herbs, lemon juice, garlic and spices. This recipe is also pretty easy to manipulate to suit your preferences. Like things spicy? Add in the cayenne! Love garlic? Add an extra clove!
Now these are baked falafel, so no deep frying over here, but I did still want to make sure they came out crispy and golden. I used Pompeian Organic Extra Virgin Olive Oil in these baked falafel because it gives it a rich, authentic flavor and helps them crisp up in the oven. When I use olive oil, I make sure to use high-quality ones like those from Pompeian.
Here's everything you're gonna need to whip up this vegan falafel recipe:
Chickpeas. We're using canned chickpeas for this recipe, but if you prefer to use dried just make sure to soak them overnight first.
Fresh herbs. You'll want both parsley and cilantro. I HIGHLY recommend going for fresh herbs in this recipe. Dried won't lend the same freshness.
Red onion. If you don't love the sharpness of red onion, try using shallot instead.
Garlic. Again, I recommend using fresh vs. pre-minced or a garlic powder.
Lemon. There's a theme here my friends – go for a fresh lemon!
Pompeian Organic Extra Virgin Olive Oil. Not only does olive oil ensure we end up with super crispy baked falafel, but it also lends a delicious flavor.
Spices. Grab cumin, turmeric, salt and pepper.
Oat flour. This is a gluten-free falafel recipe, so we're using oat flour.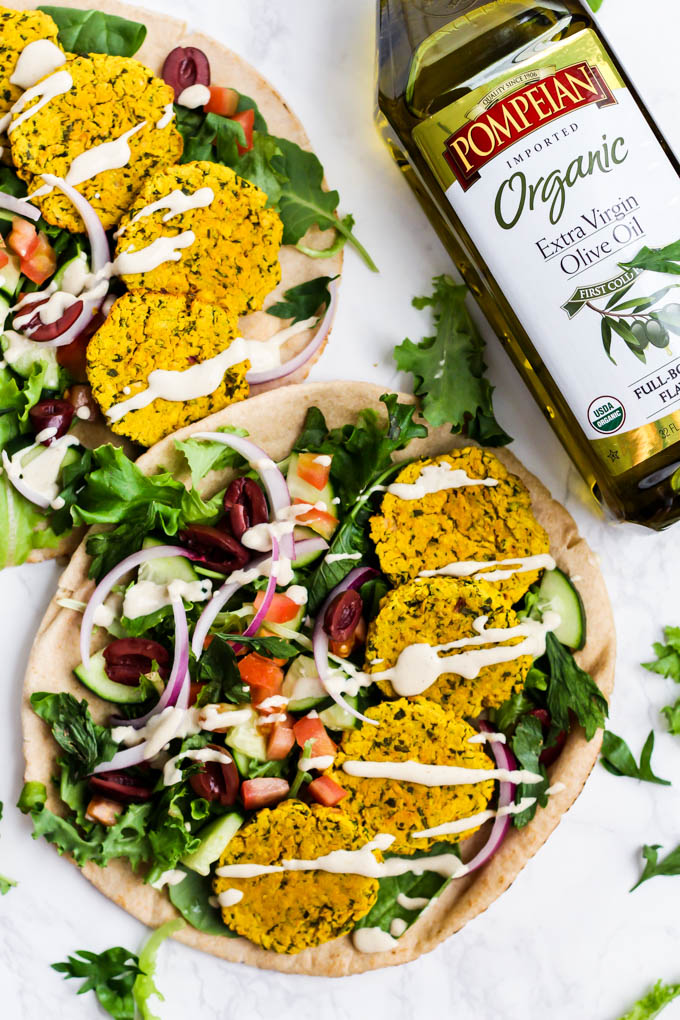 Turmeric Benefits
Since Pompeian is all about using trendy ingredients in the kitchen, I decided to use an unexpected ingredient in this baked falafel recipe: turmeric! We've already talked a lot about turmeric in this recipe for Turmeric Lemon Ginger Tea (my fave morning drink!), but here are some quick facts:
Traditionally used in Indian cooking
Antioxidant properties fight free radicals in the body
Contains anti-inflammatory compounds
Linked to better brain function
Used as a natural food coloring
I hope that convinces you to try adding just a little turmeric to your life! Tip: start with this baked falafel recipe. 😋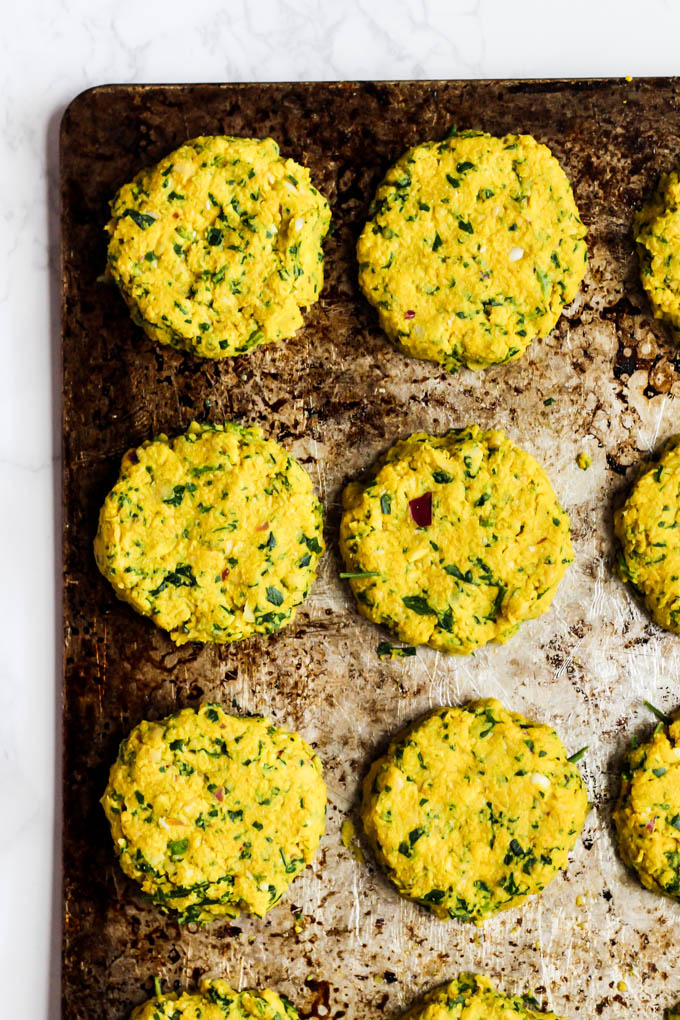 How to Make Baked Falafel
The beauty of this falafel recipe is that it's pretty forgiving – as long as you start with chickpeas, lots of fresh parsley and cilantro and the right seasonings, the rest is pretty simple. If your mix is too wet, add more of the binder (I used oat flour). If it's too dry, add more olive oil or tahini.
To make these baked falafels, start by adding your chickpeas, herbs, onion and garlic to a bowl or food processor and mix until everything is well combined, but still nice and chunky. Then, add in your lemon juice, olive oil and spices and mix. Finally, add in your oat flour little by little until you have a firm dough. Continue to add flour until your dough isn't super sticky and holds its shape.
Then you're ready to form your falafels! Form dough balls and then flatten them into disks, line them up on a cookie sheet and bake in a 400F oven for about 30 minutes, flipping halfway through.
Pro tip – if you want them extraaaa crispy, finish them off under the broiler for 5 minutes. Thank me later.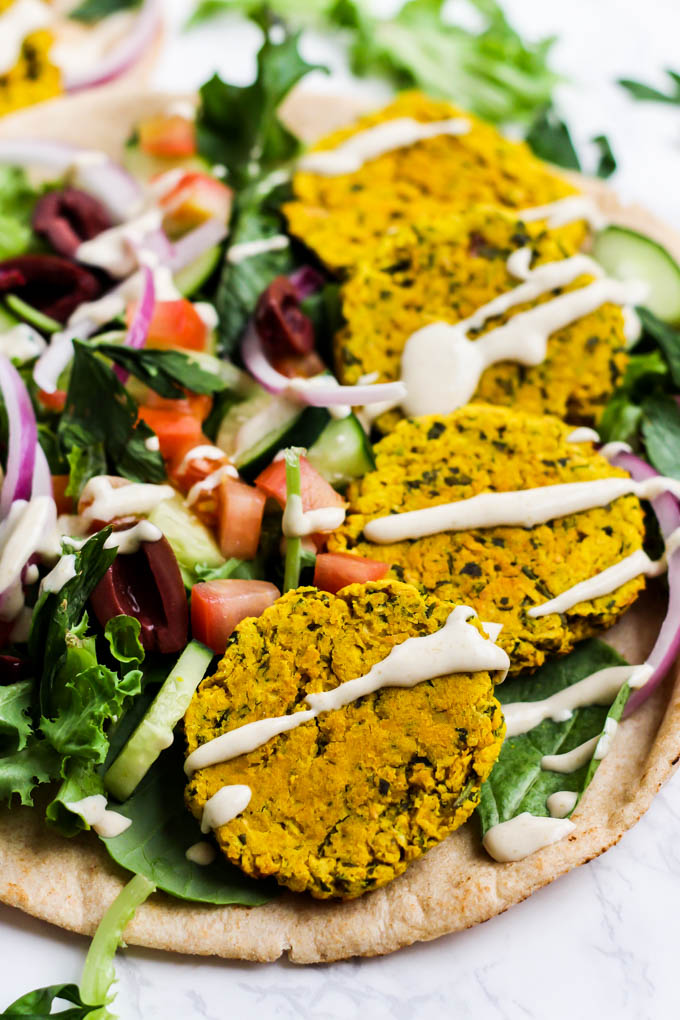 How to Make a Falafel Pita
The possibilities are endless for this falafel! I made an open-faced pita, a pita sandwich and a falafel bowl. All are great for easy, packable lunches or 30-minute dinners. However you enjoy it, I know you're going to LOVE this super simple recipe!
To start, let's make a falafel pita! You can leave it open-faced, or roll it up. Grab a pita and spread a generous layer of hummus on top. Then lay down a bed of greens, line up a few of your falafels in the middle, sprinkle on some cucumber, olives, tomatoes and red onion, and top things off with a drizzle of tahini.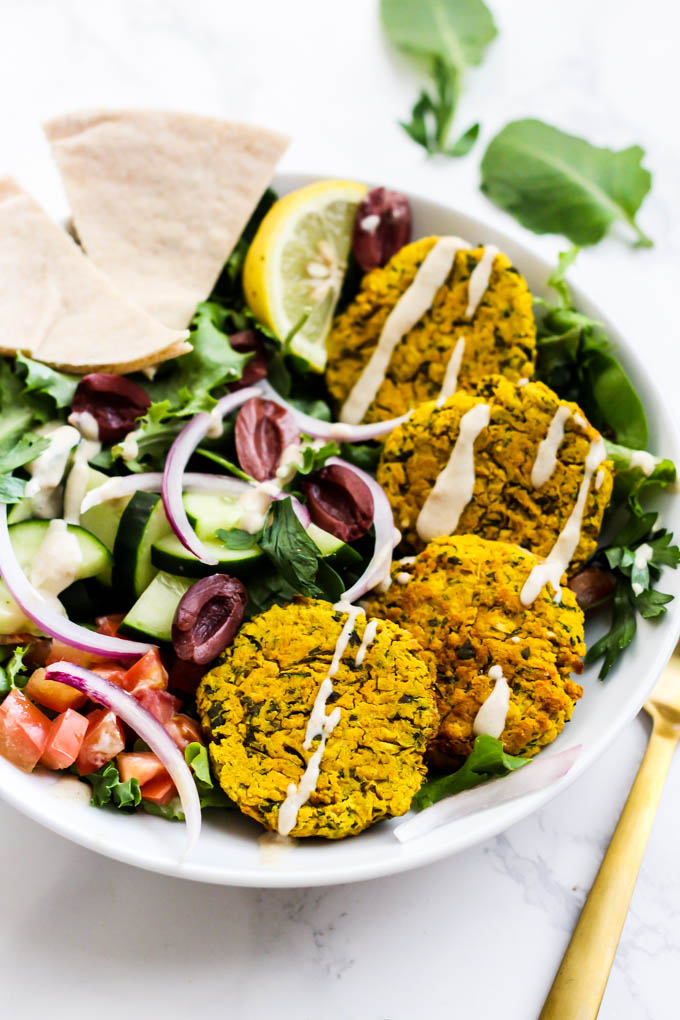 How to Make a Falafel Bowl
If a falafel bowl is more your style, then I've got you covered! I love making a big bowl for an easy, packable lunch.
First, pick a base: you could use salad greens, a grain like quinoa or brown rice, or a mixture of both! Next, add in 3 or 4 of your baked falafels. Then, add in some olives, diced tomato, cucumber and sliced red onion. No bowl is complete without a sauce or dressing, so we're mixing up a tahini sauce! Add in a big scoop of tahini to a bowl or jar, along with a couple tablespoons of fresh lemon juice and a dash or two of salt, pepper and garlic powder. Then add in some water bit by bit and mix it up until it reaches your desired consistency. I like something drizzle-able, but not too loose.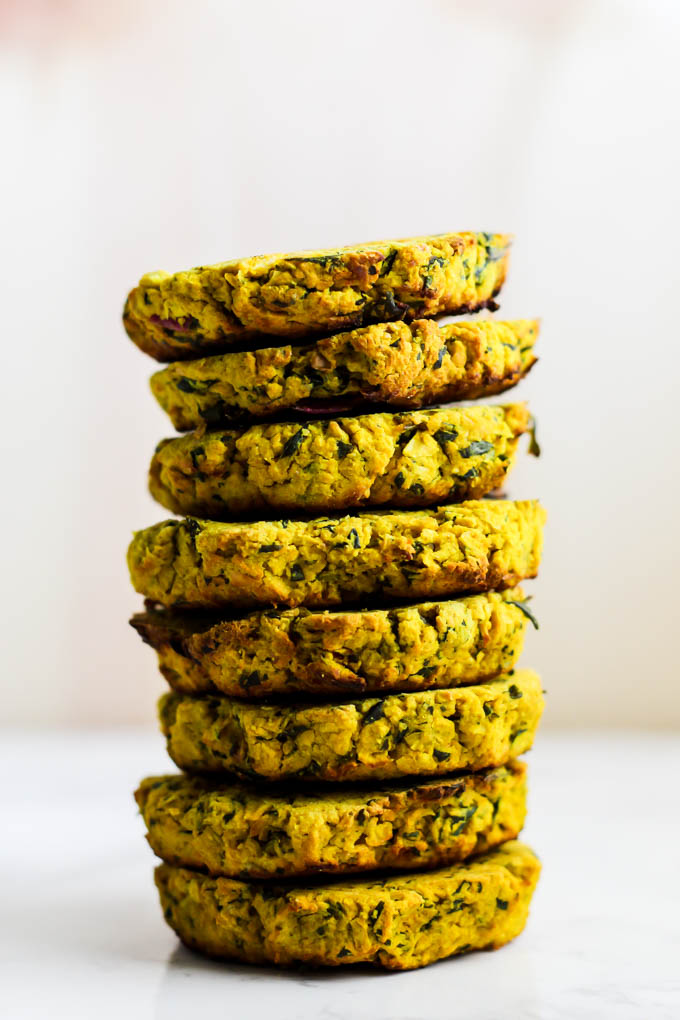 How to Freeze Baked Falafel for Meal Prep 
These turmeric baked falafels are the perfect recipe if you're looking for vegan meal prep inspiration! This recipe makes about 16 falafels, so if you make them for dinner one night, you can stash the leftovers in the fridge to build falafel bowls or pita sandwiches for lunches throughout the week.
This recipe is also easy to make in a bigger batch since it all comes together in a bowl or food processor. Feel free to double the recipe and keep your baked falafel in the freezer to grab on nights when you're in a pinch! To freeze them, place your baked falafel in an airtight container in a single layer and then cover with a sheet of parchment paper. Then you can continue to stack more layers of falafel on top of each sheet of parchment. The parchment between each layer will keep them from freezing together in one big block.
When you're ready to eat, pull a few falafels out of the freezer, preheat your oven to 350 and cook until warmed through, about 15 minutes.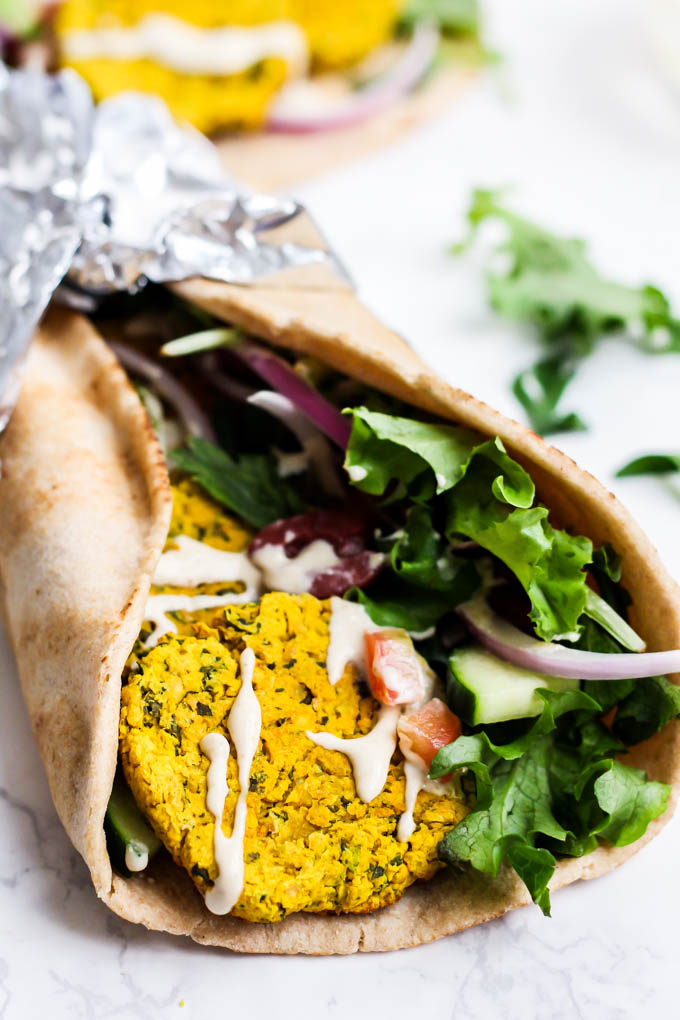 More Vegan Turmeric Recipes
Turmeric is such a fun ingredient to cook with. While it does boast quite a few health properties, it also gives your food such a beautiful color and adds a delicious, earthy flavor to your food. If you're looking for more ways to experiment, try some of these other vegan turmeric recipes!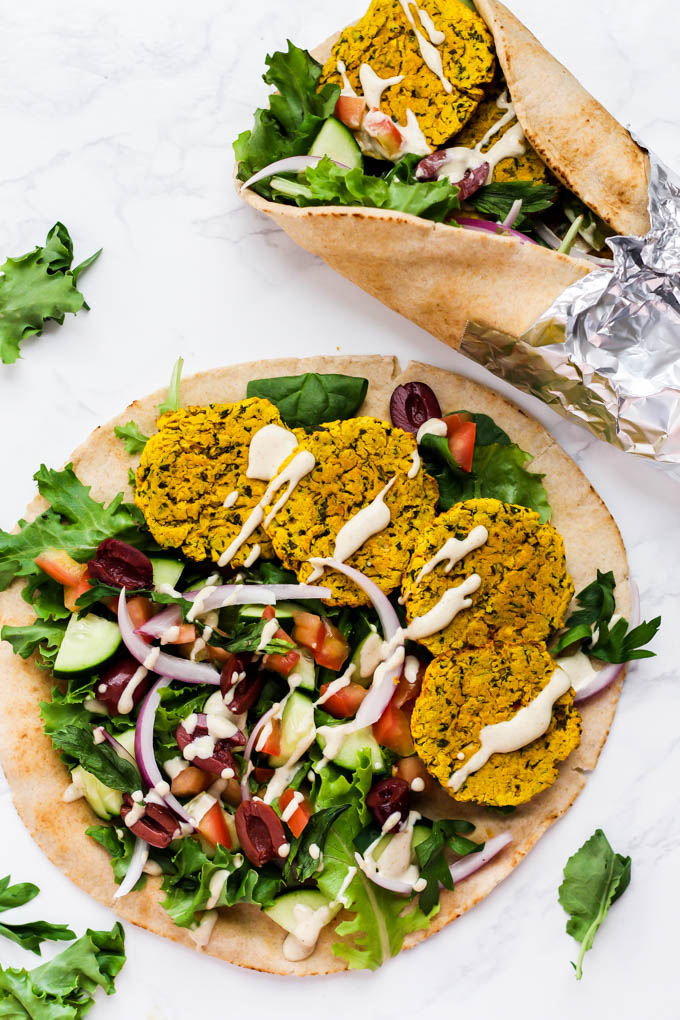 Print
How to make:
Turmeric Baked Falafel
Turmeric adds a pop of color and flavor to this vegan Baked Falafel recipe! These baked falafels are great in salads, bowls and pita sandwiches.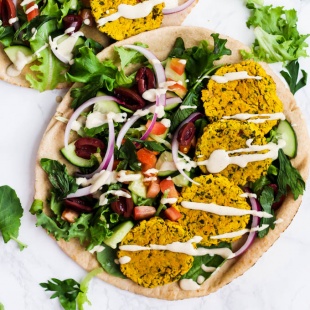 Ingredients
2

15-ounce cans chickpeas, drained and rinsed

1/2 cup

fresh cilantro, chopped

1/2 cup

fresh parsley, chopped

1/2 cup

red onion, roughly chopped

4

garlic cloves
Juice of

1

lemon

1 tablespoon

Pompeian Organic Extra Virgin Olive Oil, plus more for greasing the pan

1 tablespoon

ground cumin

2 teaspoons

ground turmeric

1 teaspoon

salt
Dash of cayenne pepper (optional)

1/2 cup

oat flour*
For salads & pita sandwiches: greens, whole wheat pita, tomatoes, cucumbers, red onion, olives, parsley, hummus, tahini or vegan tzatziki
Instructions
Preheat oven to 400F. Grease a baking sheet with olive oil.
In the bowl of a food processor, add chickpeas, cilantro, parsley, onion and garlic. Pulse until chopped and well-combined, with some chunky texture.
Add lemon juice, olive oil, cumin, turmeric, salt and cayenne pepper. Pulse a few times to combine.
Add oat flour, starting with 1/2 cup. Pulse until a firm dough forms, adding more oat flour if necessary.
Form 14-16 balls of dough, flatten them with your hands and place on the baking sheet.
Bake for 15 minutes, then flip. Bake for another 15 minutes.
Optional: Broil on low for 5 minutes to get falafel extra crispy.
Serve falafel on top of salad or in a pita sandwich!
Notes
*To make your own own oat flour, simply blend rolled oats into a fine flour using a high-speed blender or food processor.
Thanks to Pompeian for sponsoring this post! I love working with brands whose products I really love and would honestly recommend. Thank you for supporting this blog that I love oh-so-much!
SaveSave