A healthy, delicious way to enjoy chocolate pudding for breakfast! Banana and avocado make this smoothie bowl creamy and secretly nutritious.
I've tackled many a diet in my relatively short 19 years of life.
One such diet was a pesky fellow named South Beach. The first two weeks of the diet plan are supposed to eliminate cravings and help you achieve "rapid weight loss." Hm, I'm calling BS on that. Maybe millions of people have found success with diet plans like these, but I'm just not a fan of their get-rich-quick type of promises.
So, anyway, the first two weeks are basically meat, vegetables, nuts, legumes, and dairy. UGH NO FRUIT, I'm already out. And I don't eat meat or dairy anymore, so there's that. The plan also allows for some "sweet treats," probably so you won't completely binge once you're off the diet. Which you do anyway. Then you go on another diet. See, diets suck.
One of the sweet treats the plan allowed for was sugar-free instant chocolate pudding. As a wee 8th grader, I had no clue that innocent little box of pudding was full of artificial sweeteners and colors and weird ingredients — yuck. All that I was thinking was, OMG 35 calories for just one serving?! Maybe I'll actually survive this diet!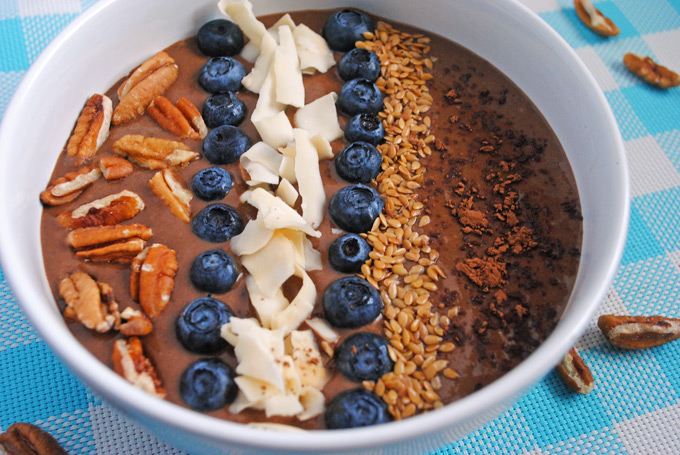 Much has changed since then, and now I barely even remember what a calorie is. Okay, kidding, but I really don't look at or think about them. I'd rather make real chocolate pudding from real ingredients and watch my portion size. Plus, the real thing always tastes better.
This creamy smoothie bowl reminds me of that sugar-free pudding I once stuffed in my face but it's, like, 439829 times yummier and healthier. I mean, chocolate pudding for breakfast? Or any other meal?! It doesn't get better.
I wanted to make this smoothie after my mom and I went to Superfood Bar in New Orleans. It's an adorable little restaurant tucked away on Magazine Street that serves juices, smoothies, raw foods, and vegan eats. Once I tried my mom's Chocolate Avocado smoothie and was instantly transported to smoothie heaven, I knew I had to make it at home.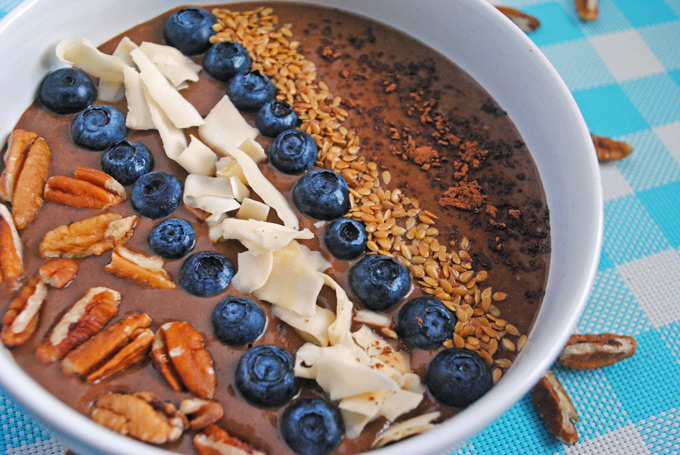 Use any blender you have, but I loooooove my NutriBullet. That thing is powerful and leaves absolutely no chunks for only around $100! A great deal, in my opinion.
It's important to use frozen bananas to get the creamiest consistency (keep a couple bananas in your freezer at all times for grab-and-go mornings). But it's really the avocado that takes the creaminess to the next level. Seriously, this bowl is caught somewhere between a smoothie, pudding, and chocolate mousse. Avocado adds a healthy dose of fats and nutrients, and I promise it doesn't make it taste funky!
Feel free to use maple syrup or your sweetener of choice, but I chose to use dates because that's what was in my mom's original smoothie. I've been trying to use dates more to sweeten my food because they're nature's little candies. No processing, no extra ingredients, just pure sweetness.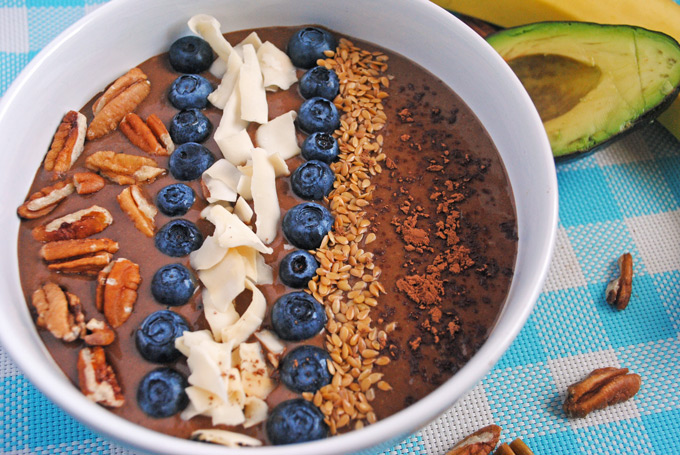 How to Make a Chocolate Smoothie Bowl
Start with 1/2 almond milk and add more until your smoothie is the consistency you want. I usually use about 1 cup, but sometimes I use more or less. Also, I haven't tested this, but I'm sure you could throw in a handful of spinach to boost the nutrition even more. You shouldn't even be able to taste it.
I opted for pecans, blueberries, coconut, and flax seed for toppings, but I won't judge if you throw on some chocolate chips. If you're in a hurry, pour it in a jar or cup, and you're good to go. But if you have the time, enjoy this in a bowl with some toppings — it's just more fun!
Who needs diets and sugar-free instant pudding when you can have a healthy chocolate smoothie every day?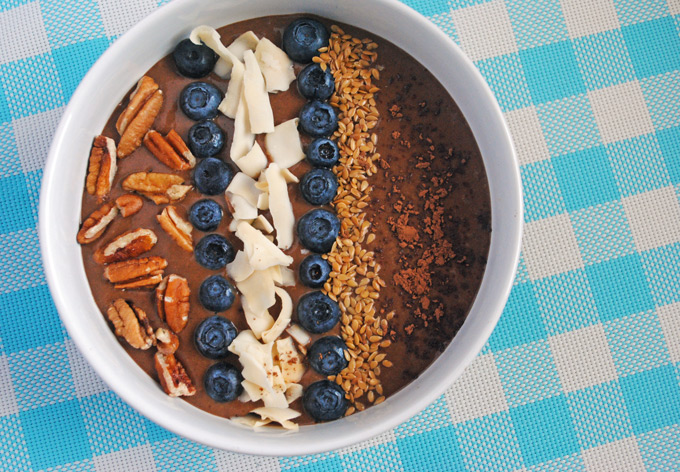 Print
How to make:
Chocolate Banana Avocado Smoothie Bowl
A healthy, delicious way to enjoy chocolate pudding for breakfast! Banana and avocado make this smoothie bowl creamy and secretly nutritious.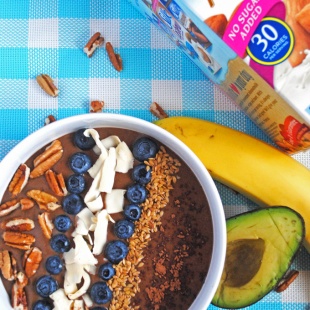 Ingredients
1/4 cup

pitted dates

1

medium to large banana, frozen

1/2

medium avocado

1/2

–

1

cup unsweetened almond milk

2 tablespoons

cocoa powder or raw cacao

1 teaspoon

vanilla extract
Pinch of salt
Optional toppings: fruit, nuts, seeds, chocolate chips, coconut, granola
Instructions
In a small bowl, place the dates. Pour enough boiling water in the bowl to fully cover the dates. Let soak for 10 minutes.
Drain the dates.
In a blender, place dates, banana, avocado, 1/2 cup milk, cocoa powder, vanilla, and salt. Blend until smooth, adding more milk until smoothie reaches desired consistency.
Pour into a bowl or cup. Top with desired toppings and enjoy!
Notes
I recommend drinking your smoothie right after you make it, but you can refrigerate or freeze it if you need to (just make sure to let it defrost for long enough if you freeze it). You can double the recipe and have the next day's breakfast ready to go, or share it with someone!