This post was sponsored by Snapfish. Thanks for supporting my blog!
Whip up this colorful Pesto Couscous Salad for an easy lunch or dinner packed with fresh vegetables, whole grains and beans. It's done in under 30 minutes! (vegan)
I don't get to come home often to visit my parents. Even though my college was only two hours from home, I was always so busy with school and work to make the drive. Especially now that I know I'm moving across the country in a couple months, I cherish every moment I have at home.
When I come home, it is understood that I will cook everything, and my mom will do the dishes. She gets food, and I don't have to worry about cleaning… it's a win-win!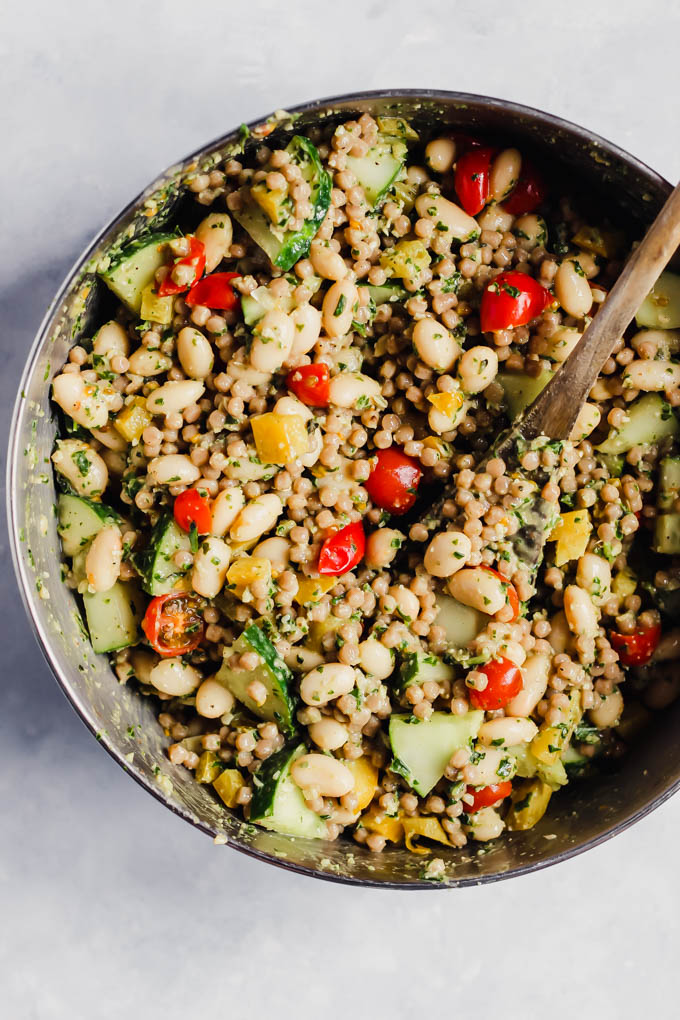 My love for cooking and food came from my mom, who always let me get my hands dirty right beside her in the kitchen, so it has sort of come full circle now that I'm cooking for her every chance I get.
My parents will literally eat anything I put in front of them. By this point, they trust that I know how to cook good food. I don't remember the last time they didn't like something I made (unless they were just being nice and lying to me…).
I made this Pesto Couscous Salad at home last week, and my mom and I had finished it all within 24 hours! That's always a good sign.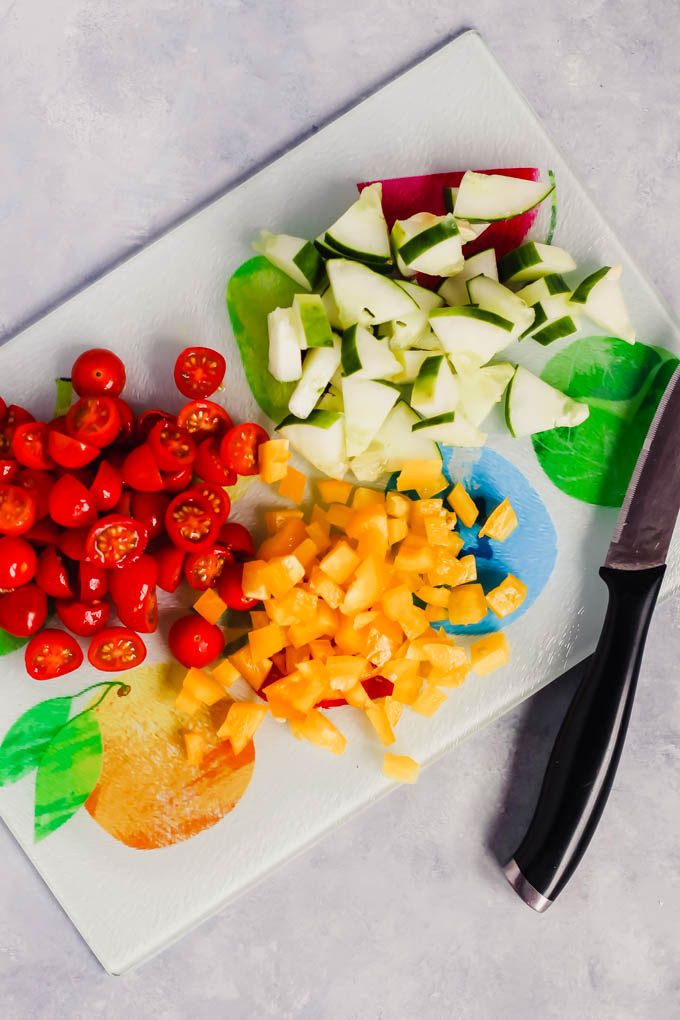 I was thrilled when Snapfish reached out to me to be a part of their Foodie Fun Campaign this summer! Snapfish allows you to personalize a wide variety of affordable products, from photo books to blankets to mugs. You can import your own photos to use from Facebook, Instagram and Google Photos, then add embellishments and backgrounds from Snapfish's product builder.
I customized this gorgeous beach towel from Snapfish with a tropical leaves print I purchased online. I also designed this adorable glass cutting board using fruit and vegetable embellishments in the product builder! I can't wait to see the cutting board in my new kitchen in Colorado.
The cutting board was perfect for this Pesto Couscous salad since there are a lot of vegetables to chop! Once the salad was done, my mom and I took it outside to enjoy a little at-home picnic on my new beach towel.
You can use the code FOODIE40 for 40% your Snapfish order!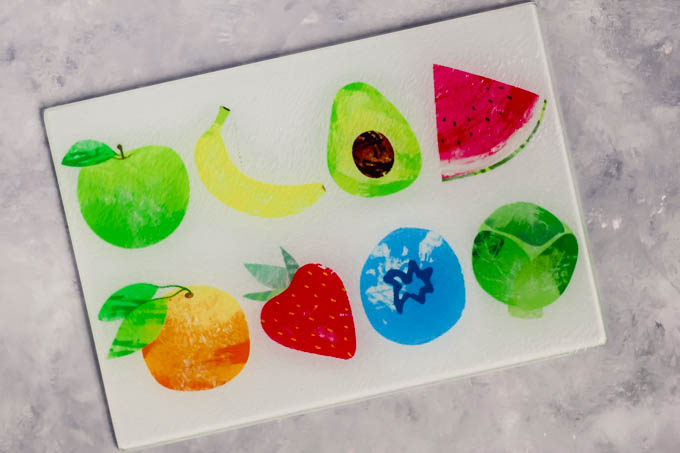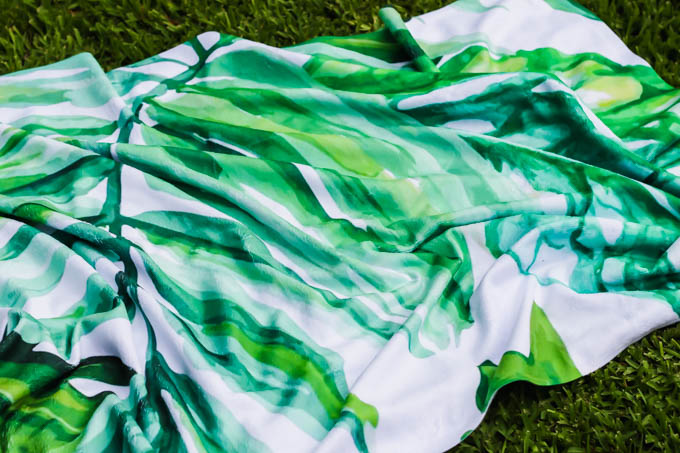 All there is to do for this recipe is cook whole grain couscous (or another whole grain of your choice), chop the vegetables and add the beans. Blend all the pesto ingredients together (it's addicting!) and throw that in there. Done and done!
It's an easy, 30-minute meal that is perfect for packing in lunch boxes or enjoying at home while you're soaking up the summer sun. Eat up!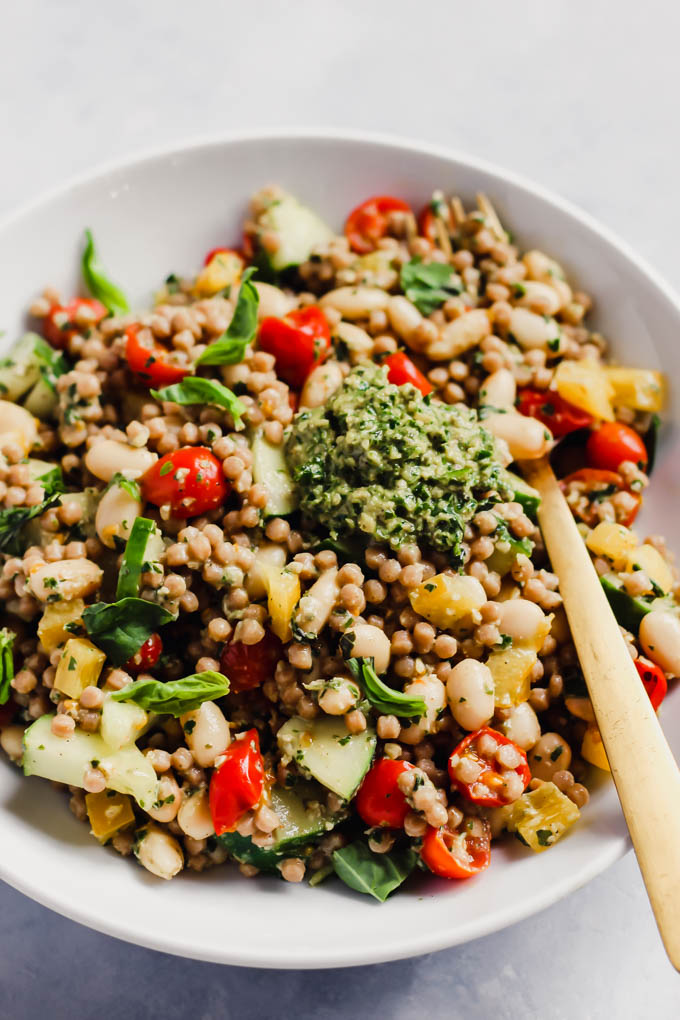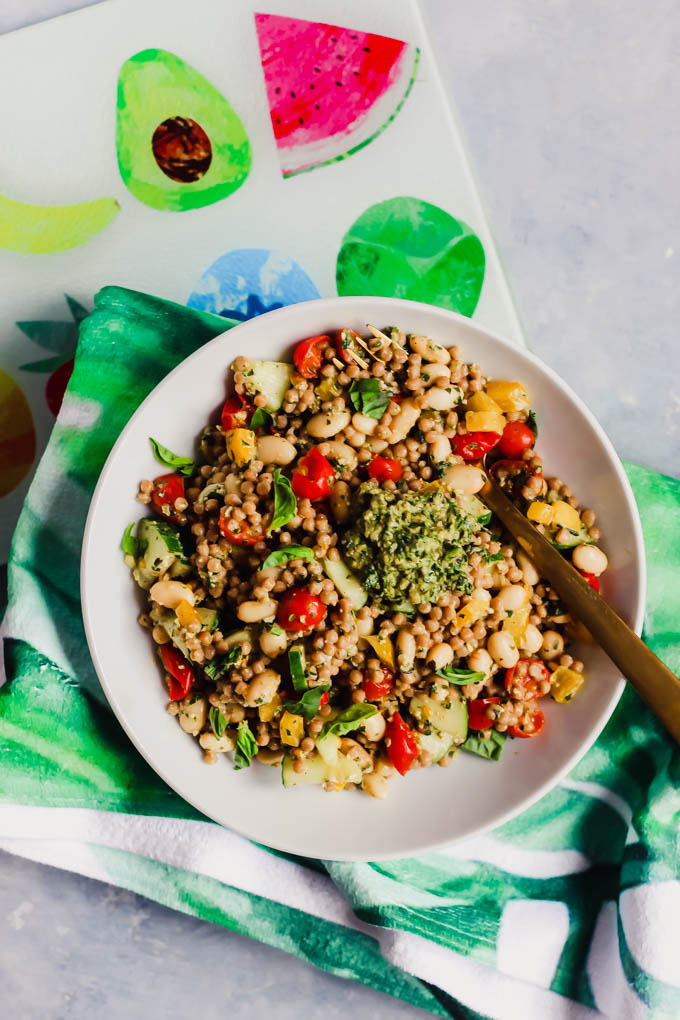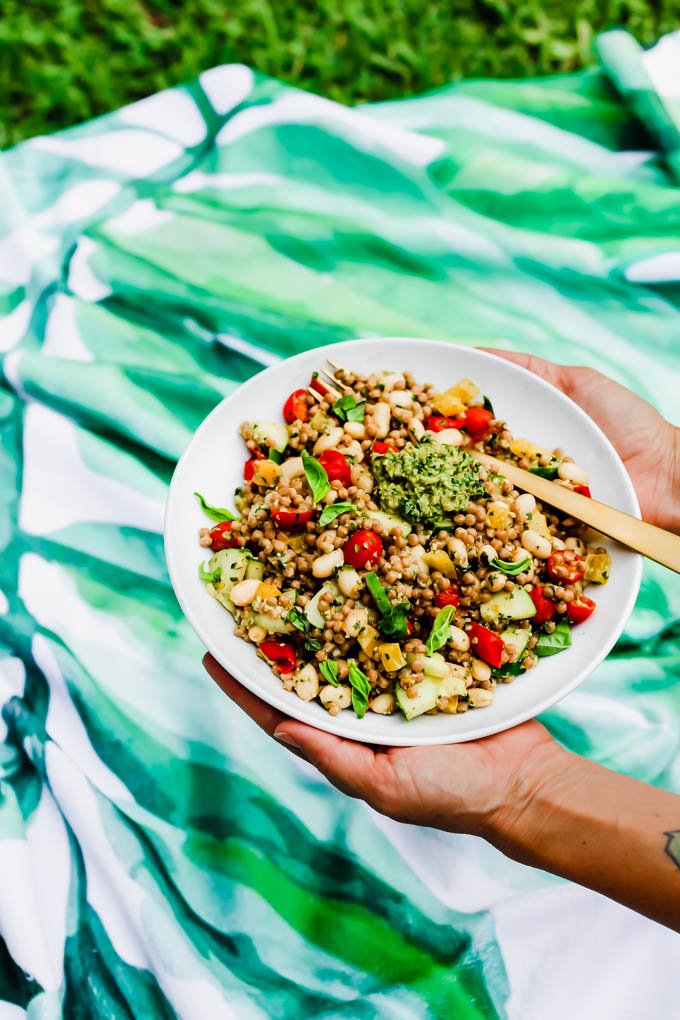 Print
How to make:
Pesto Couscous Salad
Whip up this colorful Pesto Couscous Salad for an easy lunch or dinner packed with fresh vegetables, whole grains and beans. It's done in under 30 minutes! (vegan)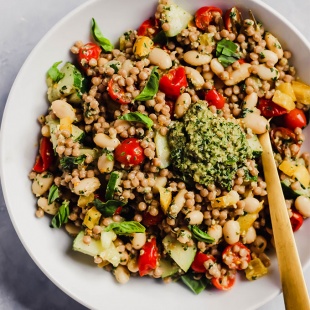 Ingredients
1 cup

whole wheat couscous

½

avocado

1 cup

fresh basil, packed

¼ cup

walnuts

2 tablespoons

olive oil

1 tablespoon

nutritional yeast
Juice of

1/2

lemon

2

cloves garlic, minced

½ teaspoon

salt

¼ teaspoon

black pepper

1

15-ounce can white beans, drained and rinsed

1 cup

cherry or grape tomatoes, halved

1 cup

cucumber, chopped

½

large bell pepper, diced
Instructions
Cook couscous according to package directions. Drain; add to a large bowl.

While the couscous is cooking, prepare the pesto. To the bowl of a food processor, add avocado, basil and walnuts. Pulse until the basil is finely chopped and the walnuts resemble coarse sand. While pulsing, slowly drizzle in the olive oil. Add nutrition yeast, lemon juice, garlic, salt and pepper; process until smooth with a little texture.

To the couscous, add pesto, white beans, tomatoes, cucumber and bell pepper. Mix until ingredients are well combined.

Serve immediately. Store in the refrigerator for up to 5 days.
Notes
Feel free to sub any whole grain for the couscous.
Thanks to Snapfish for sponsoring this post! I love working with brands whose products I really love and would honestly recommend. Thank you for supporting this blog that I love oh-so-much!