This post was sponsored by SunButter. I only work with brands whose products and missions I truly believe in. Thanks for supporting my blog!
I really wanted to make cookies for today's recipe. But I posted cookies on Monday, so I didn't know if you would want two cookies in a row. But c'mon…how could you be mad at me after I made you these decadent double chocolate chip cookies stuffed with a little surprise?
I hope you're okay with more cookies. Double the cookies, double the fun.
I'm not going to lie – this week was hard. It kicked me when I was down and pointed its finger at me and laughed. There were some personal things that happened, plus it's finals week. Ugh. Ever had one of those weeks?
Actually, ever had one of those years? 2016 was tough. Of course, yes, many good things did happen – like this blog growing! – and I am very lucky. But boy, did I endure some trials and tribulations this year! I may go more in detail about this in an end-of-the-year post (would you want to read that?), but let's just say this year forced me to look deep within and figure out who I truly was and what I want in life. I know I will look back on this year as a time of real transformation.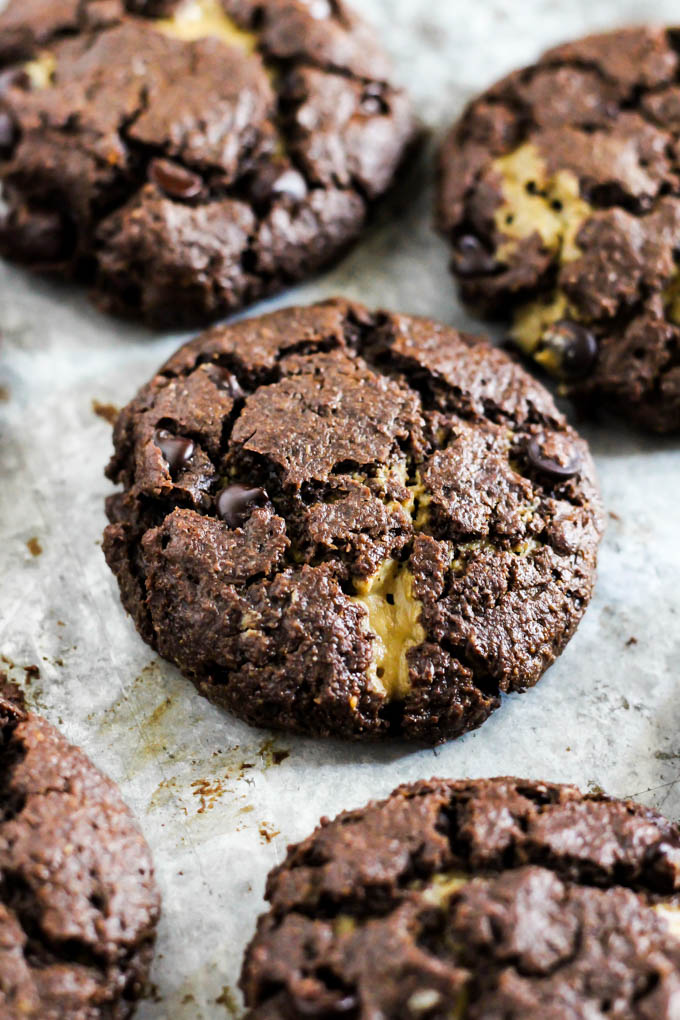 As times goes on, I become more and more confident in the fact that everything happens for a reason, and that just when it seems like you've lost something good, something even better comes along. It's like the universe saying, here, I know you're upset, but I've got bigger plans for you.
Is it too woo-woo of me to start talking about the universe? I'm totally becoming my mother… 😉
While this week was hard, and my initial reaction was to semi-freak out as always, I realized that it was going to be okay. I mean, I have a roof over my head, an education, (freaking delicious) food on the table, a cat🐱…I really can't ask for much else. Everything figures itself out.
Okay, so kind of headache-inducing week = cookies. Which we had on Tuesday. But that wasn't enough – I needed more cookies. Chocolate cookies. Stuffed with seed buttery goodness. Oh yeah baby, that'll make my week better.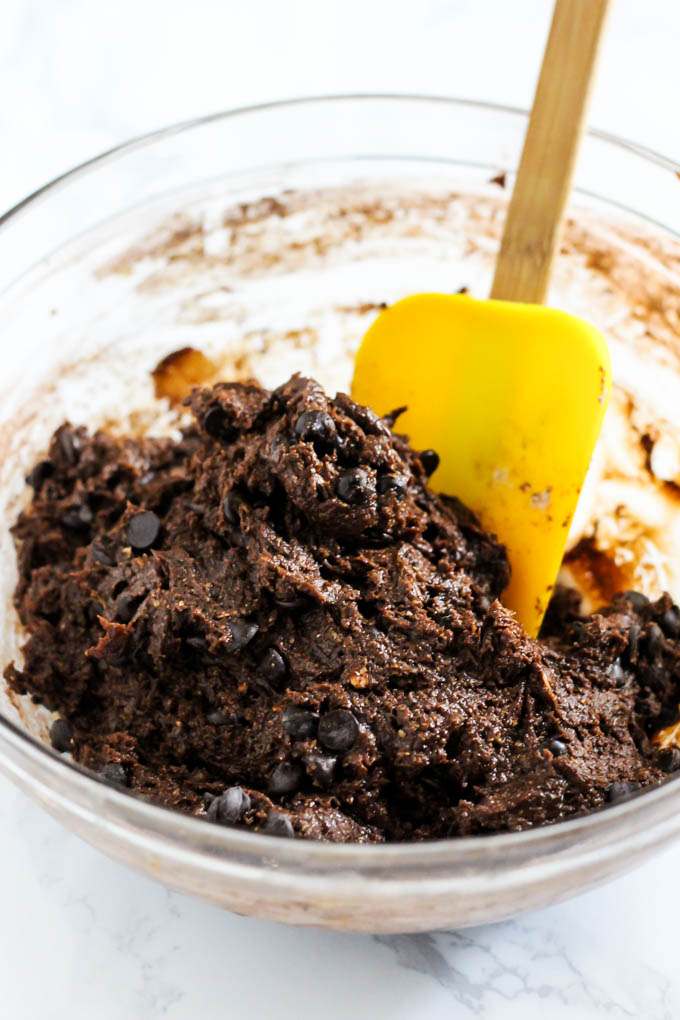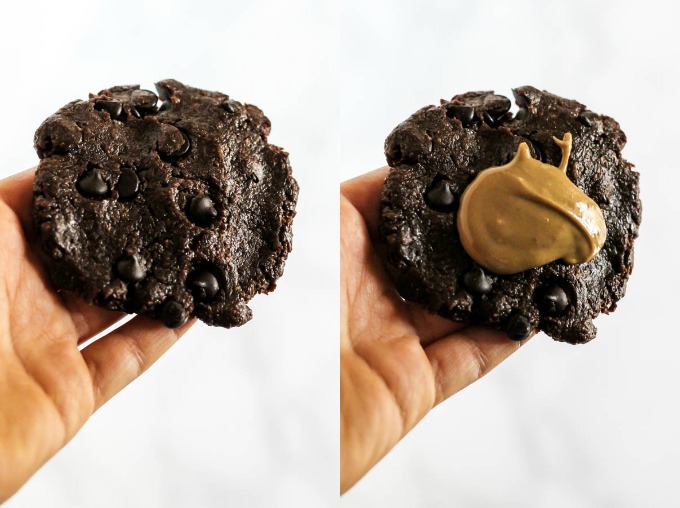 I based this recipe off of my beloved almond butter snickerdoodle recipe that uses almond butter as the base for an ooey, gooey, pillowy cookie. A few adjustment here and there with some cocoa powder and chocolate chips thrown in for good measure, and we're good to go!
The dough that forms may seem a little too wet, and you may be nervous of putting it in the oven in fear of a gooey mess, but no fear! Magically, the dough cooks up perfectly, rises toward the heavens, and firms up after cooling. They don't fall apart when you pick them up, but they deliciously melt in your mouth.
I'll be the first to admit that I don't understand the science behind baking, so most of my kitchen escapades involve me throwing random stuff into a bowl, crossing my fingers that it works, and doing a happy dance alone if it does. So when these cookies work, I don't ask questions. I just eat. 💃🏼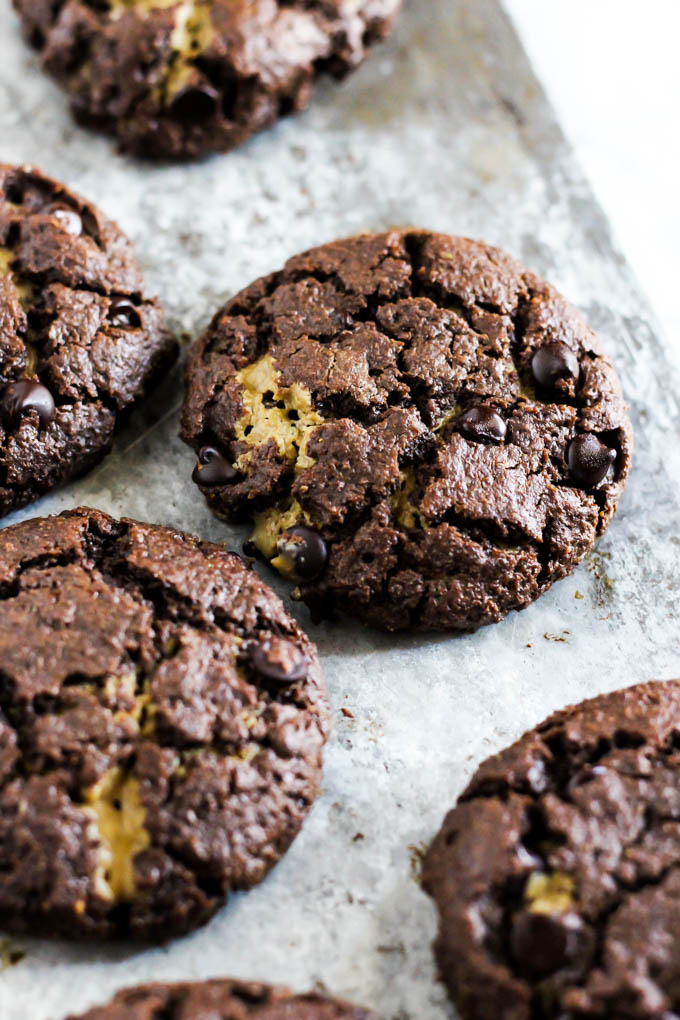 Instead of normal double chocolate chip cookies, which are delicious in their own right, I wanted to add a little oomph so these cookies can stand out at your holidays. So, why not stuff them with something…SunButter, anyone? Sunbutter is an amazing seed butter that's made from sunflower seeds! It's free of the top 8 allergens, including peanuts, gluten, and tree nuts. If you have allergies, this is the nut seed butter you've been waiting for! I have been using SunButter on everything from oatmeal to fruit to a spoon scooping straight from the jar. Sometimes you just need to find yourself halfway through a SunButter jar on a rough day, right?
Instead of using almond butter as the base like in my snickerdoodles, we're using a whole lot of creamy SunButter to make it nut-free and totally allergy-friendly. My favorite varieties are the Organic and No Sugar Added jars because they have no added oil or sugar! Then, you put another tiny scoop of seed buttery yumminess on the inside of the cookie for the ultimate WOW factor.
You just won the Best Cookies at a Holiday Party award. And you haven't even brought them yet. But you're thinking about it. 😏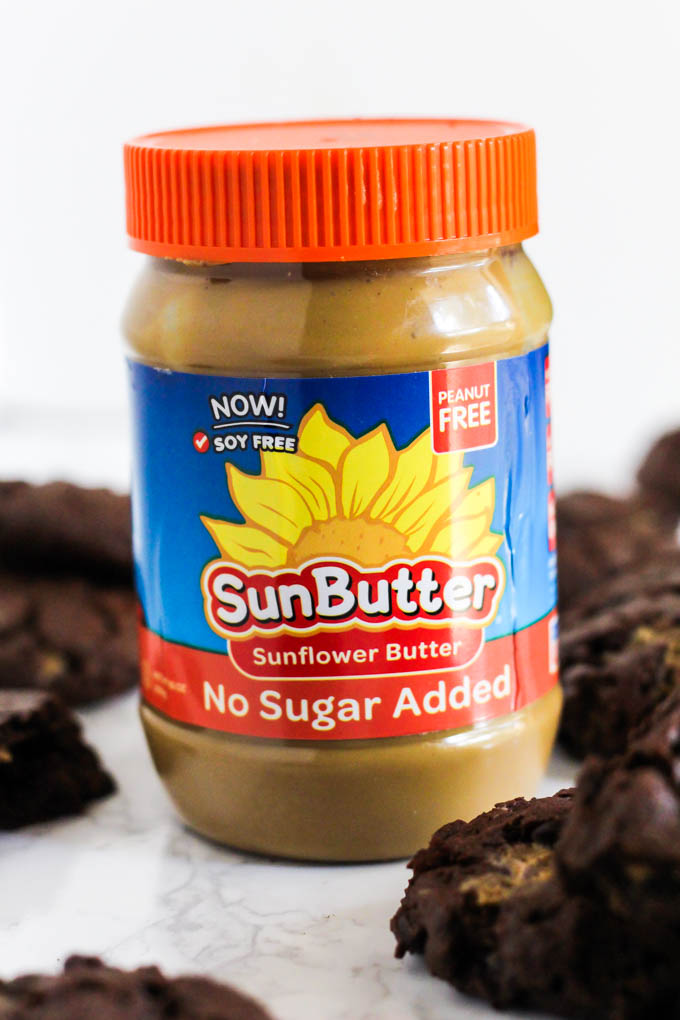 This is the perfect holiday cookie recipe that no one will guess is vegan, gluten-free and made with wholesome ingredients. Say whaaaaat. Plus, instant mood-boosting power guaranteed. 😉
You will definitely not regret making these super soft double chocolate chip cookies! If you get to devour try them, share a pic on Instagram and tag @emilieeats & #emilieeats!
Your turn: What's your favorite treat to make when you're having a rough day or week? For me, it's roasted sweet potatoes & veggies followed by warm cookies.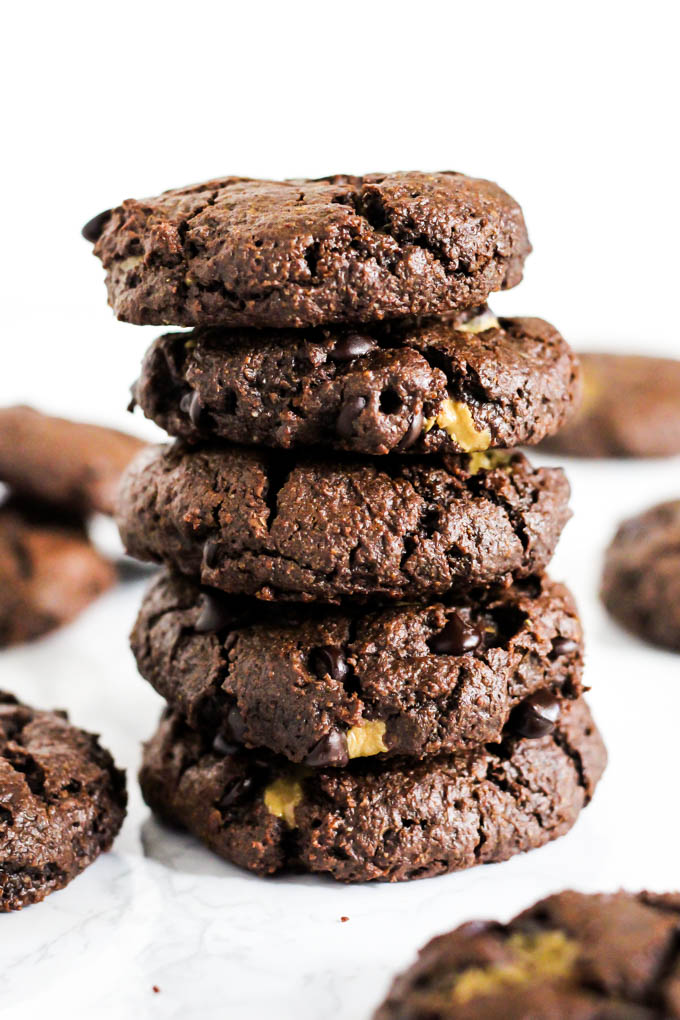 Print
How to make:
Nut-Free Stuffed Double Chocolate Chip Cookies
These gooey Stuffed Double Chocolate Chip Cookies are perfect treats to serve for a crowd! They're nut-free, vegan & gluten-free, so everyone can enjoy one.
Ingredients
1 cup

+

2 tablespoons

rolled oats

3 tablespoons

cocoa powder

1 teaspoon

baking soda

1/2 teaspoon

baking powder

1/4 teaspoon

salt

1 cup

Sunbutter No Sugar Added, divided

1/2 cup

coconut sugar

1/4 cup

unsweetened applesauce

2 tablespoons

non-dairy milk, plus more as needed

1 teaspoon

vanilla extract

1/2 cup

dark chocolate chips
Instructions
Preheat oven to 350°F. Lightly grease a baking sheet or line with parchment paper.
In a blender or food processor, add oats, cocoa, baking soda, baking powder, and salt. Blend until the mixture forms a fine flour. Set aside.
In a large bowl, add 3/4 cup Sunbutter and coconut sugar. Beat with an electric mixer until the ingredients are fully mixed, about 1 minute. Add applesauce, milk, and vanilla; stir to combine.
Slowly add the oat mixture to the large bowl while stirring, forming a soft dough. Keep folding the ingredients together until they are fully combined. Add chocolate chips; gently fold into the dough.
In a small bowl, add remaining 1/4 cup Sunbutter. Place the dough and Sunbutter in the fridge for up to 1 hour, at least 30 minutes. Stick the dough in the freezer to speed up the process.
Remove from the fridge. Form 10-12 balls of dough (about 1 1/2-inch in diameter). Flatten each ball 1/4-inch think; place 1 teaspoon Sunbutter in the center of the dough. Fold in the edges to ensure it isn't oozing. Place the dough ball on the pan, seam side down. Flatten slightly. Repeat with all balls of dough.
Bake for 13-15 minutes, until the edges of the cookies are slightly crispy. Remove and let cool for 10 minutes before serving.
Thanks to SunButter for sponsoring this post! I love working with brands whose products I really love and would honestly recommend. Thank you for supporting this blog that I love oh-so-much so I can bring you delicious recipes!