Enjoy these Savory Turmeric Oat Bowls for breakfast, lunch, or dinner as a hearty, nourishing meal! The turmeric adds an anti-inflammatory boost, and the tempeh bacon will satisfy your tastebuds. Made in partnership with Hodgson Mill & Healthy Aperture Blogger Network! #BetterBowl18
Oh, hi there! Remember me Emilie? Like the Emilie in Emilie Eats? I hope so!
It feels like it's been ages since I hopped on here to share a delicious recipe with you, but it's only been two weeks. In the grand scheme of things, that's not a long time at all. Time flies when you're studying 24/7!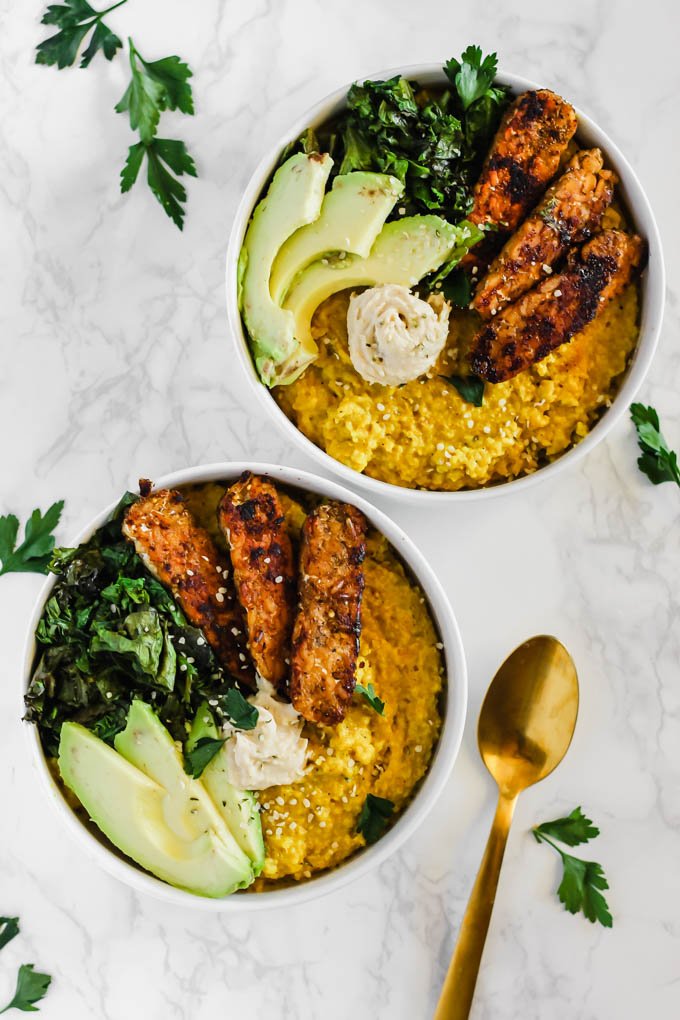 This semester has made it even more difficult to balance my time and dedicate enough energy to all of my responsibilities. When you've been going at biochemistry homework for 5 hours (literally), you really don't feel like cooking, or being on Instagram for that matter.
I have really had to give myself grace in the last few months for not being able to pour as much energy as I want into Emilie Eats. This, after all, is my baby, and taking a little time off doesn't always feel good. I want to be growing the blog and creating content for all of you lovely people and interacting with you.
I still do all that—maybe just less than I'd like to right now. And you know what? That's okay! This is only one phase of life.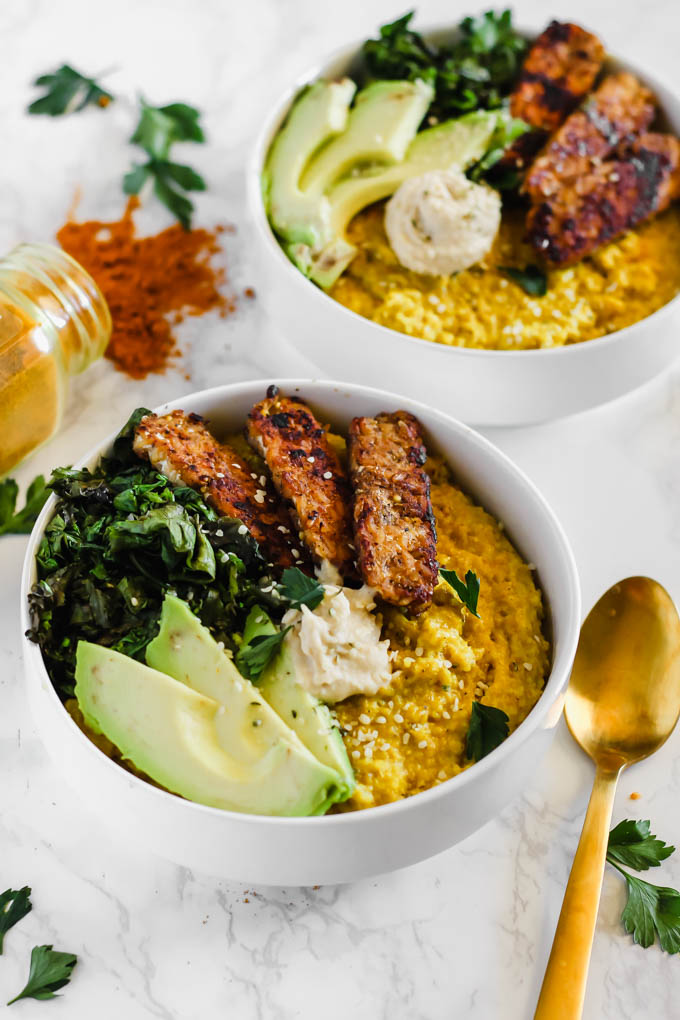 Something that has been constant in this rollercoaster of a semester (so many frustrated tears 😅) is SIMPLE FOOD. I'm talking easy peasy meals I can throw together in 2 minutes so I can get back to whatever important thing I need to do.
Usually that looks like cooking a bunch of beans, grains, and vegetables on the weekends, and then throwing them together in bowls with different spices and sauces during the week.
These Savory Turmeric Oat Bowls are one of those meals I can make super quick (under 30 minutes!) and will satisfy and nourish me. You can make the components ahead of time and throw them together when you're ready to eat, or you can eat them fresh off the stove:
Oat bran

. I'm excited to partner with

Hodgson Mill for this recipe using their Old Fashioned Oat Bran Hot Cereal! Oat bran contains soluble fiber, which is linked to decreased blood pressure and bad cholesterol. Fiber is what keeps you feeling full and satisified! It may also help regulate blood sugar and digestive health. Bonus: it cooks up in just 2 minutes. We're adding turmeric for an extra anti-inflammatory boost! (and color, duh)
Tempeh bacon.

Also known as the BEST way to cook tempeh. Marinate the slices while the oat bran is cooking, then pan fry it for crispy vegan bacon goodness. The secret is the liquid smoke, so don't leave it out!

Greens.

Of course we have to add some veggies! I sauteed some mixed greens, but feel free to use whatever vegetable you have. I think sauteed bell peppers, mushrooms, or zucchini would be delicious.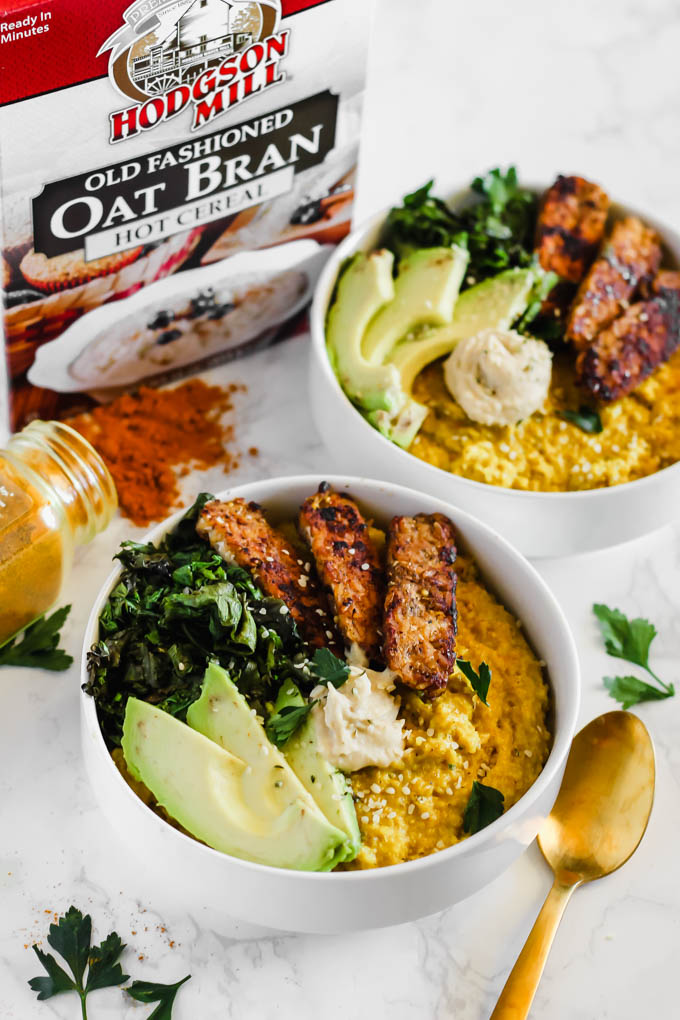 These savory turmeric oat bowls with tempeh bacon are a home-run meal because you can have them for breakfast, lunch, OR dinner. Whatever fits your fancy! I've been really into savory breakfasts lately (what's new), so you know I'll be having these in the AM.Let me know if you get to try them!
Be sure to check out where to find Hodgson Mill grains, flours, and more in your area.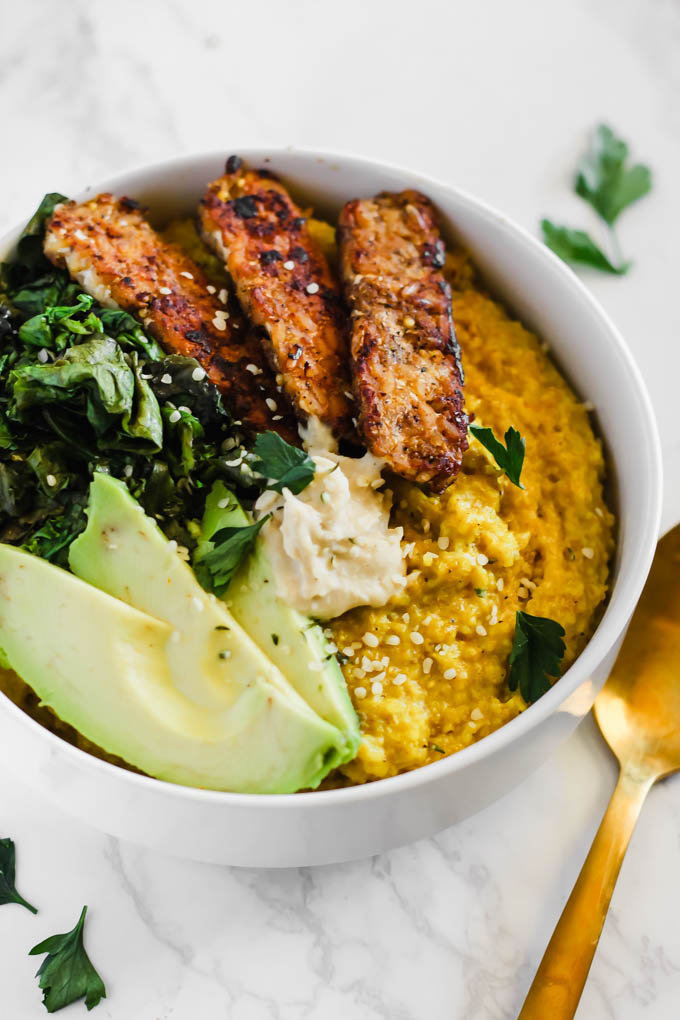 Print
How to make:
Savory Turmeric Oat Bowls with Tempeh Bacon
Enjoy these Savory Turmeric Oat Bowls for breakfast, lunch, or dinner as a hearty, nourishing meal! The turmeric adds an anti-inflammatory boost, and the tempeh bacon will satisfy your tastebuds.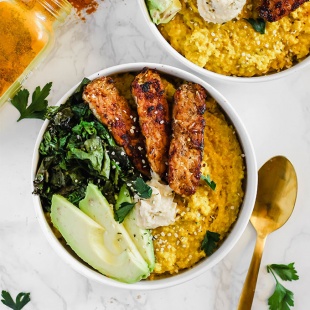 Ingredients
For the oatmeal:
4 cups

water

1/4 cup

nutritional yeast

2 tablespoons

hummus, plus more for topping

2 teaspoons

ground turmeric

1 teaspoon

salt

1/2 teaspoon

black pepper

2 cups

greens (baby spinach, swiss chard, kale, etc.), chopped

1

avocado, sliced
For the tempeh bacon:
2 tablespoons

soy sauce or liquid aminos

2 teaspoons

hot sauce

2 teaspoons

maple syrup

1 teaspoon

olive oil

1 teaspoon

liquid smoke

1/2 teaspoon

onion powder

1/2 teaspoon

garlic powder

1/2 teaspoon

cumin

½ teaspoon

black pepper

8 ounces

tempeh, thinly sliced
Instructions
In a plate or shallow bowl, add soy sauce, hot sauce, maple syrup, oil, liquid smoke, onion powder, garlic powder, cumin, and pepper; mix well. Add sliced tempeh in the marinade. Let it sit for 5-10 minutes, while you cook the oat bran and greens.

In a small saucepan, add water and oat bran; bring to a boil. Reduce heat to simmer; cook for 1-2 minutes, stirring often. Add nutritional yeast, hummus, turmeric, salt, and pepper. Divide into four bowls.

Heat a greased skillet over medium heat. Add greens; cook until slightly wilted, about 2-3 minutes. Season with salt and pepper.

In the same skillet over medium heat, add tempeh (cook in two batches if necessary). Cook tempeh until slightly charred, about 3 minutes; flip and cook for another 2-3 minutes.

Top oat bran with greens, tempeh bacon, 1/4 avocado each, and additional hummus if desired.
Thanks to Hodgson Mill & Healthy Aperture Blogger Network for sponsoring this post! I love working with brands whose products I really love and would honestly recommend. Thank you for supporting this blog that I love oh-so-much!