This post has been sponsored by Wholesome. All thoughts and opinions are my own.
This fluffy, decadent Vegan Vanilla Strawberry Cake is perfect for any occasion—Easter, baby showers, birthday parties, you name it! To make it extra special for Easter, the cake is decorated with a marshmallow lamb.
I'm going to be honest with you: I really didn't think this cake would be as good as it turned out to be. Sure, I knew it was going to be delicious (it is cake, after all). But the best cake I've ever made?!
I totally wasn't expecting that.
This vegan vanilla strawberry cake exceeded my expectations after one bite into this sweet, fluffy deliciousness. I feel more comfortable at the stove, but maybe I have a knack for baking too!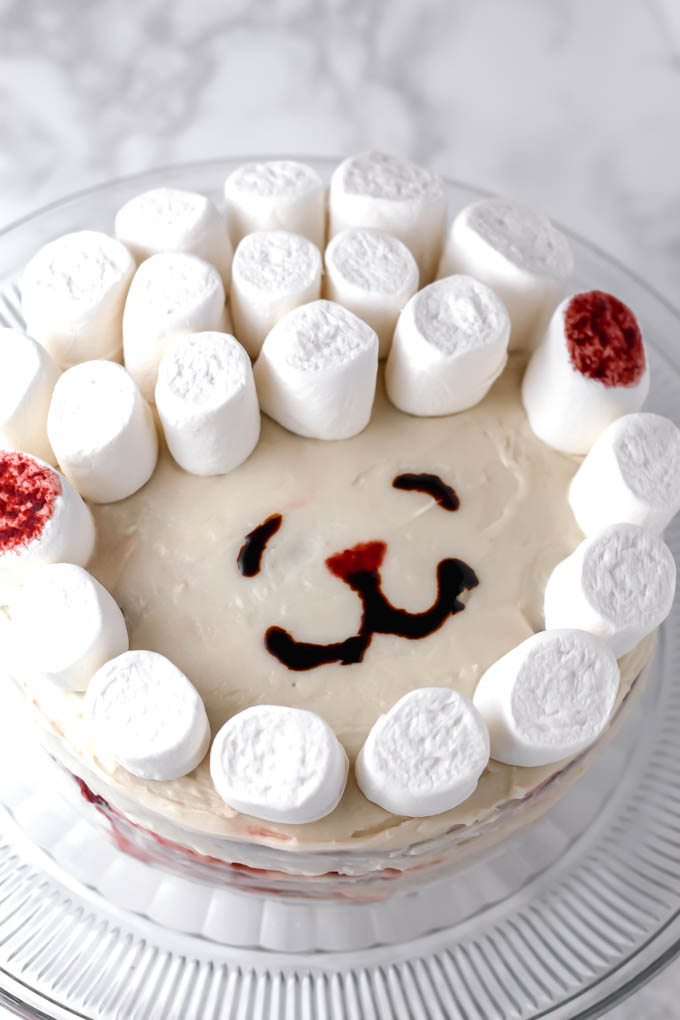 This cake is wholeheartedly boyfriend-approved as well, so I know anyone who tries it will have that same MMMMM *heart eyes* reaction that we had.
Let's get into how you can go from cake-less —> belly happy and full of strawberry cake!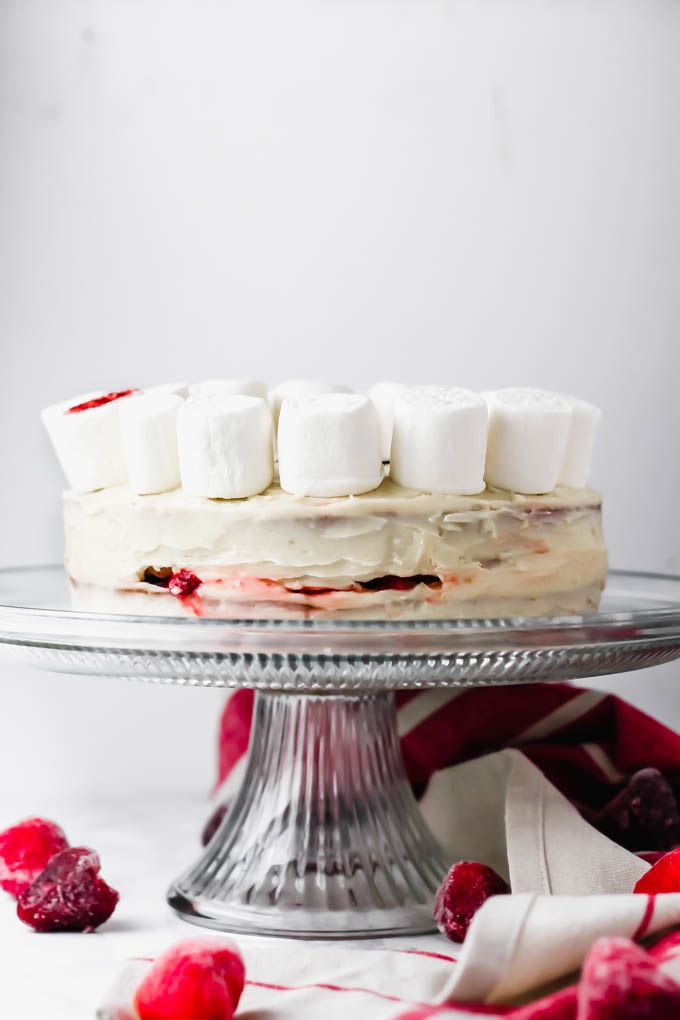 Simple pantry items make up the bulk of this cake: flour, sugar, vinegar, oil, vanilla, strawberries. You might have to make a trip to your local grocery for dairy-free yogurt (which is becoming increasingly more available in stores!) and beet powder (optional, but recommended for the pink color).
Oh, and while you're there, pick up some Wholesome Organic Cane Sugar and Organic Vanilla Frosting for sweetness you can feel good about. And no, I don't mean that from a nutrition perspective. I don't think anyone should feel guilty for enjoying sweet treats—they make us feel warm and fuzzy inside.
You can feel good about using Wholesome products in this cake because they contain ingredients that are responsibly sourced and certified Fair Trade (read more about that here). I love brands that support fair conditions for workers and family-run farms! The products are also vegan (not all cane sugar is vegan!), organic, non-GMO, and contain no funky additives or dyes!
Get a coupon for a Wholesome product by clicking here so you can make this strawberry cake ASAP! PLUS, take advantage of this Ibotta rebate offer to save even more!
You can find Wholesome products online, Whole Foods stores nationwide, Amazon, and maybe your local grocery! Check the baking aisle for their Organic Cane Sugar and Organic Vanilla Frosting for this cake, and their Organic Pancake Syrup and Organic Light Brown Sugar for other sweet treats!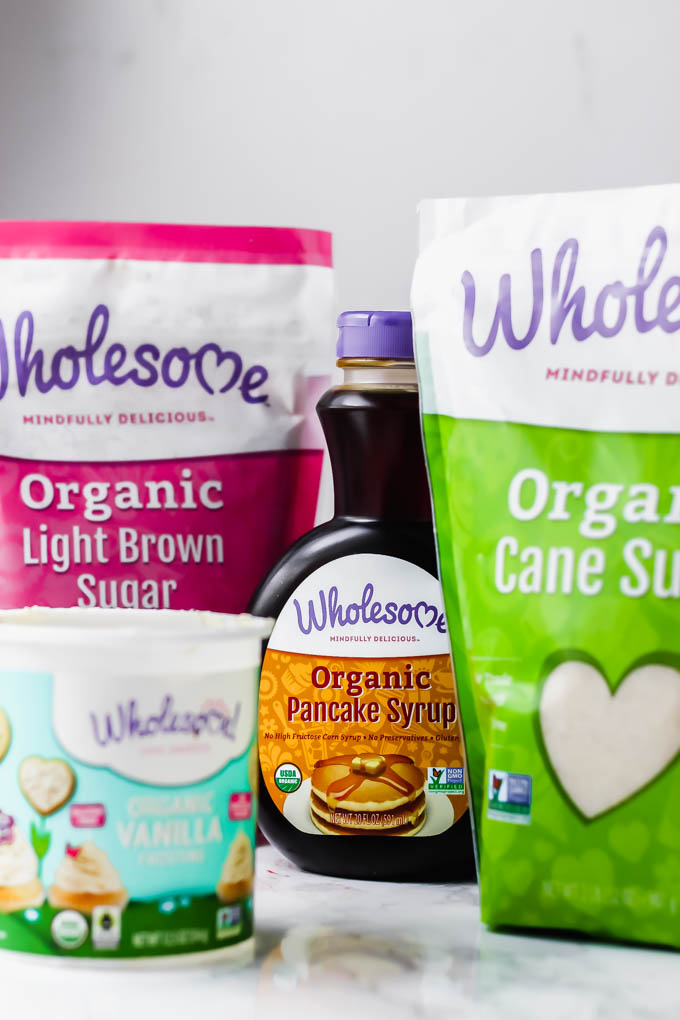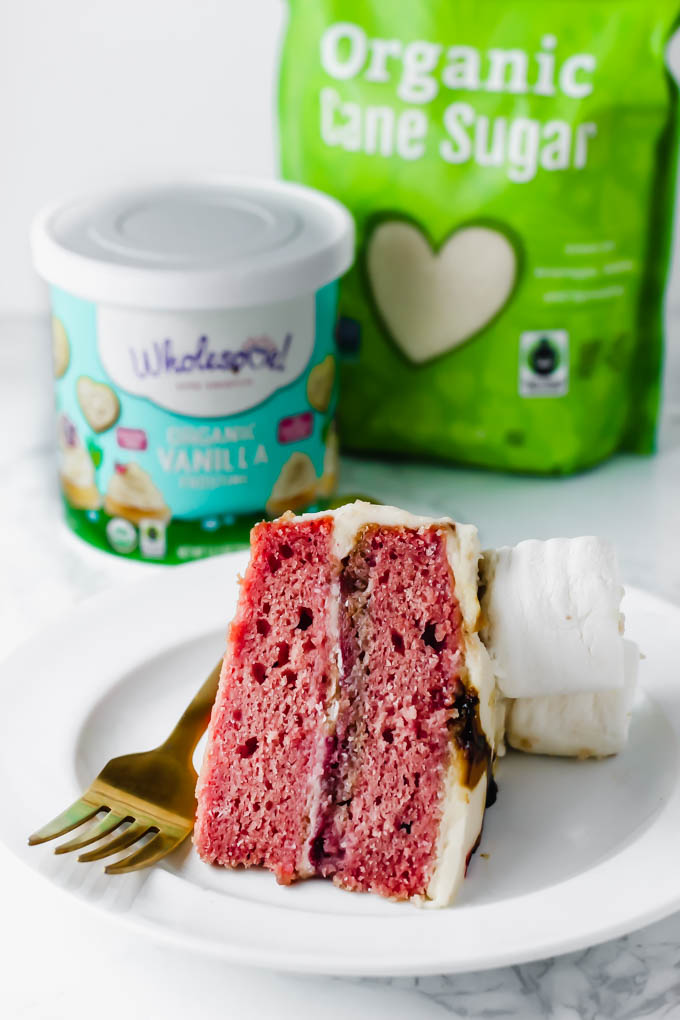 The marshmallow lamb on top is a fun addition to make it *extra* festive for Easter. All you need are marshmallows (check ingredients for gelatin if vegan), a little beet powder, and molasses.
After you ice the whole cake in creamy Wholesome Organic Vanilla Frosting, arrange the marshmallows on top of the cake to make the "fur." Then, paint on beet powder paste for the ears and nose. Instead of buying black icing to pipe on the lamb's mouth and eyes, I decided to use Wholesome Organic Blackstrap Molasses! I simply put some molasses in a small plastic bag, cut one corner off, and used that as my piping bag.
Isn't it just the cutest thing in the world?!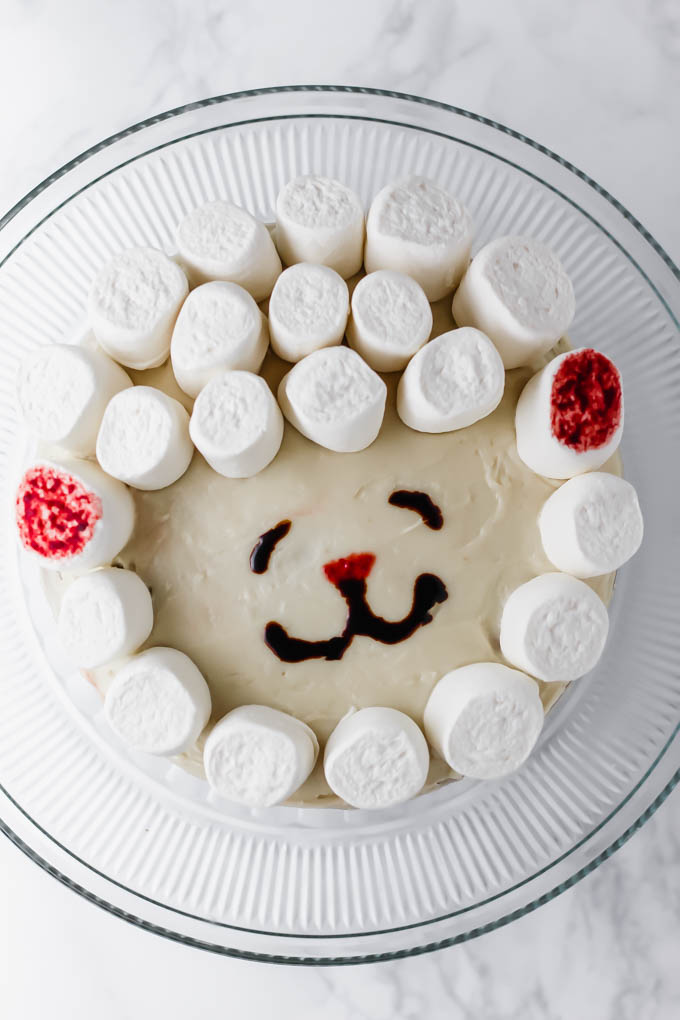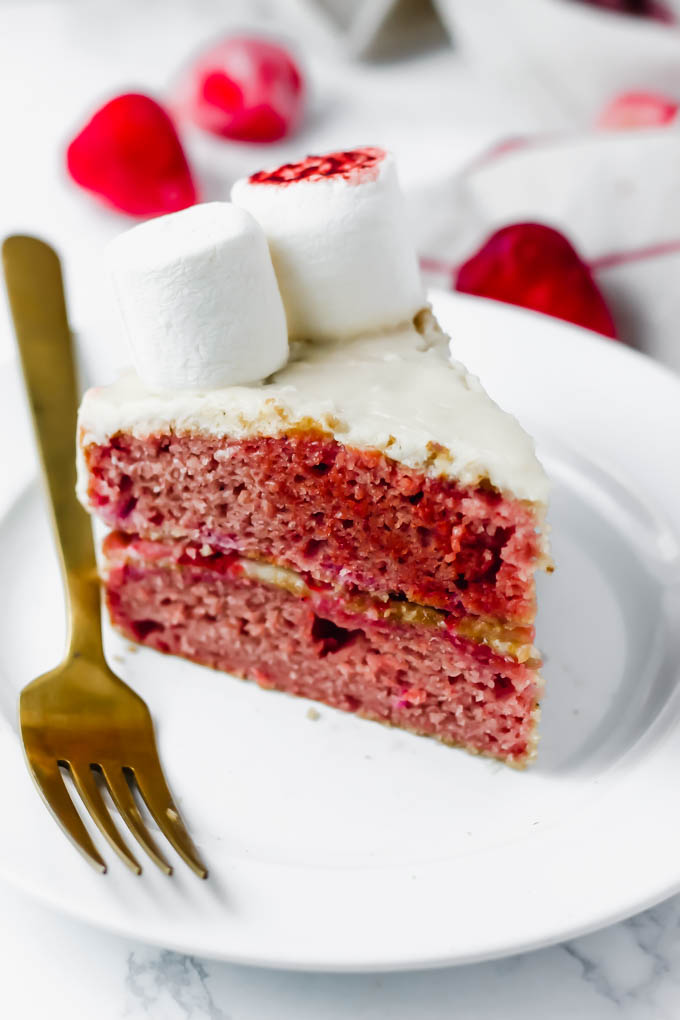 You don't have to celebrate Easter to enjoy this cake, don't worry. You can just enjoy the holiday for no other reason than to bake sweet, colorful desserts and share them with your friends. And if you're looking for an excuse to use up your remaining Wholesome products, be sure to check out their recipe page for even more inspiration – holiday or not!
This cake would also be great for baby showers, birthday parties, engagement parties, and even gender reveals (what better way to celebrate a baby girl than with fluffy pink strawberry cake?)! The Wholesome Organic Vanilla Frosting gives you a clean, white base so you can use whatever colors you want to decorate!
So, do you want a slice? Let the baking commence! 🍰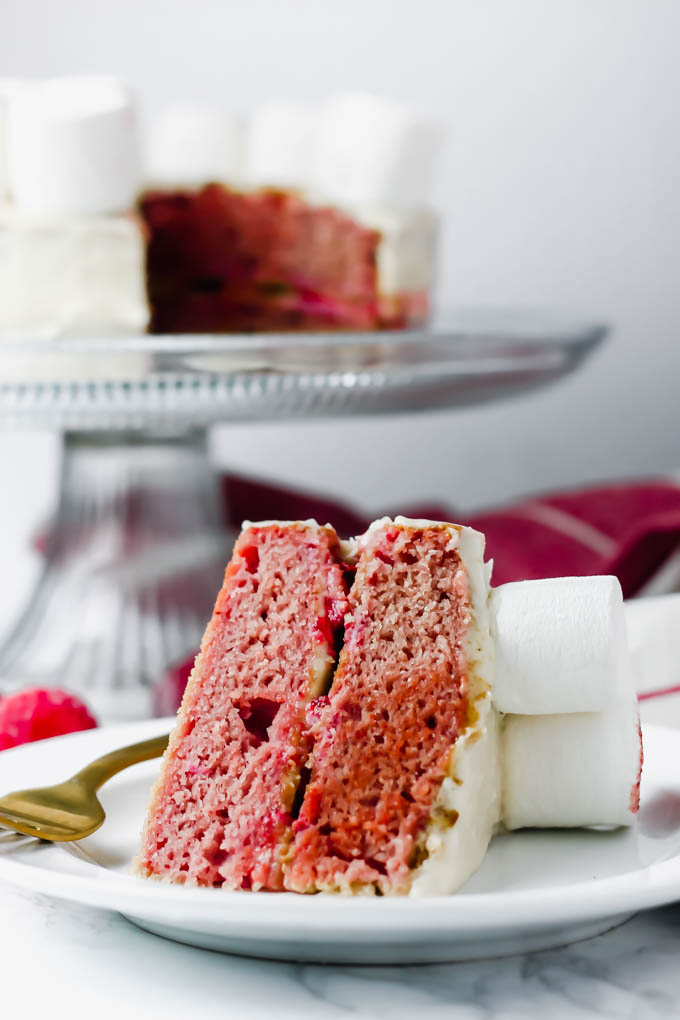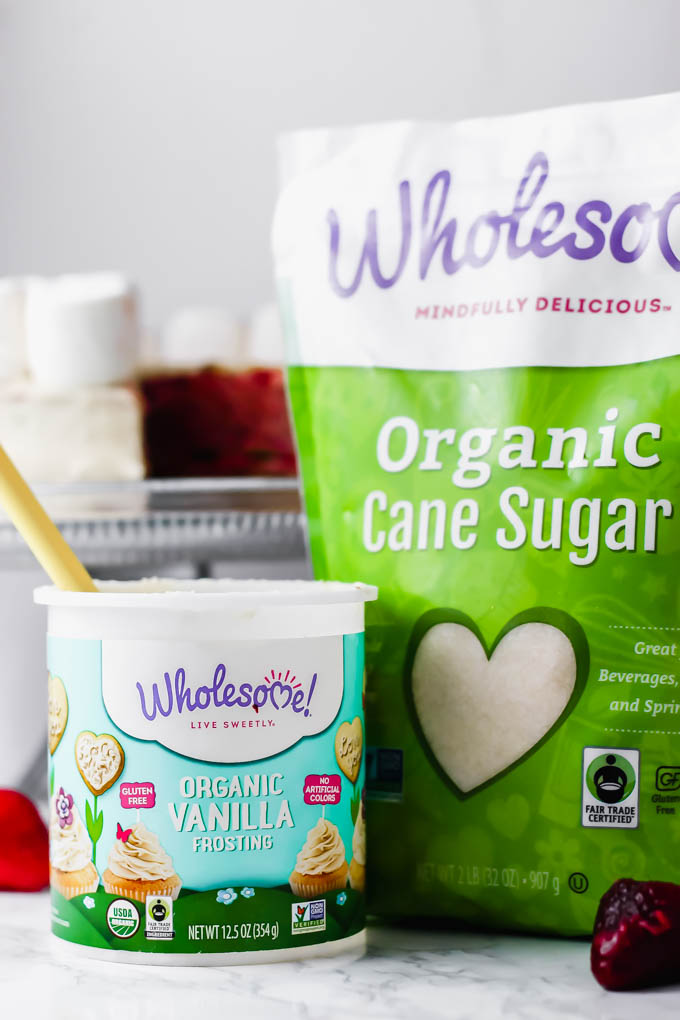 Print
How to make:
Vegan Vanilla Strawberry Cake (Marshmallow Lamb!)
This fluffy, decadent Vegan Vanilla Strawberry Cake is perfect for any occasion—Easter, baby showers, birthday parties, you name it! To make it extra special for Easter, the cake is decorated with a marshmallow lamb.
Ingredients
For the cake:
3/4 cup

unsweetened non-dairy milk

1 teaspoon

apple cider vinegar

2 cups

unbleached all-purpose flour

1/2 cup

Wholesome Organic Cane Sugar

1 tablespoon

beet powder (optional, but gives bright pink color)

2 teaspoons

baking powder

1/2 teaspoon

baking soda

1/2 teaspoon

salt

1/2 cup

neutral oil (avocado, grapeseed, sunflower)

1/2 cup

unsweetened dairy-free yogurt

3/4 cup

strawberries, pureed

2 teaspoons

vanilla extract
For the icing:
1

12.5-ounce can Wholesome Organic Vanilla Frosting

½ cup

strawberries, thinly sliced

20

–

22

large vegan marshmallows

½ teaspoon

beet powder or pink sprinkles

1 tablespoon

Wholesome Organic Blackstrap Molasses
Instructions
Preheat oven to 350ºF. Grease the bottom of two 9-inch cake pans with cooking spray or oil.

In a medium bowl, add non-dairy milk and apple cider vinegar. Give it a quick stir, then set aside for 10 minutes.

In a large bowl, add flour, sugar, beet powder, baking powder, baking soda, and salt. Stir until thoroughly combined.

To the bowl with the milk mixture, add oil, yogurt, pureed strawberries, and vanilla. Whisk until combined.

Slowly pour the wet ingredients into the dry ingredients. Whisk until ingredients are just combined, making sure to not overmix. Divide the batter evenly between the cake pans.

Bake for 30 minutes, until a toothpick inserted in the middle of the cake comes out clean.

Set aside until completely cool before removing from the pans. You can refrigerate to speed up the process.

Remove from pans. Slice the tops off of each layer to create a flat surface. Place on layer on a serving plate; spread icing evenly on top. Arrange sliced strawberries in a single layer. Place the second layer on top. Spread the rest of the icing on the top and sides of the cake.

Place marshmallows in a circle around the top of the cake, then add more on one side to create the "bangs" (see photos). In a small bowl, add beet powder and enough water to make a paste. Color the paste on top of two marshmallows opposite each other, then color a nose in the middle of the cake. Alternatively, you can use pink sprinkles.

Place the molasses in a small plastic bag with a

small

part of a corner cut off. Pipe the molasses to create eyes and a mouth.

To store, refrigerate cake covered in foil for up to 4 days.
Thanks to Wholesome for sponsoring this post! I love working with brands whose products I really love and would honestly recommend. Thank you for supporting this blog that I love oh-so-much!