Hey everyone! Today's post is going to be short and sweet because today starts our fall break! We have a hiking trip planned (including lots of homemade granola and hummus) and are really looking forward to just relaxing with the fam. Plus I get to see my dog!
Anywayyyyy, I know you came here for the candy 'cause HALLOWEEN!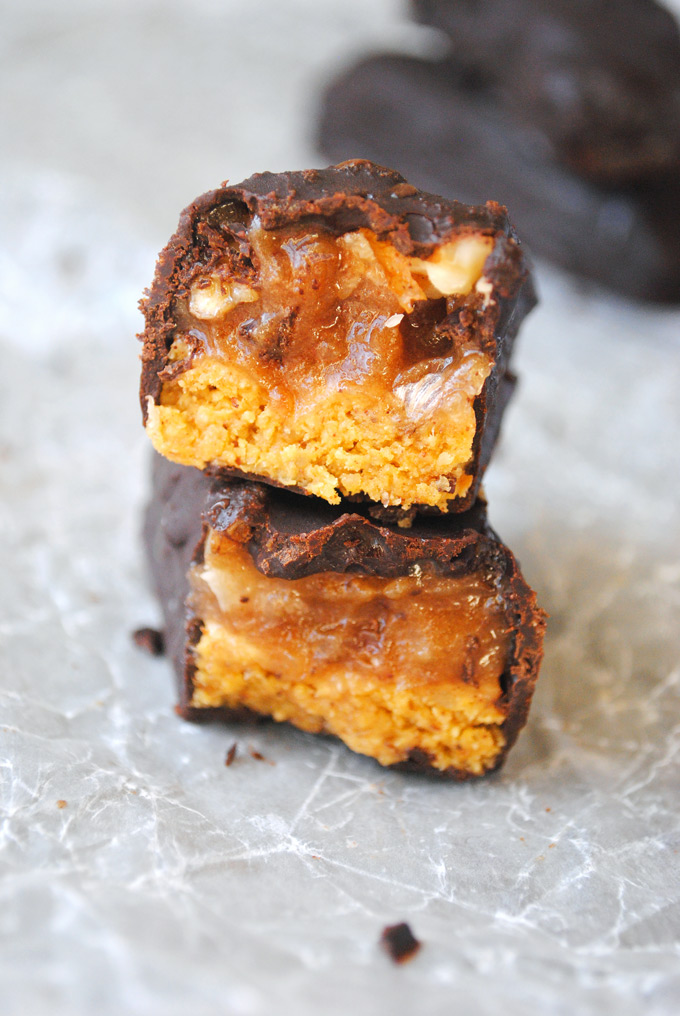 Halloween is such a fun holiday. Even thought I'd rather salty over sweet any day, I always loved having a few Snickers or Reese's on Halloween night. Well, since that stuff is 100% crap, I'd rather just make my own! So I made Snickers Bars, which were always one of my favorite candies. AND I added pumpkin because it's still fall, y'all?
First, you make the nougat pumpkin layer and freeze it. Then you make the date caramel sauce (!!!), top with nuts, and freeze again. All I had was walnuts, but feel free to use any nut you like!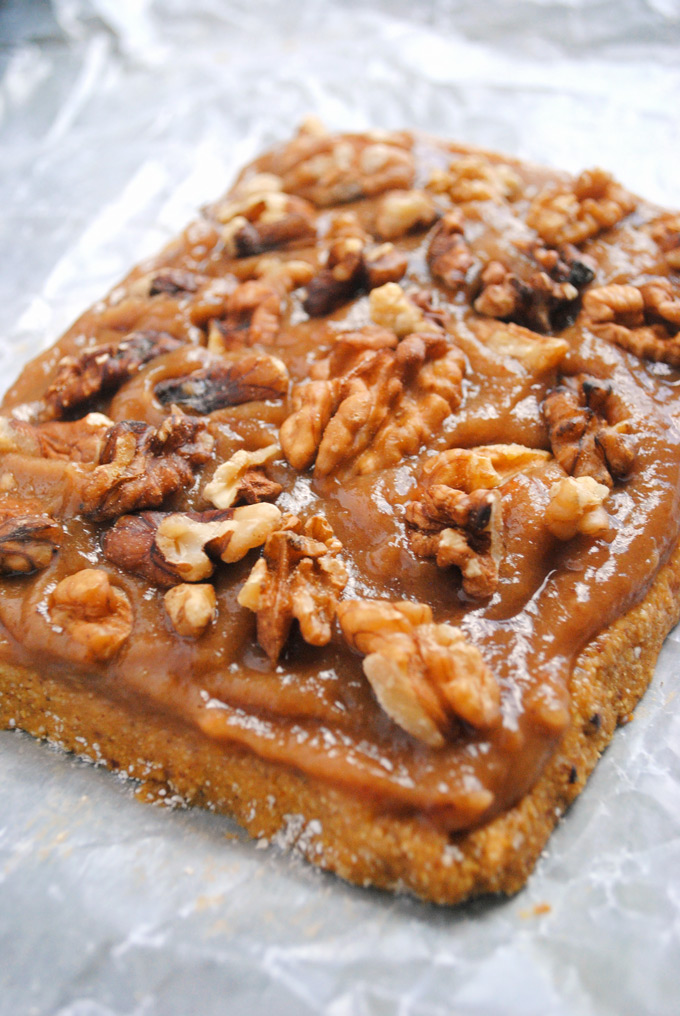 You can make mini Snickers which would be perfect for Halloween parties and little fingers in princess costumes. Oh, those were the days….
I went for full-size bars, and the recipe made 5. You can double or even triple the recipe to make more, and since they store in the freezer, you don't have to worry about the extra going bad! But my guess is you won't have any extra.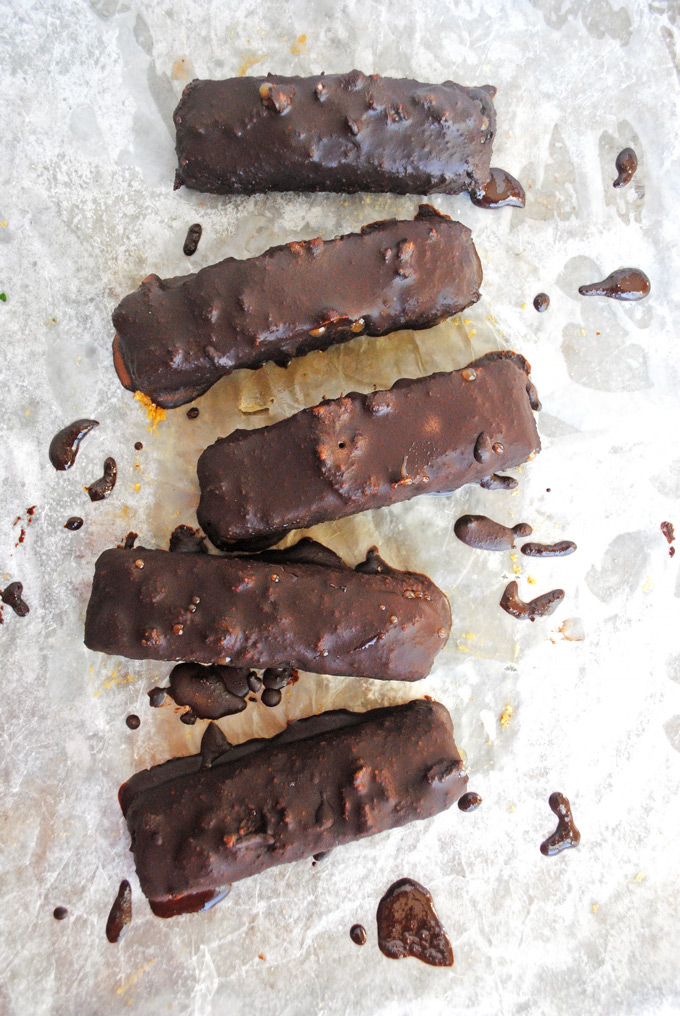 I hope you love these Pumpkin Snickers Bars! I bet you have all the ingredients too, so you can whip them up quick tonight or tomorrow! They're sweet, crunchy, satisfying, and waaaaay healthier than any candy you could buy at the store. You can feel good about indulging in some of these for Halloween or giving them to your kids. Everyone's happy yay!
Have a happy Halloween, everyone!?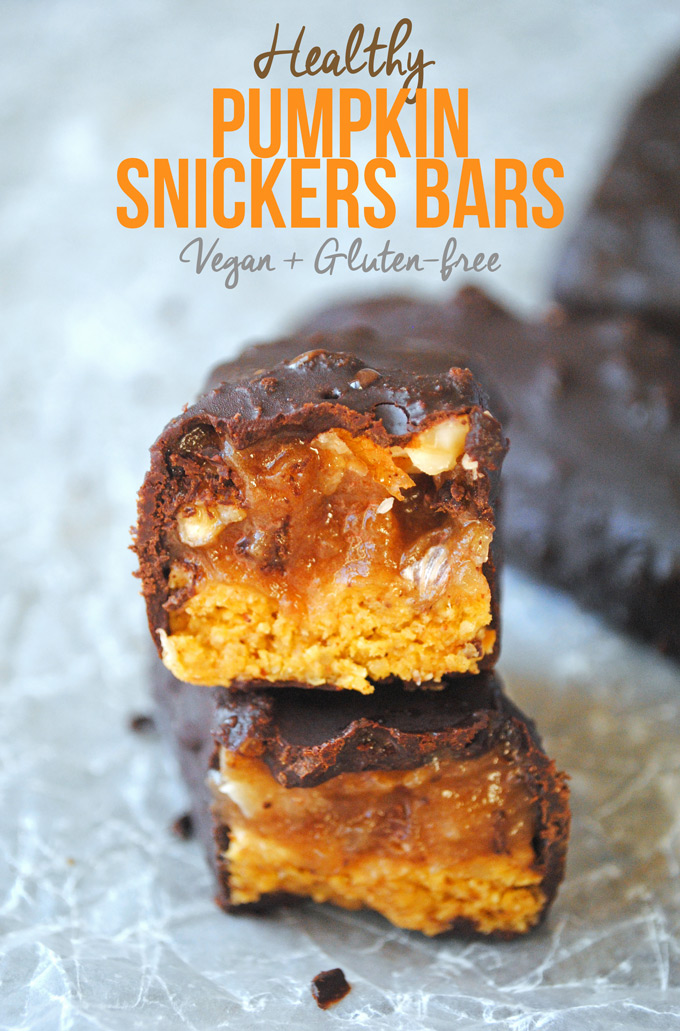 Print
How to make:
Healthy Pumpkin Snickers Bars (vegan + gluten-free)
Healthier than the classic store-bought candy, these Pumpkin Snickers Bars are sweet and crunchy using natural ingredients. They're perfect for Halloween!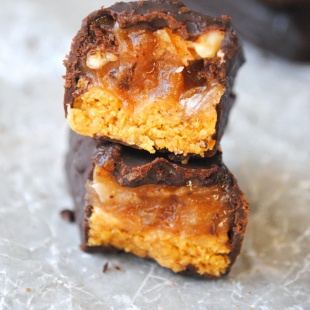 Yield:
5

full-size bars, or

15

mini bars

1

x
Ingredients
1/2 cup

oat flour (ground-up rolled oats)

2 tablespoons

pumpkin purée

2 tablespoons

almond butter

1 tablespoon

maple syrup

1 teaspoon

vanilla extract, divided

1/4 teaspoon

+

1/8 teaspoon

salt, divided

1/8 teaspoon

cinnamon

1/2 cup

pitted dates

1/2 cup

peanuts, or other nut of choice

1/2 cup

+

1 tablespoon

cocoa powder

1/4 cup

+

2 tablespoons

coconut sugar

3 tablespoons

coconut oil, melted
Instructions
Line a baking sheet with parchment paper.
In a medium bowl, mix oat flour, pumpkin, almond butter, maple syrup, 1/2 teaspoon vanilla, 1/8 teaspoon salt and cinnamon until combined.
On the baking sheet, form dough into a rectangle about 1/2-inch thick. Freeze for 1 hour.
Meanwhile, soak the dates in hot water for 10 minutes.
In a blender or food processor, blend dates, 1/4 cup water, 1/2 teaspoon vanilla, and 1/8 teaspoon salt until smooth.
Spread date sauce over the nougat layer. Top with nuts; freeze for 1 hour.
In a medium bowl, mix cocoa powder, sugar, oil, and 1/8 teaspoon salt. Microwave the chocolate if needed to melt the sugar. Mix until well combined.
Cut the bars into 5, or into mini bars. Place each bar in the chocolate bowl and completely cover the bar. Place back onto the baking sheet.
These bars will melt easily, so store in the freezer.