This isn't your typical sad vegan veggie burger recipe. These are hearty, dense, smoky Wild Rice Mushroom Veggie Burgers that will please everyone at the dinner table! Serve them on a whole-wheat bun with veggies and ketchup for a balanced vegan meal.
Smoky Wild Rice Mushroom Veggie Burgers
Let's be real. There is nothing better than taking a huge bite of a hearty mushroom veggie burger on a fluffy bun paired with a pile of fries and, of course, ketchup. Side note: I recently rediscovered my love of ketchup, and everything tastes more magical now.
I love the wide variety of actual meat-like (like, really meat-like) vegan burgers on the market these days; it's truly incredible to see! My favorites are the Beyond Burger from Beyond Meat and the Gardein Beefless Burgers. We've grilled these for diehard carnivores, and they loved them. Just in case you needed more reason to try them. 💅🏼
Even though these store-bought alternatives can be a fun treat every now and then, they can definitely do damage to your wallet if you buy them super often. So let's make our own mushroom veggie burgers, shall we? Sure, they may not be as meat-like, however these wild rice mushroom veggie burgers are still hella hearty and mouth-watering. I promise it'll be your new go-to vegan veggie burger recipe. If you're looking for more options, here are a few from Emilie Eats that literally everyone at dinner will devour:
Also, might I suggest serving some crispy sweet potato fries with beet ketchup alongside these mushroom veggie burgers?
Ingredients for Mushroom Veggie Burgers
A bonus of making these mushroom veggie burgers at home is being able to throw in some beans, whole grains, and vegetables! These are the under-the-radar actually-really-nutritious veggie burgers you've been waiting for. Here's what you'll need to make them:
Flax meal. When mixed with water, flax meal makes the perfect vegan egg substitute. 
Dry wild rice. To add texture and make these mushroom veggie burgers super satiating.
Oil. I recommend something like olive or avocado oil that can withstand high-heat.
Veggies. A yellow onion, bell pepper, jalapeno and of course mushrooms are all packed into this vegan veggie burger recipe.
Black beans. For added protein, fiber, and to build on the meatiness of the veggie burger. You can use canned, or cook up a batch of dried beans in under an hour with my guide to making Instant Pot Black Beans! 
Garlic.
Low sodium soy sauce. This adds a salty, savory flavor to the veggie burger.
Seasonings. Liquid smoke, paprika, cumin and black pepper all add to the amazing flavor of these mushroom veggie burgers. The liquid smoke & paprika make them taste like you just took them off the grill. YUM.
Oat flour. To help hold the veggie burger together.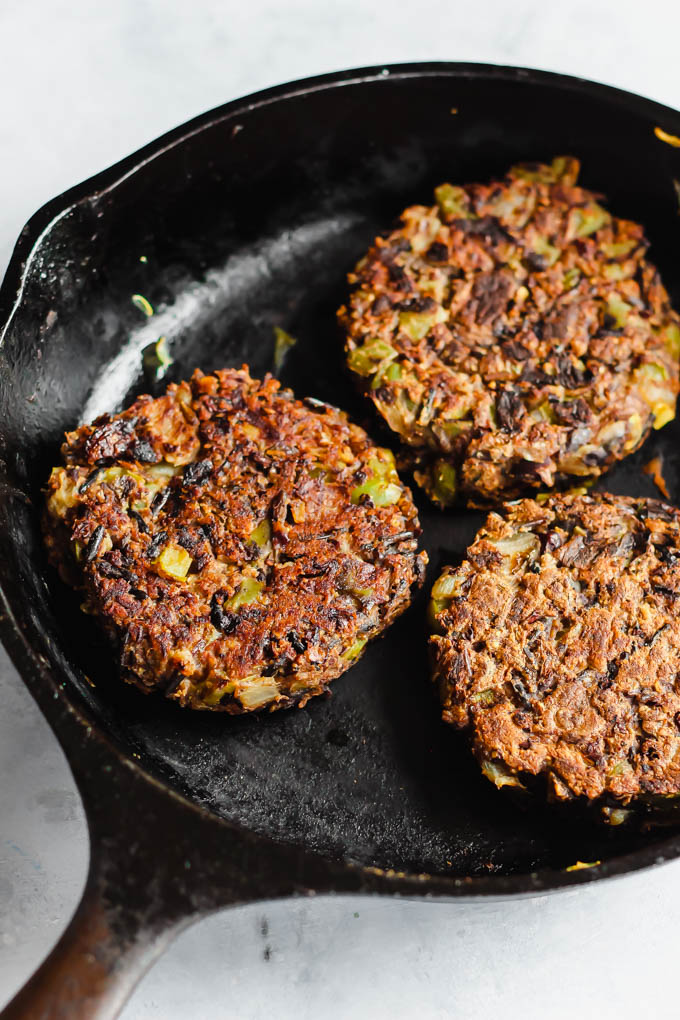 How to cook wild rice
I used wild rice because I had some in my pantry I needed to use up (real life). Fun fact: wild rice is one of the only grains native to North America and it has a pretty wild history of appropriation from the grain grown by the Ojibwe people of Minnesota. 
Wild rice is an awesome grain to use in this mushroom veggie burger, even though the fact that the cook time can seem intimidating. You'll use 2 cups of water (alternatively, you could try veggie broth!) for every ½ cup of rice and will let the rice simmer on the stove for 40-45 minutes. Certainly that cook time feels long. However, the best part about this vegan veggie burger recipe is that you can prepare the rest of your ingredients and saute the veggies while your wild rice cooks.
Print
How to make:
Smoky Wild Rice Mushroom Veggie Burgers
These aren't sad veggie burgers. These are hearty, dense, smoky Wild Rice Mushroom Veggie Burgers that will please everyone at the dinner table! Serve them on a whole-wheat bun with veggies & ketchup for a balanced vegan meal.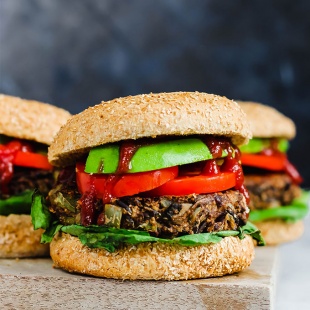 Ingredients
For the patties:
2 tablespoons

flax meal (ground flax seed)

1/2 cup

dry wild rice

High-heat oil for cooking (I use

avocado oil

)

1

small yellow onion, finely chopped

1

bell pepper, finely chopped

1

jalapeno pepper, seeds removed, finely chopped

8 ounces

crimini mushrooms, stems removed, thinly sliced

3

cloves garlic, minced

1

15-ounce can (1 ½ cups) black beans, drained and rinsed

2 tablespoons

low-sodium soy sauce

1 teaspoon

liquid smoke

1/2 teaspoon

paprika

1/2 teaspoon

cumin

1/2 teaspoon

black pepper

3/4 cup

oat flour*
For the burgers:
8

whole-wheat hamburger buns (or gluten-free, if necessary)

Romaine lettuce

2

Roma tomatoes, thinly sliced

1

avocado, sliced

Ketchup
Instructions
Add flax meal and 5 tablespoons water in a small bowl; stir. Set aside in the fridge.

To a medium saucepan, add wild rice and 2 cups water; bring to a boil. Reduce heat to simmer and cover; cook for 40-45 minutes, until rice is tender and has soaked up all the water.

While the rice is cooking, heat 1 tablespoon of oil in a skillet over medium heat. Once hot, add onion; cook for 5-7 minutes. Add bell pepper and jalapeño; cook until the vegetables are tender, about 5-7 minutes, stirring often. Add mushrooms; cook for 5 minutes. Add garlic; cook for 1 minute, making sure not to burn the garlic. Remove from heat.

In a large bowl, add black beans; mash with a potato masher or fork, leaving some texture. Add cooked rice, sautéed vegetables, soy sauce, liquid smoke, paprika, cumin, pepper, and reserved flax meal mixture. Stir until combined. Add oat flour; mix until ingredients are evenly combined.

Using a ½-cup scoop, form each patty (you should have 8 patties). Place on a baking sheet and slightly flatten. Place the baking sheet in the freezer for 10 minutes.

To a skillet over medium heat, add a little oil. When hot, add patties. Cook for 8-10 minutes, until crispy; flip and cook for 8-10 minutes on the other side. Repeat for all patties.

Serve each patty on a bun with romaine, tomato slices, avocado slices, ketchup, and other desired toppings.
Notes
*To make your own own oat flour, simply blend rolled oats into a fine flour using a high-speed blender or food processor.