A 30-minute meal that will please everyone! These Vegan Tostadas are piled high with smoky Mexican-inspired tempeh and a bright and zesty mango slaw that's perfect for summer.
Vegan Tostadas with Smoky Tempeh and Mango Slaw
Funny story about these vegan tostadas. I actually made this recipe randomly with no plan to post it, but it turned out so delicious that I couldn't wait to share it with you guys!
I had some leftover corn tortillas after making the Spicy Braised Tofu Tostadas from the Everyday Cooking book by the team at Minimalist Baker. Both the tostadas and the cookbook are amazeballs, so I highly recommend checking them out for recipes that will knock your socks off. I loved Dana's tostadas so much that I wanted to do something similar with my leftover corn tortillas.
One of the cool things this vegan tostada recipe is that most of it is build-your-own, which is great for entertaining or just picky eaters at the dinner table! All you have to do is lay out the ingredients and toppings. Then let everyone build their own tostadas for a one-way ticket to mealtime bliss. Easy peasy. But the best thing about these vegan tostadas? They're done in 30 minutes.
I hope I got the point across that you need to make these ASAP for dinner, lunch, breakfast…heck, they're good enough to have for dessert. Weird? I know. They're just so damn good, so let's go!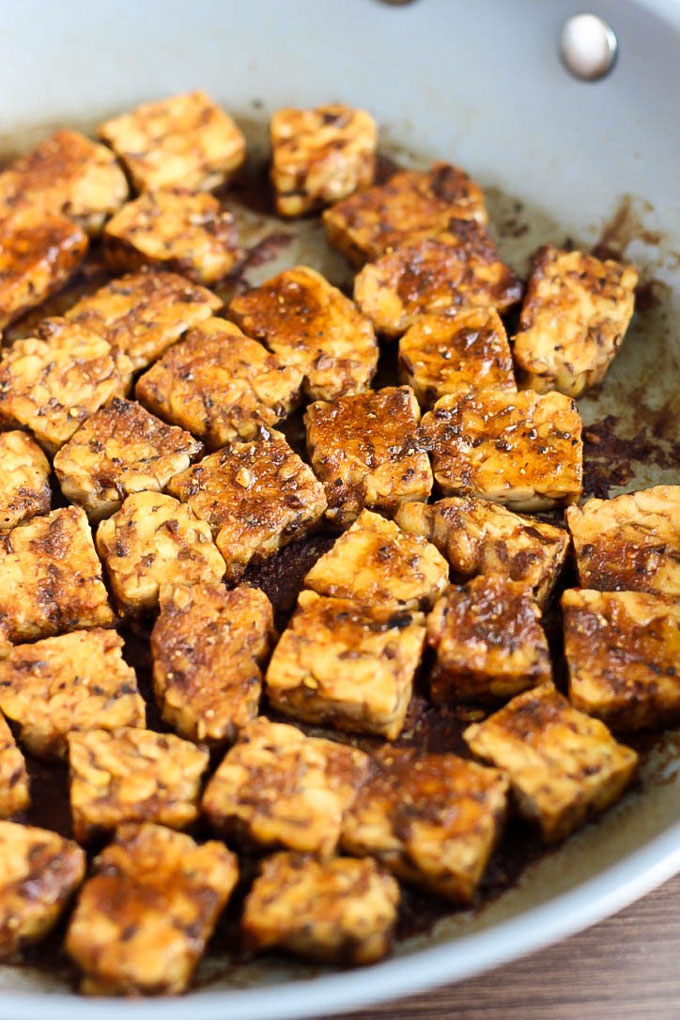 How to Make Smoky Tempeh for Vegan Tostadas
I'm a tempeh > tofu gal any day, so that's what we're going with today for this vegan tostada recipe! Tempeh is pretty "meaty" and satisfying, making it the perfect food to turn any carnivore into a #1 plant fan.
I cut my tempeh into bite-sized cubes for this vegan tostada recipe. You could cut it into strips if you prefer, but I find these vegan tostadas easier to eat when the tempeh is cubed.
Next, I whipped up a smoky, Mexican-inspired marinade for the tempeh made with soy sauce, chili powder, hot sauce, ground cumin, garlic powder, onion powder, black pepper and the secret ingredient (although I guess it's not so secret if I'm telling you) – liquid smoke. The liquid smoke makes the tempeh taste like it was grilled in the backyard, which is one of my favorite summer flavors. If you don't have liquid smoke, you could also use smoked paprika for a similar effect in these vegan tostadas.
Y'all, the marinade. I swear I could bathe in it, but I guess I'll save it for the vegan tostadas. It's the perfect mix of salty, smoky, Mexican-y (?), and damn good on some tempeh. You'll want to let your tempeh cubes marinate for at least 5-10 minutes in the sauce, but if you have more time, you can let them go for up to an hour to really soak up the flavor. And guess what? Since this is a vegan tostada, you don't have pour that marinade down the drain after seasoning your tempeh. Add that good stuff straight into the pan with your tempeh or on top of your tostadas if you want em extra saucy.
Finally, let them get all toasty & crispy in a skillet and then you're ready for toppings!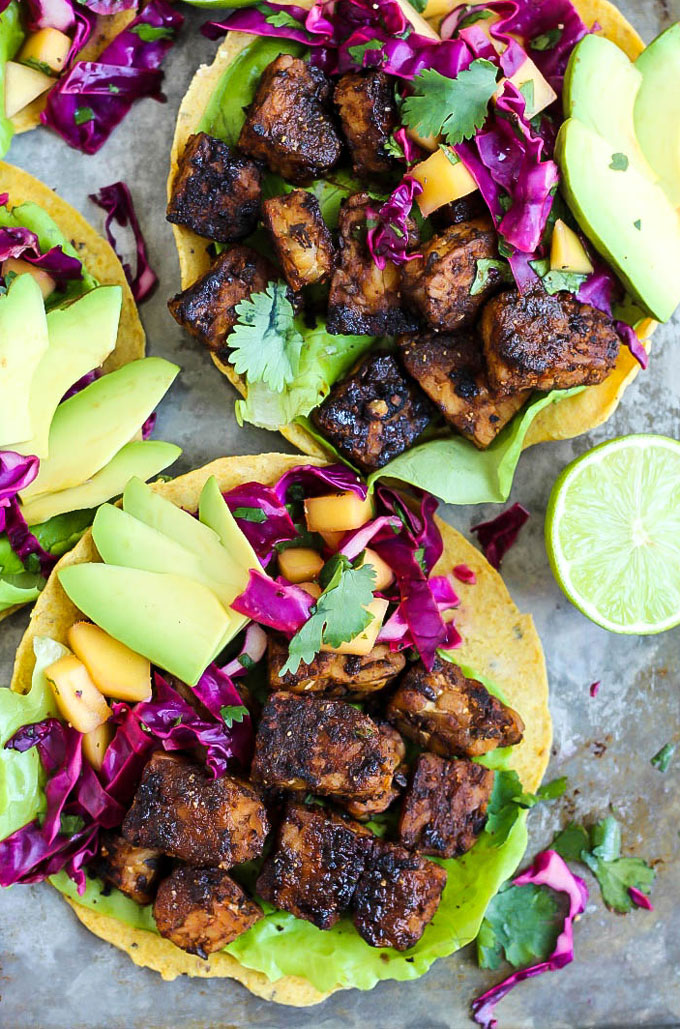 How to Make Mango Slaw 
Since the tempeh is perfectly salty and spiced, I wanted something a little tangy and slightly sweet on these vegan tostadas to complement it. Mango slaw to the rescue! Since I added cabbage to my mango slaw, it's got that crisp crunch with a bit of fruity deliciousness from the mango. Just think about what you're getting in each bite: crunchy corn tortilla, smoky tempeh, tangy cabbage, sweet mango, and creamy avocado…uhmmmm, can you say flavor bomb?! I'm seriously already craving these vegan tostadas for lunch today.
To make the slaw, shred up some red cabbage, dice up a mango, mince your cilantro and mix it all together with some fresh lime juice, apple cider vinegar, agave nectar and a healthy pinch of salt. You can make your slaw while your tempeh is cooking, but if you have a little extra time, I recommend making the mango slaw first so that you can let it really sit and get super tangy while you work on the rest of the components for your vegan tostadas.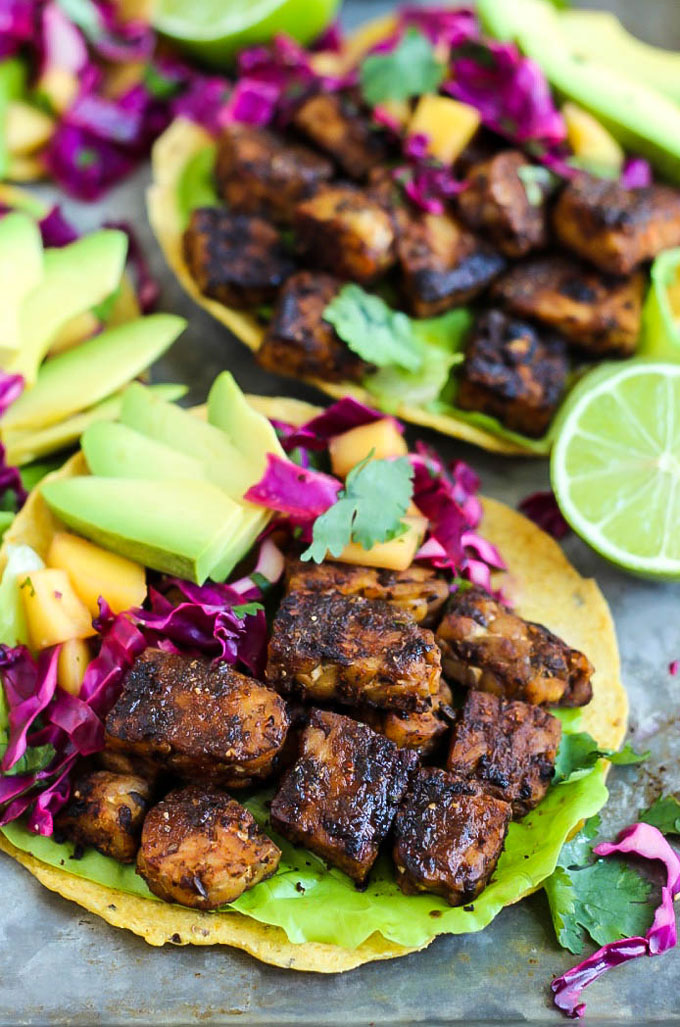 More Vegan Tostada Recipes
I could have Mexican food every day and never get tired of it. (Read: I'm making these tempeh tostadas every week and nothing can stop me.) Seriously, who can resist guac, crispy tortillas, and that delicious blend of spices? If you're craving more crunchy goodness, then check out one of my other vegan tostadas below!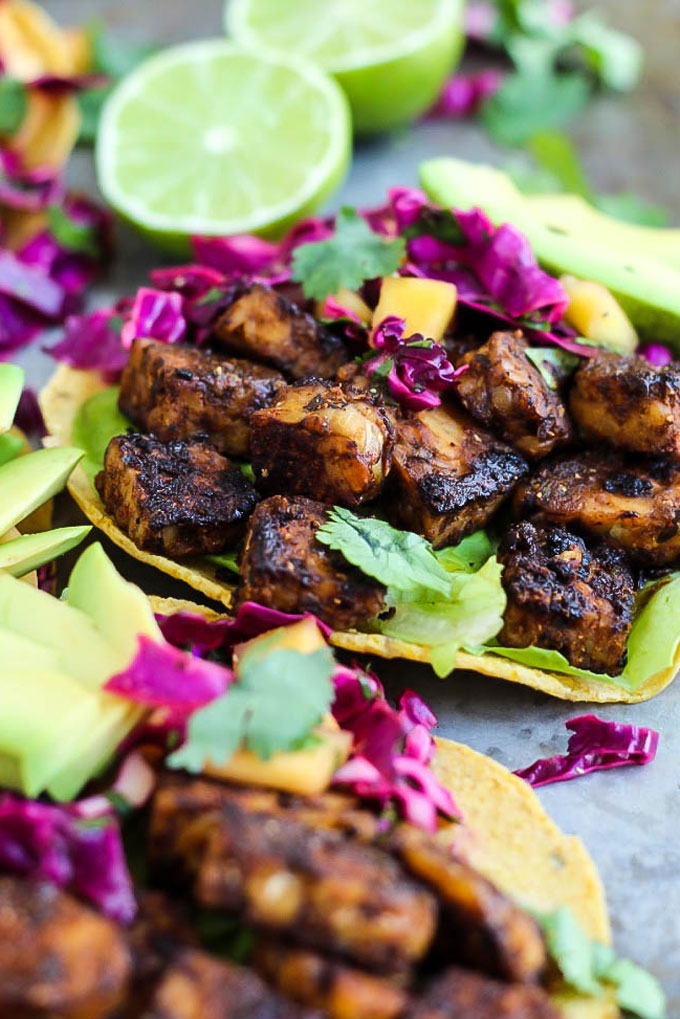 Print
How to make:
Vegan Tostadas with Smoky Tempeh and Mango Slaw
A 30-minute meal that will please everyone! These Vegan Tostadas are piled high with smoky Mexican tempeh and a bright and zesty mango slaw.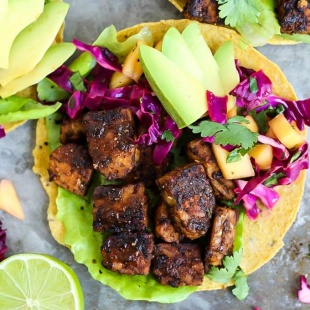 Ingredients
1

8-ounce package tempeh, cut into thin chunks

1/4 cup

soy sauce or liquid aminos

1 teaspoon

chili powder

1/2

–

1

teaspoon hot sauce (depending on how spicy you want it)

1/2 teaspoon

ground cumin

1/2 teaspoon

liquid smoke

1/2 teaspoon

garlic powder

1/2 teaspoon

onion powder

1/4 teaspoon

black pepper

6

corn tortillas
Oil for cooking

1 1/2 cups

red cabbage, shredded

3/4 cup

mango, diced

1/2 cup

cilantro, finely minced, plus more for topping

1 tablespoon

fresh lime juice

1 teaspoon

apple cider vinegar

1 teaspoon

agave nectar

1/4 teaspoon

salt
Additional toppings: cilantro, avocado, salsa, lettuce
Instructions
Preheat oven to 350°F.
Place the tempeh chunks in a medium bowl.
In a small bowl, add soy sauce, chili powder, hot sauce, cumin, liquid smoke, garlic powder, onion powder, and pepper. Whisk to combine. Pour over tempeh; stir until evenly coated. Set aside for 5-10 minutes.
Place corn tortillas on a baking sheet. Lightly brush with oil. Bake for 10 minutes, until crispy and golden.
In a skillet over medium heat, add the tempeh. Let it cook on on side for 4-5 minutes, until browned. Flip the chunks; cook for another 3-4 minutes.
While the tempeh and tortillas are cooking, add red cabbage, mango, cilantro, lime juice, vinegar, agave, and salt to a medium bowl. Stir to combine.
Scoop the tempeh onto the tortillas, then top with slaw and any other desired toppings.