This Spaghetti Squash Peanut Stir Fry is an easy, hearty, vegetable-packed dinner that's done in just 1 hour. Vegan & gluten-free!
I am sooooo !!!! excited to share this recipe with you all today! Not like it's anything super earth-shattering – it's just a simple stir-fry plus spaghetti squash. Whoop-dee-doo, right? I'm no recipe revolutionary.
But I'm always challenging myself to create recipes that you (yes, YOU) will actually want to make in your own kitchen. The type of recipe that isn't scary or something you just pin to your "Dinner" Pinterest board and forget about. That's not what I'm about.
This delicious peanut stir-fry fits my lazy-girl-with-ton-of-homework-plus-394283-other-things requirements: 1 hour cooking time✔️ packed with vegetables✔️ simple pantry ingredients✔️ freaking delicious✔️ (bonus points for having peanut butter🏆)
Have you ever heard of the concept of love languages? Cayden and I were talking about it the other day, but he had never heard of them, so it was mostly me talking (what's new). We were talking about what our own love languages are, and now that I'm looking at the list, I think I'm definitely an acts of service giving person.
I've always loved volunteering, and it's actually a goal of mine to do more of it. I love physically showing my love for someone – not really by buying anything (#broke #minimalism), but especially by doing something for them or making something with my own hands. I'm a DIY girl 4 life.
My favorite way to show love or appreciation is to cook someone good food. First of all, I'm not buying something that's going to collect dust on a shelf. I'm making someone a meal that will nourish their body and soul… and belly. 😊 Second, what says "I love you" more than "I took time out of my day to create something beautiful and delicious that we can share together"?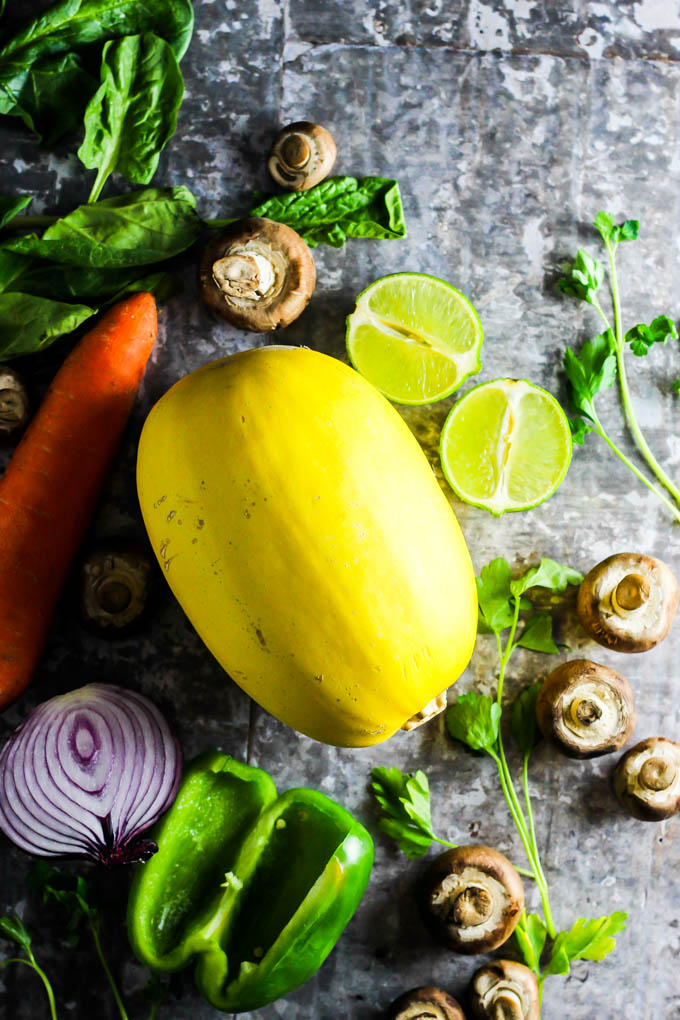 I bring all of that up because I made this recipe for the first time for my mom when she came to visit me. We went to the National Eating Disorders Association (NEDA) Walk here in Baton Rouge, and then we brought my dog to the dog park. It was truly the best day EVER!
I like to cook for my mom when she comes into town because 1. our only restaurant option is basically Chipotle and 2. I never get to cook for her, and she loves my food! I think she especially likes when I cook for her at my apartment so she doesn't have to clean up the dishes…
Safe to say, the recipe was a hit with both of us. Plus it only took an hour to come together, so I knew it was destined for the blog. Here it is in all of its vegetable-packed peanut buttery glory!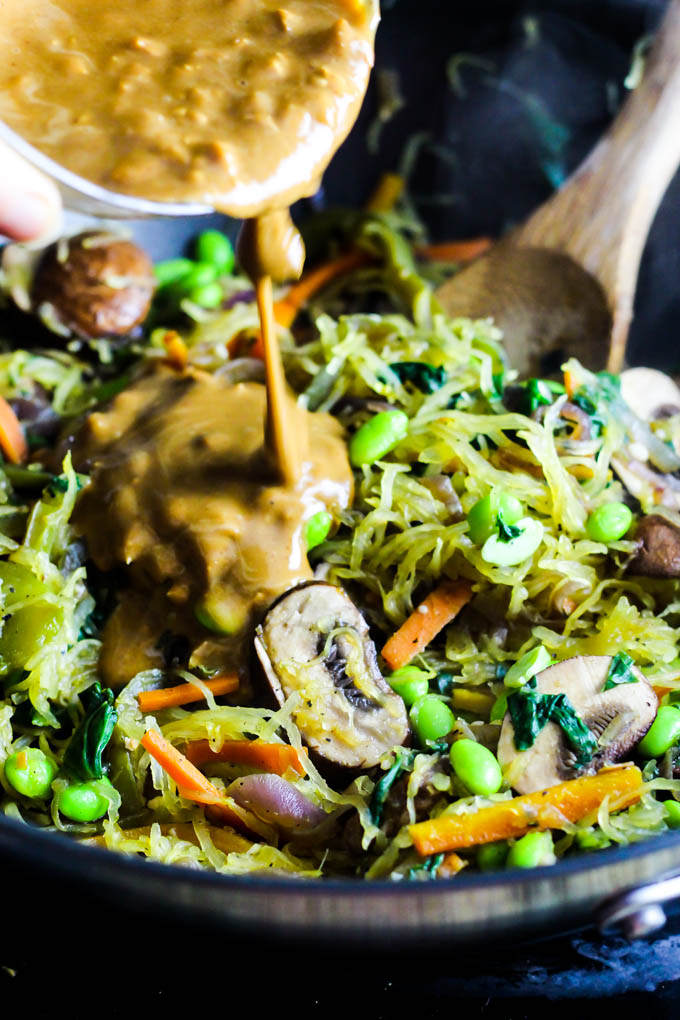 So. Many. Vegetables. Yasssssss.
It's super simple, folks. Roast your spaghetti squash. While that's happening, sauté your veggies. Make da sauce. Add spaghetti squash. Stuff in face.
I love to serve these with some roasted potatoes on the side because carbs, duh. Oh, you thought I replaced pasta with spaghetti squash because I was cutting carbs? Nah, I just love squash.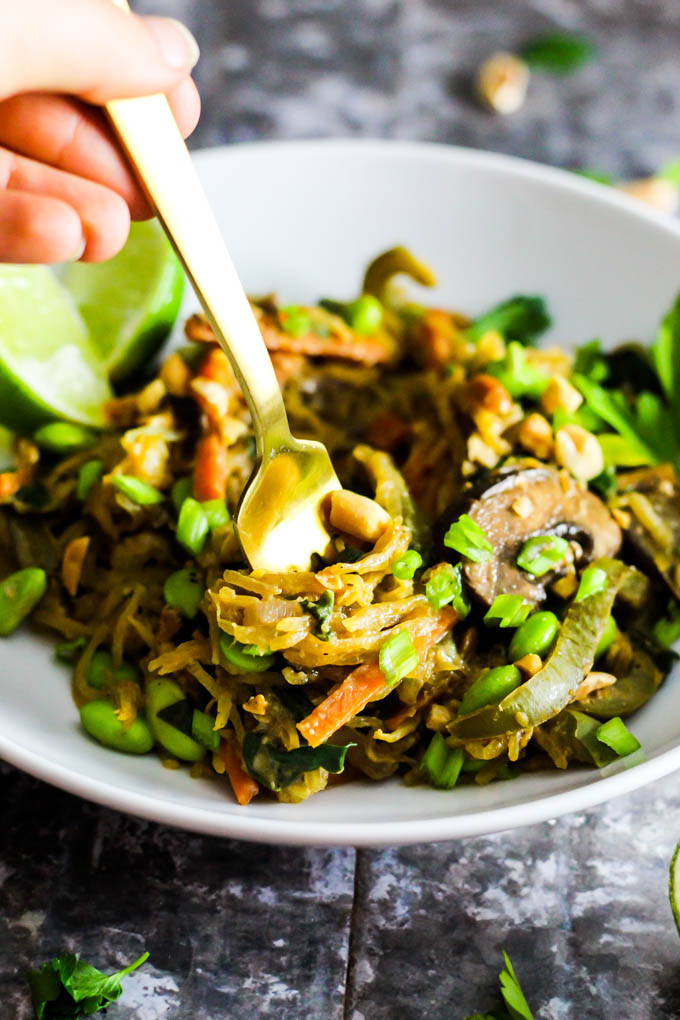 I cannot WAIT to see all of your recreations of this easy recipe! You can really customize it with whatever veggies you have on hand – I think bok choy, kale, and celery would be great in here. As long as it's drenched in peanut butter sauce.
Be sure to let me know in the comments how you like the recipe if you try it! Post a picture of it on Instagram and tag @emilieeats and #emilieeats so I can see it. Because I'm nosy. Sorry not sorry!
Question: Do you have a love language? How do you show love?
Print
How to make:
Spaghetti Squash Peanut Stir Fry
This Spaghetti Squash Peanut Stir Fry is an easy, hearty, vegetable-packed dinner that's done in just 1 hour. Vegan & gluten-free!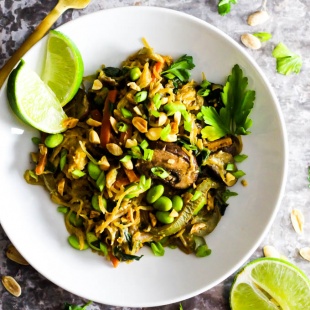 Ingredients
1

medium spaghetti squash

1/2

red onion, thinly sliced

1

bell pepper, thinly sliced

1

medium carrot, thinly sliced

3

cloves garlic, minced (about

1 1/2 teaspoons

)

8 ounces

mushrooms, sliced

3 cups

spinach, chopped

3/4 cup

shelled edamame

1/4 cup

organic soy sauce, tamarin or liquid aminos

1/4 cup

water

3 tablespoons

natural peanut butter

1 1/2 teaspoons

coconut sugar

1 teaspoon

Sriracha hot sauce

1/2 teaspoon

ground ginger
For topping: sliced green onion, chopped peanuts, chopped cilantro
Instructions
Preheat oven to 375F.
Cut the knob off of one end of the spaghetti squash, then cut it in half lengthwise. Place the halves skin side down on a baking sheet or directly on oven racks. Bake for 45 minutes, until tender.
In a wok or large skillet, warm up a little water or oil over medium heat. Add onions, bell peppers, and carrots; cook for 5-7 minutes, stirring, until onions begin to turn translucent.
Add garlic; cook for 1 minute. Add mushrooms and spinach; cook until spinach is wilted. Add edamame; cook for 1 minute. Remove from heat.
In a small bowl, add soy sauce, water, peanut butter, coconut sugar, Sriracha, and ginger. Whisk until smooth.
When the spaghetti squash is done, remove from the oven. Remove the flesh with a fork, separating the strings.
Return skillet with vegetables to medium heat. Add shredded spaghetti squash; stir. Pour sauce over the vegetables; cook for 3-5 minutes, stirring until all ingredients are combined throughly.
Serve with fresh green onions, chopped peanuts, or chopped cilantro.