Truth be told, I've never been a mint + chocolate fanatic. Thin Mints just weren't my thing (Trefoils all the way). Mint chocolate protein bars are never in my pantry. Trust me, I love the two separately…but together? Not so much.
Wait, just kidding. Not anymore. These chocolate mint brownies made me a believer in all things mint + chocolate, and now I'm never going back.
I've always been pretty plain when it comes to flavors. I will admit that, yes, plain vanilla is my favorite ice cream flavor. I know, I'm weird. I hated tomato sauce until I was in my teens; I used to just eat pasta with butter. I really didn't like any sauces or dips growing up except ketchup. Because c'mon, who didn't love that stuff?
P.S. anyone remember that green ketchup? I don't even want to know what's in that.
I like my food plain and how it should be. I don't want cayenne pepper in my chocolate bar; no thanks, I just want it plain and chocolate-y. So, when it came to mint + chocolate combos, I just wanted the chocolate on its own. How does everyone else feel about the combo?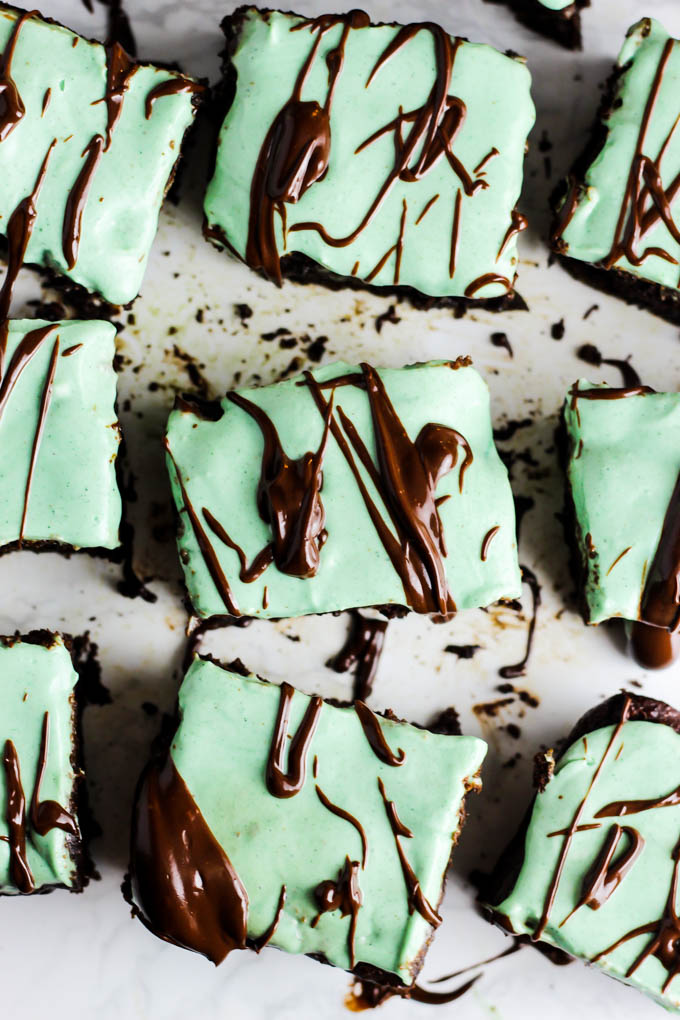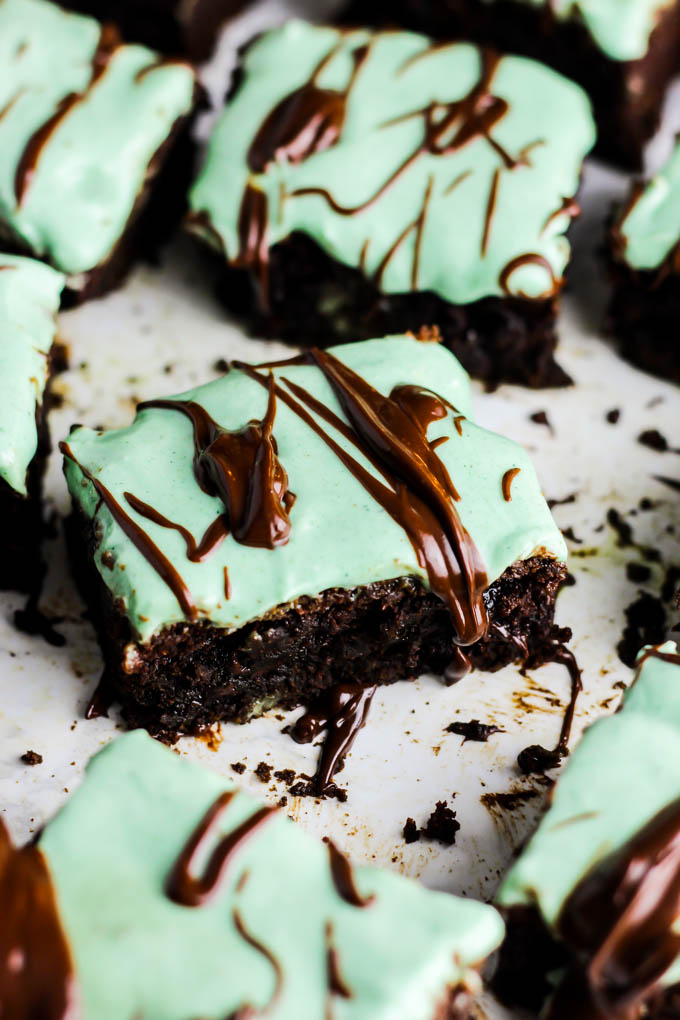 I don't know what this newfound love for mint + chocolate means for my recipe creations (so many ideas!), but it definitely means I'll be making these brownies on repeat in the foreseeable future. Aka St. Patrick's Day weekend and every other weekend after that. OBSESSED.
This super easy recipe is based on my Chocolate Chip Almond Butter Brownies recipe which is based on my wildly popular Chocolate Chip Almond Butter Bars recipe. So, consider these chocolate mint brownies the new addition to the healthy bars/brownies fam.
Just like the other two recipes, these call for super minimal ingredients like oats, dates, nut or seed butter, applesauce, almond milk, cocoa powder, and, of course, peppermint extract! If you want to go the extra mile, blend in a couple leaves of fresh mint. Oh you fancy, huh. 😎
To get into the St. Patrick's Day spirit, we're topping these brownies with an easy coconut frosting colored with… SPIRULINA! Otherwise known as the healthiest food on the planet. Literally.
So, does that make these chocolate mint brownies the healthiest in the planet? Yes. Of course.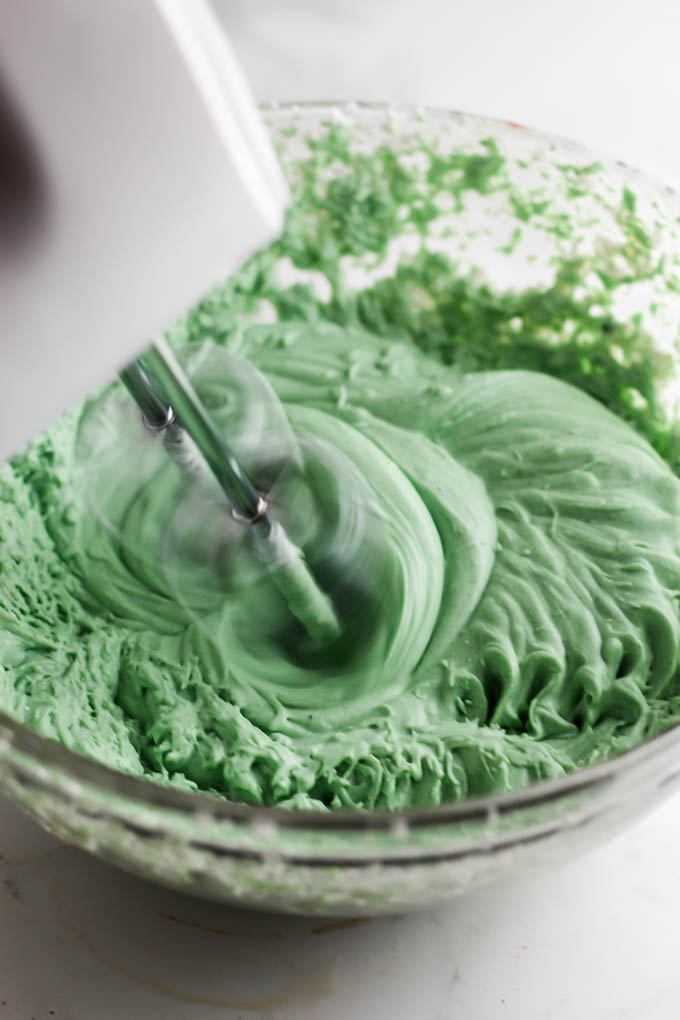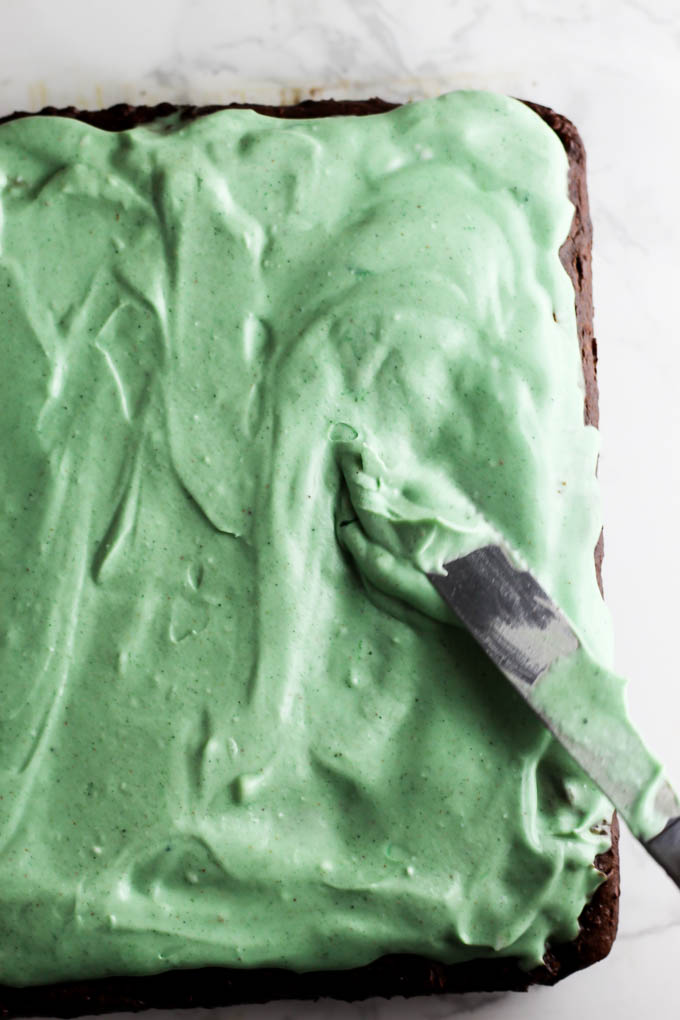 I'm super excited about sharing this recipe with you all today because 1. brownies are good always, and 2. it's part of a St. Patrick's Day collab I'm doing with a bunch of awesome vegan bloggers! They've got everything you need for your St. Patty's Day party, from sweet to savory and all oh-so-green. Make sure to check out their recipes! (linked below the picture)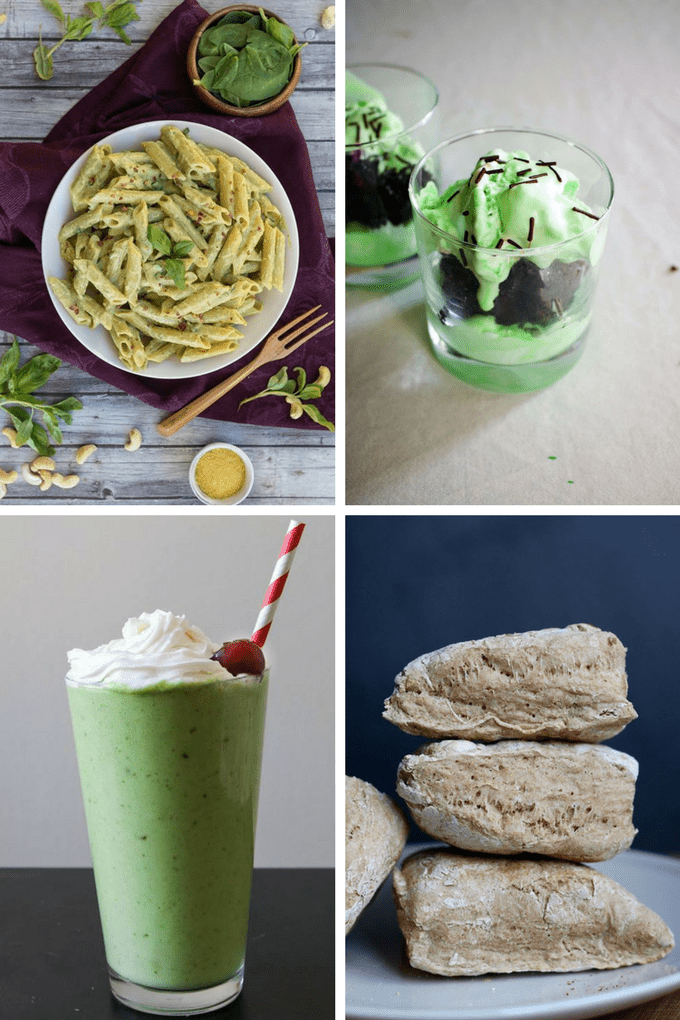 Creamy Basil Alfredo Sauce (oil-free) by Jasmine & Chris of Sweet Simple Vegan
Brownie Whip Parfait by Lisa Reimi
Vegan Shamrock Shake by Caitlin Shoemaker of From My Bowl
Irish Soda Farls by Faith VanderMolen
How do you feel about the mint + chocolate combo? I'm going to try it in oatmeal with a touch of peppermint extract and cocoa powder. A smoothie might be good too! Any other suggestions?
If you get to try this recipe, be sure to let me know in the comments how you like it! Also, if you post a picture on Instagram, tag me @emilieeats and use #emilieeats so I can see your beautiful chocolate-y creations. You guys make me drool with all of your pictures!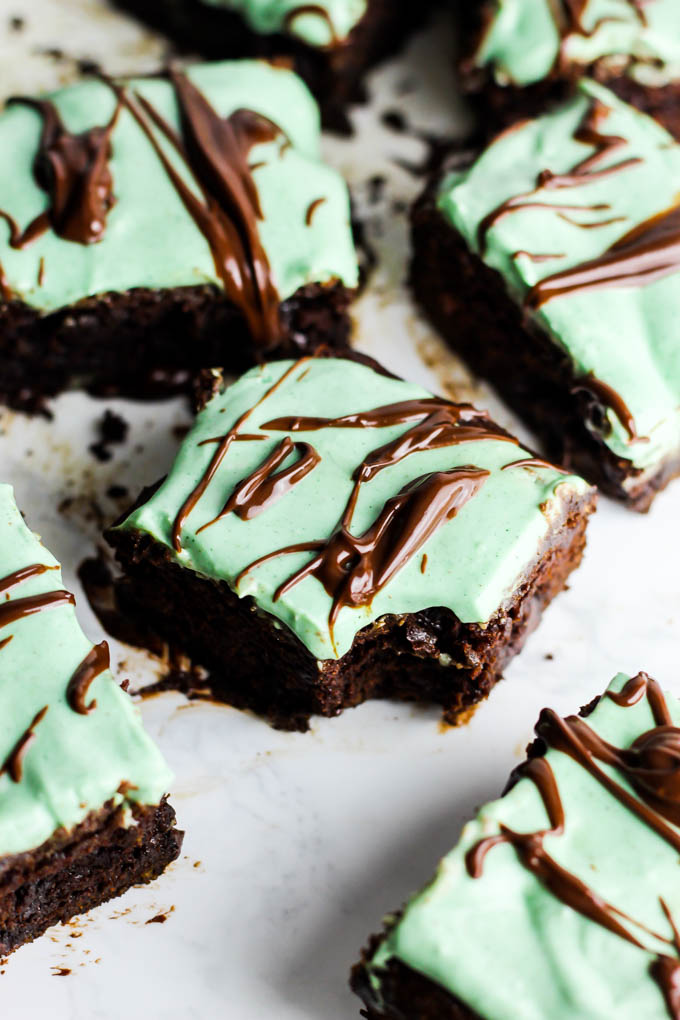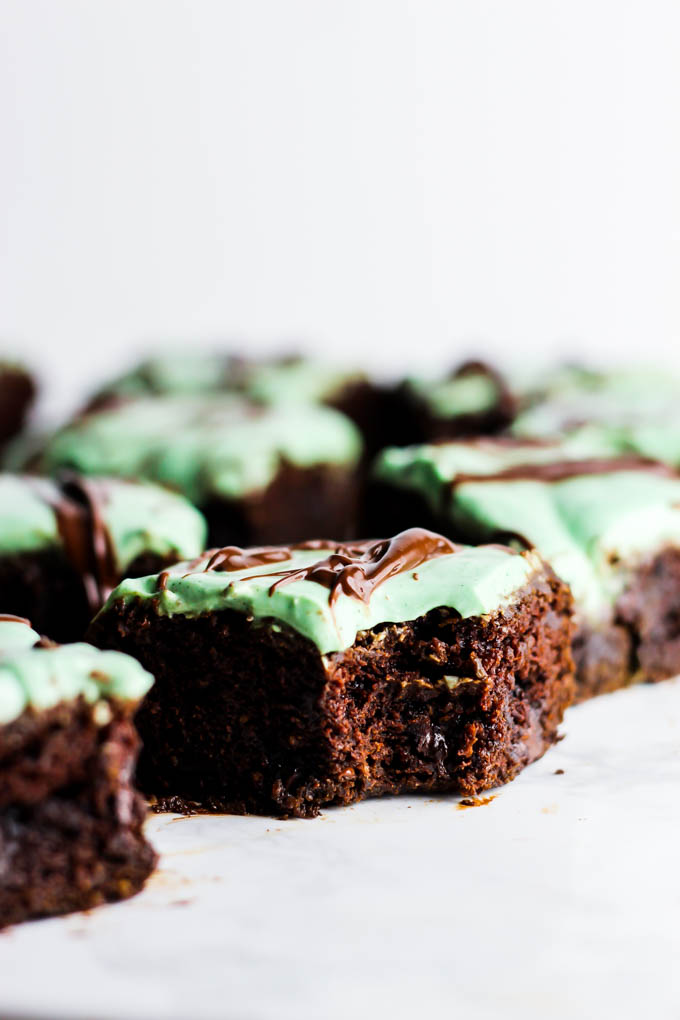 Print
How to make:
Chocolate Mint Brownies (vegan & gluten-free)
Your favorite healthy brownie recipe just got better! These Chocolate Mint Brownies are dense, chocolate-y & full of fresh mint flavor. Vegan & gluten-free!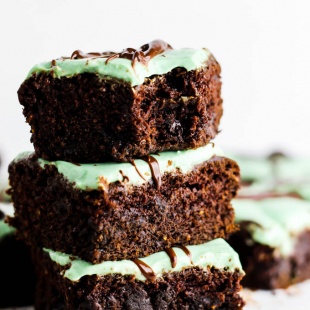 Ingredients
3/4 cup

pitted dates

3/4 cup

almond butter (or nut/seed butter of choice)

1/4 cup

unsweetened applesauce

1/2 cup

non-dairy milk

1/2 cup

oat flour*

1/3 cup

cocoa powder

2 teaspoons

peppermint extract, divided

1 1/2 teaspoons

baking soda

1 1/2 teaspoons

vanilla extract

1/4 teaspoon

salt

3/4 cup

chocolate chips, divided

1

14.5-ounce can full-fat coconut milk, chilled in fridge overnight

1/2 tablespoon

coconut sugar

1/2 teaspoon

spirulina powder
Instructions
Preheat oven to 350F. Lightly grease an 8-inch x 8-inch pan or line with foil.
In a medium bowl, place the dates; pour in enough hot water to cover. Let sit for 10 minutes. Drain dates.
In the bowl of a food processor or blender, add dates, almond butter, applesauce, and non-dairy milk. Process until well combined, stopping to scrape down the sides.
Add oat flour, cocoa powder, 1 1/2 teaspoons peppermint extract, baking soda, vanilla, and salt. Process until completely mixed.
Stir in 1/2 cup chocolate chips until all ingredients are combined.
Pour batter into the pan. Sprinkle with additional chocolate chips (optional)
Bake for 25-30 minutes. Let the bars cool in the pan for 10 minutes; place in fridge for faster cooling time.
Scoop out the solid white cream from the coconut milk; add to a medium bowl. Beat with an electric mixer or whisk until smooth. Add coconut sugar, spirulina powder, and 1/2 teaspoon peppermint extract. Beat until combined.
Scoop the coconut cream onto the brownies and spread evenly.
In a small bowl, add remaining 1/4 cup chocolate chips. Warm in the microwave for 30 seconds, then stir; repeat until melted. Drizzle chocolate on top of the brownies.
Slice and serve!
Notes
*To make your own oat flour, simply place rolled oats in a blender or food processor and blend until a fine flour forms.
---
You may also enjoy…
Chocolate Chip Almond Butter Bars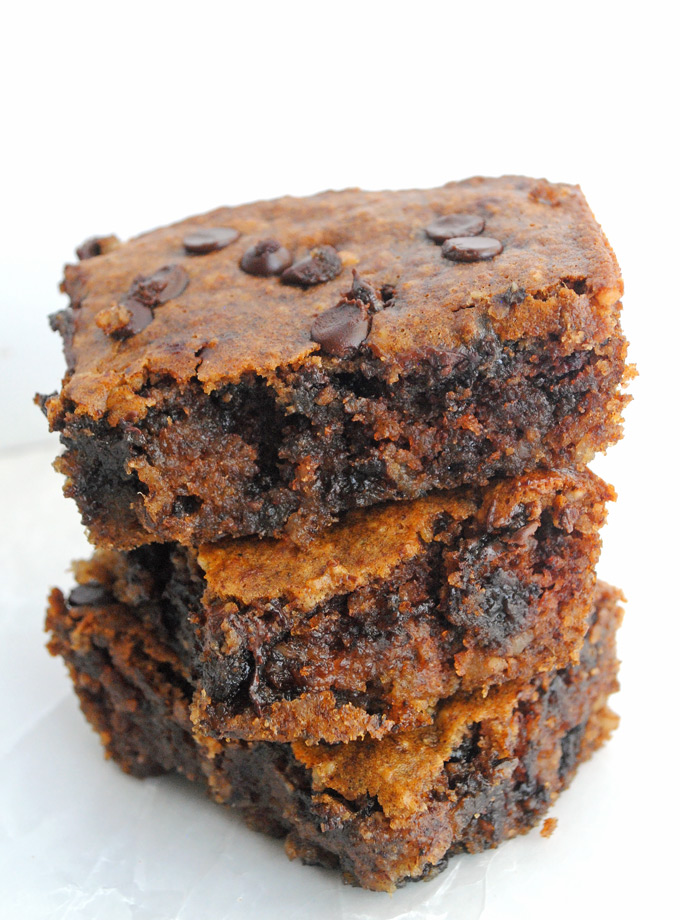 Chocolate Chip Almond Butter Brownies