This creamy Vegan Cashew Queso Chili Dip is the best tailgate recipe. Serve it with chips for the perfect game day appetizer! In partnership with my friends at Sweet Earth Foods. ❤️
Vegan Cashew Queso Chili Dip

You know when you're planning on hosting a few friends, and you want to impress them with something delicious to eat, but you just can't be bothered to make a crazy fancy, complicated recipe to share? That's where dips come in my friends!
I mean who doesn't love a good dip? Hummus, guac, salsa, bean dip – there's a dip for everyone and the best part is that they are so simple to make and hard to mess up! As we're heading into the fall, I know a lot of you are looking for tailgate recipes, and this vegan queso dip NEEDS to be at the top of your list to try!
But this isn't just any vegan queso. This is a vegan chili cheese dip, so we're topping off our cashew queso with plant-based Sweet Earth Chipotle Grounds! I've made tons of recipes using Sweet Earth Foods, including my Asian Veggie Burgers with Mango Cabbage Slaw, a Savory Stuffed Butternut Squash, and a Vegan Teriyaki Sushi Burrito! They are committed to creating meatless products that are better for the environment and for our bodies. (Psssst: check out their Eco Clock to see how many resources they save by being plant-based!)
This is four-step recipe, so you get to spend less time in the kitchen and more time snacking with your friends. That is, if you do intend on sharing it, because trust me, you might want to keep it for yourself 🙂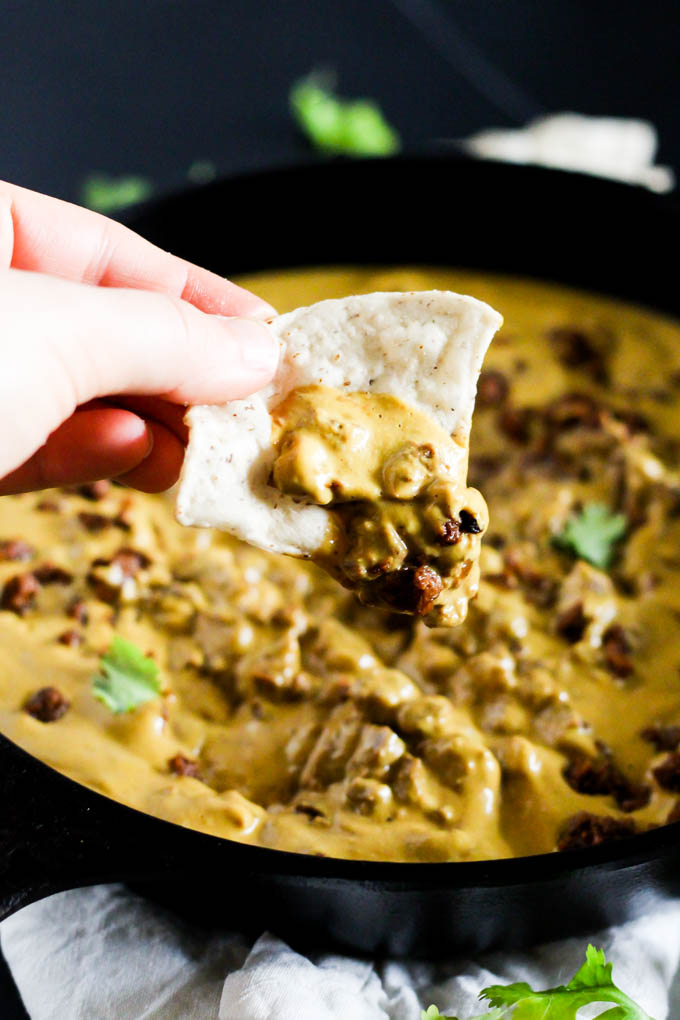 Ingredients for Vegan Cashew Queso Chili Dip
This vegan chili cheese dip is made up of two components: my trusty vegan cashew queso and the most delicious vegan Chipotle Grounds on top. The combo reminds me of queso fundido – it's a little spicy, creamy, and sooooooo cheesy. Here's what you'll need to make it!
Cashews. The must be raw! Roasted cashews will give too much of a nutty flavor to your vegan queso.
Carrots. These go into our vegan queso and not only add color, but a subtle sweetness that will balance out the chipotle.
Non-dairy milk. Any variety will work, but definitely go for unsweetened.
Nutritional yeast. Any vegan's bff! This is what gives our cashew queso that perfect cheesy flavor.
Salsa. Go for your favorite! Spicy, mild, chunky, it all works!
Miso paste. This is optional. I know it sounds a little odd, but trust me – this adds the most amazing umami flavor and totally takes this vegan cashew queso to the next level. It's definitely the kind of ingredient that you never knew was missing until you finally add it to your vegan queso recipe for the first time. Then there's no going back!
Garlic. Just one clove of fresh garlic, but if you loooove garlic, add a second!
Spices. You'll need onion powder, turmeric, cayenne, salt and pepper.
Sweet Earth Foods Chipotle Grounds. This is how we're turning our vegan cashew queso into a loaded vegan chili cheese dip!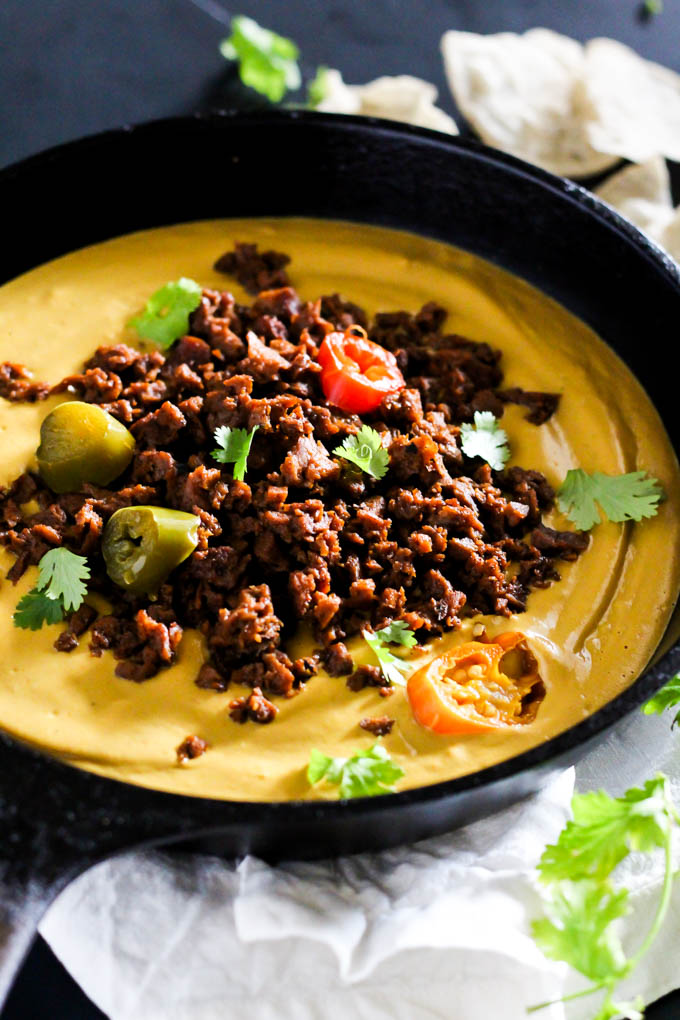 How to Make Vegan Cashew Queso
This vegan queso is so easy to make! You don't even need to soak your cashews in advance, and let's be honest, who can ever remember do to that?
To start, you'll boil your cashews and carrots for about 15 minutes. Once they're softened, drain them and add them to a blender with your milk, nutritional yeast, salsa, miso, garlic, and spices. Blend it up until it's nice and smooth. You can continue to add more milk if you prefer a thinner queso.
From here, the vegan queso is good to go! So you can totally stop here and enjoy it as is, but I think you're gonna want in on some of this vegan chili cheese dip, so I highly recommend the next step 🙂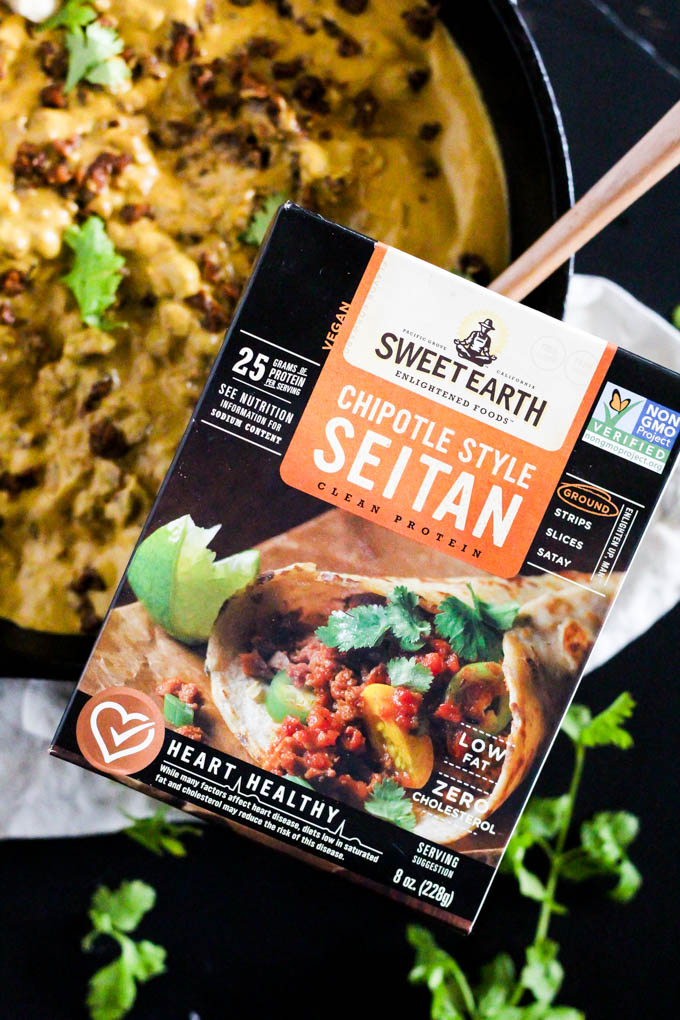 How to Make a Vegan Chili Cheese Dip
Yep, I had a feeling you'd want to kick it up a notch! The vegan queso is the base of our dip, and we're just one more step away from an epic vegan chili cheese dip.
Grab a skillet nice and get it nice and hot on the stovetop. Once your pan is hot, saute your chipotle grounds for about 10 minutes. You'll want to cook them until they start to get nice and crispy. Once it looks like you've got some crunchy bits going, add the grounds on top of your vegan queso and serve as is, or mix it up to combine!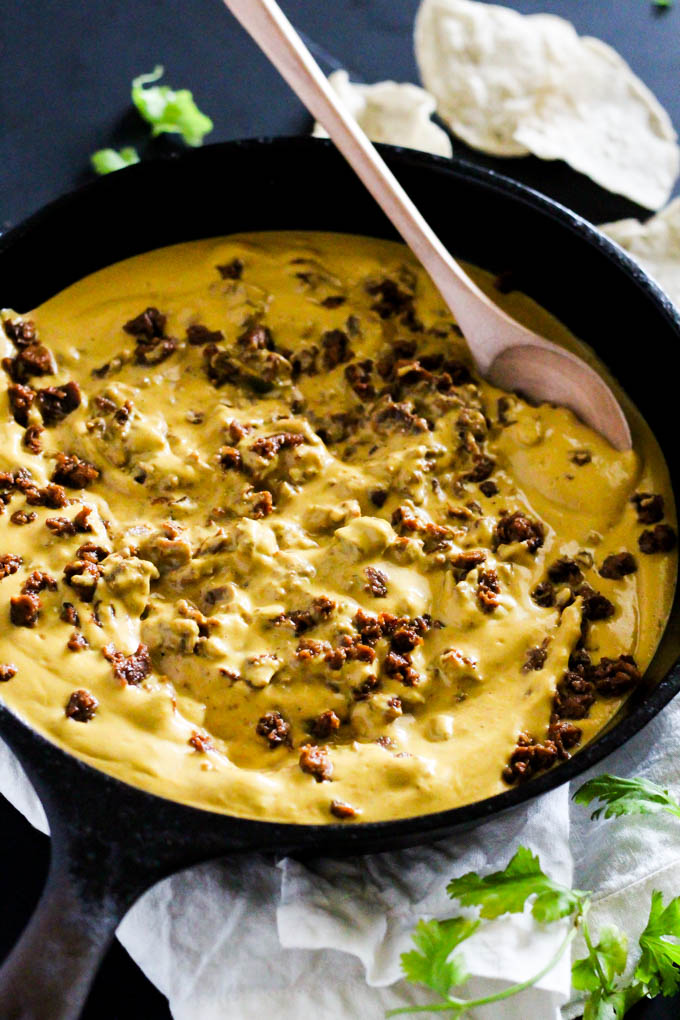 How to Serve This Vegan Queso Dip
There's so much you can do with this vegan queso chili dip! I personally love to serve it up as an appetizer, and there's a couple ways you could do that. If you're making this vegan chili cheese dip as a tailgate recipe for game day, I recommend grabbing a bag of your favorite tortilla chips to serve on the side. This dip also reminds me of queso fundido, so another delicious way to eat it would be with warm flour tortillas… drool.
If you want to get a little fancier, you could make this a fully loaded chili cheese dip and add on some pico de gallo, fresh chopped onions, cilantro and a bit of vegan sour cream!
More Tailgate Recipes
This vegan chili cheese dip is the ultimate game day appetizer to enjoy with friends. If you're looking for more shareable vegan appetizers and tailgate recipes, check out these ones!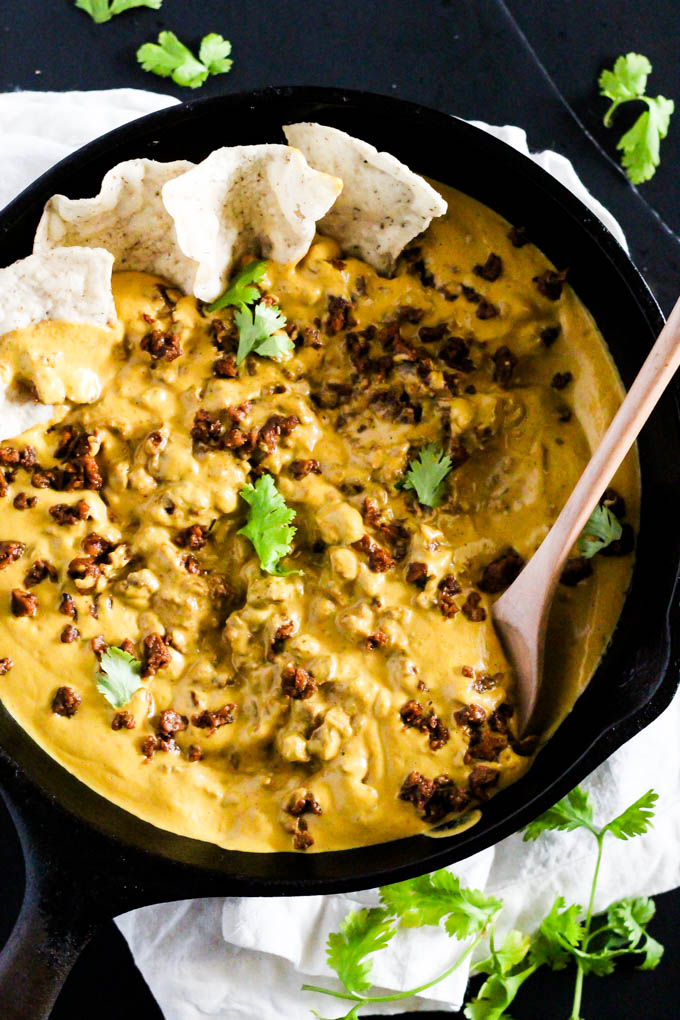 Print
How to make:
Vegan Cashew Queso Chili Dip
This creamy Vegan Cashew Queso Chili Dip is the best tailgate recipe. Serve it with chips for the perfect game day appetizer!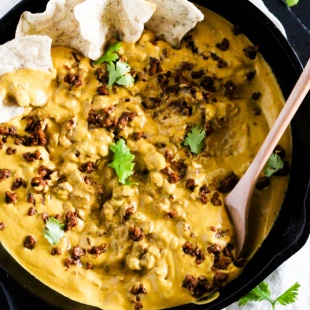 Ingredients
1/2 cup

raw cashews

1/2 cup

carrots, chopped into

1/2

-inch chunks

3/4

–

1

cup unsweetened non-dairy milk

1/4 cup

nutritional yeast

2 tablespoons

salsa

1 teaspoon

miso paste (optional)

1

clove garlic

1/2 teaspoon

onion powder

1/4 teaspoon

ground turmeric

1/4 teaspoon

ground cayenne pepper
Salt & pepper, to taste

1

package Sweet Earth Foods Chipotle Grounds (defrosted if frozen)
Tortilla chips (for serving)
Instructions
In a small pot, add cashews and carrots; cover with water. Bring to a boil; boil for 15 minutes. Drain.
To a blender, add cashews, carrots, 3/4 cup non-dairy milk, nutritional yeast, salsa, miso (if using), garlic, onion powder, turmeric, cayenne pepper, and a touch of salt & pepper. Blend until smooth; add more milk for a thinner sauce.
Heat a skillet over medium heat. Add chipotle grounds; cook for 8-10 minutes, until warm throughout and crispy.
Pour cashew cheese into a small serving pan or bowl. Add chipotle grounds; stir to combine.
Serve with chips.
Thanks to Sweet Earth Foods for sponsoring this post! I love working with brands whose products I really love and would honestly recommend. Thank you for supporting this blog that I love oh-so-much!