This creamy Vegan Chili Cheese Dip is a satisfying appetizer for your game day or party menu. Grab some chips for this meatless and dairy-free cheese dip! In partnership with my friends at Sweet Earth Foods. ❤️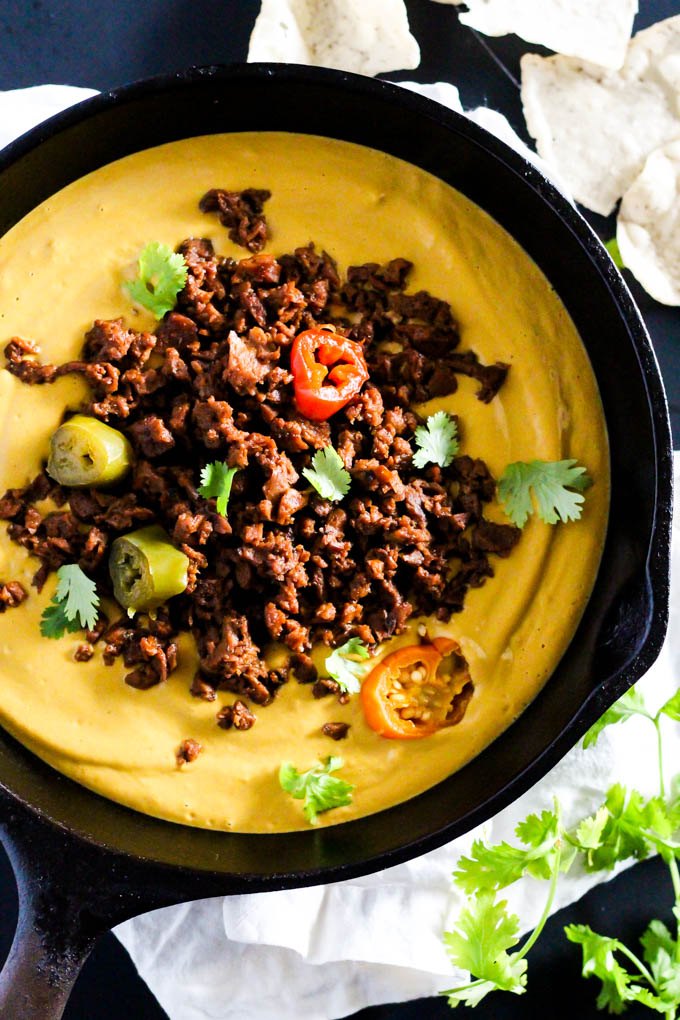 My last post of 2017! Where did the time go?! I know that's such a cliche thing to say, but I seriously remember the details of early 2017 so clearly that it feels like it just happened.
What a mighty fine year 2017 was. Waaaaaay better than 2016 – agreed? It was a year of big decisions (hi, grad school!), personal & business growth, learning how to ~chill out~, fun travels, and embracing more of the unknown. All in all, a kickass year!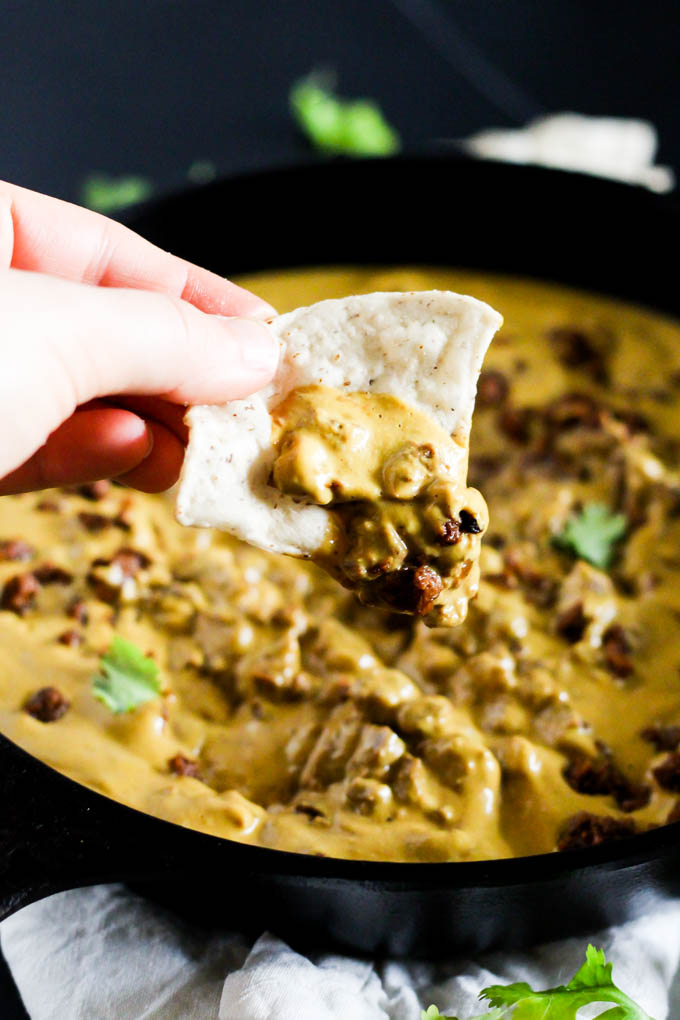 This year I had the pleasure of working with some amazing brands that are making waves in the food space, including Sweet Earth Foods! They are committed to creating meatless products that are better for the environment and for our bodies. (Psssst: check out their Eco Clock to see how many resources they save by being plant-based!)
I'm excited to keep on making BOMB recipes with Sweet Earth in 2018 (!!!), but let's take a look back on the recipes we made in 2017:
Asian Veggie Burgers with Mango Cabbage Slaw
Vegan Teriyaki Sushi Burrito (my personal fave!)
Mini Mexican Vegan Sloppy Joes
Savory Stuffed Butternut Squash
And now… *drumroll please*… VEGAN chili cheese dip!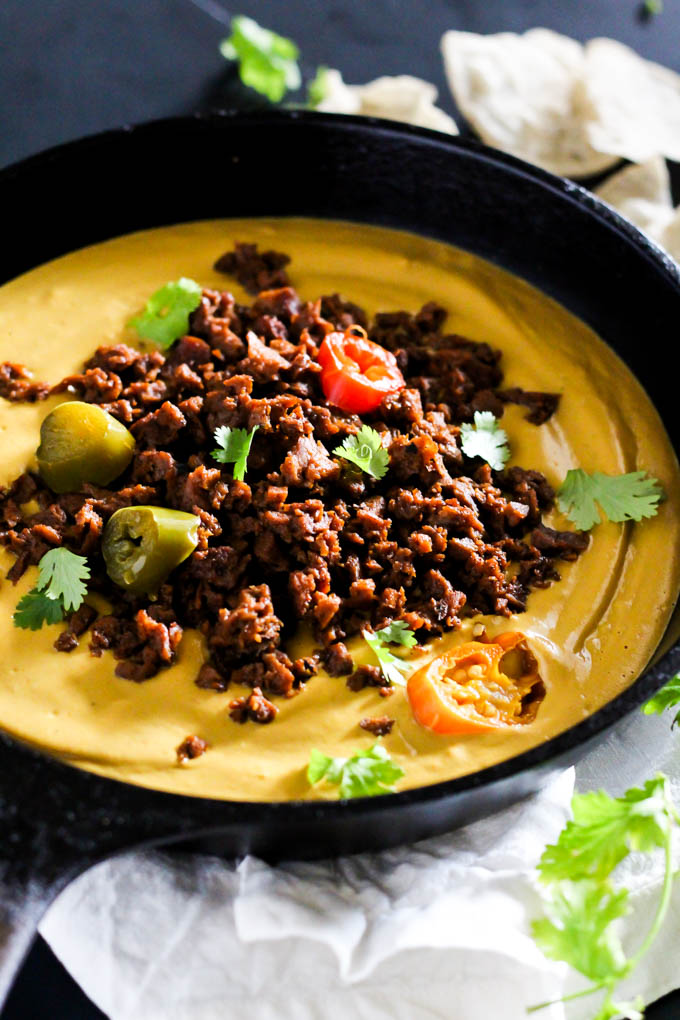 It's really simple. My trusty cashew cheese + Sweet Earth Chipotle Grounds = the most epic game day appetizer.
I know what you're thinking – but I don't want to share this on game day! I want it all for myself! I feel you, friend. No obligation to share; just a suggestion. 😉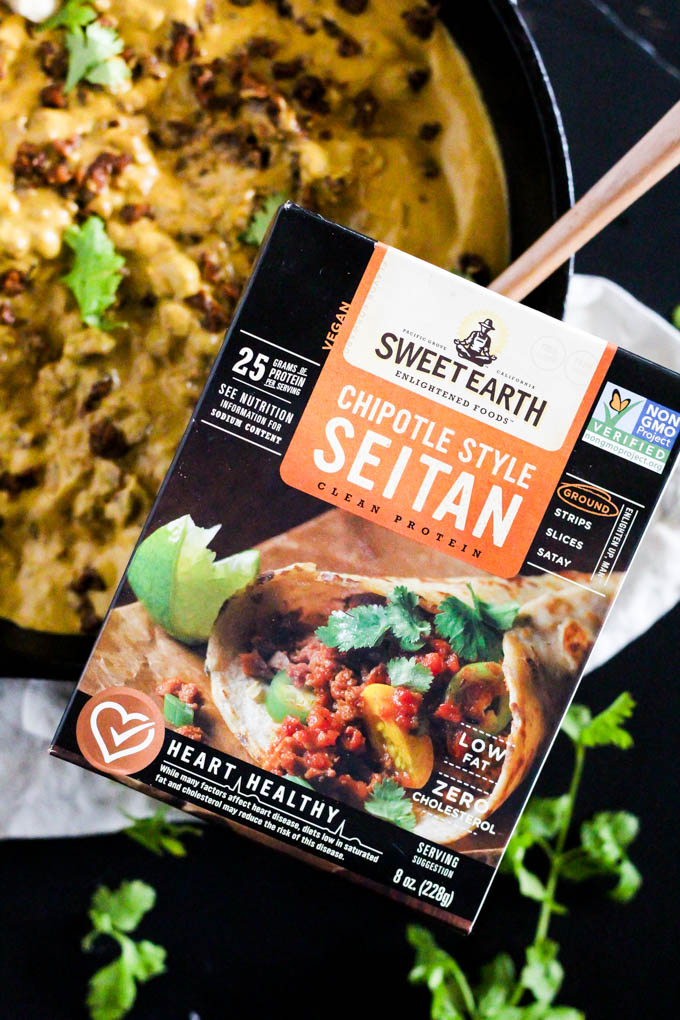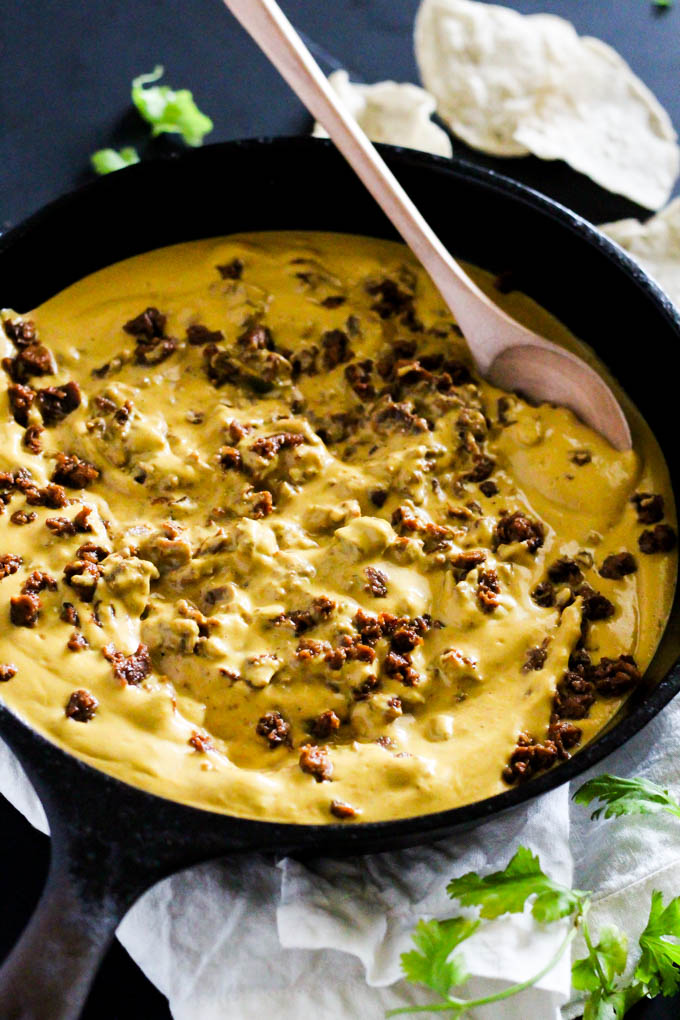 You know what would make a great New Year's party appetizer? THIS DIP. So grab a bag of chips, invite some friends over, and start 2018 right with a big batch of this EPIC vegan chili cheese dip!
Thank you all so much for supporting me and the work I do here at Emilie Eats. I wake up every day SO excited to do what I do. I can't wait to share more delicious, plant-powered recipes with you in 2018. Get ready for the goodness!
But for now, enjoy the chili cheese dip.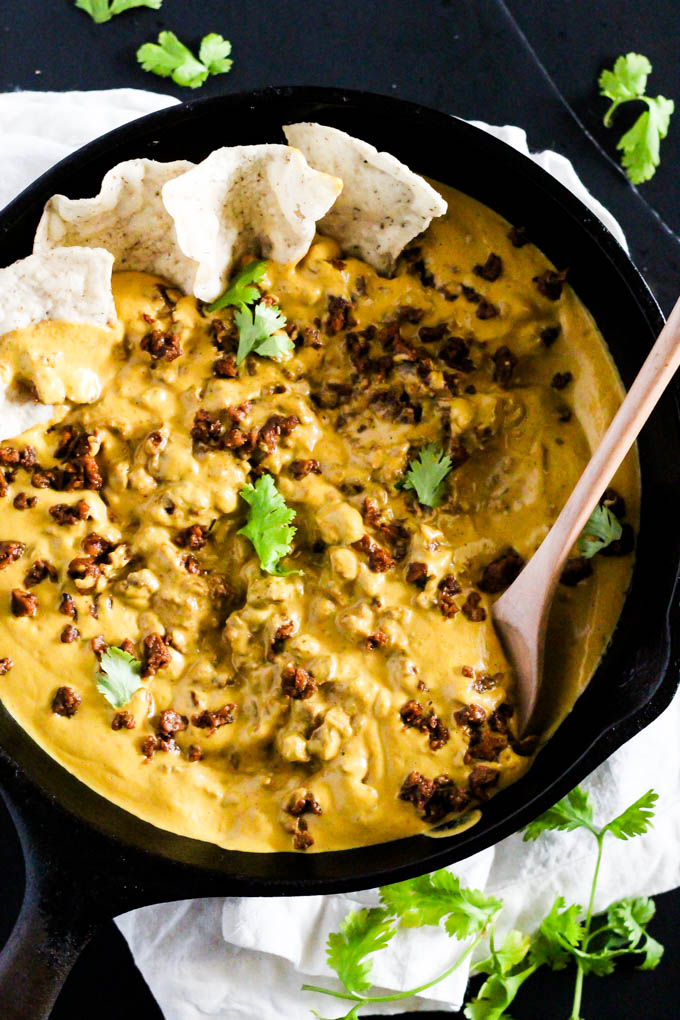 Print
How to make:
Vegan Chili Cheese Dip
This creamy Vegan Chili Cheese Dip is a satisfying appetizer for your game day or party menu. Grab some chips for this meatless and dairy-free cheese dip!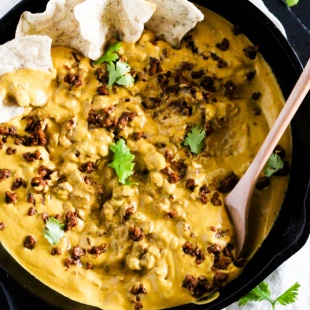 Ingredients
1/2 cup

raw cashews

1/2 cup

carrots, chopped into

1/2

-inch chunks

3/4

–

1

cup unsweetened non-dairy milk

1/4 cup

nutritional yeast

2 tablespoons

salsa

1 teaspoon

miso paste (optional)

1

clove garlic

1/2 teaspoon

onion powder

1/4 teaspoon

ground turmeric

1/4 teaspoon

ground cayenne pepper
Salt & pepper, to taste

1

package Sweet Earth Foods Chipotle Grounds (defrosted if frozen)
Tortilla chips (for serving)
Instructions
In a small pot, add cashews and carrots; cover with water. Bring to a boil; boil for 15 minutes. Drain.
To a blender, add cashews, carrots, 3/4 cup non-dairy milk, nutritional yeast, salsa, miso (if using), garlic, onion powder, turmeric, cayenne pepper, and a touch of salt & pepper. Blend until smooth; add more milk for a thinner sauce.
Heat a skillet over medium heat. Add chipotle grounds; cook for 8-10 minutes, until warm throughout and crispy.
Pour cashew cheese into a small serving pan or bowl. Add chipotle grounds; stir to combine.
Serve with chips.
Thanks to Sweet Earth Foods for sponsoring this post! I love working with brands whose products I really love and would honestly recommend. Thank you for supporting this blog that I love oh-so-much!