What's better than a cheesy vegan lasagna? This is the best vegan lasagna recipe. It's filled with veggies and plenty of rich tomato sauce.
The Best Vegan Lasagna
Do I even need to say anything? I mean honestly, just look at it.
This is the cheesiest. The richest. The sauciest. The BEST Vegan Lasagna on the internet. Yep, I said it. And honestly, the picture speaks for itself.
The problem I run into with a lot of vegan vegetable lasagna recipes that are packed full of things like mushrooms, zucchini and peppers is that the vegetables release a ton of water when they cook, and you're left with a lasagna that's more watery than saucy. And that's just not gonna cut it when you're craving a cheesy, comforting slice of the lasagna from your childhood.
This vegan lasagna recipe is a plant-based take on a classic pan of lasagna. You know what I'm talking about. The kind that's just ground beef, cheese, sauce and pasta. No frills. Nothing fancy. And no animal-based ingredients. Just a damn good dish full of vegan lasagna. Let's get into it.
Ingredients for Classic Vegan Lasagna
Don't let the ingredient list make you nervous! Most of the ingredients for this vegan lasagna are various kinds of canned tomatoes and a bunch of spices. We'll also be making our own homemade tofu ricotta (more on that later), so if you prefer to skip that step, you can sub out some of the ingredients and go for store bought instead.
Here's everything you'll need:
Olive oil. The sauce starts by sauteeing garlic, onion and green bell pepper in a bit of olive oil.
Vegetables. You'll need a yellow onion, garlic and green bell pepper.
Vegan ground beef. I recommend using something like Beyond Beef Plant-Based Ground or Impossible Plant-Based Burger Ground or a pack of vegan ground crumbles. You could also use textured vegetable protein (TVP), but you'll want to add more spices and salt to amp up the flavor.
Tomatoes. Three kinds to be specific! You'll need cans of tomato sauce, crushed tomatoes and tomato paste.
Sugar. Yes, sugar. Tomatoes are naturally acidic, so a bit of sugar helps to balance the flavor.
Seasonings. You'll want Italian seasoning, dried basil, dried oregano, red pepper flakes, garlic powder, onion powder, salt, and pepper.
Tofu. We're making a homemade tofu ricotta, so you'll need half of a 14-ounce package extra-firm tofu.
Hummus. This is going in our tofu ricotta. I recommend a plain flavor.
Nutritional yeast. To give our tofu ricotta a cheesy flavor.
Lemon juice. This will lend just a touch of acidity to the vegan ricotta.
Lasagna noodles. Look for no-boil lasagna noodles.
Vegan mozzarella cheese. Any kind will work!
Vegan parmesan cheese. You could use store bought, or make a batch of homemade

cashew parmesan

.
Fresh parsley. Optional, but delicious on top!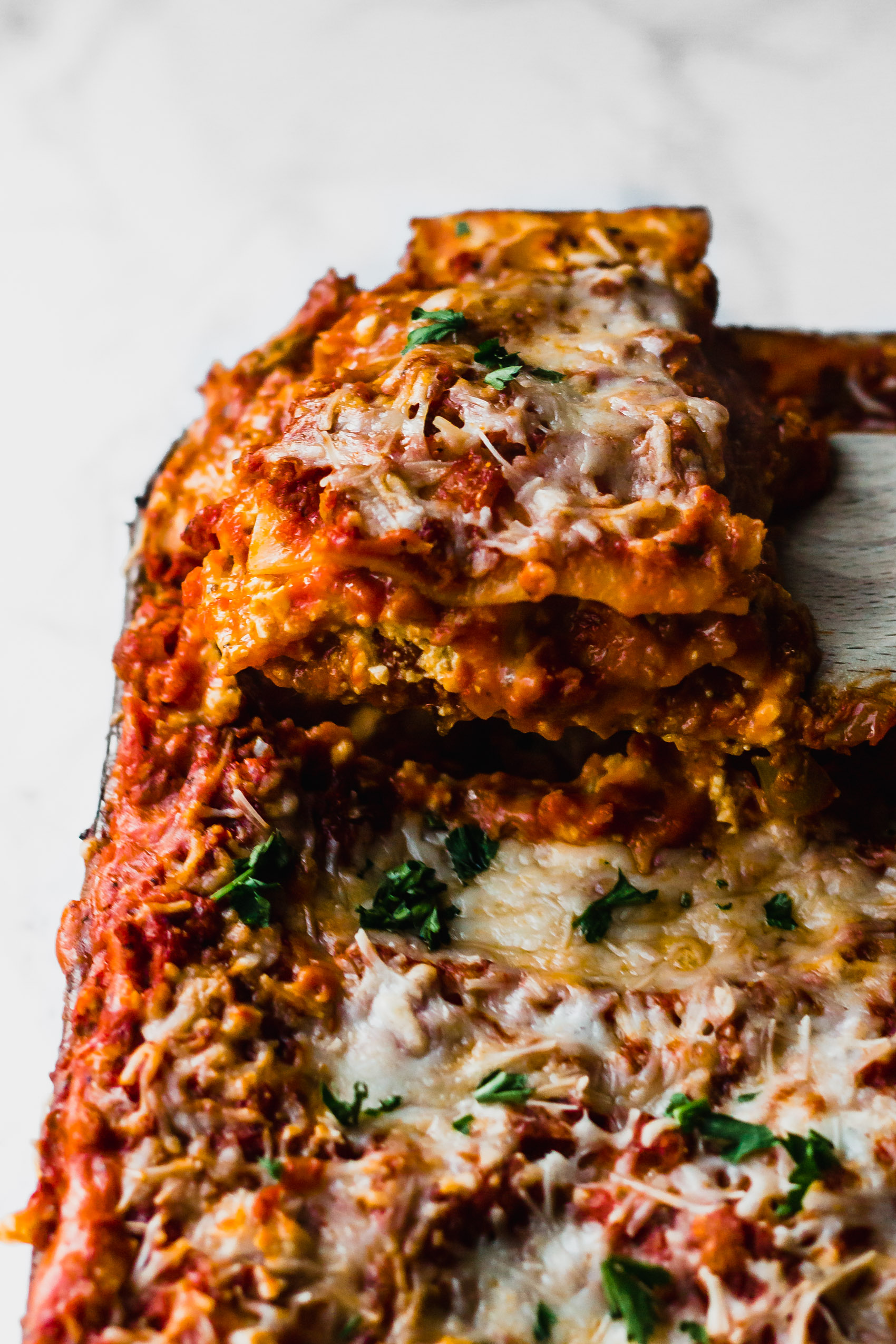 How to Make Tofu Ricotta
I know it sounds a little wild to make your own vegan ricotta, but it is SO worth the extra step. This vegan tofu ricotta is so much more delicious than anything you'll be able to buy at the store. And since we're using tofu, it also packs a ton of plant-based protein into this vegan lasagna. Plus it's nut-free, so if you're allergic to nuts, it's a great dairy-free cheese option.
The first, most important step is to drain and press your tofu. If you don't, your vegan ricotta will be too wet. You can use a tofu press if you've got one, or simply wrap your tofu in paper towels or a clean towel, put it on a plate, and set a cast iron skillet on top of it.
Once your tofu has been pressed for about 1o minutes, crumble it into small pieces and add it to a bowl along with some hummus, nutritional yeast, lemon juice, Italian seasoning, garlic powder, onion powder, salt and pepper. That's all there is to it!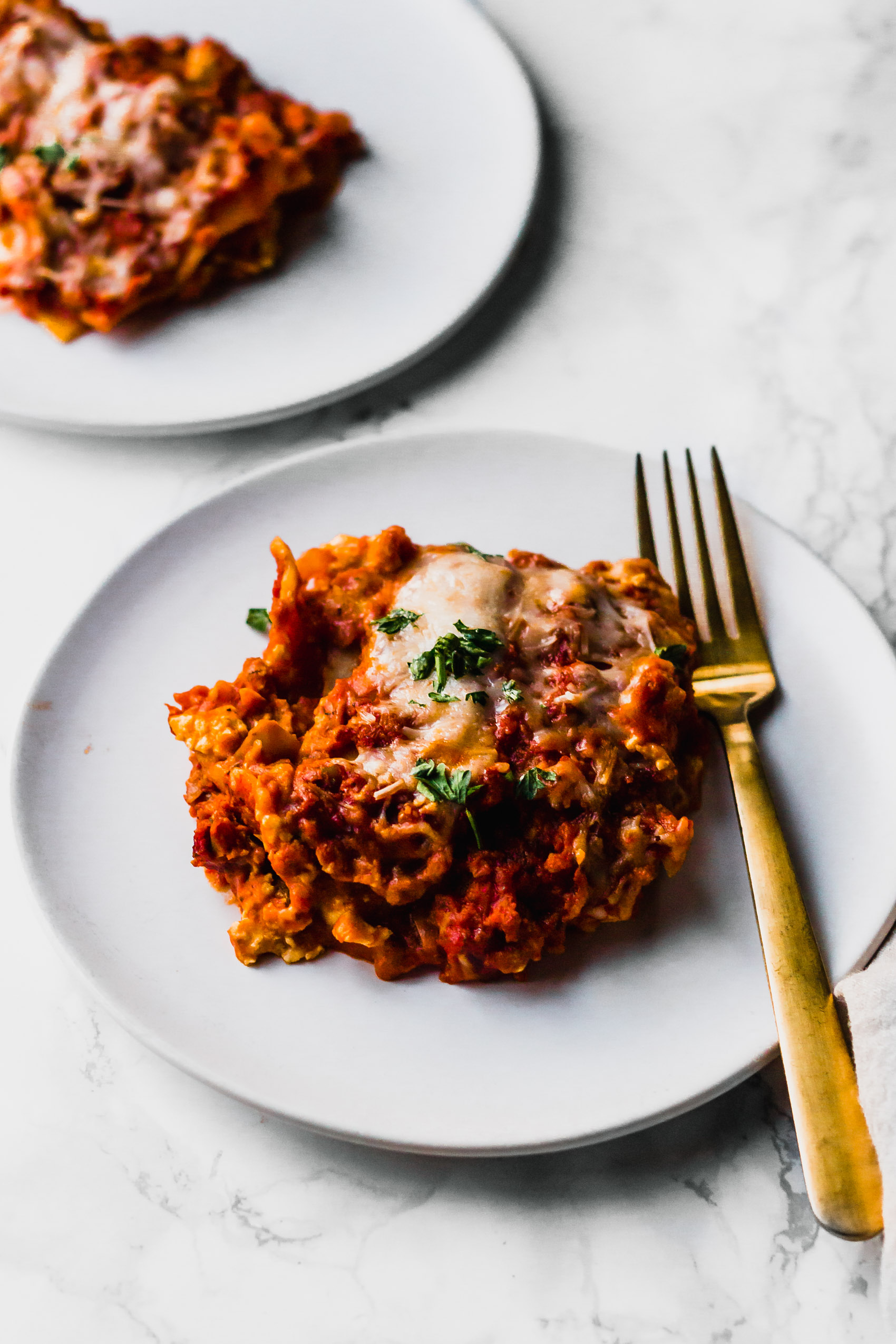 How to Make Vegan Meat Sauce
While you could use a store-bought sauce, this homemade vegan meat sauce is next level. This vegan bolognese is rich, robust and full of flavor. It's exactly what you want in a vegan lasagna, plus it's super easy to put together.
Like all good things in life, this vegan meat sauce starts off with sauteed onion, bell pepper and garlic. Once your vegetables are soft and starting to brown, you'll add in your vegan ground beef. Break it apart into small pieces with a wooden spoon and brown the plant-based meat for about 5-7 minutes. Next, add in all your tomato products, water, sugar and all the spices. Bring everything up to a boil, then turn the heat down to a simmer and let it go for about 15 minutes.
You can use those 15 minutes while the sauce is simmering to make your tofu ricotta!
How to Make a Vegan Lasagna
Finally to the best part – building your vegan lasagna! Lasagna is allllll about the layers, and it's easier than it looks!
Before you start assembling, preheat your oven to 375ºF. Then to build your vegan lasagna, start by adding about 1.5 cups of sauce to the bottom of your dish. Starting with sauce will prevent anything from sticking to the bottom and ensure that everything cooks all the way through. Then, add a layer of noodles – you'll want the no-boil kind! Finally, add a layer of all your cheeses, including the tofu ricotta, parmesan and mozzarella. That's your formula! Sauce > noodles > cheese > REPEAT.
Once you've used up all the ingredients and your dish is filled to the brim with vegan lasagna, cover the whole thing with foil and bake for 45 minutes. Then, remove the foil, add on another layer of mozzarella and parmesan and bake for another 10-15 minutes, or until the cheese is all melty and delicious. To really take things up a notch, finish it off under the broiler set to low for 2-3 minutes, or until everything starts to crisp up. Who doesn't love a crispy cheese moment?
This part is so annoying, but SO critical. You have to wait at least 10 minutes before you slice into it. One, it's going to be waaaay to hot to eat straight out of the oven anyway, but more importantly, the lasagna needs a few minutes to fully set into a sliceable texture. It will be worth the wait. Then, top it all off with some fresh parsley and dig in!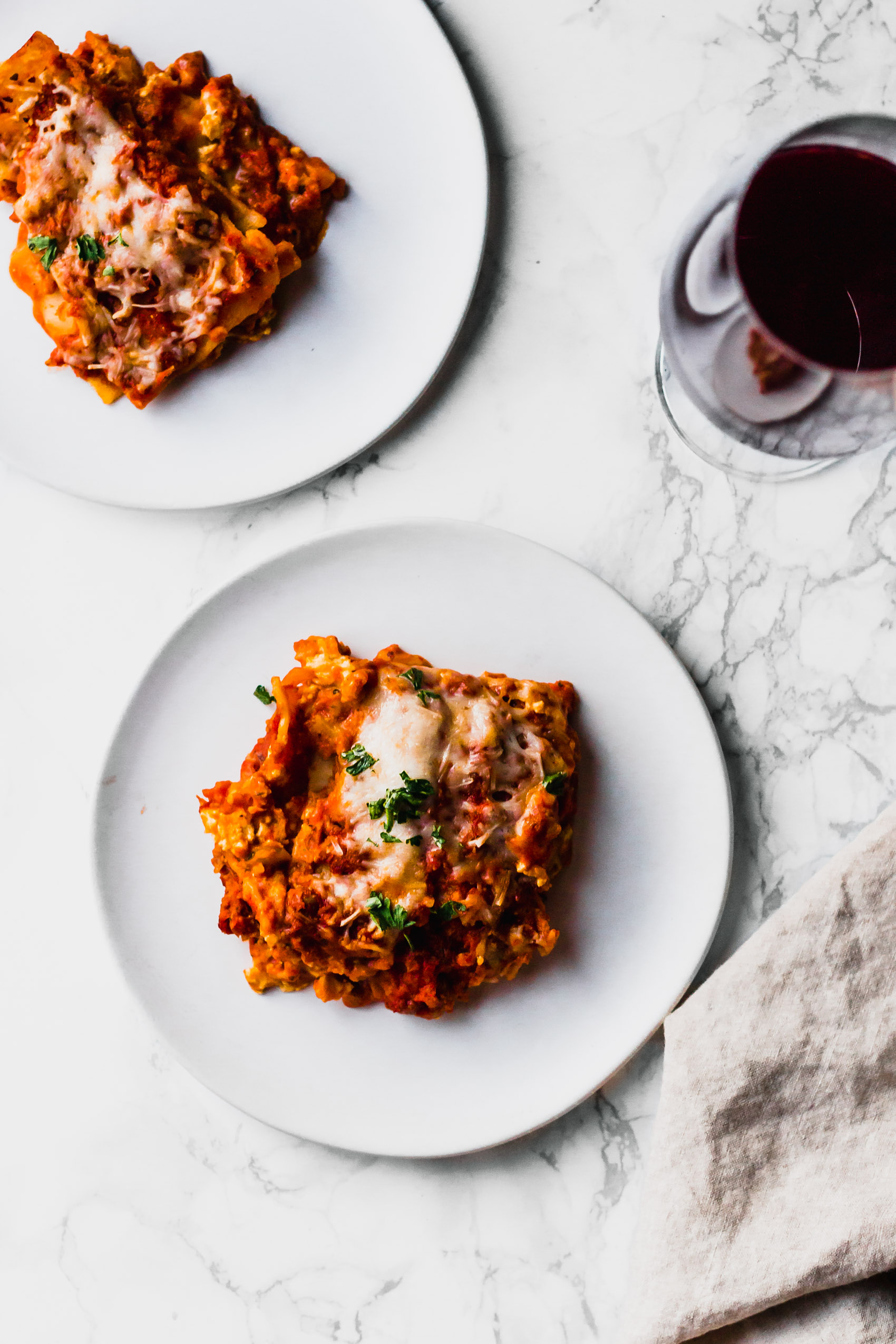 More Vegan Pasta Recipes
There truly is a pasta-based dish for any kind of mood you're in. From pasta salads, to Italian-inspired dishes and savory stir fried noodles, there's not much you can't do with a box of pasta. For more vegan pasta recipes, check out some of these!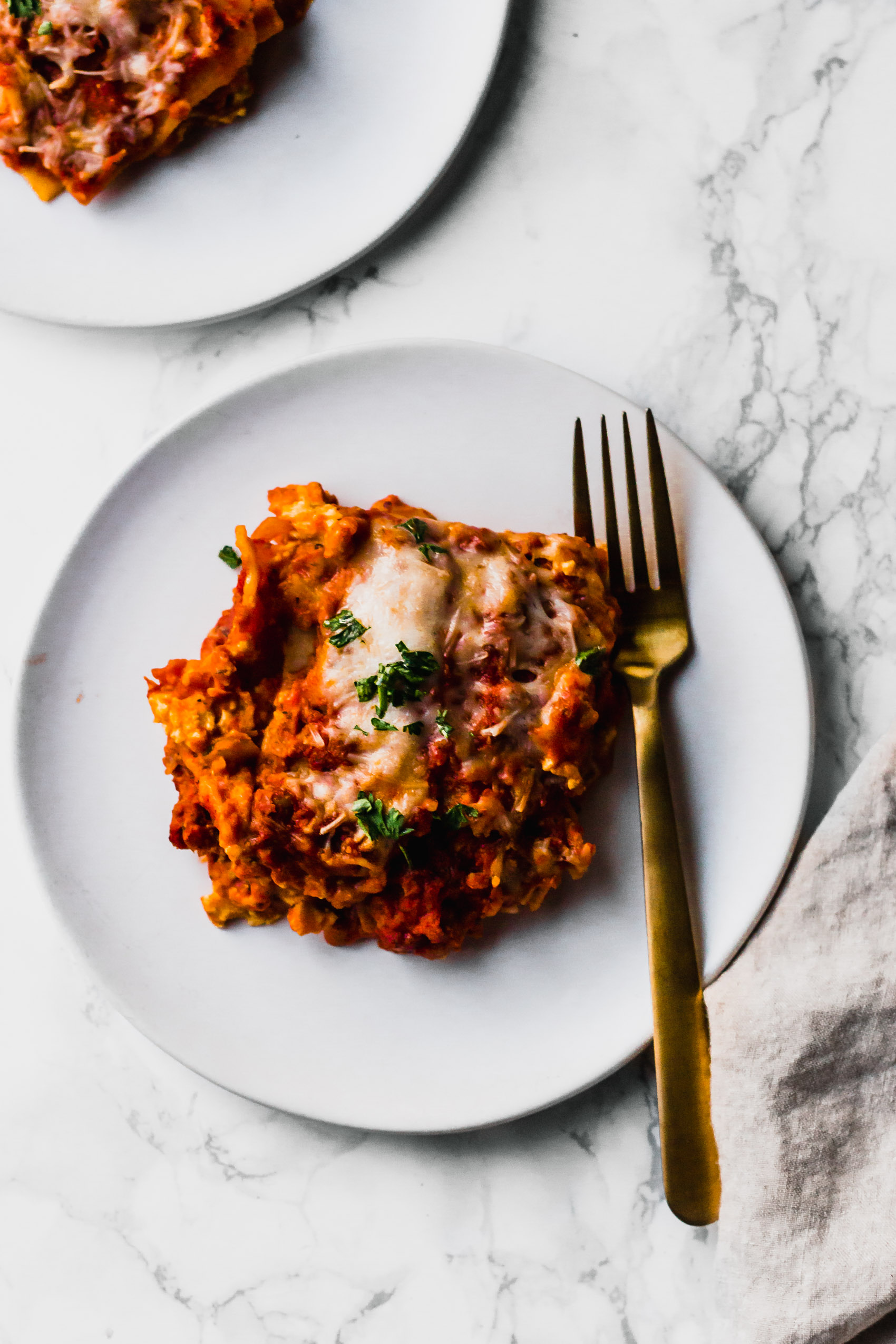 Print
How to make:
Vegan Lasagna
What's better than a cheesy vegan lasagna? This is the best vegan lasagna recipe. It's filled with veggies and plenty of rich tomato sauce.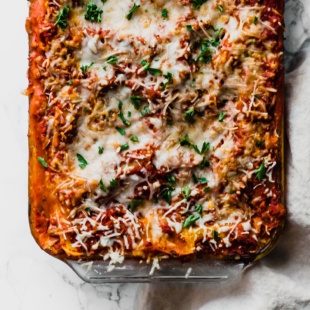 Ingredients
For the tomato meat sauce:
1 tablespoon

olive oil

1

yellow onion, diced

1/2

green bell pepper, diced

4

cloves garlic, minced

1

pound vegan ground beef*

2

15-ounce cans tomato sauce

1

14.5-ounce can crushed tomatoes

1

8-ounce can tomato paste

1/2 cup

water

1 tablespoon

sugar

1 tablespoon

Italian seasoning

1 teaspoon

dried basil

1 teaspoon

dried oregano

1/2 teaspoon

salt

1/2 teaspoon

ground black pepper

1/4 teaspoon

red pepper flakes
For the tofu ricotta:
½

 14-ounce package extra-firm tofu, drained and pressed**

¼ cup

 plain hummus

¼ cup

 nutritional yeast

1 tablespoon

 lemon juice

1 teaspoon

 Italian seasoning

½ teaspoon

 salt

½ teaspoon

 garlic powder

¼ teaspoon

 onion powder

¼ teaspoon

 black pepper
For assembling the lasagna:
12

no-boil lasagna noodles (gluten-free, if needed)

3 1/2 cups

shredded vegan mozzarella cheese

3/4 cup

+

2 tablespoons

shredded or grated vegan parmesan cheese***

2 tablespoons

fresh parsley, chopped
Instructions
Preheat oven to 375ºF.****
In a large pot over medium heat, add oil. When hot, add onion and bell pepper. Cook 7-10 minutes, stirring frequently, until lightly browned. Add garlic; cook 1-2 minutes, until fragrant.
Add vegan ground beef. Break apart into small pieces with a wooden spoon. Cook 5-7 minutes, until browned all the way through. Add tomato sauce, crushed tomatoes, tomato paste, water, sugar, Italian seasoning, basil, oregano, salt, and pepper; stir well. Bring to a boil, then reduce heat to low. Simmer for 15 minutes.
In a medium bowl, crumble tofu into small pieces. Add remaining tofu ricotta ingredients. Stir well to combine. Set aside.
To assemble: Into the bottom of a 9×13-inch baking dish, add 1 1/2 cups of sauce.
Top with 4 noodles, 1/2 of the ricotta, 1 cup mozzarella, 1/4 cup parmesan, and 1 1/2 cups sauce. Repeat this step once. Then, add 4 more noodles and the remaining sauce on top.
Cover with foil. Bake 45 minutes.
Remove foil, then top with 1/2 cup mozzarella and 2 tablespoons parmesan. Bake 10-15 minutes. If desired, broil on low for 2-3 minutes. Remove from oven and let rest for at least 10 minutes.
Top with fresh parsley.
Notes
*Examples of this are Beyond Beef Plant-Based Ground and Impossible Plant-Based Burger Ground. You could also use vegan ground crumbles. Textured vegetable protein (TVP) would work, but you will have to compensate for missing flavor and sodium with more spices and salt
**Use a tofu press, or wrap the tofu in paper towels and place in the sink with a heavy object on top. Press for 10-15 minutes.
***You may be able to find a store-bought vegan parmesan, but if not, you can make cashew parmesan.
****If using gluten-free noodles, use the oven temperature indicated on the package.