These Cherry Filled Chocolate Coconut Butter Cups are the perfect vegan Valentine's chocolates to share with someone you love! They're a nut free chocolate made with just 5 simple ingredients!
Cherry Filled Chocolate Coconut Butter Cups
It's a dang shame that there are no chocolate cups on Emilie Eats because those little candies (*cough* Reese's *cough*) were a cornerstone in my childhood. Right next to potato sticks (sticks, not chips), weekend donuts, and strawberries dipped in sugar.
This all went down at my dad's parent's house, where I spent many weekends with my few close cousins. We would rent 234983 movies from Blockbuster (RIP) and eat all of our favorite snacks, My grandparents' house always had the good stuff.
One thing that my grandmaw cannot live without is Reese's peanut butter cups. Those are her kryptonite. We definitely went through hundreds upon hundreds of Reese's among all of the grandchildren. With how much I loved eating chocolate peanut butter cups growing up, I can't believe I don't have more homemade vegan chocolate candy recipes on Emilie Eats! And now that it's February, what better time to make your own chocolates at home?
We're getting into the February spirit by making some cherry filled chocolate coconut butter cups! This is the perfect recipe to make if you're craving some yummy vegan Valentine's chocolates! Chocolate cherry candy is a Valentine's Day classic, but the traditional chocolate covered cherries are a little overplayed in my book. So instead we're making cherry infused coconut butter cups coated in delicious dark chocolate for a fun new twist.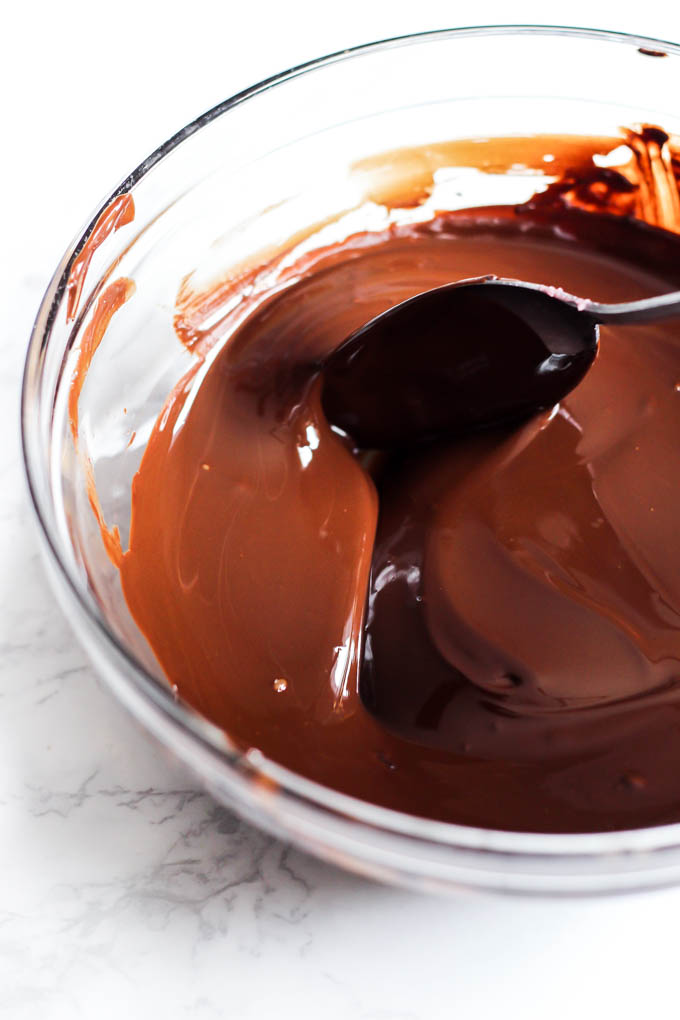 Ingredients for Cherry Filled Chocolate Coconut Butter Cups
These coconut butter cups are just an upgrade of those dear chocolate peanut butter cups I used to love so much. There are so many recipes for homemade peanut butter chocolate cups out there (like this yummy one), so we're mixing it up and using coconut butter, which pairs perfectly with the cherries. Plus, that means this is a nut free chocolate, so everyone can get in on the goodness.
The best part? You only need 5 ingredients to make these chocolate cherry coconut butter cups! Here's what you'll need:
Dark chocolate. You can use chips or bars, whichever you prefer!
Cherries. You can use fresh or frozen. If you're using frozen, defrost them and drain off any excess juice.
Coconut butter. A delicious alternative to peanut butter to keep this a nut free chocolate recipe. Plus the coconut butter tastes AMAZING with the chocolate and cherries. It's sort of like a fruitier Almond Joy. You can also learn how to make coconut butter at home from this guide by Minimalist Baker!
Non-dairy milk. You can use any variety you'd like, but I recommend going for unflavored and unsweetened.
Vanilla extract. Just a touch to amp up the flavor.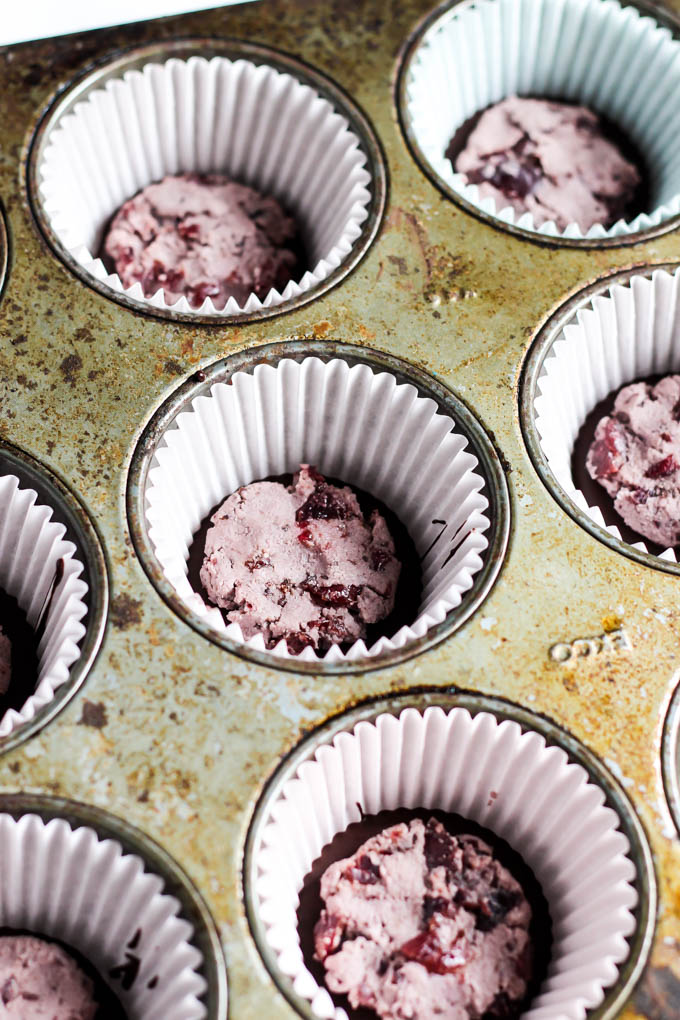 How to Make the Cherry Coconut Butter Filling
You can use fresh or frozen cherries for this recipe. If you're using frozen, be sure to thaw your cherries first. Then, I recommend straining off any excess liquid to ensure your filling stays thick and creamy. If you're using fresh cherries, remove the pits.
Once your cherries are prepped, add them to a food processor and pulse until they're finely chopped. We don't want to turn them into a puree, so they should only need a couple pulses. Once they're chopped, remove about half of the cherries and place them in a bowl. Set those aside, we'll mix them back in later!
Next add your coconut butter, milk and vanilla to the food processor with the remaining cherries. Now you'll let the food processor run until the filling is super smooth. Once you're left with a super velvety cherry coconut butter mixture, you'll add back the remaining chopped cherries and mix them in until they're thoroughly incorporated.
How to Assemble the Chocolate Cherry Coconut Butter Cups
Time to assemble our coconut butter cups! Start by lining a muffin tin with liners. These are critical, otherwise your coconut butter cups will be really challenging to remove.
Melt your chocolate in any method you prefer. You could use the microwave or the stovetop. Once your chocolate is melted, pour half of the chocolate into your muffin liners. After you've used about half of the melted chocolate, place the pans in the freezer to give the chocolate a chance to harden for about 5 minutes. Once your chocolate has firmed up, pull the trays back out and scoop your cherry coconut butter filling into each cup. I recommend about 1/2 tablespoon of filling per cup. Press the filling down to flatten it, then spoon the remaining chocolate overtop the filling in each cup.
You can tap your trays on the countertop a couple of times to encourage the chocolate to lay smooth, then pop your trays back into the freezer for another 10 minutes to set.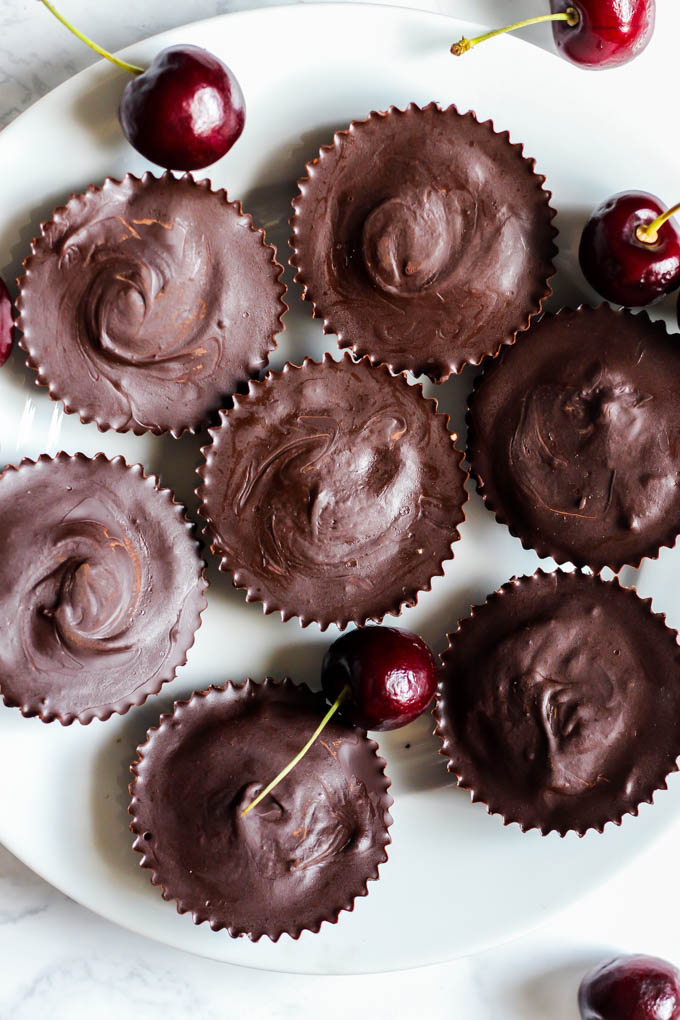 Tips for Making These Cherry Filled Chocolate Coconut Butter Cups
I love making my own vegan chocolate candies at home, but I know homemade candy can feel a bit intimidating! These chocolate cherry coconut butter cups are a great place to start because they're simple to make, but I have a few tips to ensure they come out perfectly.
If you're vegan, check your chocolate. Is dark chocolate vegan? Not always! Make sure to look out for hidden milk products in your dark chocolate. And try to buy fair trade chocolate if possible! (read more)
What consistency should the coconut butter be? We want our coconut butter to be a similar texture to peanut butter. So somewhere between its solid and liquid form. If your coconut butter is solid at room temperature, just microwave it for about 30 seconds to encourage it to soften up.
My chocolate burned! You can melt your chocolate for these coconut butter cups on the stovetop or the microwave, but you'll want to keep a close eye on it because chocolate can burn, even in the microwave! If you're using a microwave, let it go in 30 second intervals, giving it a stir each time, to make sure your chocolate melts evenly and so that the top doesn't burn. If you're melting it on the stove, I highly recommend using a double boiler.
Mix it up. You can easily sub strawberries, raspberries or other fruit for the cherries.
Store your coconut butter cups in the freezer. These homemade coconut butter cups are best kept in the freezer. We're not tempering our chocolate in this recipe, which would encourage your candy to stay solid at room temperature. Tempering can be very temperamental, so I skip this step and just stash my chocolates in the freezer. Besides, who doesn't love frozen chocolate?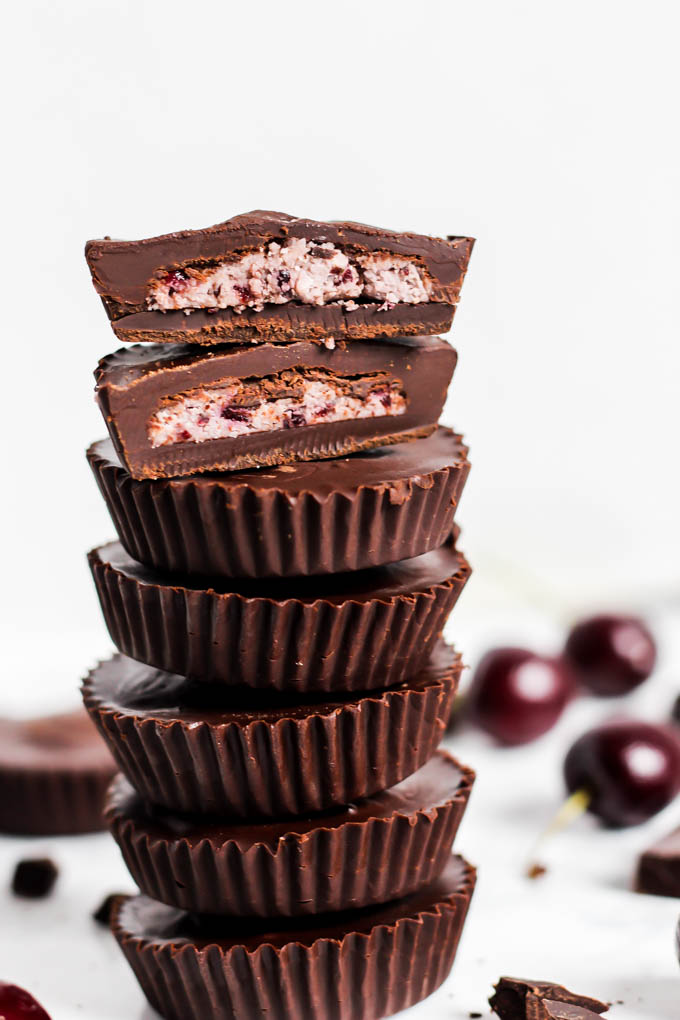 More Vegan Valentine's Chocolates
Share the love and make some homemade vegan Valentine's chocolates! All of these vegan chocolate candy recipes are perfect to make whether you're celebrating with a partner, your friends, or just yourself. Because we all deserve to show ourselves some love with a batch of chocolates 🙂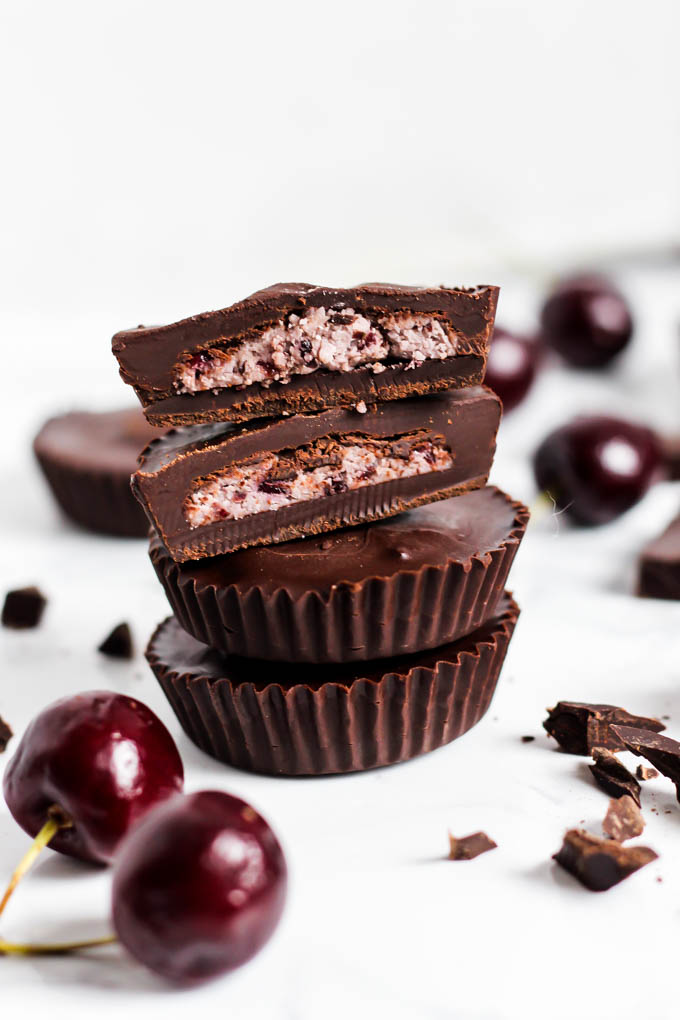 Print
How to make:
Cherry Filled Chocolate Coconut Butter Cups
These Cherry Filled Chocolate Coconut Butter Cups are the perfect vegan Valentine's chocolates to share with someone you love!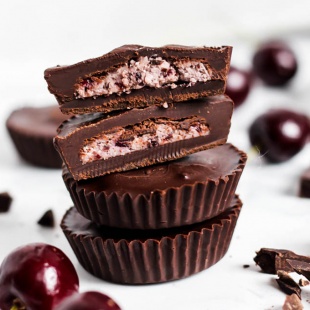 Ingredients
10 ounces

dark chocolate chips or bars

1/2 cup

cherries, pitted

1/4 cup

coconut butter

1/2 tablespoon

non-dairy milk

1/2 teaspoon

vanilla extract
Instructions
Line a 12-cup muffin pan with paper liners.
Melt the dark chocolate using a microwave or double burner. If using a microwave, heat in 30 second intervals, stirring between each.
Using half of the melted chocolate, scoop a little chocolate into the bottom of each paper cup. Place in the freezer for 5 minutes to harden.
Place cherries in a food processor. Pulse just a few times to roughly chop the cherries. Remove half the cherries and place them in a bowl; set aside.
Add coconut butter, milk, and vanilla to the food processor with half of the cherries. Blend until smooth.
Stir the reserved chopped cherries into the blended coconut butter filling until thoroughly mixed.
Scoop about 1/2 tablespoon of the filling mixture into the center of each chocolate cup. Press down gently to flatten the filling.
Using the remaining chocolate, top each cup with enough chocolate to cover the filling. Place in the freezer for 10 minutes.
Notes
Store in the freezer.
SaveSaveSaveSave
SaveSave