Get cozy with a bowl of this Vegan Chicken Chili Verde! It's made with roasted tomatillos, poblanos, and jalapenos, plus shredded jackfruit to substitute shredded chicken. A little spicy and very flavorful!
This post is written in partnership with HERDEZ®. All opinions are my own! 
Vegan Chicken Chili Verde
It's soup szn, I guess??! I really can't believe summer is over. The last 3 months have been packed with traveling, homeowner things, the start of school… so much so that I barely got to do my favorite summer things! We did, however, eat lots of watermelon, go tubing, and spend time outdoors. So I'm happy with that. Although, fall is upon us. In other words, it's time to get your mugs and slow cookers out, people. To ring in soup season, let's make a warming, comforting vegan chili verde!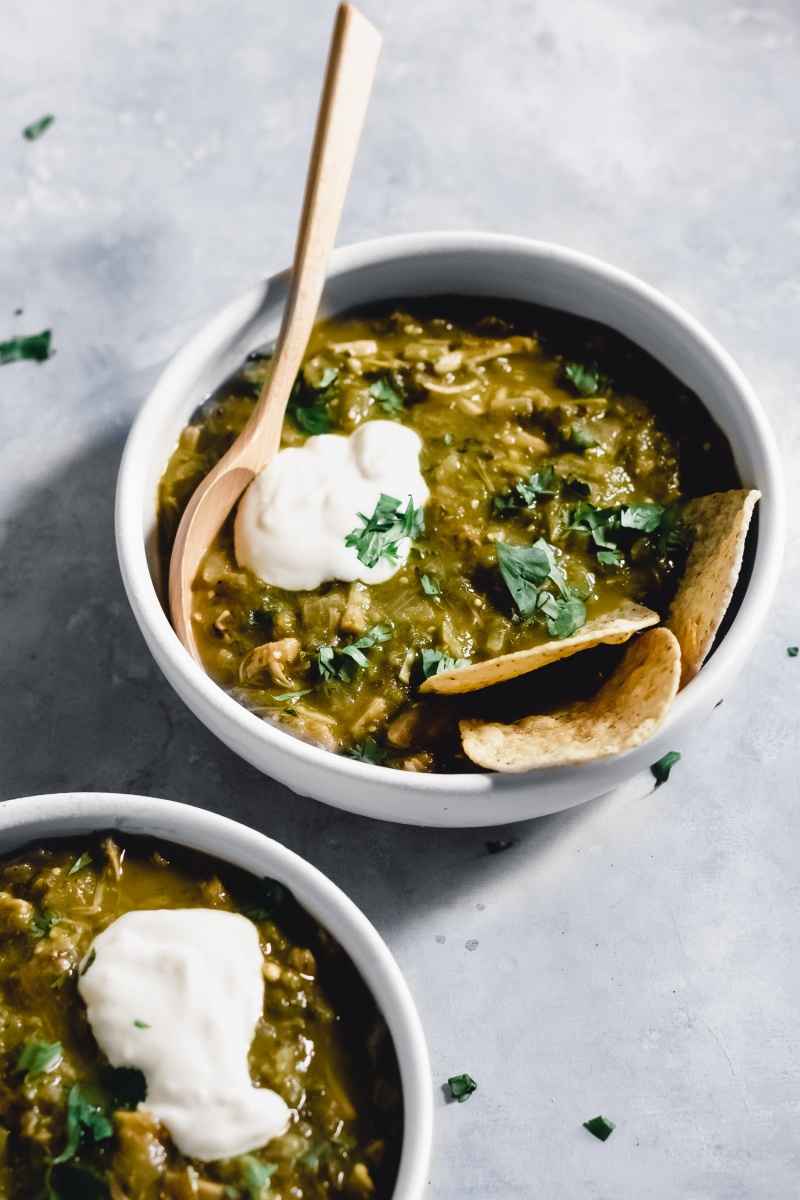 How to Make Chili Verde
Chili verde is traditionally made with pork or sometimes shredded chicken. Y'all know me, though… let's make it vegan! We're keeping the base as traditional as it gets for this vegan chili verde of course, which includes roasted tomatillos, poblanos, and jalapenos. The peppers together with the tomatillos provide the perfect balance of acidity and spice. Stick 'em in the broiler for a few minutes, then blend.
Meanwhile, you're going to sauté onions and garlic (side note: absolutely every recipe should start with onions and garlic – agreed?). Then, for a fun plant-based "shredded chicken," we're using shredded jackfruit! You know I love jackfruit since I have used it in these BBQ jackfruit sandwiches and these jackfruit tostadas as well. Jackfruit is similar to the texture of pork or chicken when cooked and shredded, which makes it perfect for this vegan chili verde!
Add the blended vegetables to the onions, garlic, and jackfruit, add vegetable broth. Then to take this recipe to the next level, add some HERDEZ® Roasted Salsa Verde! It's truly the star ingredient in this recipe, and helps add bold, authentic flavor to this recipe. I love Herdez salsa because it's made with simple, quality ingredients that represent the heart and soul of Mexican cuisine.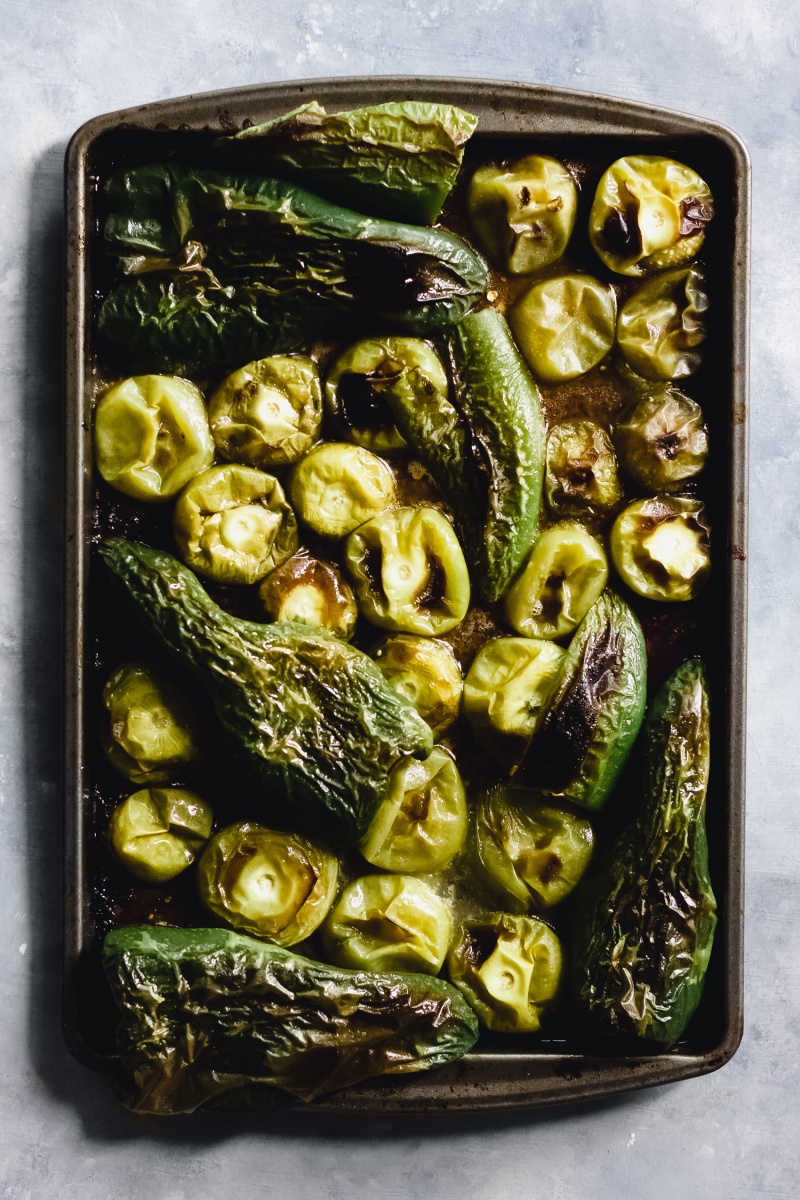 Ingredients in Vegan Chili Verde
Tomatillos. Tomatillos are a bit more acidic than a ripened red tomato, which adds a bright flavor to our chili verde
Poblano peppers. Poblanos are a mild chile that add a lot of bold flavor to this recipe. Fun fact – You may have heard of ancho chiles, but did you know that they're just dried poblanos?
Jalapeno peppers. This is where our chili verde gets most of its heat! You can of course add more or less depending on how spicy you like your vegan chili
Yellow onion and garlic. Like most of my favorite recipes, this chili verde starts with a base of onion and garlic.
Jackfruit. We're using jackfruit instead of shredded chicken, but remember that jackfruit is NOT a source of protein! So to make this more satiating and balanced, I suggest adding some white beans or cubed tempeh.
Oregano and cumin.
Vegetable broth.
Cilantro. Both for topping and cooking into the chili verde
HERDEZ® Roasted Salsa Verde  (Medium)
Not only is the HERDEZ® Roasted Salsa Verde great for dipping chips or smothering tacos, it's also the perfect addition to this vegan chili verde. Why? Because it's made with fire-roasted tomatillos, poblanos, and jalapenos – the ingredients we're roasting, too – so it adds even more tangy, complex and delicious flavor. You can find their Roasted Salsa Verde and more HERDEZ® products in the Mexican food aisle in your local grocery store!
We're adding a whole cup of HERDEZ® Roasted Salsa Verde (Medium) because GIMME ALL THE FLAVOR.
Psssst: Did you know HERDEZ® is the No. 1 selling salsa brand in Mexico? That's when you know it's the good stuff. Its mission is to help people connect with the delicious and authentic flavors of Mexico in modern dishes and its wide variety of sauces and salsas does just that.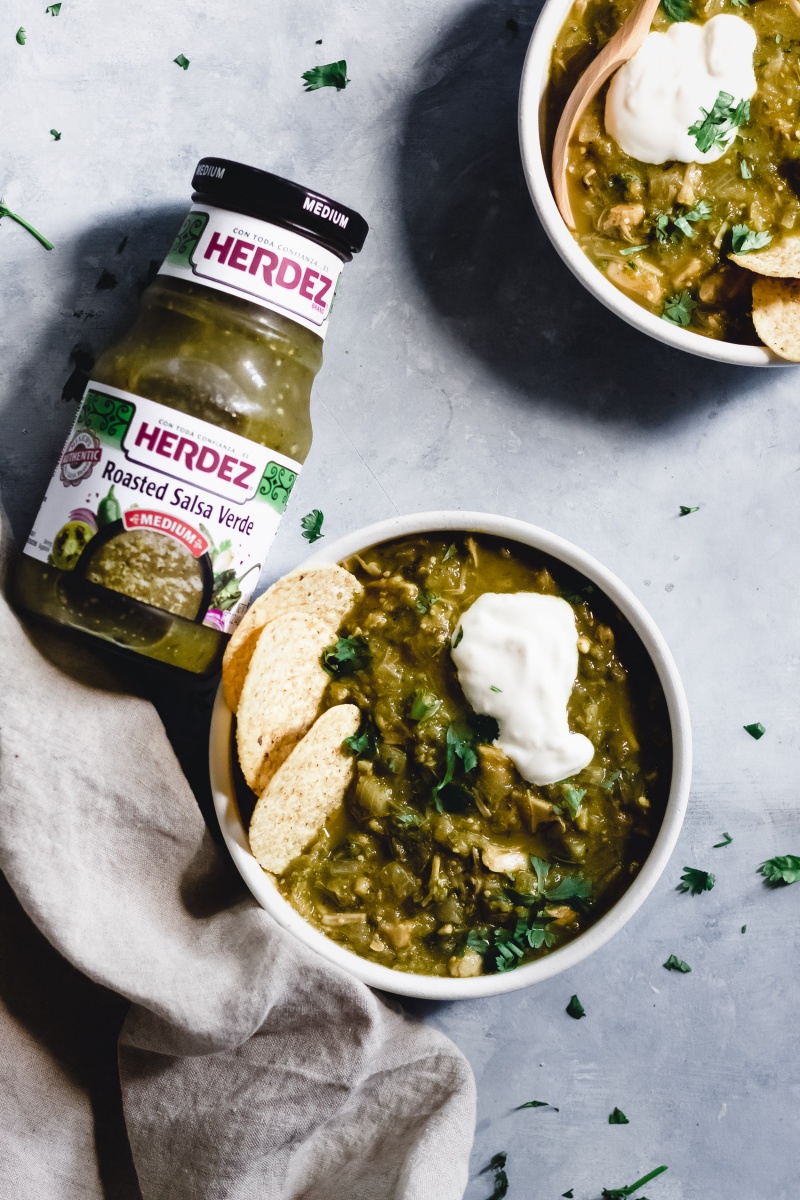 How to Store Vegan Chili
Let's be real – the only way to make any kind of vegan chili is to make a huge batch to have some for leftovers, and this chili verde is certainly no exception.
I love this vegan chicken chili verde for meal prep because  it makes 6 servings and will hold up well in the fridge for about 4-5 days, meaning I have enough for dinner and to pack for lunches throughout the week. Simply divide the chili verde into airtight containers and allow to cool to room temperature before sealing and popping in the refrigerator.
This chili verde also makes a great freezer meal to have on hand for those nights where you can't be bothered to make something from scratch, and can easily be doubled for a bigger batch. I recommend dividing into individual servings if you know you don't want to eat it all at once. Then, pack each serving into airtight containers to be frozen. To thaw, simply move it from the freezer to the refrigerator the day before you'd like to eat it, or you could heat it up from frozen on the stove. If you go the stove route, I recommend adding a bit of water or fresh veggie broth to make sure the chili verde doesn't cook down to become too thick or concentrated when reheating.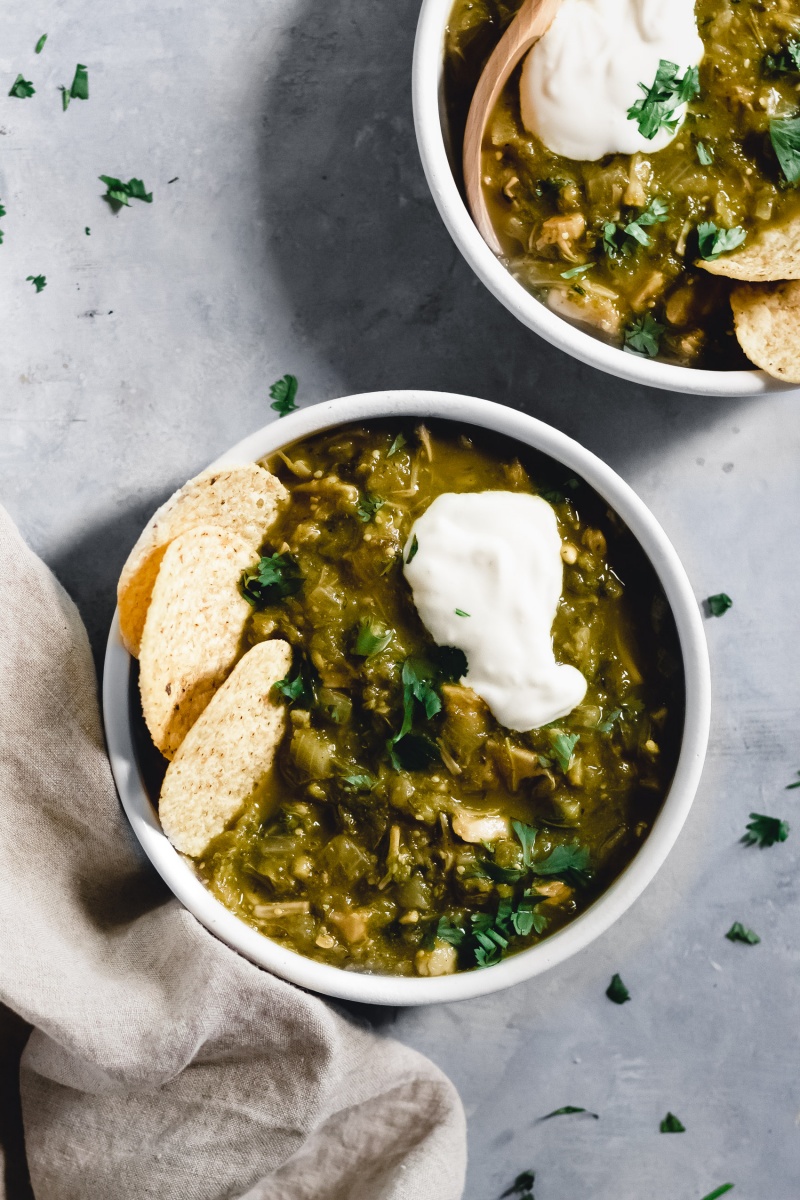 Print
How to make:
Vegan Chicken Chili Verde
Get cozy with a bowl of this Vegan Chicken Chili Verde! It's made with roasted tomatillos, poblanos, and jalapenos, plus shredded jackfruit to substitute shredded chicken. A little spicy and very flavorful!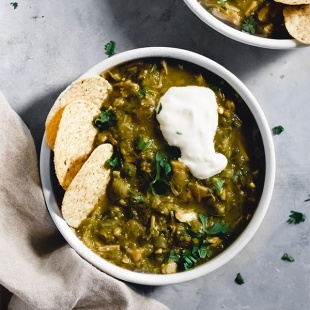 Ingredients
1

pound tomatillos, husks removed, rinsed and halved

2

poblano peppers, core removed and halved

2

jalapeno peppers, seeds removed and halved

1 tablespoon

cooking oil

1

yellow onion, diced

3

cloves garlic, minced

1

14-ounce can jackfruit (in brine or water)

1 tablespoon

dried oregano

1 tablespoon

ground cumin

1 cup

HERDEZ® Roasted Salsa Verde  (Medium)

2 cups

vegetable broth

1

bunch cilantro, chopped (some reserved for topping)
Salt and pepper
Optional toppings: chopped cilantro, tortilla chips, vegan sour cream, avocado
Instructions
On a baking sheet, place tomatillos, poblanos, and jalapenos. Broil on high for 10 minutes. Let cool for 5 minutes, then transfer vegetables to a blender. Blend until almost smooth.
In a pot over medium heat, add oil. When hot, add onion. Cook for 5-7 minutes, until onion begins to brown. Add garlic; cook for 1-2 minutes, until fragrant.
Drain jackfruit. Add to pot with onion and garlic. Break up large pieces with a wooden spoon. Cook for 5 minutes, stirring, breaking apart jackfruit pieces and "shredding" the jackfruit. Add oregano and cumin; cook for 5 minutes.
To the pot, add blended vegetables, HERDEZ® Roasted Salsa Verde (Medium), and vegetable broth. Bring to a boil, reduce heat to low, and simmer for 20 minutes.
Right before serving, add chopped cilantro to pot; stir. Season to taste with salt and pepper.
Thanks to HERDEZ® for sponsoring this post! I love working with brands whose products I really love and would honestly recommend. Thank you for your support!