Dig into a stack of the best vegan pancakes you'll ever try (yes really)! This vegan pancake recipe is easy to make and oh so fluffy.
The Best Vegan Pancakes
Bold statement, I know. But these really are the BEST vegan pancakes. If you've been looking for a new vegan pancake recipe, you're gonna want to pocket this one.
This is my take on the absolute OG – classic buttermilk pancakes. They're fluffy, light, buttery and they're SO easy to make. And what's even better? These vegan pancakes are the perfect base for any mix-ins you like, so no need to have 10 different pancake recipes depending on your mood!
This vegan pancake recipe is one for the books. Or at least one for your breakfast board on Pinterest!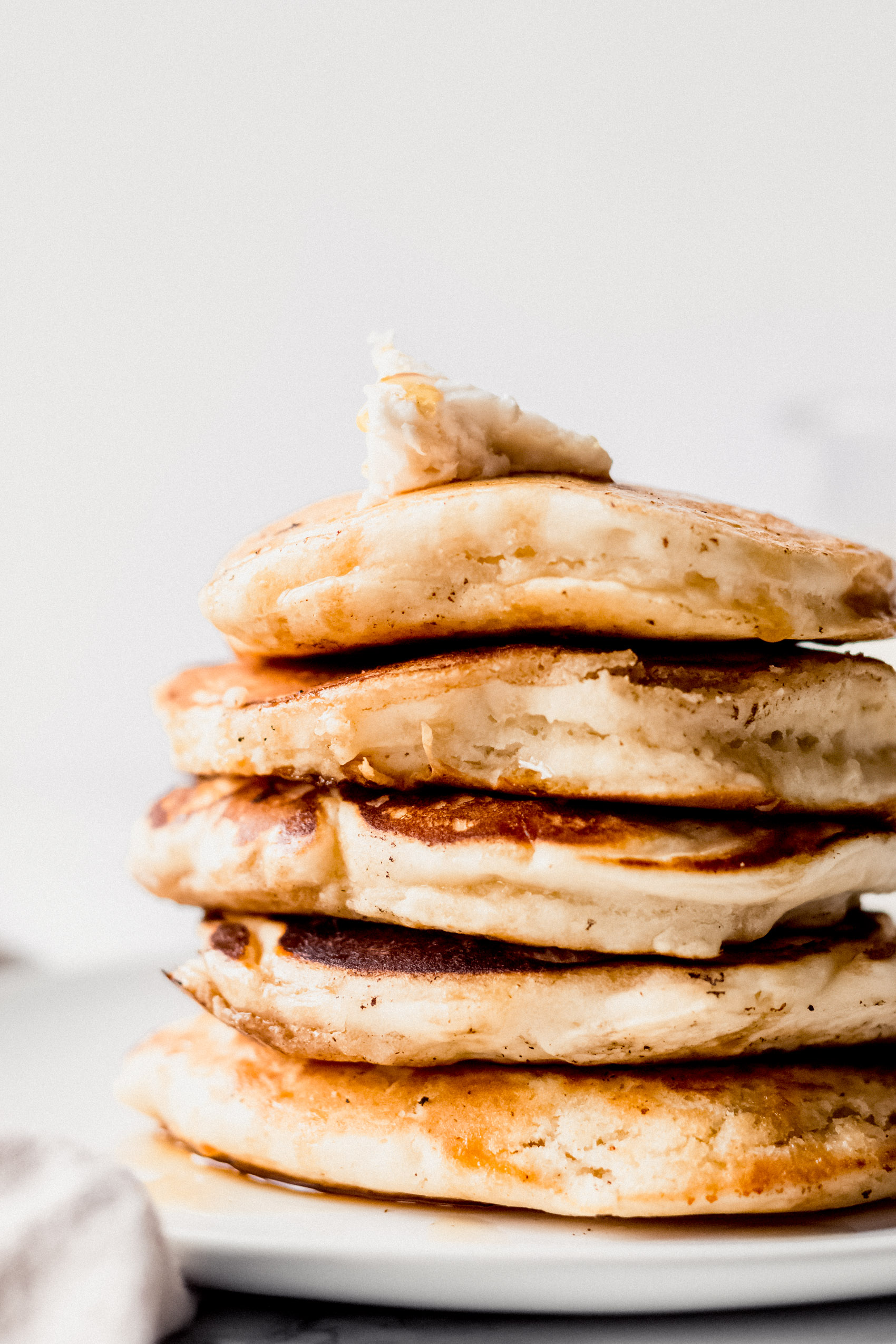 Ingredients to Make These Vegan Pancakes
There really aren't any surprises on the ingredient list for this vegan pancake recipe. We're keeping things super simple with less than 10 basic ingredients. In fact, you probably already have all of the things you need on hand!
Here are all of the ingredients you'll need to make these vegan pancakes:
Non-dairy milk. Use your favorite! Soy, almond, oat – they all work.
Vinegar. You can use distilled white vinegar or apple cider vinegar. We're using this to make our vegan buttermilk, which adds that classic, subtle tangy flavor we're looking for in a stack of pancakes.
All-purpose flour. This vegan pancake recipe is designed to be made with all-purpose flour, so I highly recommend sticking to this trusty pantry staple. If you're looking for a gluten-free pancake recipe, try out my Vegan Buckwheat Pancakes!
Sugar. I recommend using the classic white granulated sugar in these vegan pancakes for the best result.
Baking powder. We want light, fluffy pancakes and baking powder is gonna get us there!
Salt. All sweet recipes are made 100x better with a pinch of salt as it helps to balance out the flavor.
Oil. You can use canola oil, melted non-dairy butter, or any other neutral oil in this vegan pancake recipe.
Vanilla extract. To give us that classic, comforting flavor!
Non-dairy butter. We're cooking our pancakes in vegan butter for over-the-top flavor and delightfully crispy edges.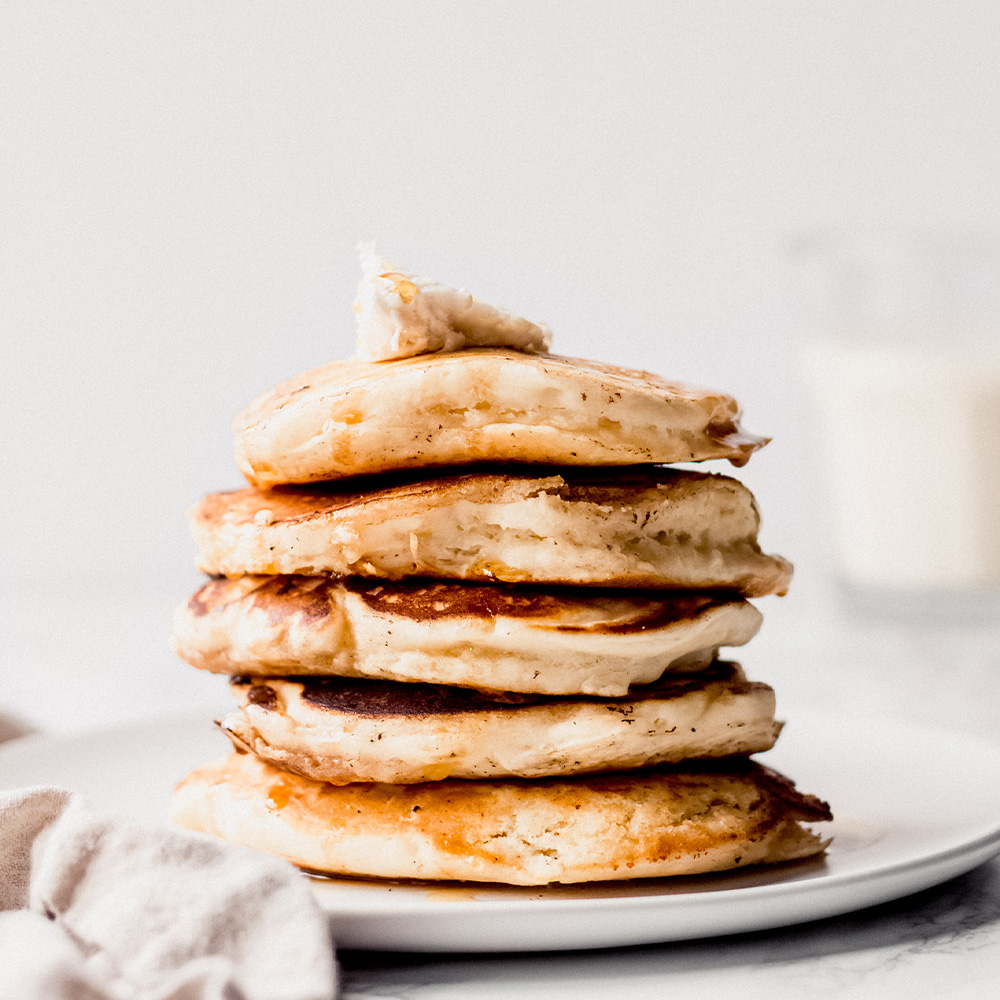 How to Make Vegan Pancakes
These vegan pancakes are so easy to make, they come together in just four steps! You only need one bowl, a skillet, and 9 ingredients to make them. They're so simple, that pancakes no longer need to be reserved for weekends.
Here's how to make vegan pancakes:
Make the vegan buttermilk by mixing your non-dairy milk with vinegar and allowing it to sit for at least 5 minutes
Mix the dry ingredients together in a bowl
Add all of your wet ingredients to the bowl with your dry ingredients, including the vegan buttermilk you prepared and mix. Don't worry about lumps!
Cook the pancakes in vegan butter over medium heat for 1-2 minutes each side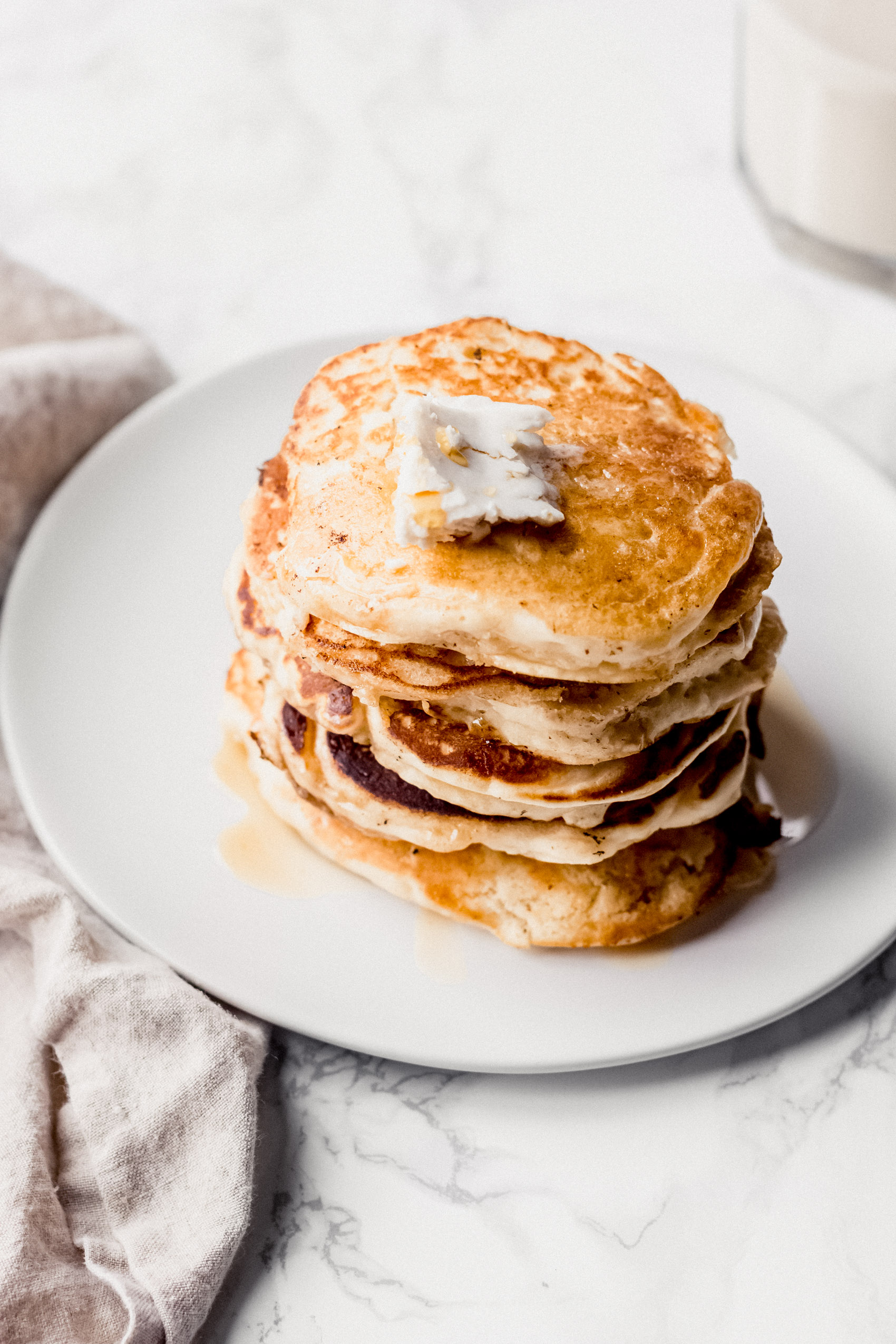 Tips for Making the Best Vegan Pancakes 
While this vegan pancake recipe is pretty simple to make, there are a few things to keep in mind to make sure you get the best possible end result! Here are my biggest tips for making a delicious batch of vegan pancakes:
Don't skip the vegan buttermilk. There's a reason why buttermilk pancakes are considered the classic. But you don't have to use dairy to create the same effect as buttermilk! Adding a bit of vinegar to your non-dairy milk will do the job just fine. Adding vinegar to your milk will add a bit of tanginess and help make your pancakes tender and fluffy.
Be careful not to over-mix. We're using all-purpose flour in these pancakes, which means when you mix the flour into the wet ingredients, you start to develop gluten. The more you mix, the more gluten you create and the denser and chewier your pancakes will become. So be careful not to overdo it on the mixing! Mix your batter until it juuuust comes together – a few lumps are perfectly fine.
Monitor the heat of your skillet. Keep an eye on your heat for the best possible pancakes! Starting your pancakes before the skillet is hot is the biggest reason why the first pancake never comes out right. Yes, the recipe tells you to cook your pancakes on med-high heat, but know that you can play with your heat to turn it up and down as needed.
Add mix-ins. Blueberries, chocolate chips, bananas, they're all fair game! While I love a good, plain ol' pancake, I also love adding fun flavors! But you don't need a new pancake recipe for every flavor you could possibly crave. This vegan pancake recipe is perfect for adding in fun ingredients to mix it up – literally!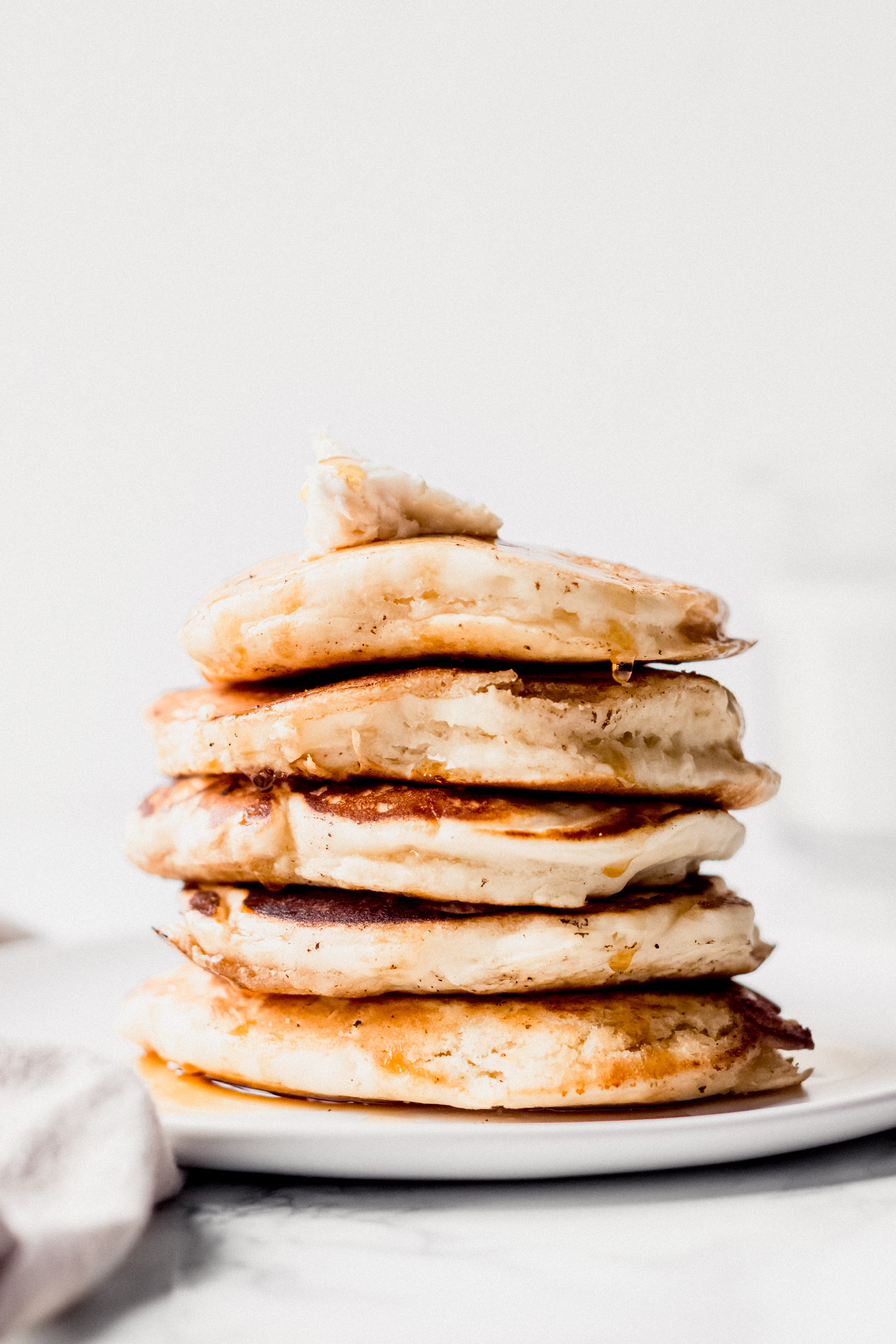 More Vegan Breakfast Recipes
I know it can be really easy to fall into a routine with breakfast and turn it into our most boring meal of the day. I think especially for those of us who eat a plant-based diet, it can be tricky to come up with new vegan breakfast ideas. But the first meal of the day should be anything but boring! Here are a few other delicious vegan breakfast recipes to help you get inspired:
Print
How to make:
The Best Vegan Pancakes
Dig into a stack of the best vegan pancakes you'll ever try (yes really)! This vegan pancake recipe is easy to make and oh so fluffy.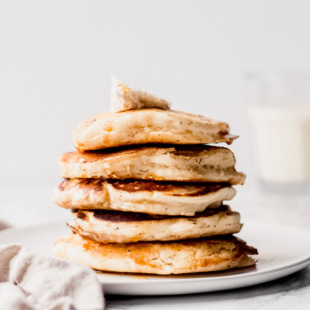 Ingredients
1 1/4 cups

unsweetened non-dairy milk

1 tablespoon

vinegar (white or apple cider)

1 1/2 cups

all-purpose flour

1 1/2 tablespoons

granulated sugar

1 tablespoon

baking powder

1/2 teaspoon

salt

2 tablespoons

canola oil, melted non-dairy butter, or other neutral oil

1/2 teaspoon

vanilla extract
Non-dairy butter, for cooking
Instructions
For the vegan buttermilk: In a small bowl or measuring cup, add milk and vinegar. Stir once. Set aside for 5 minutes.
In a large bowl, add all dry ingredients: flour, sugar, baking powder, and salt. Stir to combine.
To the bowl, add vegan buttermilk, canola oil, and vanilla. Stir until just combined; do not overmix. There may still be lumps in the batter; that's okay.
Place a skillet over medium heat. Add a small scoop of butter. When melted, use a 1/4-cup measuring cup to scoop the batter into the skillet. Cook for 1-2 minutes each side, until golden brown. Repeat until all the batter is used up.