It's about TIME I got a BBQ jackfruit recipe up on the blog. I feel like I'm not a true veghead without one. Forgive me?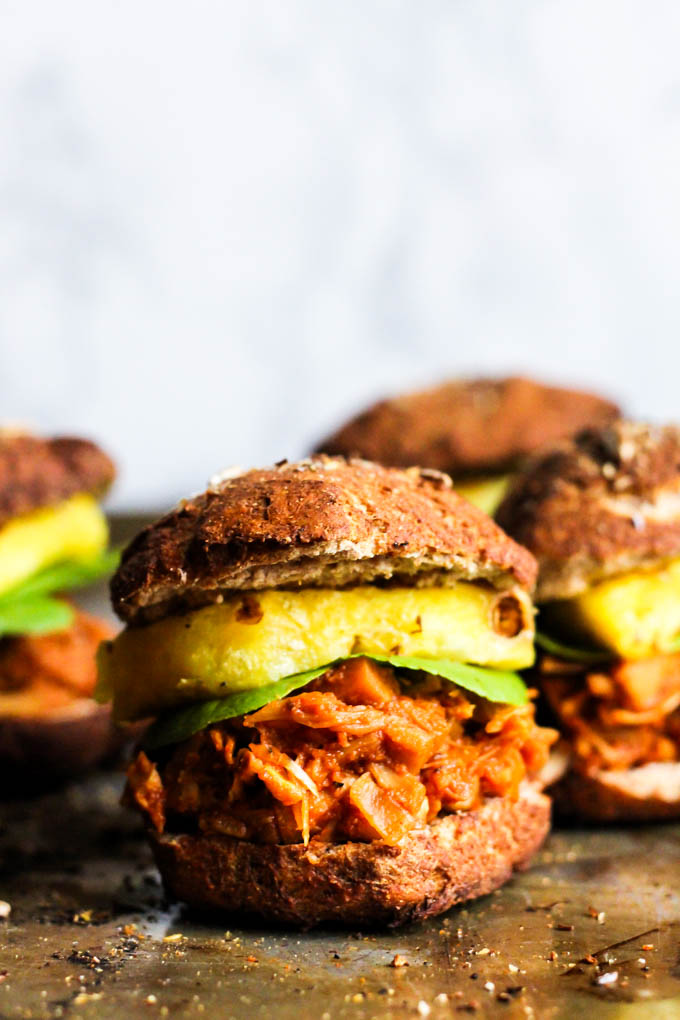 If you've never heard of jackfruit, what rock have you been hiding under?! Kidding, kidding. For reals, let me fill you in: jackfruit is a type of tree that grows natively in parts of South Asia and produces the largest tree-borne fruit of any plant. Some jackfruits can get up to 80 pounds! That's a lot of BBQ jackfruit sandwiches. 😉
Jackfruit is *magical* because when you cook the fleshy insides (sorry for that description), it very deceptively resembles pulled pork in texture. You can use the shreds in a variety of ways, such as vegan pulled pork sandwiches, seasoned on top of pizza, in bowls, and so much more. Isn't it amazing what plants can do? GO PLANTS.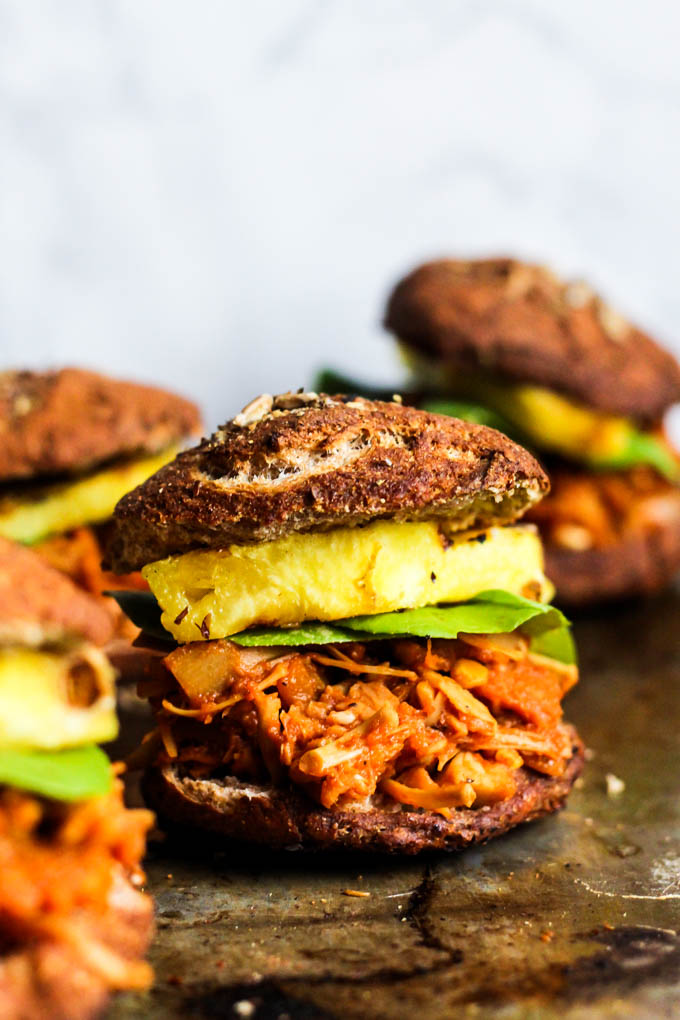 Jackfruit came into the mainstream last year when everyone was like, WAIT HOLD UP, we can make vegan BBQ sandwiches out of this shiz! And the Internet went crazy. But sadly, I could not locate a can of jackfruit anywhere near me. And good luck finding a fresh one – I've only seen them in Hawaii!
The plant gods must be pleased with us because they sent cans upon cans of the oh-so-versatile green jackfruit to the holy land we know as Trader Joe's. AMEN. So even though I'm a wee bit late to the jackfruit party, I feel like I can still partake. Let's keep this love of jackfruit going strong because my love ain't dying down anytime soon. BBQ jackfruit sandwiches now, jackfruit pizza/stir fry/bowls/everything else later.
To get these BBQ jackfruit sandwiches started, you'll need to start with jackfruit (duh). This is what it looks like right out of the can…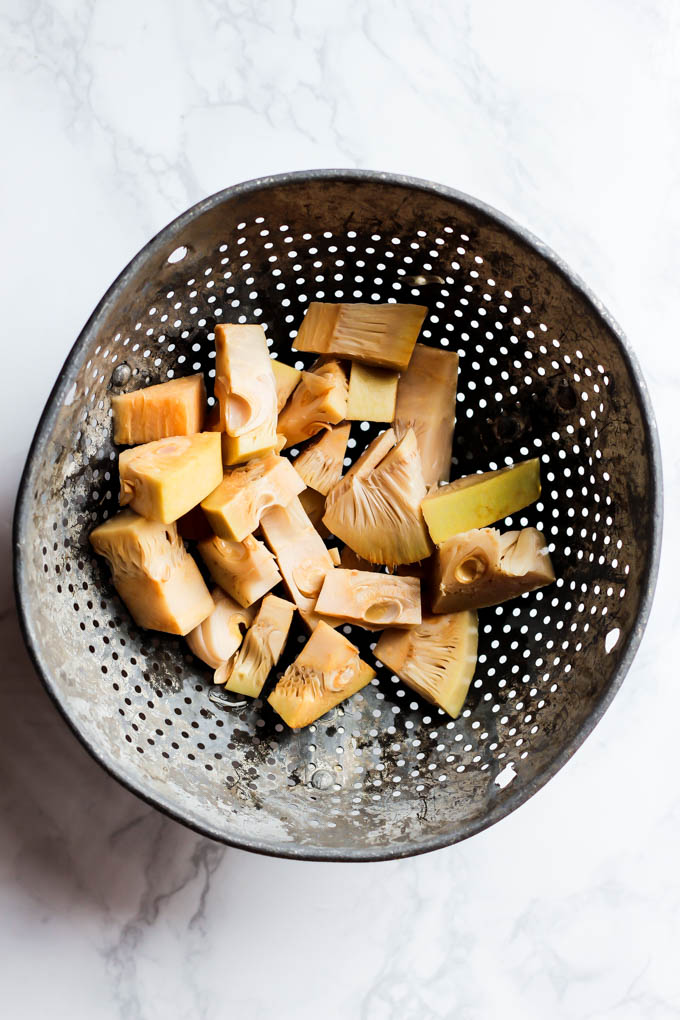 …and then it magically transforms into THIS👇🏼 shredded goopy sweet-and-savory deliciousness! Jackfruit, you've outdone yourself.
This recipe comes together pretty easily and pretty quickly. Simply cook and shred the jackfruit, top with BBQ sauce (I used my homemade recipe) and seasonings, and then pile it onto a hamburger bun with allllll the toppings! I went with homegrown lettuce, avocado, vegan ranch, and grilled pineapple on a pretzel bun. Which didn't turn out all that great, but they look fine in the pictures…so that's all that matters, right?
I swear you'll want to make these for every summer cook-out this year! Serve them to vegans and meat-eaters alike and watch everyone's faces light up with amazement. Then drive to your nearest Trader Joe's (or log on to Amazon) and buy 2394789 cans of jackfruit!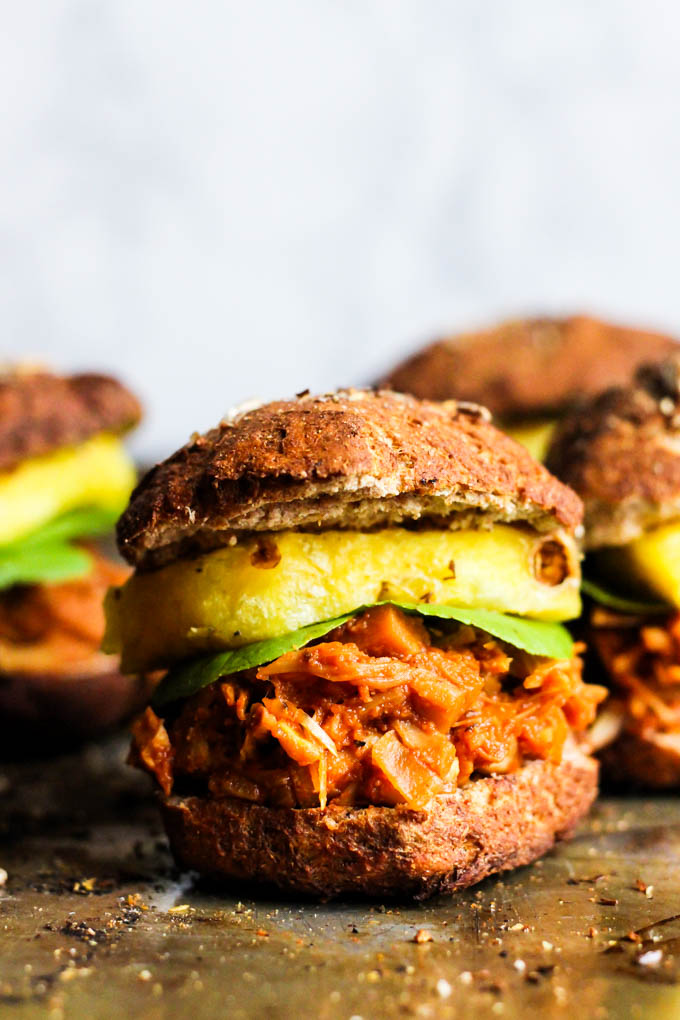 Print
How to make:
Easy Vegan BBQ Jackfruit Sandwiches
Meet jackfruit: the BEST vegan pulled pork alternative! These Easy Vegan BBQ Jackfruit Sandwiches are your new summer staple for cook-outs & parties.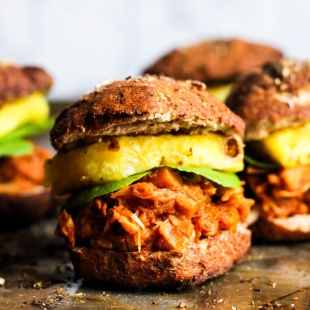 Ingredients
2

20-ounce cans green jackfruit in water*

1

onion, diced

3

cloves garlic, minced (about

1 1/2 teaspoons

)

1 cup

BBQ sauce of choice**

1 teaspoon

smoked paprika

1/2 teaspoon

garlic powder

1/2 teaspoon

onion powder

1/2 teaspoon

liquid smoke
Salt and pepper, to taste

6

whole-wheat hamburger buns (or gluten-free, if necessary)
Optional toppings: lettuce, grilled pineapple, vegan ranch, cabbage slaw, avocado
Instructions
Drain and rinse jackfruit.
In a skillet over medium heat, heat a little water or oil. Add onion; cook for 5-7 minutes, until tender. Add garlic; cook for another minute.
Add the jackfruit, BBQ sauce, and 1/2 cup water. Stir and cover; turn heat down to medium-low. Cook for 15 minutes, then stir again, adding more water if needed. Cover and cook for another 15 minutes.
Using a potato masher or a fork, shred the jackfruit until it resembles pulled pork. Add smoked paprika, garlic powder, onion powder, liquid smoke, salt and pepper; stir to combine. Add more BBQ sauce if desired.
Dress hamburger buns however you want with optional toppings and BBQ jackfruit.
Notes
*Most recipe will call for the core to be cut off and discarded, but I think that's a waste. It won't shred like the other pieces, but it still cooks and tastes just as "meaty." I say, go for it!
**I used my homemade BBQ sauce recipe, which you can find by typing "barbecue sauce" in the search bar.