This Jerk Tofu Power Bowl is inspired by bold Jamaican flavors and features sweet, juicy pineapple for a delicious, easy vegan dinner.
This post has been sponsored by SEEDS OF CHANGE™. All thoughts and opinions are my own.
Jerk Tofu Power Bowl with Pineapple and Veggies
I have two sides to me. One side of me loves the idea of making my own flax crackers and sourdough bread and strawberry jam. But, let's be real, who has the time for that?
The other side of me is the more realistic one—the one that has no time for homemade bread-making, who values convenience and saving time. I try to balance both sides because it is fun making food completely from scratch, but then real life comes along and you need some help.
When you're having one of those real-life kinda days where you need that extra bit of help, these Jerk Tofu Power Bowls are the perfect thing to serve up for dinner. This bowl is all about convenience thanks to our whole grains that are done in basically no time, and we're using store-bought jerk marinade because we're all busy. Speaking of being busy, let's get straight to it!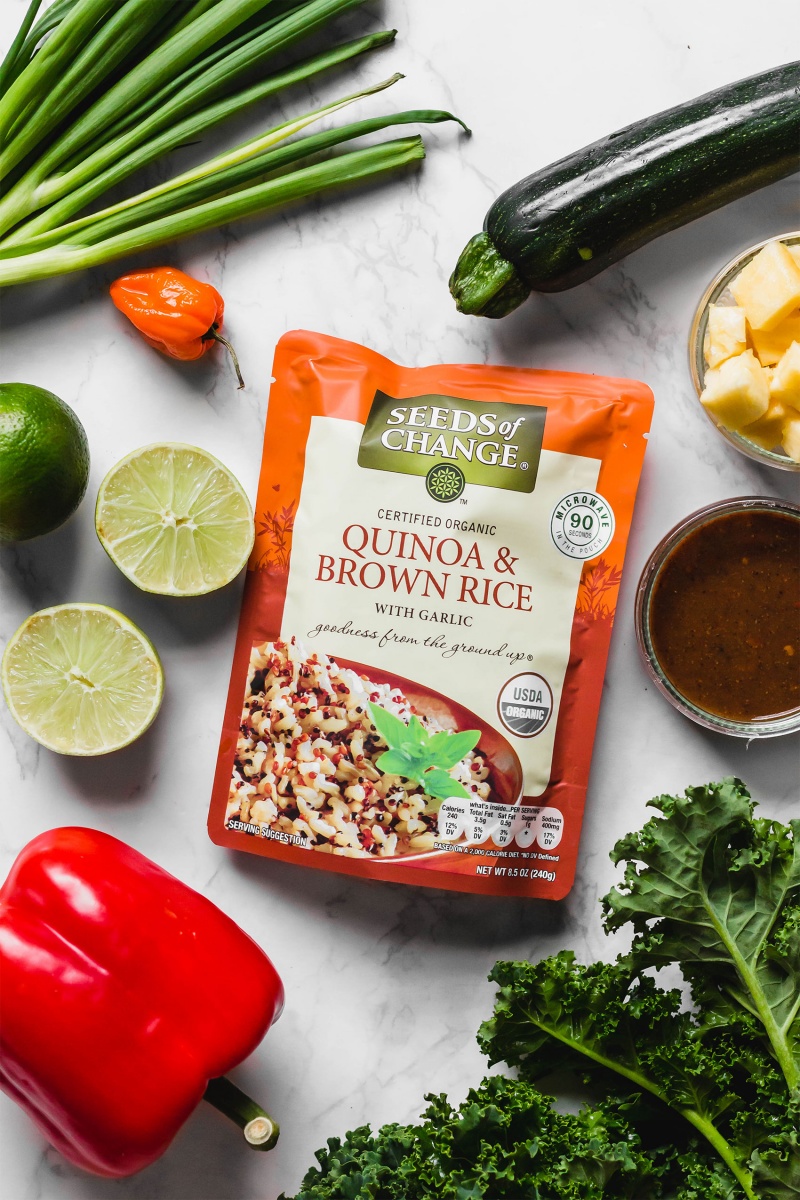 Ingredients for Jerk Tofu Power Bowls
This Jerk Tofu Power Bowl features only 10 ingredients, so you can spend less time digging through the pantry and more time doing quite literally anything else. Here's everything you'll need:
Tofu. You will need to press your tofu for this recipe. Since tofu is stored in water, it's fully saturated when you take it out of the packaging, so it'll never soak up your delicious marinade if you don't press it. Wrap up your tofu in a dish towel and give it 5-10 minutes under a cast iron skillet and you'll be good to go.
Jamaican jerk marinade. Just buy one from the store! You can find delicious store-bought sauces that will really take your dinners up a notch without the extra time spent whipping up a sauce from scratch.
Olive oil. This power bowl is packed with veggies, which we're going to sautee in olive oil.
Zucchini. A summer squash would also work!
Bell pepper. Choose any color you like.
Kale. You can use curly kale or lacinato kale. Spinach or chard would also work!
Salt and pepper. Of course!
SEEDS OF CHANGE™ Quinoa and Brown Rice with Garlic. This is the perfect variety for this Jerk Tofu power bowl! The garlic flavor is delicious with the Jerk marinade.
Pineapple. This adds the most delicious pop of sweetness to our Jerk tofu power bowl. Fresh, frozen or canned will all work, so use what you've got!
Green onions. These are just for garnish so they're optional, but highly recommended!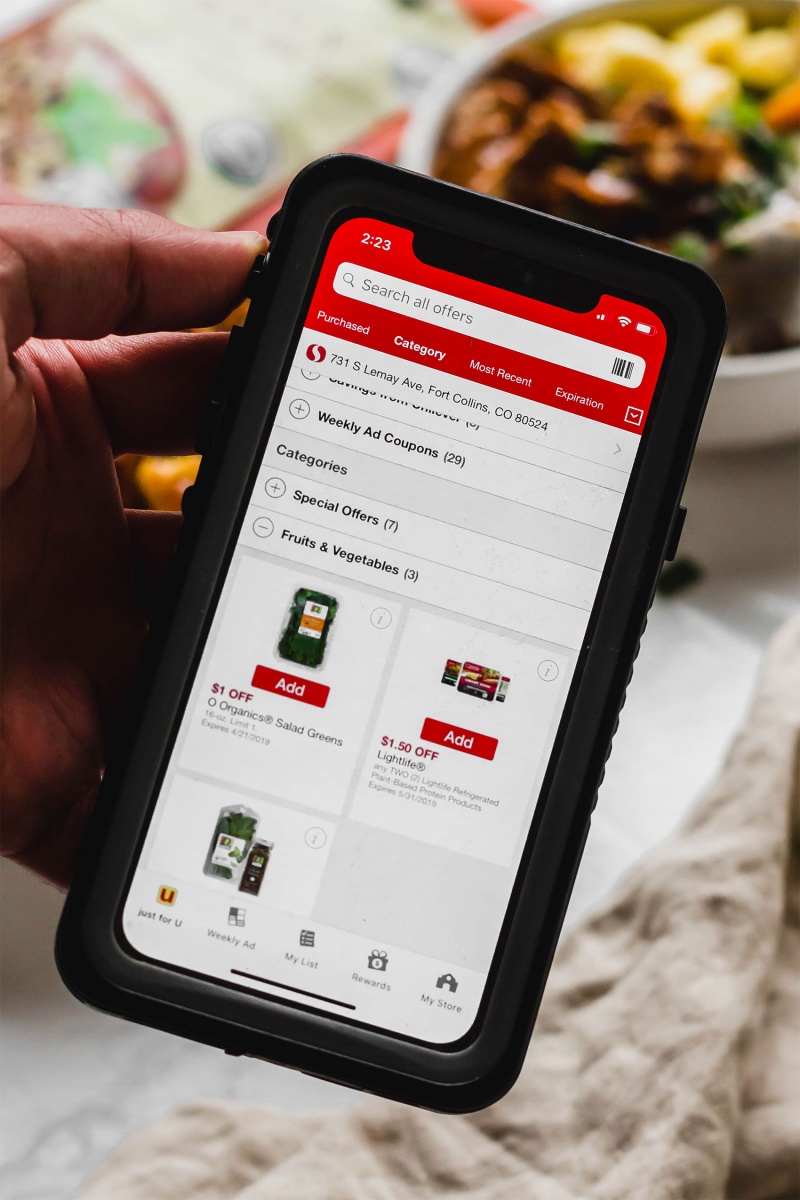 How to Make Quick, Easy Vegan Dinners
When you have a million and two things going on in the week, sometimes you just need to look for ways to save time, and there are plenty of ways to shave off the minutes spent in the kitchen.
For example, in these Jerk Tofu Power Bowls, a major time saver is using a pre-made Jerk marinade. I loooove making my own sauces, but sometimes you just don't have the time – or the patience if we're being honest. So instead of skipping a sauce all together, stash a few of your favorites in the fridge to add a flavor boost to your meals without adding any  time.
Another great time-saver is to use pre-chopped fruits and veggies. Most grocery stores have pre-sliced veggies in the produce section, however you will pay a premium for these. That's why the freezer aisle should be your BFF. For this power bowl recipe, you could totally use all frozen, pre-sliced veggies, greens and pineapple.
By far the best way to save time in the kitchen is to use quick-cooking grains. That's where SEEDS OF CHANGE™ products come in! I found the SEEDS OF CHANGE™ Quinoa and Brown Rice with Garlic at my local Safeway in the grain aisle, along with many other products from the brand! The Quinoa and Brown Rice with Garlic comes in microwaveable bags and is done in (wait for it) 90 SECONDS. And it still tastes good, I promise. Amen hallelujah.
I also love that SEEDS OF CHANGE™ brand donates 1% of their profits to helping communities enjoy real food grown from seeds! Companies that give back are my jam.
You can get a coupon for SEEDS OF CHANGE™ Quinoa and Brown Rice with Garlic on the Safeway app!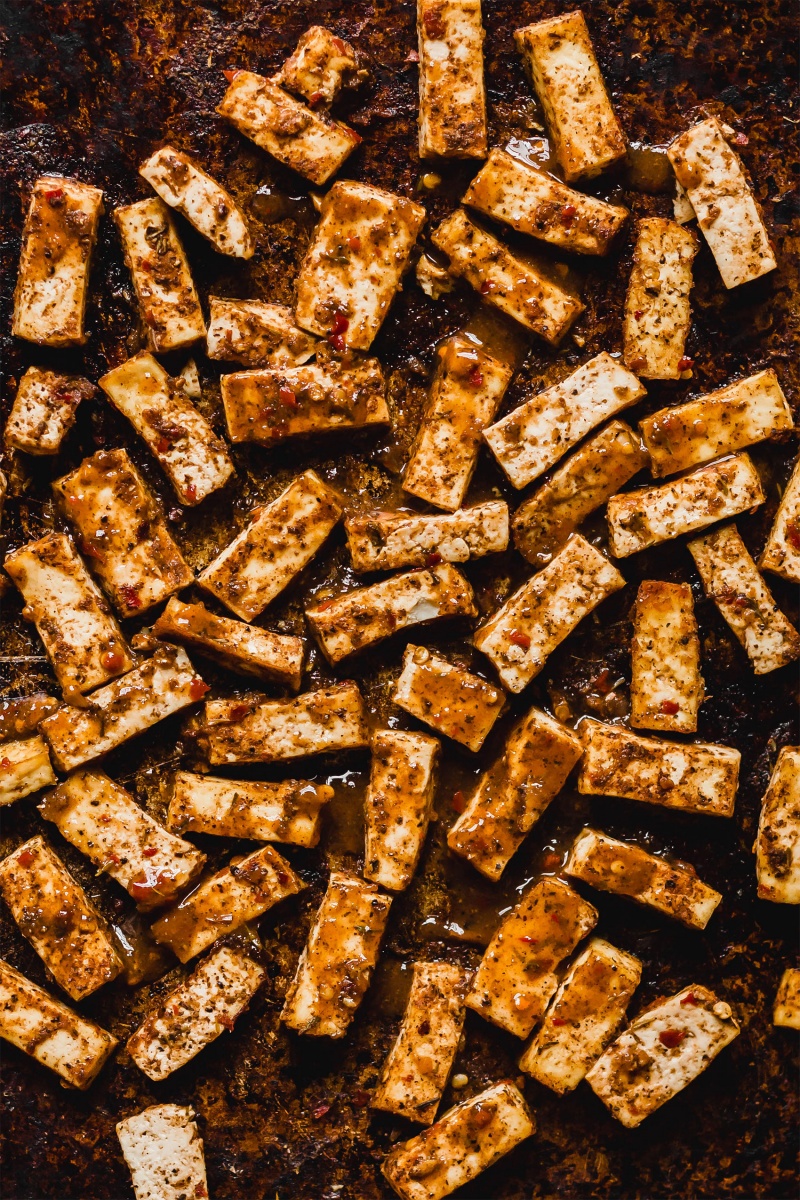 How to Make Jerk Tofu
Now let's get to this delicious Jerk tofu! Would you believe me when I tell you that the hardest part about making it is draining and pressing your tofu? Believe it friends!
Like I said earlier, you have to drain and press your tofu if you want to pack in all the flavors from your marinade. Simply drain off all the water from your tofu, wrap it in a towel, set a cast iron skillet or heavy pot on top of it and let it sit for about 10 minutes.
Once your tofu has been pressed, chop it up into cubes and place it in a large bowl. Douse your tofu in your pre-made jerk marinade and toss to coat. From there, just let it hang out for about a half an hour in the fridge. When you're ready to cook dinner, transfer the tofu to a sheet tray and bake in a 350F oven for 30 minutes, or until crispy. For a little more flavor, toss it in extra sauce when you pull it out of the oven! YUM!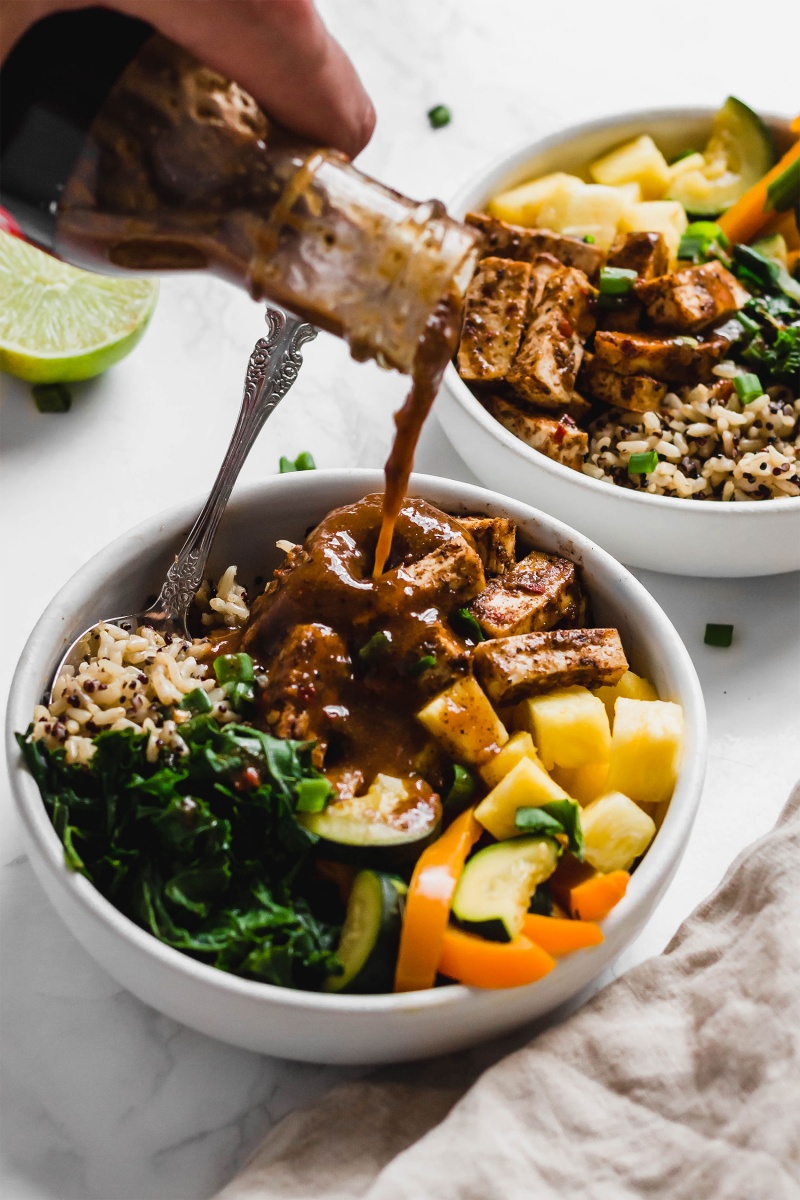 How to Build a Jerk Tofu Power Bowl
I love throwing together a vegan power bowl for lunch or dinner because they're super well-balanced with plenty of fiber, plant-based protein and carbs to keep you fueled.
For this jerk tofu power bowl, I sautéed kale, zucchini, and bell peppers, but you could really use any vegetable. Broccoli? Go for it. Spinach? Sure. That bag of frozen vegetables that's been in your freezer for a year? Cook it up.
When you're ready to eat, pop your bag of SEEDS OF CHANGE™ Quinoa and Brown Rice with Garlic in the microwave for a minute and a half and chop up your pineapple while you wait for the grains to cook. As soon as that microwave beeps, you're ready to assemble! Grab a bowl and add in a scoop of grains, a pile of veggies, some pineapple, your jerk tofu and top it all off with green onion and an extra drizzle of sauce.
You could also use this recipe for meal prep and toss your ingredients into air-tight containers for lunches ready to go for the week!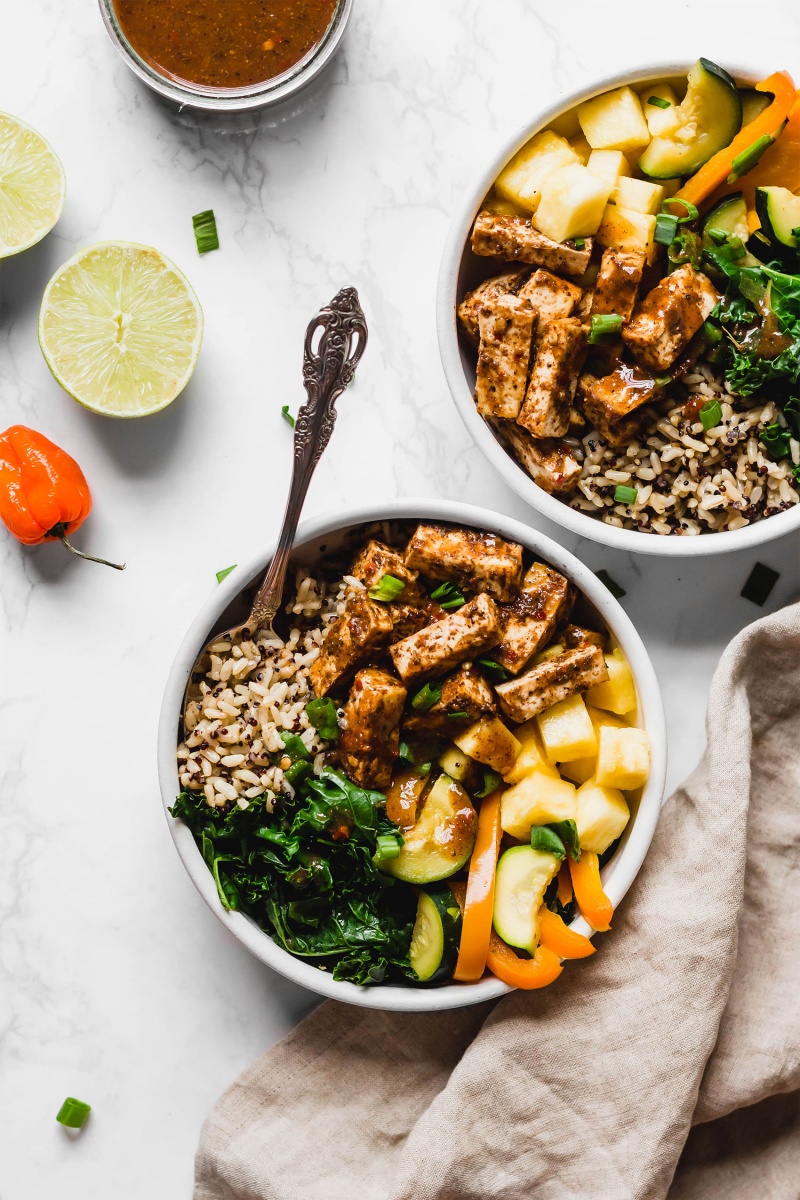 More Vegan Power Bowl Recipes
Vegan power bowls are a great go-to for packable lunches or quick dinners. They'll keep you feeling satiated and nourished and they're so easy to customize! If you're looking for more easy vegan recipes, try one of these other vegan power bowls!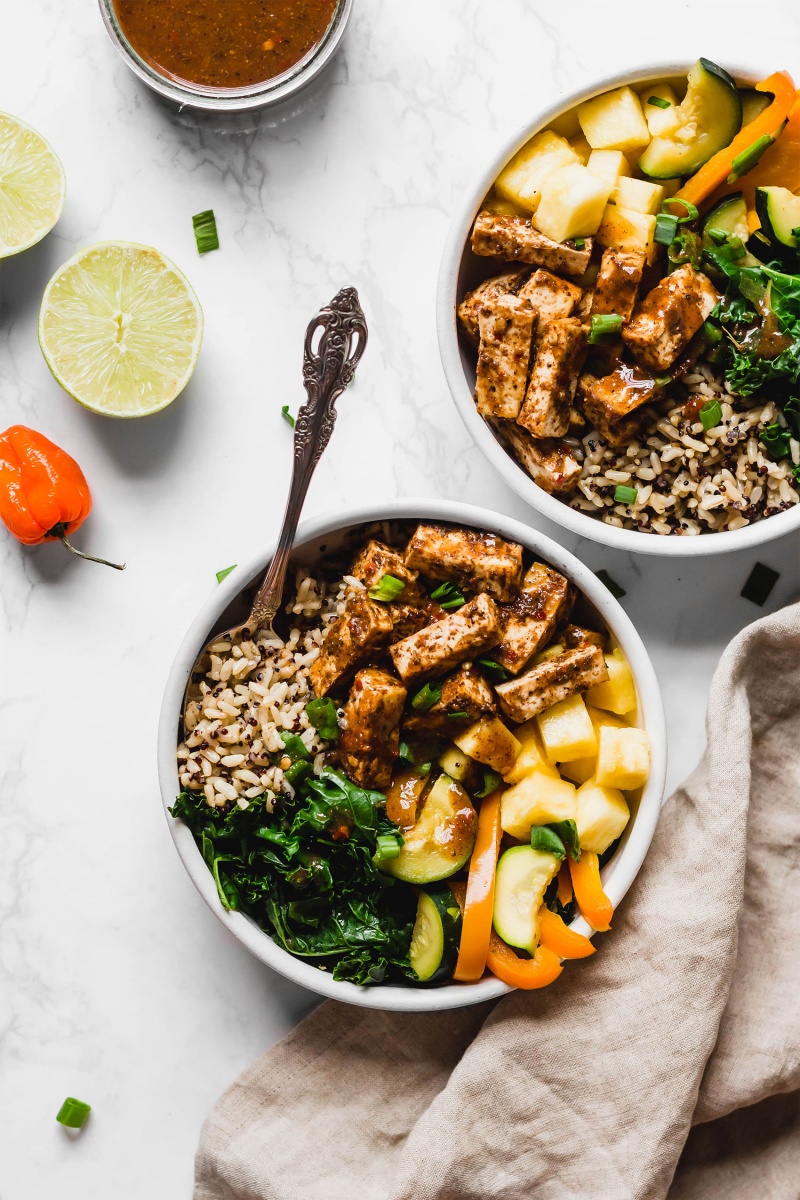 Print
How to make:
Jerk Tofu Power Bowl with Pineapple and Veggies
This Jerk Tofu Power Bowl is inspired by bold Jamaican flavors and features sweet, juicy pineapple for a delicious, easy vegan dinner.
Ingredients
1

14-ounce package extra-firm tofu, drained and pressed*

1/2 cup

Jamaican jerk marinade, plus more for serving

1 tablespoon

olive oil

1

zucchini, chopped

1

bell pepper, thinly sliced

1

bunch kale, chopped (about

5

–

6

cups)
Salt and pepper, to taste

1

package SEEDS OF CHANGE™ Quinoa and Brown Rice with Garlic

1 cup

pineapple, diced
Sliced green onions, for garnish
Instructions
1. Preheat oven to 350ºF. Lightly grease a baking sheet.
2. Slice tofu into 1/2-inch cubes; place in a large bowl. Add 1/3 cup jerk marinade; toss to coat tofu evenly. Place in the fridge; let sit for at least 30 minutes. After marinating, place tofu in a single layer on baking sheet. Bake for 30 minutes until crispy. Let cool for 5 minutes, then return to large bowl. Add the remaining jerk marinade; toss to coat evenly.
3. In a large skillet over medium heat, add oil. When hot, add zucchini and pepper. Cook, stirring often, until tender, about 5-7 minutes. Add kale; cook for 2 minutes, stirring, until wilted. Season vegetables with salt and pepper.
4. Cook Quinoa & Brown Rice with Garlic according to package directions.
5. To arrange a bowl: place a scoop each of Quinoa and Brown Rice with Garlic, vegetables, and jerk tofu into a bowl. Add 1/4 cup pineapple. Top with sliced green onions and a drizzle of jerk marinade.
Notes
*Use a tofu press or wrap the tofu in paper towels and place in the sink with a heavy object on top. Press for 10-15 minutes.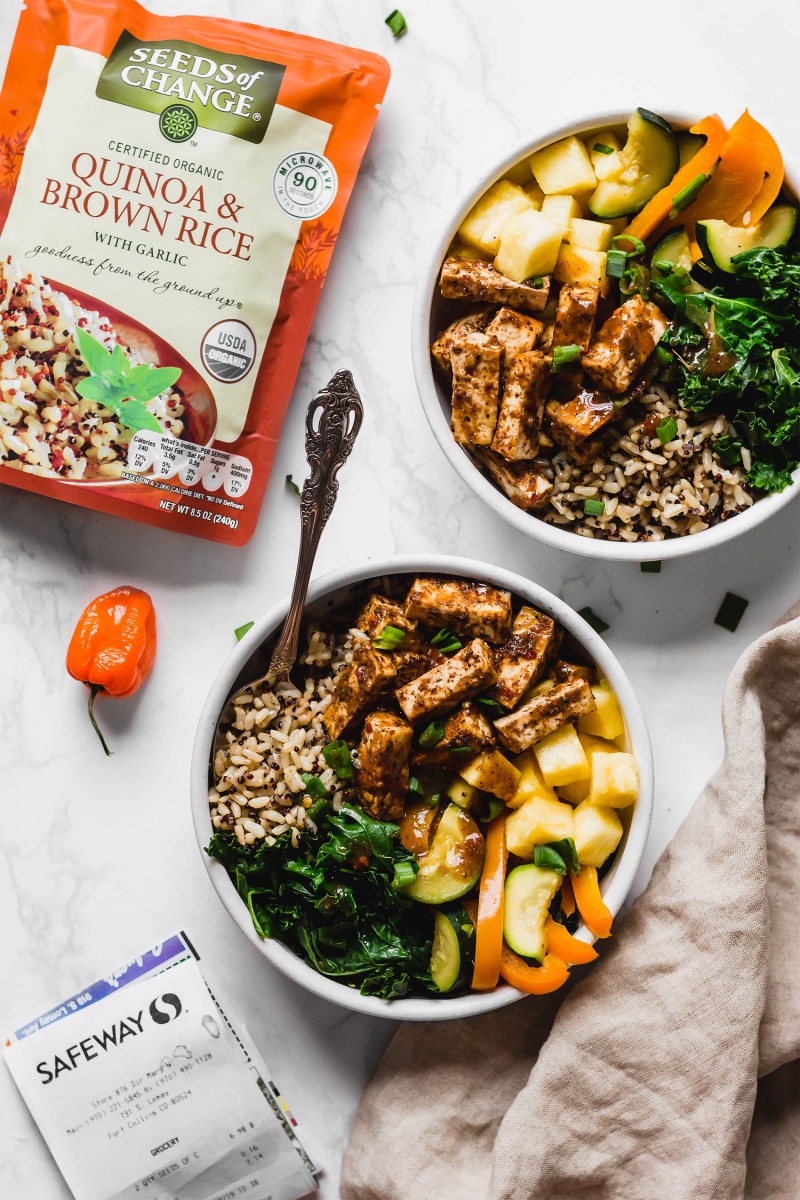 Thanks to SEEDS OF CHANGE™ for sponsoring this post! I love working with brands whose products I really love and would honestly recommend. Thank you for supporting this blog that I love oh-so much!