This Vegan Chicken Fajita Salad is a tasty, wholesome dinner that is done in under 30 minutes. It features vegan chick'n tenders and creamy avocado—no sad salad here! In partnership with Dr. Praeger's.
Are you surprised that I'm not posting a holiday recipe? I mean, it's prime holiday food time, Emilie. And you're posting a fajita salad?
To be honest, I don't post many holiday recipes each year because 1. we all have our classics that we go to again and again, and 2. there are so many awesome bloggers out there with vegan versions of holiday classics that I wouldn't dare try to make myself.
I don't think I'll be experimenting with my own seitan roast or stuffing recipes any time soon—I'll leave that to the vegan blogging experts.
So we're here, at the end of November, with a delicious salad recipe you can serve year round. Heck, you can even serve this salad during the holidays. Why not?!
You may be confused… vegan chicken fajita salad. Huh? Not tofu or chickpeas, but vegan chicken?
You read that right, friends! Dr. Praeger's just came out with a bunch of new plant-based products, and one of them is Classic Chick'n Tenders. They're SO good! Stringy on the inside like real chicken (without harming animals ayyyy), crispy breading on the inside. They're gluten-free and soy-free for all my peeps out there with allergies!
Some of their other new and awesome products are:
Gametime Buffalo Chick'n Tenders (YAY!)
Sunday Funday Veggie Sausages
Sweet Heat Beet Veggie Burgers
You can click here to see where to buy Dr. Praeger's products near you! Be sure to look out for the new products and pick up a couple boxes.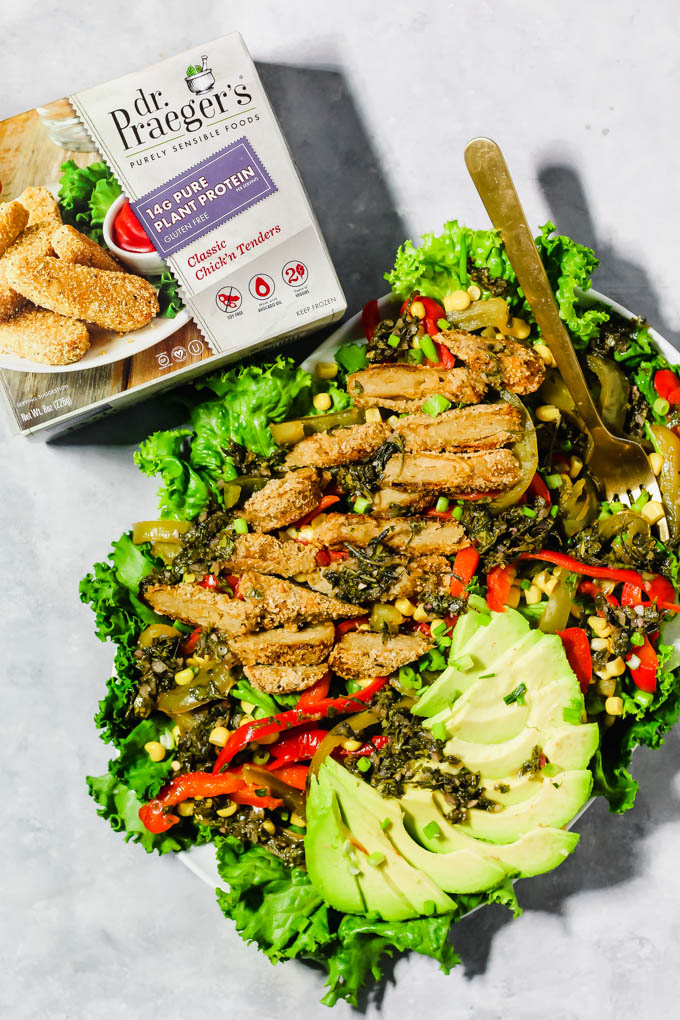 This vegan chicken fajita salad comes together in just about 30 minutes and is a great option for a quick, weeknight meal or lunch to pack to-go!
Lots of fiber from the veggies + protein from the chick'n + healthy fats from the avocado and chimichurri + carbs from the tortilla chips you have to eat on the side = the perfect meal. (Okay, you don't have to eat tortilla chips, but it's highly recommended because chips are life.)
Feel free to swap out the chimichurri for your favorite Mexican-style dressing!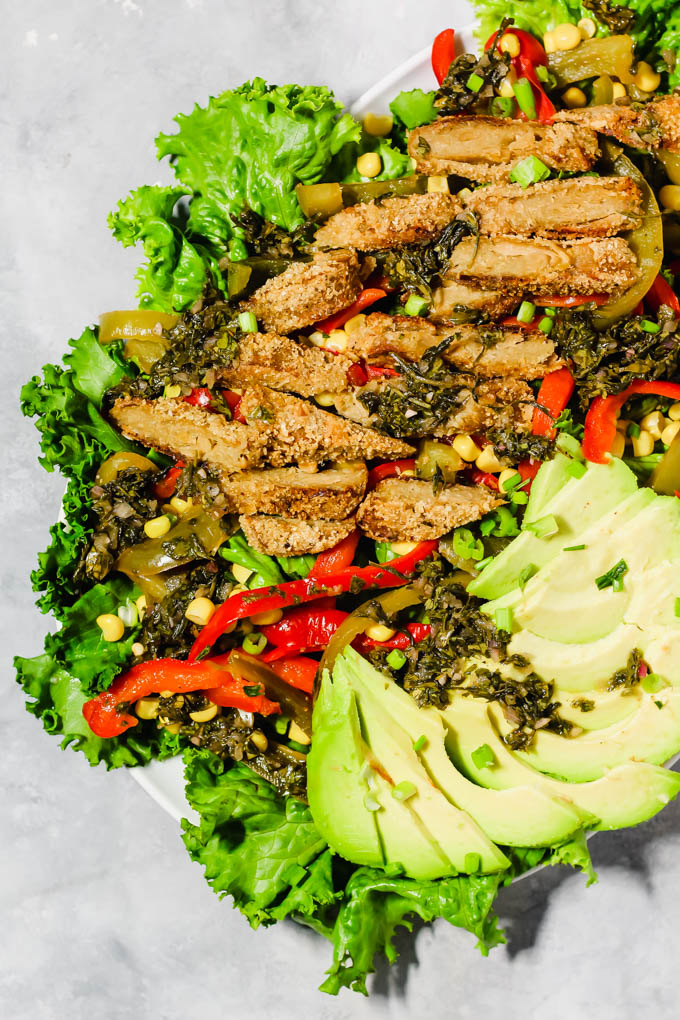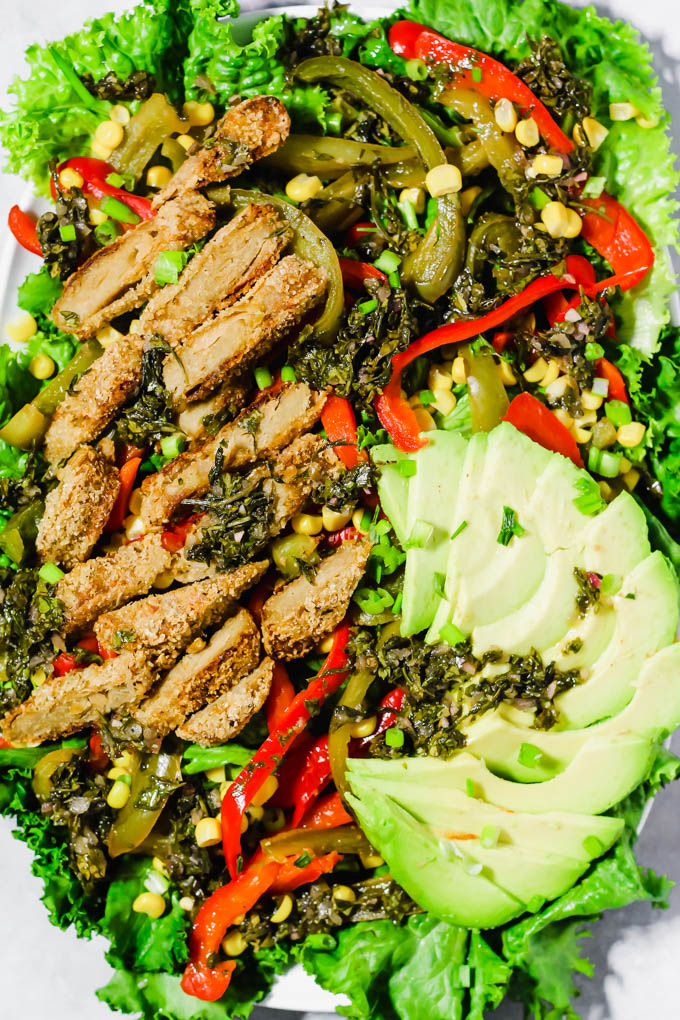 Print
How to make:
Vegan Chicken Fajita Salad
This Vegan Chicken Fajita Salad is a tasty, wholesome dinner that is done in under 30 minutes. It features vegan chick'n tenders and creamy avocado—no sad salad here!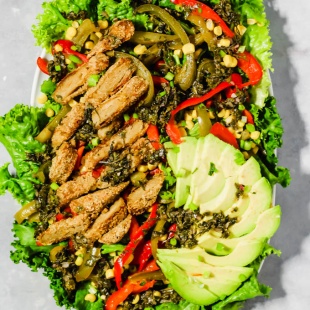 Ingredients
For the salad:
1

package Dr. Praeger's Classic Chick'n Tenders
Cooking oil

1

red bell pepper, sliced

1

green bell pepper, sliced

1

head green leaf lettuce, chopped (about

4

–

6

cups)

1 cup

corn kernels

1/2

avocado, chopped
For the chimichurri:
1 cup

parsley, chopped

1 cup

cilantro, chopped

3

garlic cloves

1/2 cup

red onion, chopped

1/2 cup

olive oil

3 tablespoons

red wine vinegar

2 tablespoons

lemon juice

1/2 teaspoon

salt

1/2 teaspoon

black pepper

1/8 teaspoon

cayenne pepper
Instructions
Cook chick'n tenders according to package instructions
In a medium skillet over medium heat, add a little cooking oil. When hot, add bell pepper slices. Cook for 10 minutes, stirring, until tender.

In a food processor, add all chimichurri ingredients. Pulse a few times to combine, but don't puree; you want the sauce to have a chunky texture.

When chick'n tenders are done cooking, remove and let cool, then chop.
In a large bowl, add chopped lettuce, bell peppers, corn, avocado, and chopped chick'n tenders; toss to combine.
Add chimichurri and toss to combine, or serve chimichurri on the side.
---
Thanks to Dr. Praeger's for sponsoring this post! I love working with brands whose products I really love and would honestly recommend. Thank you for supporting this blog that I love oh-so-much!