Whoa, that's a mouthful. So is this oatmeal 🙂
Can we please just take a second to appreciate that this Chocolate Peanut Butter Banana Baked Oatmeal (say that 5 times fast) has the same heavenly flavor combo as a Reese's peanut butter cup and is STILL healthy??? Ugh, I can't.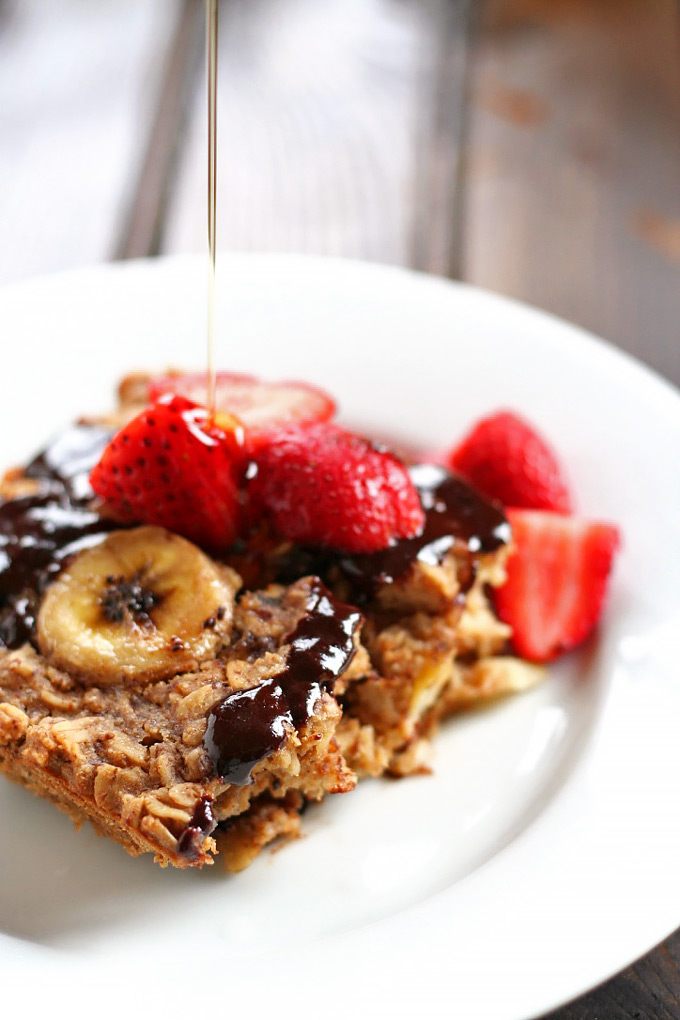 One part of my childhood that I am beyond thankful for is that my mom never let us go to school without breakfast. And I'm not just talking a granola bar and a glass of orange juice. Mom made it a point to get up early to cook breakfast for us, from eggs and toast to grits to oatmeal, and sometimes those fluffy Pillsbury cinnamon rolls from the tube. My brother and I would fight over who got to lick the lid of the icing container. Desperate much?
Despite how lucky I knew I was to have a home-cooked breakfast every morning, there was one thing I had to unwillingly force down my throat – oatmeal. I just couldn't dig it unless I dumped a whole bottle of pancake syrup in the bowl, which wouldn't have been much healthier than the cinnamon rolls.
But as I started on my own journey of healthy eating, oatmeal became (and still is!) one of my favorite breakfasts. My mom used to make mine super soupy (see what I did there) and I think that's why I didn't like it – I much prefer mine thick and chunky with a whole lotta toppings.
Like chocolate and peanut butter and banana and love?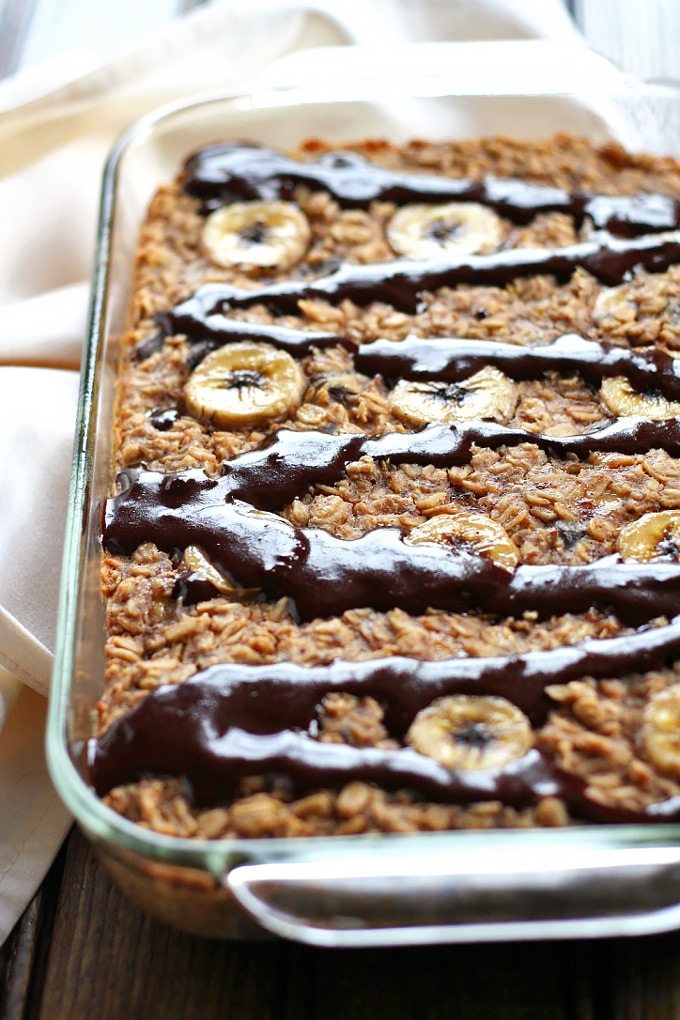 Point is, oatmeal will forever be one of my favorite foods. But, since I always like to try new things❗️, I wanted to experiment a little bit with my typical bowl o' oats.
I've seen drool-worthy bowls of baked oatmeal on Instagram made by the most elite of Insta foodies, so into the oven my oats went! And don't you know it, those Insta-goddesses are up to something because this baked oatmeal was probably the best breakfast I've had in awhile.
When you make something that tastes like dessert but you can have it for breakfast????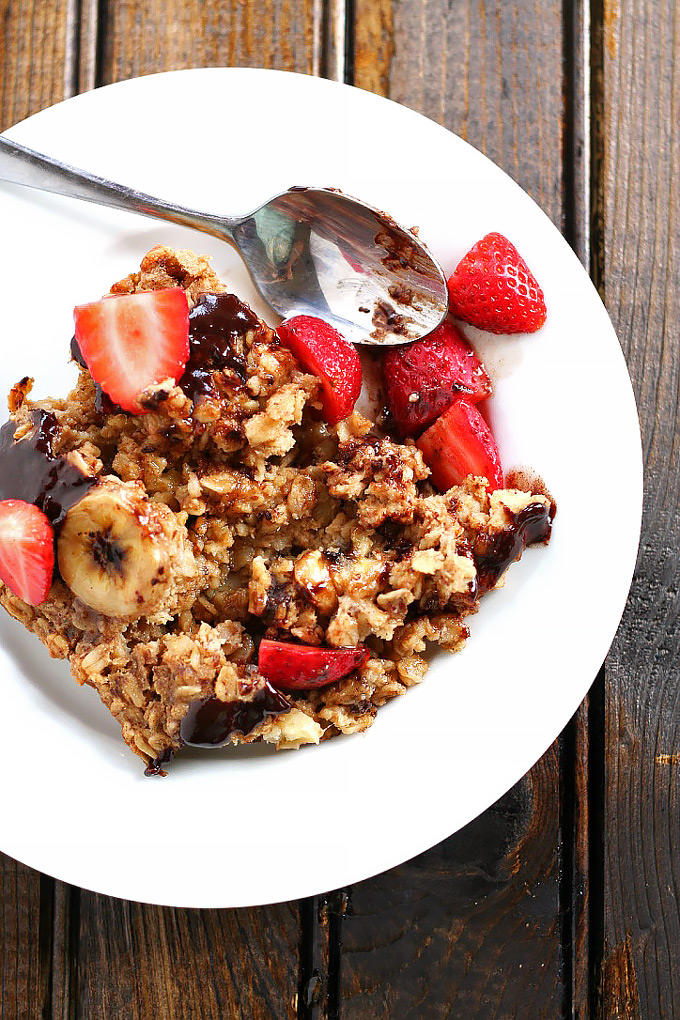 Besides the I-want-this-for-every-meal taste of this banana baked oatmeal, there's a few things really awesome about it! It's simple – mix wet ingredients into dry, then bake! It's also great for feeding a crowd, as it can feed 6 to 8 people. Or, you can make it at the beginning of the week to have leftovers. You could also cut it into serving sizes and freeze for those mornings when you reeeeally don't want to cook.
Or maybe you just want chocolate for breakfast? Please invite me over when you whip out a piece of this. We're friends, right?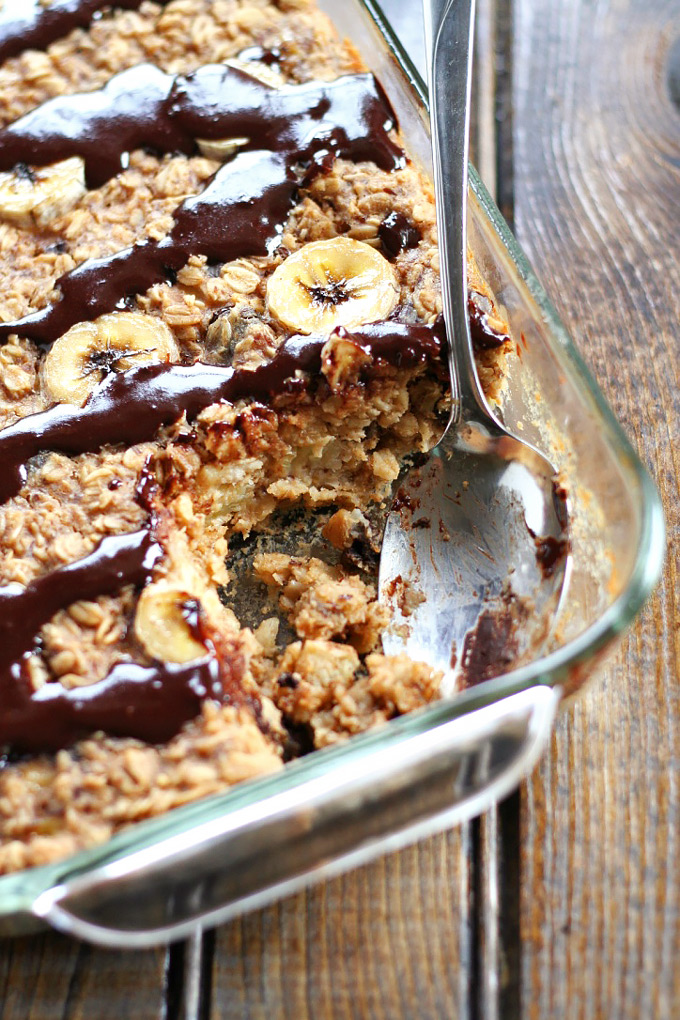 I love to top mine with fresh fruit and a splash of maple syrup. For a more decadent breakfast, say, on a Saturday morning, coconut whipped cream would be an absolutely delicious addition!
I really hope you love this easy, healthy Chocolate Peanut Butter Banana Baked Oatmeal! It's a satisfying way to start you day so  you feel energized and positive. Because who doesn't feel positive after having chocolate for breakfast?
Let me know if you try it in the comments below! <3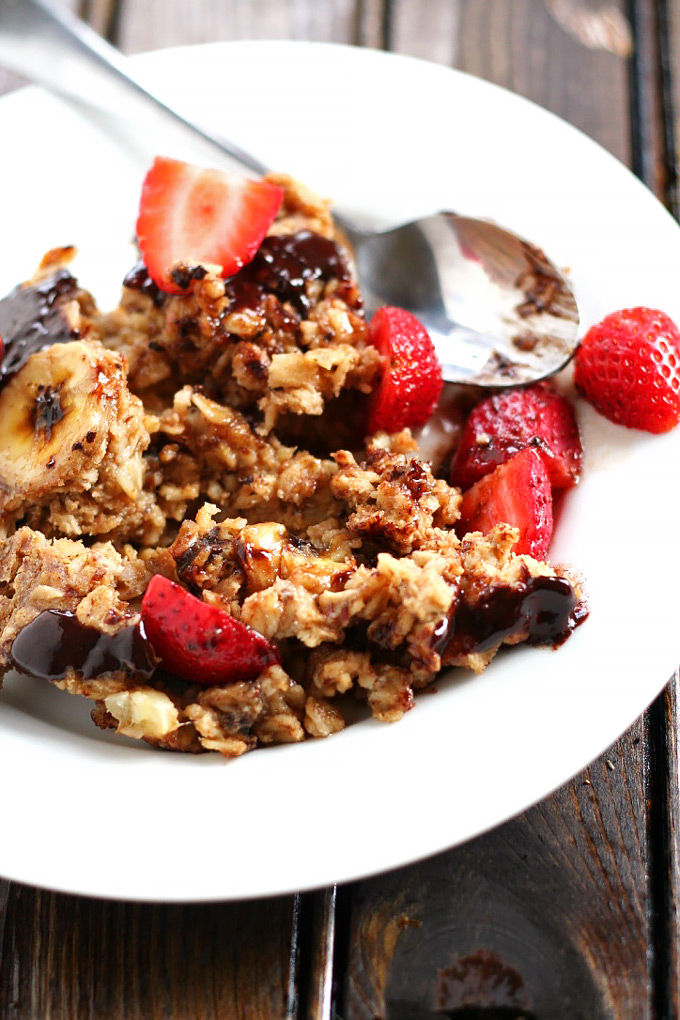 Print
How to make:
Healthy Chocolate Peanut Butter Banana Baked Oatmeal
This Healthy Chocolate Peanut Butter Banana Baked Oatmeal is a satisfying breakfast to start your morning to feel full and energized all day!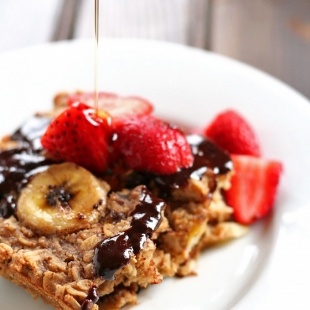 Ingredients
2 tablespoons

flax meal +

5 tablespoons

water

2 1/2 cups

old-fashioned oats

1 teaspoon

baking powder

1/2 teaspoon

salt

1/2 teaspoon

cinnamon

1/2 cup

peanut butter, plus more for drizzling

1 tablespoon

vanilla extract

1/2 cup

applesauce

1 1/4 cup

unsweetened almond milk or other non-dairy milk

1/4 cup

maple syrup

1/2 cup

dark chocolate, chopped (optional)

3

bananas

2 tablespoons

cocoa powder

1 tablespoon

coconut oil, melted

1 tablespoon

maple syrup

1/2 teaspoon

vanilla extract
Pinch of salt
Instructions
Preheat oven to 350F. Lightly grease or spray a 7×13 baking dish.
In a medium bowl, combine flax meal and water. Let sit in the fridge for 10 minutes.
In a large bowl, add oats, baking powder, salt, and cinnamon. Stir to combine.
In the bowl with the flax eggs, add peanut butter, vanilla, applesauce, milk, maple syrup, and dark chocolate, if using. Stir to combine.
Chop 2 1/2 of the bananas and add to the peanut butter mixture. Slice the remaining 1/2 of the banana; set aside.
Slowly pour wet mixture into the large bowl with the oats. Mix well until evenly combined.
Pour the mixture into the greased pan. Top with banana slices.
Bake for 35-45 minutes, until the oatmeal is slightly golden.
In a small bowl, combine cocoa, melted oil, maple syrup, vanilla, and salt. Mix well. Pour over the baked oatmeal.
Divide into 6-8 pieces. Top with fresh fruit and maple syrup!
Notes
Freezing:
To freeze, divide the baked oatmeal into desired serving sizes. Place each piece in a freezer-safe zip bag or plastic container; place in the freezer.
Reheat in the microwave when ready to eat.