This post was sponsored by Sweet Earth Natural Foods. I only work with brands whose products and missions I truly believe in. Thanks for supporting my blog!
I have something exciting to share with you all! Yours truly, fearless eater of anything & everything vegan, was interviewed for a podcast. OMG. I've been saying for weeks that a personal goal was to be featured on a podcast, and then the invitation just so perfectly landed in my inbox.
See how things just work out like that? I'm convinced that the universe just wants us to sit back, kick our feet up, and let it do its thang.
I've been pretty much obsessed with the podcasting world ever since I went to Chicago this past summer. We took the train everywhere (which I loved! no driving!), and when I was by myself, I had my headphones on. Music got old pretty quick, so I started listening to a couple podcasts – and I've been hooked ever since.
I think the reason podcasts are so awesome is that you get to actually hear the voice of someone you've been following. It feels like you're in the conversation, and it's kind of like a companion when you're going about your day. Who knows – maybe you'll be listening to an Emilie Eats podcast one day. 😉
When a podcast invitation popped up in my inbox, I almost screamed from excitement. It's still crazy to think that people out there want to hear my story and the knowledge I have to offer. I'm humbled! Here's my episode on the Nature Has Flavor podcast if you're interested.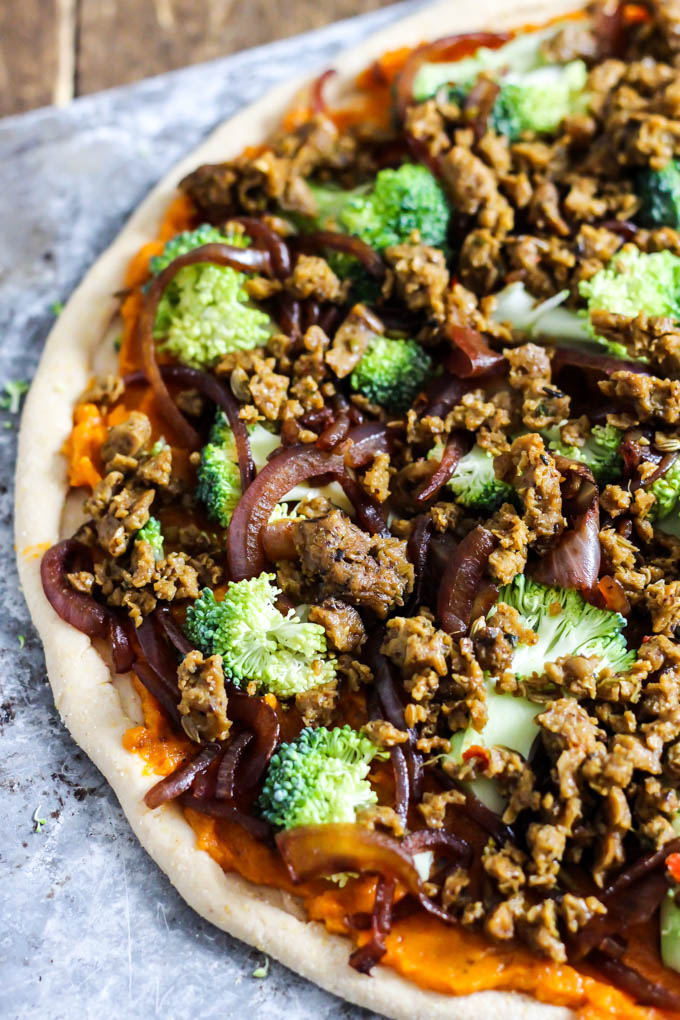 What does a podcast have to do with a pizza? One of the last questions I was asked on the podcast was what my dream three-course meal would be, disregarding price or calories or any other hindering factor. What?? You want me to choose my favorites out of all the foods I love? I was stumped.
I tried to think of something fancy for the main meal, but all I could think of was pizza loaded with a bunch of vegetables. Out of ANY meal I could've chosen, I go with the lowly and basic vegetable pizza… I like to keep it simple! No shame in my pizza game.
That got me thinking of ways I could spice up the traditional vegetable pizza. Thus, this flavorful & hearty butternut squash pizza was born!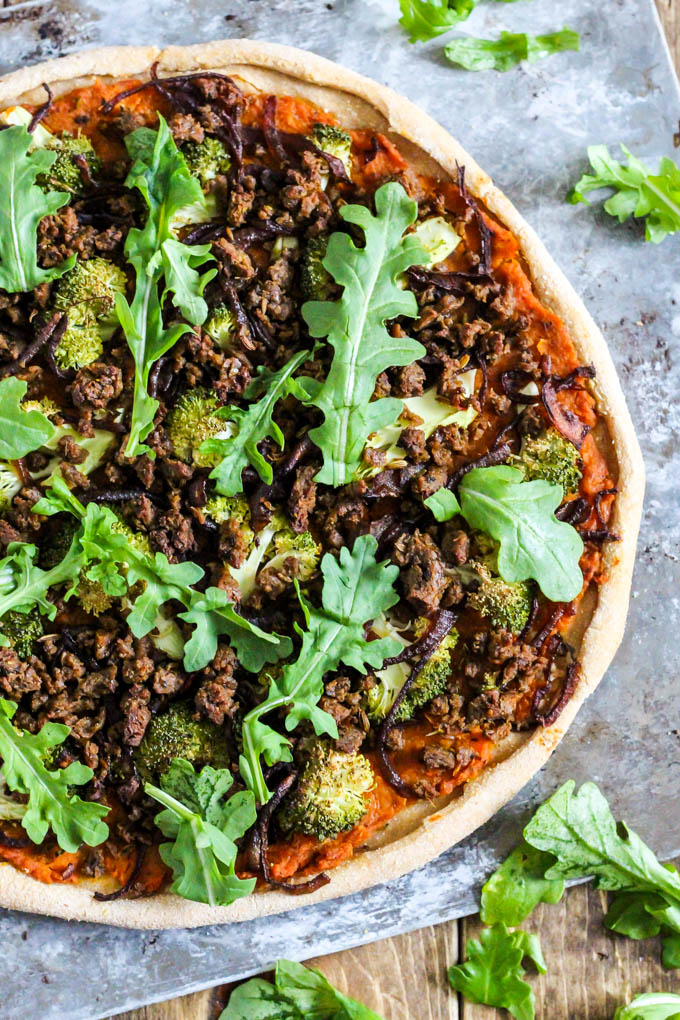 Like I said, the universe knows what it's doing. While I was dreaming up all kinds of yummy pizza ideas (you'll see some of them here some time!), Sweet Earth asked me to create a fall pizza using their savory grounds. Isn't it funny how the world works?
I've been using Sweet Earth products for awhile now in meals that really need something "meaty" without the…well, meat. They've got everything from veggie burgers to burritos to veggie bacon. All made from PLANTS. Plus, they're committed to being as eco-friendly, organic, and non-GMO as possible. That's my kind of people!
The spices in their Tuscan Savory Grounds match perfectly with the flavors of the butternut squash, broccoli, caramelized onion, and peppery arugula. It also adds a nice protein punch without a laundry list of nasty ingredients. There's also barbecue and chipotle grounds…Mexican-style pizza, anyone?!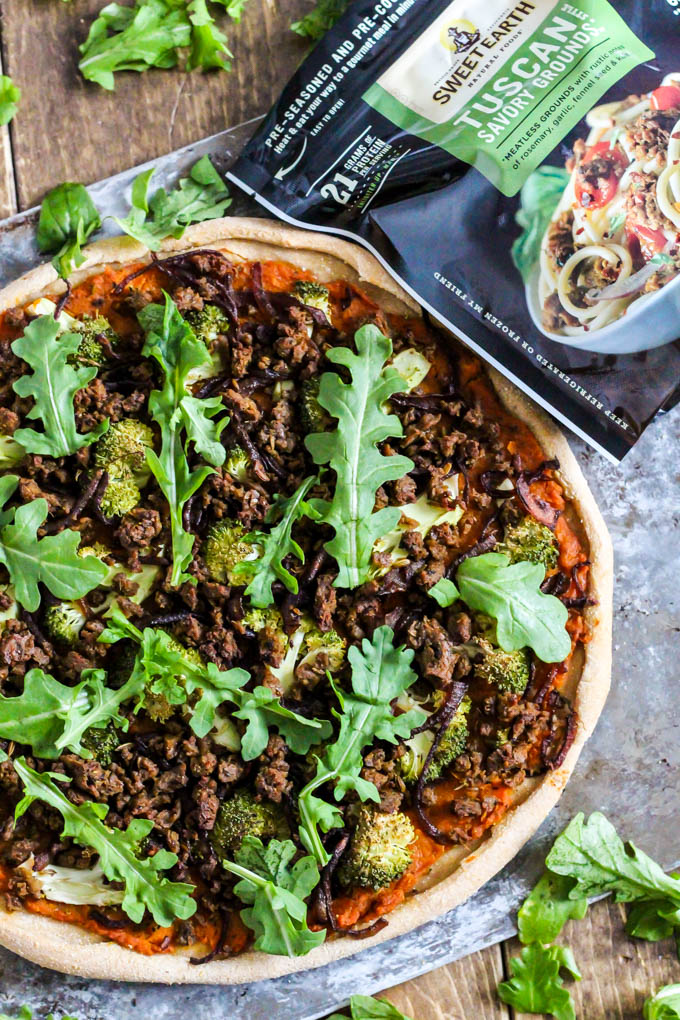 I'd consider myself somewhat of a vegan pizza connoisseur, and this butternut squash pizza definitely hits the mark. A little bit of sweet, a little bit of savory, and a whole lot of plant power. Just how I like it.
If you try your hand at this butternut squash pizza (you should!), I'd love some lovely pictures! Take a pic for Instagram, tag @emilieeats & #emilieeats on Instagram!
What are your favorite podcasts? I need some recommendations!
Print
How to make:
Hearty Vegan Butternut Squash Pizza
Put a twist on pizza night by making this Hearty Vegan Butternut Squash Pizza loaded with vegetables! It is full of plant protein, flavorful & whole wheat.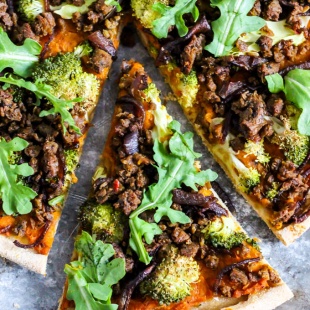 Yield:
1

thick or

2

thin pizzas

1

x
Ingredients
1 cup

hot water

1

packet active dry yeast

1 tablespoon

unsweetened applesauce

1/2 teaspoon

apple cider vinegar

1 teaspoon

salt, divided

2 3/4 cups

white whole wheat flour*

3 1/2 cups

butternut squash, cut into

1/2

-inch chunks

1 1/2 cups

broccoli florets, chopped

1/4 cup

non-dairy milk

1/4 teaspoon

pepper

1/2 teaspoon

(

1

clove) garlic, minced

3/4 cup

Sweet Earth Natural Foods Tuscan Savory Grounds

1/2

red onion, thinly sliced
Handful of arugula
Instructions
In a large bowl or the bowl of a stand mixer, add hot water. Sprinkle the yeast on top; let sit for 10 minutes.
Add applesauce, apple cider vinegar and 1/2 teaspoon salt. Stir to combine.
Slowly add the flour to the bowl 1/2 cup at a time. Stir the ingredients until just combined (don't overmix), and place the dough on a lightly floured surface.
Knead with your hands until the dough is completely smooth. Return to the bowl; let rise for 1 hour.
Meanwhile, prepare the vegetables. Preheat oven to 375F. Line a baking sheet with foil or lightly grease with oil.
Place the broccoli and butternut squash on the baking sheet. Bake for 25-30 minutes, until tender.
In a food processor or blender, add butternut squash, non-dairy milk, garlic, 1/2 teaspoon salt, and pepper. Blend until smooth, adding more milk if needed. Set aside.
Increase heat to 400F.
In a skillet over medium heat, warm a little water or oil. Add sliced onion; cook for 5-7 minutes, until browned and caramelized.
Remove pizza dough from bowl. Cut into two sections for two thin crust pizzas, or do not cut for one thick pizza. Knead the dough a few times on a lightly floured surface, then roll out to your desired thickness. Place on the baking sheet.
Add butternut squash mixture and spread on top. Add onions, broccoli, and savory grounds
Bake for 13-15 minutes; top with a handful of arugula and dig in!
Notes
You can skip making the crust and use a prepared crust, if desired.
*I haven't tested this, but use all-purpose gluten free flour to make a gluten-free crust.
Thanks to Sweet Earth Natural Foods for sponsoring this post! I love working with brands whose products I really love and would honestly recommend. Thank you for supporting this blog that I love oh-so-much so I can bring you delicious recipes!