These Hawaiian Chickpea Veggie Burgers are healthy, satisfying & packed with vegetables! Enjoy with grilled pineapple & BBQ sauce for an epic vegan burger.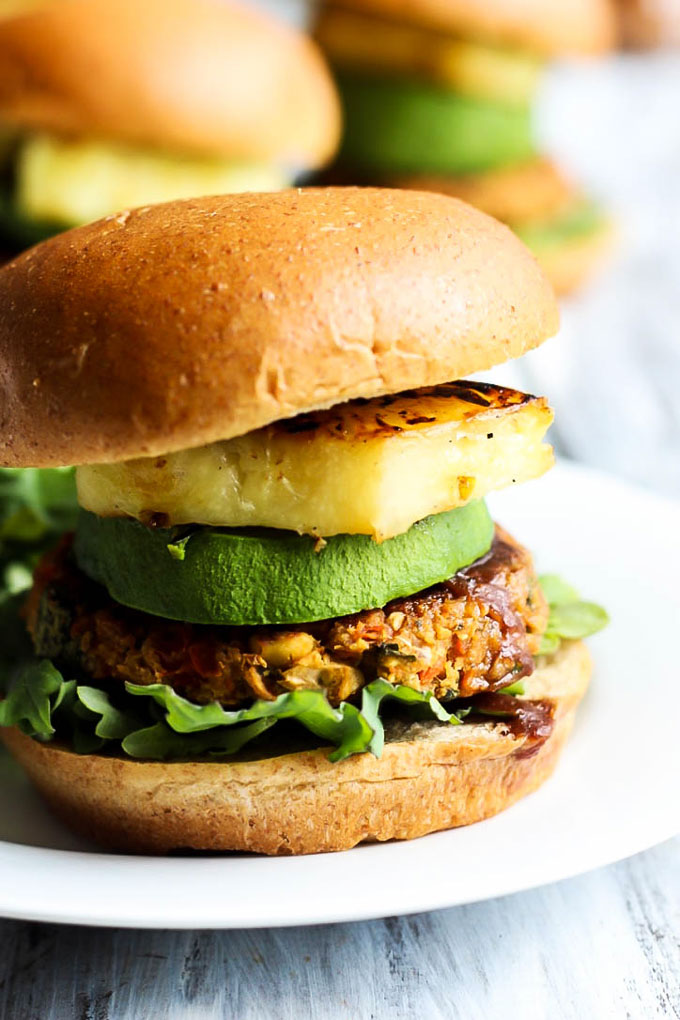 Can't you tell I wish I was in Hawaii? Between these Hawaiian BBQ Tofu Bowls, this Mango Lime Smoothie Bowl, and this Tropical Coconut Oatmeal, I guess I'm just trying to eat my way there. Not quite successful, but definitely delicious.
My mom said something to me today that I know subconsciously is true but don't know how to fix. She asked why I wasn't happy with where I was, why I'd rather be somewhere else and miss out on what's going out right here and now.
Good question, Mom.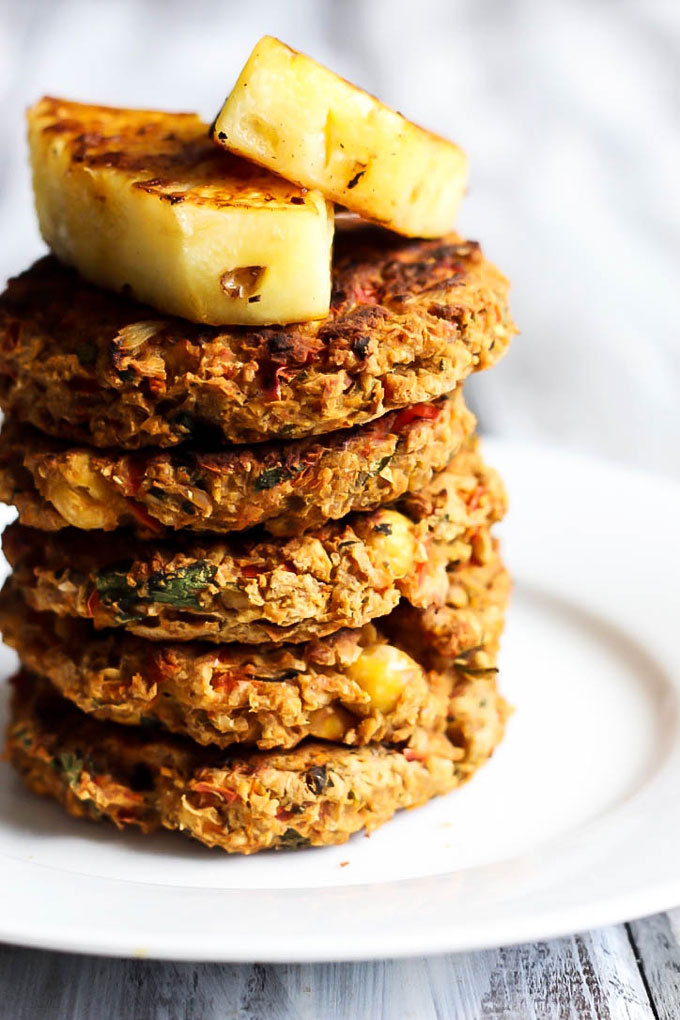 I've always been driven. When I want something, I go after it full-force, 200% effort, balls to the wall. Ain't NO ONE stopping me. I am a Taurus, so I'm literally a bull running full speed ahead.
That is great for so many reasons. I always pushed myself to get good grades, to do the extracurriculars, to bake cookies for everyone's birthday, to create a career on my own so I can work for myself. All good things, right? But it gets tricky when I am so determined to accomplish something or be somewhere bigger, because I forget where I already am and lose sight of the good in front of me. It's definitely a slippery slope.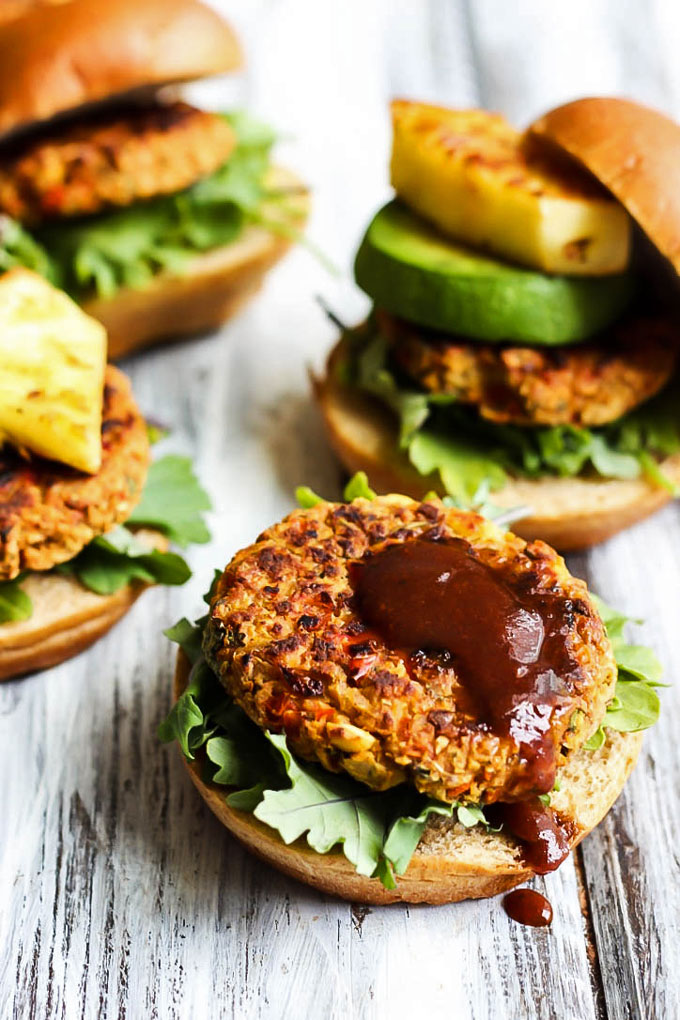 So while it may be great to be in Hawaii right now, or a big city, or Thailand with the elephants, it's great to be here, too, exactly where I'm at now. In Baton Rouge, going to school, having fun, just living.
It's OKAY that I'm not living the city life yet. It's okay that I haven't reached super successful full-time blogger status yet. I'm only 20, for crying out loud. It's okay that my location, my career, my body, my confidence aren't where I want them to be yet. I can only be where I'm at right now, and I'm learning to be okay with that.
Speaking of embracing the moment, what's better than that moment when you first bite into a hearty chickpea veggie burger on a toasty bun with grilled pineapple and a thick slice of avocado? NOTHING. Nothing is better than that. So let's live it up!!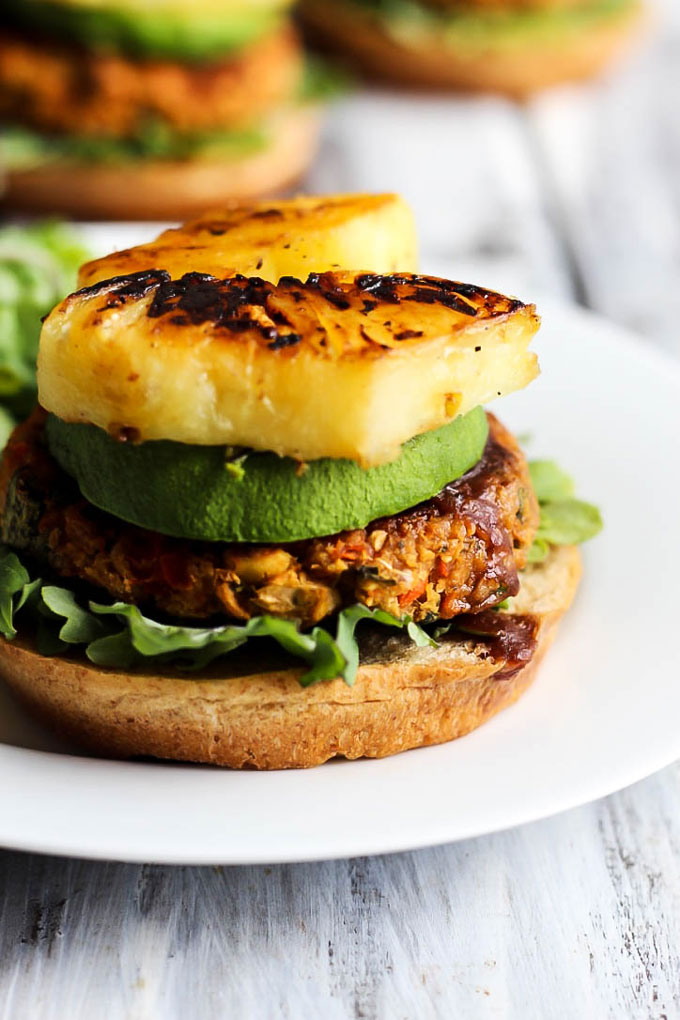 I love making veggie burgers and freezing the extra patties so I can have easy dinners for busy school nights! These come together in about 1 hour and are packed with protein from chickpeas. There's also lots of vegetables and some oats, so these are sure to be satisfying and still super good for you.
The toppings are where it's at though🙌🏼. For that true Hawaiian vibe, you've got to add the grilled pineapple and BBQ sauce! To take it one step further, go for the gold and add a fat slice of avocado. You won't regret it!
These would be great for your end-of-the-summer cookouts, but I'll honestly be enjoying them all year round. If you get to try them, leave a comment letting me know how you liked them! You can also post a picture on Instagram and tag me @emilieeats with #emilieeats. Can't wait to see your beautiful burgers!
Talk to me, friends: How do you live in the moment while also preparing for your future?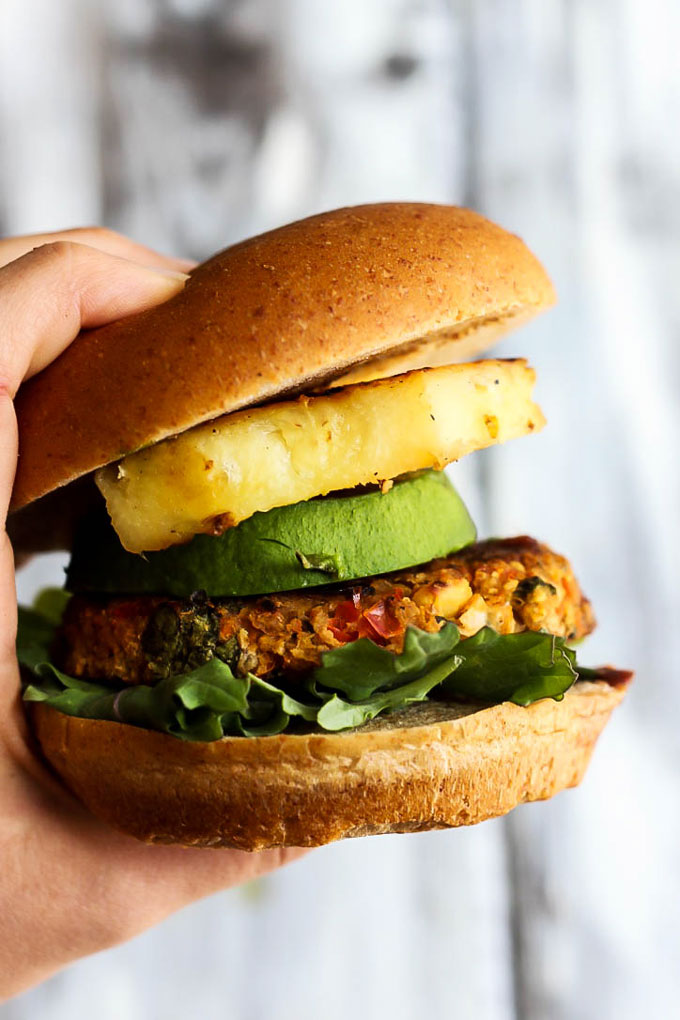 Print
How to make:
Hawaiian Chickpea Veggie Burgers
These Hawaiian Chickpea Veggie Burgers are healthy, satisfying & packed with vegetables! Enjoy with grilled pineapple & BBQ sauce for an epic vegan burger.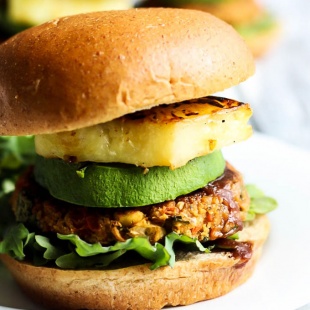 Ingredients
2 tablespoons

flax meal +

5 tablespoons

water
Coconut oil or cooking spray

1

yellow onion, roughly chopped

1

red bell pepper, roughly chopped

1

medium carrot, roughly chopped

1

jalapeño, seeds removed, finely chopped

2 teaspoons

garlic, minced

2

15-ounce can chickpeas, drained and rinsed

1/4 cup

cilantro

1 tablespoon

lemon juice

1 teaspoon

salt

1 teaspoon

paprika

½ teaspoon

cumin

½ teaspoon

pepper

⅛ teaspoon

ground cayenne pepper (optional)

3/4 cup

oat flour (ground-up rolled oats)

8

thick slices of fresh pineapple

12

whole-wheat or gluten-free hamburger buns
Optional toppings: avocado, greens, BBQ sauce, red onion
Instructions
Preheat oven to 375F; lightly grease a baking sheet. In a small bowl, add flax meal and water. Set aside.
In a skillet over medium heat, warm oil or cooking spray. Add onion, bell pepper, carrot and jalapeño. Cook for 5-7 minutes, until vegetables begin to soften. Add the garlic; cook for 1 minute.
To a food processor add the vegetables, chickpeas, cilantro, lemon juice, salt, paprika, cumin, pepper, and cayenne. Pulse until everything is chopped, but don't form a paste. Add the oat flour; pulse until combined. Stir in the reserved flax meal.
Form 12 patties and place onto the baking sheet. Bake for 20 minutes, flip the burgers, then bake for 20 more minutes.
While the burgers are baking, grill the pineapple slices in the same skillet over medium heat until lightly charred on each side.
To make the burgers, add a patty to a bun and top with a pineapple slice and desired toppings.
Notes
*You don't have to sauté the vegetables, but I feel it brings out their flavors more. If you don't want to sauté them, simply throw them in the food processor raw.
**These freeze beautifully! You can reheat them in the microwave or oven.
If you loved this recipe, you'll love my Black Bean Quinoa Veggie Burgers!