It feels so strange, and almost wrong, to write about a strawberry avocado chickpea salad sandwich (which, of course, is delicious) when so much chaos is happening right in my own community and on a larger scale, our country.
I live in Baton Rouge, where Alton Sterling was shot last week and where mostly peaceful protests have occurred since then. It's crazy to see something of this magnitude unfold in your own backyard. It's the type of bad situation you see on the news happening in a city far away, a bigger city, a more chaotic city, but now it's here – and everywhere. My heart is heavy.
I'm not trying to get all political or anything on you, but it just feels very weird to not talk about this situation when it affects us all. Woman, man, black, white, Asian, teenager, adult…whoever you are, this is important.
I'm very lucky to have grown up with my mom who taught us to be compassionate, understanding, and non-judgmental toward everyone. To not judge a book by its cover, to look at the story within the pages before jumping to conclusions, and to stand for what you believe is right and just even if everyone around you is preaching something different.
As I read and see the news, and even see it happen in real-time in my own city, I can only feel sad and confused. Sad, because there's a problem in this country, and many people are resistant to positive change. Confused, because I don't understand how to fix it or when it'll get better or what I can do to help. I feel helpless as each new headline appears about a new tragedy.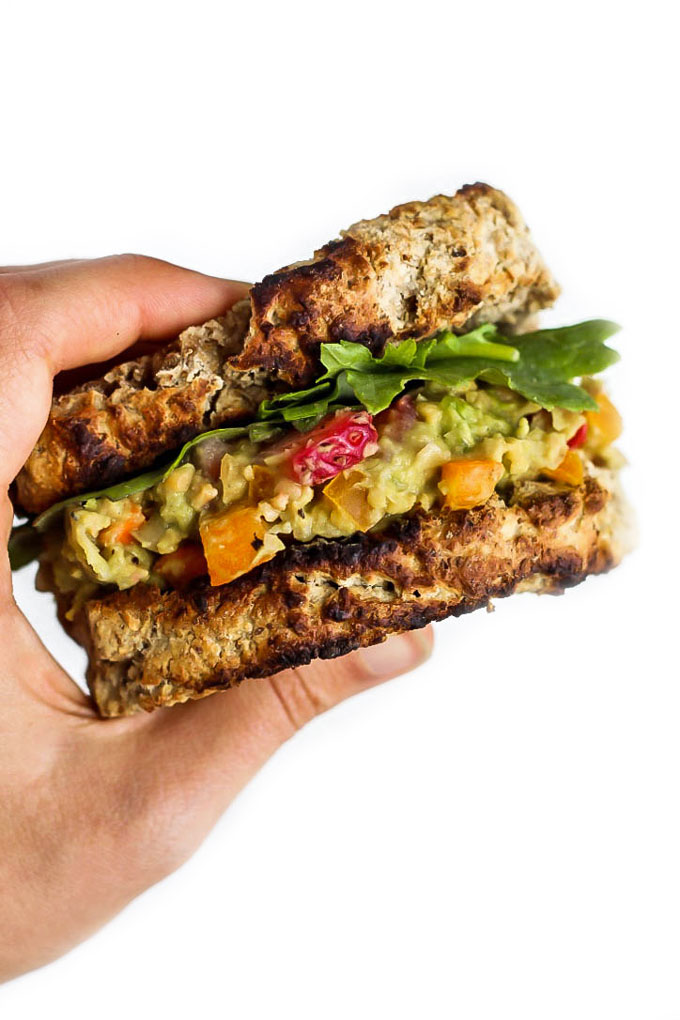 I think that becoming vegan was always meant to be part of my path. To me, veganism is about compassion, love for the Earth, health, and peace, which were all important to me ever since I was a child. Being vegan has definitely made me a more accepting, loving person.
I've been thinking a lot about what I can do in these times of chaos and confusion and sometimes hate when really we just need a lot of love – and honestly, I think the best thing I can do is simply to share my compassion and love with others, and hopefully inspire someone to pass that love on to more people.
Be the change you wish to see in the world.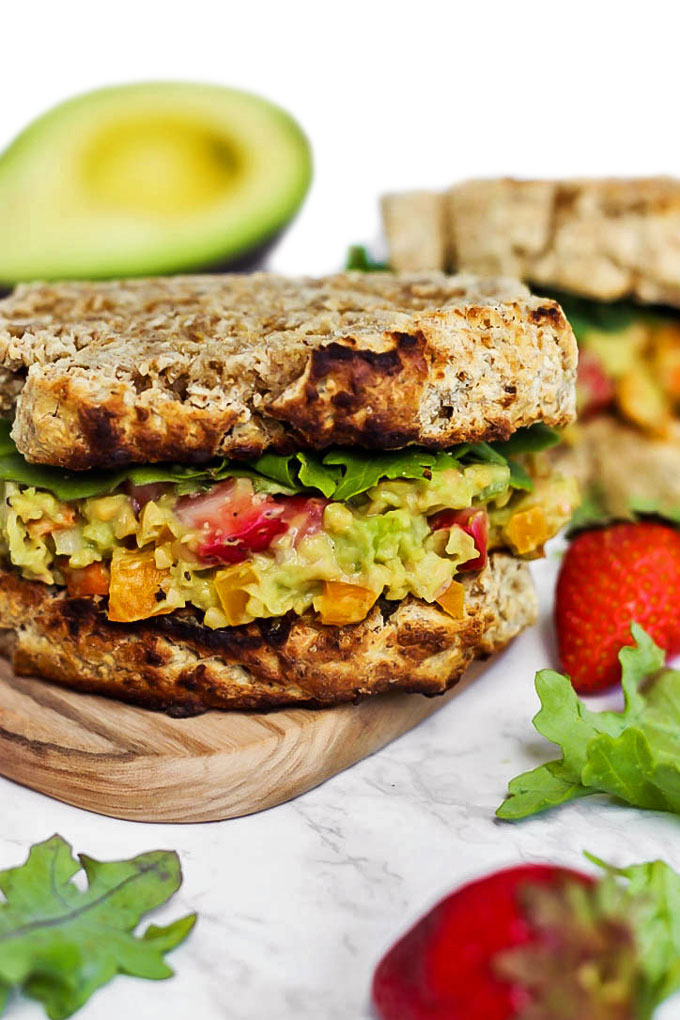 I simply ask you to look at these tough situations with compassion and empathy, and to pass love on to everyone you meet. To me,  that includes serving good food. Because good food = happy people = love.
Good food also equals these strawberry avocado chickpea salad sandwiches, which will literally be my lunch on repeat all year because I'll have to start packing my lunch to bring to class. What's a more classic lunch than a sandwich?
We're taking that classic sandwich – particularly, the chicken salad sandwich we all grew up eating – and giving it a healthy, vegan, vegetable-packed makeover! Avocado and hummus replace mayo & provide healthy fats, chickpeas give the sandwich some meatiness & protein, and we're getting lots of veggie power from carrots, celery, and bell pepper. Plus, a little summer spin with fresh strawberries! Sounds weird, tastes amazing.
This sandwich is reeeeeally easy to whip together, so I made a video showing you just how easy peasy it is! I'd love for you to check it out (and subscribe, if you're feeling nice😉).
I baked up a loaf of gluten-free Simple Mills Artisan Bread for this sandwich (you'll need a mini loaf pan!), but you can your favorite sandwich bread. I also love Ezekiel sprouted grain bread and Dave's Killer Bread! And go crazy with your favorite sandwich toppings – isn't that the best part?
This strawberry avocado chickpea salad sandwich makes a great lunch to take on-the-go to work, school, a picnic (swoon), or basically anywhere.
If you get to try this sandwich, let me know in the comments or post a picture on Instagram with #emilieeats! I know many of you are looking for healthy lunch ideas, so this sandwich is the perfect easy recipe.
Please everyone – stay safe, stay compassionate, and share the love.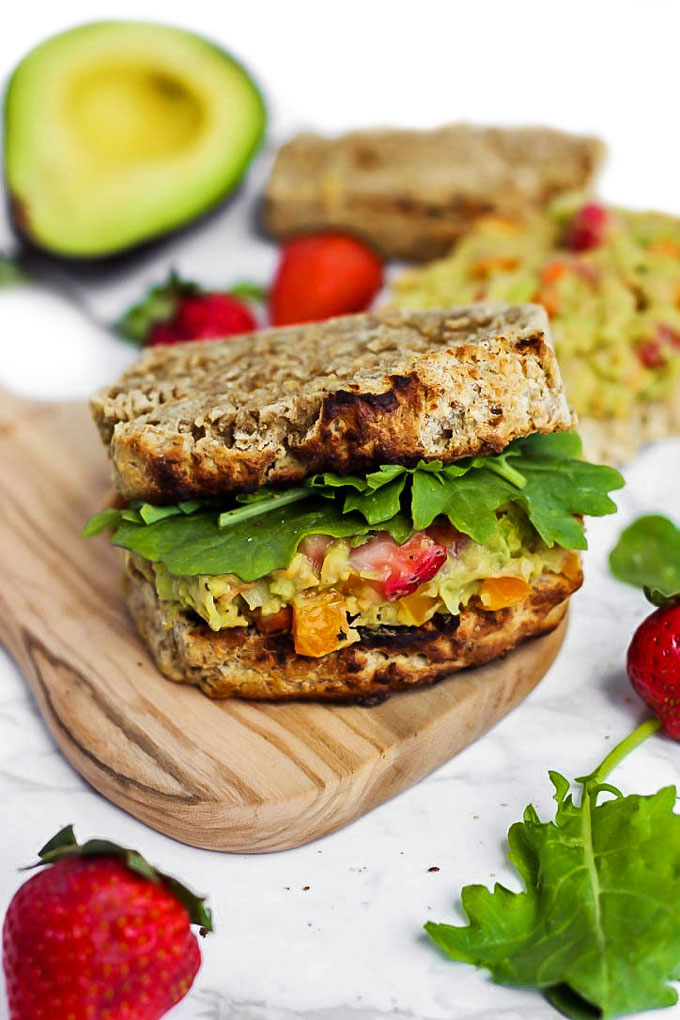 Print
How to make:
Strawberry Avocado Chickpea Salad Sandwich (vegan + gluten-free)
You'll look forward to lunch when you bring a Strawberry Avocado Chickpea Salad Sandwich! There's lots of fresh vegetables & protein for a healthy lunch.
Ingredients
Bread:

3 tablespoons

ground chia seeds

1/2 cup

+

5 tablespoons

water, divided

1 tablespoon

tapioca starch

1 teaspoon

apple cider vinegar

1/2 teaspoon

coconut sugar (optional)

1

package Simple Mills Artisan Bread Mix
Chickpea salad:

1/2

ripe avocado

1

15-ounce can chickpeas, drained and rinsed (

1 1/2 cups

)

1

medium stalk celery, diced

1/2

bell pepper, diced

1

medium carrot, diced

1

lemon, juiced

3/4 cup

strawberries, diced

3 tablespoons

plain hummus

1/2 teaspoon

salt, plus more to taste

1/4 teaspoon

pepper, plus more to taste
Desired sandwich toppings
Instructions
Preheat oven to 350°F. Lightly grease a 7.5″ x 3.5″ loaf pan.
In a large bowl, add ground chia seeds and 1/2 cup water. Let sit for 5 minutes.
Add remaining water, tapioca starch, apple cider vinegar, and coconut sugar. Whisk well to combine. Slowly add bread mix; stir until a dough forms. Pour dough into the loaf pan. Bake for 45-50 minutes, until the inside is cooked through and the edges are lightly browned. When cooled, slice.
In a small bowl, mash avocado.
In a large bowl, add chickpeas; with a potato masher or fork, mash chickpeas well. Add celery, bell pepper, and carrot; stir. Add lemon juice and strawberries; stir. Add mashed avocado, hummus, salt, and pepper; stir until all ingredients are combined.
Add a few spoonfuls of chickpea salad on one piece of bread, top with your favorite sandwich toppings, and add another slice of bread.
Notes
The chickpea salad can be stored in the fridge for up to 3 days.
Looking for other healthy lunch ideas? Check these out!
10 Healthy Vegan Lunches for Work (or School!)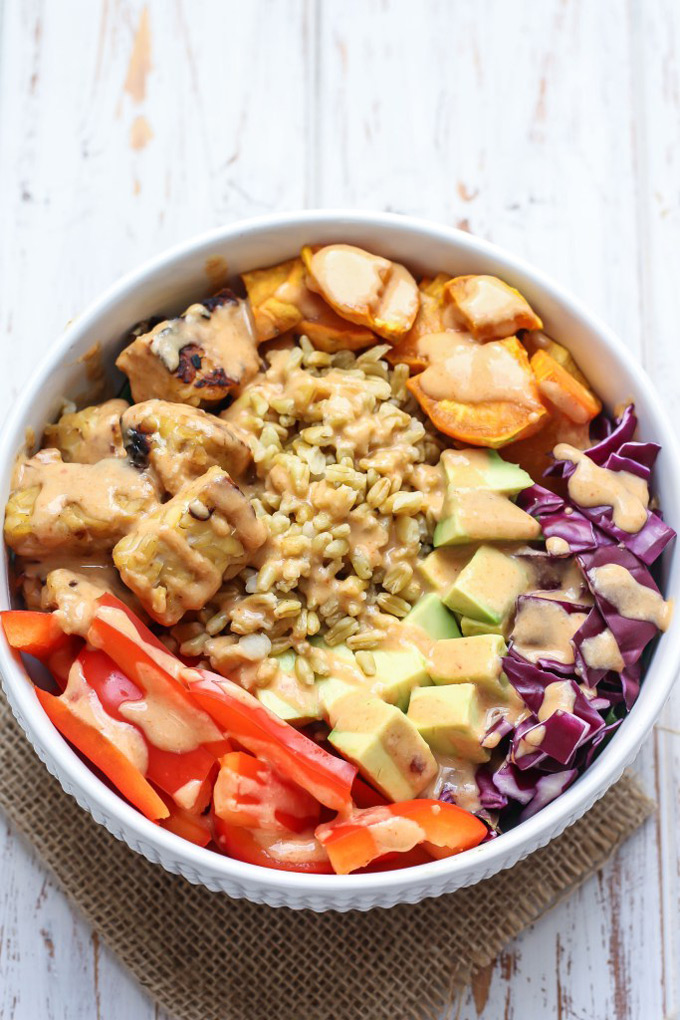 Avocado Pesto Pasta with Roasted Chickpeas
How to Make a Buddha Bowl by In It For the Long Run