These Vegan Hamburger Steaks make a savory meatless dinner that everyone at the table will love. Serve them with mashed potatoes & mushroom gravy to take them to the next level! In partnership with Dr. Praeger's.
Did you ever think vegan and hamburger steaks would be in the same sentence? Well, friends, today is that day!
I know it's still summertime, and we're loving on fresh salads, popsicles, anything grilled and juicy fruit. But we still need some savory meals to enjoy for dinner, because I don't know about you—I don't like eating popsicles for dinner. (Though I have been known to eat loads of watermelon as a meal… I digress.)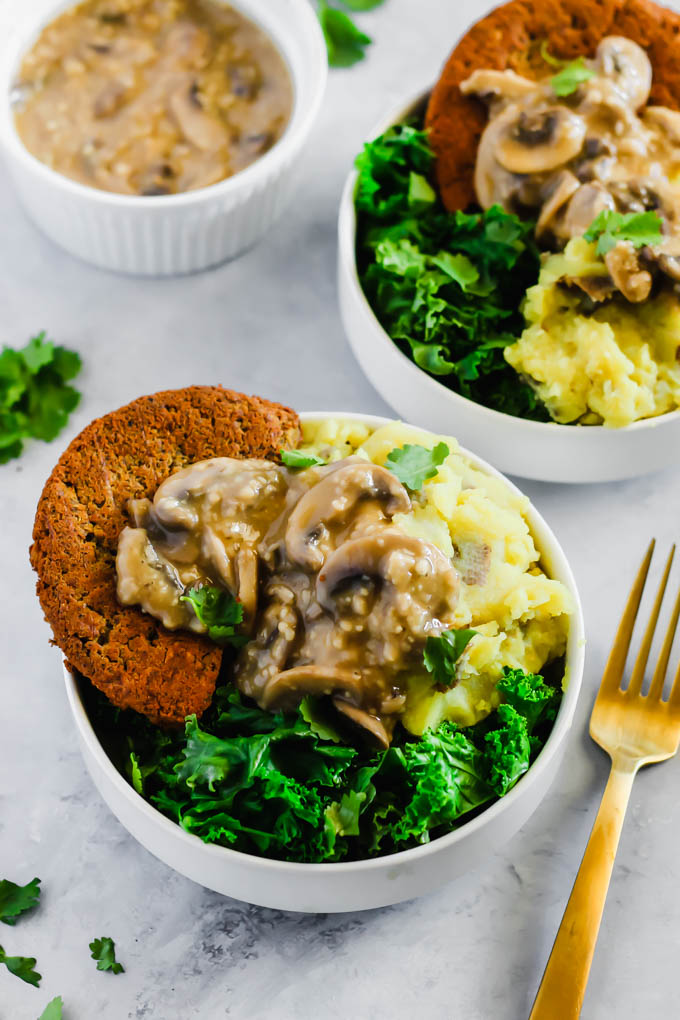 Plus, once the school year hits in a month or two, I know you're going to need some easy dinner recipes in your arsenal because life is going to get WAY too busy to browse through Pinterest for an hour. Do yourself a favor and save this recipe now, for your eating pleasure later!
Thankfully this recipe comes together in just about an hour. Start cooking at 6, eat at 7, pack the leftovers for lunch—my kind of meal.
I know it may be intimidating to make vegan hamburger steaks, mashed potatoes and mushroom gravy all for one quick, weeknight dinner, but don't worry! The hamburger steaks only require hands-off cooking, so you can start boiling the potatoes while the "steaks" are in the oven. Then it's just a matter of adding the mix-ins to the potatoes!
The mushroom gravy requires the most "hands-on" cooking, but even that is an overstatement. You just need to saute the mushrooms, then continue stirring as you add the rest of the ingredients. That's it!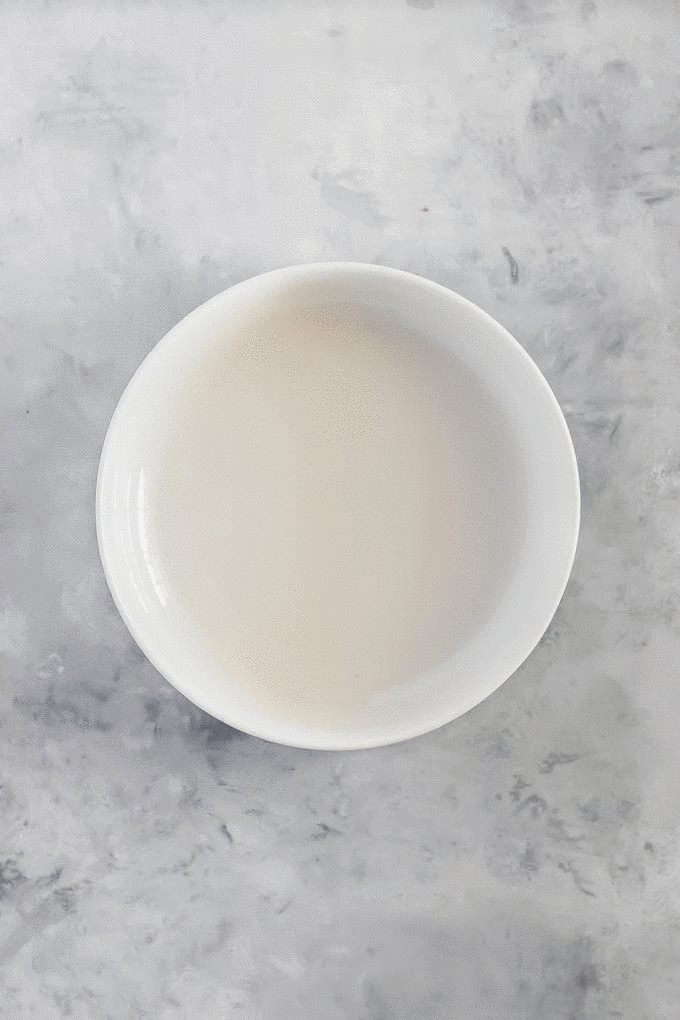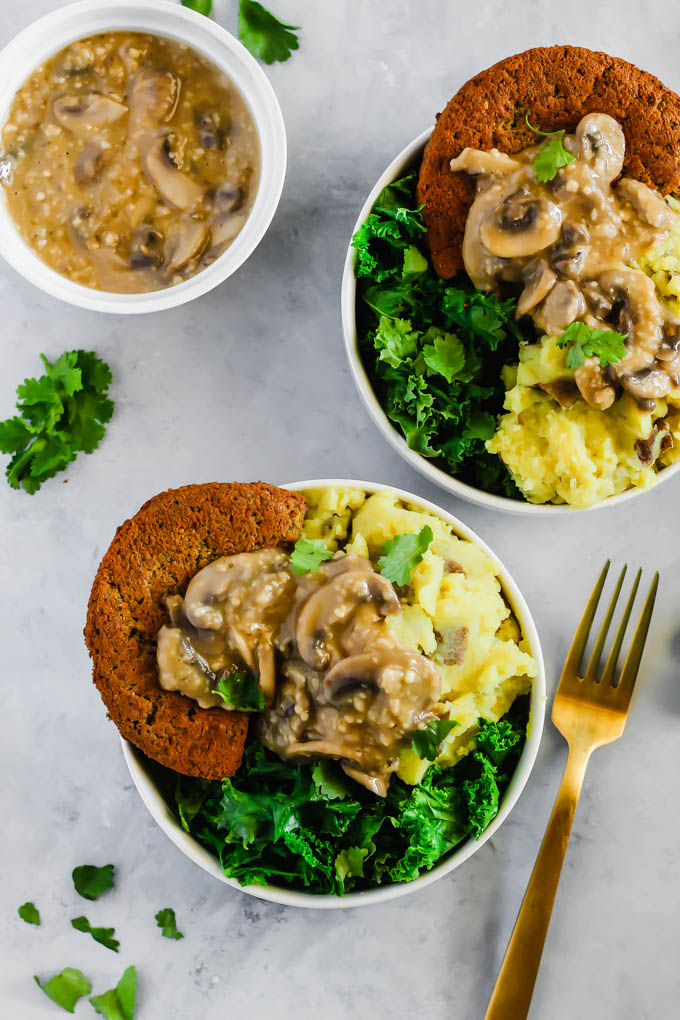 You might still be wondering, uhhhh Emilie, how the heck are you making *vegan* hamburger steaks? Our friends at Dr. Praeger's are hooking us up with their NEW All American Veggie Burgers that are amazingly delicious and filling. Did I mention there are 25 grams of plant protein in each burger? Yasssss.
They're a match made in heaven with mashed potatoes and mushroom gravy, but I also can't say no to a Dr. Praeger's veggie burger on a whole-wheat bun with ketchup and pickles!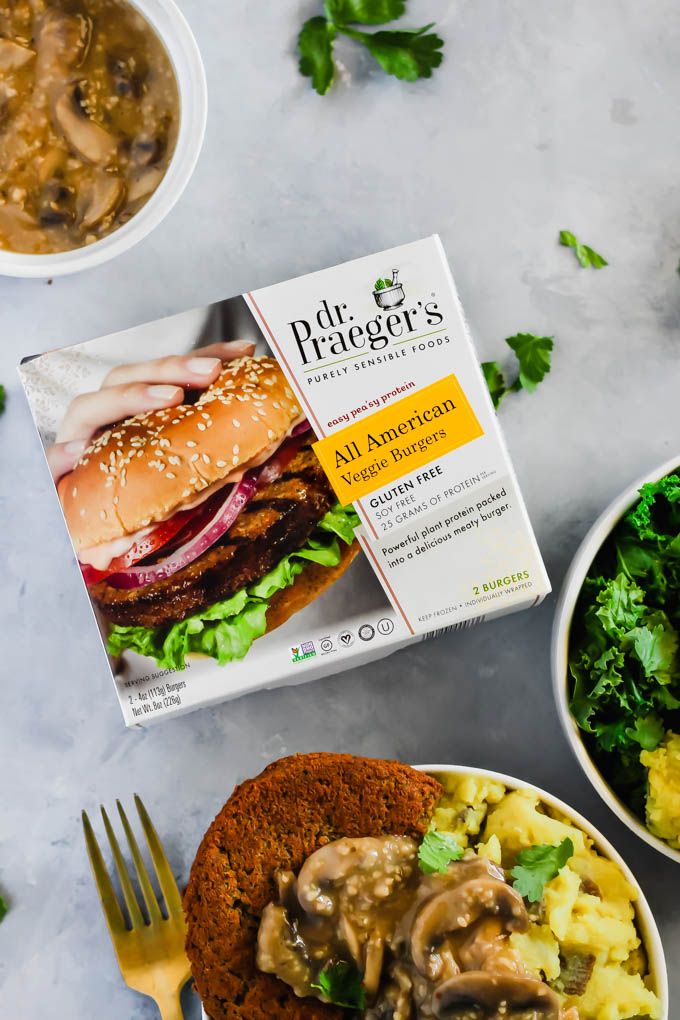 I promise that full-time plant eaters and omnivores alike will enjoy this savory, satisfying, stick-to-your-ribs-but-still-wholesome dinner. Warning—I'd make double because everyone will want seconds.
Be sure to check out the Dr. Praeger's All American Veggie Burgers and all of their other veggie burgers that are perfect for summer. ❤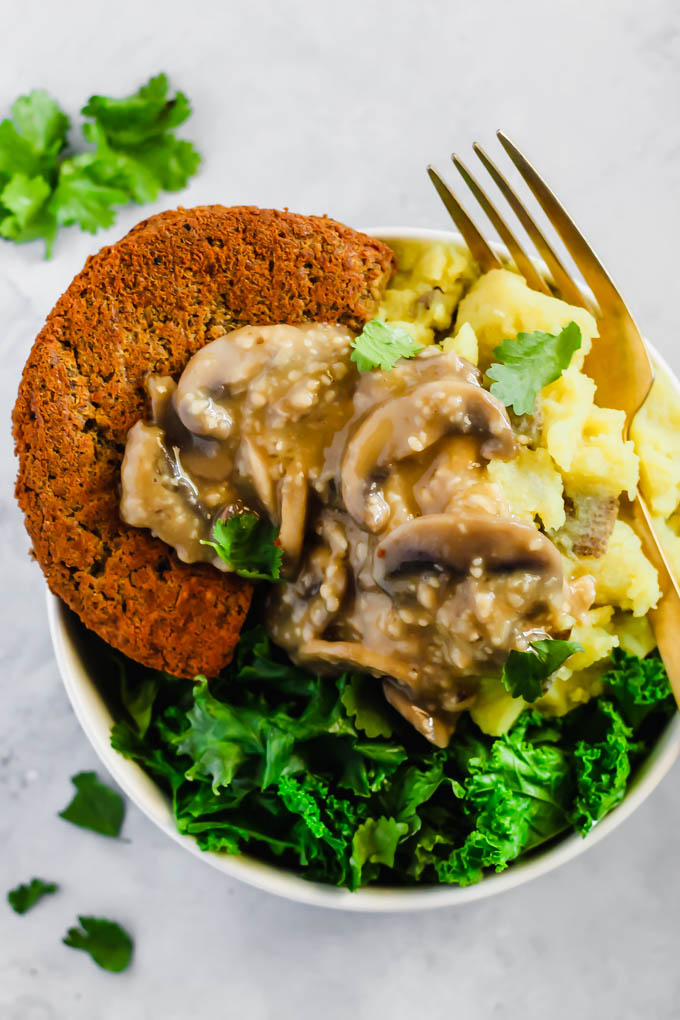 Print
How to make:
Vegan Hamburger Steaks with Mashed Potatoes and Mushroom Gravy
These Vegan Hamburger Steaks make a savory meatless dinner that everyone at the table will love. Serve them with mashed potatoes & mushroom gravy to take them to the next level!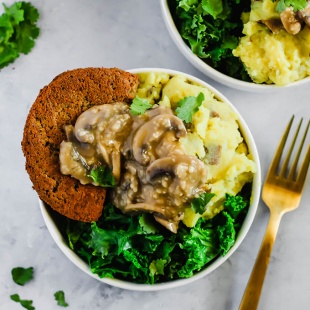 Ingredients
For the mashed potatoes:
3

medium russet potatoes, chopped into

1

-inch chunks

2 tablespoons

nutritional yeast

1 tablespoon

olive oil or vegan butter

1 teaspoon

salt

½ teaspoon

black pepper

Dash of turmeric, for color (optional)
For the mushroom gravy:
1 tablespoon

cooking oil or vegan butter

8 ounces

mushrooms, stems removed and sliced

3

cloves garlic, minced

3 tablespoons

white whole-wheat flour (or all-purpose gluten-free flour)

1 teaspoon

tapioca starch

1 ½ cups

vegetable broth

½ teaspoon

ground thyme

Salt and pepper, to taste
Instructions
Preheat oven to 450F. Cook

Dr. Praeger's All American Veggie Burgers according to package directions.

Fill a large pot with water; bring to a boil. Add potatoes; cook for 10-15 minutes, until potatoes are fork tender. Drain; return potatoes to pot. Add nutritional yeast, oil or butter, salt, pepper and turmeric.

In a medium skillet over medium heat, warm 1 tablespoon oil. Add mushrooms; cook for 10 minutes, stirring often, until mushrooms are lightly browned. Add garlic; cook for 1 minute, until fragrant. Add flour and starch; stir to coat mushrooms evenly and remove any chunks. Slowly pour in broth, stirring constantly. Reduce heat to simmer and cook until gravy is thick but pourable. Add thyme, salt and pepper; stir. Remove from heat.

Serve a scoop of mashed potatoes with a veggie burger topped with mushroom gravy. Add sauteed greens, if desired.
---
Thanks to Dr. Praeger's for sponsoring this post! I love working with brands whose products I really love and would honestly recommend. Thank you for supporting this blog that I love oh-so-much!