Friends, hold on tight. IT is here. The week we anticipate with our stretchy pants ready to go. It's Thanksgiving week (!!!!!) and I couldn't be more excited. I mean, can we talk about the foooood we will all consume in record-breaking amounts before we even know what's going on? Yup, this is my kind of holiday.
Obviously if I'm going to go all out on food one day of the year, it's got to be the best of the best. No wimpy dishes, plz. I'm glad to present you these creamy Vegan Mashed Potatoes with Garlicky Kale that have most definitely passed my Thanksgiving menu requirement✔️ of being super freaking delicious and everything you could ever want.
I'm not exaggerating how much I love Thanksgiving (food! family! no school!), but I may be exaggerating a teensy bit when it comes to the amount of food I'll shove in my face Thursday. I'm actually trying to be a little more mindful this year of my portions, just because every year I make the same mistake of stuffing myself like a pillow and feeling super uncomfortable. Ugh.
Don't worry, I'm still going to be indulging in a little bit of everything, but I'm just going to try to have a little bit less *try is the keyword there.* It works out though, because I can have a portion of every dish without getting full on just one thing!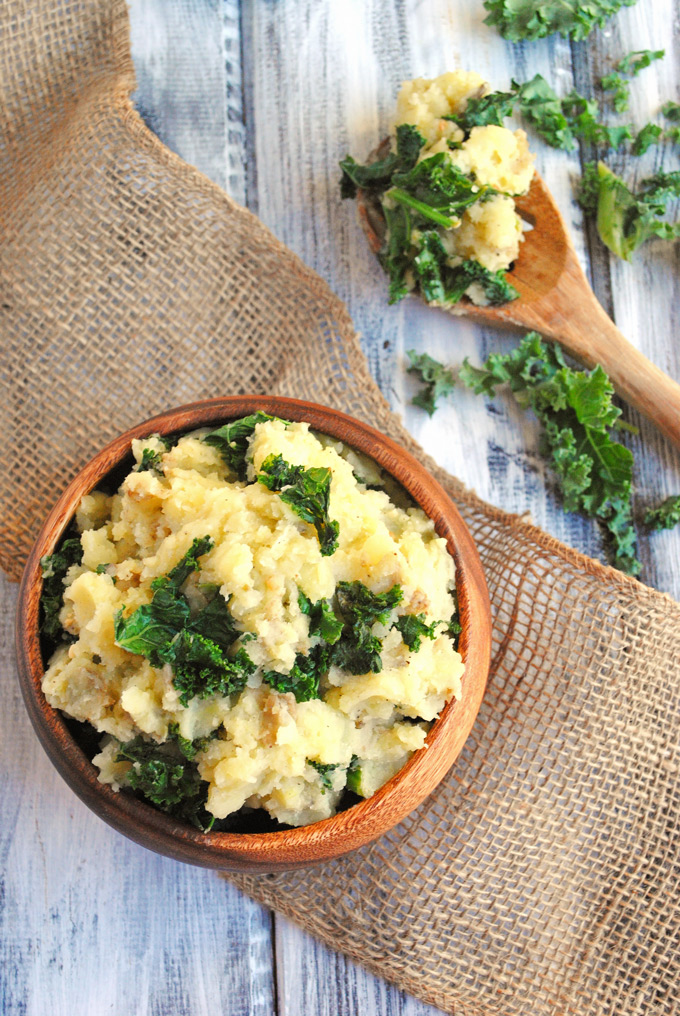 What does your family usually eat for Thanksgiving? Our family lunch is small, casual, and filled with classics we've been bringing to holiday dinners for years. There's always a turkey, which I obviously won't be eating this year. But we also have my grandma's famous butter beans, passed down from her mother, and my mom's deliciously simple mashed potatoes.
One thing that really means a lot to me is that my family puts in effort to make sure I can eat the dish they are bringing. I hate to make someone feel like they have to specially accommodate me, but they do it with no hesitations! Even classic dishes like the butter beans and mashed potatoes are good for me to eat?? Thanks fam!
My mom's stupid easy mashed potatoes were the inspiration for this recipe. I don't even think she uses any oil; just red potatoes, salt, and pepper. But they're still so good!
I added a little flair to her recipe, and by flair I mean KALE 'cause kale. I have a habit of throwing kale into everything nowadays to add a slam-dunk of nutrition. I'm getting to the point in my relationship with kale where I really need a "kale" shirt. AKA Mom if you're reading this, that'd be a cool Christmas present, thx love you 🙂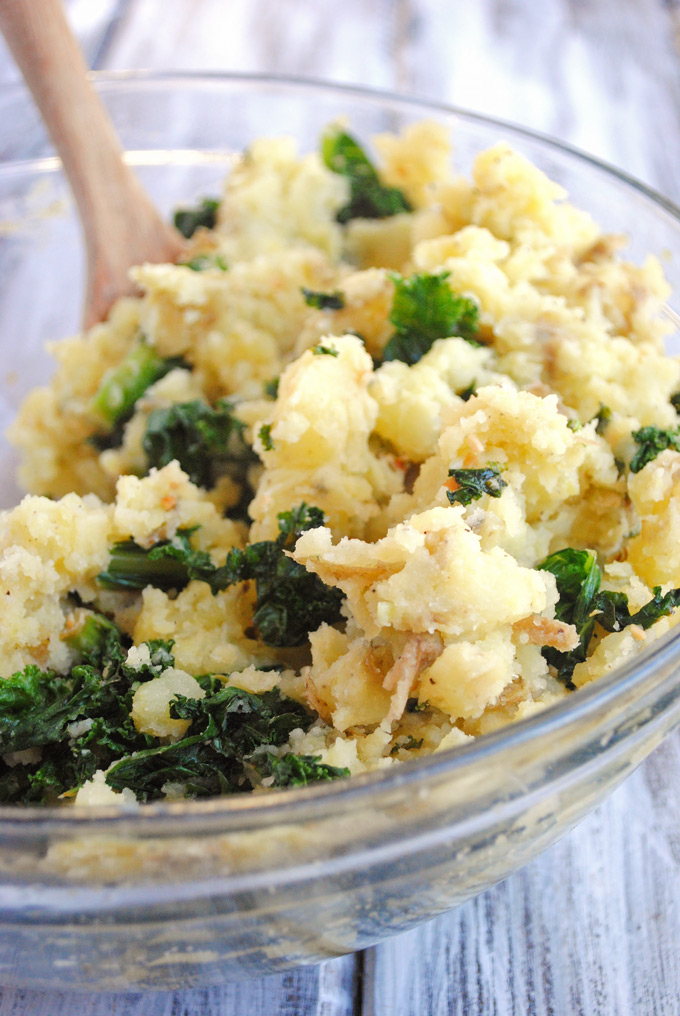 I'm still deciding on what I'm going to cook for our Thanksgiving table, but I'm thinking definitely these mashed taters, Kate's butternut squash soup, and maybe Alexa's pumpkin pie. Hmmm, these are the decisions that keep me up at night (kidding, it's just the six-page paper I have due tomorrow).
These vegan mashed potatoes are perfect for Thanksgiving, or really any dinner, and they come together in under an hour with only 4 ingredients, minus salt and pepper!
Yukon Gold potatoes work lovely here, as they're tender and creamy. All you have to do is boil the potatoes, sauté the kale, mash, and stir! If you prefer creamier mashed potatoes, I'd use a hand mixer or food processor to blend the potatoes to your desired consistency, then stir in the kale. If you like your potatoes chunkier, mash them with a potato masher or fork.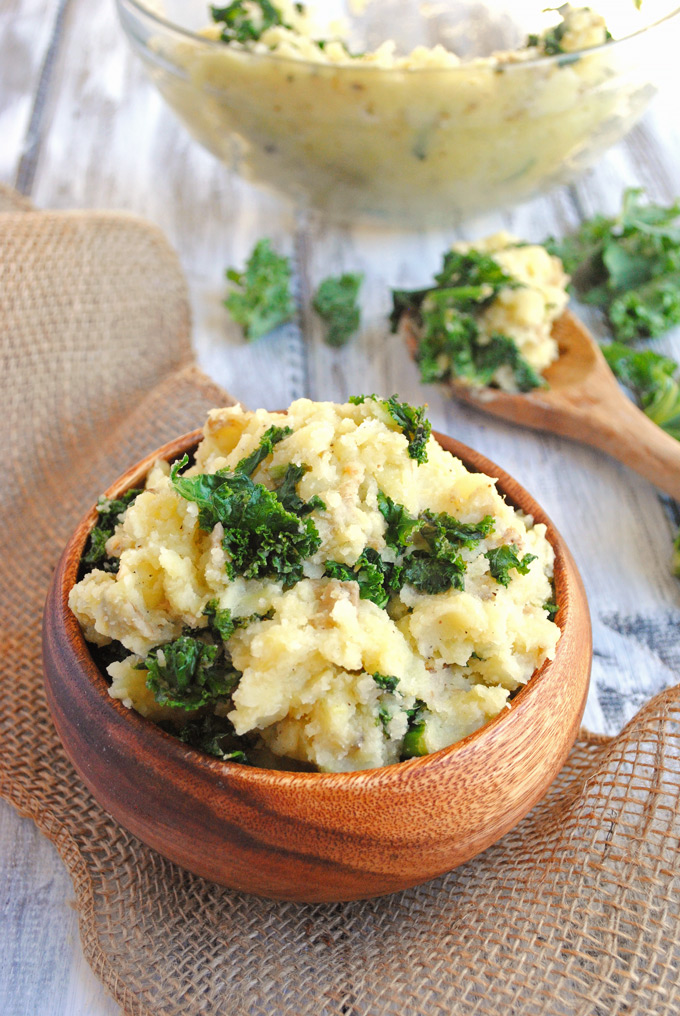 These vegan mashed potatoes with perfect garlicky kale are sure to satisfy everyone at your dinner table, and no one will guess you didn't use any butter or dairy! They probably won't even have time to ask between heaping spoonfuls mashed taters.
If you try these, let me know how you liked them! I love hearing from all of you.
What's your favorite part of Thanksgiving? What are classic recipes that are always on your family's Thanksgiving table?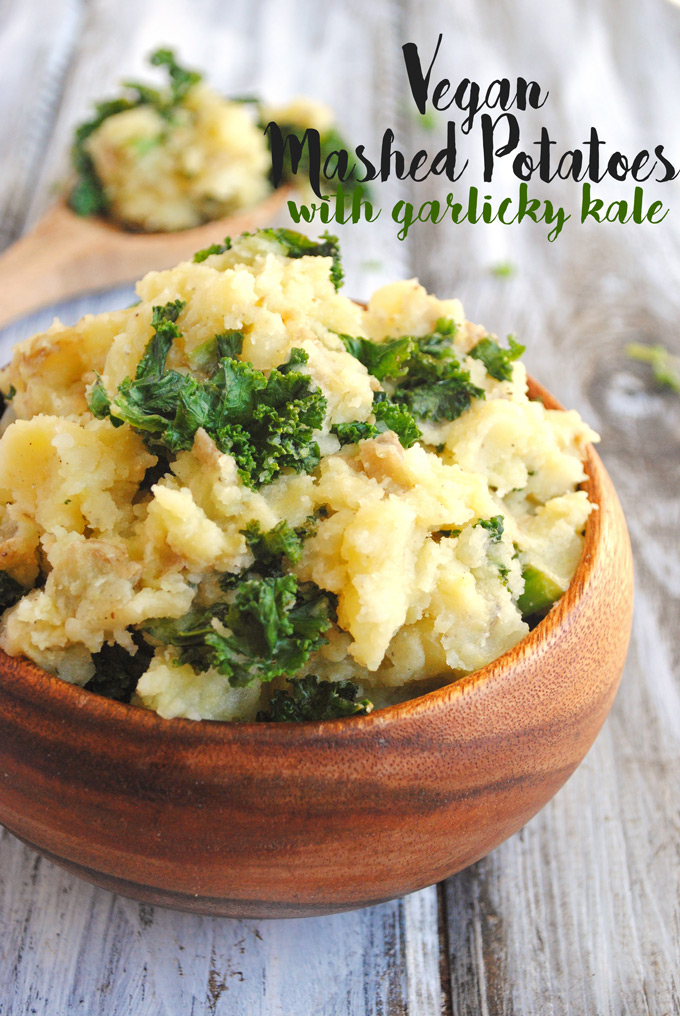 Print
How to make:
Vegan Mashed Potatoes with Garlicky Kale
Make these creamy, delicious Vegan Mashed Potatoes for your next dinner party! Garlicky kale packs serious nutrition into this comforting side dish.
Ingredients
3

pounds Yukon Gold potatoes

1/2 tablespoon

+

2 tablespoons

olive oil

3

cloves of garlic, minced, or

1 1/2 teaspoons

minced garlic

2 cups

kale, stems removed, chopped, and packed tightly

1 1/2 teaspoons

salt

1/2 teaspoon

pepper
Instructions
Bring a large pot of water to a boil.
Wash potatoes. If they are large, cut in half; place in the pot. Let the water return to a boil; cook the potatoes until fork tender, about 20-25 minutes.
Meanwhile, in a skillet over medium heat, place 1/2 tablespoon oil. When hot, add garlic; cook for about 1-2 minutes until fragrant, making sure not to burn it.
Add the kale to the skillet; stir. Saute until the kale is wilted. Remove from heat.
When the potatoes are tender, drain the pot. Place the potatoes in a large bowl. You can either use a stand mixer or a potato masher at this point, or you can place the potatoes in a food processor. Either way, mash or cream the potatoes to your desired consistency.
Add 2 tablespoons oil, kale, salt, and pepper; stir until fully combined.
Notes
Store in an airtight container in the fridge for up to 4 days.