This Buffalo Chickpea Salad Sandwich is a great vegan lunch to pack! It's a spicy take on chickpea salad that will keep you feeling satisfied. In partnership with Silver Hills Bakery, who makes the most delicious sprouted bread products! Originally published August, 17, 2017.
Buffalo Chickpea Salad Sandwich
Back-to-school season is officially upon us! Who's totally not ready for it? 🙋🏼😅
Whether or not you're ready to hit the books again (or send your kids off to hit the books), it's time for LUNCH PACKING SEASON!
I always get questions from readers about packing wholesome lunches for either themselves or their kids, and I totally understand why. No one wants to be stuck on campus starving because their lunch wasn't that good; or worse, have their kids come home with empty tummies because the lunch that Mom or Dad packed was "yucky." (Luckily for my mom, I was a human garbage disposal and ate pretty much everything. 😃)
Because I have been obsessed with sandwiches lately (especially thanks to deeeeelicious Silver Hills Bakery bread!), I wanted to make you a QUICK! EASY! HEALTHY! recipe that's perfect for packing and meal prepping. My mind always goes to chickpea salad, but I wanted to spice it up a little bit – literally. So with that said, I'd like you to meet the Buffalo Chickpea Salad Sandwich.
If you love buffalo sauce as much as me, this buffalo chickpea salad sandwich will be a lunchbox winner. Say goodbye to boring chickpea salad and make way for this buffalo goodness 🏆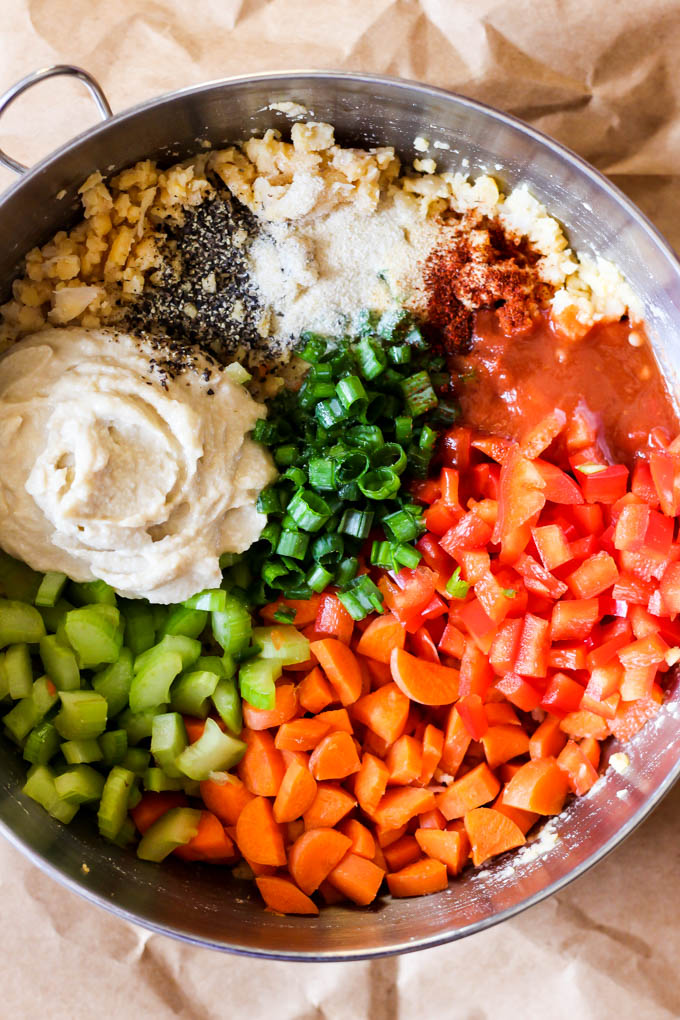 Ingredients for the Buffalo Chickpea Salad
I love this buffalo chickpea salad recipe for so many reasons. The first of which is obviously that it's super delicious. But a close second is that it's so dang easy to make. You really just need a handful of ingredients, and I bet you usually have them all on hand!
Chickpeas. I'm using canned chickpeas, but you could also cook up a batch of instant pot chickpeas
Veggies. Use what you like, but crunchy veggies are going to balance out the texture in your buffalo chickpea salad. I used carrot and celery to run with the buffalo vibe, green onion for a flavor boost and also some bell pepper for some sweetness.
Hummus. I recommend a plain or garlic hummus. But bonus points if you can find a vegan buffalo hummus!
Hot sauce. By all means use what you have on hand, but if you have a few hot sauces in your fridge I would reach for a simple Louisiana style cayenne pepper sauce, such as Frank's RedHot, which gives that classic buffalo flavor. Something like a Sriracha, for example, won't give quite the same flavor.
Spices. You'll need salt, pepper, garlic powder, onion powder and paprika for this buffalo chickpea salad.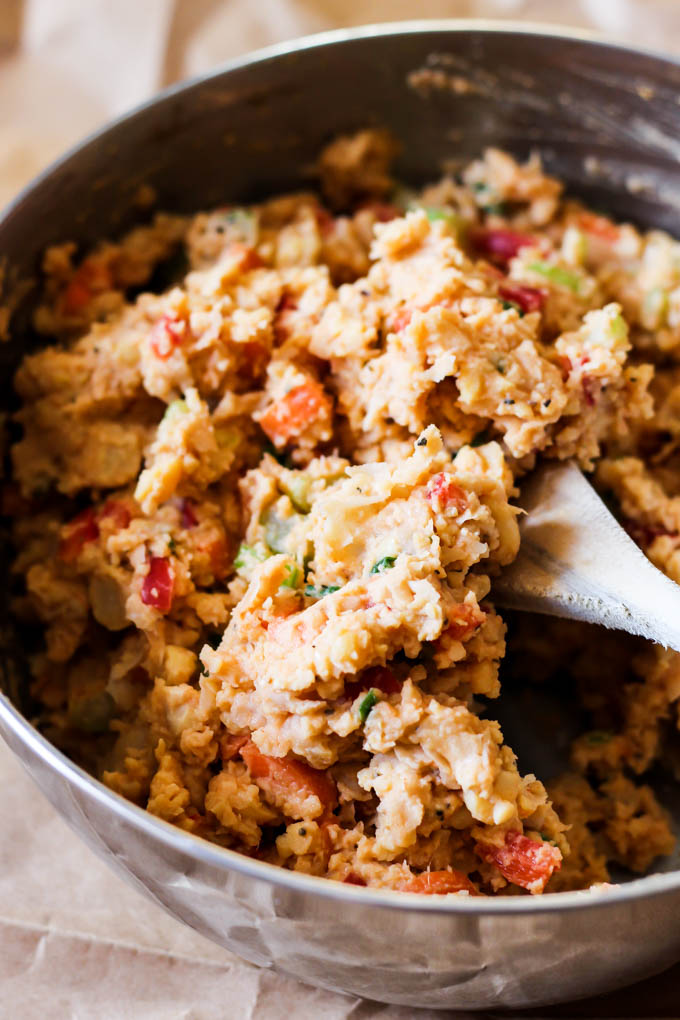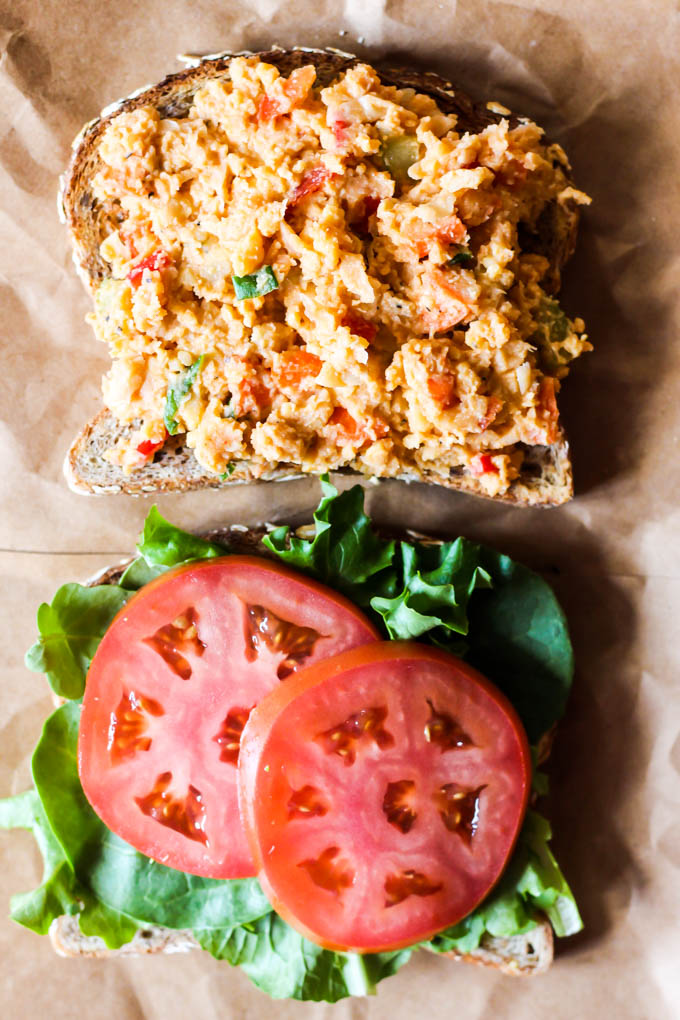 How to Make Buffalo Chickpea Salad
There really isn't too much work involved with this buffalo chickpea salad, which makes it ideal for prepping lunches during a super busy week. And if you're using canned chickpeas like me, then your life just got even easier!
Here's how you make a quick batch of this buffalo chickpea salad
Mash up your chickpeas. I like my chickpeas to be mashed pretty well because I find it easier to eat when piled high onto a sandwich, but if you prefer a chunkier chickpea salad then you do you!
Add in the rest of the ingredients and mix it up!
Customize it! This buffalo chickpea salad is super easy to customize to your preferences, so by all means get creative. If you like a lot of heat, then add a couple extra dashes of hot sauce. A bit of cayenne would also be great if you like heat. Feel free to sub in different veggies or mix up your toppings. Play around with it and make it your own!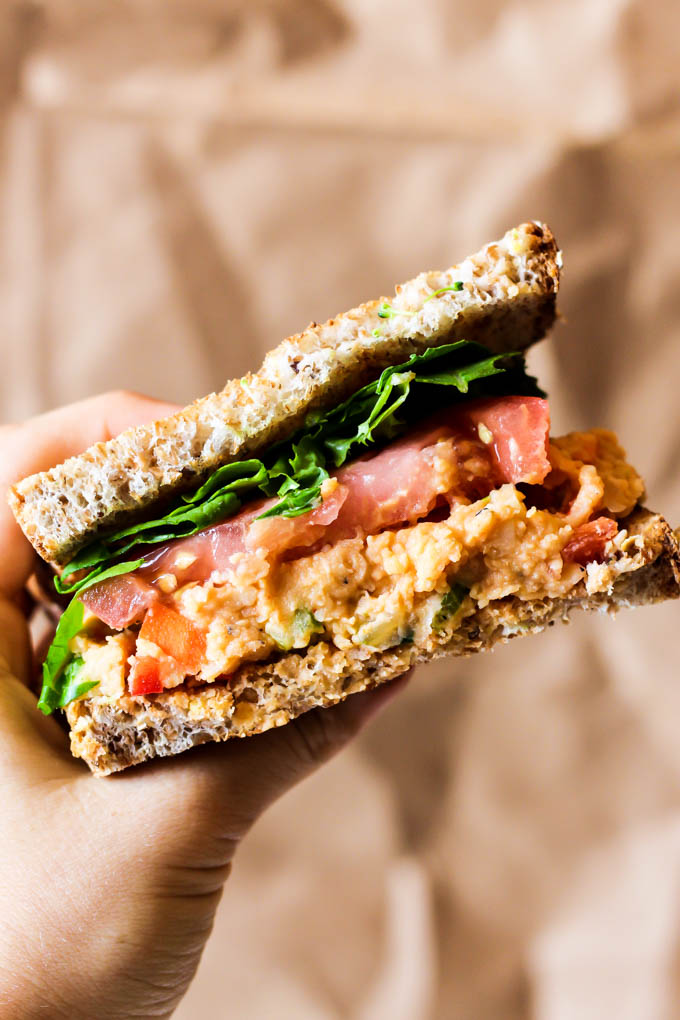 How to Serve this Buffalo Chickpea Salad
This buffalo chickpea salad is basically made for sandwiches. Although I guess it literally is, considering I built the recipe with the idea that I wanted it stuffed between two pieces of bread! But either way, my point is, you really can't go wrong spreading it on top of your favorite bread. One note though: if you intend to pack it for lunch, I recommend packing the filling and the bread separately so the bread doesn't get soggy.
You could also totally serve this buffalo chickpea salad on top of greens and turn it into a buffalo power bowl. I would add a serving of quinoa, a scoop of this buffalo chickpea salad, chopped romaine, some hemp hearts, avocado and finally a big fat pour of vegan ranch dressing 🙂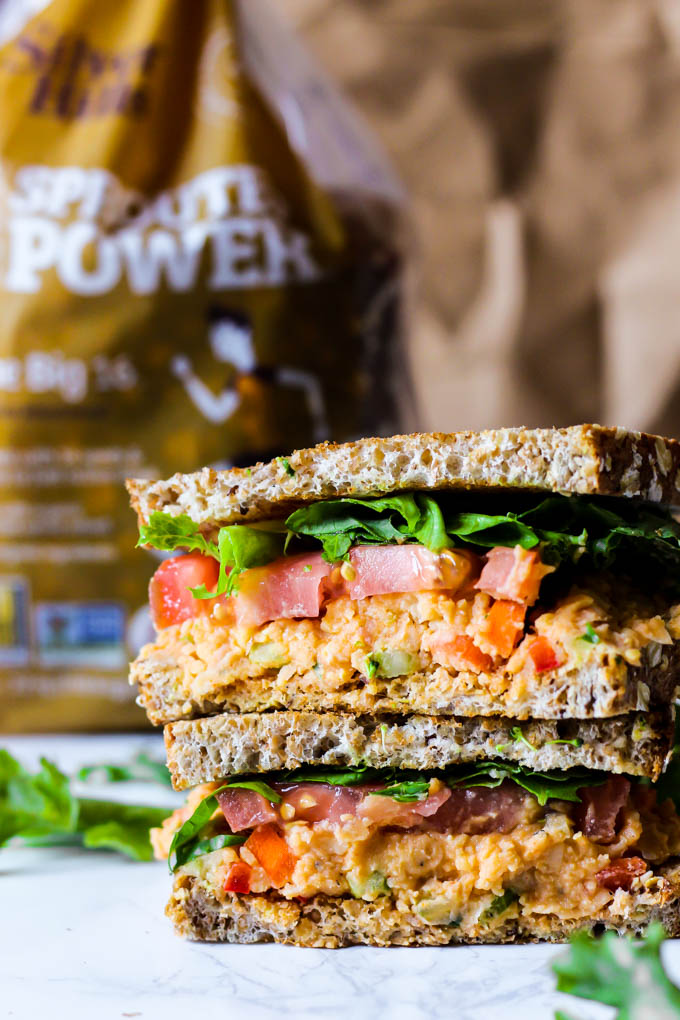 How to Build a Healthy Lunch
I know it can feel challenging to find healthy lunch ideas that not only taste good, but will also leave you FEELING good during a long work or school day – But I'm here to help – Here are four steps to follow to build a healthy lunch:
Pick a complex carb. Carbs are our body's main source of energy so including a source in your lunch will keep you fueled. Include a complex carb like quinoa, sweet potatoes, beans or whole grain bread like the Silver Hills Bakery bread I used for this buffalo chickpea salad sandwich.
Add a protein. Protein is the most satiating macronutrient so it will help keep you feeling full. The chickpeas add protein to this recipe, but other beans, tofu, tempeh, or legumes are also great choices.
Choose your veggies. Whether you're making a big salad, sneaking them into something like this buffalo chickpea salad, or eating carrot sticks on the side, veggies should play a role in your lunches.
Include healthy fats. This buffalo chickpea salad includes fat from the hummus. Adding a fat source will make your foods taste and feel more satisfying as well as ensuring that you're taking full advantage of any fat-soluble vitamins in your meal. Olive oil, nuts, seeds, and avocados are all great choices.
I'm excited to partner with Silver Hills Bakery on this recipe because they make the softest sprouted breads, bagels and buns. No tough cardboard bread over here! Their products are made with sprouted grains, which unlocks many of the nutrients found in grains to make them easier to digest.
You can locate where to buy Silver Hills Bakery close to you by using this store locator. I find it at Whole Foods! Plus, the price of a loaf is really reasonable.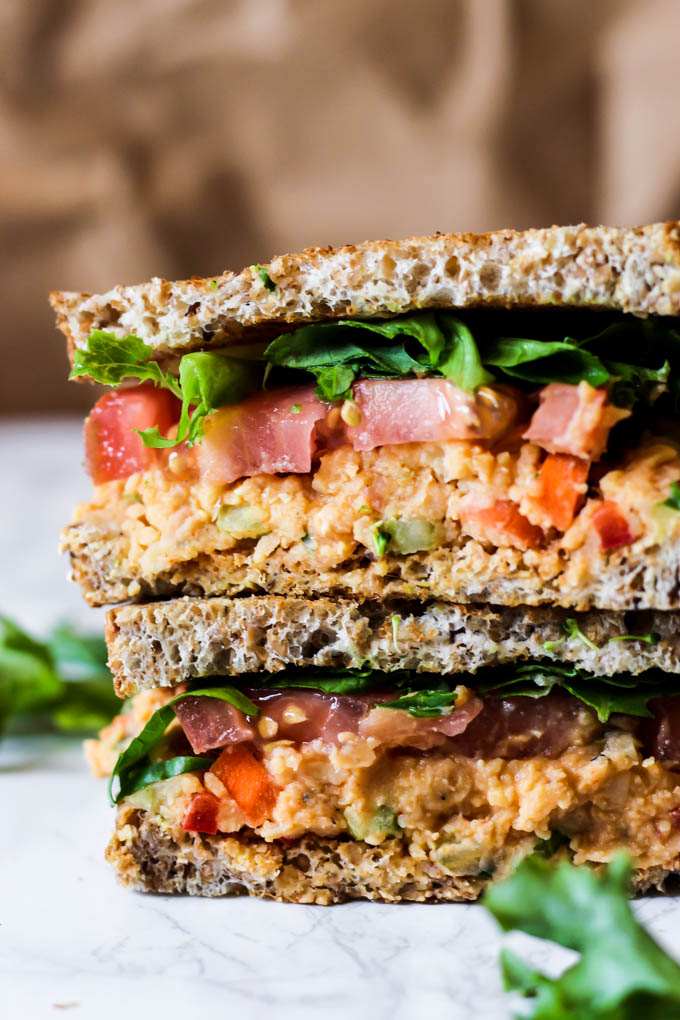 More Vegan Lunch Ideas
If you're looking for more healthy lunch ideas, then you're in luck because I already have a TON of nourishing recipes on the blog that are perfect for packing for lunch. I find that the easiest things to pack are sandwiches, salads and one-bowl meals. Here are more healthy lunch recipes to keep you fueled all week long: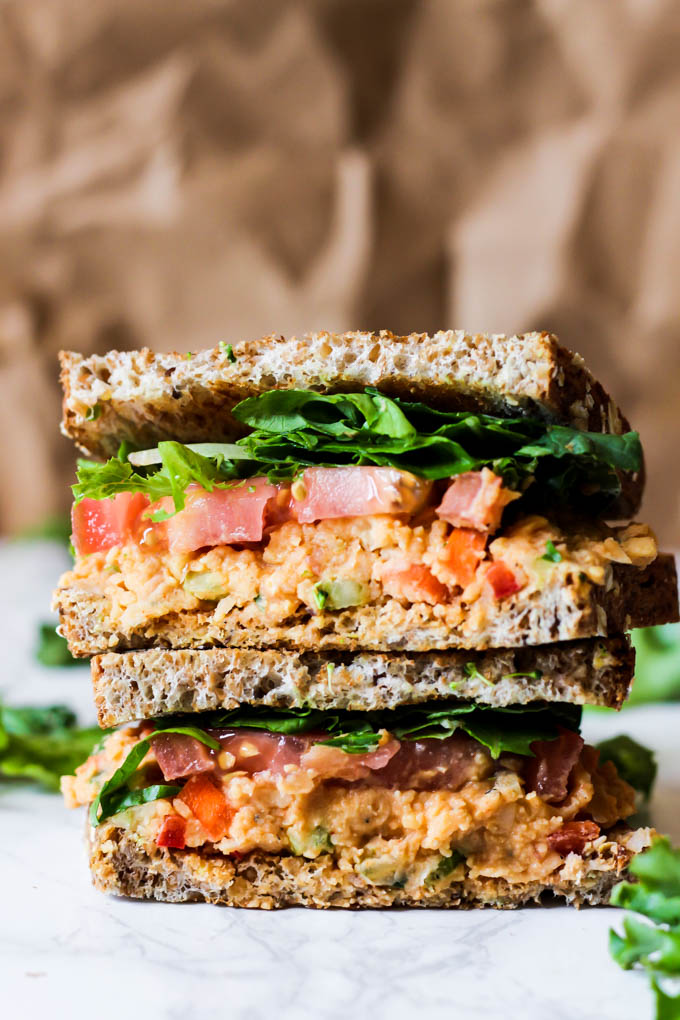 Print
How to make:
Vegan Buffalo Chickpea Salad Sandwich
This Buffalo Chickpea Salad Sandwich is a great vegan lunch to pack! It's a spicy take on chickpea salad that will keep you feeling satisfied.
Ingredients
2

15-ounce cans chickpeas, drained and rinsed

1

medium carrot, chopped

1

stalk celery, chopped

1/2

red bell pepper, chopped

3

green onions, chopped

1/2 cup

hummus

3 tablespoons

hot sauce

1/2 teaspoon

salt

1/2 teaspoon

black pepper

1/2 teaspoon

garlic powder

1/2 teaspoon

onion powder

1/4 teaspoon

paprika

12

slices Silver Hills Bakery The Big 16 (or any Silver Hills Bakery bread)
Toppings: spinach, tomatoes, cucumbers, etc.
Instructions
In a medium bowl, mash chickpeas with a fork or potato masher until all are mashed, leaving a bit of texture.
Add carrots, celery, green onions, bell pepper, hummus, hot sauce, salt, pepper, garlic powder, onion powder, and paprika. Mix until ingredients are completely combined.
Toast bread slices.
Scoop chickpea salad onto a piece of bread, top with desired sandwich toppings, and then another piece of bread.
Notes
If packing for lunch, pack chickpea salad and bread separately to prevent the bread getting soggy.
Thanks to Silver Hills Bakery for sponsoring this post! I love working with brands whose products I really love and would honestly recommend. Thank you for supporting this blog that I love oh-so-much!
SaveSave
SaveSave