This BBQ Tofu Bowl with Vegan Grits & Collard Greens is full of southern-inspired flavor and will leave you feeling warm, cozy and totally satisfied. This vegan, gluten-free version of a Southern-inspired comfort meal features hearty BBQ tofu, sweet potato hash browns, cheesy vegan grits, and greens! In partnership with Dr. Praeger's. ❤️
Southern BBQ Tofu Bowl with Vegan Grits & Collard Greens
I have been dreaming of this bbq tofu bowl for months! And it's finally a reality!
After I posted my vegan red beans & rice recipe and vegan jambalaya recipe, y'all have been asking for more southern- and Cajun-inspired recipes, so my job is to deliver. Trust me, I understand why you want them: southern food is just so delicious, rich, and comforting. It can bring up great memories for many people of sharing food with family.
Guess what? We can have our cake and eat it too. We can have all the tastiness and pizazz of southern-inspired food and still have a plant-powered plate. Can you think of anything better than that? I promise this bbq tofu bowl delivers on the southern-inspired flavor without compromises.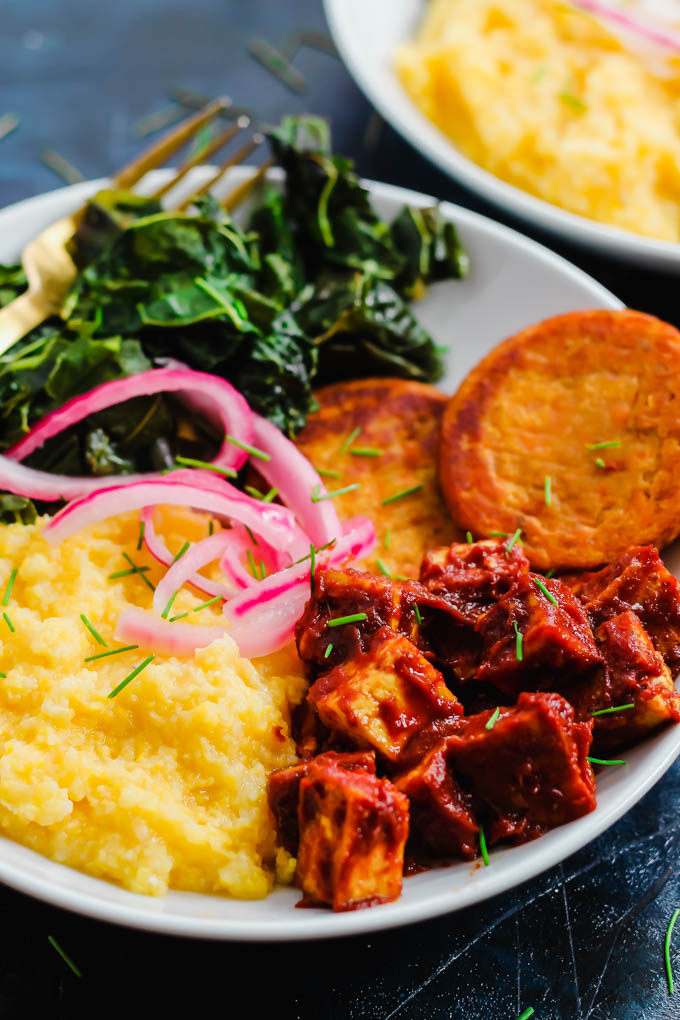 What's In This

Southern BBQ Tofu Bowl
Figuring out what to include in this bbq tofu bowl while keeping it vegan was actually pretty easy. When you think about, most side dishes are already plant-based! Just replace the butter/cream with non-dairy versions or oil. To replace the meat, bbq tofu of course!
Here are all the elements of this Southern BBQ Tofu Comfort Bowl:
BBQ TOFU. Cubed and coated in homemade BBQ sauce or your favorite store-bought sauce.
GRITS. You can't have a southern-inspired bowl without grits! (And no, you cannot call it polenta.) And these aren't just any grits – they're cheesy vegan grits! Nutritional yeast gives them a cheesy flavor.
COLLARD GREENS. Buying a bunch of collards fresh at the farmer's market actually inspired me to finally make this bbq tofu bowl. They're so hearty!
SWEET POTATOES. Or yams. Instead of brown-sugared mashed sweet potatoes, we're using Dr. Praeger's Sweet Potato Hash Browns in this bbq tofu bowl that are lightly sweetened with brown sugar for a salty/sweet combo that is to die for. Only 10 minutes required for cooking!
PICKLED ONIONS. Optional, but a flavorful and aesthetic finishing touch. I made my own using leftover red onion; pickling is great for vegetables about to go bad!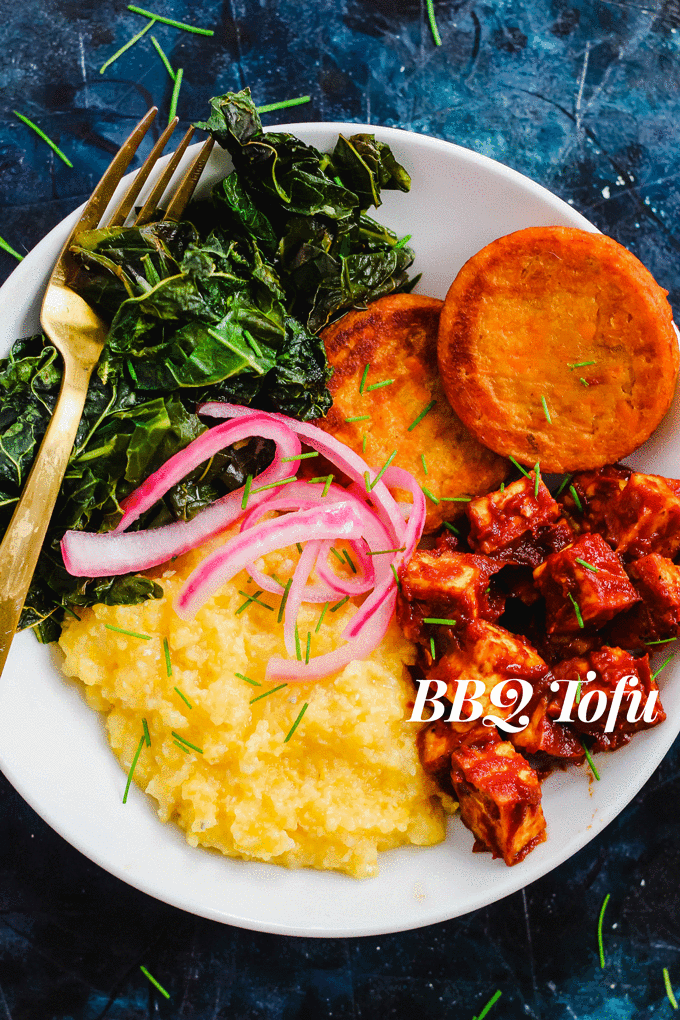 Tips for Making This BBQ Tofu Bowl
Altogether, this bbq tofu bowl comes together in just over an hour, but you can easily prep all or some ingredients ahead of time!
The bbq tofu is what takes the longest to cook, so that's where you'll want to start. I'll walk you through exactly how to do it in the next section! Before you even think about putting the tofu in the oven, make sure to drain and press it. Pressing tofu helps pull the moisture out of it so it'll crisp up in the oven. I promise it's worth the extra step!
Once the tofu is in the oven, it's hands-off cooking so you can work on the sides for the bbq tofu bowl, including the grits (so easy, literally 5 minutes) and greens. To save even more time, if you have leftover sautéed greens or other veggies in your fridge, just use those instead of the collards! I'm all about making things easier over here.
Another tip to save you time on dishes is to just use one sheet tray and take turns cooking the tofu and the hashbrowns! No need to use separate trays. Once the tofu is done baking, you'll pull it out of the oven and remove it from the tray. Then just increase the oven to 450F, pop your Dr. Praeger's Sweet Potato Hash Browns onto the tray you just used for the tofu and bake!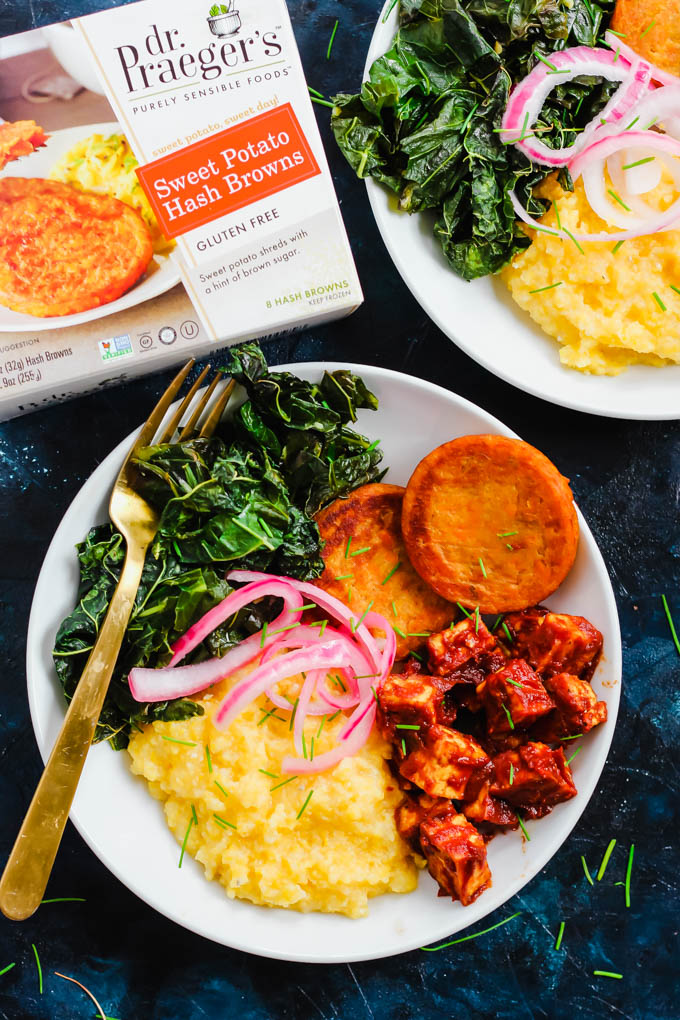 How to Make BBQ Tofu
As I mentioned above, the BBQ tofu is definitely the element that takes the longest, but I promise it's simple and mostly hands-off!
Once you have drained and pressed your tofu, chop it up into evenly sized cubes and add it to a baking sheet in a single layer. You'll bake it in a 400F oven for about 20-25 minutes, or until it's looking golden and crispy.
Now here's where the flavor comes in! You can make your own bbq sauce, (here's my recipe for Healthy Barbecue Sauce) or you can totally use store-bought. After your tofu is crispy, simply add it to a large mixing bowl with whichever bbq sauce you choose and stir to make sure it's coated and super saucy. Set it aside and let your bbq tofu soak up allllll the flavor while you finish the other components.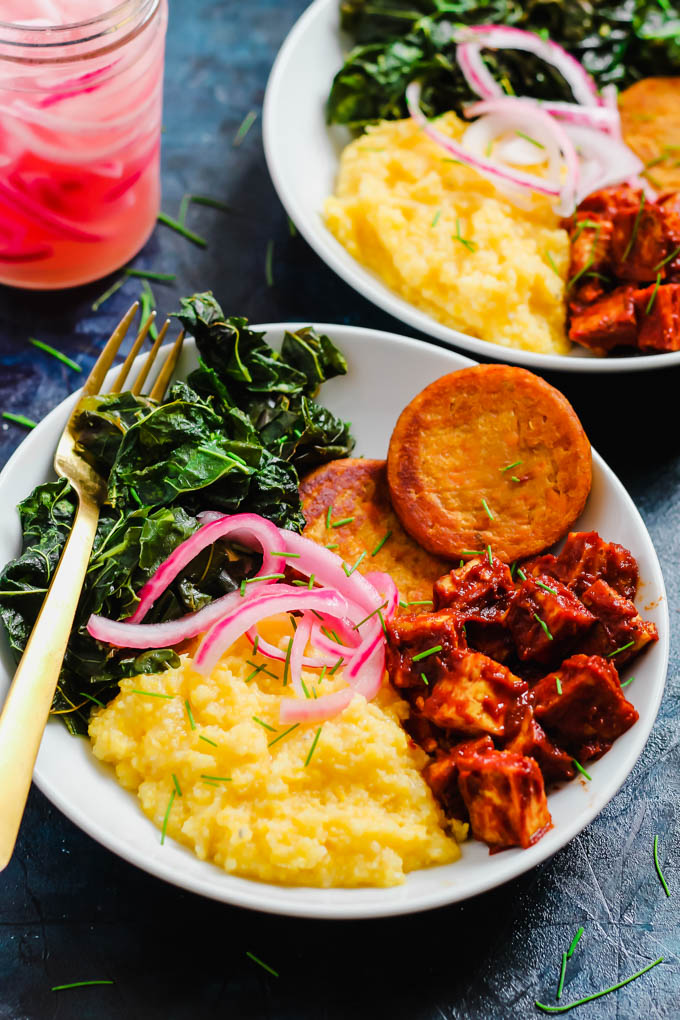 How to Make Vegan Grits and Collard Greens
I knew this Southern-inspired bbq tofu bowl wouldn't be complete without grits and greens! So we're making the best cheesy vegan grits and collard greens to pair with our tangy, smoky bbq tofu.
These vegan grits are truly the best alongside the saucy tofu in this bbq tofu bowl. To make the vegan grits, you'll start by bring 3 cups of water to a boil on the stove. Once your water is at a boil, add your grits and bring it down to a simmer. Let them go for 5 minutes, stirring continuously to keep them from clumping up. Once the water has been absorbed, remove them from the heat and add in your nutritional yeast, salt and pepper. It's that simple! They're DELISH topped with a bit of vegan butter and vegan shredded cheese by the way.
The vegan collard greens are the easiest part. Just add some oil or vegan butter to a skillet and throw in your collards once the oil is hot. You'll cook them for about 5-7 minutes to get them nice and tender, then add in your chopped garlic and cook for another minute or so. Then, finish them off with some salt, pepper, paprika and liquid smoke. The liquid smoke compliments the other flavors going on in this bbq tofu bowl so well, so I highly recommend using it!
More Vegan Comfort Food Recipes
Let me know if you try this bbq tofu bowl recipe or if you grab a box of Dr. Praeger's Sweet Potato Hash Browns (store locator here). They're amazing!
Whether you're from the south or not, we all need a little healthy-comfort-food action in our lives. These BBQ Tofu Bowls will definitely come in handy once the weather gets colder (reeeeal cold here in CO). I fully plan on comforting myself with warm southern-inspired bowls and a hot chocolate to wash it down! If you're looking for more cozy, vegan comfort food, check out these recipes!
Print
How to make:
Southern BBQ Tofu Bowl with Vegan Grits & Collard Greens
This Southern BBQ Tofu Comfort Bowl with Grits & Collard Greens will you give warm, cozy feelings and leave you feeling satisfied. This vegan, gluten-free version of a Southern comfort meal features hearty tofu, sweet potato hash browns, cheesy grits, and greens!
Ingredients
1

14-ounce package extra-firm tofu, drained and pressed*

1

batch homemade BBQ sauce, or

1 cup

store-bought BBQ sauce

1

package Dr. Praeger's Sweet Potato Hash Browns

1 cup

dry corn grits

1/4 cup

nutritional yeast

1 teaspoon

salt

1/2 teaspoon

black pepper

1

–

2

tablespoons olive oil or vegan butter

1

bunch collard greens, thinly sliced

2

cloves garlic, minced

1/2 teaspoon

smoked paprika

1/4 teaspoon

liquid smoke

1/2 cup

pickled onions (optional)
Instructions
Preheat oven to 400F. Lightly grease a baking sheet.
Chop tofu into 1-inch cubes. Place onto the baking sheet in a single layer. Bake for 20-25 minutes, until crispy. Place tofu in a large bowl. Add BBQ sauce; stir to coat tofu evenly.
Increase oven heat to 450F. Prepare Dr. Praeger's Sweet Potato Hash Browns according to package directions.
While the tofu and hash browns are baking: in a medium saucepan, add 3 cups water; bring to a boil. Add corn grits; reduce heat to simmer and cook for 5 minutes, stirring. Remove from heat. Add nutritional yeast, salt, and pepper; stir.
In a medium skillet over medium heat, add oil or vegan butter. When hot, add collard greens. Cook for 5-7 minutes, stirring. Add garlic; cook for 1 minute, making sure not to burn the garlic. Add paprika and liquid smoke; season to taste with salt and pepper.
To arrange bowls, add tofu, sweet potato hash browns, grits, and collard greens. Top with pickled onions, if desired.
Notes
*Use a tofu press (affiliate link), or wrap the tofu in paper towels and place in the sink with a heavy object on top.
---
Thanks to Dr. Praeger's for sponsoring this post! I love working with brands whose products I really love and would honestly recommend. Thank you for supporting this blog that I love oh-so-much!