This post is sponsored by the National Peanut Board. I received compensation, but all opinions and content are my own.
Whip up these Vegan Peanut Butter Noodles in 30 minutes for a quick, delicious weeknight dinner! Whole wheat or rice noodles are coated in a creamy peanut soy sauce and mixed with vegetables.
Is it just me, or is the summer FLYING by? I know summer *technically* lasts until the end of September, but to me… summer ends when school starts again. I've got about a month until the fall semester starts, which kind of makes me anxious because I want like, 3 more months of summer. Is that too much to ask?
Back-to-school season slowly creeping on us means it's super important to stock up on some good recipes that can be made super quickly. I'm talking 30 minutes or less in the kitchen – because who wants to spend 2 hours on dinner on a weeknight? Not I.
Enter: peanut noodles. Because I KNOW you always have peanut butter in your pantry.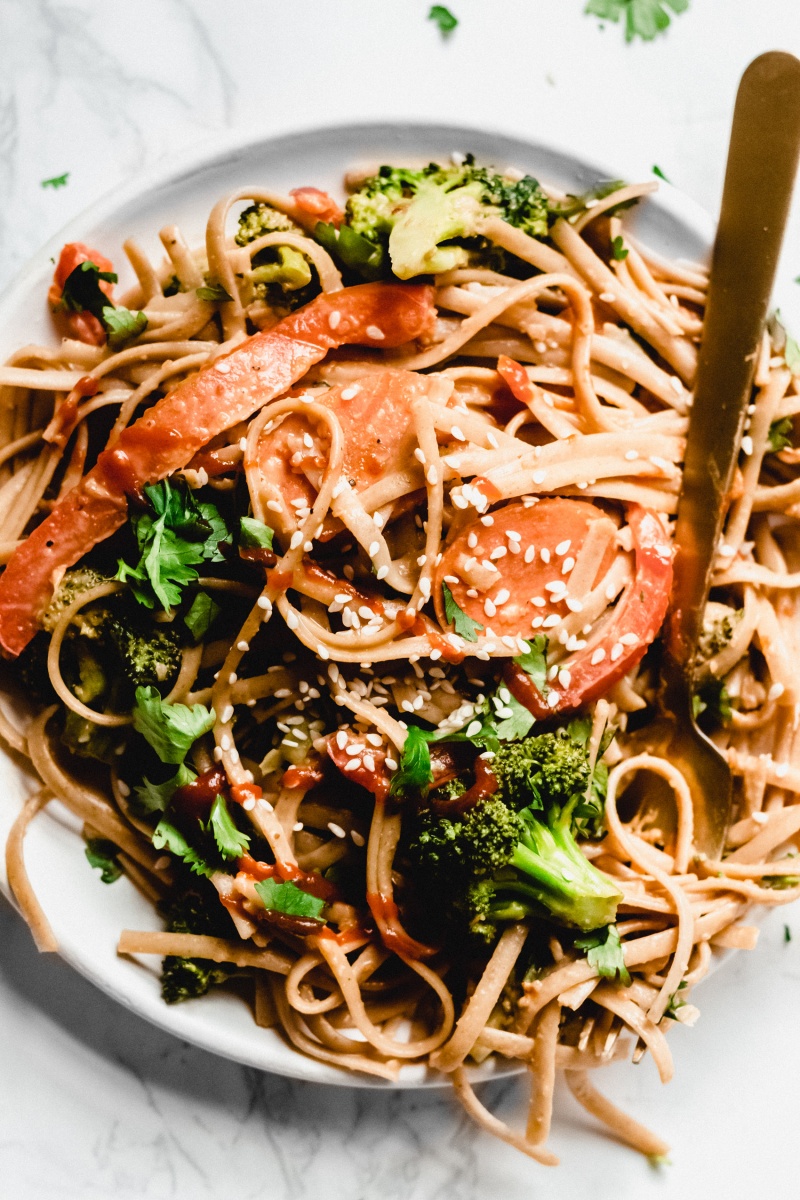 My Favorite Pantry Staple: Peanut Butter
Two things I always I have in my pantry are noodles of some kind (spaghetti, rotini, lentil pasta, etc.) and peanut butter. Which means I cook these peanut noodles in my kitchen very often.
Are you a fan of peanut butter in savory recipes? After this recipe, you will be. I know we all love a classic PB&J or a (generous) smear of peanut butter on our breakfast toast, but peanut butter can shine as the main ingredient in so many other recipes: peanut noodles, peanut butter energy bites, peanut butter curry, peanut butter smoothies… the list goes on.
Plus, peanut butter is a very affordable ingredient everyone has access to. Look for it in the bulk section at your grocery store to cut down on plastic and (probably) save some money!
Look for a peanut butter with no added sugar or oil—the natural stuff is pure goodness.
No matter what recipe you make with peanut butter, you'll get all the nutrition benefits it has to offer! In a two-tablespoon serving of peanut butter, you get 8 grams of plant-based protein, 2 grams of fiber, and 12 grams of unsaturated fat.
Am I talking about peanut butter so much that you never want to cook without it? Same. Click here  for all of the recipes on my blog made with peanut butter. Plus, you can visit here for more delicious peanut butter recipes!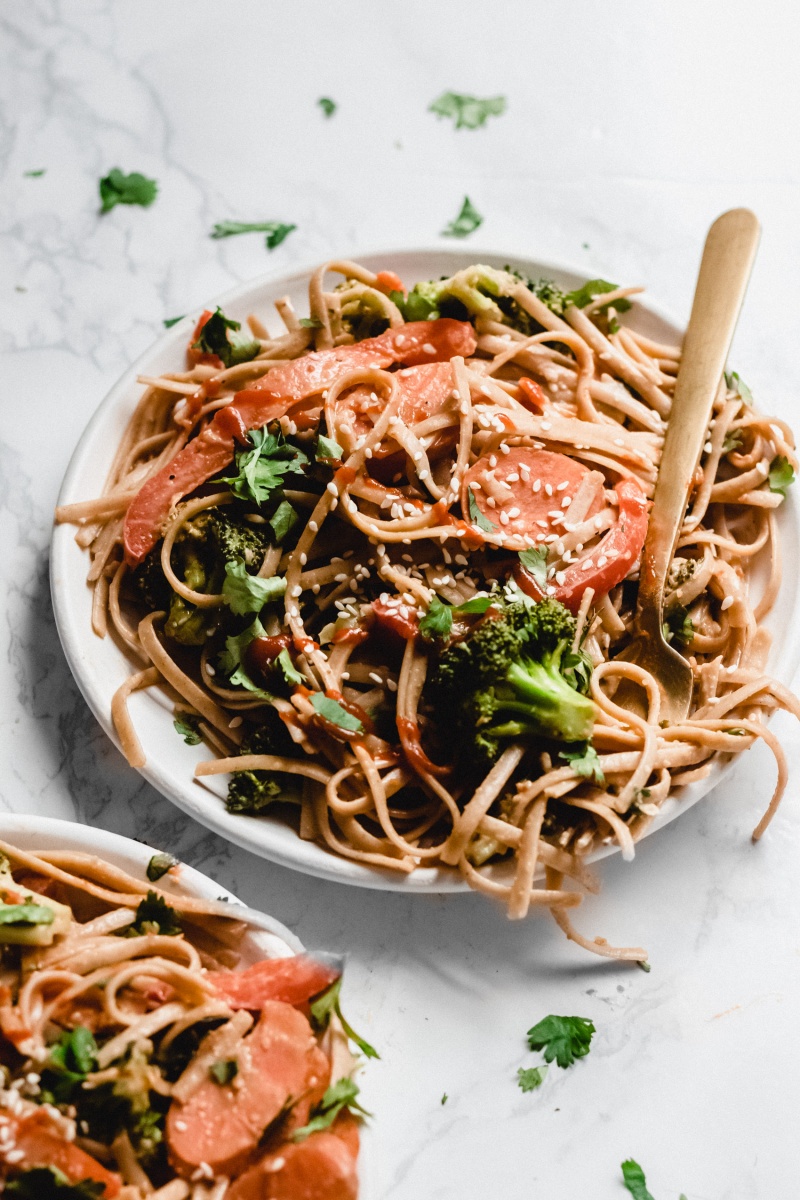 How to Make this Peanut Noodles Recipe 
You could almost make these peanut noodles in your sleep. Almost.
I used whole wheat noodles because that's what I had in my pantry (#resourceful), but rice noodles would be more traditional and good for gluten-free eaters. For vegetables, I went with broccoli, carrots, and red bell pepper, but anything you have in your fridge will do. Got cauliflower? Throw that in there. Cabbage? Why not. Go with what you've got!
The peanut butter sauce is totally drinkable, but unfortunately we have to save it for coating the noodles. Bummer. The peanut butter sauce is made with peanut butter, soy sauce, rice wine vinegar, ginger, sriracha, sesame oil, and a touch of sweetener. Whisk everything with hot water to ensure the peanut butter mixes into the liquid well.
Top everything off with a large handful of cilantro, a sprinkle of sesame seeds, and BOOM.
I love eating these peanut noodles on their own as it's filling and satisfying (thanks, peanut butter!), but it is also delicious topped with baked tofu or shelled edamame. Enjoy!
Print
How to make:
30 Minute Vegan Peanut Butter Noodles
Whip up these Vegan Peanut Butter Noodles in 30 minutes for a quick, delicious weeknight dinner! Whole wheat or rice noodles are coated in a creamy peanut soy sauce and mixed with vegetables.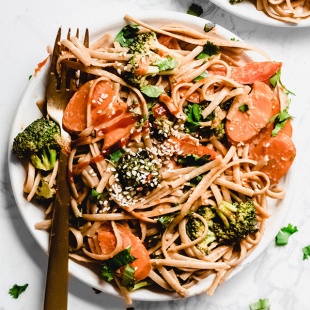 Ingredients
For the noodles:
1

16-ounce package whole wheat or rice noodles

1 tablespoon

cooking oil (olive, avocado, canola)

1

red bell pepper, thinly sliced

2

medium carrots, thinly sliced at an angle

1

medium head broccoli, stem removed and florets chopped

1/2 cup

cilantro, chopped
For the sauce:
1 cup

creamy natural peanut butter

1/2 cup

low-sodium soy sauce

1/2 cup

hot water

2 tablespoons

rice wine vinegar

1 tablespoon

sugar or maple syrup

2 teaspoons

sesame oil

2 teaspoons

sriracha

1 teaspoon

ground ginger

1/2 teaspoon

ground black pepper
Instructions
Cook noodles according to package directions. Drain and rinse with cold water.
In a large pot over medium heat, add oil. When hot, add bell pepper, carrots, and broccoli. Sauté for 8-10 minutes, until vegetables are fork tender, adding more oil or water if necessary. Add noodles and cilantro to the pot with the vegetables; stir.
In a medium bowl, add all sauce ingredients. Whisk until smooth. Alternatively, add all ingredients to a blender and blend until smooth.
Pour sauce over noodles and vegetables; toss to coat evenly.