Make this Vegan Poke Bowl for a tasty, wholesome meal done in under 1 hour! It's full of savory baked tofu, veggies and a delicious peanut sauce.
Vegan Poke Bowl
I love a good bowl. Give me some tofu or tempeh, a scoop of rice or quinoa, lots of veggies, a handful of greens and a creamy sauce and I'm a happy human. Not only are bowls easy to throw together, but they're also so customizable and perfect for meal prep. It's a go-to for me when I need simple, quick lunches ready to go during a busy week. And let me tell you, this vegan poke bowl recipe may be my new favorite lunch bowl.
Now before we get into it, I have to confess: I've never had a "real" poke bowl before. They got super trendy after I went vegan, so since they traditionally have fish it hasn't been a food trend that I could participate in. BUT I have had a few of the most delicious vegan poke bowls that ultimately inspired this recipe.
Instead of fish, we're making a delicious, savory vegan tofu as the star of the show in this vegan poke bowl. Then we're tossing this delicious baked tofu on top of a bed of rice and greens, adding in plenty of veggies and topping it all off with a delicious homemade peanut sauce. I mean come on, look at all those colors! How could you not have fun eating a tofu poke bowl when it looks like a rainbow?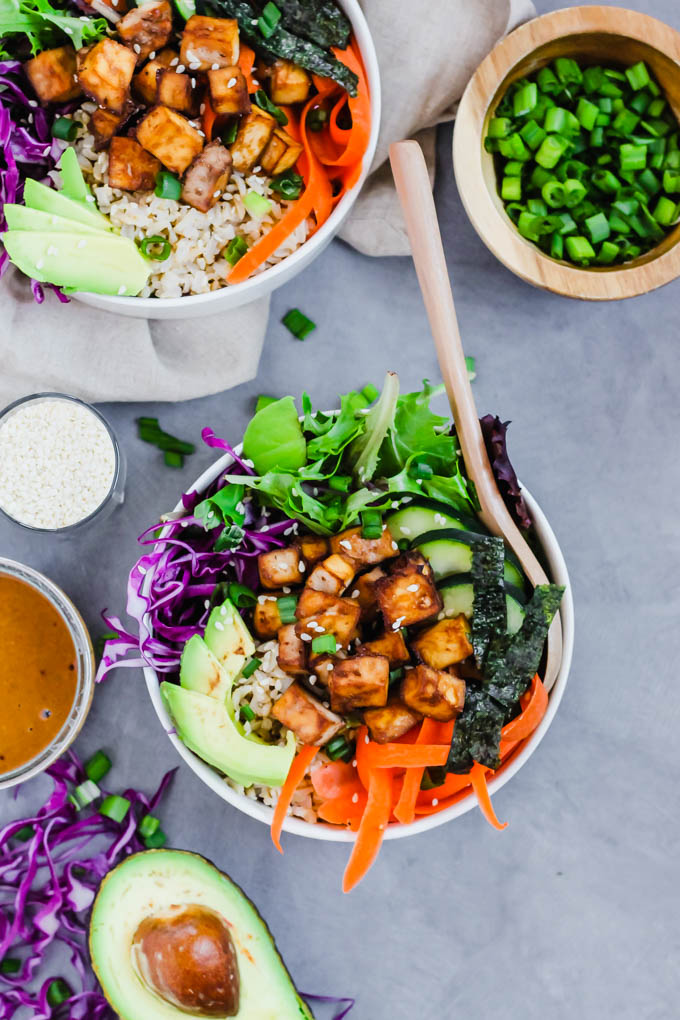 Ingredients in this Vegan Poke Bowl Recipe
This is one of the most colorful recipes I've posted, which means it's fun to eat and filled with so may nutrients! This vegan poke bowl is not only packed with veggies, but it's also packed with so much flavor. You can mix up the vegetables based on what you have on hand and you can easily play with the seasonings to suit your preferences.
What's featured in this vegan poke bowl recipe? We've got:
Rice. I'm using brown rice, but white rice is also great.
Rice vinegar. I recommend using unseasoned rice vinegar so you can control how much you season this recipe.
Tofu. You'll want extra firm tofu for this poke bowl recipe.
Seasonings. You'll need salt, pepper and ground ginger.
Soy sauce. I recommend low-sodium.
Hot sauce. I'm using sriracha, but you can use any hot sauce you like.
Limes. I highly recommend using fresh limes, but if you don't have any on hand, you could substitute in more vinegar.
Veggies. I'm using carrots, mixed greens, carrots, cucumber, red cabbage and avocado, but feel free to use any other veggies in your fridge.
Nori. A great vegan source of iodine! And it adds a ton of delicious flavor.
Peanut butter. You'll want a creamy variety to make our vegan peanut sauce.
Toppings. Green onions, sesame seeds, more hot sauce, fresh jalapenos and pickled ginger would all be delicious here!
Other yummy additions to this vegetarian poke bowl would be chopped mango, shelled edamame, and pickled ginger. Go crazy!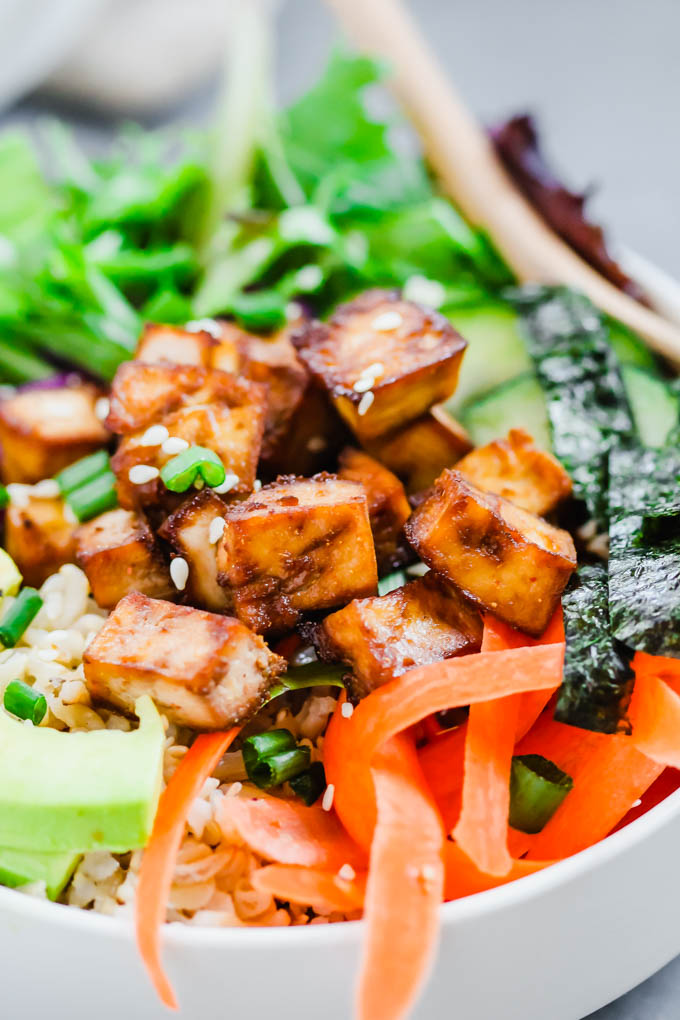 How to Make Savory Baked Tofu
The savory baked tofu is the main event for this vegan poke bowl. It's a fairly hands off way to prep tofu so it's a go-to for me. Of course it's delicious in this poke bowl recipe, but you could also use it in other meals throughout the week, so make a big batch and toss it into your lunches and dinners when you're looking for a way to sneak in a serving of plant-based protein.
To make this savory baked tofu:
Drain and press your tofu by straining off the liquid, wrapping it in a towel, and placing a heavy object like a dutch oven or cast iron skillet on top of it. Let it sit for at least 10 minutes or until a good amount of moisture has been squeezed out of the tofu. This is key for allowing the tofu to crisp up in the oven.
Preheat oven to 375ºF and lightly grease a baking sheet while your tofu is being pressed.
Prepare the tofu by adding it to a medium bowl with your soy sauce, sriracha, lime juice and ginger. Give it a stir until it's evenly coated. You can cook it immediately, or let it marinate to soak up more of the flavor. When you're ready to make it, arrange it in a single layer on a baking sheet and bake for 25 minutes.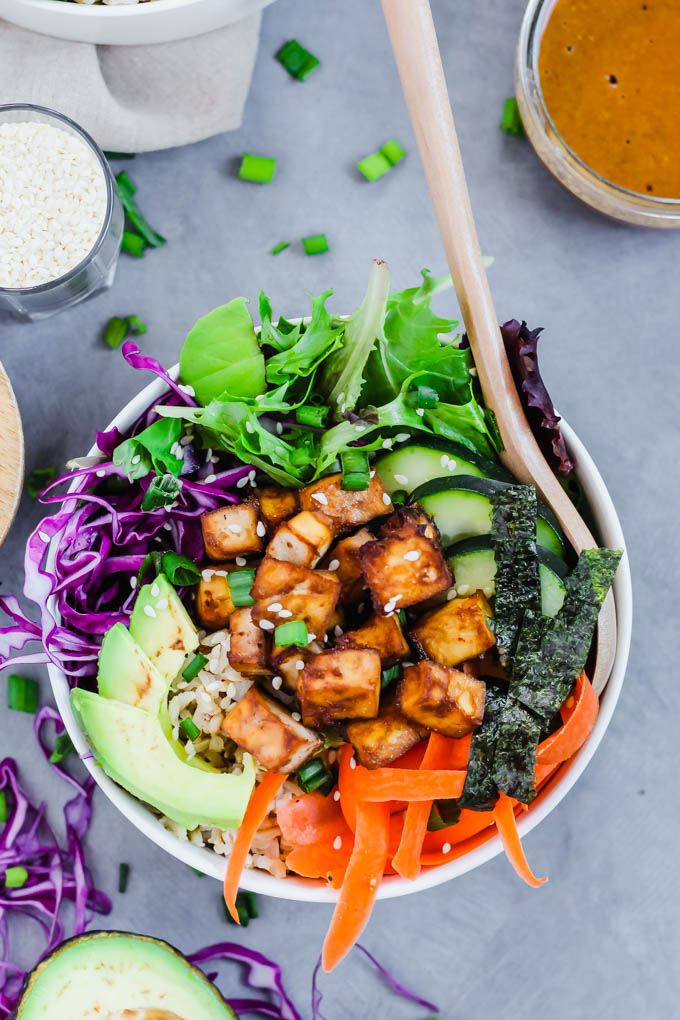 Vegan Peanut Sauce Recipe
This peanut sauce is game changing. I honestly don't think this tofu poke bowl would be complete without it. I actually use this peanut sauce on so many things other than this vegan poke bowl. Pour it over noodles, use it as a salad dressing, add it to a stir fry, dip summer rolls into it. The possibilities are endless. It's delicious, and it couldn't be easier to make. Plus, it holds up well in the fridge, so you could make a big batch and keep it on hand to flavor your meals throughout the week.
To make this vegan peanut sauce recipe, add your peanut butter, soy sauce, rice vinegar, water, hot sauce and ground ginger to a bowl, give it a good whisk and drizzle it all over your vegan poke bowl.
HOT TIP. If you don't love spending the time to whisk up a dressing in a bowl, you can always throw all the ingredients for your dressing into a jar and give it a good shake to make the dressing instead. So easy and so quick. You're welcome.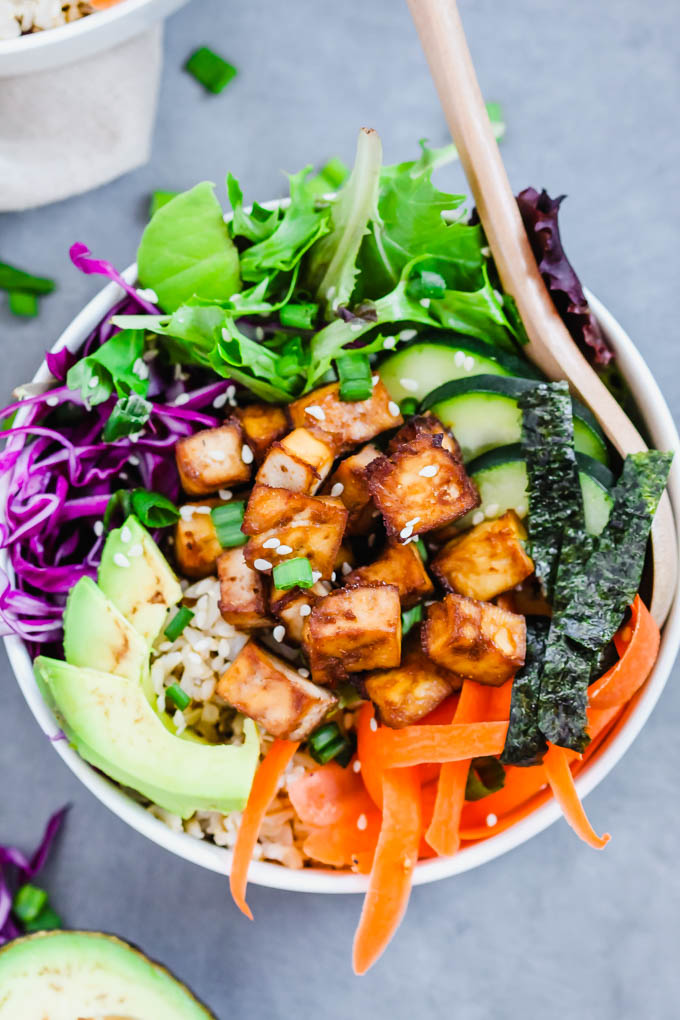 How to Serve a Vegan Poke Bowl
Once you've made your sauce and baked the tofu, there's not a whole lot left to do other than make your rice and assemble! Because this vegan poke bowl is made up of a bunch of separate components, it's ideal for meal prep because you can store each ingredient separately and then arrange when you're ready to enjoy it! I threw this whole poke bowl recipe together in one hour, and it made four servings. You basically have your lunches for the week already done and cooked!
We want each component to be delicious on its own so that it's extra delicious when everything is put together! And that includes your rice. So once you've cooked your rice, I recommend that you add rice vinegar, salt and pepper to it to ensure that it's well seasoned.
Then all you have to do to build your tofu poke bowl is add greens and your seasoned rice to the bottom of your bowl, then add in your savory baked tofu, nori and vegetables, then top it off with plenty of your vegan peanut sauce, green onions, sesame seeds and any other toppings you like.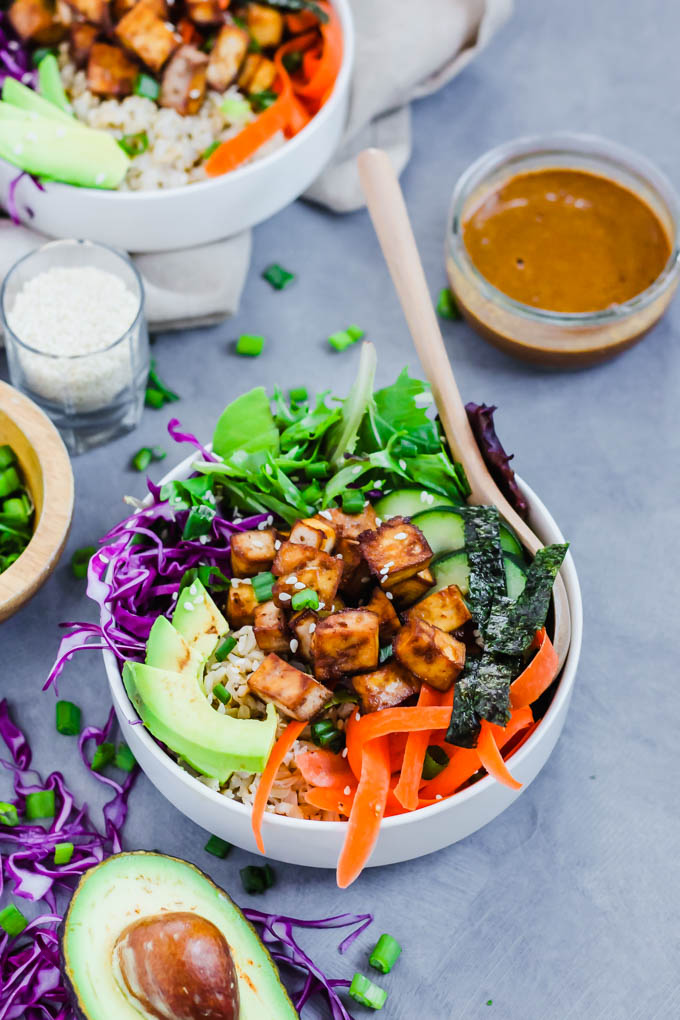 More Vegan Power Bowl Recipes
I have some kind of take on a vegan power bowl at least a few times a week for lunch, and this tofu poke bowl is a regular in my rotation. They're easy to make and easy to mix up. You basically just have to pick a grain, a protein, a veggie, a green and a sauce, then boom! You've got an amazing, nourishing lunch. If you're looking for more easy vegan lunch recipe, check out some of these delicious vegan power bowl ideas.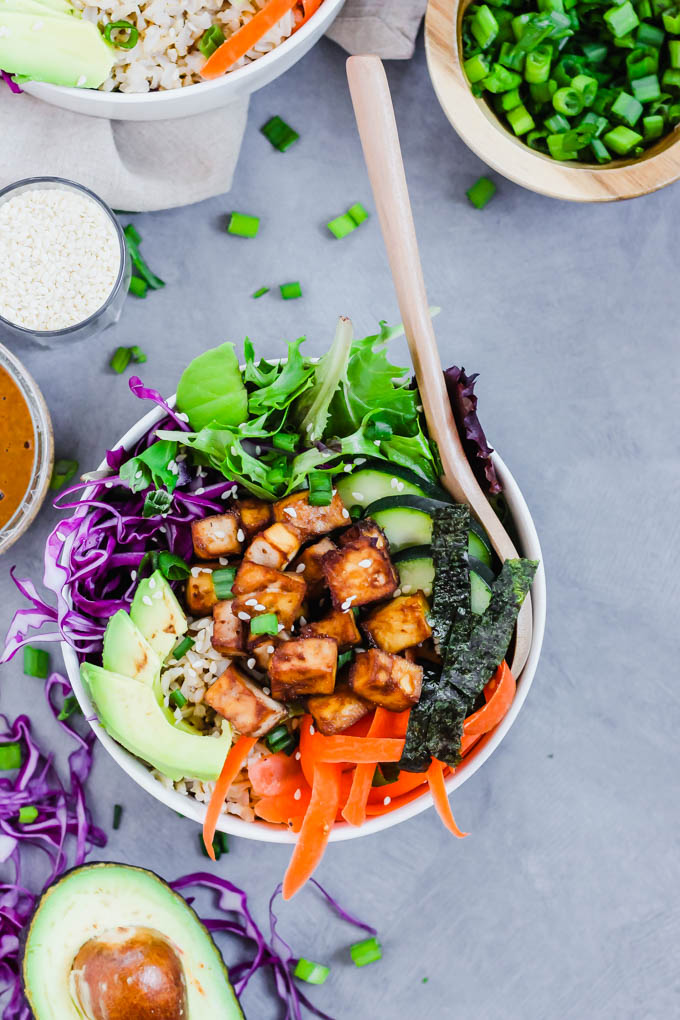 Print
How to make:
Vegan Poke Bowl
Make this Vegan Poke Bowl for a tasty, wholesome meal done in under 1 hour! It's full of savory baked tofu, veggies and a delicious peanut sauce.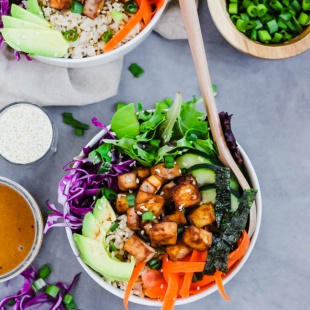 Ingredients
1 cup

brown rice

2 tablespoons

rice vinegar

1/2 teaspoon

salt

1/4 teaspoon

black pepper

1

14-ounce package extra firm tofu, drained and pressed*

1/4 cup

low-sodium soy sauce

1 teaspoon

sriracha or hot sauce

1 teaspoon

lime juice

1/2 teaspoon

ground ginger

4 cups

spring mix, or any raw greens

2

medium carrots, julienned or diced

1

cucumber, finely chopped

2 cups

red cabbage, finely chopped

1

avocado, sliced

1

nori sheet, sliced thinly

1/4 cup

green onions, sliced

2 tablespoons

sesame seeds
For the peanut sauce:
2 tablespoons

low-sodium soy sauce (or tamari for gluten-free option)

1 tablespoon

rice vinegar

1 tablespoon

water

1 tablespoon

peanut butter

1/2 teaspoon

hot sauce

1/4 teaspoon

ground ginger
Instructions
Preheat oven to 375ºF. Lightly grease a baking sheet.
To a medium saucepan, add 2 1/4 cups water. Bring to a boil. Add rice, cover, and lower heat to simmer. Cook rice for 45 minutes; turn off heat and leave the lid on. Let sit for 10 minutes. When done, add rice vinegar, salt and pepper; stir.
Cut tofu into 1/2-inch cubes. In a medium bowl, add soy sauce, sriracha, lime juice and ginger; stir. Add tofu; stir to coat evenly. Place tofu on the baking sheet in a single layer. Bake for 25 minutes, until crispy.
To arrange each bowl, add 1 cup greens, 1/4 of the carrots, 1/4 of the cucumber, 1/2 cup red cabbage, 1/4 avocado, 1/4 of the nori, 1 tablespoon green onions and 1/2 tablespoon sesame seeds.
For the peanut sauce: In a small bowl, add all ingredients. Stir until smooth. Drizzle over poke bowls.
Notes
*Use a tofu press, or wrap the tofu in paper towels and place in the sink with a heavy object on top. Press for 10-15 minutes.