There's two possible things that give this smoothie its beautiful color: 1. magical fairy unicorn rainbow dust, or 2. beets.
As much as I wish it was #1, I'm hear to tell you that BEETS ROCK. And you need them in your life. Especially in the form of this berry beet smoothie that is just as delicious as it is gorgeous.
Let's be honest here: 95% of the population thinks beets taste like dirt. They definitely can taste like dirty dirt if you cook them wrong, but I promise if you find the right recipe (aka this smoothie), you'll hit a hot pink jackpot!
To tame the beets (get it?), just cook them in foil in the oven, de-skin them, chop, and measure! You can do all this the night before so when you want to make your smoothie, you don't have to fool with the beets. Here's a great article on how to roast beets from The Kitchn!
Very important note right here‼️ —> Beets will stain your hands and dishes and counters and everything that comes into contact with them. So wash your hands/everything immediately. Or just be stained with magical fairy unicorn rainbow dust for the rest of the day – your choice.
Then it's just blending everything up! Of course you know by now that I used my handy dandy NutriBullet to make a super creamy smoothie. It's kind of awesome to watch all your ingredients blend into this H-O-T pink smoothie. Is that weird? I can't help it – it's just so pretty!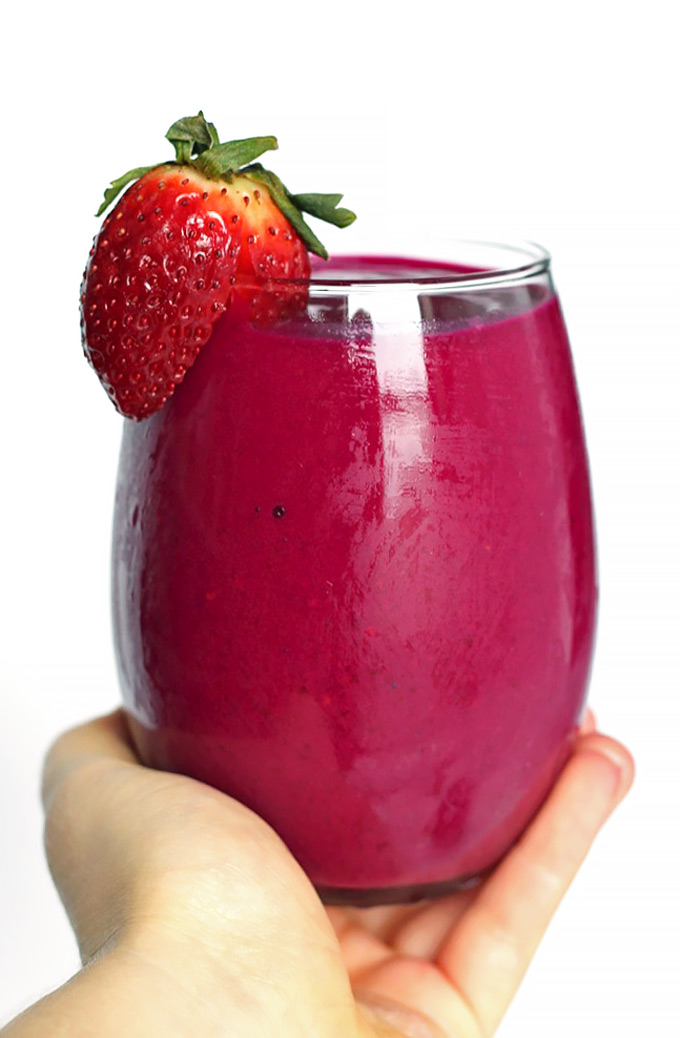 The slight sweetness of the beets actually complement the berries really well, so there's no earthy dirty taste in this smoothie! If you want to add a little bit more sweetener just to make sure, go ahead.
If you're looking to get more nutritious vegetables into your diet this year (or just want to drink a really colorful smoothie 'cause it's pretty), this berry beet smoothie is perfect for YOU! What's better than getting your veggies in without even knowing?
If you try this smoothie, post a picture and tag #emilieeats! I love to see what you guys make.
Let me know – How do you feel about beets? Too dirty tasting? What's your favorite veggies to blend into smoothies?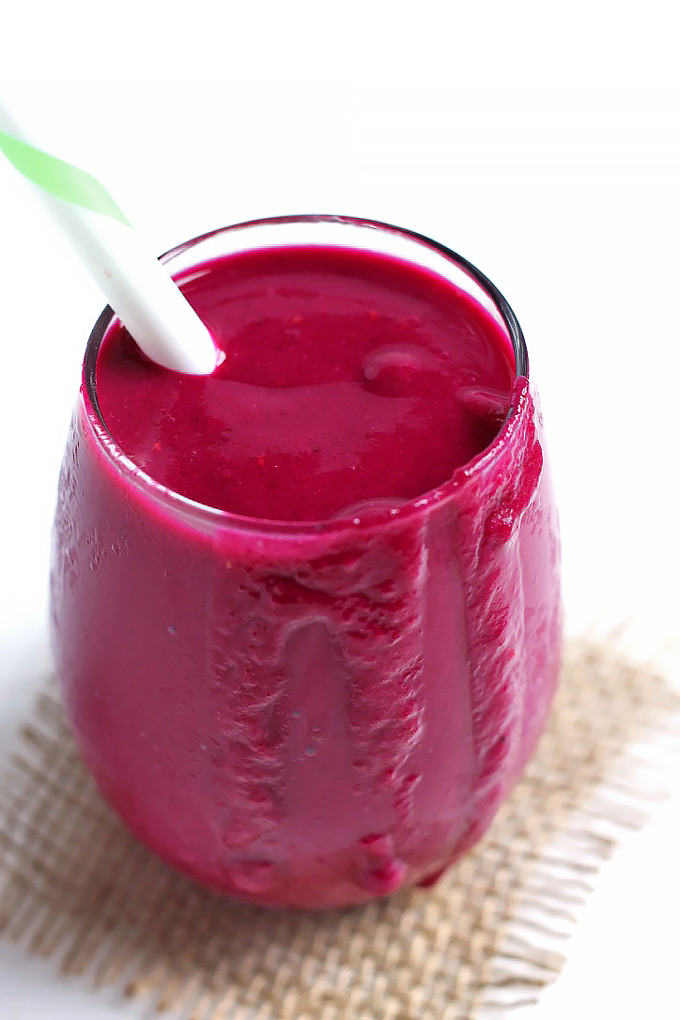 Print
How to make:
Very Berry Beet Smoothie
If you find it hard to get your veggies in, you need this Very Berry Beet Smoothie! It's perfect for a super nutritious breakfast or snack.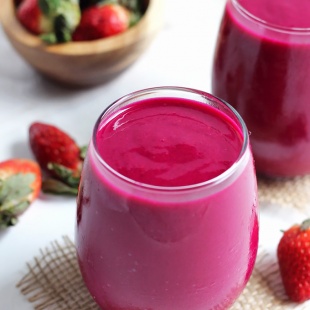 Ingredients
2

medium bananas, frozen

1 1/2 cups

strawberries, frozen

1 cup

cooked beets, chopped*

1 cup

almond milk

1/2 cup

raspberries or other berries of choice, frozen

1 tablespoon

maple syrup or agave nectar, plus more to taste
Instructions
Place all ingredients into a blender or food processor.
Blend until completely smooth and there are no chunks left. Adjust sweetener as needed.
Pour into glasses and enjoy!
Notes
To cook beets:
Preheat oven to 400F. Clean the outside of the beets and cut the ends off. Wrap each beet individually in foil, and place all beets on a baking sheet. Bake for 45-55 minutes, or until the beets are fork tender. When the beets are cool enough to handle, peel the skins off; chop. Store in an airtight container in the refrigerator.