This Asparagus & Mushroom Vegan Quiche is a delicious option for breakfast or brunch! It's full of vegetables and plant protein to keep you satisfied. I love having a slice (or three) with some fresh fruit for a fun weekend breakfast!
Believe or not, I'm definitely a savory > sweet person. I could definitely live without dessert as long as I had super hearty, satisfying meals. I know some of you chocoholics right now are like WHAT?! Blasphemy.
But it's true. Even though I love my smoothie bowls, fruity oats, and the occasional vanilla cake (recipe coming soon!), my tastebuds would much rather something savory. Give me a comforting meal and I'll be one happy girl.
Lately I have really not been into sweet stuff that much. (Maybe too many slices of my birthday cake a couple weeks ago?? No regrets.) But now I have to find savory options for meal time – especially breakfast and snacks. Most of my breakfasts are usually sweet like smoothies or oatmeal, but lately avocado toast has been calling my name. Well, let's be honest, when is it not?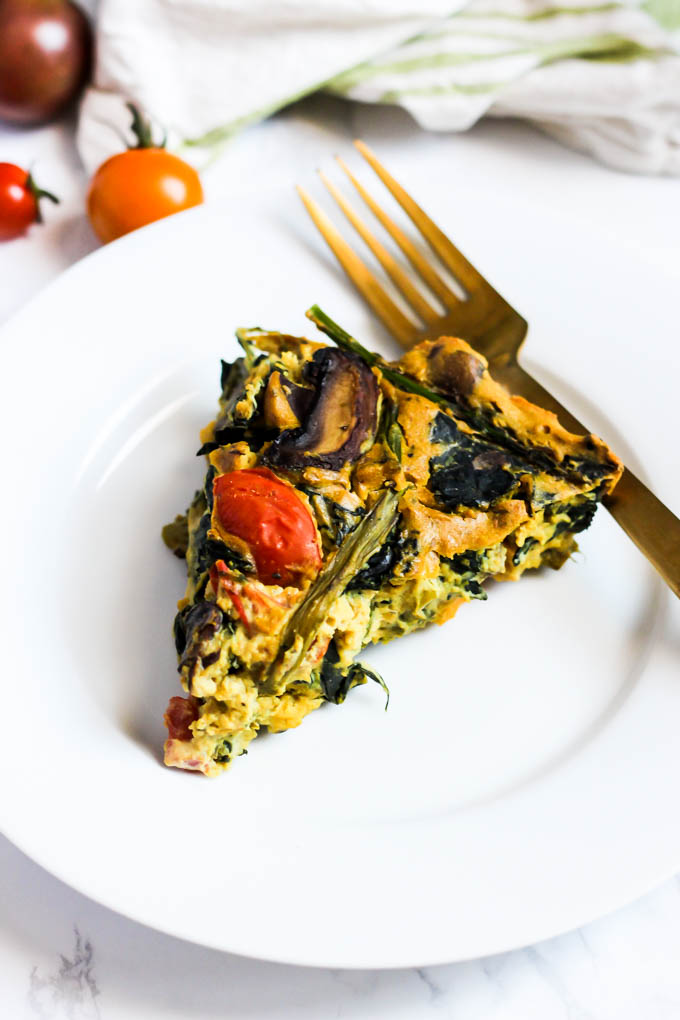 In my mission to be a little bit more creative than avocado toast all day every morning errrrrry day, I started brainstorming things I could make for breakfast that met my breakfast requirements. It has to 1. keep me satisfied for a few hours, 2. be easy to make that morning or prep ahead of time, and 3. be abso-freaking-lutely deeeeeelicious.
So far I've thought of toast (duh), savory oatmeal, breakfast burritos/tacos, tofu scramble, and this vegan quiche weeeeeee! I also have in my mind vegan breakfast pizzas and an ultimate vegan breakfast sandwich…😍 Let me know if you want to see any of those recipes!
Okay, now about this vegan quiche… I don't know your life, but I do know that you kind of probably definitely need this in it. Please – for me. And you. And your tastebuds. 💃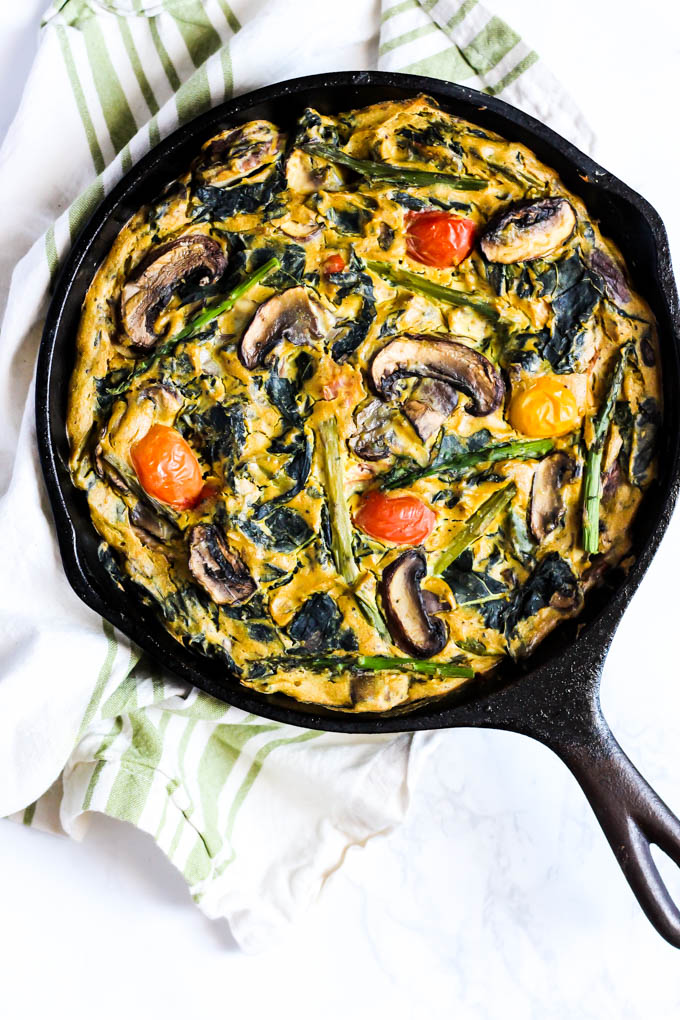 I made this vegan quiche from Oh She Glows a few weeks ago and was really impressed by the results, so I knew I wanted to put my own spin on it using some seasonal produce. Asparagus season is in full swing, tomatoes are colorful AF, and we could all use some more mushrooms in our lives.
The recipe is fairly simple (just how I like my recipes!). All that's required is to sauté your veggies, blend up the "eggy" mixture, then bake! Bonus points if you use a cast iron skillet and serve it at brunch to be all fancy schmancy.
You'll need just a few simple ingredients plus some fresh vegetables. You really can use whatever vegetables you want – I think bell peppers would be delicious! For the "eggy" mixture, we're using a combo of silken tofu + chickpea flour – two things I usually always have in my pantry. While you're at the store getting some silken tofu for this recipe, just do yourself a favor and get a couple packages so you can make this chocolate pudding pie and vegan cheesecake (those are for all of my sweet-tooth readers). Silken tofu is SO versatile!
I think you could definitely make a pie crust first if you wanted to go that route! You do you, boo boo.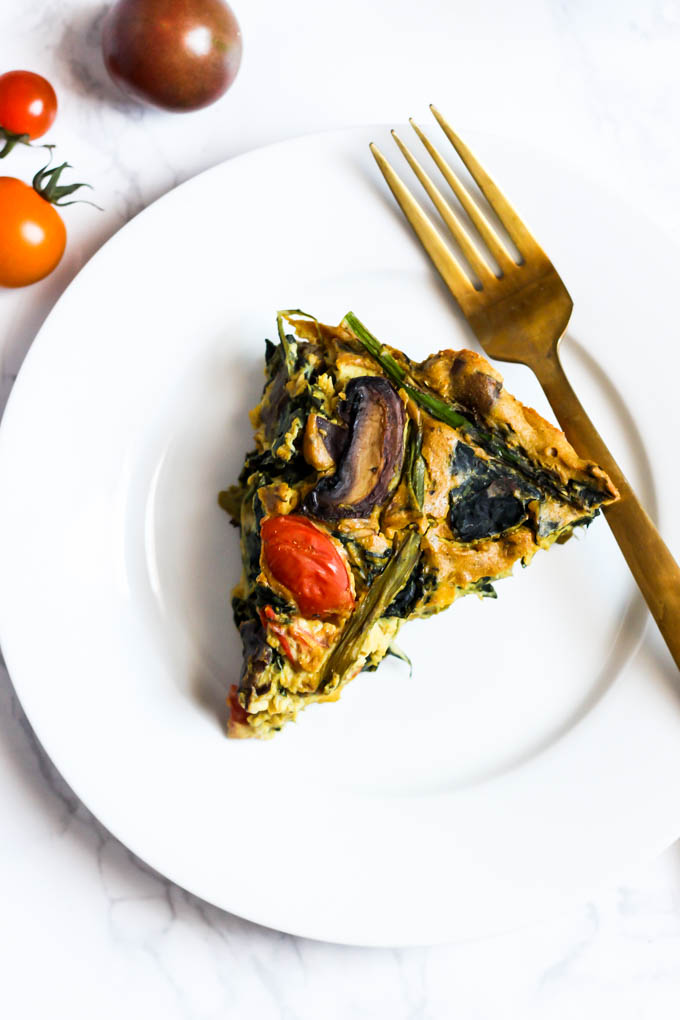 If you're like me and craving some savory goodness for breakfast, you definitely need to try out this vegan quiche! I also love eating it for every other meal so… it's basically the perfect recipe. This quiche is #goals.
Tell me: are you a sweet or savory person? Somewhere in between? What are your favorite savory breakfasts + snacks? I'd love to get your recommendations!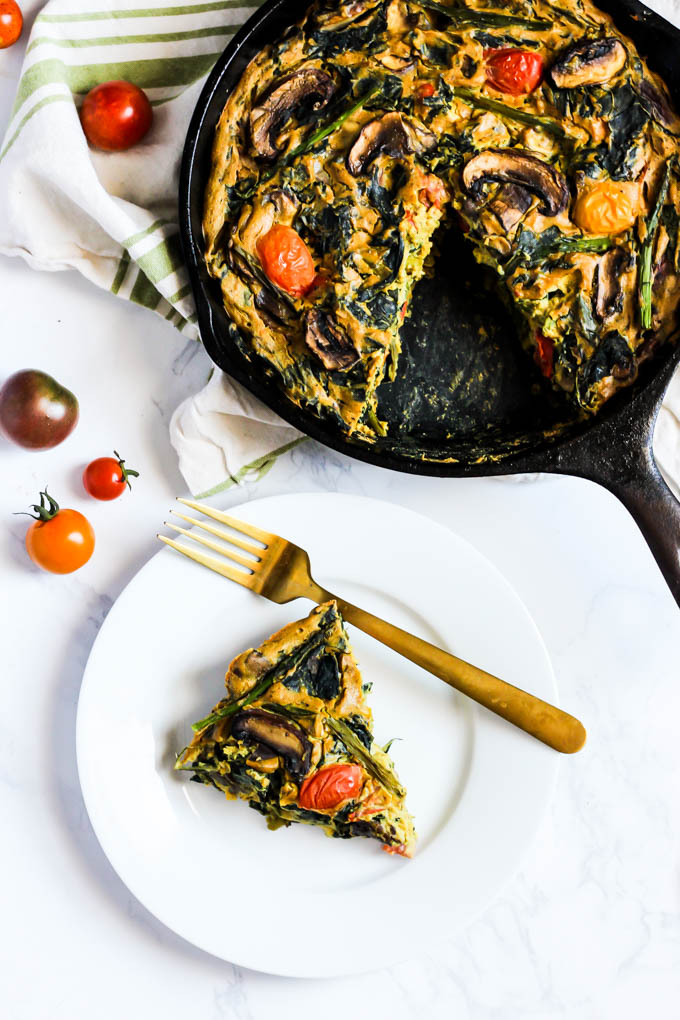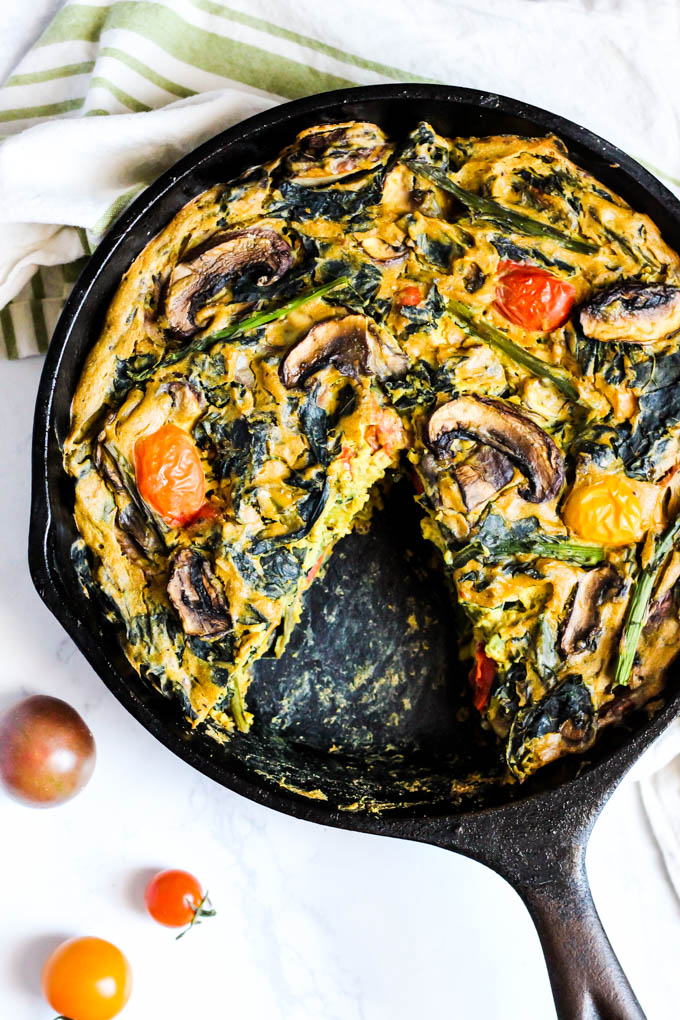 Print
How to make:
Asparagus & Mushroom Vegan Quiche
This Asparagus & Mushroom Vegan Quiche is a delicious option for breakfast or brunch! It's full of vegetables and plant protein to keep you satisfied.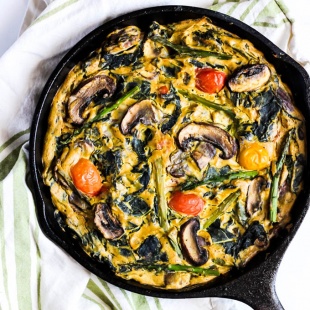 Ingredients
2 cups

asparagus, chopped

8 ounces

mushrooms, sliced

1 cup

tomatoes, chopped

2 cups

kale or spinach, chopped

1

12.3-ounce package silken tofu

1 cup

chickpea flour

1/4 cup

nutritional yeast

2 tablespoons

soy sauce

1 teaspoon

ground thyme

1 teaspoon

ground oregano

1/2 teaspoon

ground turmeric

1/2 teaspoon

kala namak (black salt)*

1/4 teaspoon

black pepper
Instructions
Preheat oven to 350F. Lightly grease a medium cast iron skillet.**
In a wok or large skillet, warm a little water or oil over medium heat. Add asparagus; cook for 4-5 minutes. Add mushrooms, tomatoes, and kale; cook for 5 more minute, until vegetables are tender.
In a food processor or blender, add tofu, chickpea flour, nutritional yeast, soy sauce, thyme, oregano, turmeric, salt, and pepper. Blend until smooth.
Remove vegetables from heat; pour in the tofu mixture and stir to combine. Pour the mixture into the skillet.
Bake for 40 minutes. Remove; set aside for 10 minutes before serving.
Notes
*This gives the quiche a real eggy flavor. If you don't have kala namak, you can use regular salt.
**I used a 9-inch cast iron skillet, but I think it would also work in a skillet that is a little bigger. You can also use a glass pie dish.