Make this vegan quiche for brunch! This vegan asparagus quiche is packed with veggies and plant-based protein to keep you feeling satisfied.
Asparagus & Mushroom Vegan Quiche
Believe or not, I'm definitely a savory > sweet person. I could definitely live without dessert as long as I had super hearty, satisfying meals. I know some of you chocoholics right now are like WHAT?! Blasphemy.
But it's true. Even though I love my fruity oats, and the occasional vanilla cake, my tastebuds would much rather have something savory. Give me a comforting meal and I'll be one happy human.
If you're like me and you prefer savory foods as a vegan, then you know the struggle with breakfast. Most of my breakfasts are usually sweet like smoothies or oatmeal. There's always avocado toast, but I feel like I reach for that on default for an easy vegan savory breakfast option. Sometimes you just want something fun AND savory!
On my mission to be a little bit more creative than avocado toast every dang morning, I started brainstorming things I could make that met my breakfast requirements. It has to
Keep me satisfied for a few hours
Be easy to make that morning or prep ahead of time
And be absolutely delicious – no exceptions
So far I've thought of toast (duh), savory oatmeal, breakfast burritos, tofu scramble, and finally, this vegan quiche!!! I know what you're thinking – "there's no way this is simple to make!" Well my friends, would you believe me if I told you it just takes just 5 steps and 50 minutes? Get ready for all your vegan brunch dreams to come true!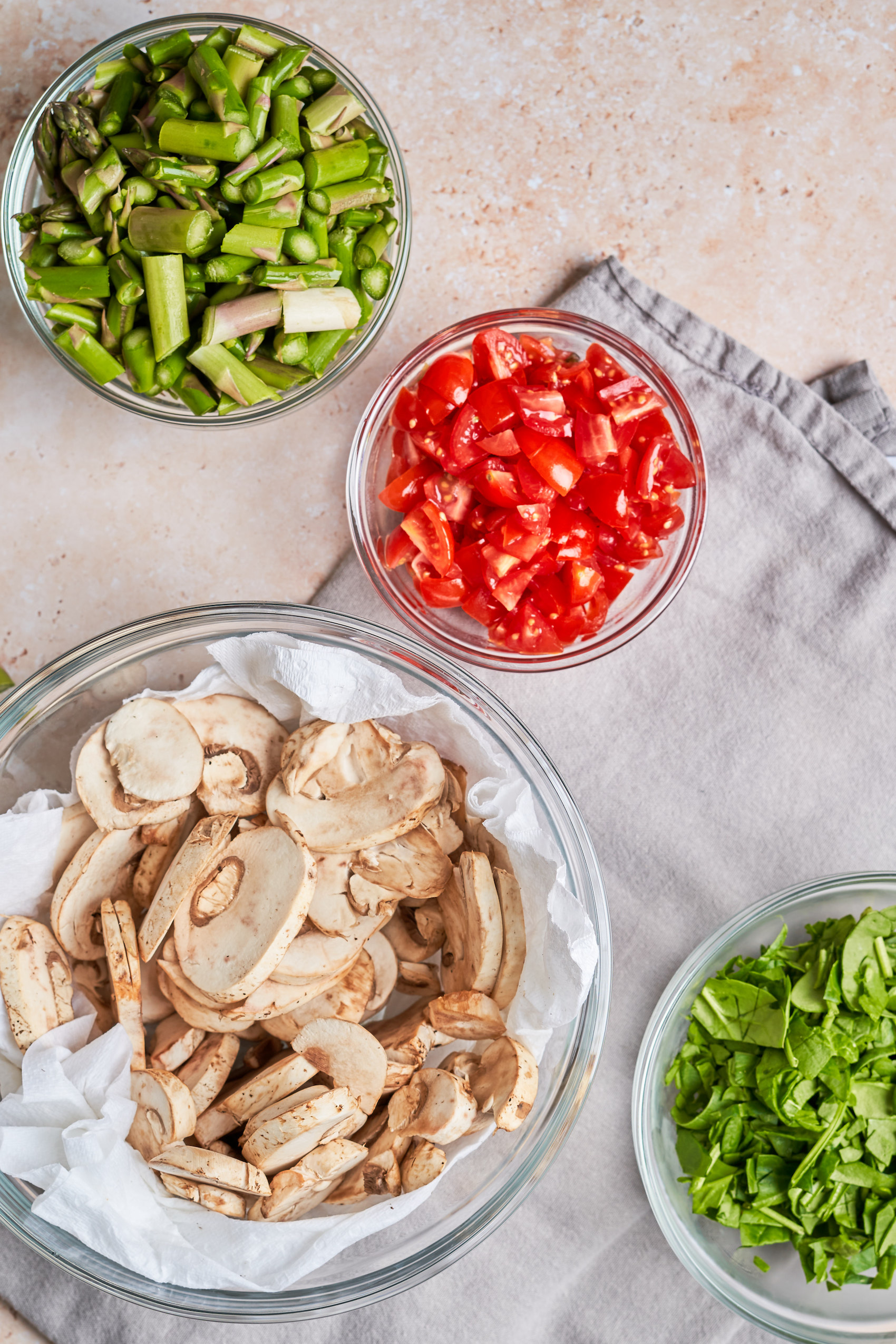 Ingredients for This Vegan Asparagus Quiche
You'll need just a few simple ingredients plus some fresh vegetables to make this vegan quiche. It's spring, so I really wanted to make a vegan asparagus quiche and get in some bright green veggies, but you really can use whatever vegetables you want – I think bell peppers would be delicious!
For the "eggy" mixture, we're using a combo of silken tofu + chickpea flour – two things I usually always have in my pantry. While you're at the store getting some silken tofu for this recipe, just do yourself a favor and get a couple packages so you can make this chocolate pudding pie and vegan cheesecake (those are for all of my sweet-tooth readers). Silken tofu is SO versatile!
Here's everything you'll need to make this vegan asparagus quiche:
Veggies. We're using asparagus, mushrooms, tomatoes and greens.
Silken tofu. Firm or extra-firm tofu won't give you the smooth consistency we're looking for, so be sure to grab silken tofu.
Chickpea flour. This will work with the tofu to create the filling for our quiche.
Nutritional yeast. Aka vegan gold. This will help your vegan quiche taste slightly cheesy and add a lot of umami flavor.
Soy sauce. This will help add depth of flavor and season your filling.
Spices. We're using turmeric, ground thyme, oregano, pepper and kala namak, or black salt. The kala namak is what creates the eggy flavor, so I highly recommend using it in this recipe. If you can't find it, you can sub in regular salt or more soy sauce.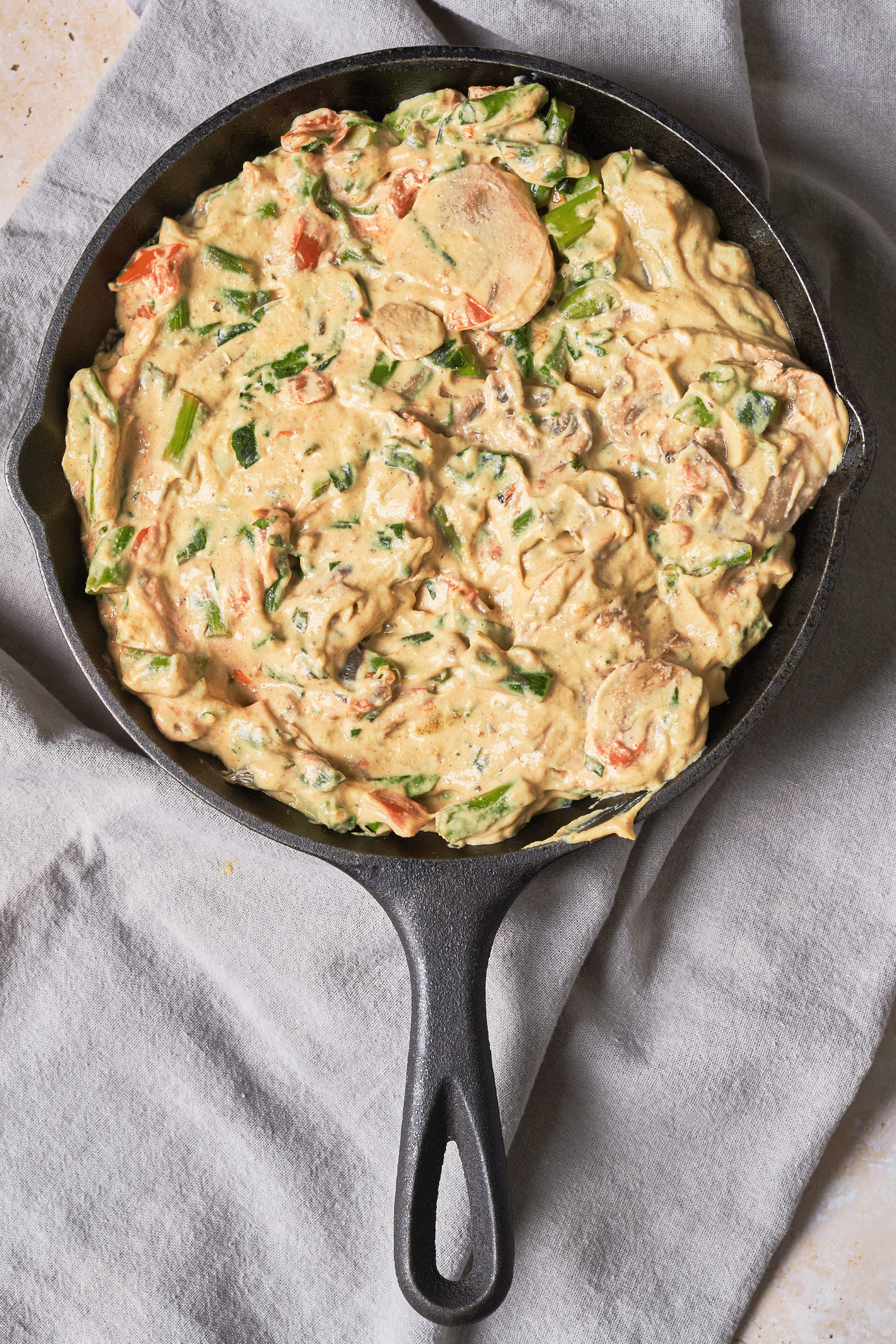 How to Make a Vegan Quiche
The recipe is fairly simple (just how I like my recipes!). All that's required is to sauté your veggies, blend up the "eggy" mixture, then bake! We're not making a crust because I like who the quiche mixture crisps up on its own in the pan, but you could totally make a vegan pie crust and bake the filling in it if you'd like!
There are just 5 simple steps to make this vegan quiche:
Prep your cast iron skillet or pie plate with a light coating of oil and preheat your oven to 350F
Sautee your veggies, starting with the asparagus on its own for about 5 minutes, then add your mushrooms, tomatoes, and greens and cook for another 5 minutes
Make the filling by blending tofu, chickpea flour, nutritional yeast, soy sauce and all your seasonings in a food processor or blender
Pour your vegan quiche mixture directly into the pan with the cooked vegetables and mix it up
Bake for 40 minutes, then allow your vegan quiche to rest for 10 minutes before serving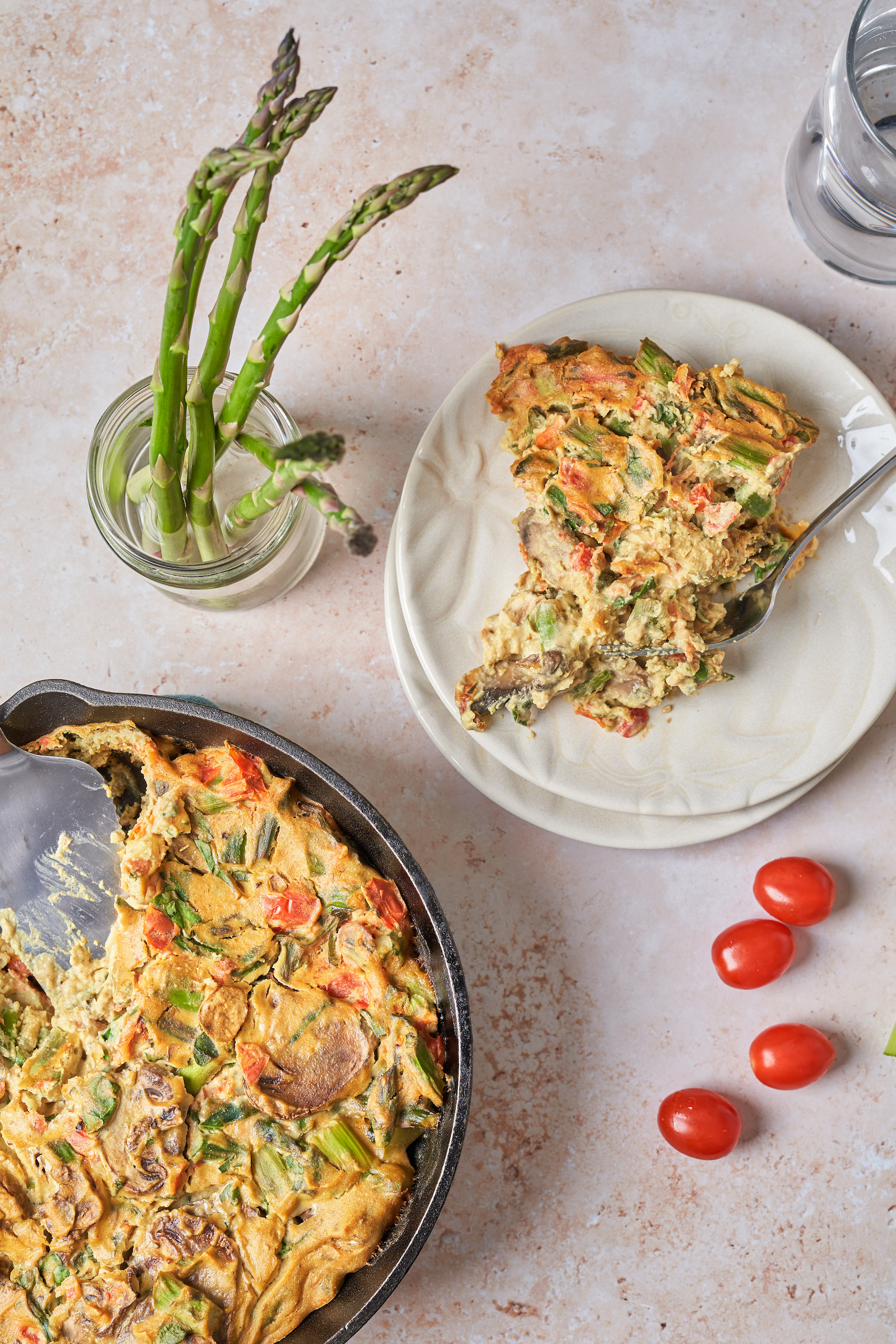 Tips for Make the Best Vegan Asparagus Quiche
I know it may feel a little intimidating to make a homemade vegan quiche, but it's much simpler than you might be thinking! Here are a few tips to make the best vegan quiche!
Don't skip the kala namak. The key to making your quiche taste eggy is the black salt. You won't achieve the same flavor without it. I know it's an extra ingredient to buy, but you won't regret it.
Use silken tofu. Firm or extra-firm tofu won't blend up quite as smoothly as the silken tofu does. If you like a texture that's more reminiscent of scrambled eggs then you could try using a firmer block, but I highly recommend trying it with silken tofu first.
Try making a crust! Thanks to the chickpea flour in this recipe, this vegan quiche forms a bit of a crust on its own when baked in a cast iron skillet, but if you want to go the extra mile you could totally make a crust! I love this vegan pie crust from Nora Cooks.
Use a 9-inch skillet. I found that the volume of the quiche batter made by this recipe bakes best in a 9-inch cast iron skillet. You can try it with different sized dishes, but keep an eye on your quiche while it's in the oven – you may need to adjust the bake time based on the size of your dish. A larger dish may require less time in the oven because your vegan quiche will be thinner.
Swap out your veggies. You can truly use any veggies you like, so get creative here! Frozen also works just as well, but be sure to thaw and drain them thoroughly first to avoid adding excess moisture to your quiche.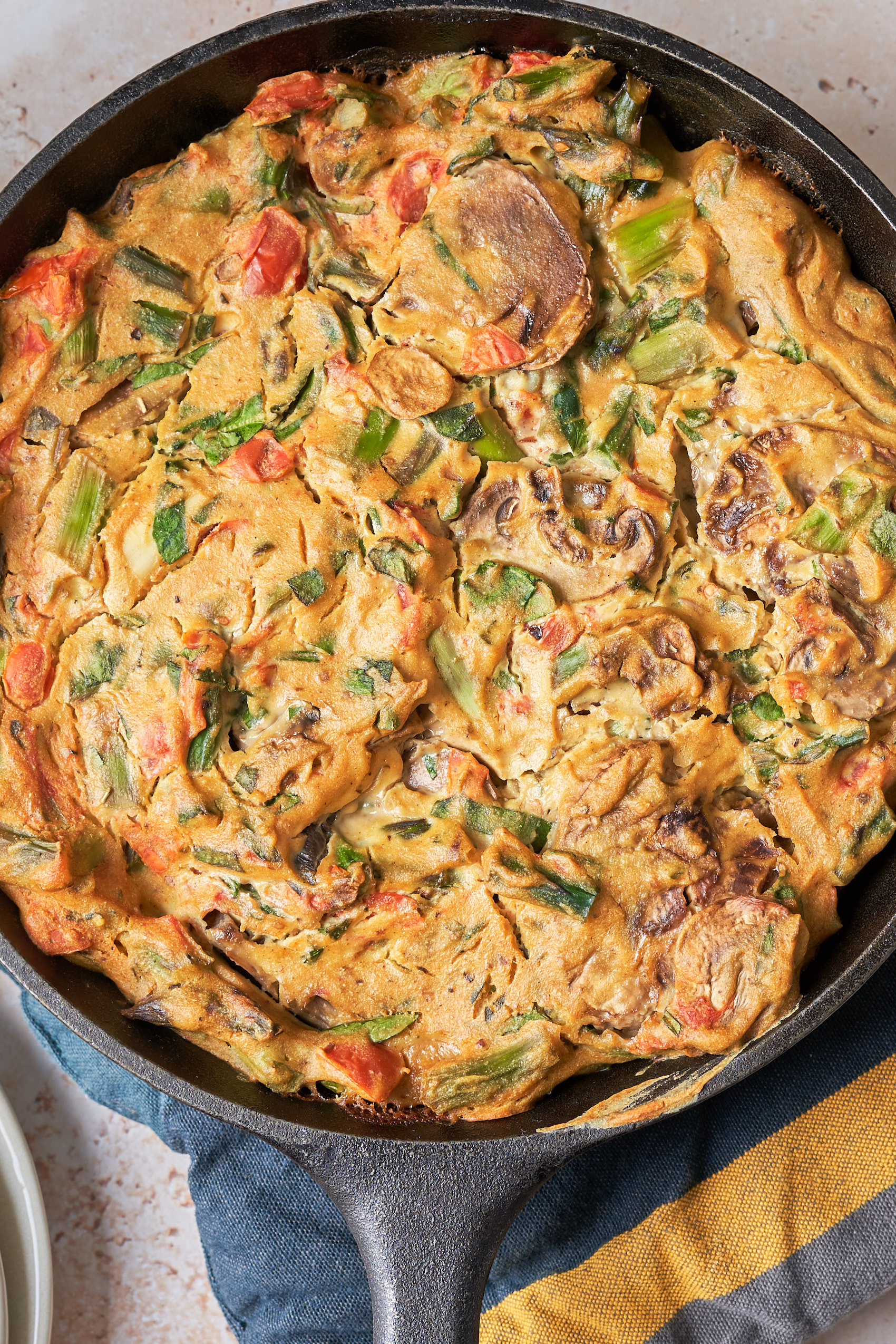 More Vegan Asparagus Recipes
Asparagus is in season from March to June in the US, so time to get all the asparagus goodness in my friends! Grab a bunch the next time you see it at the store and try some of these other vegan asparagus recipes!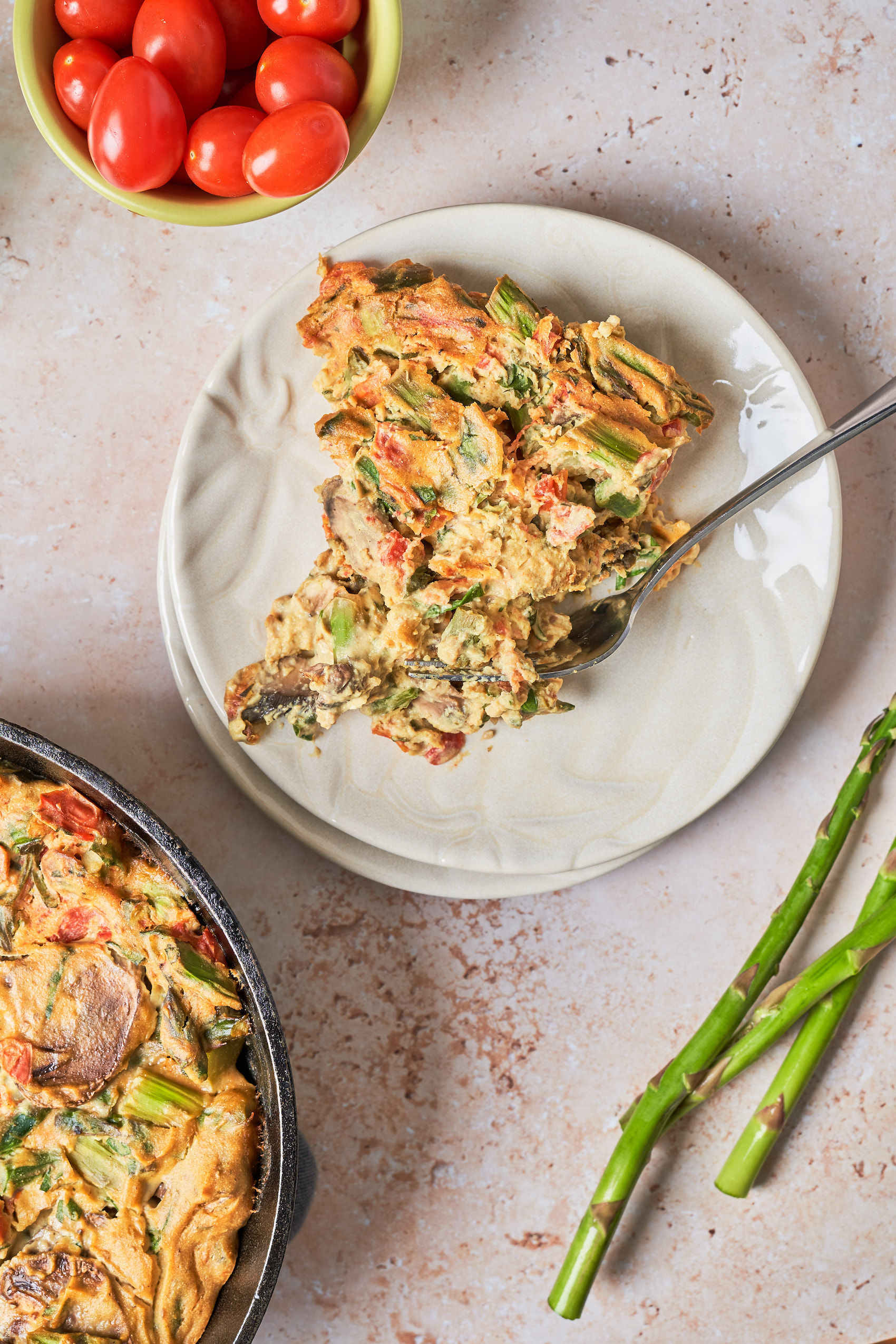 Print
How to make:
Asparagus & Mushroom Vegan Quiche
This Asparagus & Mushroom Vegan Quiche is a delicious option for breakfast or brunch! It's full of vegetables and plant protein to keep you satisfied.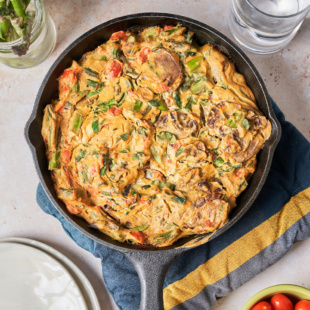 Ingredients
2 cups

asparagus, chopped

8 ounces

mushrooms, sliced

1 cup

tomatoes, chopped

2 cups

kale or spinach, chopped

1

12.3-ounce package silken tofu

1 cup

chickpea flour

1/4 cup

nutritional yeast

2 tablespoons

soy sauce

1 teaspoon

ground thyme

1 teaspoon

ground oregano

1/2 teaspoon

ground turmeric

1/2 teaspoon

kala namak (black salt)*

1/4 teaspoon

black pepper
Instructions
Preheat oven to 350F. Lightly grease a medium cast iron skillet.**
In a wok or large skillet, warm a little water or oil over medium heat. Add asparagus and cook for 4-5 minutes. Add mushrooms, tomatoes, and kale; cook for 5 more minute, until vegetables are tender.
In a food processor or blender, add tofu, chickpea flour, nutritional yeast, soy sauce, thyme, oregano, turmeric, salt, and pepper. Blend until smooth.
Remove vegetables from heat; pour in the tofu mixture and stir to combine. Pour the mixture into the skillet.
Bake for 40 minutes. Remove; set aside for 10 minutes before serving.
Notes
*This gives the quiche a real eggy flavor. If you don't have kala namak, you can use regular salt.
**I used a 9-inch cast iron skillet, but I think it would also work in a skillet that is a little bigger. You can also use a glass pie dish.