A classic dish with a twist, this vegan Chickpea Caesar Pasta Salad is full of creamy Caesar dressing and crunchy chickpea croutons! A great side or entree. In partnership with Silk, who makes some of the best dairy-free milks that I use daily!
Believe it or not, I used to hate salad dressing. I was always a pretty plain Jane eater – no dressings, no fancy toppings, no sauces… except ketchup. I had phases with Caesar salads at some point in my 21 years, but overall, I was not a fan of any of it. I was the girl who doused salads in just vinegar.
But alas, my tastebuds have evolved! Ever since I went vegan, I've been trying plant-powered versions of the foods I used to hate. Think ranch, BBQ sauce, and this so-delicious-I-could-drink-it Caesar dressing. No seriously, it's that good.
Are there foods you love now that you used to hate? I wasn't picky as a kid, but there were some foods I didn't love – blueberries (I know, crazy), oatmeal, Brussels sprouts. I think I ate Brussels sprouts through angry tears when my mom cooked them for dinner. Oh, if only I could tell myself that things would be different 10 years later…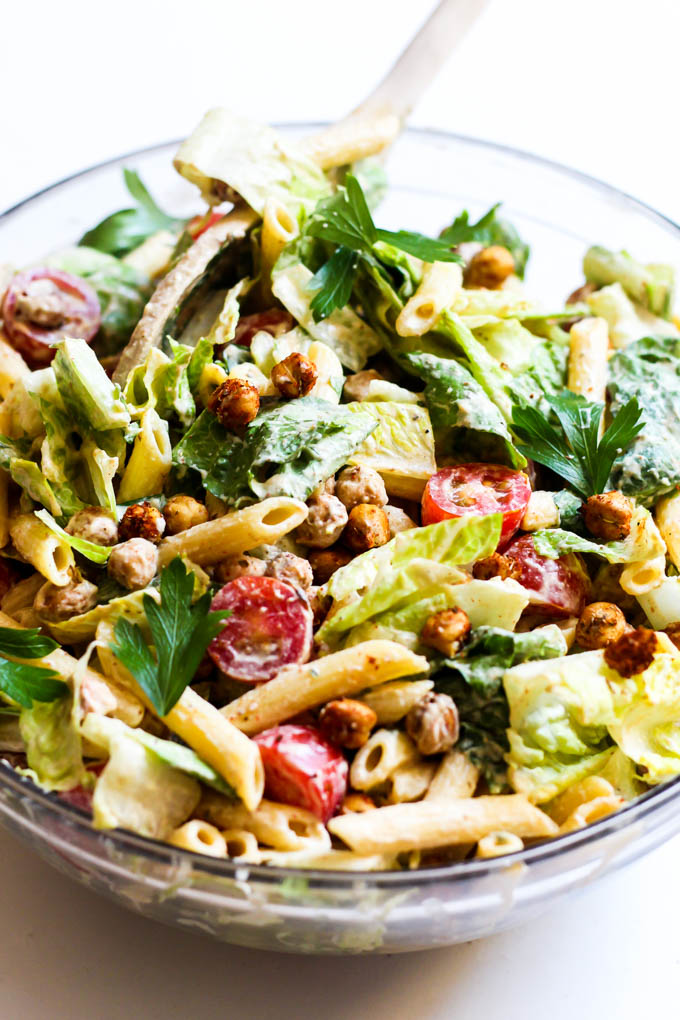 I hope you don't hate me for another pasta salad recipe. This is just what happens when you have 4924380 boxes of pasta in your pantry and you're moving in two months. Does anyone want to come over and help me eat all this food?? You can be my taste testing assistant. 😉
Pasta salad really is a great dish to make for a balanced meal! There are so many different combinations to experiment with, like my Avocado Caprese Pasta Salad, Hemp Ranch Pasta Salad, and Creamy Mexican Pasta Salad.
Here's my recipe for the perfect balanced pasta salad:
Complex carbohydrates from pasta, gluten-free if necessary (any shape works!)
Beans for protein & fiber
Leafy greens such as romaine lettuce, spinach, or kale
Vegetables such as carrots, tomatoes, cucumbers, radishes, corn, and peas
Healthy fats from a creamy dressing made with nuts or avocado
Fun toppings like coconut bacon, vegan parmesan, and fresh herbs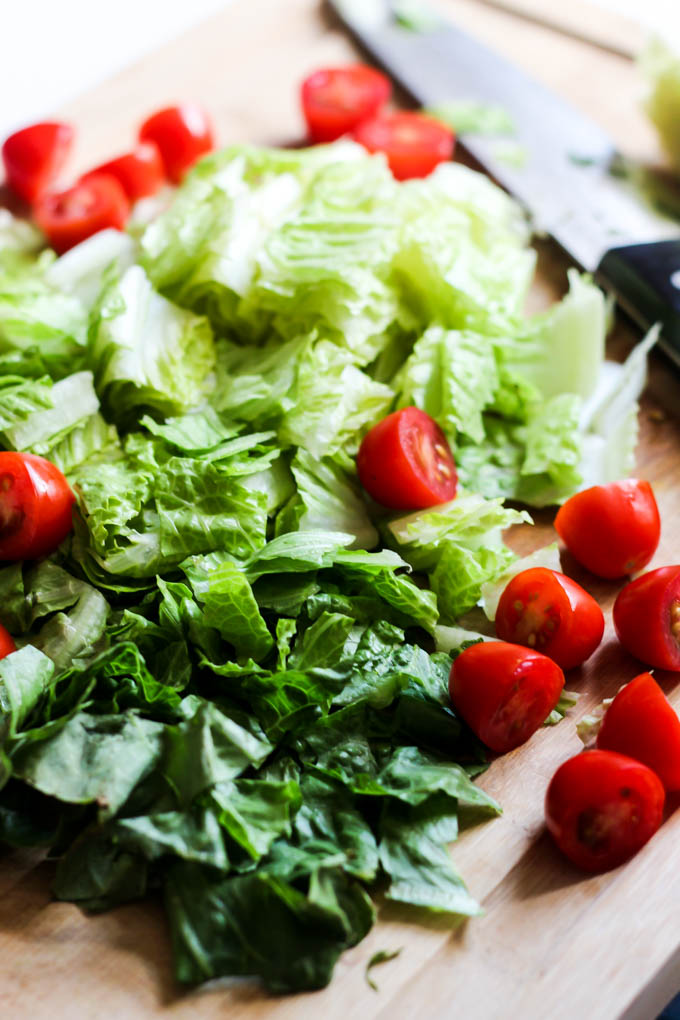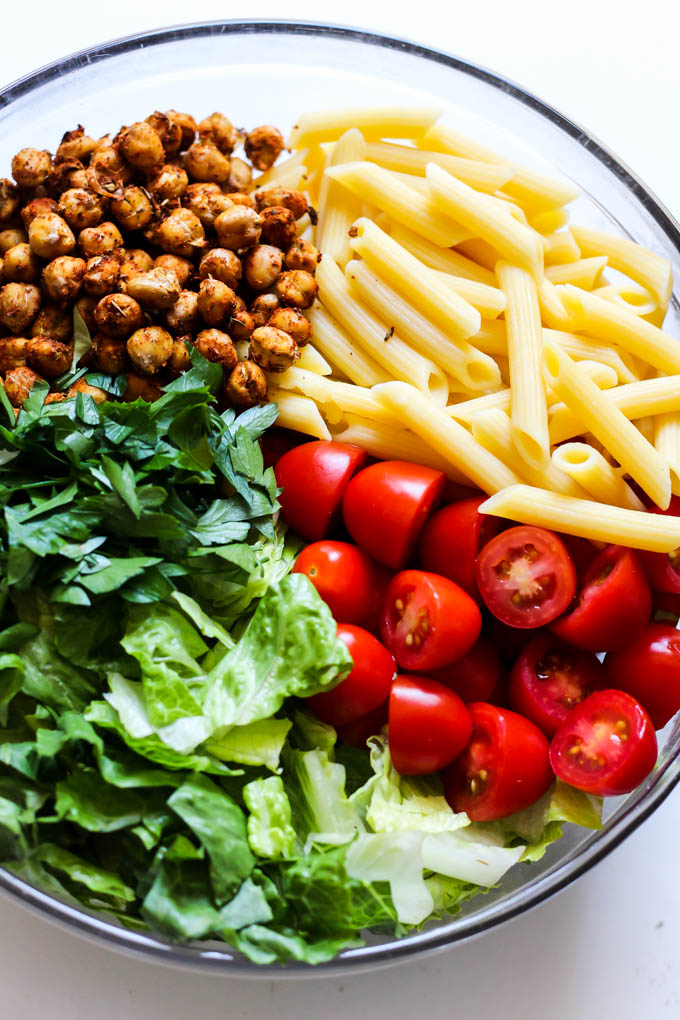 Now that you've got my super simple recipe for a pasta salad, let's talk about this one right here. 👆🏼
My favorite recipes to make and blog about are the ones that resemble classic dishes that people love. I feel like that's the core of my blog – to show you that you can make healthy versions of your favorite recipes! This Caesar pasta salad is just as full of hearty ingredients and creamy dressing as the original version, but this one is vegan, dairy-free, and gluten-free (if you use gluten-free pasta). Plus, the crispy chickpeas are like croutons!
Feel free to make a double batch of the Caesar dressing to have extra for vegan Caesar salads or Caesar salad wraps! I used my go-to nut milk Silk Unsweetened Almondmilk to make the dressing extra creamy and rich. What I love about Silk is that their products are affordable, accessible, and very versatile. You can also use their Unsweetened Soymilk or Unsweetened Cashewmilk in this recipe!
Oh, exciting news! You can get a coupon for any Silk product by signing up for their email list. Go get it!!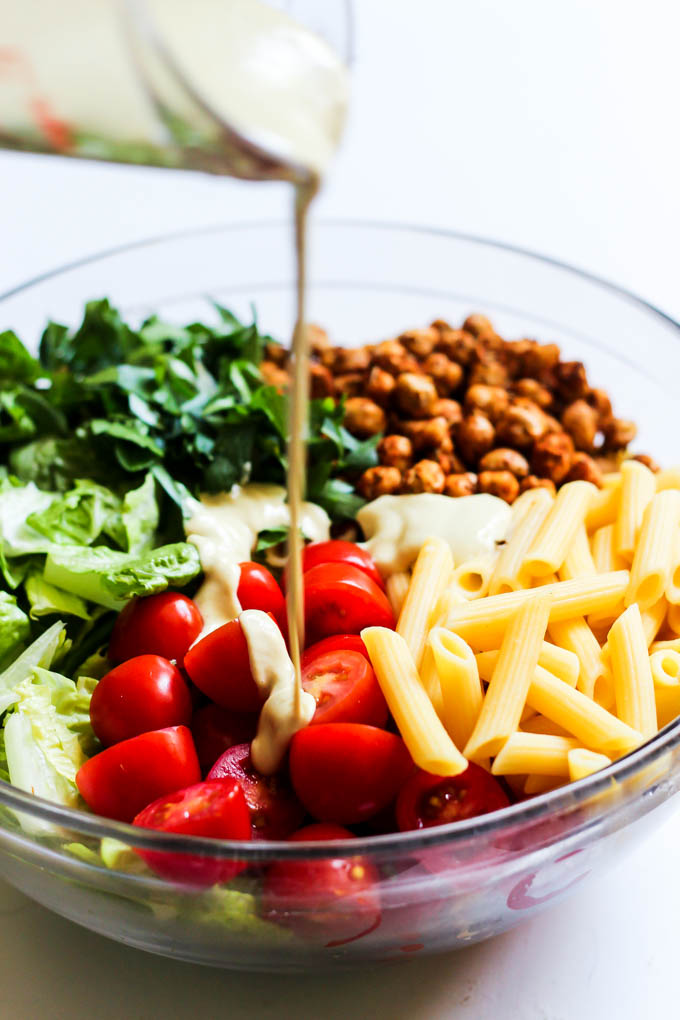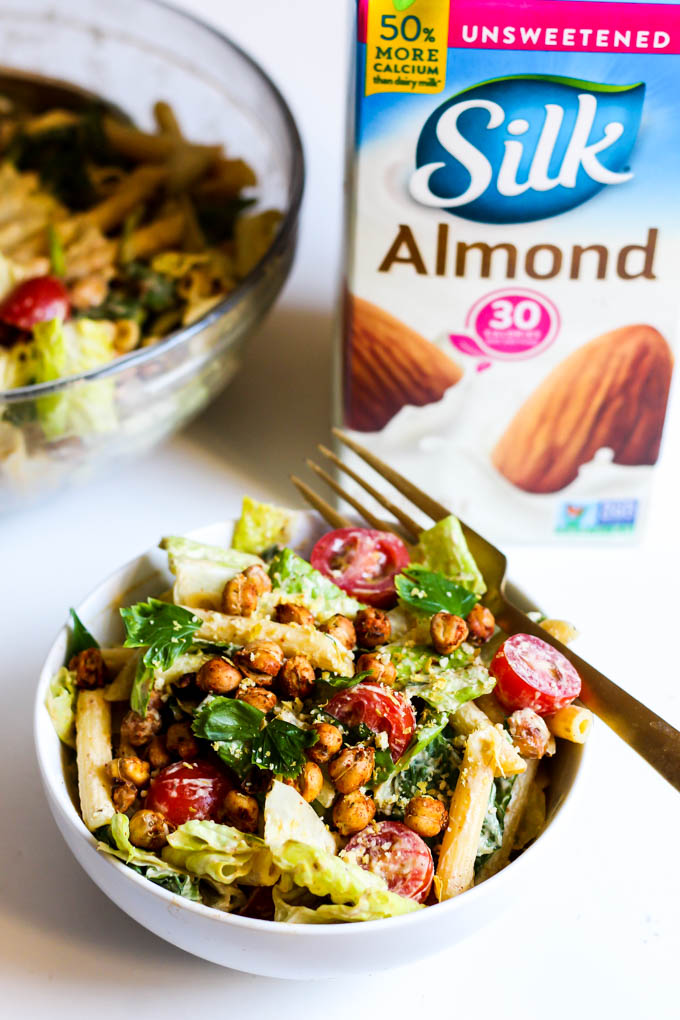 I enjoy having this Caesar pasta salad as a main meal, and I can easily pack it for on-the-go lunches! It would also be great as a side dish to feed a crowd. I've got you covered for all your summer cook-outs!
If you make this recipe, leave a comment or shoot me an email and let me know how you like it! All of you creamy salad dressings lovers – this one is for you.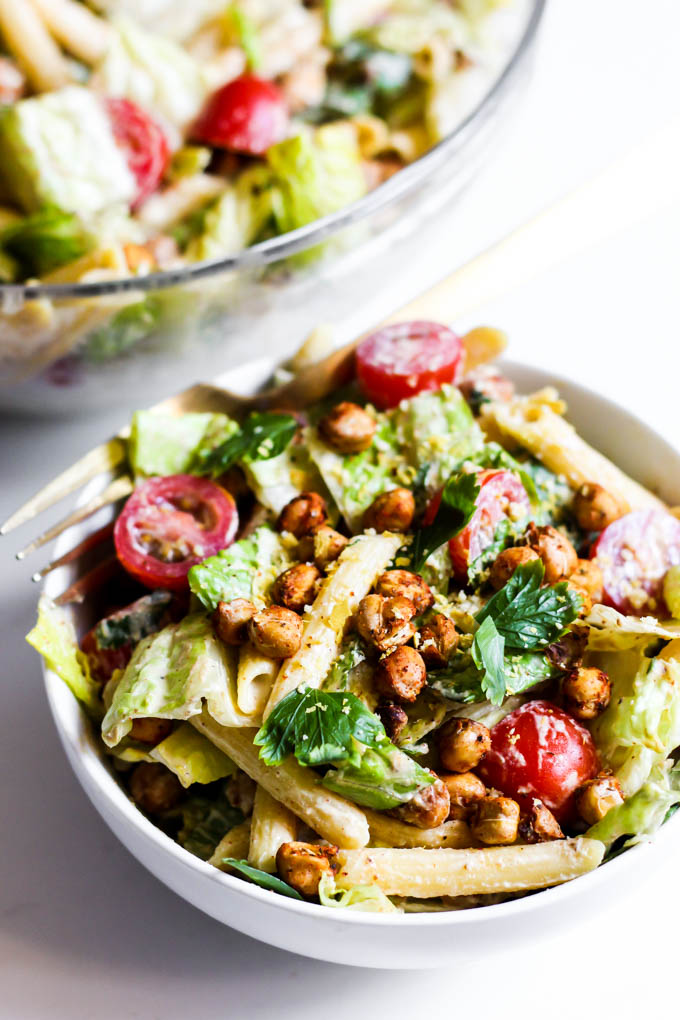 Print
How to make:
Chickpea Caesar Pasta Salad (vegan & gluten-free)
A classic dish with a twist, this vegan Chickpea Caesar Pasta Salad is full of creamy Caesar dressing and crunchy chickpea croutons! A great side or entree.
Ingredients
1

15-ounce can chickpeas, drained and rinsed
Cooking spray

1 teaspoon

smoked paprika

1 teaspoon

garlic powder

1/2 teaspoon

dried oregano
Salt and pepper

8 ounces

dry pasta (any shape)

4 cups

romaine lettuce, chopped

2 cups

grape or cherry tomatoes, halved

1/4 cup

fresh parsley, chopped

1/2 cup

raw cashews, soaked overnight and drained

1/2 cup

Silk Unsweetened Almondmilk

2 tablespoons

nutritional yeast

2 tablespoons

lemon juice

1 tablespoon

capers

2 teaspoons

Dijon mustard

1 teaspoon

miso paste

2

cloves garlic
Vegan parmesan*
Instructions
Preheat oven to 425F. Lightly grease a baking sheet.
After draining and rinsing chickpeas, pat dry. Add to baking sheet; spray with a bit of cooking spray. Sprinkle on the paprika, garlic powder, oregano, salt, and pepper. Stir chickpeas with a wooden spoon to coat evenly.
Bake for 15 minutes, until crispy.
Meanwhile, cook pasta according to package directions. Drain and rinse.
In a large bowl, add lettuce, tomatoes, parsley, pasta, and chickpeas, reserving some for topping. Stir to combine.
In a blender or food processor, add cashews, almond milk, nutritional yeast, lemon juice, capers, mustard, miso, garlic, and 1/4 teaspoon each salt and pepper. Blend until completely smooth.
Pour the dressing over the salad. Stir until all ingredients are evenly coated.
Top with additional chickpeas and vegan parmesan and serve!
Notes
*For the vegan parmesan: In a blender or food processor, add 1/4 cup cashews, 2 tablespoons nutritional yeast, 1/2 teaspoon garlic powder, and 1/4 teaspoon salt. Blend until the cashews are finely crumbled. Store in the fridge for up to 5 days.
This is a sponsored conversation written by me on behalf of Silk. The opinions and text are all mine.
Comments submitted may be displayed on other websites owned by the sponsoring brand.