Hey! Hey! YOU. Yes, you, dear reader. I have something super exciting today! And it's all for you because I just love you so darn much.
Actually I have two things. First, I'm sharing a seriously satisfying recipe for Avocado Pesto Pasta with Roasted Chickpeas. Make it – you'll want it for literally every meal every day. Second, this recipe is included in a free eBook that I made for you Internet friends. It's got 5 vegan dinner recipes that only take 1 hour or less to prepare – that's prep time, cooking time, and probably eating time because it'll take you about 7 seconds to inhale a bowl full of one of these. They're that good.
I'm really excited because I KNOW how hard it is sometimes to find dinner recipes you can whip up when you're crunched for time, or when you'd rather spend your night watching Making a Murderer on Netflix (anyone else?) than slave away in the kitchen. We all need quick, easy recipes we can add to our rotation when we think, OMG what the heck am I going to make for dinner tonight?!
A couple weeks ago I asked you guys to fill out a reader survey, and I loved reading your responses! Thanks to everyone who gave me feedback – this site is ultimately to help YOU live a healthier life, so I want to do anything and everything I can for you.
Many of you said that you loved easy dinner recipes that only take 1 hour to cook. Well, I was so happy to receive that feedback because I was in the middle of working on this eBook when I read the responses. So basically, I can read your minds?
HERE YOU GO! These 5 recipes are now in my meal rotation because they're quick✔️, use common ingredients✔️, healthy✔️, and downright tasty AF✔️. Plus, they're all vegan and can be made gluten-free! Scroll to the bottom of the post to get your eBook NOW!
I hate to pick favorites, BUT this Avocado Pesto Pasta with Roasted Chickpeas is probably my favorite recipe in the eBook! First, avocado. You can't go wrong with that. Then you add pesto, pasta, and roasted chickpeas and you're just like, is this heaven?
All you do is roast the chickpeas, cook the pasta, make the sauce, and voila! Mix it all together and call it dinner. It's also great cold for leftovers the next day!
If you're gluten-free, feel free to use your pasta of choice, or even spiralized veggies! I used Banza chickpea pasta, which is pretty much my favorite thing ever of all time. My life motto is "you can never eat too many chickpeas." Inspirational, right?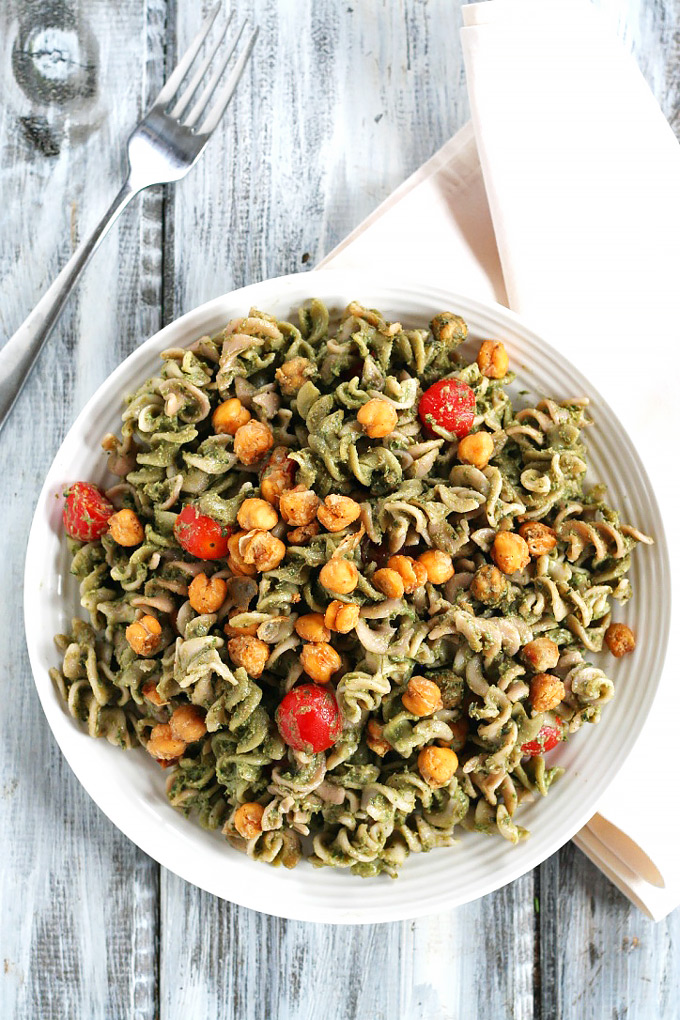 I don't know if I say this enough, but I just want to say thank you. Thank you for reading this little blog of mine, for cooking the recipes, sharing them with your loved ones, interacting with me, and allowing me to do something I truly love. I would have never guessed when I started this blog that I would be writing an eBook, or that someone would be tagging me in a picture of my muffins they made for their 4 year old's birthday. Ugh, that one melts my heart.
I hope you get your copy of the eBook and love the recipes. I understand we all have some sort of obstacle – work, school, family life – fighting our healthy lifestyle. I just want to make it as easy as possible for you to be healthy and happy!
Get ready for more fun things like this in the future! Let me know if you make one of the recipes from the eBook, or tag me in a picture on social media! I love to see what you all cook.
To get your eBook, CLICK HERE. Enjoy, friends!
Print
How to make:
Avocado Pesto Pasta with Roasted Chickpeas + A Free eBook!
Looking for a dinner that's done in under one hour? This Avocado Pesto Pasta is creamy and satisfying, and the roasted chickpeas take it to the next level.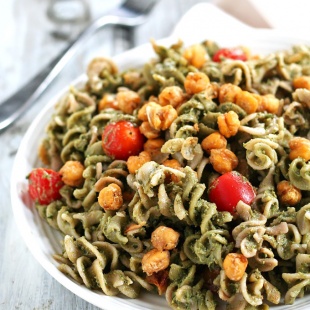 Ingredients
2

cans chickpeas, drained and rinsed

1 tablespoon

+

2 teaspoons

olive oil, divided

1 teaspoon

garlic powder

1/2 teaspoon

onion powder

1 1/2 teaspoons

salt, divided

3/4 teaspoon

black pepper, divided

12 ounces

pasta (gluten-free, if necessary)

2

large avocados, peeled and seeded

2/3 cup

fresh basil, packed

1/2 cup

spinach, packed (optional)

2 tablespoons

walnuts

2 tablespoons

fresh lemon juice

2 tablespoons

unsweetened almond milk

3

cloves garlic, minced (about

1 1/2 teaspoons

) 1 cup cherry tomatoes, chopped in half
Instructions
Preheat the oven to 400°F and lightly grease a baking sheet.
Pat the chickpeas completely dry; place in a large bowl. Add 2 teaspoons olive oil, garlic powder, onion powder, 1/2 teaspoon salt, and 1/4 teaspoon pepper. Mix well until chickpeas are evenly coated.
Pour the chickpeas on the baking sheet in a single layer. Bake for 40-45 min- utes, until the chickpeas are crispy.
Cook pasta according to package directions; drain and place back into pot.
In a food processor or blender, place avocados, basil, spinach, walnuts, lemon juice, milk, garlic, 1 teaspoon salt, and 1/2 teaspoon pepper. Blend until smooth. 6. Pour avocado sauce in the pot with the pasta. Add tomatoes and chickpeas; stir well to combine.