Dessert for breakfast! This creamy banana smoothie bowl is a decadent & healthy way to start the day. Learn how to make a thick smoothie bowl, and don't forget to load on the toppings! Made in partnership with ALOHA!
Banana Cream Pie Smoothie Bowl
I must admit: I have really been slacking on my smoothie bowl game lately, which is totally unacceptable considering it's about 90ºF every.single.day. How is it where you are? Not only is it HOT here, but it's also very humid – cue lots of sweat, frizzy hair, and cold beverage cravings.
You'd think that I'd be having smoothie bowls on repeat this summer, right? Apparently my mind hasn't been screwed on right lately, because I can probably count how many I've had this summer on one hand!
Lately I've been relying on lots of avocado or peanut butter toast, microwave English muffins, microwave oatmeal, and other random combinations I can throw together in 5 minutes. That's great and all, but it's time for some more SMOOTHIE BOWLS.
The flavor we're making today is insane, y'all: Banana Cream Pie Smoothie Bowl. So yes, dessert for breakfast. Grab a spoon and let's dig in! 🍌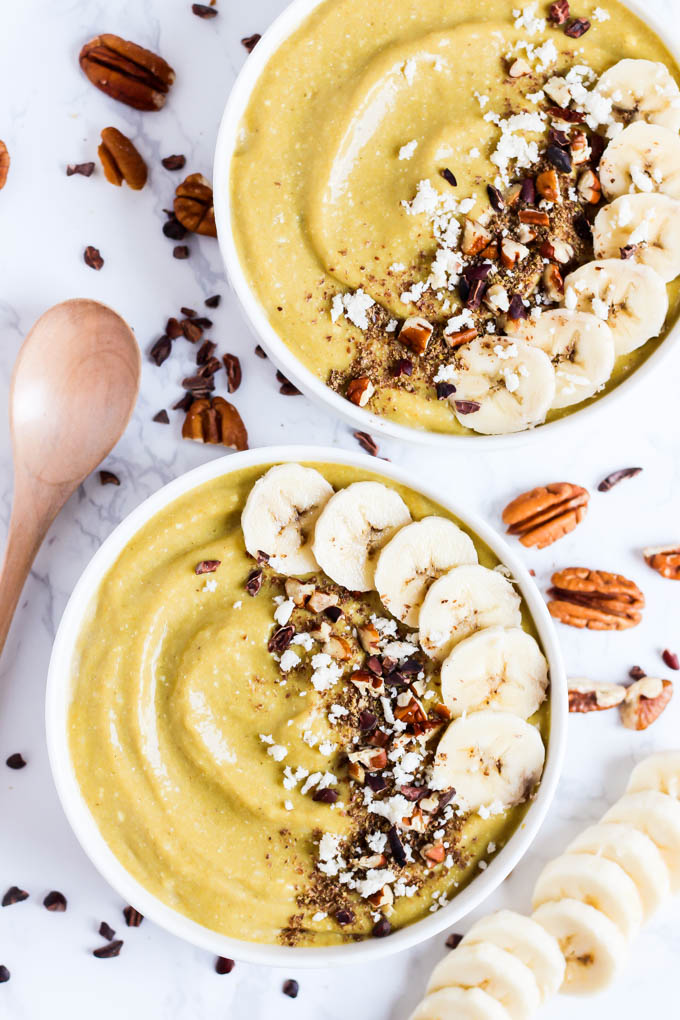 Ingredients for a Banana Smoothie Bowl
You just need a handful of ingredients for this decadent banana cream pie smoothie bowl. Less ingredients = less time digging through your freezer = more time back in your morning! Here's what you'll need:
Bananas. They have to be frozen if you want a thick smoothie bowl!
ALOHA Banana Protein Powder. The protein powder also helps make our banana smoothie bowl nice and thick, but also helps make it more balanced and satiating.
Frozen cauliflower. I know what you're thinking – "CAULIFLOWER?!" But yes, you have to trust me. You will not taste it and it adds more fiber and nutrients to our banana smoothie bowl.
Coconut milk. I'm talking about the stuff that comes in a can, not in a carton! Coconut milk that comes in a carton is much more diluted than what you get in a can, which means you'll get a more watery smoothie bowl with less of that creamy, decadent flavor we're going for. We want a nice thick smoothie bowl that tastes like a banana cream pie, so go for full-fat canned coconut milk!
Non-dairy milk or water. I know we JUST talked about using canned coconut milk over a carton, but we do need a little more liquid to get our banana smoothie bowl going in the blender or food processor. Water or plant-based milk will work!
Ground turmeric. For one, this gives our smoothie bowl a beautiful golden color, but it also gives it a grounding, subtle spiced flavor.
Optional toppings. But let's be real, it's a smoothie bowl, so are toppings really optional? I recommend chopped pecans, flax meal, coconut flakes, and cacao nibs, but you do you!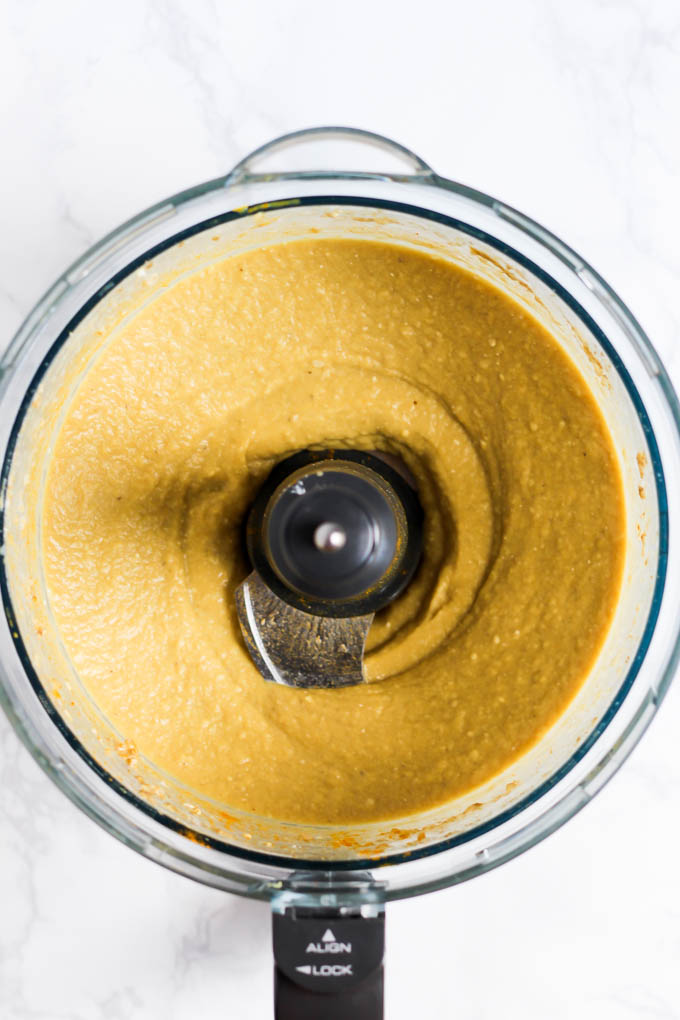 How to Make a Thick Smoothie Bowl
First things first, stop reading this post and go freeze whatever ripe bananas you have RIGHT NOW. I always have frozen bananas on hand for banana ice cream, banana ice cream CAKE, oatmeal and of course super thick smoothie bowls!
When frozen bananas are blended or put into a food processor, they not only break down and puree, but also whip up into a super thick and creamy consistency, which is exactly what we're going for in this banana cream pie smoothie bowl. A room-temperature banana is not going to get you there, so your bananas have to be frozen.
The second key is incorporating a protein powder. Protein powders are water soluble, so they'll help absorb some of the liquid to create a super thick smoothie bowl! The ALOHA banana protein powder I used in this recipe was perfect for getting a thick banana smoothie bowl.
Finally, this one is super annoying, but it's true – you need the right appliance and some patience. If your blender isn't strong enough, you will have to continue to add more and more liquid just to get your smoothie to blend. If you don't have a super powerful blender, I recommend using a food processor instead, which is exactly what I use! A food processor will most likely do a better job if you tend to struggle with your blender needing a ton of liquid to get things moving.
How to Make Healthy Smoothie Bowls
I love a smoothie or smoothie bowl for breakfast, but sometimes they just don't leave me feeling satiated. It can be challenging to know how to build balanced, healthy smoothie bowls that will keep you feeling full, but that's why you've got me!
There are four things I like to make sure are included in my smoothie bowls to ensure that I won't feel hungry in 20 minutes:
Fruit. Duh! Bananas, berries, mango, pineapple – it's all fair game! But if your smoothie is nothing but fruit, you'll likely be left feeling not totally satisfied. That's where the the next few tips come in!
Vegetables. I love to add veggies to my smoothies to round them out. Including something like greens or cauliflower will add more fiber, vitamins and minerals. This is also a great way to minimize food waste! If you roasted a head of broccoli or cauliflower for dinner, don't throw the stalks away! Cut it up into chunks, throw it in the freezer and use it in your smoothies!
Healthy Fats. Not only is a healthy source of fat going to help make your smoothie bowl thick, but it will also make it more filling. Nuts, seeds, avocados, nut butter, and full-fat coconut milk are all great options!
Protein. This is where nuts, seeds and nut butter can be a double-whammy! I also love adding a scoop of vegan protein powder to help make an extra thick smoothie bowl.
If you're looking for a good go-to protein powder, I highly recommend trying the ALOHA line because the ingredients are high quality & sustainably sourced, and there are no artificial ingredients in the powders. I also love that there are 200 mg of omega-3s in a serving, which we could all use a little more of!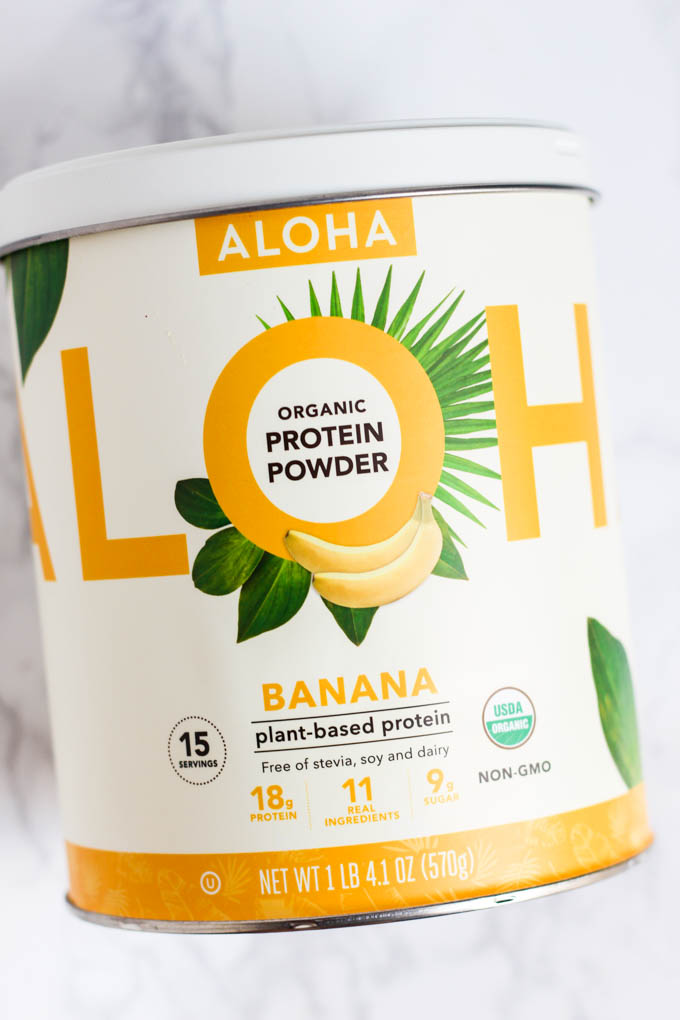 More Smoothie Bowl Recipes
Grab your blender and mix up your mornings with more delicious smoothie bowl recipes. Check out these vegan smoothie bowl recipes if you're looking for more inspiration.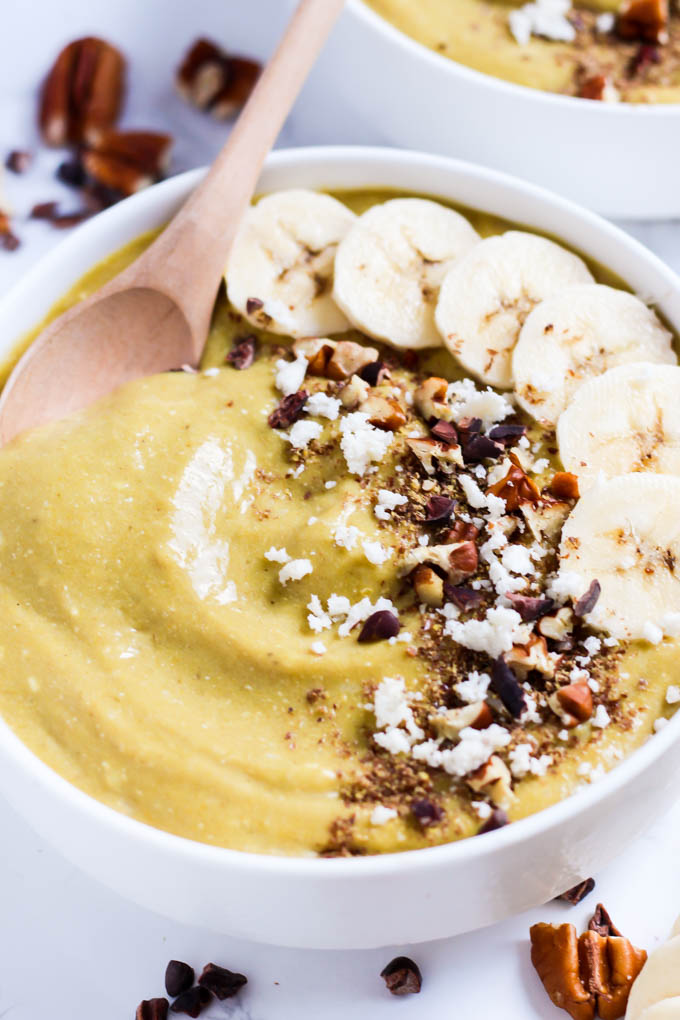 Print
How to make:
Banana Cream Pie Smoothie Bowl
Learn how to make a thick smoothie bowl with this creamy banana smoothie bowl recipe. It's a decadent & healthy way to start the day!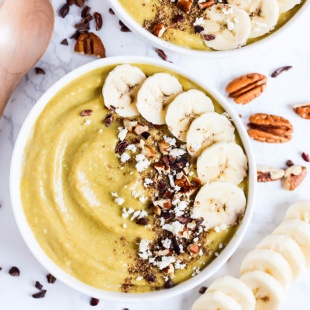 Ingredients
2

bananas, frozen

2

scoops ALOHA Banana Protein Powder

1 cups

cauliflower florets, frozen*

1/2 cup

light or full-fat coconut milk

1/4 cup

unsweetened non-dairy milk or water

1 teaspoon

ground turmeric
Optional toppings: chopped pecans, flax meal, coconut flakes, cacao nibs
Instructions
In a blender or food processor, add all ingredients except toppings. Blend until completely smooth, adding more liquid if necessary.
Divide between two bowls and top with desired toppings.
Thanks to ALOHA for sponsoring this post! I love working with brands whose products I really love and would honestly recommend. Thank you for supporting this blog that I love oh-so-much!
SaveSave
SaveSave