Dessert for breakfast! This creamy Banana Cream Pie Smoothie Bowl is a decadent & healthy way to start the day. (vegan & gluten-free) Made in partnership with ALOHA!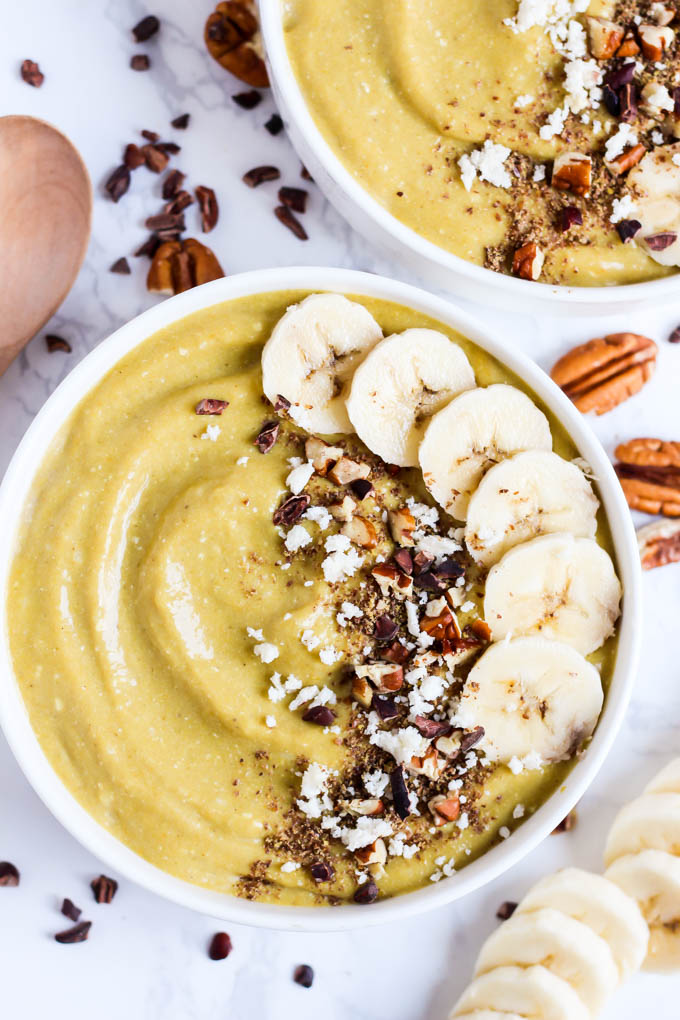 I must admit: I have really been slacking on my smoothie bowl game lately, which is totally unacceptable considering it's about 90ºF every.single.day. How is it where you are? Not only is it HOT here, but it's also very humid – cue lots of sweat, frizzy hair, and cold beverage cravings.
You'd think that I'd be having smoothie bowls on repeat this summer, right? Apparently my mind hasn't been screwed on right lately, because I can probably count how many I've had this summer on one hand!
I swear all the chemistry I'm studying is messing with my brain.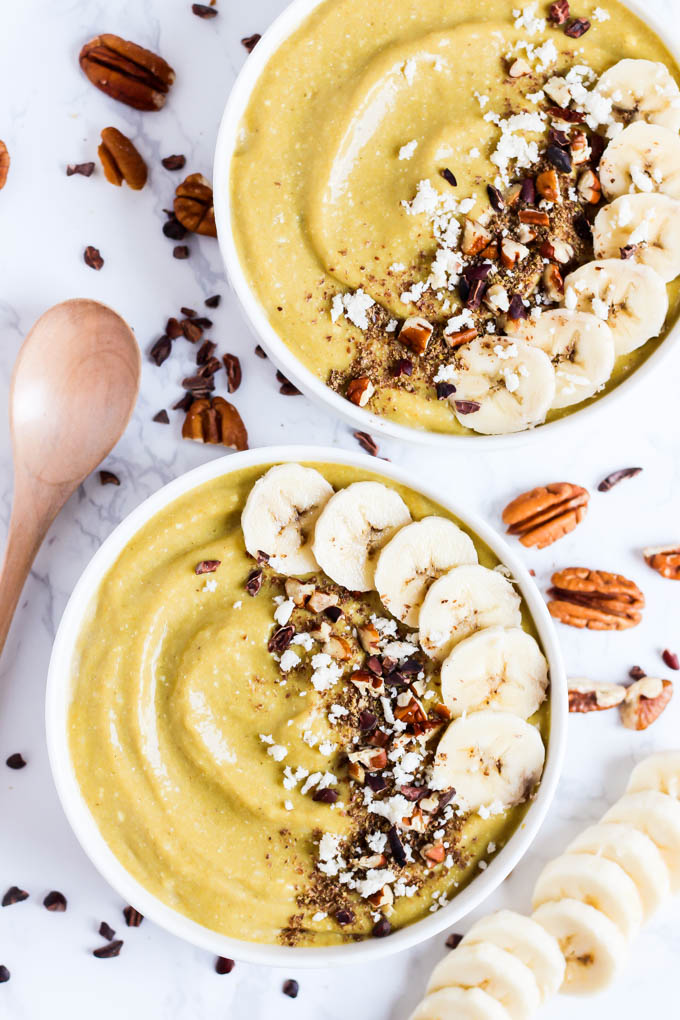 Maybe it's because I have to leave the apartment early to get to class and I don't have 30 minutes a day to finish a smoothie bowl. Plus an 10 minutes for decorating and picture-taking. #foodbloggerprobs
Lately I've been relying on lots of avocado or peanut butter toast, microwave English muffins, microwave oatmeal, and other random combinations I can throw together in 5 minutes. That's great and all, but it was time for some more SMOOTHIE BOWLZ.
The flavor we're making today is insane, y'all: Banana Cream Pie Smoothie Bowl. So yes, dessert for breakfast. Grab a spoon and let's dig in! 🍌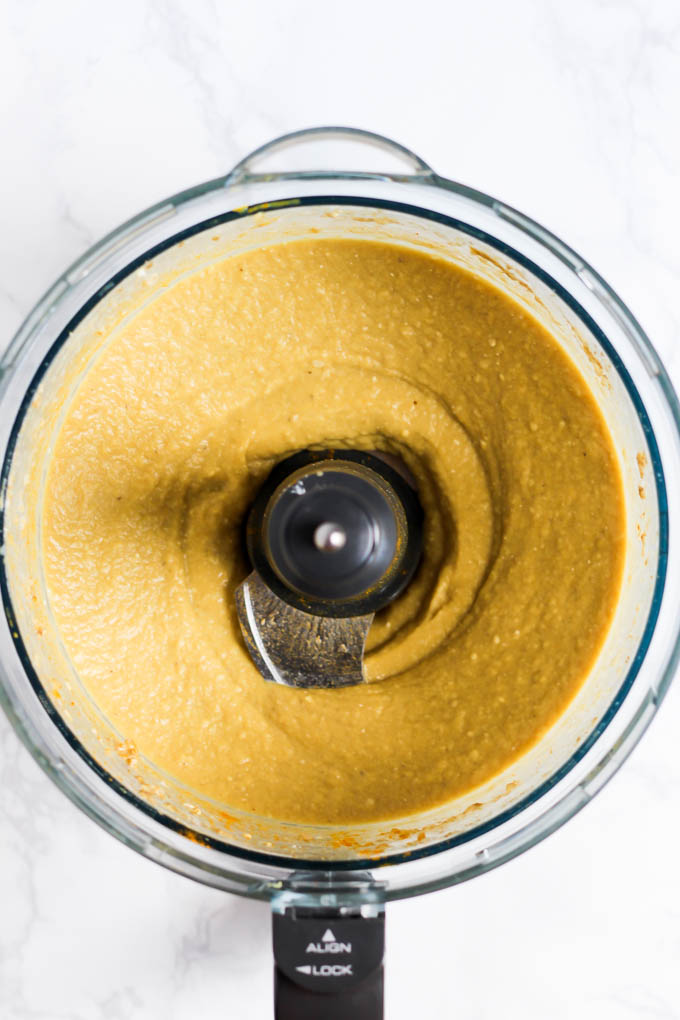 First things first, stop reading this post and go freeze whatever ripe bananas you have. I always have frozen bananas on hand for smoothie bowls, banana ice cream, banana ice cream CAKE, oatmeal and much more!
You just need a handful of ingredients for this decadent banana cream pie smoothie bowl: bananas, frozen cauliflower (you can't taste it!), canned coconut milk, turmeric (for color & extra #health), and ALOHA Organic Banana Protein Powder to give it an extra dose of yummy banana flavor!
If you're looking for a good go-to protein powder, I highly recommend trying the ALOHA line because the ingredients are high quality & sustainably sourced, and there are no artificial ingredients in the powders. I also love that there are 200 mg of omega-3s in a serving, which we could all use a little more of!
(Also, if you're a tea lover like me, the ALOHA teas are delicious! I love having a cup of the Sleep blend before bed☺️)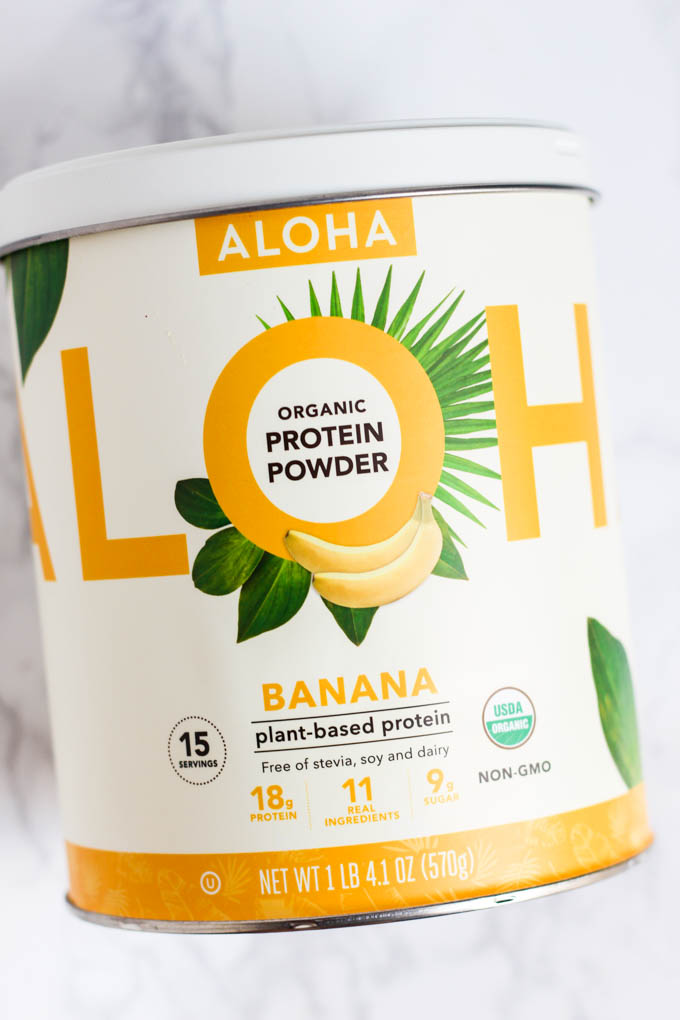 Now that I think about it, I don't think I've ever had a slice of real banana cream pie. Which may need to change soon.
Until then, this Banana Cream Pie Smoothie Bowl will do!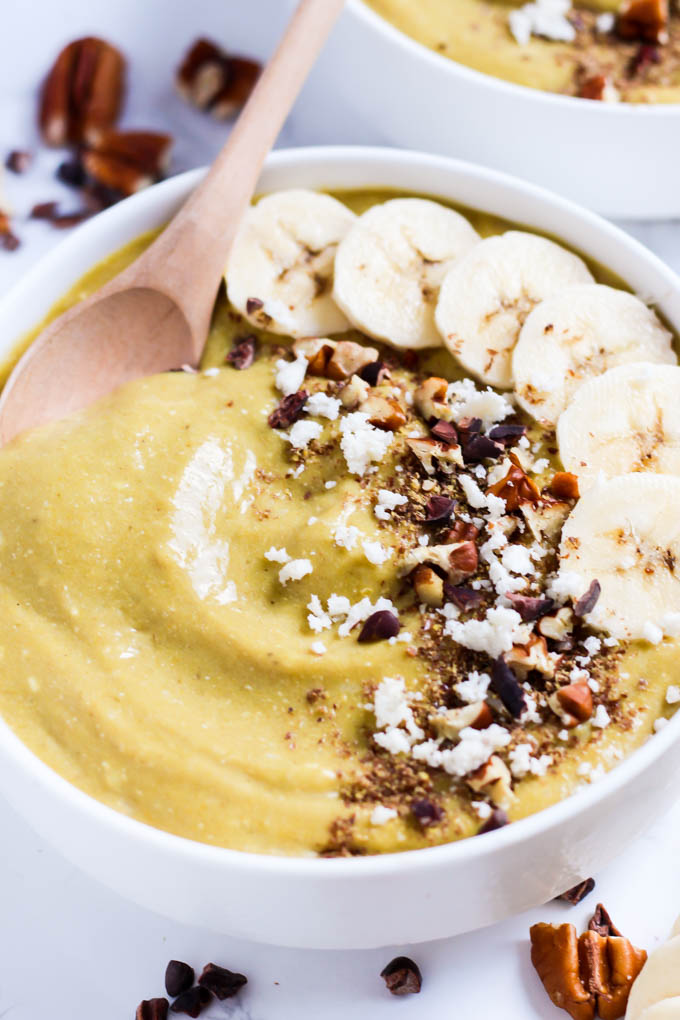 Print
How to make:
Banana Cream Pie Smoothie Bowl (vegan & gluten-free)
Dessert for breakfast! This creamy Banana Cream Pie Smoothie Bowl is a decadent & healthy way to start the day. Load on the toppings! (vegan & gluten-free)
Ingredients
2

bananas, frozen

2

scoops ALOHA Banana Protein Powder

1 cups

cauliflower florets, frozen*

1/2 cup

light or full-fat coconut milk

1/4 cup

unsweetened non-dairy milk or water

1 teaspoon

ground turmeric
Optional toppings: chopped pecans, flax meal, coconut flakes, cacao nibs
Instructions
In a blender or food processor, add all ingredients except toppings. Blend until completely smooth, adding more liquid if necessary.
Divide between two bowls and top with desired toppings.
Thanks to ALOHA for sponsoring this post! I love working with brands whose products I really love and would honestly recommend. Thank you for supporting this blog that I love oh-so-much!
SaveSave
SaveSave