Who else is jumping for freaking joy now that spring has finally sprung?! Hellooooo to longer days and basking in the sun and berries galore and so much more to look forward to. I mean, how can you not love spring? Plus, my 21st birthday is this month – and I'm celebrating all month, thx very much.
Another reason to get excited – carrot cake everything. Cake, obvs, but also oatmeal, muffins (you guys love these), energy bites, and now carrot cake chia pudding! Call me a bunny rabbit, but I could have this every day🐰
I've never been seriously affected by seasonal depression, but I will say that the sun beaming down on me and the weather looking absolutely spectacular every day makes my mood 384038 times better. I find that on days I'm feeling down or anxious, all I need to get back to myself again is a nice walk or bike ride outside. There's just something about the warmth on your skin that warms your heart. Hey, maybe it's all that vitamin D!
I, for one, am super pumped about this new season and what's to come. I haven't really even given it much thought, but I'm turning 21 later this month (!!!) so that's exciting. Tbh I'm more excited about buying 21+ kombucha than I am about buying alcohol #priorities. Then, it's a quick week of finals before SUMMER! This means a few beach trips for us, some hiking/camping trips, and hopefully a trip somewhere cool this summer just 'cause.
Oh, and I'm taking summer school, but we'll just forget about that and act like I'll have no responsibilities this summer. A girl can dream, right?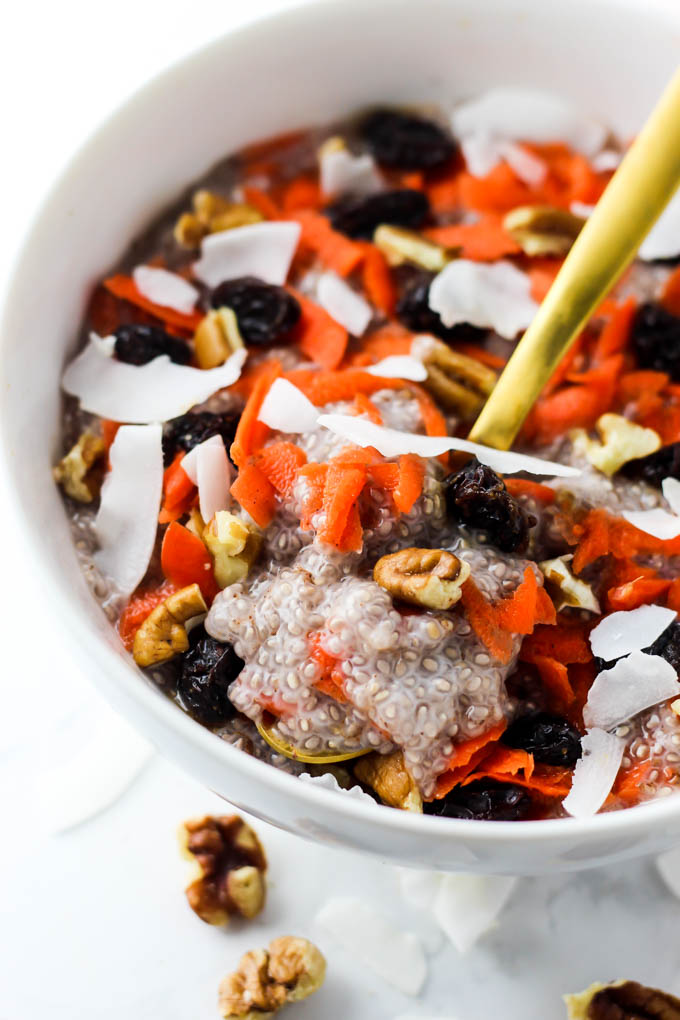 With spring finally springing into action, I needed a fun, bright recipe for you guys! I've been seeing so much beautiful produce at the farmer's markets lately that my heart could just explode. Louisiana strawberries have my heart. <3 I feel so inspired in the kitchen with all of these PLANTS.
The carrots right now are exceptionally fresh and sweet, so what says spring better than carrot cake?! Whoever first put these sweet orange gems in a cake with goodies like coconut, raisins, and cinnamon – props to you. Foodies everywhere thank you for your contribution.
One of my favorite things to do in the kitchen is take one flavor combo and use it in a million different ways. Take carrot cake, for example. I love making carrot cake oatmeal. These carrot cake muffins are one of the most popular recipes on the blog! Up next on my list are carrot cake energy balls. You could also make cookies, blondies, and plain ole carrot cake. This method means I never run out of recipe ideas. Woo!
Obvs carrot cake chia pudding had to happen because chia pudding & I are having a moment. This is one bomb breakfast that will keep you satisfied all morning, or all afternoon if you enjoy it as a snack.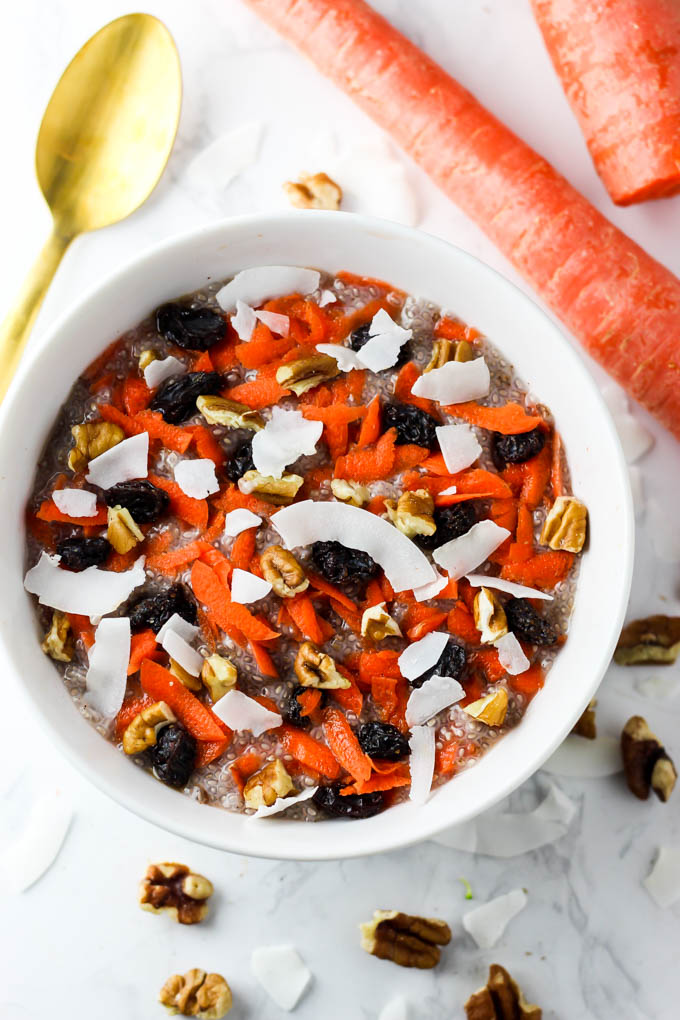 Are you a carrot cake person? Or do you rather your desserts sans veggies? You all know I love my sweets with hidden veggies, so I'm pretty biased toward carrot cake.
Let me know if you get to try this recipe for breakfast! I'd love to see your carrot cake chia pudding bowls on Instagram, so snap a sweet pic and tag me @emilieeats with #emilieeats.
Happy spring, friends! Get ready for some colorful recipes to brighten up your life🌺🍓☀️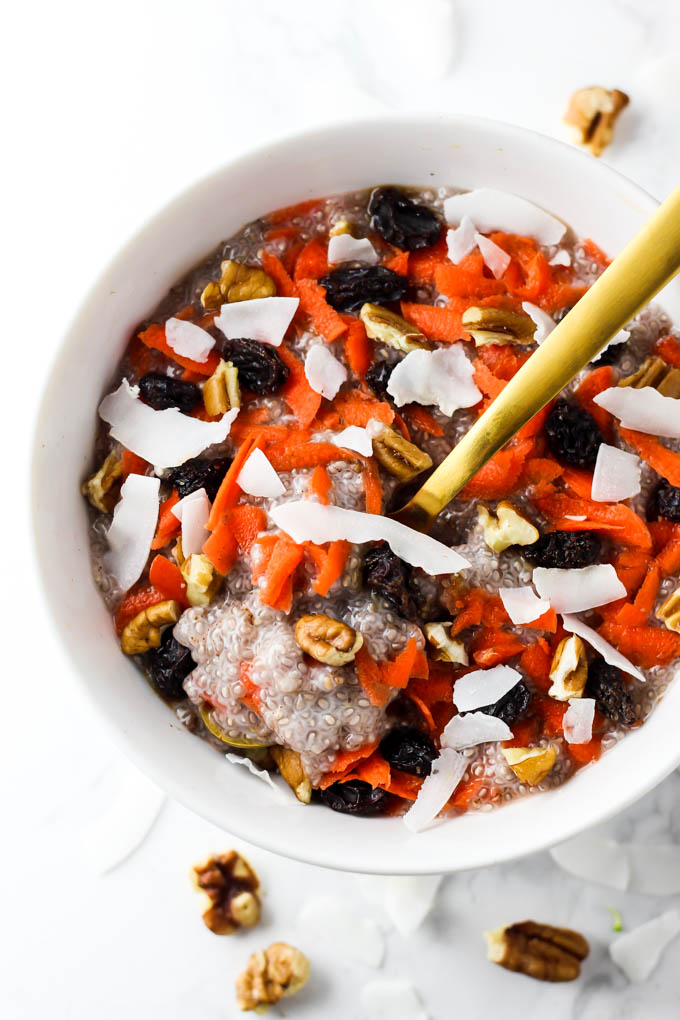 Print
How to make:
Carrot Cake Chia Pudding
Cake for breakfast? Of course! This Carrot Cake Chia Pudding is a decadent, healthy breakfast that will keep you satisfied all morning. Vegan & gluten-free!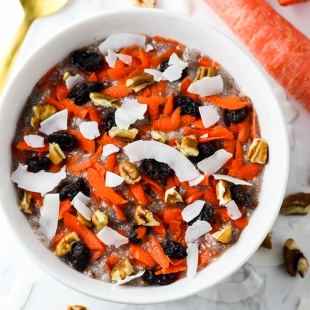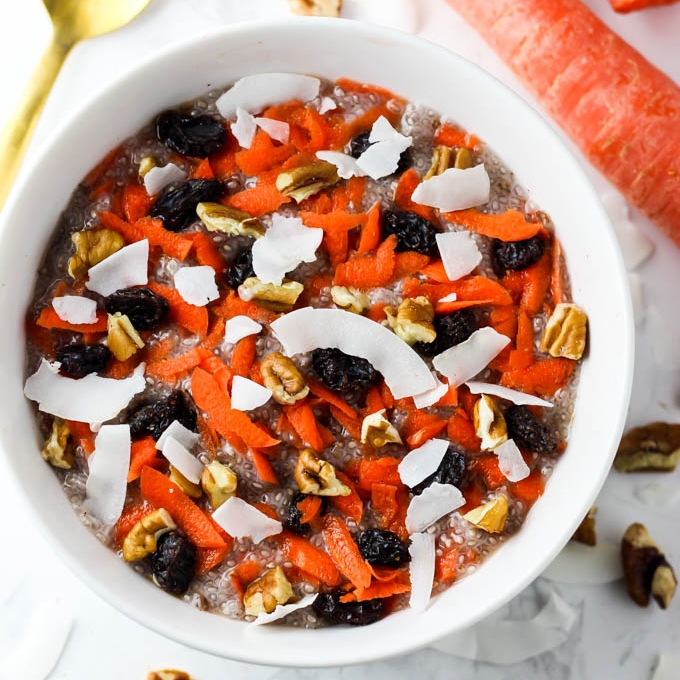 Ingredients
1/4 cup

chia seeds

1 1/4 cup

non-dairy milk*

1/4 cup

carrots, grated

1/2 teaspoon

vanilla extract

1/2 teaspoon

ground cinnamon

1/4 teaspoon

almond extract

1 tablespoon

pecans, chopped**

1 tablespoon

raisins

1 tablespoon

coconut flakes
Optional: sliced banana, plant-based protein powder, maple syrup
Instructions
In a bowl, add chia seeds, milk, carrots, vanilla, cinnamon, and almond extract. Stir to combine; place in the fridge overnight, or at least 4 hours.
When ready to eat, top with pecans, raisins, coconut flakes, and optional add-ins.
Notes
*I use a mix of water and non-dairy milk to cut costs.
**You can use whatever nut you prefer – pecans, walnuts, almonds, etc.