Share these Jalapeno Mango Margaritas with loved ones to celebrate any occasion! They're blended with real fruit that is balanced by spicy jalapeno.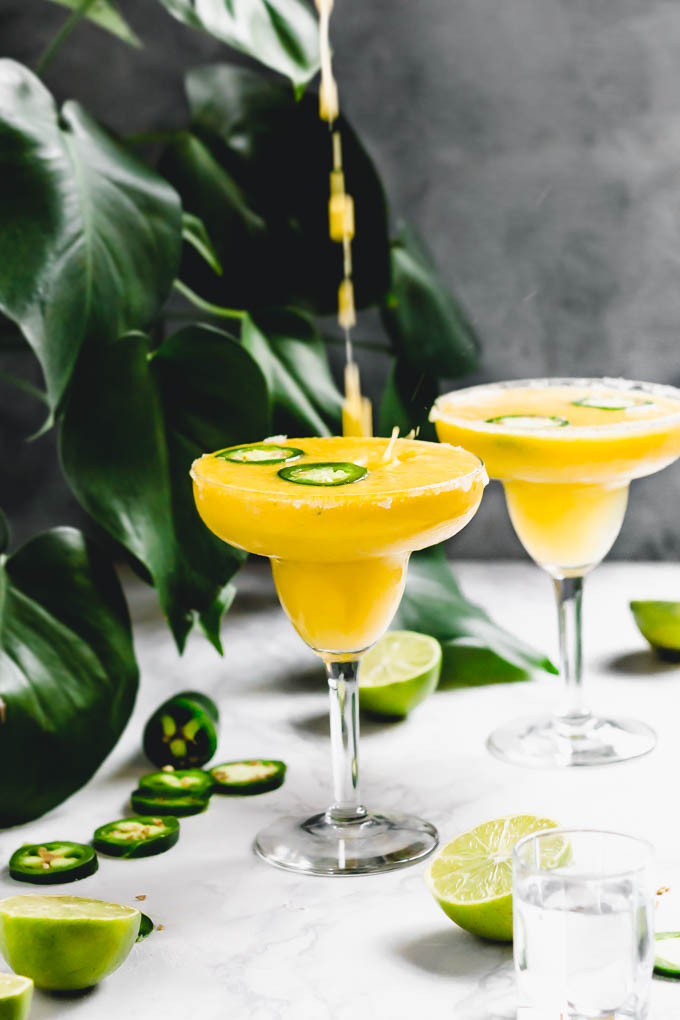 I wish I could invite you all over for jalapeno mango margaritas so we could chat and laugh and eat and celebrate. What are we celebrating, you may be asking?
Well, if you haven't noticed already… EMILIE EATS GOT A FRESH NEW LOOK!
Creating this new, beautiful, way more functional website has been almost two years in the making, and I'm so excited to finally introduce it to the world (or, at least you all who read this!).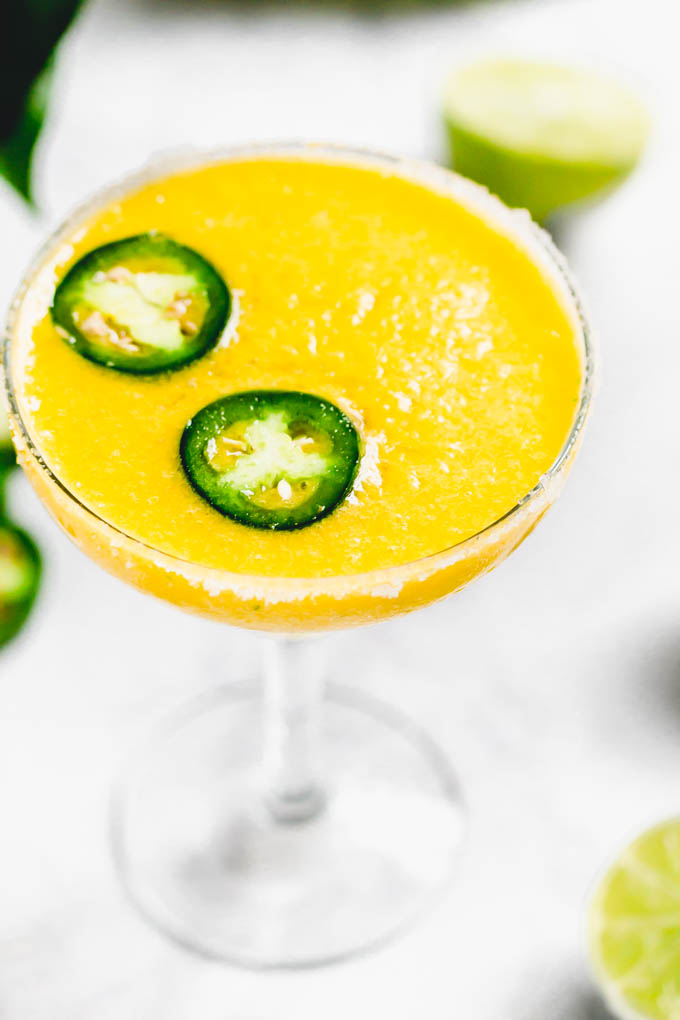 I started this blog way back in August 2015, with the intention of sharing my recipes with those who wanted to eat delicious plant-based food. It was truly just a hobby and a creative outlet for me.
Fast forward almost four years: sharing my plant-based recipes is still my bread and (vegan) butter. It's what I LOVE to do, and I hope to do it for as long as possible. The blog isn't a hobby anymore, it's my job. And I needed a website that reflected that.
I also wanted a website that would be easier for YOU to navigate. We've optimized and tweaked everything so that being on Emilie Eats is a positive, valuable experience.
Poke around the website and explore. My favorite feature is the recipe index: you can search my meal type, dietary preferences, and major ingredients – or some combination of those! Want to search for dinners that are gluten-free and contain mushrooms and beans? You can do that. IT'S SO COOL!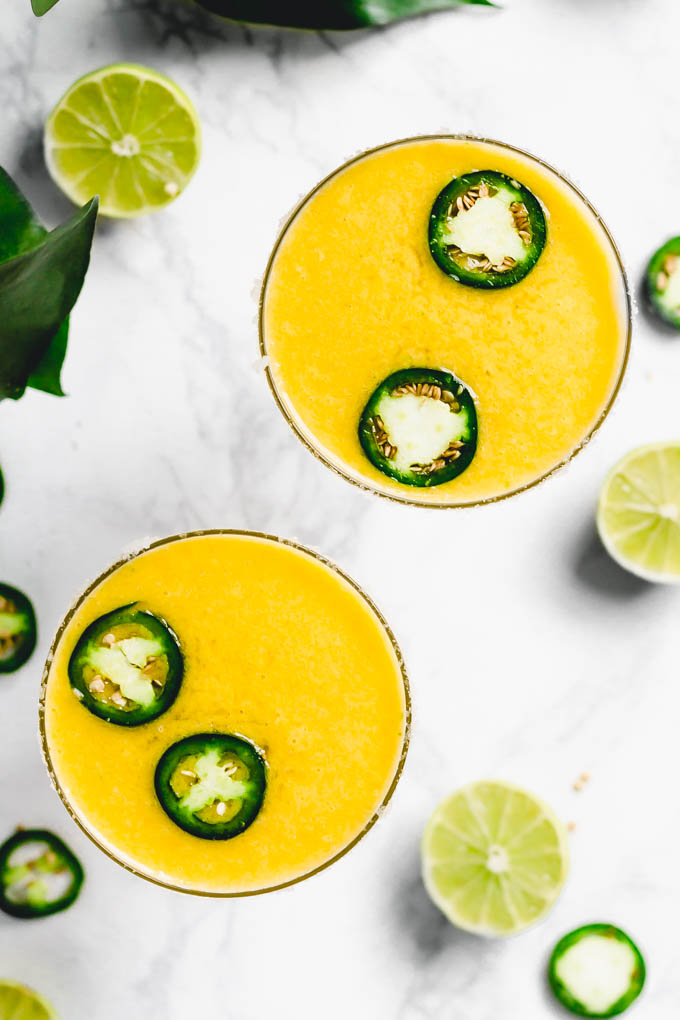 So on this beautiful spring Thursday, I'm celebrating this website launch and what I've been able to create and share through Emilie Eats. I'm also celebrating YOU, because without you sharing and making my recipes and commenting such nice things, I wouldn't be where I am right now. I appreciate you more than you know!
It's also my birthday Saturday (what a weekend!), so a spicy margarita is very much called for. Let's talk about these beauties!
The blend of sweet mango and jalapeno heat is divine in these margaritas. I could never pass on a classic margarita, but I love trying new flavors. This mango margarita recipe belongs in your cocktail rotation for sure.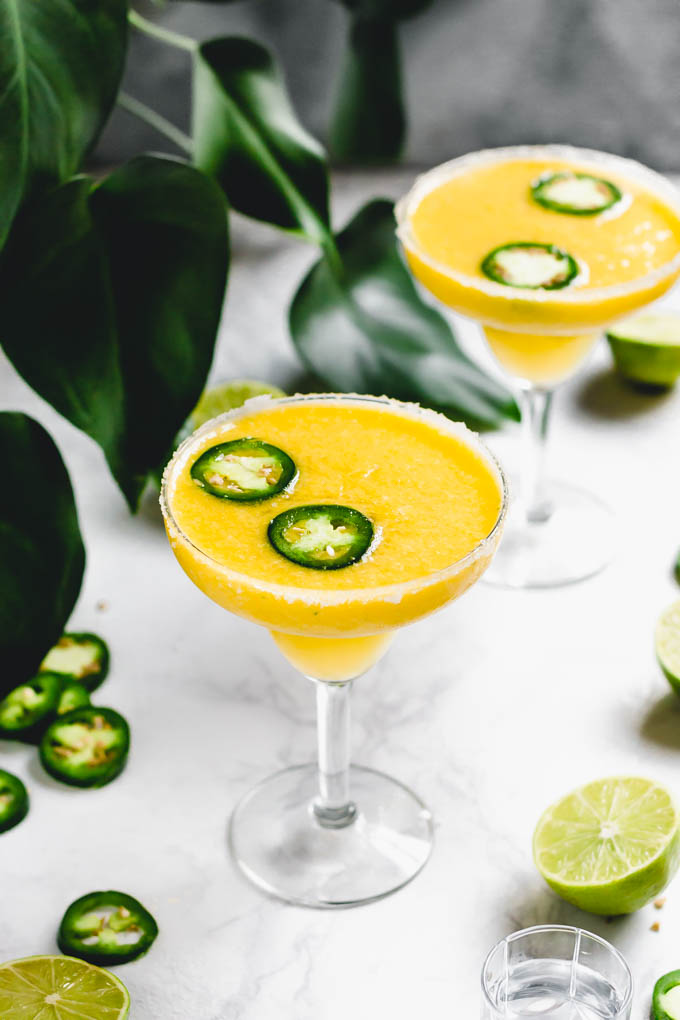 Simply blend fresh mango (they're nice and juicy right now in spring/summer) with all the classic margarita ingredients, ice, and jalapeno slices. Leave in the seeds, if you want an extra spicy margarita.
For more of a frozen margarita, I would use frozen mango. Definitely trying that next time!
Cheers to you, cheers to Emilie Eats, and cheers to jalapeno mango margaritas.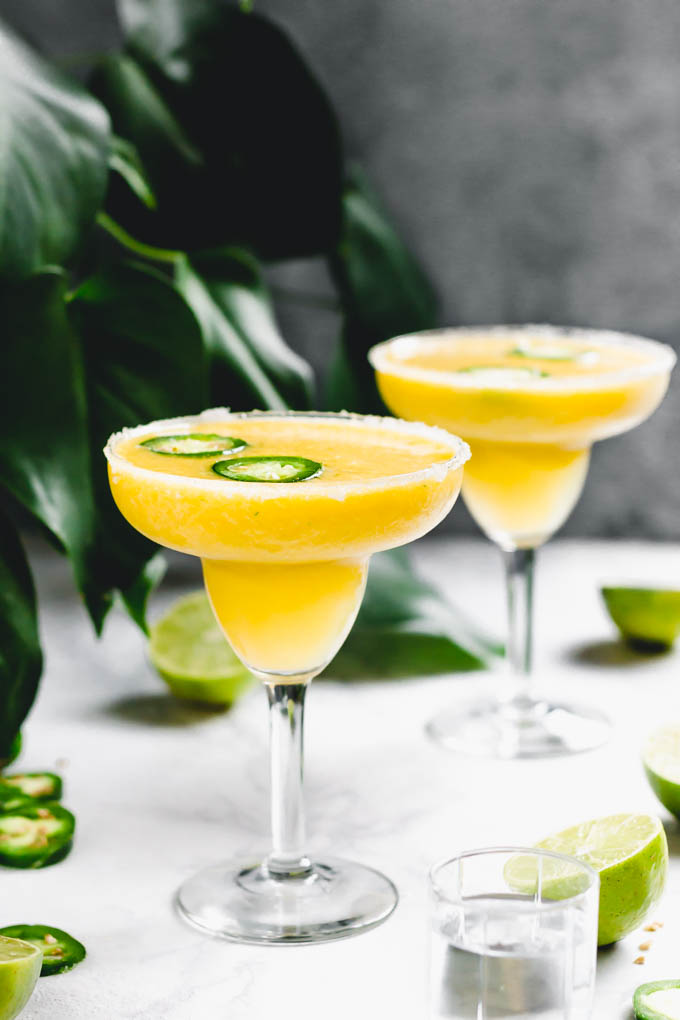 Print
How to make:
Jalapeno Mango Margaritas
Share these Jalapeno Mango Margaritas with loved ones to celebrate any occasion! They're blended with real fruit that is balanced with spicy jalapeno.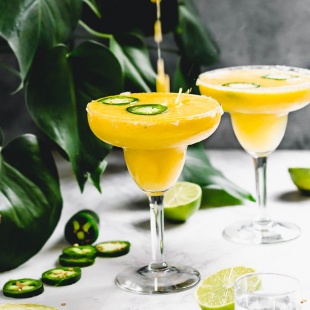 Ingredients
1

lime, cut into wedges
Salt for rims

1/2 cup

silver tequila

1/4 cup

triple sec

1/4 cup

lime juice

3/4 cup

mango, chopped

1/2

jalapeno, seeds removed

2 cups

ice
Instructions
Cut a notch down the middle of a lime wedge. Place on the rim of a glass and run around the rim; repeat with a second glass.
Place salt in a shallow dish. Dip the rim of the glass into salt; repeat with other glass.
In a blender, add tequila, triple sec, lime juice, mango, and ice. Blend until smooth.
Divide between the two glasses. Garnish with lime wedges.