Put a Mexican twist on traditional hummus with a chipotle spice! Paired with gluten-free oat tortillas, this chipotle hummus is a satisfying vegan meal.
If you read my first post, you know that I said Mediterranean was my absolute favorite cuisine. Well, I have to admit–I've been blogging for less than a month and I've already lied to you. Forgive me.
Truth is, Mexican food holds a special place in my heart. Beans, rice, GUAC, salsa, margaritas?!?! Yes please, I'll take them all. Every day. Mexican food = life.
Can we just talk about chickpeas for a little bit? I feel like they're finally having their much-deserved time in the spotlight since everyone is getting onboard the hummus train nowadays.
In 1 cup, these humble little beans, also called garbanzo beans, pack 15 grams of protein, 13 grams of fiber, iron, potassium, and so much more. Beans, beans, the magical fruit, am I right???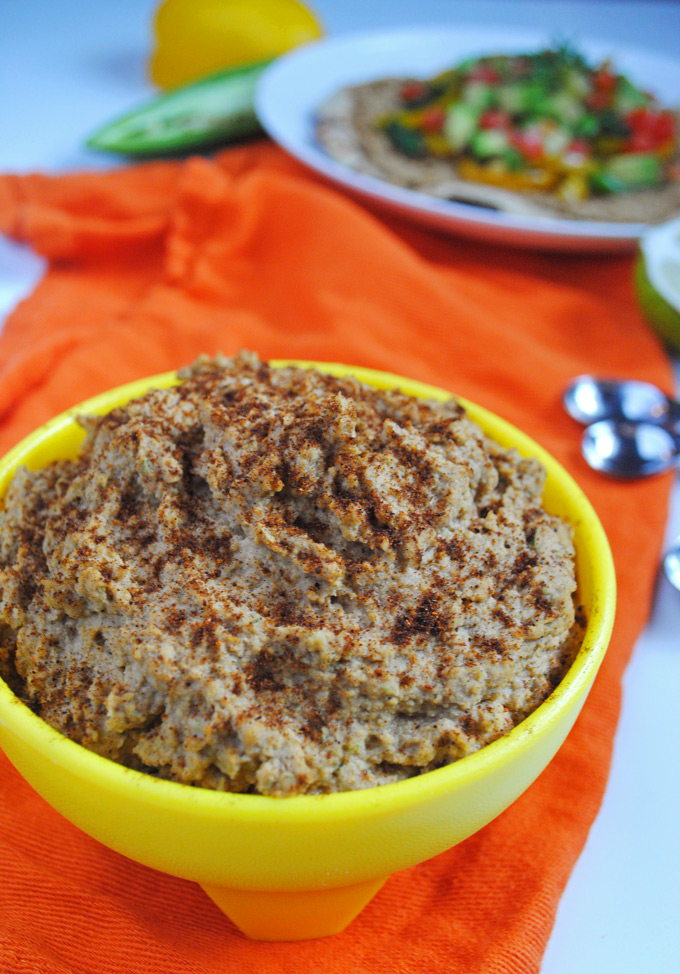 Although I keep canned beans in my pantry for emergency meals, I try to cook a huge batch of beans at the beginning of the week to have ready. Dried beans are some of the cheapest (and healthiest) foods you can buy for your buck, and it's so easy to just let them soak overnight then cook while you do something else.
Make sure if you buy canned beans that you try to find a brand that doesn't use BPA in the lining! I like Eden Foods; I find them at Whole Foods. But just buy dried beans and cook them! Trust me.
Whip some chickpeas up with a little tahini and some seasonings, and you've got heaven-in-a-bowl, more commonly known as hummus. Which is basically a whole food group for me.
I like to think of this hummus as a fusion of my two favorite cuisines, Mediterranean and Mexican. Hummus has been a staple in Mediterranean and Middle Eastern diets for centuries–and so shall it be in mine–but with some jalapeño and a little chipotle spice, you've got a delicious Mexican-inspired dip that goes good with everything from chips to veggies.
Or you can just shove it in your face by the spoonful.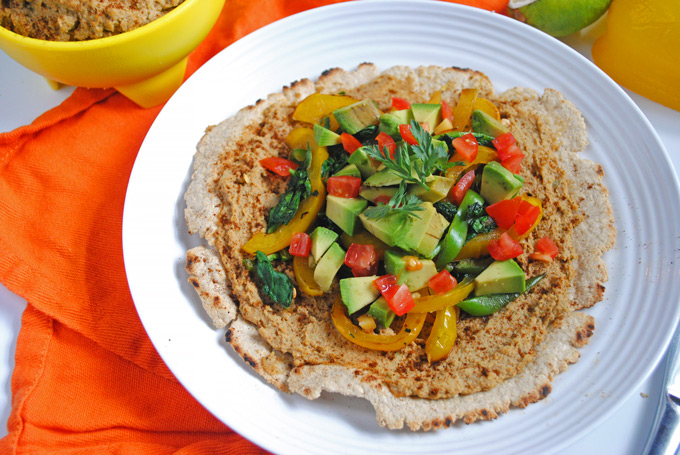 How to Make Chipotle Hummus
I paired the hummus with naturally gluten-free tortillas made from oat flour. You can buy oat flour pre-made, but it's easier and more inexpensive to make your own. Simply grind up rolled oats in a blender or food processor until completely broken down; I use my NutriBullet for superfine flour. Even though I'm not gluten-free, I love to use oat flour in so many recipes because of all the benefits of oats (think: fiber) and because it's so damn cheap!
I wasn't trying to make tortillas you could roll up like a burrito. I wanted a flat, sturdy base for allllllll the toppings, since that's the best part, right? Oat flour is quite brittle so I don't think they will roll up, but maybe try cooking them for less time and they might be more pliable.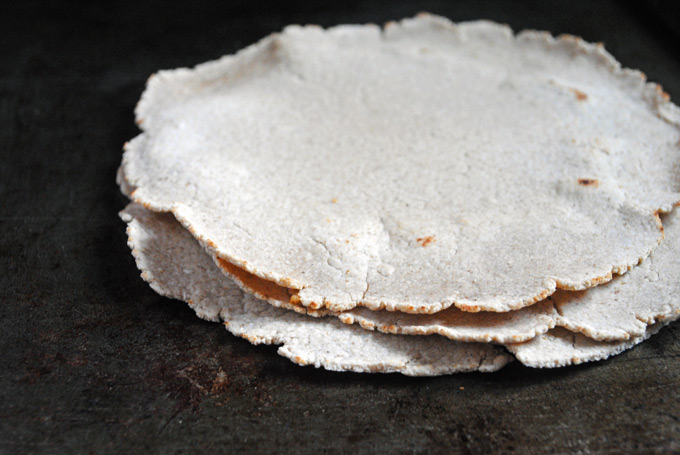 Then comes the chips. (!!!!!!) Throw away those super greasy chips in yo' pantry and make these. You can make a double batch of tortillas for the chips or just use a couple leftover tortillas. But I'm guessing you want a lot of chips 'cause, who doesn't, so a double batch doesn't sound like a bad idea.
Cut the tortillas into pieces, brush some oil on those babies, and bake them until they're nice and crispy. Resist the urge to reach straight into the oven for a bite of golden tortilla chip. You will fail. It's okay (so did I).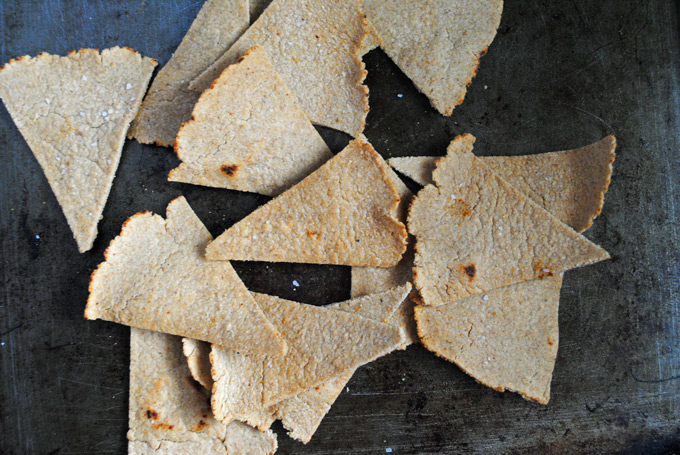 Have a Mexican fiesta and get ready to eaaaaaatttttt, because that's what we do around these parts.
This meal would be great to set up a make-your-own tortilla bar for all your friends and family. Serve all the toppings you like for these–hummus, sautéed veggies, more beans, and, most importantly, avocado. Please don't forget avocado.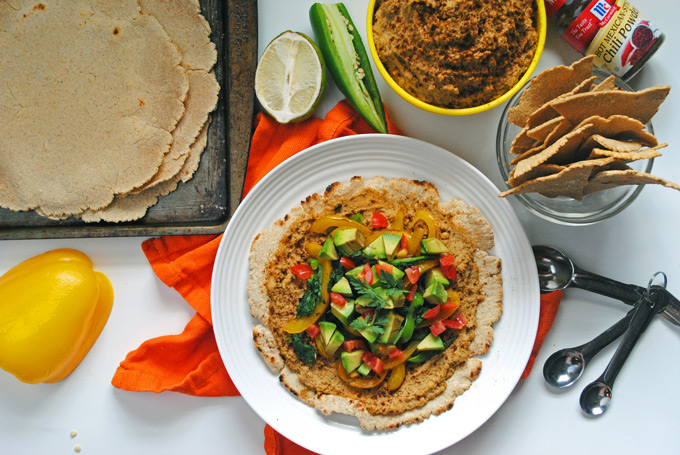 Brb, going make some chipotle hummus right now and having my own fiesta. ???
Print
How to make:
Chipotle Hummus with Oat Flour Tortillas (+ chips!)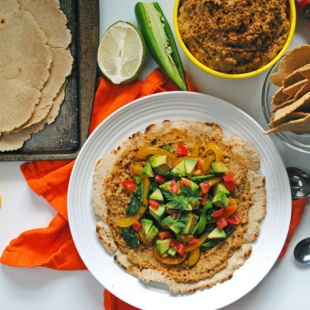 Ingredients
For the tortillas:

2 1/4 cups

oat flour (ground-up rolled oats)

3/4 teaspoon

salt

3/4 cup

hot water
Oil for cooking
For the hummus:

1 1/2 cups

cooked chickpeas, or

1

15-ounce can chickpeas, rinsed and drained

1/2

jalapeno, seeds removed

1/4 cup

water

2 tablespoons

tahini

1 tablespoon

olive oil

3 tablespoons

lemon juice

1 tablespoon

chili powder

1 teaspoon

cumin

1/2 teaspoon

minced garlic, about

1

clove

1/2 teaspoon

salt, plus more to taste
Pinch of ground cayenne red pepper (optional)
Instructions
In a large bowl, mix oat flour and salt. Slowly add hot water while stirring.
On a floured surface, knead the dough until smooth and not crumbly. Add more water or flour, if necessary.
Place the dough back in the bowl and let sit for 15 minutes.
Meanwhile, prepare the hummus. In a food processor or blender, add all ingredients for hummus. Blend until smooth, adding more water for a thinner dip. Adjust spices as needed.
Take the dough out of the bowl and divide into 6 to 8 equal pieces (depending on how big you want your tortillas). Roll each piece of dough into a ball and flatten with your hand. On a floured surface, roll out each dough ball until it is thin enough, but make sure you can still pick up the tortillas.
In a skillet over medium heat, warm about a teaspoon of oil. Place a tortilla in the skillet; cook for about 1 minute on each side, or until crispy. These tortillas are not the kind you roll up, so they will not be pliable. Repeat cooking instructions for each tortilla.
To make tortilla chips, preheat the oven to 350°F (175°C). Cut the cooked tortillas into wedges, place on a baking sheet, and brush with oil. Sprinkle salt or other seasonings.
Bake for 15-18 minutes, until crispy and golden on the edges.
Serve the tortillas with hummus, sautéed vegetables, avocado, and a squeeze of lime. Enjoy the tortilla chips with hummus or guacamole–or both!
Notes
Storage:
Store the tortillas in an airtight bag or container in the fridge.
Store the tortilla chips in an airtight bag or container at room temperature for up to 3 days.
Store the hummus in an airtight container in the fridge.