Serve this Classic Cajun Vegan Jambalaya to a crowd as a comforting, one-pot meal that will impress everyone! Authentic, simple & so full of Creole flavor. In partnership with my friends at Pompeian. ❤️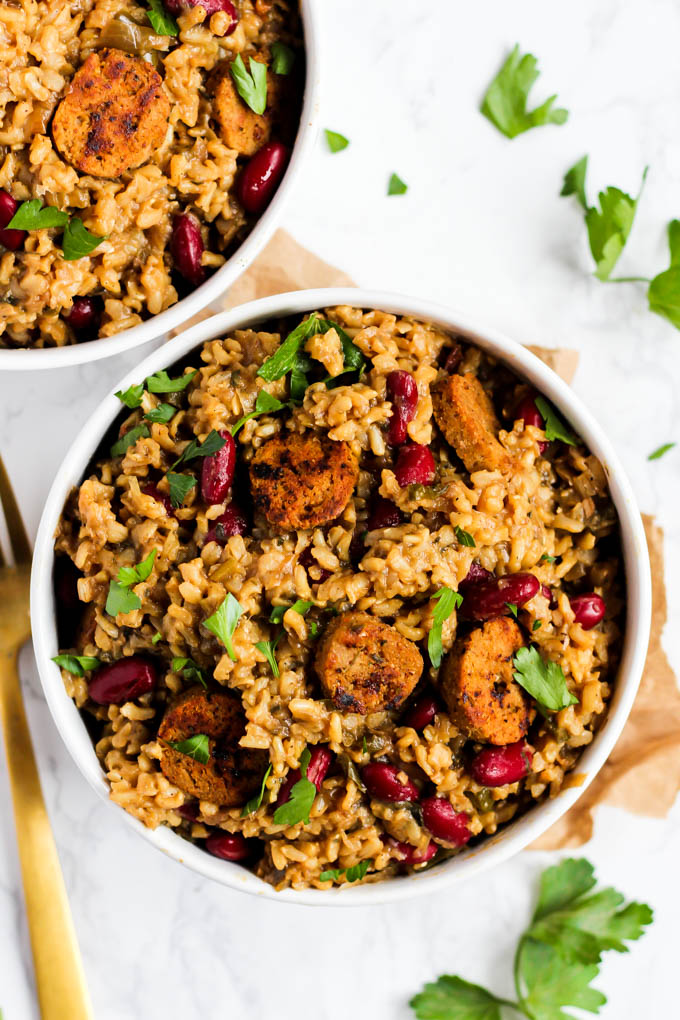 I hope you are as excited for today's recipe as I am. VEGAN JAMBALAYA finally makes its debut on Emilie Eats! 👏🏼
Every time I ask you guys to take a survey about your experience on EmilieEats.com and to submit your recipe ideas, vegan jambalaya is always hands-down the most requested recipe. I asked my Plant-Powered Community Facebook group the other day if they would rather see a jambalaya or mushroom potato stew recipe in 2017, and jambalaya won 41-7. I must appease the people!
(Side note: want to join our Facebook group for support and encouragement? Click here!)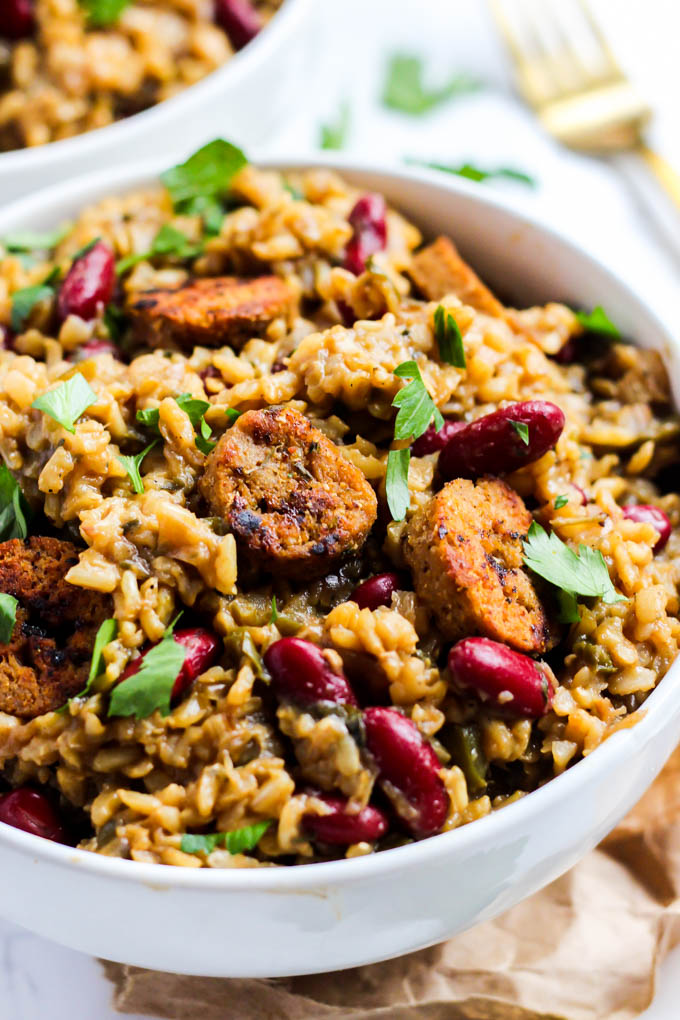 The main reason this recipe has taken me so long to tackle is because I was scared I wasn't going to do classic jambalaya justice. I absolutely love veganizing the Cajun recipes I grew up enjoying, but I want to make sure they taste authentic and just as delicious. I don't want be that Cajun girl who posts a bland, unimpressive jambalaya…that's kind of embarrassing.
To make sure my vegan jambalaya was ~top notch~ and just as good as the traditional stuff, I enlisted the help of my grandpa! He's been making massive batches of jambalaya ever since I can remember for holidays, his church, and cook-offs. His recipe has probably won an award—it's that good.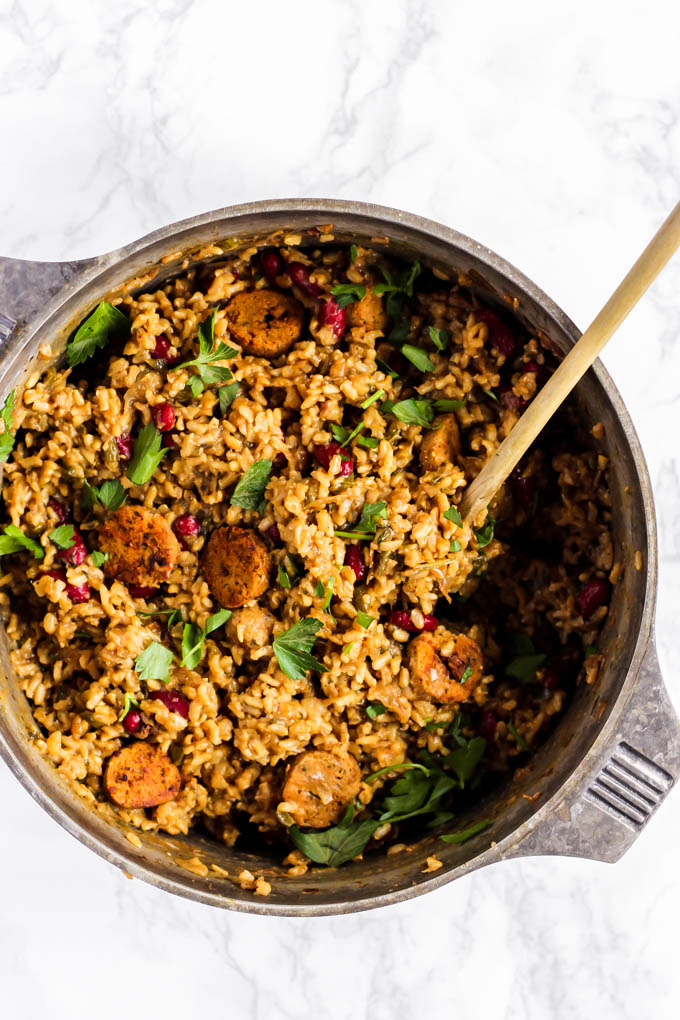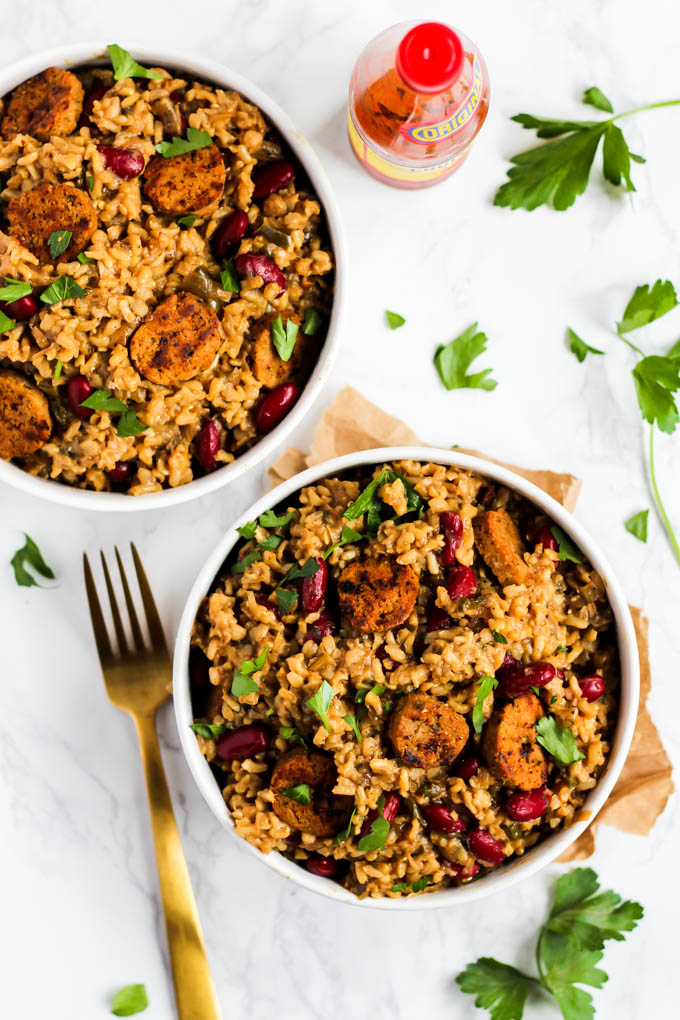 My recipe almost exactly matches the recipe that he so graciously shared with me. Here's what I changed:
I halved the recipe since his usually serves 8-10 people. Feel free to double my recipe to feed a crowd or freeze the leftovers!

I took the chicken and chicken broth out and replaced them with red kidney beans and vegetable broth.
I replaced the smoked sausage with vegan sausage! You can usually find this at Whole Foods or another health food store. I like using Italian sausage.
Everything else is identical to his ultra-popular recipe. I would say that the most important things to remember when cooking this jambalaya are to BROWN YOUR ONIONS and make sure the rice is cooked enough, but not mushy. Mom hammered in those two cooking tips for my whole childhood, and now I can share the knowledge with you.
Thanks, Mom!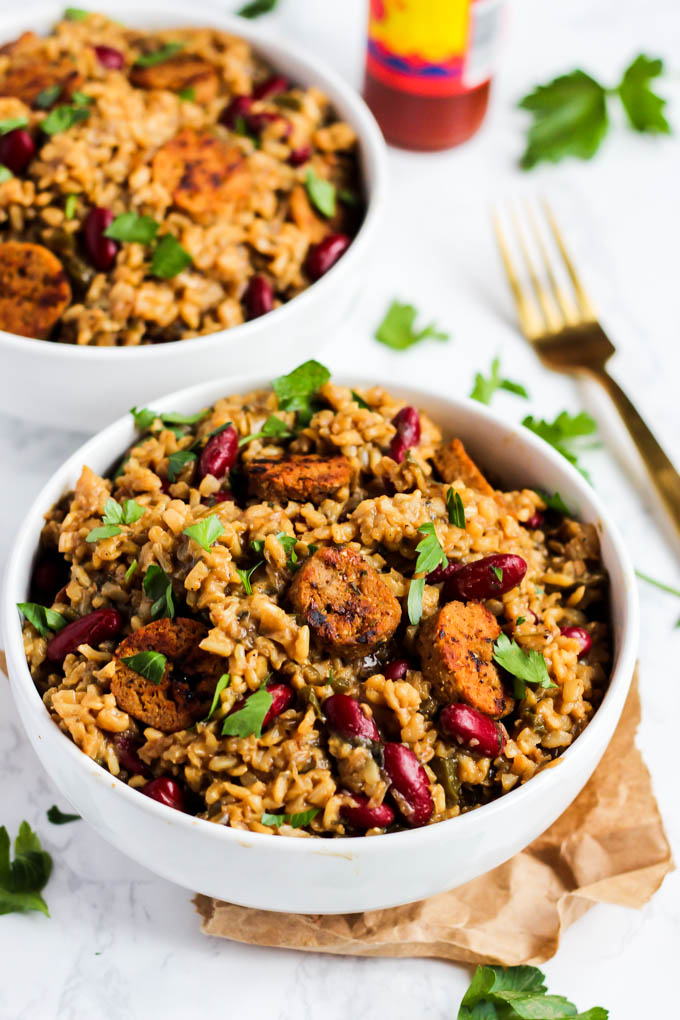 What's the best oil to use to brown your onions, you ask? Pompeian Smooth Extra Virgin Olive Oil! I'm so excited that they're partnering with me on this vegan jambalaya because their olive oils are of the highest quality and are also accessible for most people—you can find them at stores like Walmart and Target!
You'll want to use the Smooth Extra Virgin Olive Oil for this recipe since it is intended for sautéing and stir-frying. Since this recipe cooks entirely on low or medium-low, the cooking temperature won't exceed the oil's smoke point.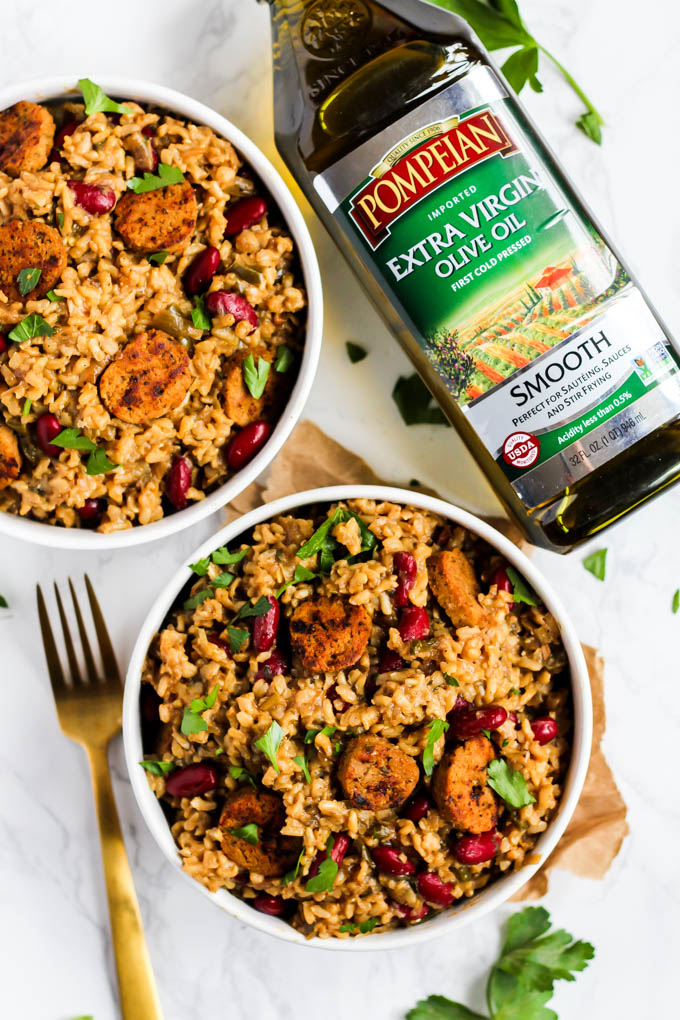 I am so beyond excited for you to try this vegan jambalaya! There are so many rave reviews on my Cajun-style red beans & rice, so obviously y'all love Southern recipes. Let me know if you want to see more!
(Ugh, I typed "y'all" in a blog post. The jambalaya is bringing out the Cajun in me.)
Enjoy!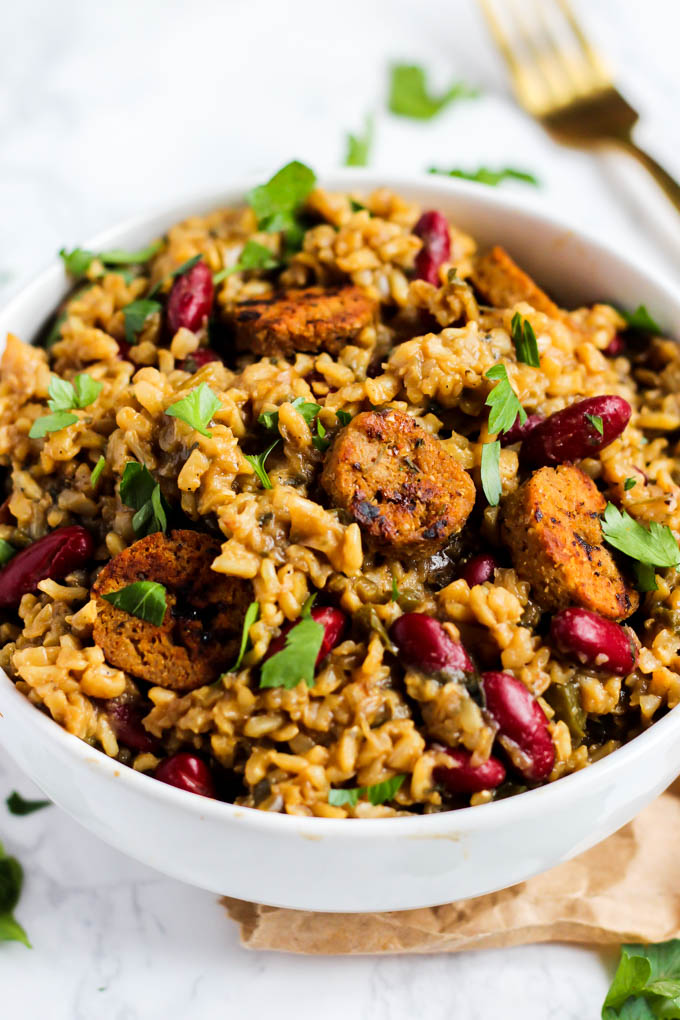 Print
How to make:
Classic Cajun Vegan Jambalaya
Serve this Classic Cajun Vegan Jambalaya to a crowd as a comforting, one-pot meal that will impress everyone! Authentic, simple & so full of Creole flavor.
Ingredients
3

–

4

tablespoons Pompeian Smooth Extra Virgin Olive Oil

3

medium yellow onions, chopped, divided

2

celery ribs, chopped

1

medium green bell pepper, chopped

2

–

3

garlic cloves, chopped

3

bay leaves

4 3/4 cups

vegetable broth, divided

1/4 cup

shallots, chopped

1/4 cup

parsley, chopped, plus more for garnish

1 teaspoon

Creole seasoning blend
Salt and pepper, to taste
Hot sauce, to taste

2 cups

uncooked brown rice

1/2

pound vegan sausage, sliced

1

15-ounce can red kidney beans, drained and rinsed
Instructions
In a large pot over low heat, warm olive oil.
Add two of the chopped onions to the pot. Cook for 35-40 minutes until dark brown but not burnt, stirring occasionally.
Add remaining onion, celery, bell pepper, garlic, and bay leaves; stir. Add 1/4 cup vegetable broth; cook for 20-25 more minutes until vegetables are nicely browned.
Add shallots, parsley, Creole seasoning, salt, pepper, and hot sauce; stir. Cook for 5-7 minutes, adding a little vegetable broth if needed to cook vegetables.
Add rice; stir. Add 4 1/2 cups vegetable broth (or a mix of broth and water); increase heat to high and bring to a boil. Cover, reduce heat to low, and let simmer for about 40-45 minutes, or until rice is cooked completely and all liquid is gone. Stir occasionally if needed. When fully cooked, remove pot from heat but keep covered for 10 minutes.
While the rice is cooking, prepare the sausage. Warm a skillet over medium heat; add vegan sausage. Sauté until sausage is nicely browned and crispy.
Add sausage and kidney beans to the large pot. Stir to incorporate evenly.
Serve with fresh parsley and hot sauce!
Notes
It is very, very important to cook the onions on LOW. This will give you nicely browned onions without burning them or your pan. Classic jambalaya is a labor of love – don't rush it!
Thanks to Pompeian for sponsoring this post! I love working with brands whose products I really love and would honestly recommend. Thank you for supporting this blog that I love oh-so-much!