These Lavender Lemon Cookies are a beautiful, bright treat for the warmer spring and summer months. This vegan sugar cookie recipe is lemony, floral & so easy to make! This post is sponsored by the Oster brand. 
Vegan Lavender Lemon Cookies
Is it not the prettiest time of year right now?! I love spring in Colorado, and I feel like I'm always walking around looking like the heart-eyed emoji. Everything is just too pretty! And the blossoms smell divine.
Petition to make spring a yearlong thing? Yes? No?
All the gorgeousness of spring inspired these absolutely stunning vegan lavender lemon cookies. Plus, they would make the perfect Mother's Day dessert—delicate flavors, pretty decorating, and easy to whip up before brunch!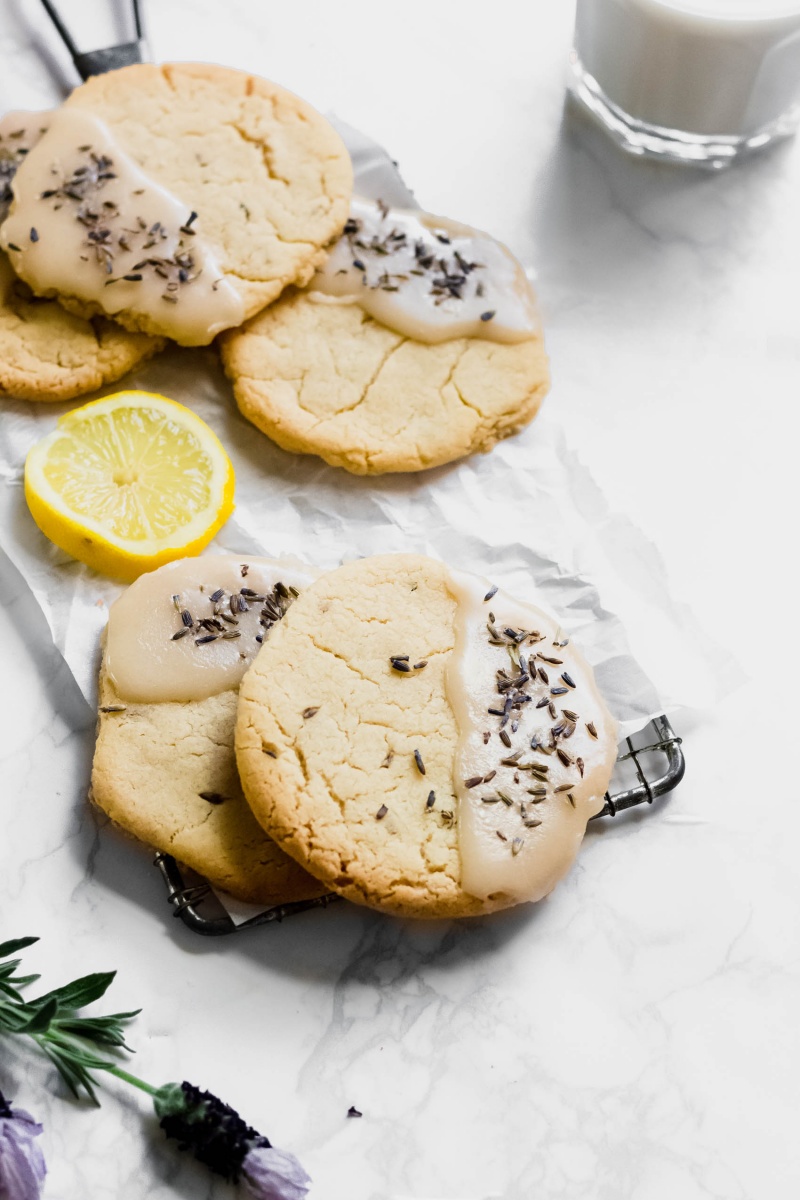 How to Make Lavender Lemon Cookies
The recipe starts with beating your non-dairy butter. I'm super excited to partner with Oster for this post to introduce you all to the Oster Hand Mixer with HEATSOFT technology. This innovative hand mixer softens butter 12x faster than leaving it on the counter for 30 minutes, by using gentle warm air to bring cold butter to room temperature.
Uh, hellooooo, that means lavender cookies get to your mouth 30 minutes earlier.  
Then we add the sugar and beat again until it's nice and fluffy. Beat in the rest of the wet ingredients, the dried lavender flowers, and the dry ingredients. Then you have yourself a big ball of cookie dough ready to be rolled out and baked into the most perfect lemon cookies.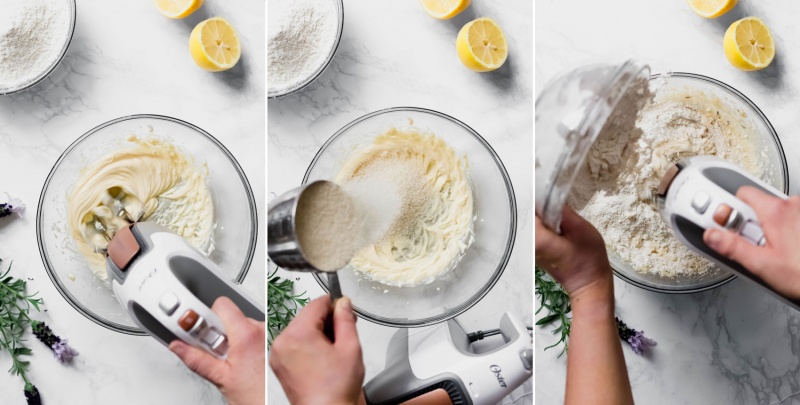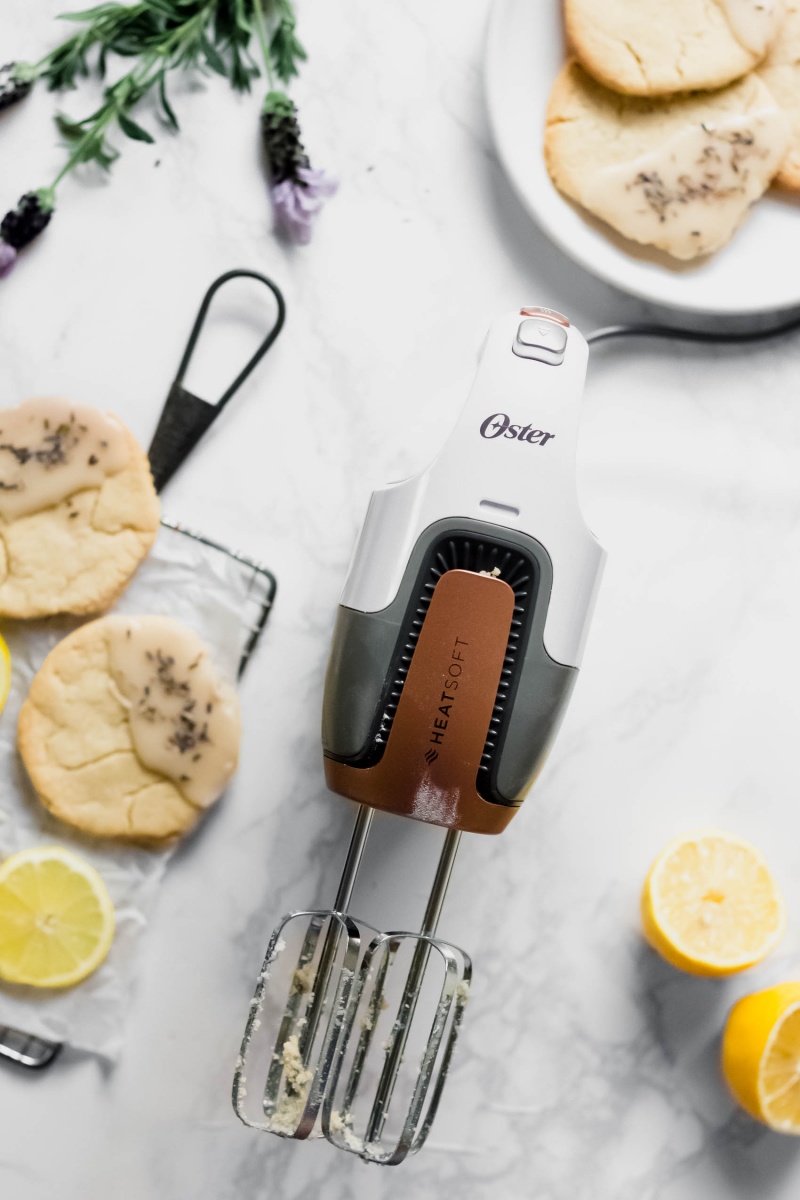 Ingredients in Lavender Lemon Cookies
Lavender and lemon is a total winning combination in my book. These lavender lemon cookies are bright and tart from the lemon, yet delicate and floral from the lavender. The flavor comes through in both the cookie dough itself and the glaze. Here's what you'll need to make them:
Non-dairy butter. You'll definitely want a non-dairy butter as your fat vs. oil as we want to cream our butter with the sugar to create the base of our sugar cookie dough.
Sugar. The base of these lemon lavender cookies is a sugar cookie. You'll want granulated sugar.
Lemon juice. These lemon lavender cookies are packed with lemon juice both in the cookies themselves and the glaze
Non-dairy milk. Choose your favorite!
Vanilla extract. The vanilla adds a subtle smooth flavor to balance out these tart lemon cookies
Dried lavender flowers. You can find dried lavender in the spice aisle at many grocery stores. However, if your grocery store has a florist, they'll sometimes have dried bundles of lavender so you can put the leftover lavender in a vase as decoration! You could also use lavender extract if you can't find dried lavender.
Flour. I recommend all purpose for these lemon lavender cookies
Baking powder and baking soda. These will give our cookies a bit of rise
Salt. To balance out the sweetness and tartness
Powdered sugar. We'll use powdered sugar in our lemon glaze. You can make your own by adding granulated sugar to a blender or food processor and blending until a powder forms.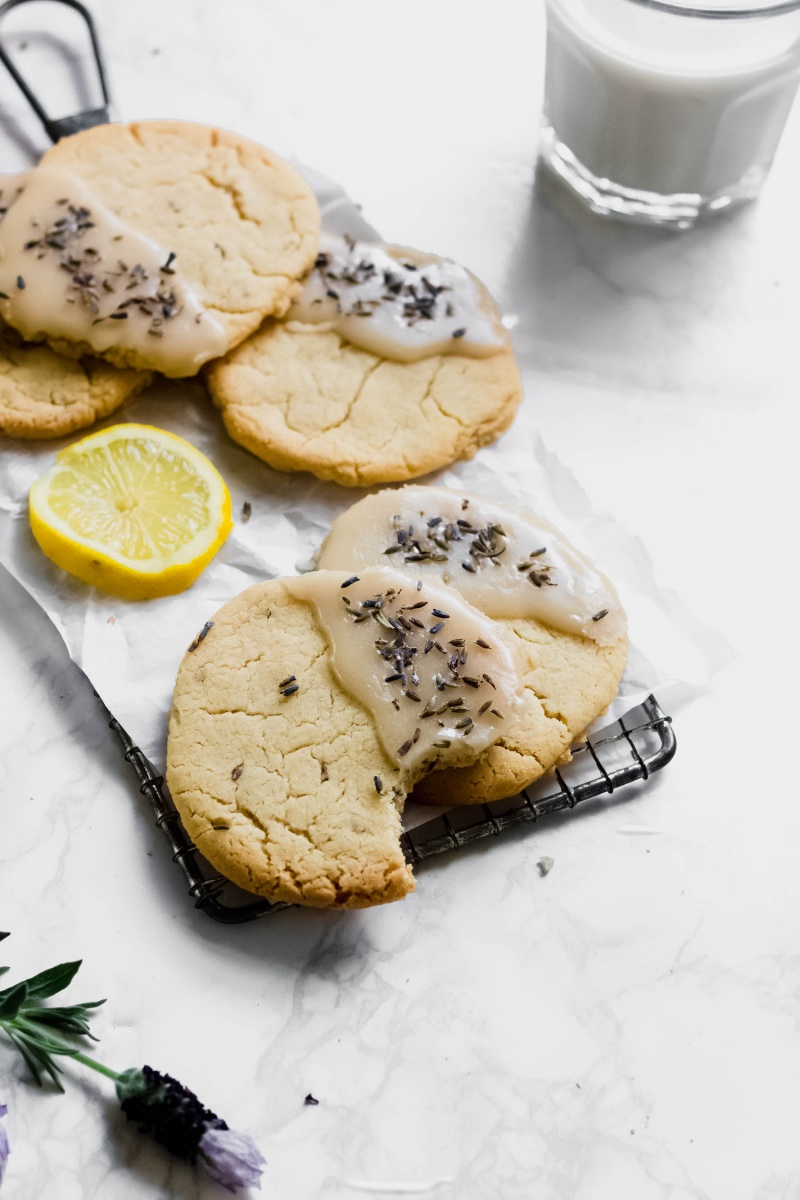 Cooking with Dried Lavender
If you're like me, you've never used lavender in your kitchen. But I wanted to branch out, plus the combination of lemon and lavender seemed perfect for Mother's Day. Something about the combo screams brunch and tea and my momma (she does love gardening and her flowers, so maybe that was the association my brain made).
Cooking with dried lavender can be tricky because not enough means no flavor, and too much means you're now eating a cookie that tastes like fancy soap. Finding that right amount can be tricky, but I just want to give myself a pat on the back, because I definitely did it for these lavender cookies.
I used dried flowers for my lavender lemon cookies, but if lavender extract is more accessible to you, use that!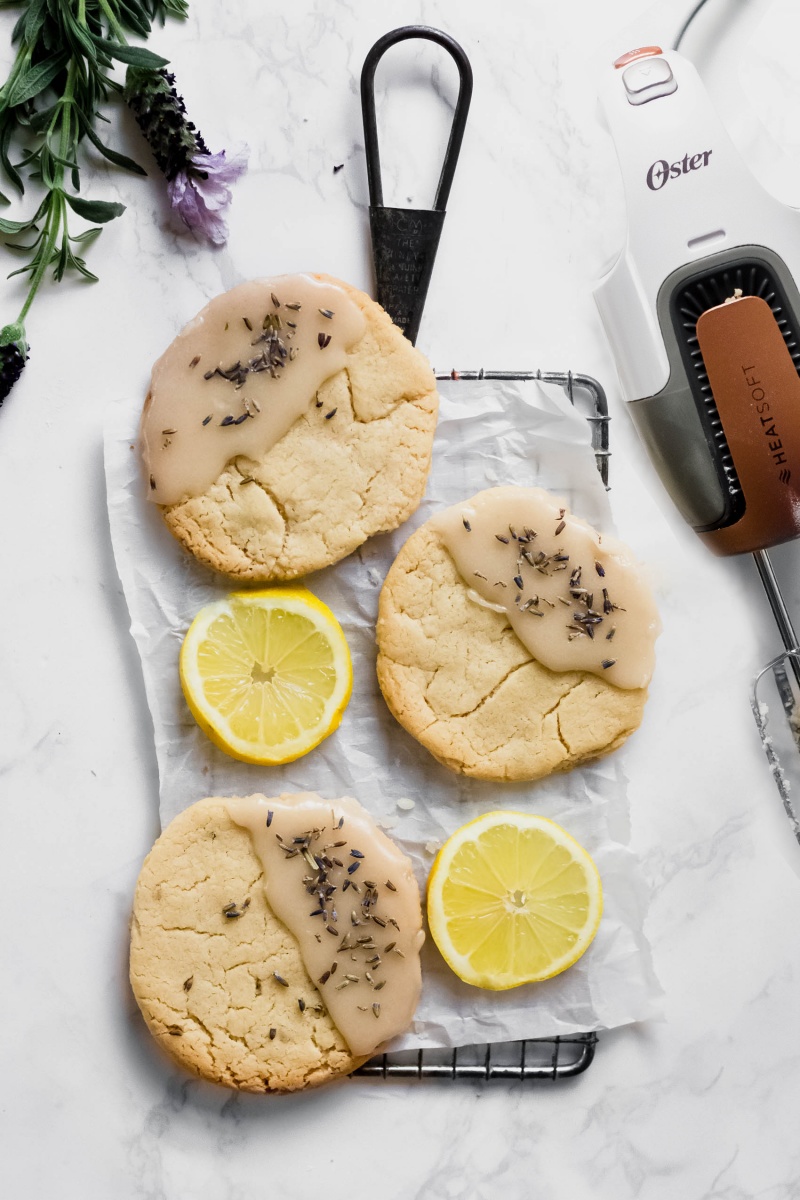 More Lemon Desserts
Looking for more lemony sweets? Check out these delicious vegan lemon desserts! After making these lemon cookies of course 🙂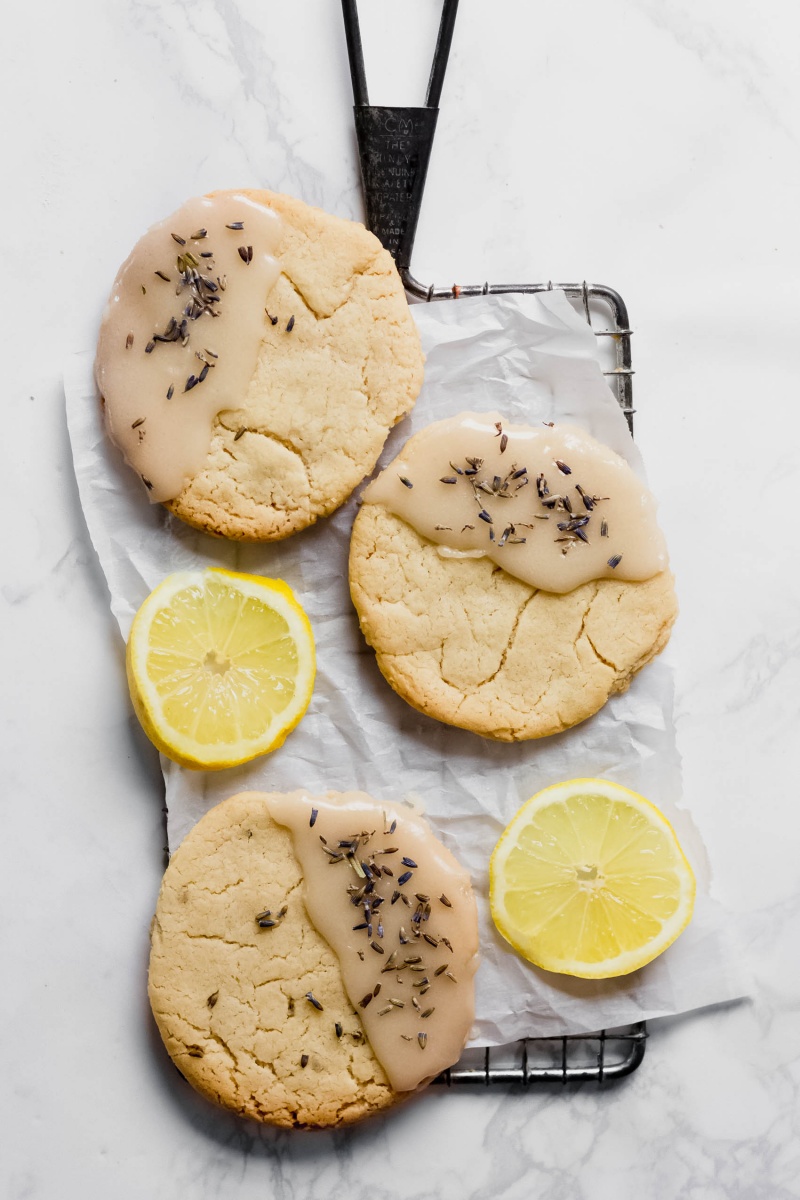 Print
How to make:
Vegan Lavender Lemon Cookies
These Lavender Lemon Cookies are a beautiful, bright treat for the warmer spring and summer months. This vegan sugar cookie recipe is lemony, floral & so easy to make!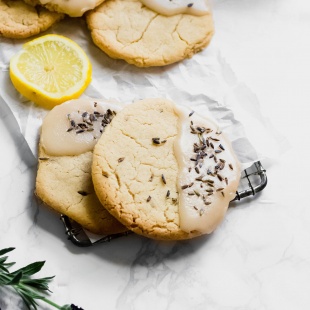 Ingredients
For the cookies
1/2 cup

non-dairy butter

1 cup

granulated sugar

3 tablespoons

lemon juice

1 tablespoon

unsweetened non-dairy milk

1 teaspoon

vanilla extract

1/2 teaspoon

dried lavender flowers

2 cups

all-purpose flour

1 teaspoon

baking powder

1/2 teaspoon

baking soda

1/2 teaspoon

salt
For the glaze:
1 cup

powdered sugar*

2 tablespoons

lemon juice

1/8 teaspoon

salt
Instructions
Preheat oven to 350ºF.
In a large bowl, add butter. Beat with an electric mixer until smooth. Add sugar; beat until fluffy, about 2 minutes. Add lemon juice, non-dairy milk, vanilla, and dried lavender; beat for 1 minute.
To a medium bowl, add flour, baking powder, baking soda, and salt. Stir to combine.
While beating the wet ingredients, slowly pour in the dry ingredients. Beat until just combined. Form the dough into a large ball and place back in the bowl. Refrigerate for 30 minutes.
Place the dough ball onto a lightly floured surface. Roll out the dough until it is ¼-inch thick. Using a cookie cutter or the lid of a jar, cut out cookies; place onto the baking sheet. Repeat until all the dough is used up.
Bake for 12-14 minutes, depending on how chewy or crispy you want them. Let cool on the pan for a couple minutes, then transfer the cookies to a cooling rack.
In a small bowl, add powdered sugar, lemon juice, and salt. Stir until a thick glaze forms. Add more juice if needed to thin out the glaze, or add more powdered sugar if needed to thicken it.
When the cookies are cooled, glaze the cookies. Garnish with dried lavender.
Notes
*To make your own powdered sugar, simply put granulated sugar in a blender or food processor and blend until a fine powder forms.
Thanks to Oster for sponsoring this post! I love working with brands whose products I really love and would honestly recommend. Thank you for your support!