These Chocolate Chip Almond Butter Brownies taste like a decadent dessert, but they're also vegan, gluten-free & date-sweetened! Rich, fudgy & satisfying.
It was only a matter of time before this recipe happened. I've been wanting to recreate my wildly popular Chocolate Chip Almond Butter Bars with a twist, so what better than chocolate?
That may have been one of the best ideas I've ever had. I didn't think my almond butter bars could get any better, but it turns out that adding a chocolate element takes them to a whole new level. Just look at that deep, dark, rich chocolatey goodness. Can I just face plant into a warm pan of these? Feel the same way?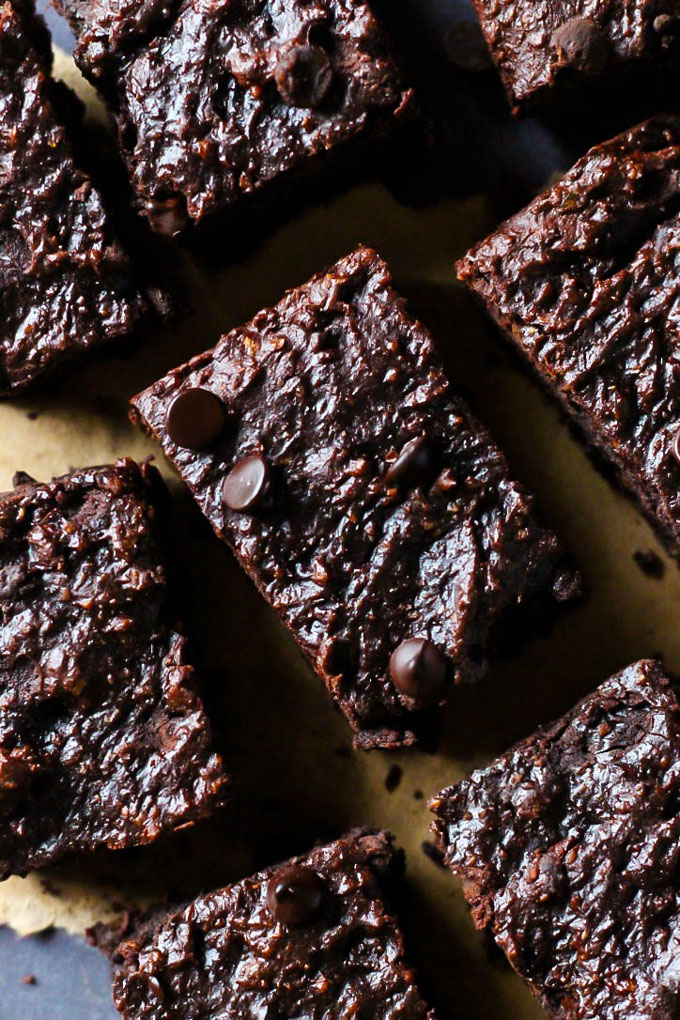 If I had to pick a favorite dessert (after cheesecake, of course), it'd probably be brownies. But not like dry, cakey brownies. If I wanted cake, I'd get a slice of cake, ya feel me? No – I want the thickest, fudgiest you have. This may have something to do with the fact that I love raw brownie batter, so I like my brownies undercooked. THAT'S the key to a good brownie.
I know you guys love healthy desserts, and I don't blame you. Add this recipe to your list of better-for-you desserts ASAP! Of course, it's great to treat yourself to "unhealthy" foods you love every now & then, but I feel so good knowing that I can treat myself and nourish my body with more wholesome ingredients!
These babies are just as simple as their older siblings. They're made with basic ingredients you probably have on hand – if not, go out and buy them, because you'll be making these almond butter brownies more than once!
We've got oats, cocoa powder, dates, applesauce, non-dairy milk, and of course, almond butter. If you have a nut allergy in your house, you can use an alternative like sunflower seed butter! I use these ingredients on a daily basis in everything from oatmeal to snacks to late-night pans of almond butter brownies. When the chocolate monster comes to visit, you'll thank yourself for having these simple ingredients ready.
[Tweet "Chocolate Chip Almond Butter Brownies – vegan, GF, naturally sweetened. AKA your dreams coming true. "]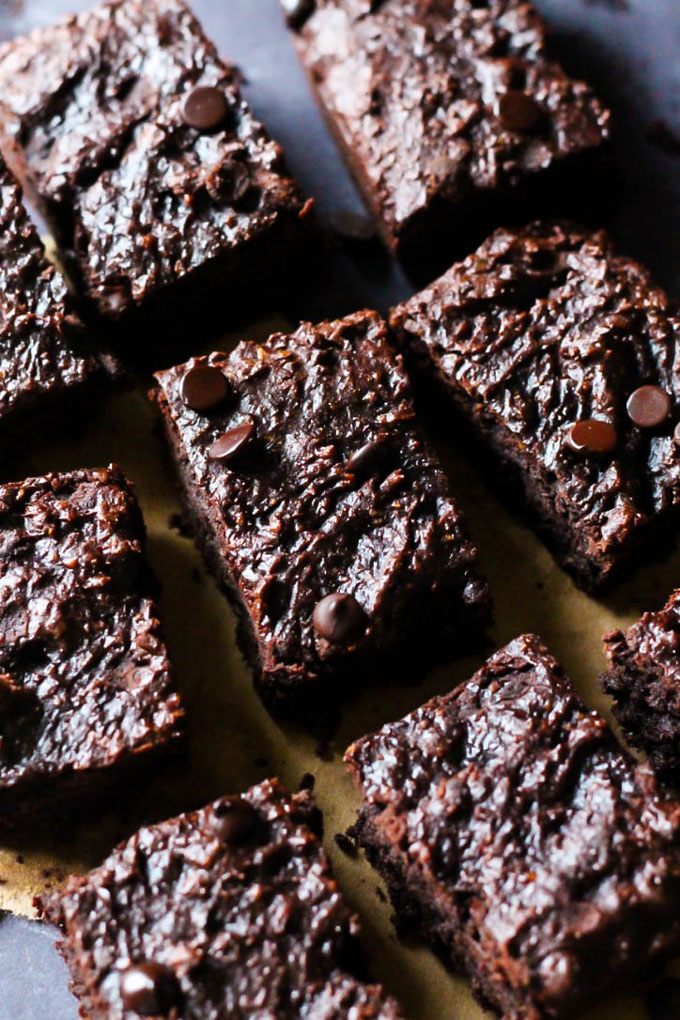 Simply combine everything in the food processor, pour into a pan, and wait patiently desperately wait for them to come out of the oven! I know it'll be tempting to dig in as soon as they're done, but they're better after a few minutes of cooling in the pan. However, if you & a friend want to grab two spoons and dig in immediately, I can't stop you. 😏
I love these almond butter brownies because they're fudgy, done in 30 minutes, gluten-free, and naturally sweetened with dates. That's my kind of dessert! You on board?
I know you guys will go crazy when you take a bite out of these almond butter brownies. Or two bites. Or 349348 bites.
Let me know if you get to bake a batch of these – leave a comment and take a pic for Instagram with @emilieeats & #emilieeats tagged. Seeing you all enjoying my recipes puts the biggest smile on my face!
So, who's baking these this weekend?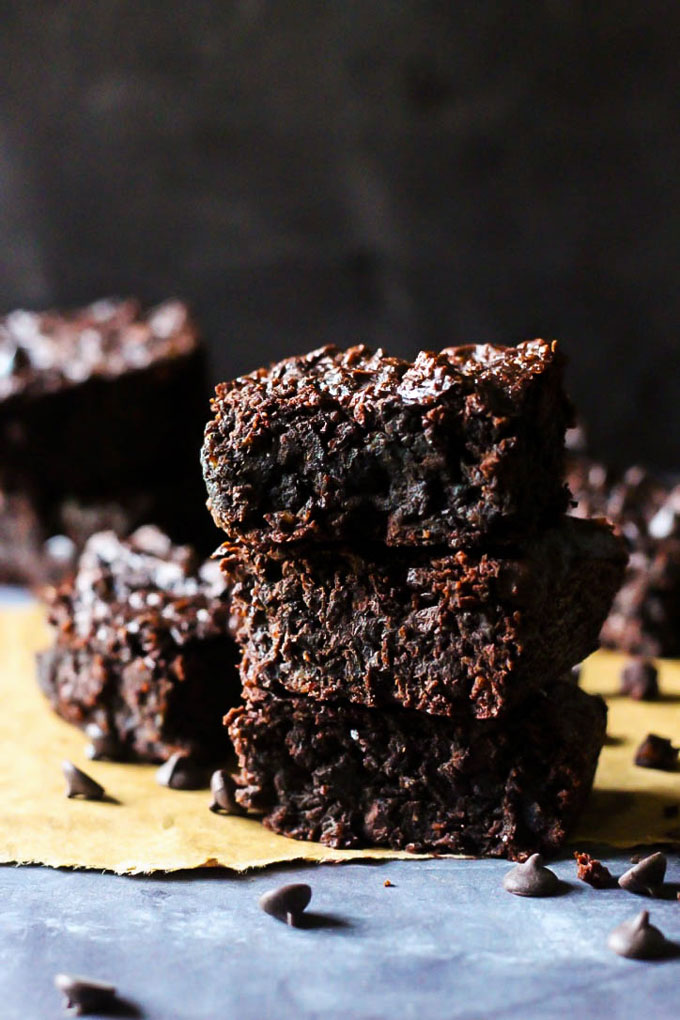 Print
How to make:
Chocolate Chip Almond Butter Brownies (vegan & gluten-free)
These Chocolate Chip Almond Butter Brownies taste like a decadent dessert, but they're also vegan, gluten-free & date-sweetened! Rich, fudgy & satisfying.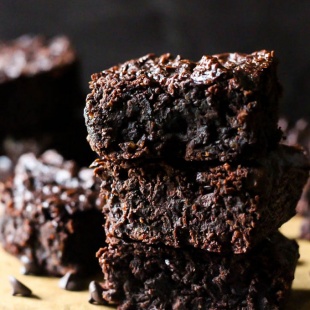 Ingredients
1/2 cup

pitted dates

3/4 cup

almond butter

1/4 cup

unsweetened applesauce

1/4 cup

+

2 tablespoons

non-dairy milk

1/2 cup

oat flour*

1/3 cup

cocoa powder

1 1/2 teaspoons

baking soda

1 1/2 teaspoons

vanilla extract

1/4 teaspoon

salt

1/2 cup

chocolate chips, plus more for topping
Instructions
Preheat oven to 350F. Lightly grease an 8-inch x 8-inch pan.
In a medium bowl, place the dates. Pour in enough hot water to cover. Let sit for 10 minutes.
Drain dates.
In the bowl of a food processor or blender, add dates, almond butter, and applesauce. Process until well combined, stopping to scrape down the sides.
Slowly add milk; continue to process.
Add oat flour, cocoa powder, baking soda, vanilla, and salt. Process until completely mixed.
Stir in chocolate chips until all ingredients are combined.
Pour batter into the pan. Sprinkle with additional chocolate chips.
Bake for 25-30 minutes. Let the bars cool in the pan for 10-15 minutes before serving.
Notes
*To make your own oat flour, simply place rolled oats in a blender or food processor and blend until a fine flour forms.
---
If you're drooling over these almond butter brownies, check out these desserts!
Chocolate Chip Almond Butter Bars (vegan & gluten-free)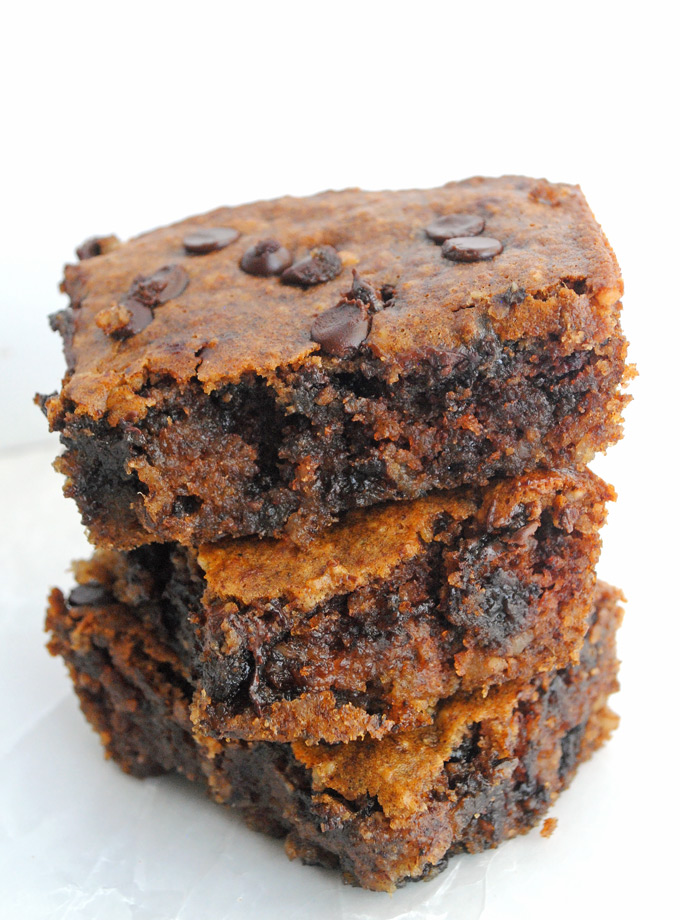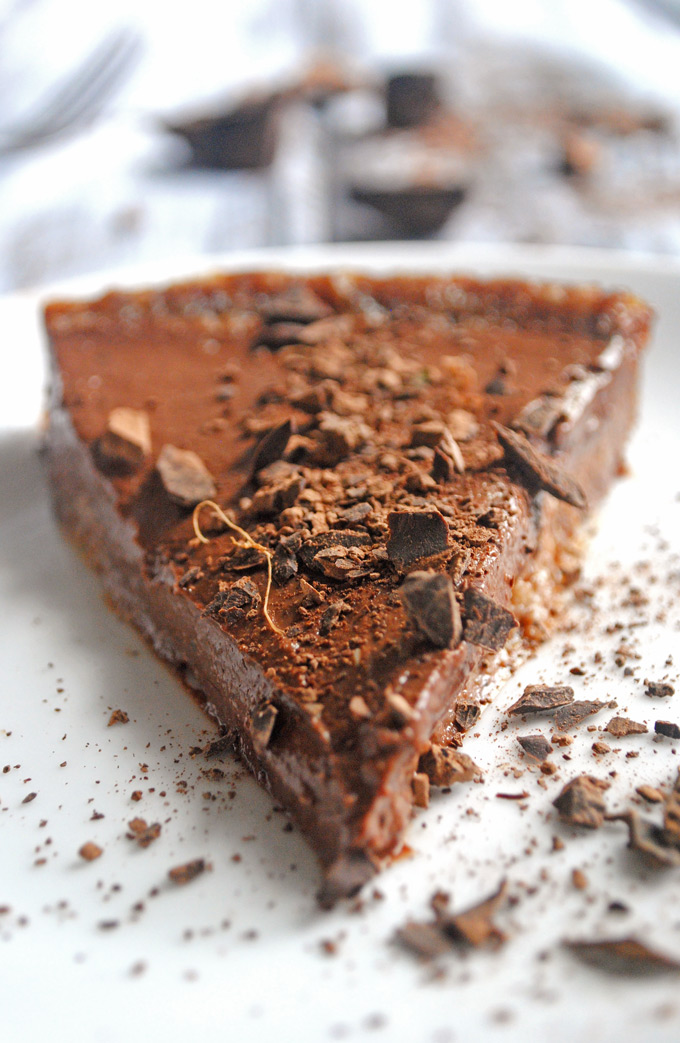 Healthy Pumpkin Snickers Bars (vegan & gluten-free