This easy Chickpea Pumpkin Coconut Curry is a delicious, one-pot vegan dinner for fall and winter and will warm you up from the inside out!
Chickpea Pumpkin Coconut Curry
Friends, I have a confession to make. Truth be told, I've never really been an OMG PUMPKIN person.
Now I know some of you live and breath for pumpkin spice season, but it's just never been the first flavor I would reach for. Plus, I've been really craving all things salty and savory things lately rather than sweet, so pumpkin desserts and lattes are really just not piquing my interest right now.
That said, now that fall is officially here, I still want to get some pumpkin in my life one way or another. Not only to embrace the change of seasons, but it's also filled with so many nutrients! Did you know just 1 cup of cooked pumpkin can give you waaaaay more than the daily recommendation for vitamin A? Which is especially important for good eyesight! So eat yo' pumpkin and other orange veggies.
For all of you out there who are kind of on the fence with the pumpkin spice madness, but still want to get in on some of the seasonal goodness, this pumpkin curry is for you! It's super creamy, slightly sweet and subtly spicy and there are so many different ways to enjoy it. You could eat it as-is, or serve it over rice, cauliflower rice, quinoa, etc. Plus, this pumpkin coconut curry recipe all comes together in one pot! Oh, and did I mention it's freezer friendly?
Yep, you're gonna want to add this to your fall and winter weeknight dinner rotation ASAP.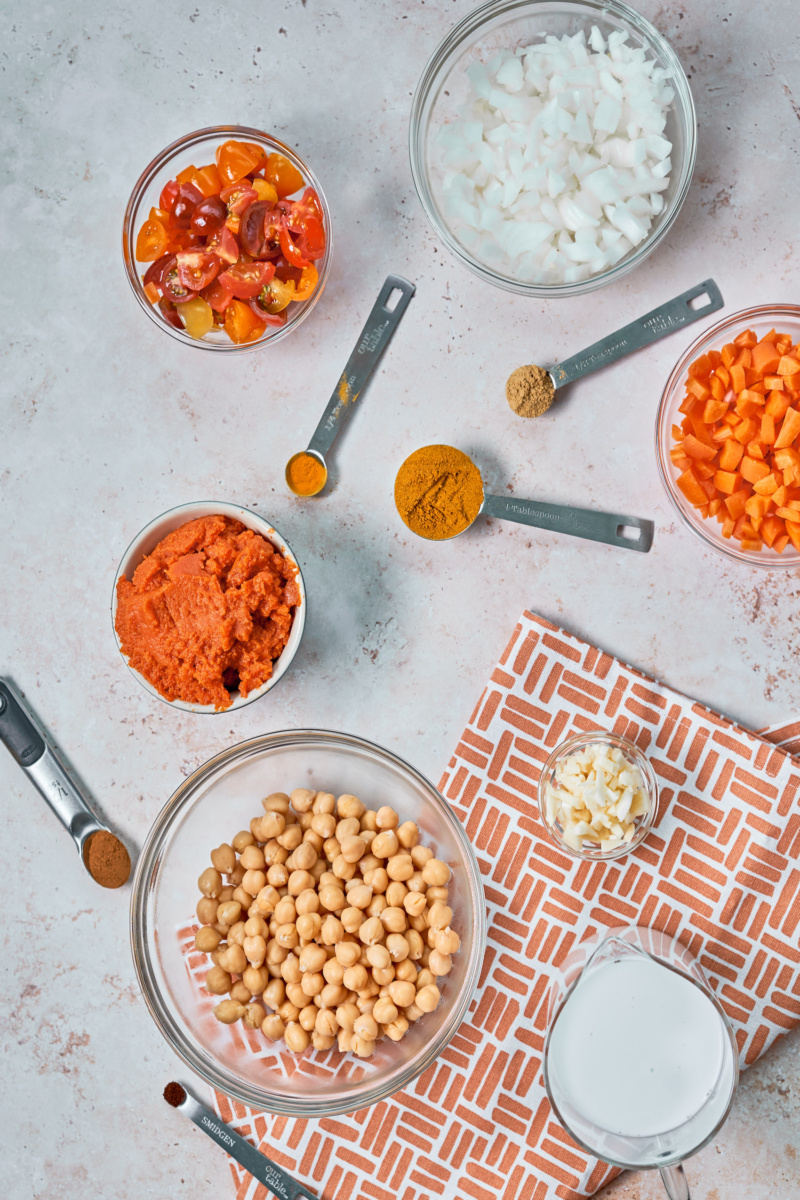 Ingredients for Chickpea Pumpkin Coconut Curry
You know I love to keep things simple over here, so I wanted to come up with an easy weeknight dinner recipe that was easy to throw together with mostly pantry ingredients. This is essentially a simple coconut curry recipe with plenty of vegetables and of course some pumpkin puree to make it the perfect cozy fall meal. Here's what you'll need to make it:
Oil. Olive oil, canola oil, or coconut oil would all work well.
Onion. I used a yellow onion, but use what you have!
Garlic. You'll want at least two fresh cloves of garlic.
Carrots. I love that carrots add a bit more natural sweetness to the curry.
Tomatoes. I am using fresh tomatoes in this recipe, but you can totally use canned!
Pumpkin puree. It's super important, like absolutely necessary, to use pumpkin puree and NOT pumpkin pie filling. None of that sugary stuff here. I like to buy canned pumpkin puree, but Alexa from Fooduzzi has a great tutorial on how to make your own pumpkin puree, if you're feeling really adventurous.
Chickpeas. You can use either dried or canned. You'll need 1 1/2 cups cooked chickpeas, or one 15-ounce can.
Spices. There's no shortage of flavor in this pumpkin curry, thanks to all the spices! You'll need curry powder, ground ginger, turmeric, cinnamon, cayenne pepper, salt and pepper.
Coconut milk. Make sure you grab canned coconut milk, not the stuff that comes in a carton! Canned coconut milk will be creamier, which is what we want in this pumpkin curry! Either light or full-fat will work.
Lime. The lime is optional, but I really, really recommend it! A sueeze of fresh lime juice on top really takes this pumpkin curry to the next level.
How to Make Chickpea Pumpkin Coconut Curry
Not only is this chickpea pumpkin coconut curry so easy to make, but it's also a one pot vegan recipe, which means less time spent doing dishes!
Grab a large pot, add about a tablespoon of oil and set your burner to medium. Once the oil is nice and hot, start to sautee your onion for about 5 minutes. Once the onion is softening, add your garlic and cook until fragrant (AKA the best smell in the world). Next, add in your carrots, tomatoes, and more oil if you're seeing things start to stick. Add the lid to your pot so it's slightly off-center and let the veggies steam.
Once you're seeing all the veggies get nice and tender, add in your pumpkin, chickpeas, all the spices and give everything a good stir. Once everything is coated in all the spices, add your coconut milk and water and let everything simmer for about 20 minutes.
Simple as that! If you'd like to serve this curry with a grain, you could easily get that going in a separate pot while the pumpkin curry simmers. Dinner on the table in under an hour!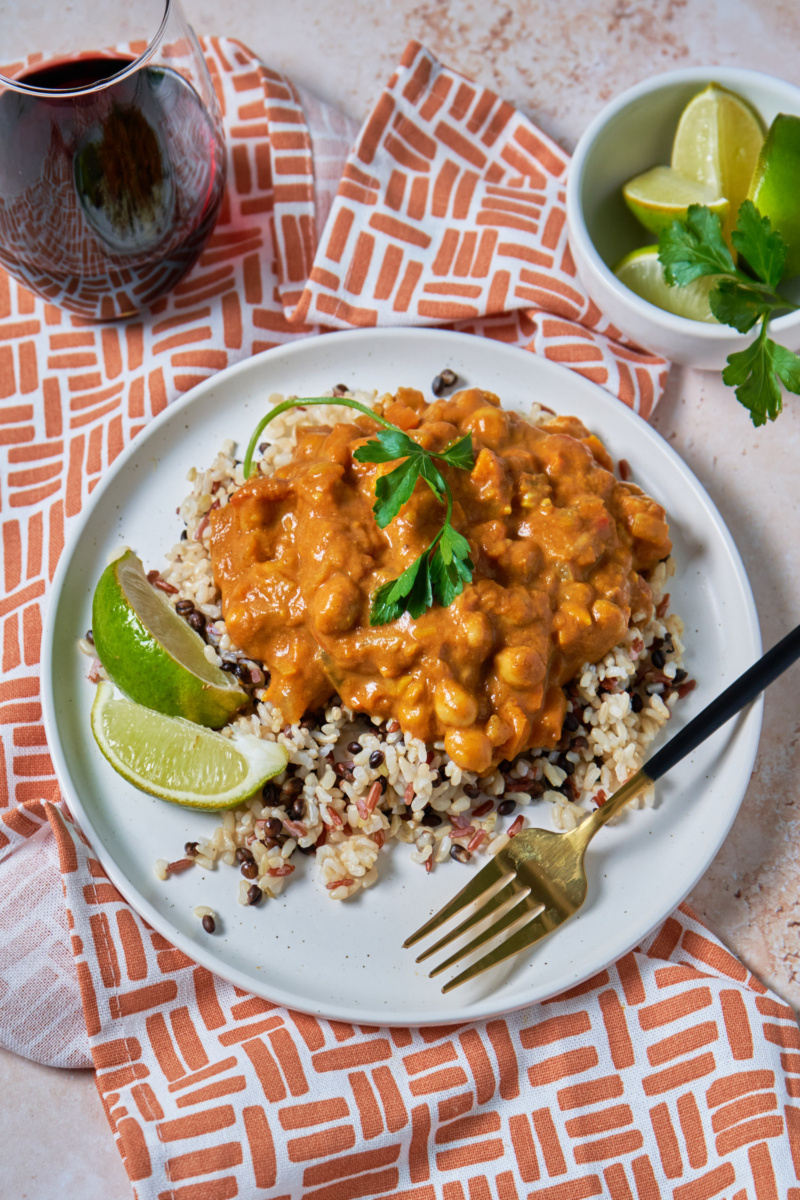 What to Serve with Pumpkin Curry
Like I said earlier, this pumpkin curry recipe can be enjoyed in so many different ways, so it's a great fall recipe to keep coming back to since you can serve it up a different way each time!
I love serving this over rice, quinoa, buckwheat or other grain blends for a super satisfying dinner. I also love having this with naan so I can sop up all the leftover pumpkin curry at the bottom of the bowl.
If you're really not feeling like doing any more cooking (we all have those days), this pumpkin curry can totally be eaten on its own as a soup! Since we've got plenty of carbs and fiber from the veggies, protein from the chickpeas and a bit of fat from the coconut milk, it's a totally well-rounded meal all on its own.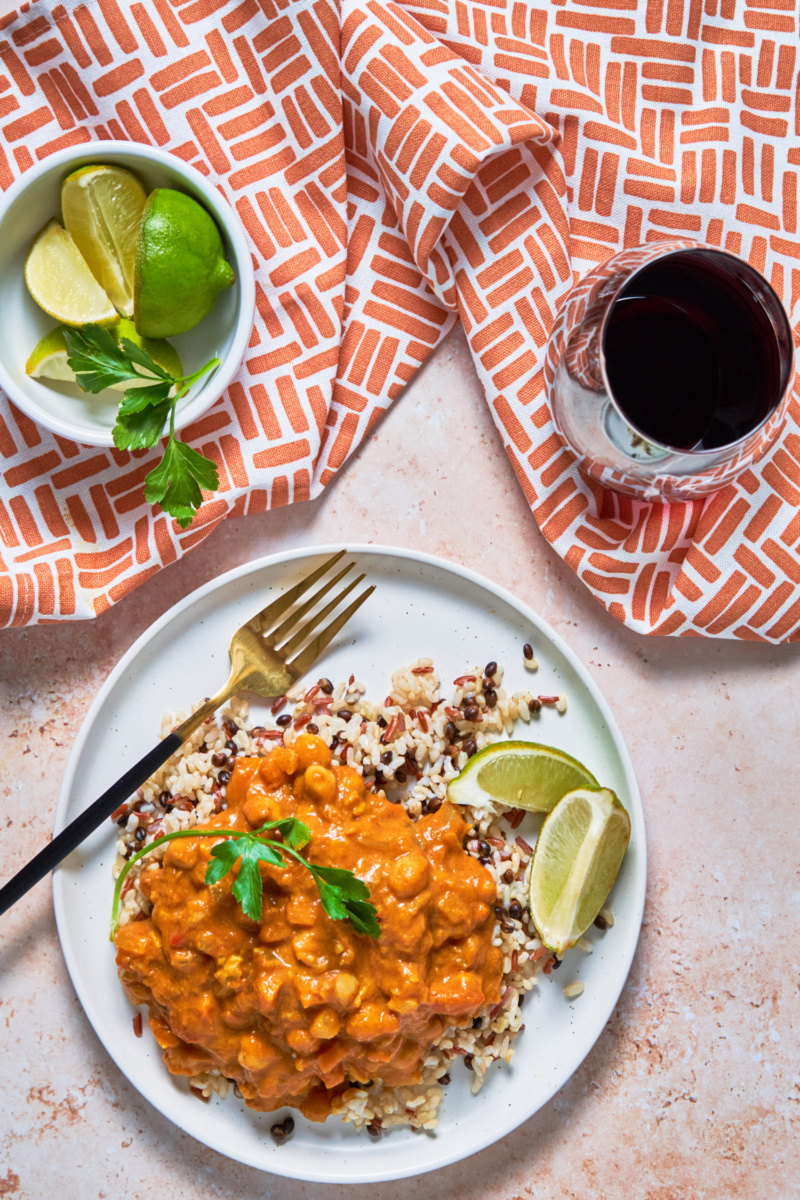 How to Store Chickpea Pumpkin Coconut Curry
This recipe is great one to double so you can keep extras in the fridge for later in the week. It'll hold up well in an airtight container for about 4 days in the refrigerator. That means you've got lunches ready to go throughout the week!
Now I don't know what it is about the colder months, but I always feel like I lean on my freezer a bit more in the fall and winter. Some days when it gets so dark early on in the evenings, it can be hard to want to spend an hour in the kitchen making dinner!
Thankfully, this pumpkin curry recipe is also perfect for freezing, so you can keep extra servings on hand for those nights when you just can't be bothered to cook. I recommend separating the leftover pumpkin curry into portions that you plan on serving in one sitting so that you don't have to thaw a huge batch that you're not going to eat right away.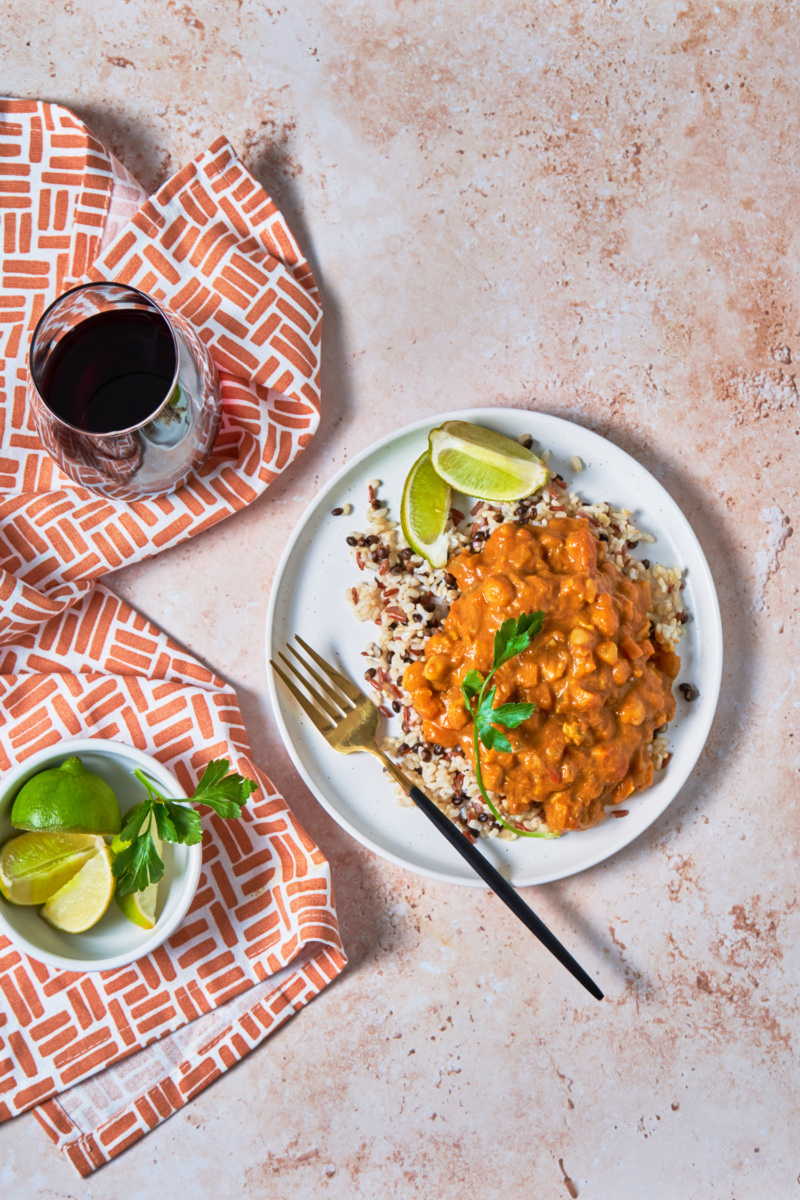 More Vegan Pumpkin Recipes
Make this pumpkin curry on a chilly, cozy, fall/winter night when all you want to do is snuggle on the couch and watch Netflix, even though we all know that's what we want to do no matter what season it is. Either way, this curry warms you up from the inside out and is like a comforting hug you can EAT. Those are the best 🙂
If you're looking for more cozy, vegan pumpkin recipes, here are some of my favorites!
Print
How to make:
Chickpea Pumpkin Coconut Curry
This easy Chickpea Pumpkin Coconut Curry is a delicious, one-pot vegan dinner for fall and winter and will warm you up from the inside out!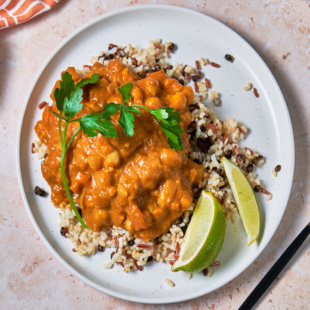 Ingredients
Oil for cooking

1

yellow onion, roughly chopped

2

garlic cloves, minced (

1 teaspoon

)

1 cup

carrots, chopped

1 cup

tomatoes, chopped

1

15-ounce can pumpkin puree

1 1/2 cups

cooked chickpeas, or

1

15-ounce can, drained and rinsed

1 tablespoon

curry powder

1/2 teaspoon

ground ginger

1/2 teaspoon

salt

1/4 teaspoon

black pepper

1/4 teaspoon

turmeric

1/4 teaspoon

cinnamon

1/8 teaspoon

cayenne pepper

1

13.5-ounce can coconut milk (light or full-fat will work)

1 cup

water

1/2

lime
Instructions
In a large pot or wok, heat 1 tablespoon oil over medium heat.
Once hot, add the onion. Cook for 3-5 minutes, until onion begins to soften. Add garlic and cook for 1 more minute.
Add the carrots and tomatoes; stir to combine. Add more oil to the pan if necessary. Partially cover the pot; cook for 5-8 minutes, until carrots become slightly tender.
Add the pumpkin, chickpeas, curry powder, ginger, salt, pepper, turmeric, cinnamon, and cayenne pepper. Stir until fully combined.
Pour the coconut milk and water into the pot; mix well.
Bring to a boil, then turn the heat down to let it simmer for 15-20 minutes, until the carrots are fully tender.
Serve over rice, quinoa, buckwheat, or other grain alternative; squeeze a wedge of lime over each serving.