These Chocolate Chip Almond Butter Bars are the best treat! They're a twist on vegan blondies with lots of almond butter and chocolate chips!
Chocolate Chip Almond Butter Bars
If you despise ooey, gooey, delicious baked goods, then you've come to the wrong place; sorry. But if you LOVE chocolatey, melt-in-your-mouth, oops-I-ate-the-whole-pan treats, you have reached your destination.
Friends, I'd like to introduce you to these Chocolate Chip Almond Butter Bars. I think you two will really it it off.
These Chocolate Chip Almond Butter Bars are essentially a vegan blondie, but even better because they're loaded with plenty of creamy almond butter and lots of chocolate chips.
I could probably eat these almond butter bars all day every day all the time forever. First of all, is there anything better than almond butter? No. Plus chocolate chips? Definitely not. And as if it couldn't get any sweeter, these almond butter bars are vegan, gluten-free, AND made with dates for extra ooey, gooey sweetness. You're gonna wanna keep the pan to yourself this time.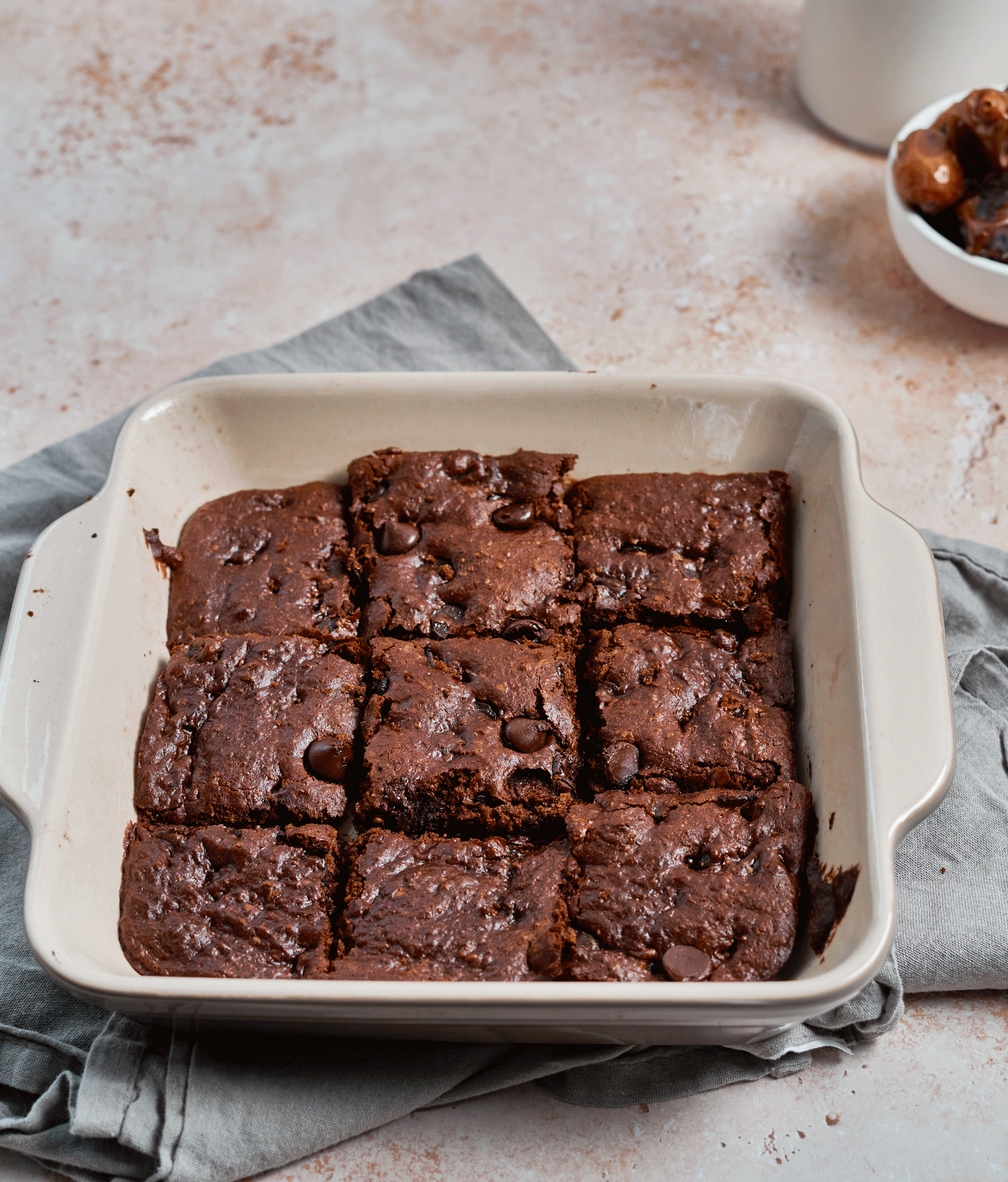 The Importance of Healthy Fats
My friends, let's talk about fat for a second. Ever since the low-fat craze took over the country in the 1990s, people have been scared of fat and instead opt for low-fat substitutes, which usually contain lots of added sugar and refined flours to add the flavor back in. Most Americans get too much saturated fat and trans fat from animal products and processed foods; these have been shown to increase your risk of cardiovascular disease and diabetes!
But the right fats are good! Monounsaturated, polyunsaturated, and Omega-3 fatty acids are all necessary for life, so don't be afraid of them! These naturally occur in plant foods like seeds, avocado, olives, and of course nuts like almonds. These good fats can lower cholesterol levels and are great for heart health.
Fats are satiating–just adding a little bit of fat to your meal (like avocado in a green salad) can help you feel fuller. Plus, the fat-soluble vitamins A, D, E, and K require enough fat to be absorbed into the body.
Almonds are a great source of monounsaturated fat; look for one-ingredient almond butter to avoid any added oils or sugar! I love grinding fresh almond butter at Whole Foods, but there are also tons of incredible pre-made almond butters on the market.
Here's to not fearing healthy fats and eating pans of these almond butter bars to celebrate! Let me know if you try them. I'm sure you will love them as much as I do!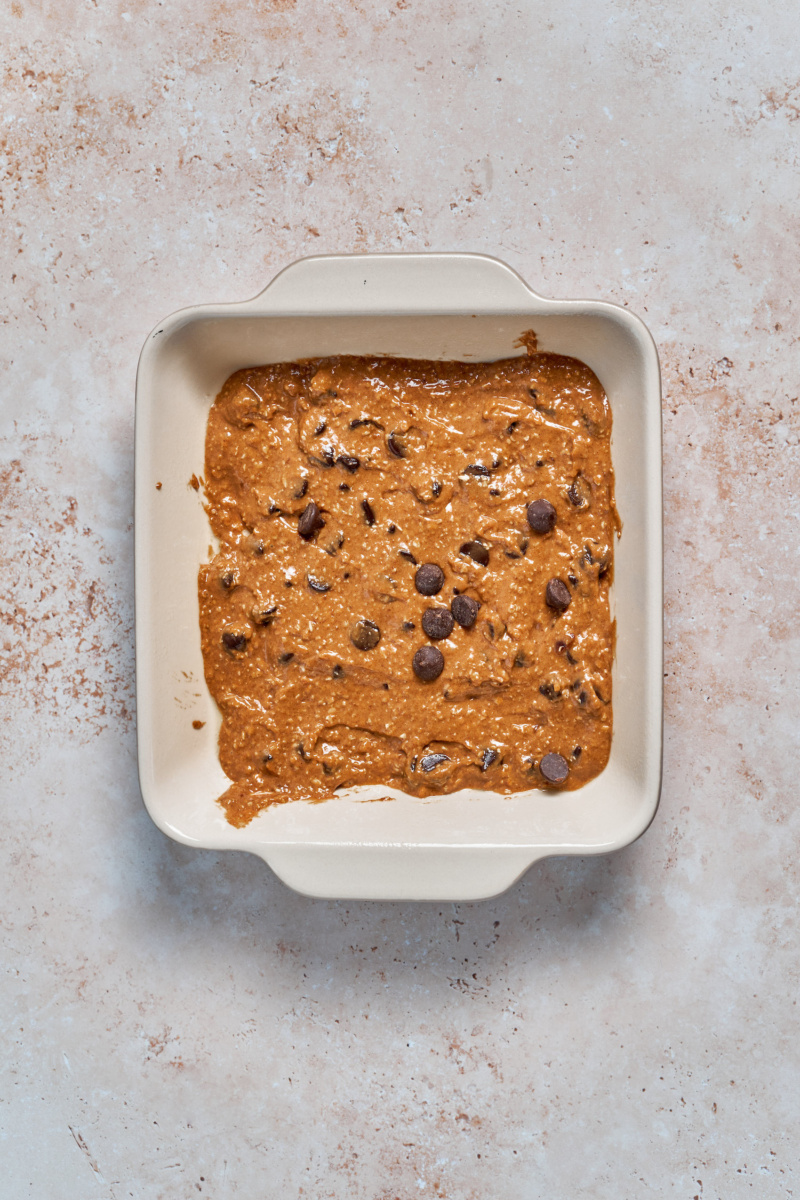 Ingredients for Almond Butter Bars
Not only are these almond butter bars full of healthy fats, but they're also made with other ingredients you probably already have at home! And did I mention there are only 9 ingredients in total? Here's what you need to make them:
Dates. We're using dates in this recipe to not only add sweetness, but to also give these almond butter bars the ultimate fudgy texture.
Almond butter. Use your favorite kind, but I recommend going for smooth almond butter.
Applesauce. The applesauce in this recipe takes the place of canola oil. We're getting delicious healthy fats from our almond butter, so applesauce helps to keep these almond butter bars moist and sweet without adding too much sugar or additional fat.
Almond milk. Seeing as we're using almond butter, I also used almond milk in this recipe. However, any plant-based milk will work!
Oat flour. No need to go to the store and buy a fancy alternative flour – you can make your own oat flower at home! Grab your blender or your food processor, add some plain rolled oats and blend until you're left with a fine powder.
Baking soda. These almond butter bars are definitely super gooey, but we still want them to have a light texture, so baking soda helps give them a bit of rise.
Vanilla extract. What baked good doesn't taste better with a hint of vanilla?
Salt. We definitely want our almond butter bars to taste sweet, but not overly sweet. A pinch of salt goes a long way to balance out the flavor.
Chocolate chips. I love these Semi Sweet Chocolate Mini Chips from Enjoy Life. They're dairy-free, nut-free and soy-free! We're mixing these chocolate chips into our almond butter bars, and putting more on top of course!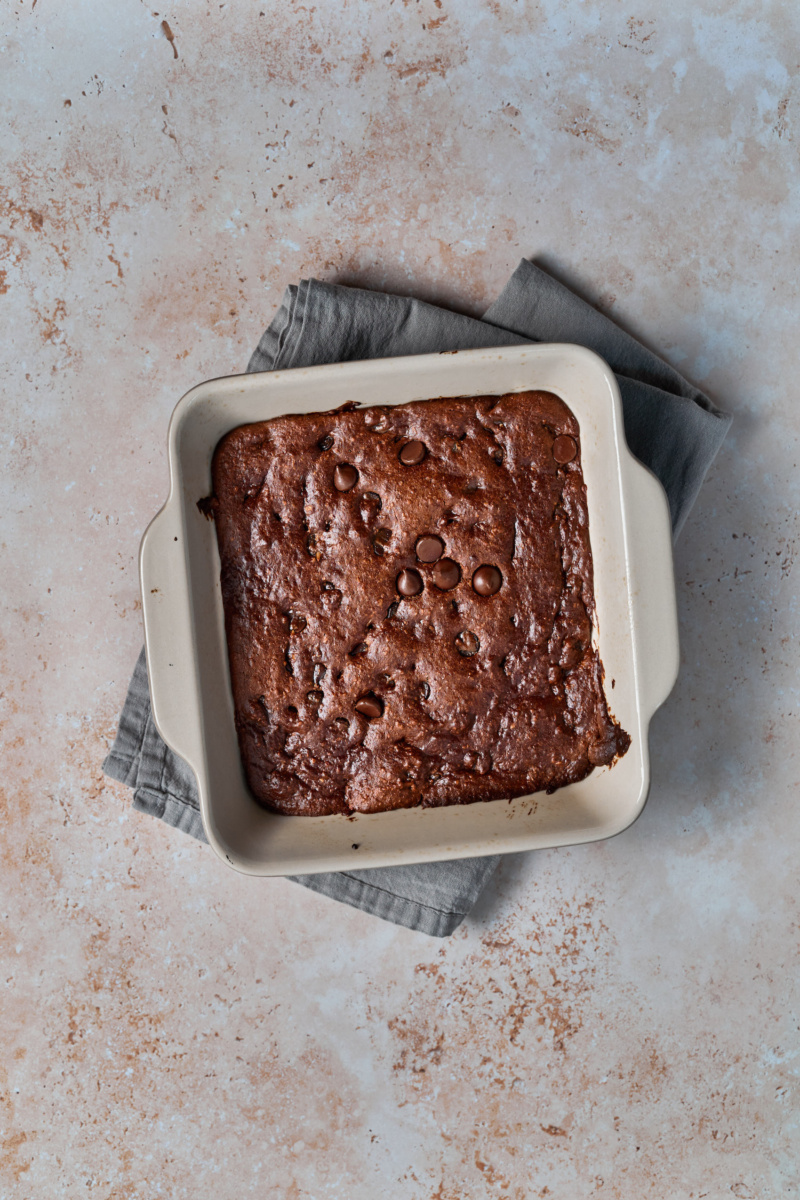 How to Make Almond Butter Bars
These almond butter bars couldn't be simpler to make. The recipe is essentially a vegan blondie at its core, but with lots of almond butter and chocolate chips in the mix.
Since we're using dates as our main source of sweetener, the first thing you need to do is soak your dates. Just put them in a bowl, pour some hot water overtop and let them sit for at least 10 minutes. While your dates sit, preheat your oven to 350F and grease your 8 x 8-inch baking dish.
Once your dates are tender, drain them and add them to a food processor or blender along with your almond butter and applesauce. Blend up until the mixture is super smooth. Then, set your blender or food processor to a low speed and stream in your milk. Once all the milk has been added, start to add in the oat flour, baking soda, vanilla and salt and continue to process until all the ingredients are fully incorporated into the batter.
Finally, fold in your chocolate chips by hand, then transfer the batter to your greased dish and top your almond butter bars off with more chocolate chips! Pop them in the oven for about 25 minutes, or until they reach your desired doneness. Leave them in the pan to cool for about 15 minutes because they firm up more as they cool; you can even stick them in the fridge.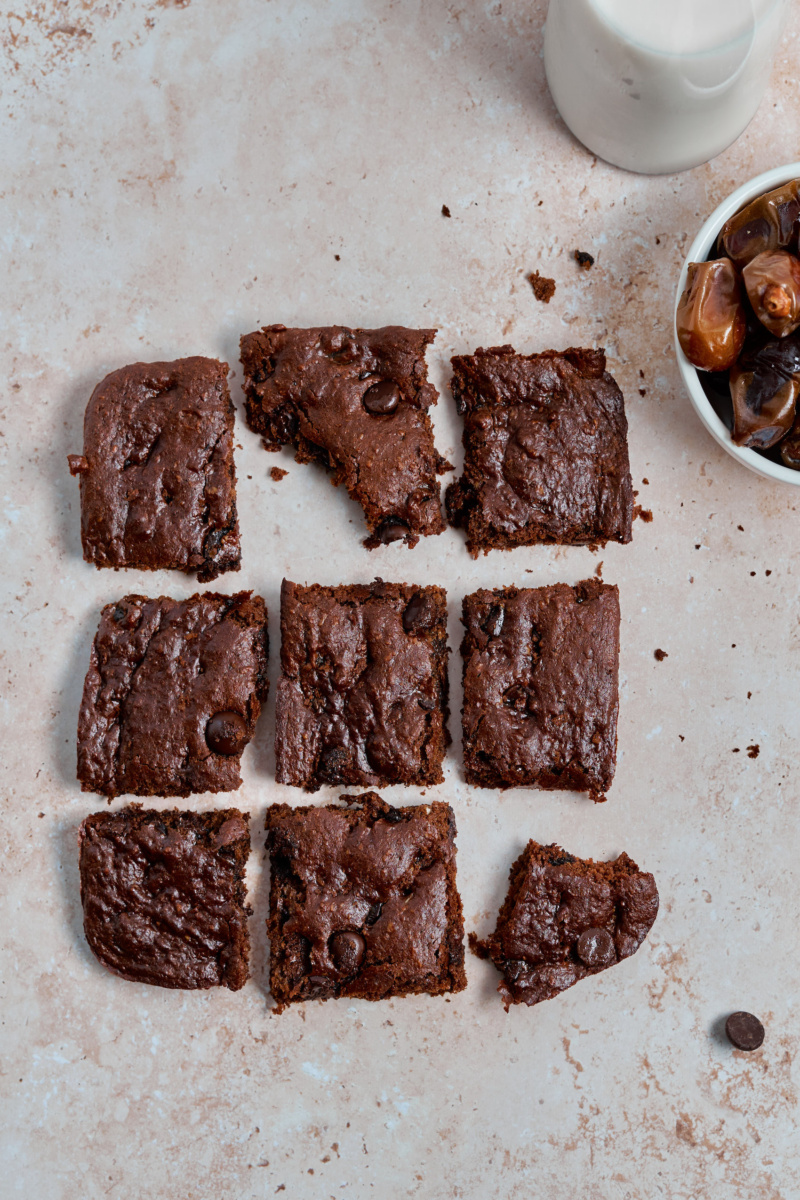 How to Store Almond Butter Bars
If you're anything like me, these almond butter bars probably won't last long enough for you to worry about how to store them. But, if you're maybe making a double batch (or are generous and like to save some to share with friends) then you'll be happy to hear that these almond butter bars hold up well for about 3-4 days.
You need to let the almond butter bars cool COMPLETELY before you even think about slicing into them. Otherwise they will turn into a mess. We're going for ooey, not oozy – there's definitely a difference! Once they're cool, slice them up and stash them in an airtight container. I recommend adding a sheet of parchment paper between each layer if you're stacking them up in your container. Then, just pop them in the fridge if you plan on holding onto them for a few days!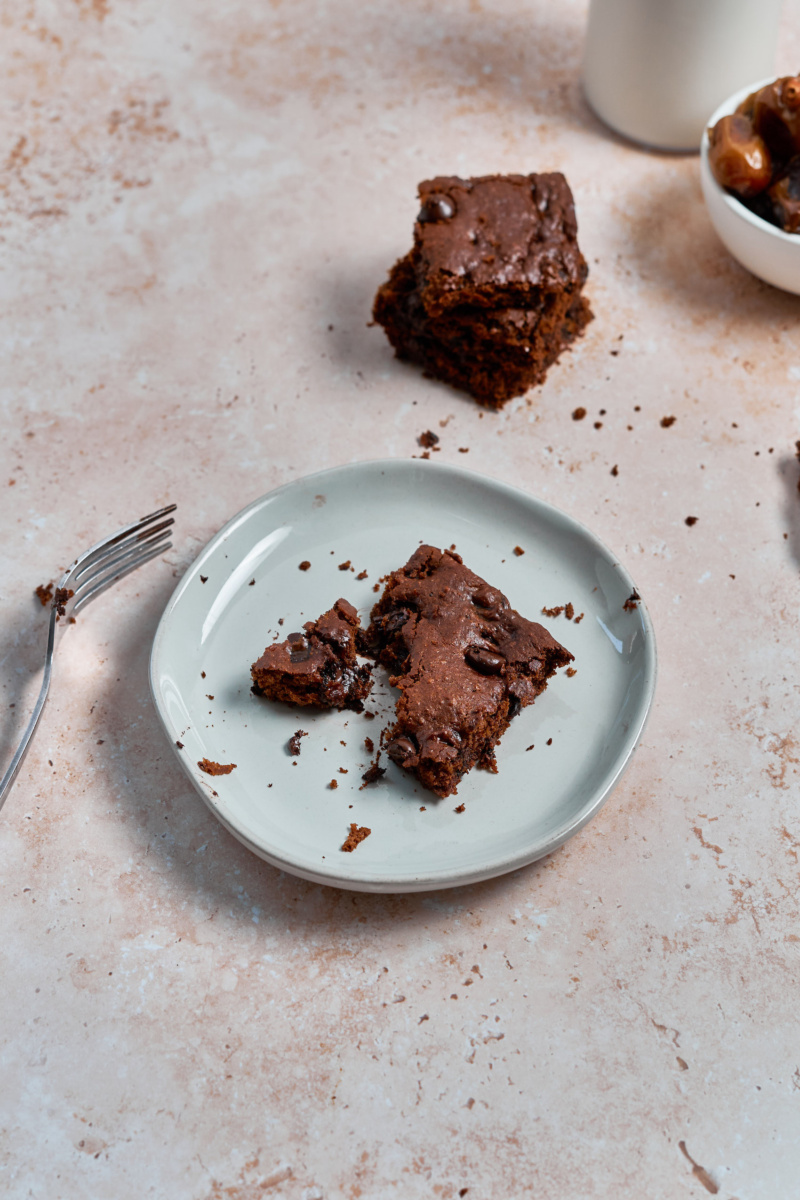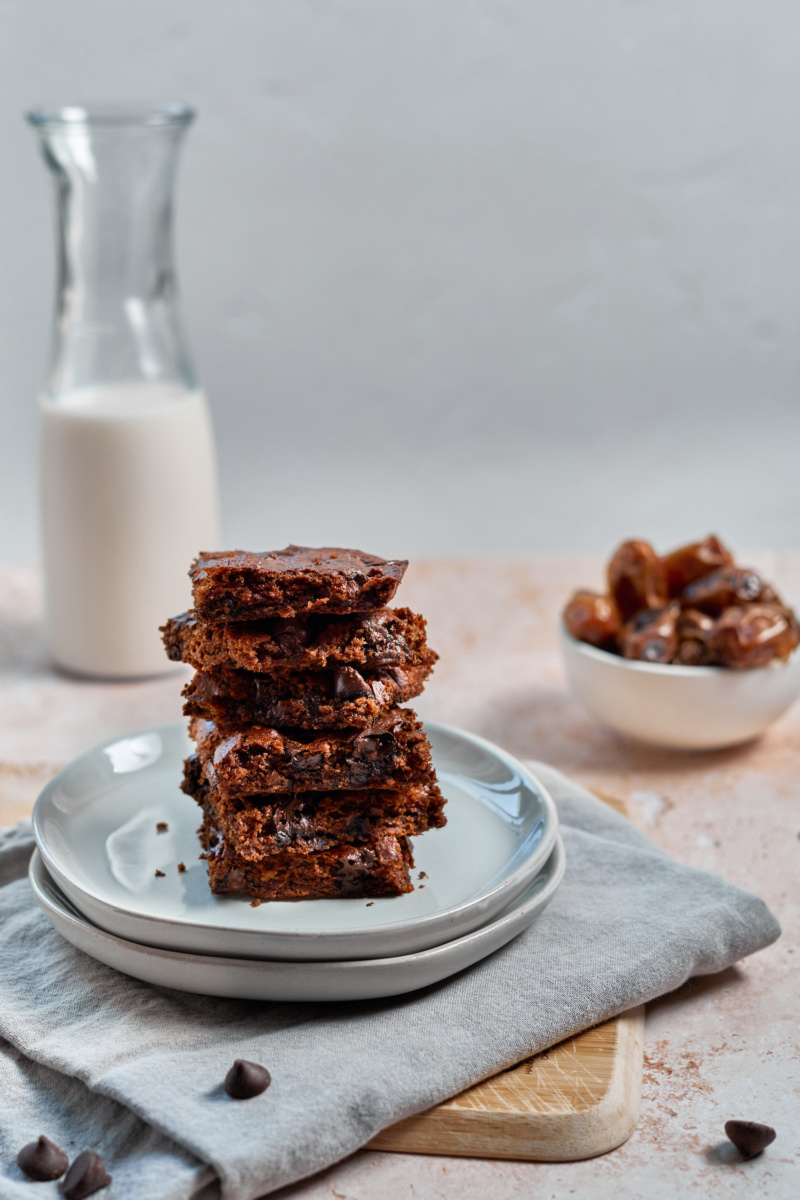 More Vegan Blondies and Brownies
Are you team blondie or brownie? Or maybe you just can't choose! Whichever mood you're in, here are a few of my favorite vegan blondie and brownie recipes for you to enjoy!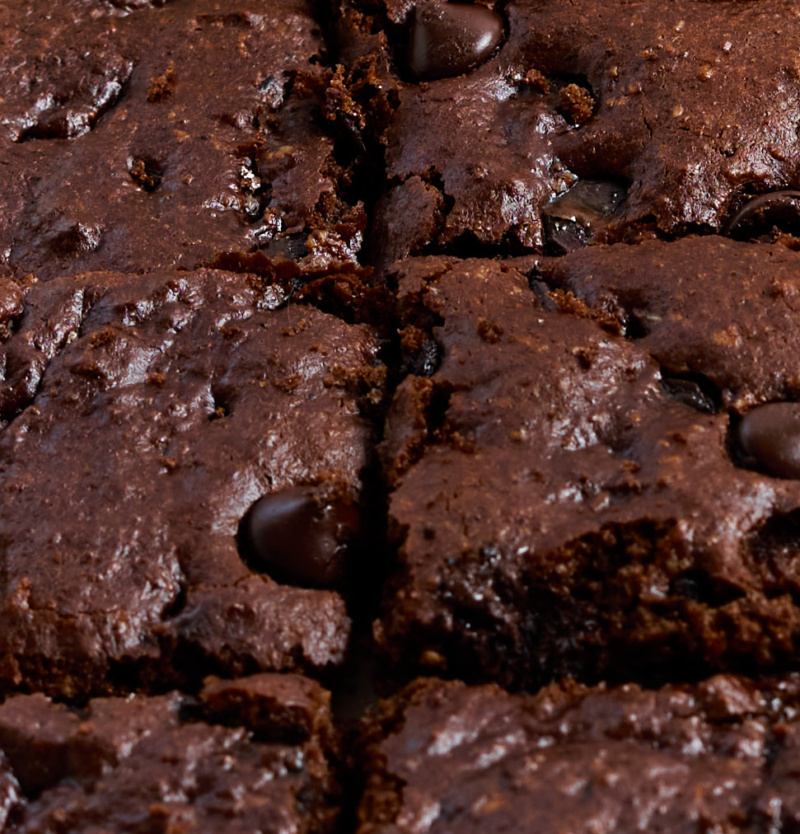 Print
How to make:
Chocolate Chip Almond Butter Bars
These Chocolate Chip Almond Butter Bars are the best treat! They're a twist on vegan blondies with lots of almond butter chocolate chips!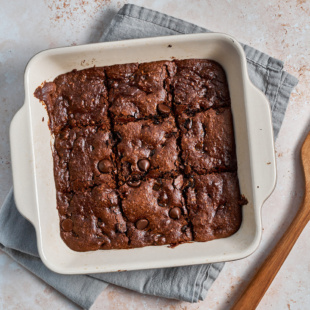 Ingredients
1/2 cup

dates, soaked

3/4 cup

almond butter

1/4 cup

applesauce

1/4 cup

almond milk

1/2 cup

oat flour

1 1/2 teaspoons

baking soda

1 1/2 teaspoons

vanilla extract

1/4 teaspoon

salt

1/3

–

1/2

cup chocolate chips, plus more for topping
Instructions
Preheat oven to 350F. Lightly grease an 8-inch x 8-inch pan.
In a medium bowl, place the dates. Pour in enough hot water to cover. Let sit for 10 minutes.
Drain dates.
In the bowl of a food processor or blender, add dates, almond butter, and applesauce. Process until well combined, stopping to scrape down the sides.
Slowly add milk; continue to process.
Add oat flour, baking soda, vanilla, and salt. Process until completely mixed.
Stir in chocolate chips until all ingredients are combined.
Pour batter into the pan. Sprinkle with additional chocolate chips.
Bake for 25-27 minutes. Let the bars cool in the pan for 15 minutes before serving.