If you despise ooey, gooey, delicious baked goods, then you've come to the wrong place; sorry. But if you LOVE chocolatey, melt-in-your-mouth, oops-I-ate-the-whole-pan treats, you have reached your destination.
Let's just say there's about half a pan left of these Chocolate Chip Almond Butter Bars in my fridge and I'm the only one that's tried them. Sharing? What's that?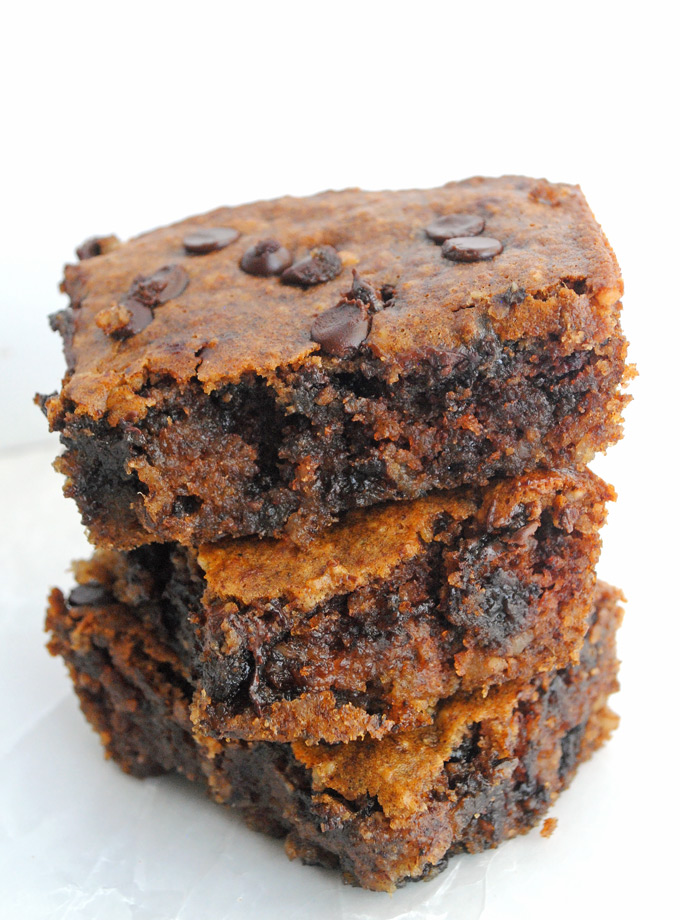 To be honest, I've never really been a huge dessert person. I'd rather munch on something savory, like a whole bowl of hummus or tacos or (vegan) pizza. Yeah, I like dessert every now and then, but sweets just aren't my thang 24/7.
With that said, I could probably eat these almond butter bars all day every day all the time forever. First of all, is there anything better than almond butter? No. Plus chocolate chips? Definitely not. Plus, these are vegan, gluten-free, AND, refined sugar-free, because we're sweetening them with good 'ole dates. The only refined sugar comes from chocolate chips (I love these from Enjoy Life)! With heart-healthy oats and protein from almond butter, you can feel better enjoying these.
So obviously I'm giving you permission to eat the whole pan.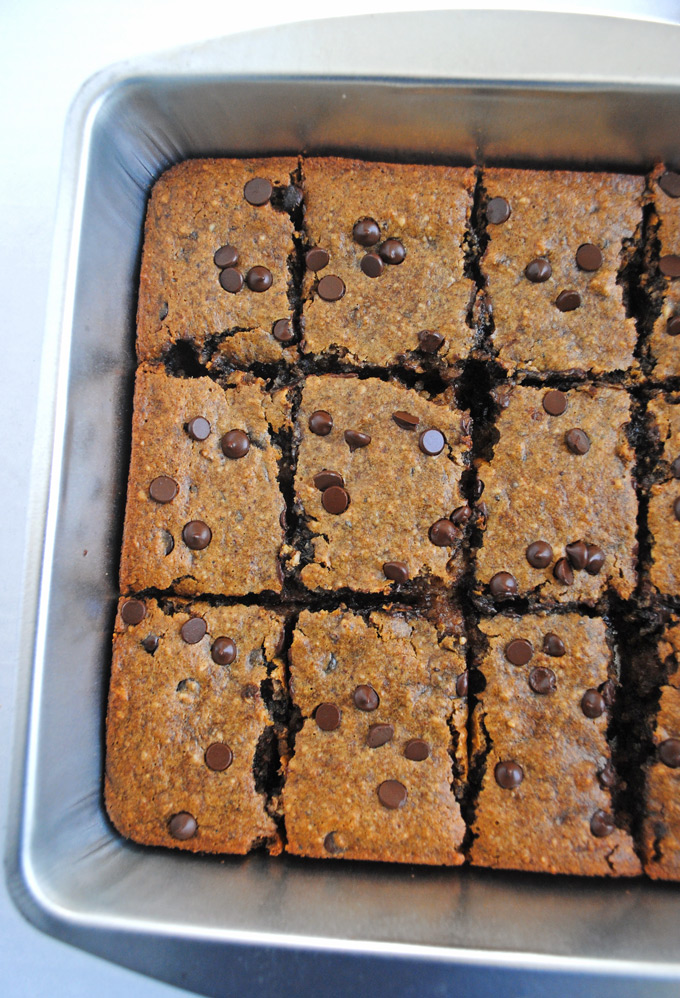 My friends, let's talk about fat for a second. Ever since the low-fat craze took over the country in the 1990s, people have been scared of fat and instead opt for low-fat substitutes, which usually contain lots of added sugar and refined flours to add the flavor back in. Most Americans get too much saturated fat and trans fat from animal products and processed foods; these have been shown to increase your risk of cardiovascular disease and diabetes!
But the right fats are good! Monounsaturated, polyunsaturated, and Omega-3 fatty acids are all necessary for life, so don't be afraid of them! These naturally occur in plant foods like nuts, seeds, avocado, and olives. These good fats can lower cholesterol levels and are great for heart health.
Fats are satiating–just adding a little bit of fat to your meal (like avocado in a green salad) can help you feel fuller. Plus, the fat-soluble vitamins A, D, E, and K require enough fat to be absorbed into the body.
No more fat fears!!!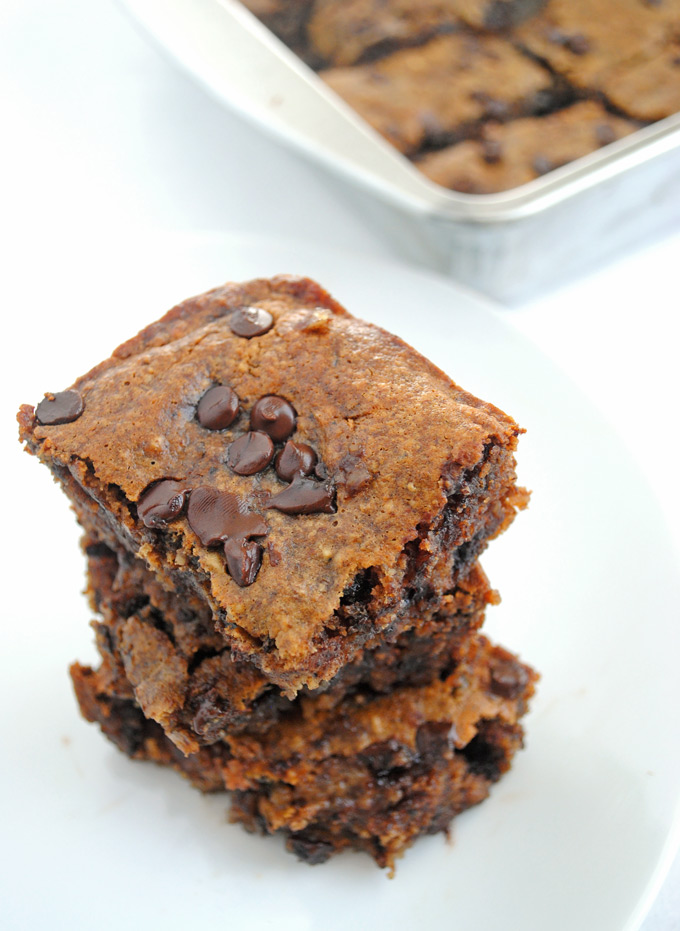 Almonds are a great source of monounsaturated fat; look for one-ingredient almond butter to avoid any added oils or sugar! I love grinding fresh almond butter at Whole Foods.
I wanted to make these almond butter bars in honor of Chocolate Covered Katie's Hug a Fat Month, when she encourages everyone to embrace healthy fats in their diet. I love Katie's recipes, and I especially love her "no fat fear" message!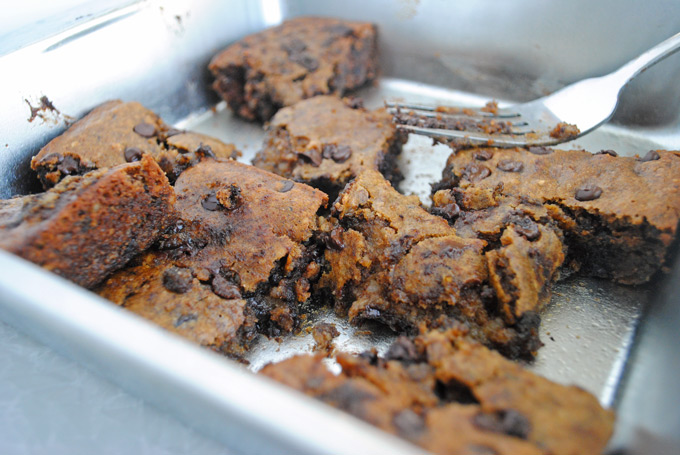 Okay, end rant–back to the bars. They're easy and contain ingredients that you probably already have in your house. If not, a trip to the grocery store is worth it, I promise.
I like my desserts extra gooey (aka I'd rather eat the batter than actually bake them), so I underbaked these a couple minutes. But bake them until you're happy with the doneness. Leave them in the pan to cool for about 15 minutes because they firm up more as they cool; you can even stick them in the fridge.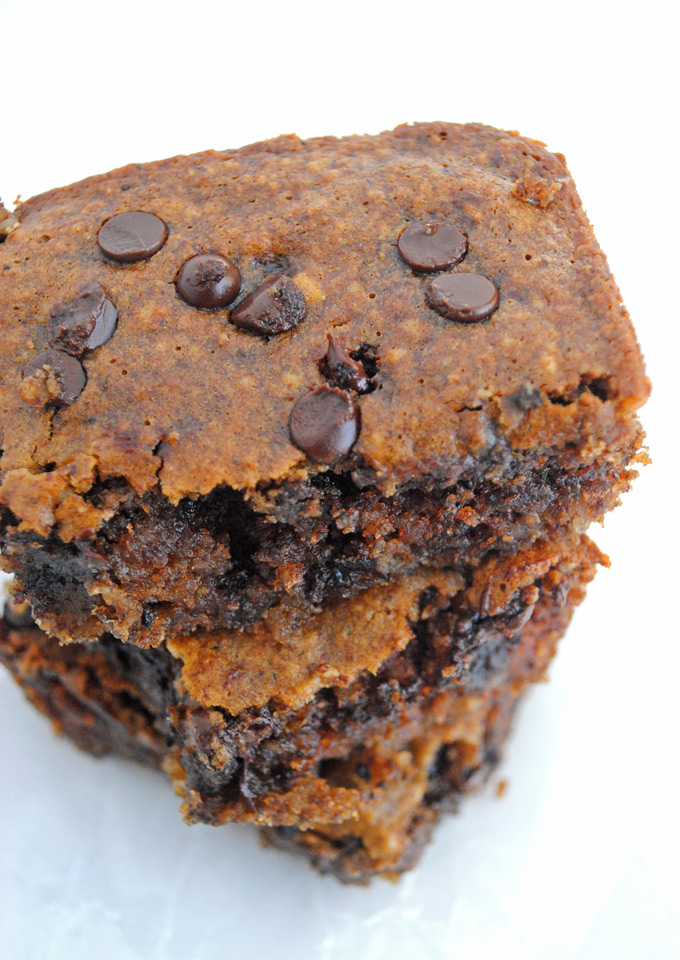 Here's to not fearing healthy fats and eating pans of these almond butter bars to celebrate! Let me know if you try them. I'm sure you will love them as much as I do!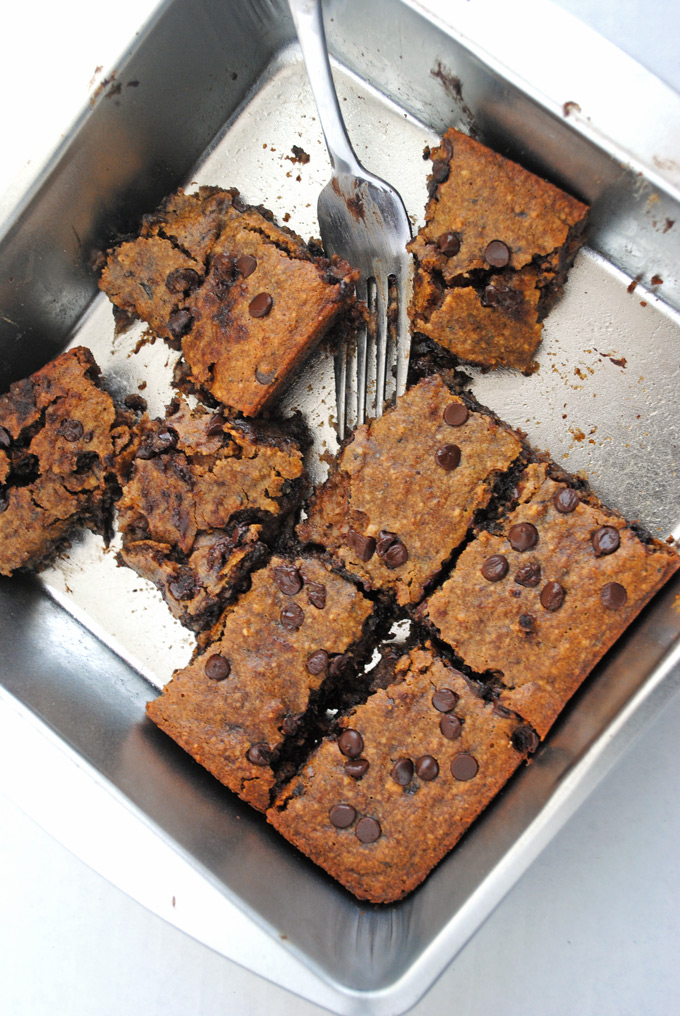 Update: I made a really cool video showing you exactly how to make these delicious bars! I hope you'll check it out and subscribe if you like my recipes!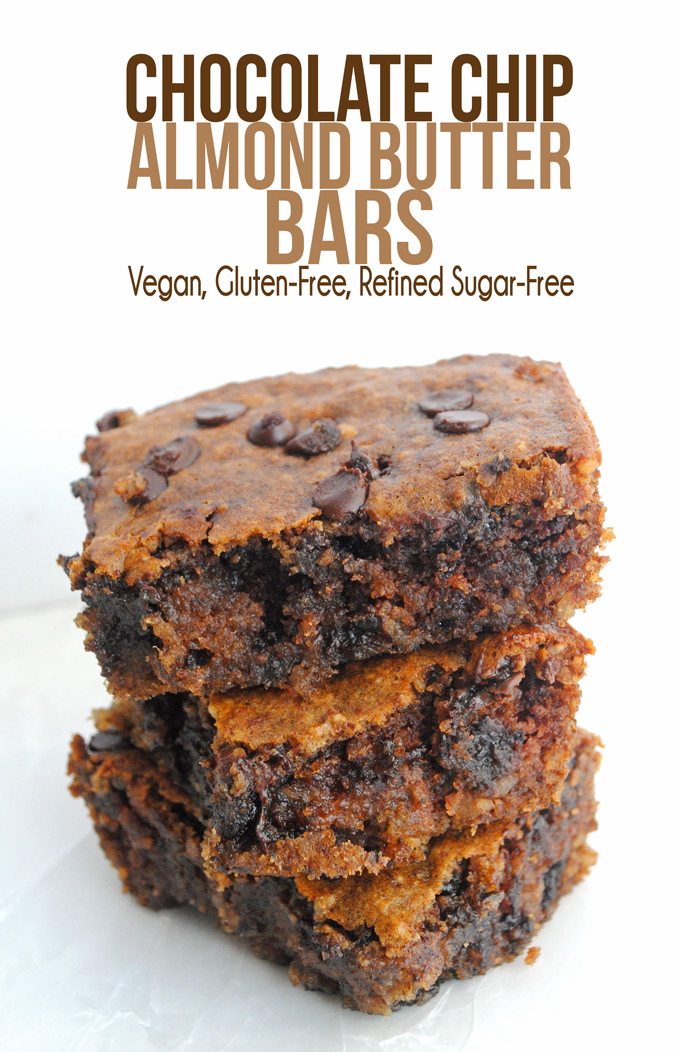 Print
How to make:
Chocolate Chip Almond Butter Bars (vegan + gluten-free)
If you're looking for a delicious gooey treat that's vegan & gluten-free, these Chocolate Chip Almond Butter Bars are perfect! Easy & naturally sweetened.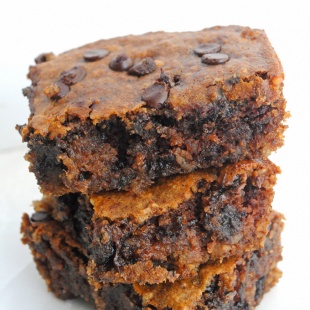 Ingredients
1/2 cup

dates, soaked

3/4 cup

almond butter

1/4 cup

applesauce

1/4 cup

almond milk

1/2 cup

oat flour

1 1/2 teaspoons

baking soda

1 1/2 teaspoons

vanilla extract

1/4 teaspoon

salt

1/3

–

1/2

cup chocolate chips, plus more for topping
Instructions
Preheat oven to 350F. Lightly grease an 8-inch x 8-inch pan.
In a medium bowl, place the dates. Pour in enough hot water to cover. Let sit for 10 minutes.
Drain dates.
In the bowl of a food processor or blender, add dates, almond butter, and applesauce. Process until well combined, stopping to scrape down the sides.
Slowly add milk; continue to process.
Add oat flour, baking soda, vanilla, and salt. Process until completely mixed.
Stir in chocolate chips until all ingredients are combined.
Pour batter into the pan. Sprinkle with additional chocolate chips.
Bake for 25-27 minutes. Let the bars cool in the pan for 15 minutes before serving.
If you loved these bars, you'll love this chocolate twist on them – Chocolate Chip Almond Butter Brownies!