These Savory Crepes with Mushrooms are a perfect addition to brunch. These nutritious crepes are made with oat flour and contain non-dairy ingredients. In partnership with Quaker but all opinions are my own.
Savory Crepes with Mushrooms and Spinach
Have you ever made crepes? Before I made these, I had only ever made them for my crepe cake. To say I was a crepe newbie is an understatement.
Five test batches of these savory crepes later (yes, five), I feel confident in my crepe-making abilities. It isn't the easiest dish to master since the batter is so thin and delicate, but it's possible, I promise.
These savory crepes are made with Quaker Old Fashioned Oats ground into oat flour and topped with mushrooms and spinach for the most delicious brunch dish.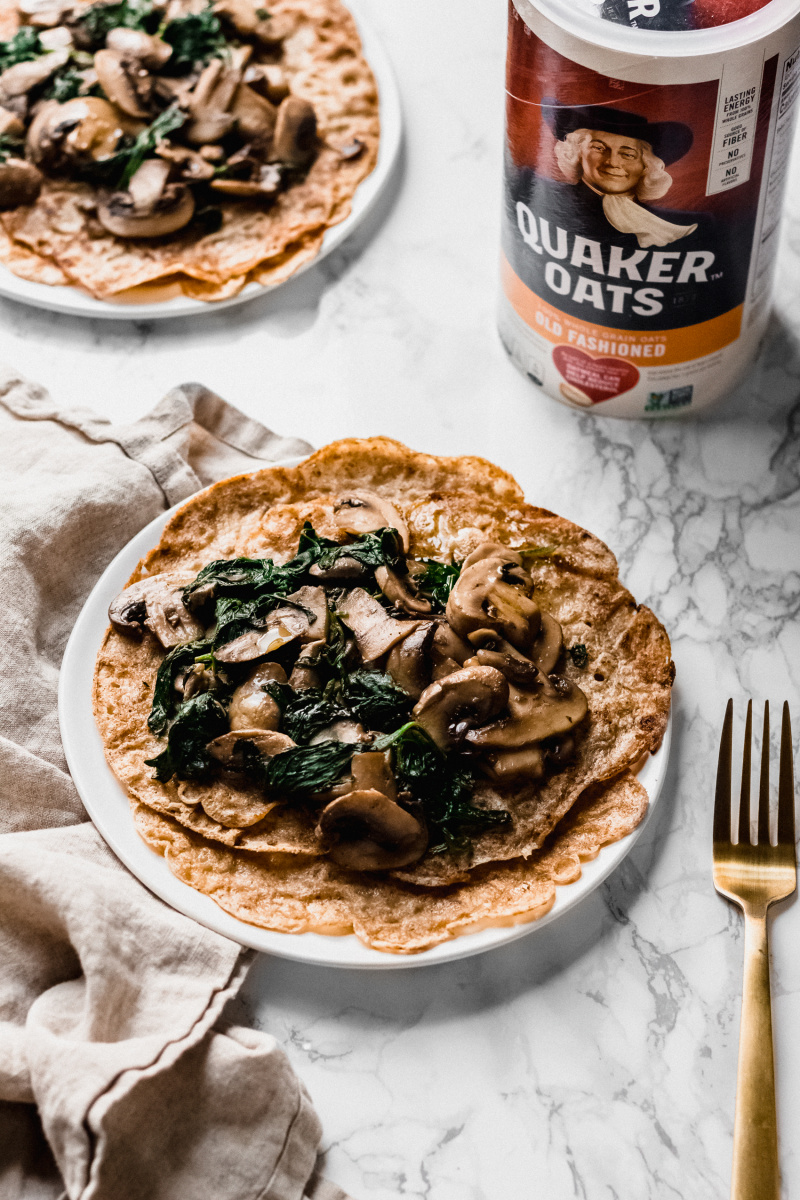 What are Crepes?
A crepe is a very thin pancake typically associated with French cuisine, though it is enjoyed in many other cultures as well. Also, there are sweet and savory crepes.
Traditionally, crepes are made with flour, milk, eggs, sugar, and butter. However, with just a few tweaks, we can make crepes with whole grain oats thanks to Quaker Old Fashioned Oats.
How to Make Savory Crepes
Don't let the delicate, thin batter scare you away. Actually, savory crepes are quite easy to make once you've practiced (the first couple might not look *perfect*).
Let's go through the process of making this crepes recipe:
Mix all of your dry ingredients together. We're using a mix of oat flour (whole grains! yay!) and all-purpose flour as our base. In addition to being 100% whole grain, the oats used in each variety of Quaker Oats provide similar amounts of vitamins and minerals, ounce per ounce. Also, oats are inherently low in fat and sodium.

Add wet ingredients slowly while whisking. The batter for these savory crepes will be THIN – this is normal.

You want to generously grease a skillet with nonstick spray. I found that just-below-medium heat produced the best crepes.

Then, ladle 1/2 cup of the batter around the whole pan when it's super hot so a very thin crepe forms.

Cook 2 minutes on each side.

Top with sautéed mushrooms and spinach. Feel free to mix up your toppings here!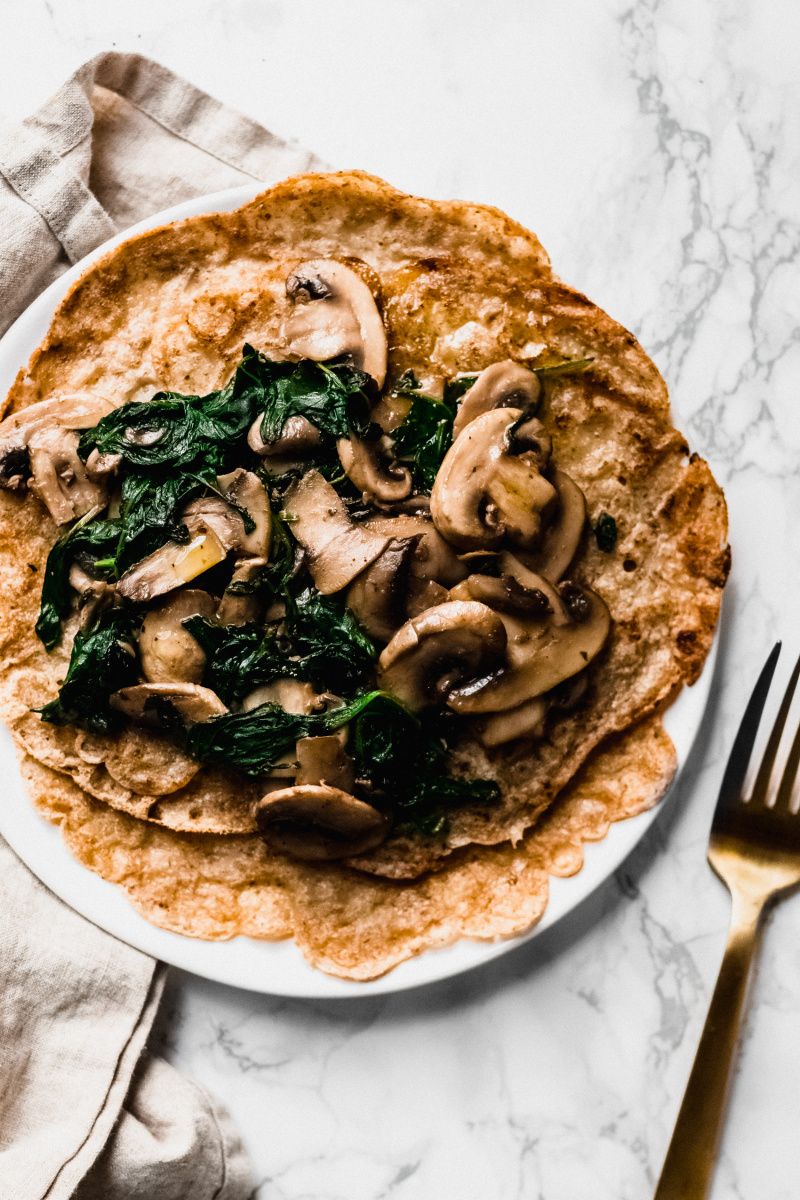 How to Make Oat Flour
I love using oat flour in this savory crepes recipe and so many of my other recipes because a ½ cup serving provides whole grains and fiber.
To make oat flour, simply add Quaker Old Fashioned Oats to a blender or food processor. Then, blend until you've got a fine flour, with no whole oats present. I keep oat flour in my pantry 24/7.
Print
How to make:
Savory Crepes with Mushrooms
These Savory Crepes with Mushrooms are perfect for brunch. These healthy vegan crepes are made with oat flour and are dairy-free.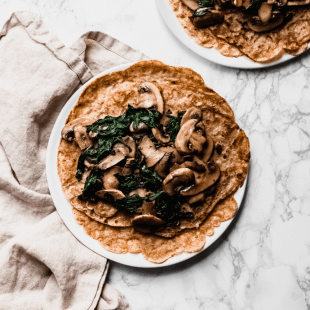 Ingredients
1 cup

oat flour*

1/2 cup

all-purpose flour⁠

2 tablespoons

ground flax⁠

1 tablespoon

corn or tapioca starch

1/4 teaspoon

sugar⁠

1/4 teaspoon

salt⁠

2 tablespoons

olive oil⁠

4 cups

unsweetened non-dairy milk⁠

8 ounces

mushrooms, sliced⁠

2 cups

spinach, chopped⁠
Instructions
Place a medium skillet over just-below-medium heat. Grease with nonstick spray.⁠
In a large bowl, add oat flour, all-purpose flour, flax, starch, sugar, and salt; stir. Add 2 tablespoons olive oil. While whisking, slowly pour in non-dairy milk.⁠
Ladle 1/2 cup batter into the skillet into a very thin layer. Cook for 2 minutes, flip (carefully), then cook for 2 more minutes.⁠ Repeat until all batter is used.
In the same skillet over medium heat, add mushrooms; cook until lightly browned, about 7 minutes. Add spinach; cook until wilted, about 2 minutes.
Serve mushrooms and spinach over crepes.
Notes
*To make your own oat flour, simply blend Quaker Old Fashioned Oats into a fine flour using a high-speed blender or food processor.
Thanks to Quaker for sponsoring this post! I love working with brands whose products I really love and would honestly recommend. Thank you for your support!