Cozy up with a bowl of this Sweet Potato Coconut Soup during the colder months! It's the perfect vegan & gluten-free side dish for any dinner table.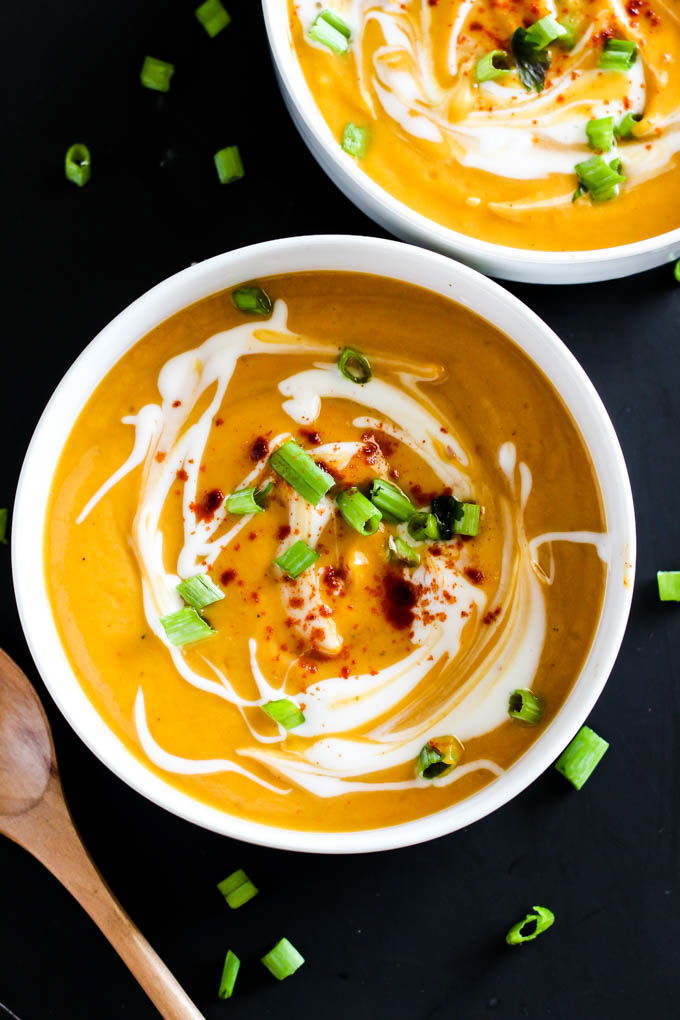 Currently: sitting on the floor of our living room using our coffee table (that I DIYed!) as a desk, me writing this post and Cayden helping me with my taxes. Leo is sleeping on the back of the sofa – typical. (Serious question: how do cats sleep so much?? I swear he naps 20 hours a day…)
It's a calm and cozy Sunday. It started with a slow morning of a smoothie bowl and catching up on Saturday Night Live. A little bit of homework, a lot a bit of procrastinating. Cups of tea and music playing softly in the background.
Days like these make me anxious sometimes. Doing nothing makes me anxious. Relaxing, taking a break and being a little lazy are all things I have tried to incorporate into my life a little bit more. That might actually be the exact opposite of what some people are trying to do – maybe you're trying to work a little bit harder. But for all those type-A workaholics out there, try relaxing a little bit. Trust me, it feels good.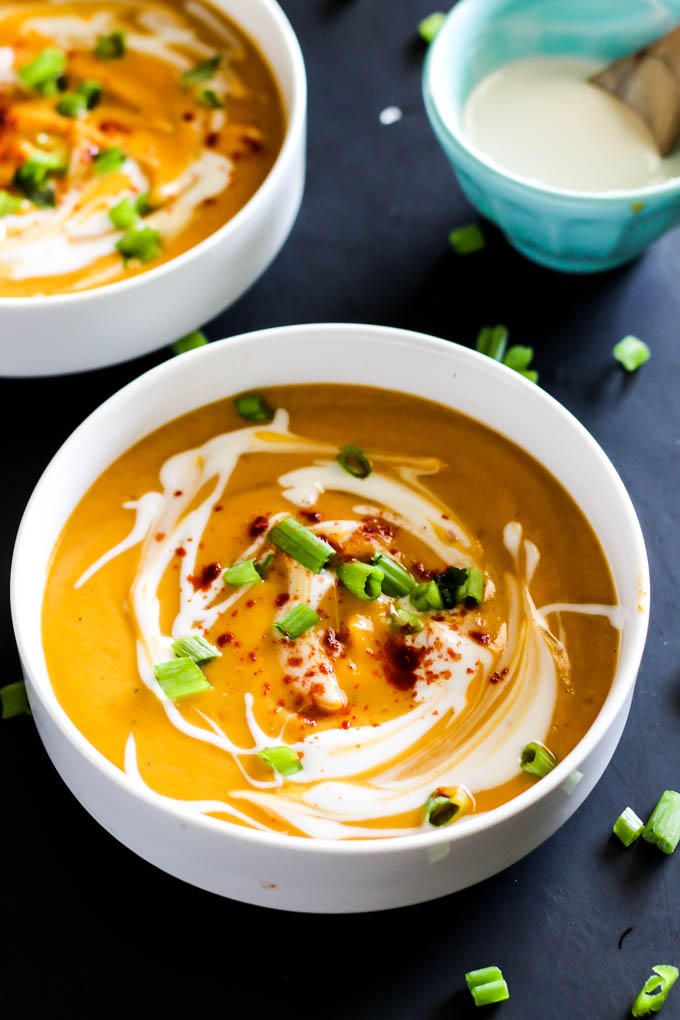 Despite it being a SUPER busy season of life with school, blogging, an internship and applying to grad school (and being a cat mom, of course), I'm committed to adding more slowness into life. Because don't we need it most in the busiest of times?
I'm the first to admit that it's really tough to slow down when your whole life has been go-go-go. Our society encourages us to overwork ourselves in the pursuit of money and material things. In the last year or so, I've realized that those just aren't the most important things in my life, so I have been trying to put less pressure on myself to be perfect so I can get XYZ.
So far the things I've found most calming are cuddling with Leo, listening to music while I'm cooking, taking a bike ride or just lounging out watching TV without my phone (<– important detail).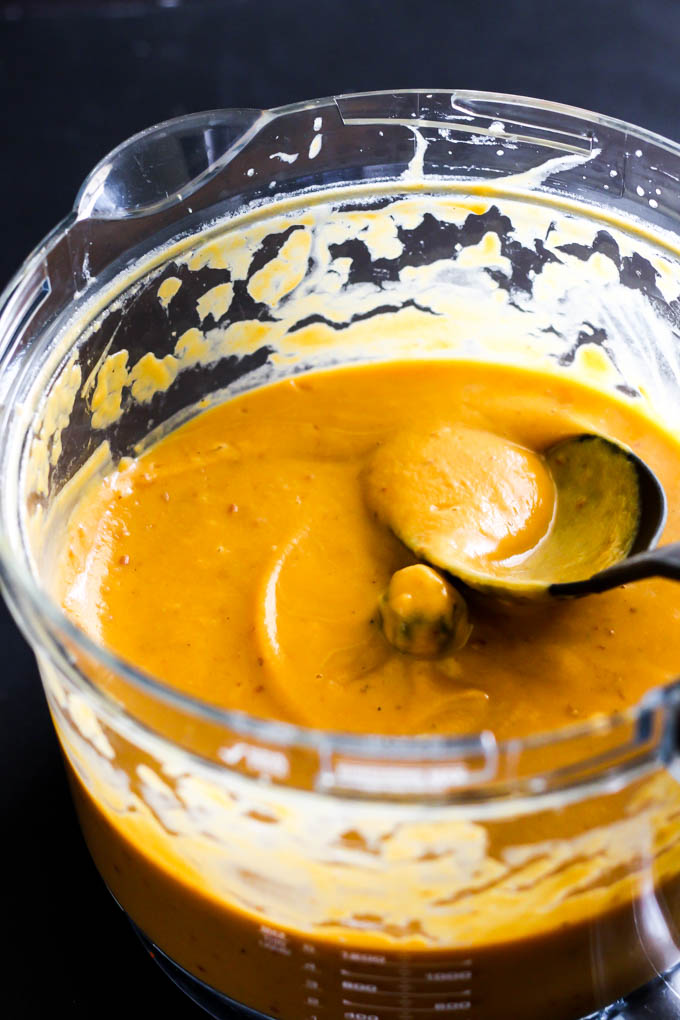 What does this have to do with sweet potato coconut soup? Not too much. BUT if you're looking for a good dish to cozy up on the sofa with so you can embrace slowness and relaxation more fully, this soup is for you.
We're in the height of soup season right now, so pinky promise me you'll add this winning recipe to your t0-make list. Sooner rather than later. AKA this week.
It is unbelievably simple. Brown an onion and garlic (my momma taught me well), add some sweet potato and coconut milk, let it cook, and then blend everything up until it's smooth. Boom. Done. EAT.
The sweet potato adds heartiness, creaminess and a natural sweetness, and the coconut milk adds even more creaminess. The chili powder and smoked paprika add a savory flavor that complements everything (and makes it not a dessert soup, because sweet potato + coconut could totally = dessert).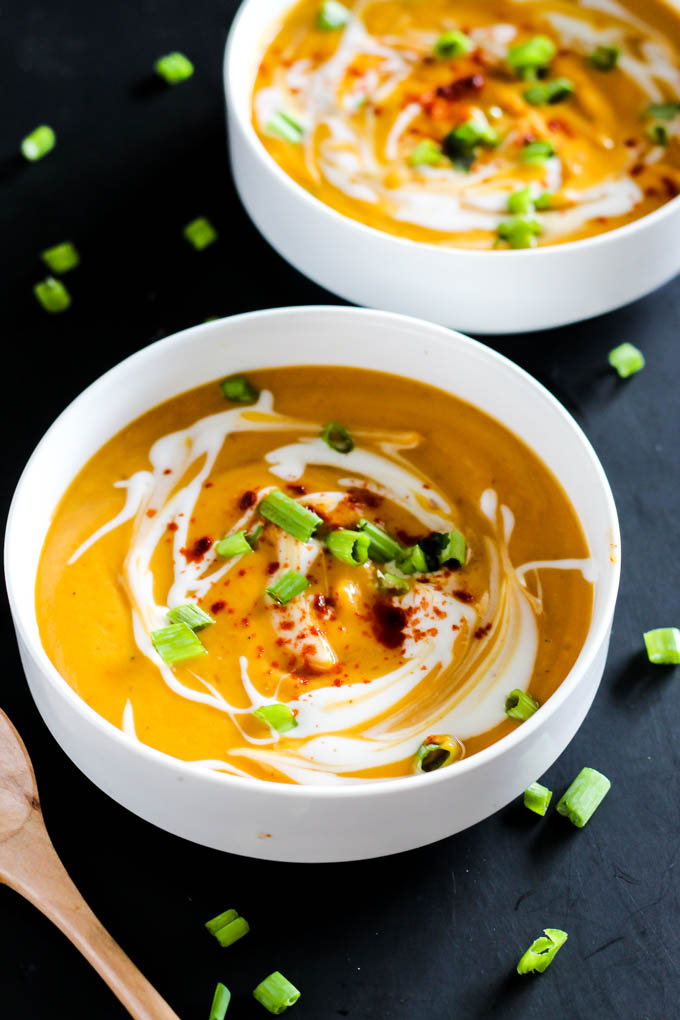 Your Thanksgiving menu needs a soup on the menu, and I'm kind of totally definitely recommending this sweet potato coconut soup. No pressure though.
If you try it out, let me know! Leave a comment and tell us how you enjoyed it or any changes you made to the recipe. Can't wait to hear what you think!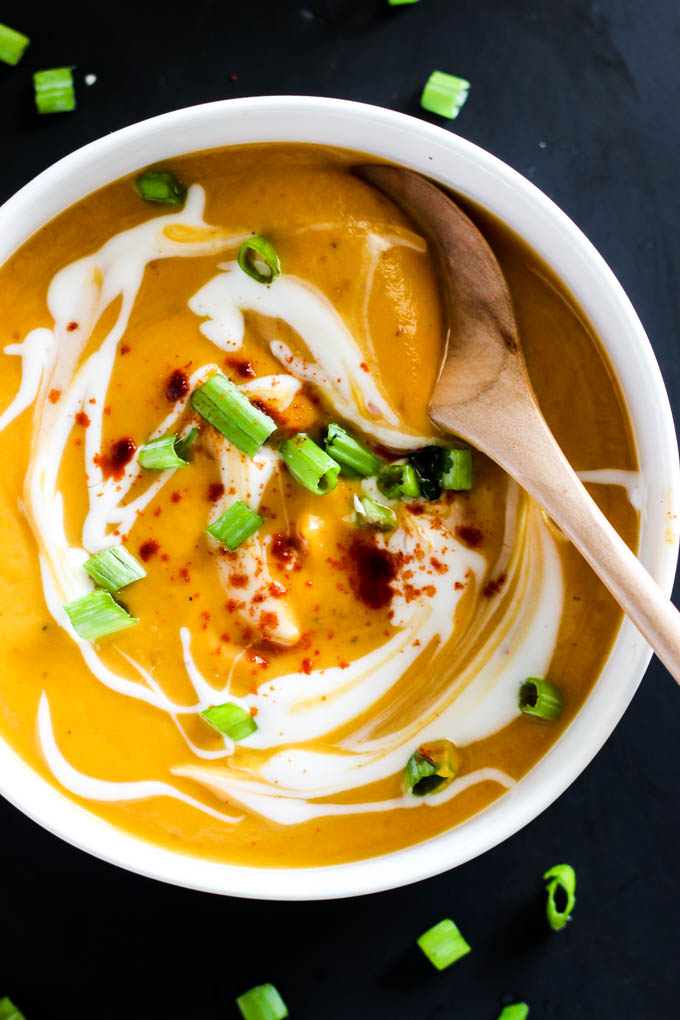 Print
How to make:
Sweet Potato Coconut Soup (vegan & gluten-free)
Cozy up with a bowl of this Sweet Potato Coconut Soup during the colder months! It's the perfect vegan & gluten-free side dish for any dinner table.
Ingredients
1

onion, diced

3

cloves garlic, minced

4 cups

sweet potatoes, diced into 1/2-inch cubes (about

2

–

3

medium potatoes)

2 cups

vegetable broth or water

1

15-ounce can coconut milk (light or full-fat)

1 teaspoon

chili powder

1/2 teaspoon

smoked paprika

1/2 teaspoon

salt

1/4 teaspoon

pepper
Sliced green onions, for garnish
Instructions
In a large pot over medium heat, warm a little water or oil.
Add onion; cook for 5-7 minutes, until onions begin to brown. Add garlic; cook for 1-2 more minutes, until fragrant.
Add sweet potatoes, broth, coconut milk, chili powder, smoked paprika, salt and pepper. Stir to combine. Bring to a boil; cover, reduce heat to low and let simmer for 30 minutes, or until potatoes are fork tender.
Using an immersion blender, blend soup until completely smooth. Alternatively, transfer the soup to a blender or food processor; blend until completely smooth.
Garnish with coconut milk and green onions.