This Sweet Potato Coconut Soup is the perfect vegan fall recipe to cozy up with! It's creamy, sweet and will leave you feeling nourished.
Sweet Potato Coconut Soup
I love fall because it's filled with plenty of calm and cozy days. Slow mornings, curling up on the couch with a cup of tea, and of course enjoying warming, comforting soups at the end of a long day.
I've been trying to be more mindful about making time to slow down. But doing nothing makes me anxious. Relaxing, taking a break and being a little lazy are all things I have been trying to intentionally incorporate into my life a little bit more. That might actually be the exact opposite of what some people are trying to do – maybe you're trying to work a little bit harder. But for all those type-A workaholics out there, try relaxing a little bit. Trust me, it feels good.
If you're looking for a good dish to cozy up with so you can embrace slowness and relaxation more fully, this sweet potato soup is for you. We're making this sweet potato soup with coconut milk not only to keep it vegan, but also to give it the creamiest, most velvety texture of all time. It's an absolute hug in a bowl if you ask me.
We're in the height of soup season right now, so pinky promise me you'll add this sweet potato coconut soup recipe to your t0-make list. Sooner rather than later. AKA this week.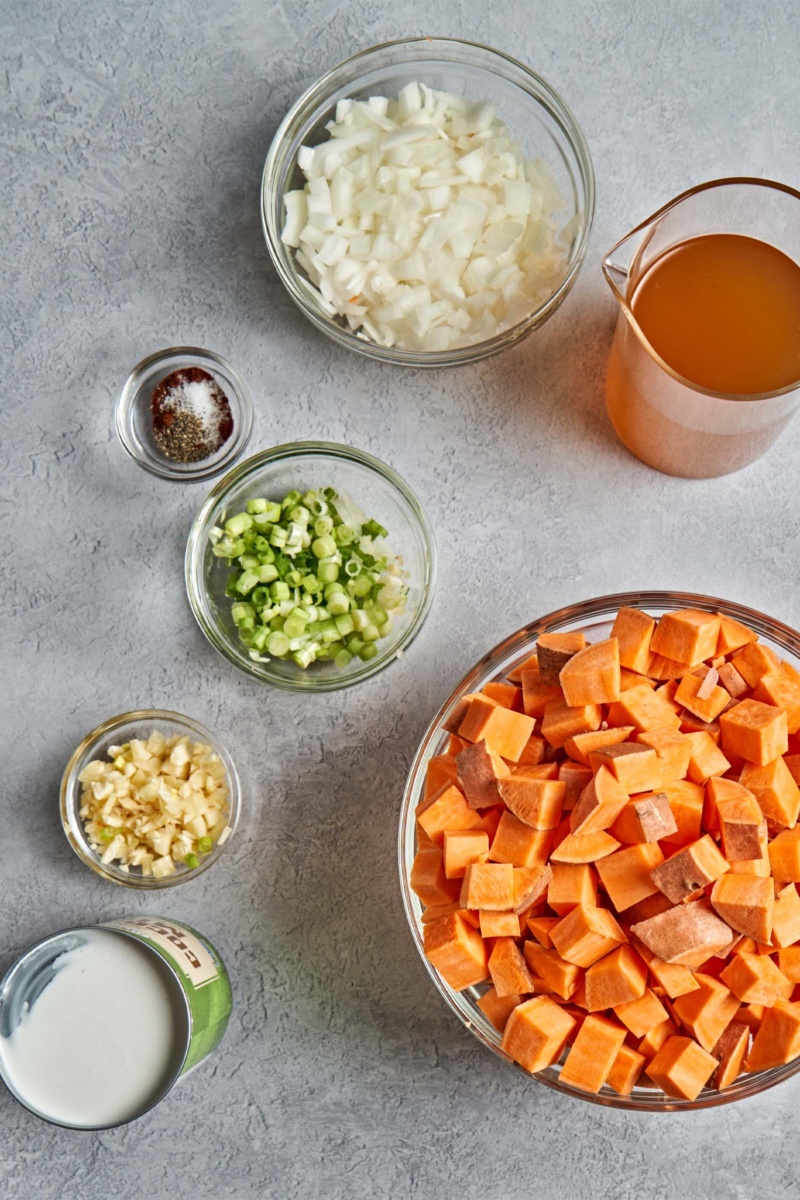 Ingredients for Sweet Potato Coconut Soup
I don't know about you, but I love a thick, creamy blended soup when I'm really craving something cozy. The sweet potato adds heartiness and a natural sweetness to this soup, and the coconut milk adds even more creaminess. Plus we're adding plenty of spices to balance out all the natural sweetness for a sweet potato soup that tastes souper balanced and satisfying (did you see what I did there?!) 🙂
Oh and by the way, this vegan sweet potato soup is made with just 10 ingredients and it's done in 45 minutes, so it's weeknight friendly.
Here's everything you'll need to make this sweet potato coconut soup:
Onion. I recommend using a sweet yellow onion or a white onion for this recipe.
Garlic. This sweet potato soup really benefits from using fresh garlic instead of garlic powder. I used three cloves, but you can use more or less based on your preferences.
Sweet potatoes. You'll need about 4 cups of dice sweet potatoes, which is about 2-3 medium potatoes.
Vegetable broth. Look for low-sodium vegetable broth, or you could use a regular vegetable broth and cut it with water. You could entirely use water, but if you do, I recommend adding in some extra garlic and onion.
Coconut milk. You want the coconut milk that comes in a can, not a carton. Either light or full-fat will work!
Spices. Coconut milk and sweet potatoes are both naturally sweet, so we're adding in chili powder, smoked paprika, salt and pepper to balance everything out.
Green onions. This is optional, but sliced green onions are delicious on top of this soup as a garnish.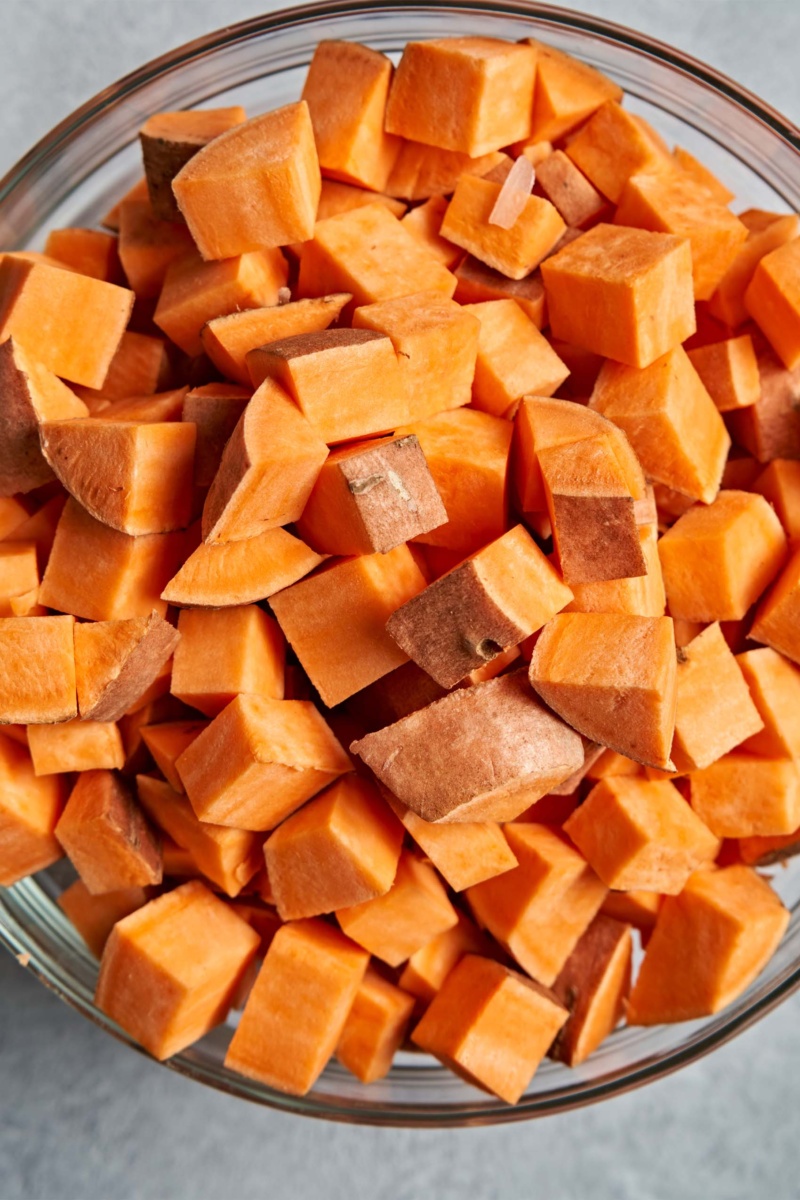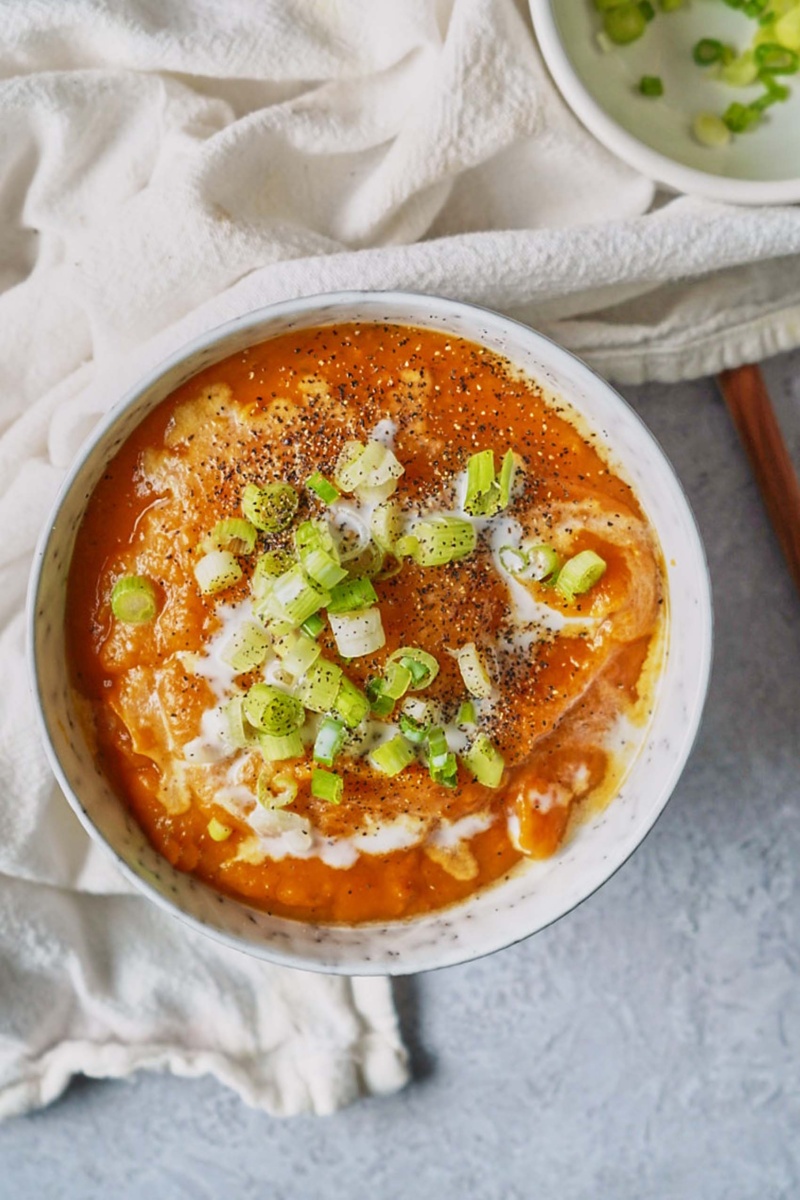 How to Make Sweet Potato Coconut Soup
I really mean it when I say this sweet potato soup is unbelievably simple to make. You just need a handful of ingredients (most of which I bet you typically have on hand in the fall) and 45 minutes.
Basically all you have to do is brown an onion and garlic in a pot, then add in your diced sweet potato, spices, broth and coconut milk. Let it come up to a boil, then reduce to a simmer and let it hang out for about 30 minutes, or until your potatoes are cooked all the way through. Then just blend everything up until it's smooth. Boom. Done. EAT.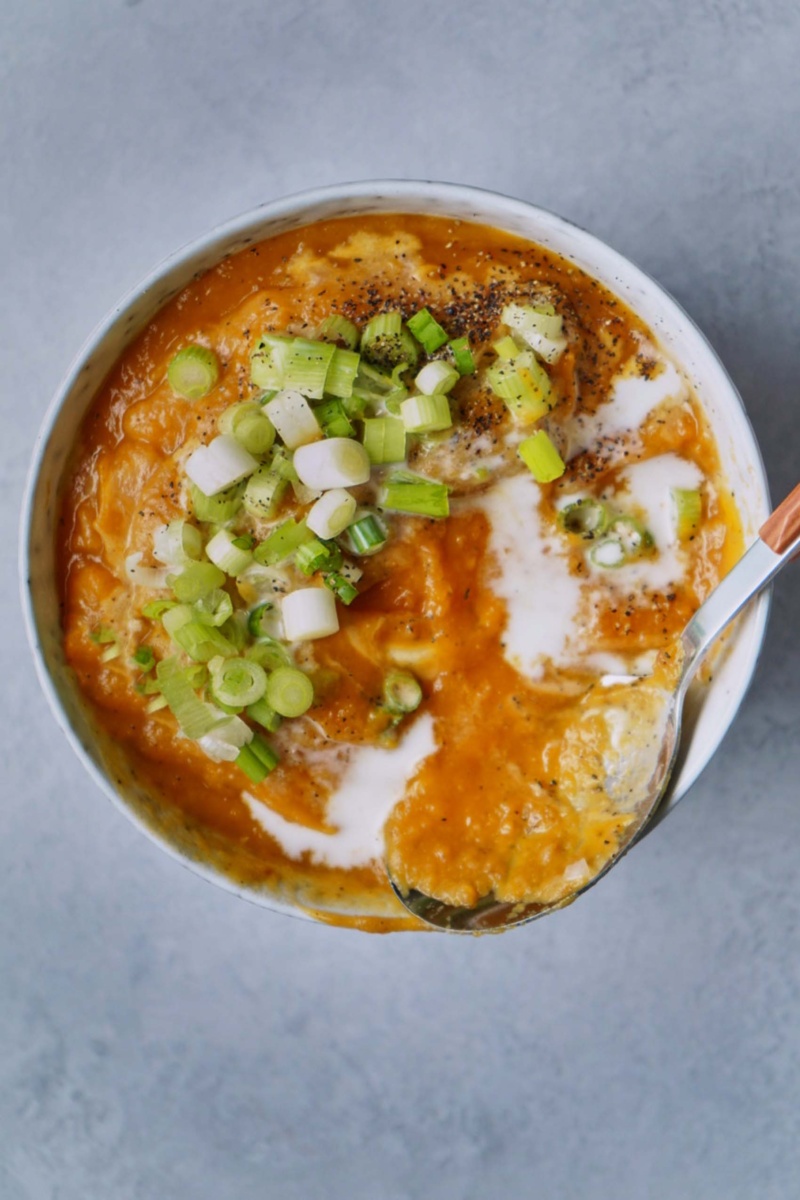 How to Store Sweet Potato Soup
Not only is this sweet potato coconut soup easy to put together, but it also holds up well in the fridge and is freezer friendly, so it's a great vegan soup recipe to prep a double batch of and keep on hand.
If you plan to stash this in the refrigerator, pop it in an air tight container and it'll keep for about 4 days. You can also store it in the freezer if you want to keep it on hand for those days when you just can't be bothered to cook. This sweet potato soup will hold up well for about three months in the freezer.
If you plan to eat it in multiple batches, I recommend you stash the soup in a couple separate containers so that you only need to defrost the serving you plan to eat. When you're ready to eat, put the container of soup in a warm water bath to soften it up enough to be able to remove it from the container. Then, simply add the frozen soup to a pot and cook on medium low until warmed through.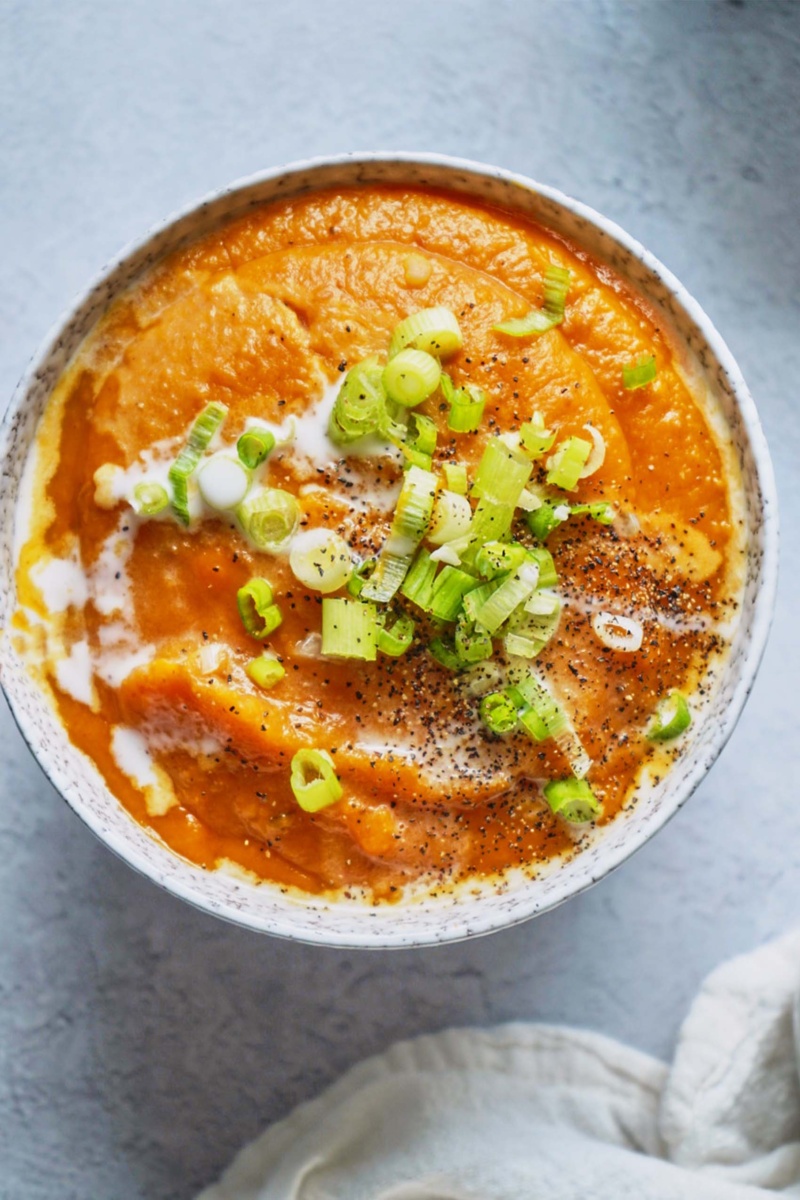 More Vegan Sweet Potato Recipes
If you try this sweet potato coconut soup, let me know how you enjoyed it! Leave a comment and tell me how it turned out or any changes you made to the recipe. Can't wait to hear what you think!
For anyone looking to embrace fall with more delicious vegan sweet potato recipes, definitely give these a try!

Print
How to make:
Sweet Potato Coconut Soup
This Sweet Potato Coconut Soup is the perfect vegan fall recipe to cozy up with! It's creamy, sweet and will leave you feeling nourished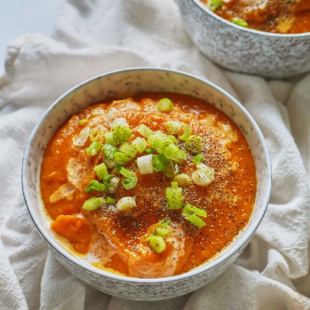 Ingredients
1

onion, diced

3

cloves garlic, minced

4 cups

sweet potatoes, diced into 1/2-inch cubes (about

2

–

3

medium potatoes)

2 cups

vegetable broth or water

1

15-ounce can coconut milk (light or full-fat)

1 teaspoon

chili powder

1/2 teaspoon

smoked paprika

1/2 teaspoon

salt

1/4 teaspoon

pepper
Sliced green onions, for garnish
Instructions
In a large pot over medium heat, warm a little water or oil.
Add onion; cook for 5-7 minutes, until onions begin to brown. Add garlic; cook for 1-2 more minutes, until fragrant.
Add sweet potatoes, broth, coconut milk, chili powder, smoked paprika, salt and pepper. Stir to combine. Bring to a boil; cover, reduce heat to low and let simmer for 30 minutes, or until potatoes are fork tender.
Using an immersion blender, blend soup until completely smooth. Alternatively, transfer the soup to a blender or food processor; blend until completely smooth.
Garnish with coconut milk and green onions.