Truth be told, I'm a grazer. If I'm sitting around my apartment between meals, I'm known to munch on anything and everything I can find – from fruit to hummus to spoonfuls of nut butter (oops). But I never really make actual snacks, like granola or energy balls. Until now!!
Hold your horses because these Dark Chocolate Cherry Almond Bars are going to rock your socks off!
I made my first batch of these when I was at home for the weekend, then the next day I get two text messages:
My step-dad: "So…about those granola bars…can I eat them all?"
My mom: "We have to market these bars!"
Then I knew these were a real winner – momma knows best!
The first batch was (obviously) really delicious, but I still needed to make improvements. A second batch just had to be made! I mean, blogger duties to taste test yummy food, right? So far, all of the 34823 people I've (forcibly) given these to has loved them!
I guess you could say these are sort of like KIND Bars, though I've never had one so I couldn't tell you. But I knew I wanted to add oats because, well, oats are great in every way. I also added some seeds for extra protein and nutrition. Yay for healthy fats!
I was determined to NOT use brown rice syrup. Really. I did not feel like having another jar of something in my pantry (note: I just bought shelves for my bedroom to store some of my food. LOL), and I just love maple syrup.
Turns out you really need the goopy-ness and thickness of the brown rice syrup to hold these babies together. The plus side is, it's cheaper than maple syrup, and then you can make all the granola bars all the time with your new brown rice syrup!!!
Since I'm Ms. El Cheapo (Cheapa? I didn't take Spanish), I was curious to see how the price per bar of these compared to store-bought granola bars, specifically KIND Bars, which are $1.50 each at Whole Foods. Inspired by my friend Ashley at Fit Mitten Kitchen, I crunched the numbers and calculated just how much it cost to make my granola bars. For the sake of consistency, I used the cheapest prices I found on Amazon. Let's take a look!
Almonds – $3.36
Pecans – $1.18
Oats – $0.20
Sunflower seeds – $0.12
Flax seeds – $0.11
Hemp seeds – $0.20
Dried cherries – $2.01
Brown rice syrup – $1.68
Almond butter – $0.32
Cocoa powder – $0.59
Coconut oil – $0.30
Agave nectar – $0.16
TOTAL COST = $10.23 
PRICE PER BAR (if making 16 bars) = $0.64 WHAAAAAAT!
That's a darn good deal if you ask me. Of course, prices vary depending on where you shop, but I think the fact that you can control what goes into your granola bar and how much of it is a really awesome thing! Now you can have a healthy snack every day without giving away a couple bills at the coffee shop.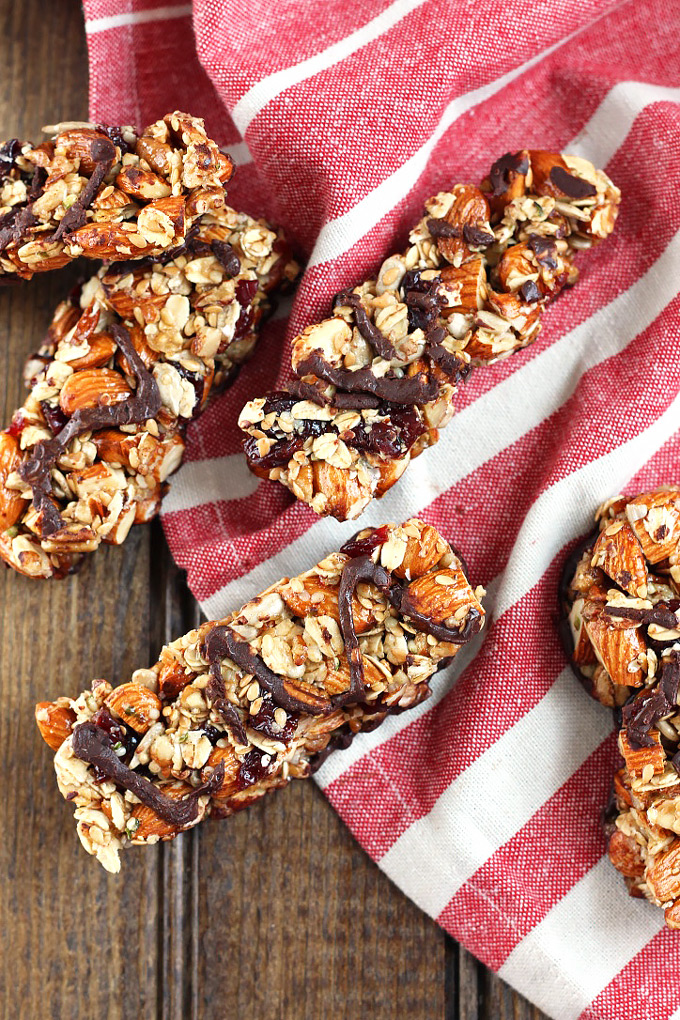 My final notes are: 1. Use brown rice syrup; 2. You can melt dark chocolate chips instead of making your own chocolate sauce; 3. I'd highly recommend individually wrapping the bars and storing them in the freezer for a grab-and-go snack!
I really hope you guys try your hand at making your own granola bars – no fear here! And, not to toot my own horn, but I think these Dark Chocolate Cherry Almond Granola Bars are a great place to start. Just sayin'.
If you make these (or any other Emilie Eats recipe!), post a pic and tag #emilieeats on Instagram! I love to see everything you cook. Happy weekend, friends!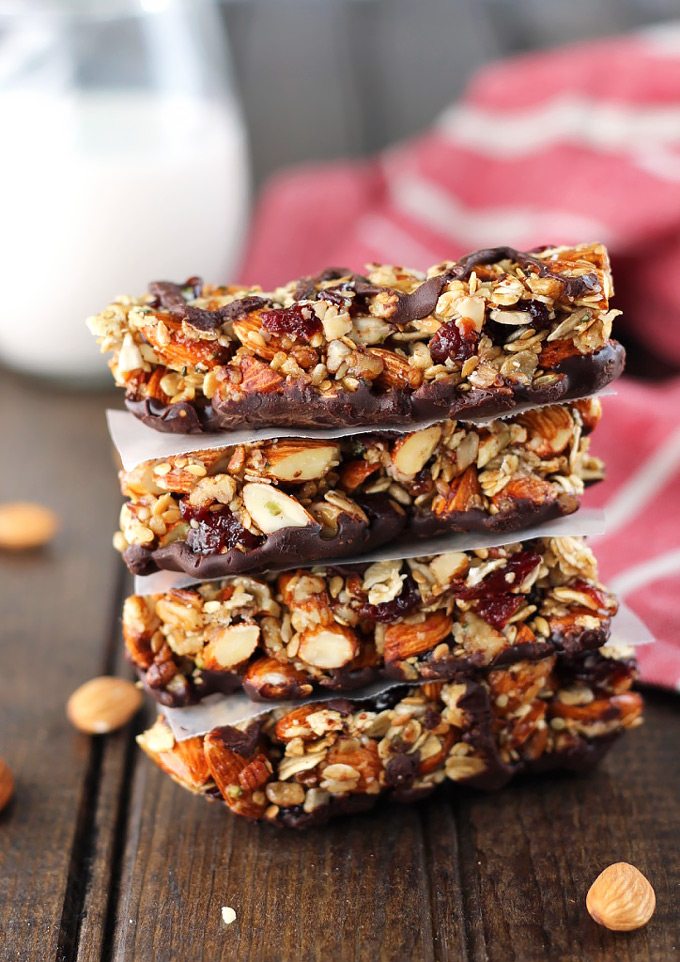 Print
How to make:
Dark Chocolate Cherry Almond Granola Bars
These Dark Chocolate Cherry Almond Granola Bars make great healthy snacks and are easily customizable. Plus, they're way cheaper than store-bought bars!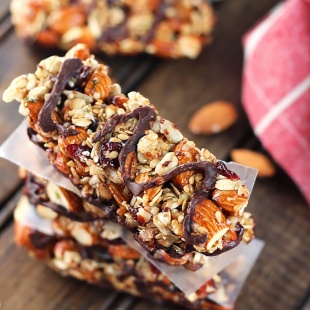 Ingredients
1 1/2 cups

almonds, roughly chopped

1/2 cup

pecans, or other nut, chopped

1/2 cup

rolled oats

2 tablespoons

sunflower seeds

2 tablespoons

flax seeds

1 tablespoon

hemp seeds

2/3 cup

dried cherries (preferably unsweetened)

1/4 cup

brown rice syrup

1 tablespoon

almond butter

1 1/4 teaspoon

vanilla extract, divided

1/8 teaspoon

salt

2 tablespoon

coconut oil, melted

1/4 cup

cocoa powder

2 teaspoons

maple syrup or agave nectar
Instructions
Preheat oven to 300°F. Line an 8×8 pan with parchment paper.
In a large bowl, add almonds, pecans, oats, sunflower seeds, flax seeds, hemp seeds, and cherries. Stir to combine.
In a small bowl, add brown rice syrup, almond butter, 1 teaspoon vanilla extract, and salt; whisk until fully combined. Pour the liquid ingredients in the large bowl. Stir until everything is evenly coated and mixed.
Pour the mixture into the lined baking pan. Spread out evenly and firmly press into the pan with the back of your spoon (or your hands). You want it as tightly packed as possible.
Bake for 30 minutes. Remove from oven; let the bars cool in the pan for 45 minutes to 1 hour. (You can also stick them in the refrigerator to speed up the cooling process.)
Lift the parchment paper with the bars out of the pan. Cut into 10 bars, or however many you want.
In a small bowl, add melted oil. Slowly whisk in cocoa powder and maple syrup. Dip the bottom of each bar into the chocolate, then place upside down on the parchment paper. Once the chocolate on all the bars is dry, flip the bars over. Drizzle the remaining chocolate on the bars.
(Optional) Wrap each bar individually in foil; store in the refrigerator or freezer.
*Adapted from Sally's Baking Addiction's Chocolate Cherry Almond Snack Bars