Well, my friends, I don't have much to say today other than: make this salad. It's good. And healthy.
Seriously, this Asian Quinoa Salad is one of those meals you'll be excited to have for lunch. The kind of meal where you're sitting in class or at your work desk all morning and you realize you're hungry and then you're like, OMG I packed such a good lunch!! Salad! Quinoa! Health! Deliciousness!
I'm sure you've seen some asian quinoa salads floating around Pinterest, but this one is different (and better) because veggie noodles! I don't know what it is, but something about making vegetables into cute little noodles makes them so much more satisfying.
I absolutely love my Inspiralizer from the awesome blogger Ali at Inspiralized, but there are a few different options you can go with if you want to take the plunge and get one. Which, you definitely should! Spiralizing makes it so easy to get some veggies in your diet (in between the spoonfuls of almond butter).
Just look at those beautiful noodles. It's hard to eat them when they look so pretty! LOL, you know I'm kidding – I totally ate them.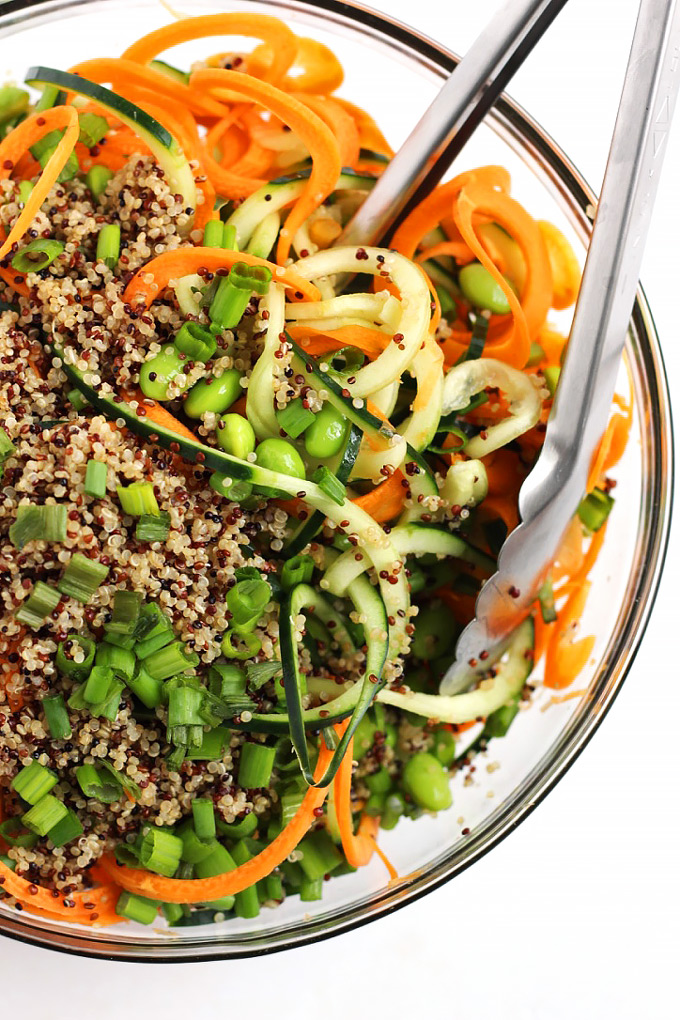 This recipe will only take about 20 minutes of prep, since spiralizing cuts down chopping time by ice ages. Cook the quinoa, spiralize the veggies, add the fixins, pour the dressing. That's it. Bada bing bada boom, you're done.
Obviously since this is a salad, it's heavy on the veggies, but it also packs some protein! Quinoa and edamame are two awesome sources of plant-based protein, so this is definitely a salad that will fill you up.
The dressing holds up really well pre-mixed into the salad if you want to prep this for lunch, but you can also add the dressing when it's time to eat. Whatever you do, pretty please don't forget the dressing. It's creamy peanut buttery deliciousness with all the Asian flavors that go so well with the salad. You'd be doing a huge injustice to the salad if you forgot the dressing.
No pressure or anything.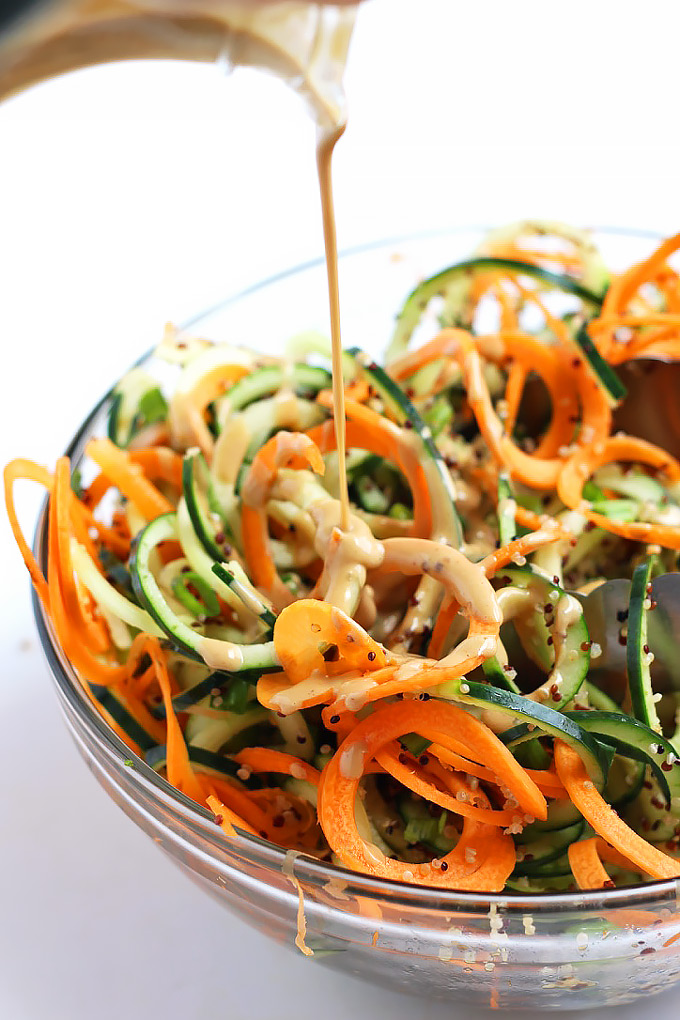 I know what some of you may be thinking – "I don't have a spiralizer, and I don't want to buy one." No fear! You could also chop the cucumbers and carrots, or even julienne them. But you know my number rule: don't forget the peanut dressing. 🙂
I hope you get to try this healthy, refreshing Asian Quinoa Salad and enjoy it for lunch! I think it would also be good as a light side dish for dinner.
Any way you have it, let me know how it turns out! Snap a picture and tag #emilieeats so I can see your beautiful kitchen creations. 'Til next time!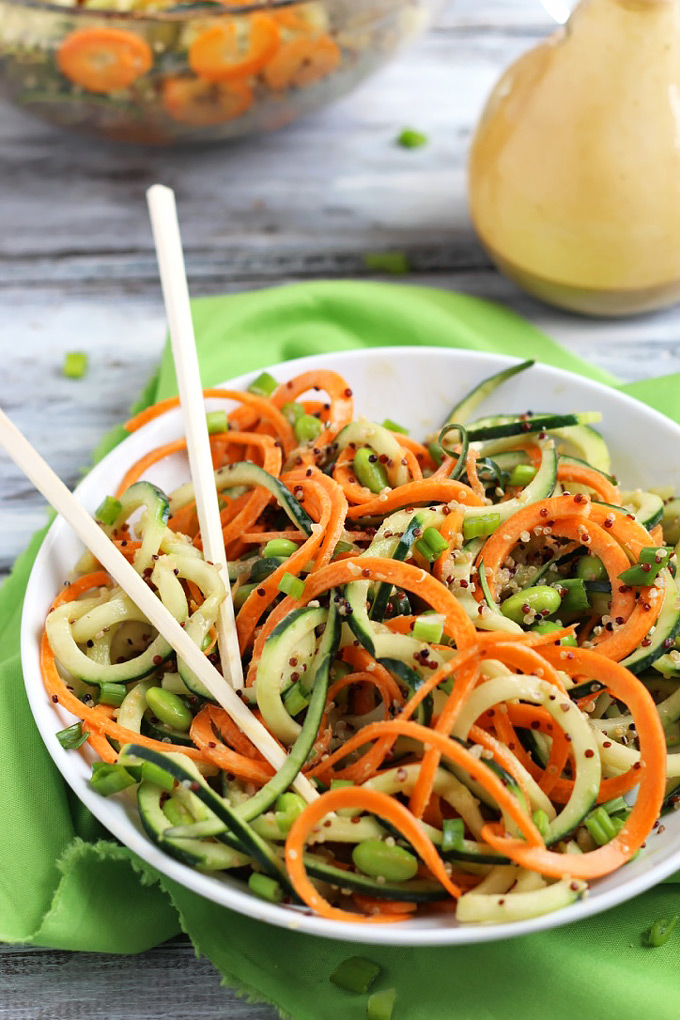 Print
How to make:
Spiralized Asian Quinoa Salad with Peanut Dressing
Step up your salad game with this healthy Asian Quinoa Salad featuring cucumber and carrot noodles! The creamy peanut dressing is the perfect complement.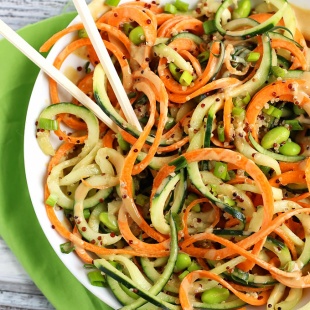 Ingredients
1 teaspoon

oil

1/3 cup

dry quinoa

2

cucumbers

1

large carrot, peeled

1 cup

shelled edamame (preferably organic)

1/4 cup

green onions, sliced plus more for topping

3 tablespoons

peanut butter

1 1/2 tablespoons

soy sauce

1 tablespoon

olive oil

1 tablespoon

sesame oil

1 teaspoon

rice wine vinegar

1 teaspoon

agave nectar

1

clove garlic (about

1/2 teaspoon

, minced)

1/4 teaspoon

salt
Dash of ground black pepper
Instructions
In a small saucepan over medium heat, warm oil. Add quinoa; cook for 1 minute. Add 2/3 cup water; bring to a boil, cover, and lower heat to simmer. Cook for 13-15 minutes, until quinoa is cooked and fluffy.
Spiralize cucumbers and carrot. Alternatively, you can chop or julienne the vegetables. Place in a large bowl.
Add the cooked quinoa, edamame, and green onions to the large bowl. Toss to combine.
In a blender or food processor, place 1/4 cup water, peanut butter, soy sauce, olive oil, sesame oil, vinegar, agave, garlic, salt, and pepper. Blend until smooth.
Pour as much dressing over the salad as you want; toss to combine. You can also add the dressing as you eat. Store the extra dressing in airtight container in the refrigerator.