Save time in the morning by grabbing a homemade Vegan Breakfast Burrito from the freezer! It's the best vegan freezer meal to prep for the AM!
Vegan Breakfast Burrito
Friends, I've got to tell you about this delicious vegan breakfast burrito recipe! I feel like life just keeps getting busier and busier, so now instead of just having to think about prepping my lunches in advance, I also find myself needing quicker options for breakfast in the mornings, too. Well if you're in the same boat as me, I've got you covered with a delicious vegan breakfast meal prep recipe – this vegan breakfast burrito is DEFINITELY me new go-to.
Let it be known that I am obsessed with Amy's frozen breakfast burritos. I remember that it was one of the first "natural" products that my small little grocery store started carrying, way before I was even vegan, but we went crazy on them. It was super convenient to grab one from the freezer when I got home late after cheer practice (yes, I was a cheerleader in high school) or when I just needed the comfort of a hearty burrito.
Those Amy's burritos are the inspiration for this vegan breakfast burrito recipe! It's full of so many good ingredients – tofu, black beans, potatoes, mushrooms, green, and a dash of turmeric. All wrapped up in a tortilla – gluten-free if you and gluten don't get along – for a healthy vegan freezer meal you can pull straight from your freezer in the morning!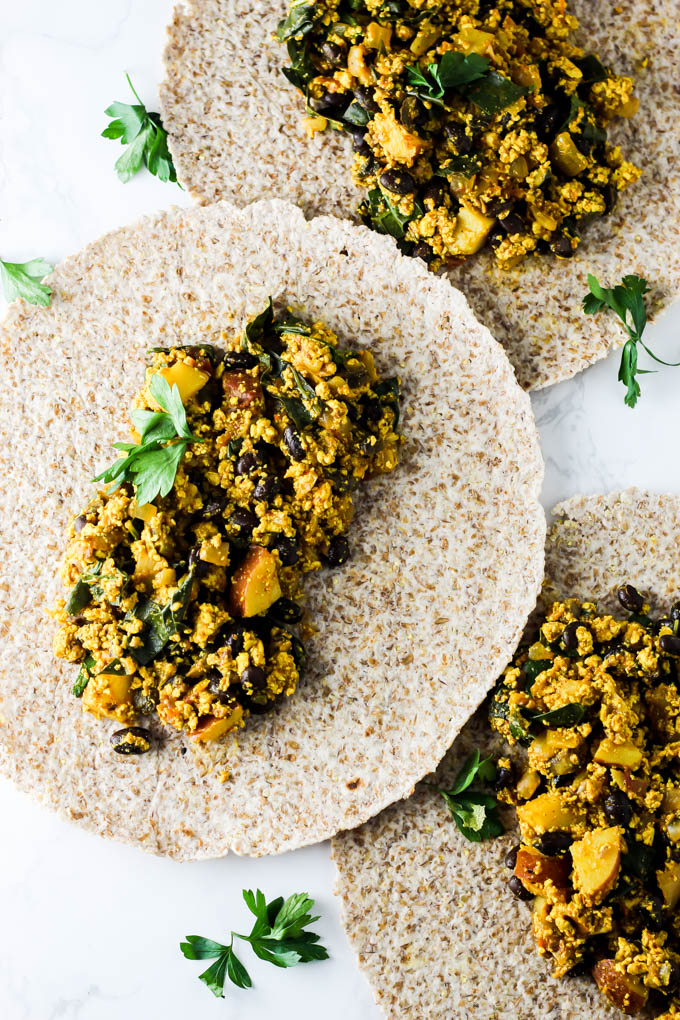 Ingredients for Vegan Breakfast Burritos
I know a lot of you are not fans of tofu, BUT I urge you to expand your mind & tastebuds to give this tasteless block a shot! Okay, I probably didn't do it any favors by calling it a tasteless block. Forgive me, tofu. I <3 you.
The reason why I love tofu so much is because it is so versatile and absorbs anything you flavor it with. For example, it can be an amazing substitute for eggs like in these breakfast burritos! Plus, it may even lower your risk of breast cancer and your cholesterol levels. What's not to love?!
Now no one just wants to eat tofu wrapped up in a tortilla, so I promise we're adding plenty more goodness. Here's everything you'll need:
Tofu. You'll need one block, and make sure it's extra-firm.
Onion. You could use white, yellow or red, whichever you like best!
Garlic. We're using 3 cloves, or about 1 1/2 teaspoons, but if you're a garlic lover you can always add more!
Potato. Any variety works, so use what you've got!
Mushrooms. I know mushrooms are a total love them or hate them, so if you're a mushroom hater, pick another veggie! Bell peppers would be *chef's kiss*
Black beans. Just one can, drained and rinsed to add extra fiber and protein to our vegan breakfast burritos. You could also used dried beans and make a batch of these Instant Pot Black Beans.
Salsa. Again, go for any kind you like!
Nutritional yeast. This will add a delicious, cheesy flavor to our vegan breakfast burritos.
Spices. We're using chili powder, cumin, turmeric, cayenne (if you like things spicy), salt and pepper.
Greens. I recommend kale or spinach, and you can use either frozen or fresh.
Tortillas. Any kind you like! Are you sensing a theme here?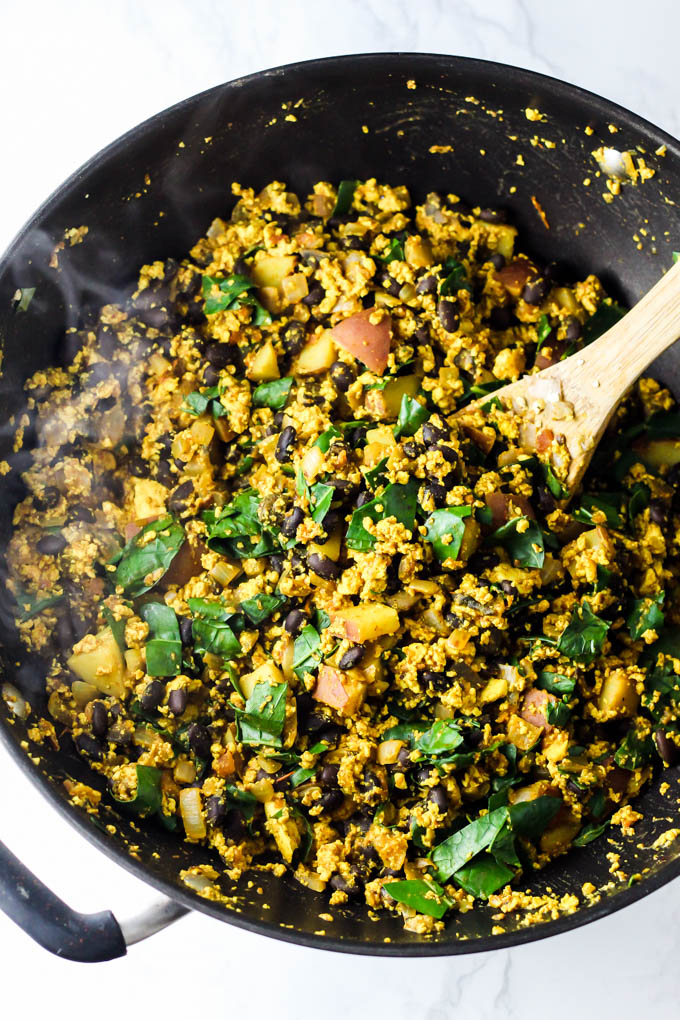 How to Make Vegan Breakfast Burritos
You only need an hour to make a big batch of 8 of these vegan breakfast burritos, so they're great if you're feeding a crowd, or as a vegan freezer meal to make for meal prep. They're so satisfying and don't lose any of the big, delicious flavors in the freezer.
To make them, you'll start by sauteeing all your veggies in a skillet. Once the potatoes are tender, you'll crumble your tofu into the pan and continue to cook. After about 5 minutes you'll add your black beans, salsa, nutritional yeast and spices. Once everything is fully incorporated, add your greens and cook until they start to wilt.
Then build your burritos! Scoop a serving of the filling into a tortilla, fold in all of the edges, then roll to close the burrito. Top with all your favorites! Personally, I love enjoying one of these vegan breakfast burritos with a big scoop of guacamole (duh) and a drizzle of hot sauce.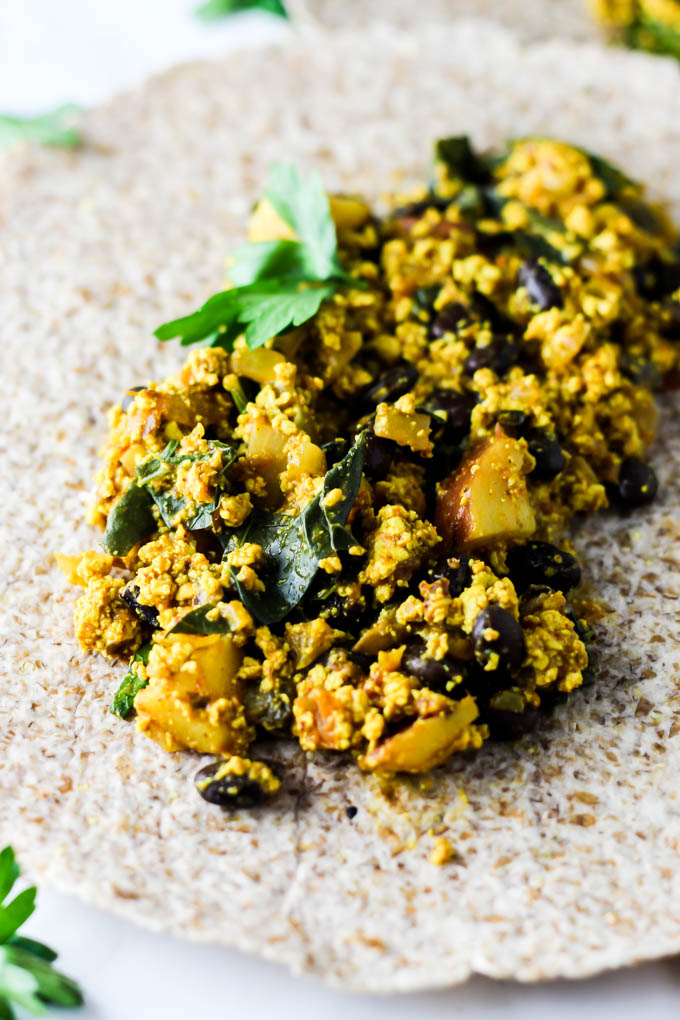 How to Prep Burritos as a Vegan Freezer Meal
I know a lot of you have been craving more vegan freezer meal ideas so that you have things ready to grab when you don't feel like cooking. This recipe makes a pretty large batch of burritos, so it's perfect if you like to meal prep! Bang out a big batch in just an hour, and you have 8 breakfasts waiting for you in your freezer! I know it can be super challenging to find good vegan breakfast meal prep recipes that aren't overnight oats, so I highly recommend adding these vegan breakfast burritos to your rotation.
To prep them for the freezer, wrap each burrito in aluminum foil. Make sure you wrap it pretty tightly to help prevent freezer burn. You can stack them up in the freezer as is, or toss them in a bag or airtight container to keep them all together. To heat them up, just remove the foil, and warm them up in the oven at 350F for 15 minutes. You can also pop it in the microwave for a couple minutes.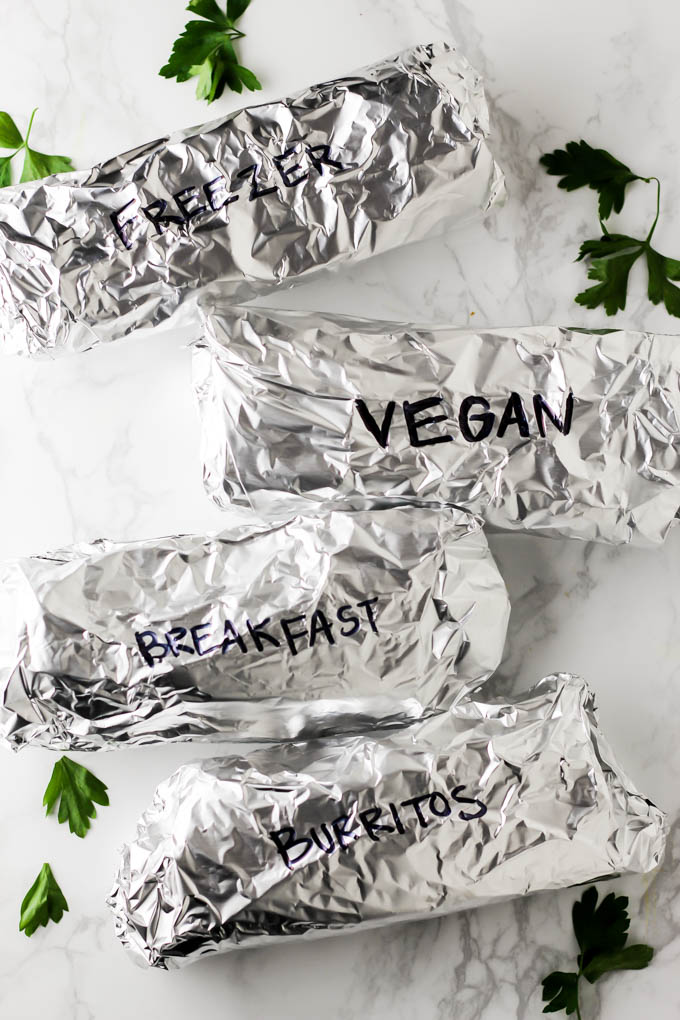 More Vegan Freezer Meal Ideas
If you're a fan of meal prep, or just want to try it out to save yourself some time in the kitchen, these recipes make for great freezer meals that reheat well and still taste just as delicious!
Print
How to make:
Vegan Breakfast Burrito
Save time in the morning by grabbing a homemade Vegan Breakfast Burrito from the freezer! It's the best vegan freezer meal to prep for the AM!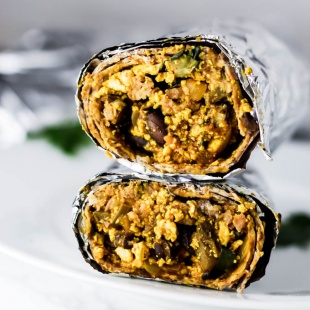 Ingredients
1

14-ounce package extra-firm tofu, drained

1

onion, diced

3

cloves garlic, minced (about

1 1/2 teaspoons

)

1 cup

potato, diced (any variety)

1 cup

mushrooms, diced

1

15-ounce can black beans, drained and rinsed

1 cup

salsa

1/4 cup

nutritional yeast

2 teaspoons

chili powder

1 1/2 teaspoons

ground cumin

1 teaspoon

salt

3/4 teaspoon

ground turmeric

1/2 teaspoon

black pepper

1/4 teaspoon

ground cayenne pepper (optional)

2 cups

kale or spinach, finely chopped

8

whole-wheat or gluten-free tortillas
Instructions
To drain the tofu, wrap in several paper towels; place in the sink. Place a heavy object (such as a large pot with a heavy weight inside) on top of the tofu to press the water out. You can also use a tofu press. Let the tofu drain for 15 minutes.
In a large skillet or wok, add the onion. Cook for 5-7 minutes until they become translucent. Add garlic; cook for 2 minutes, stirring.
Add potato and mushrooms; stir. Cook for 10-15 minutes, until potato is fork tender. Crumble the tofu into small pieces and add to the pot; cook for 5 minutes.
Add black beans, salsa, nutritional yeast, chili powder, cumin, salt, turmeric, pepper, and cayenne pepper. Stir to fully incorporate all ingredients; cook for 5 minutes. Add kale or spinach and stir; cook until wilted.
Scoop some of the filling and place in the center of a tortilla. Fold in the edges, then roll up. Wrap in foil. Repeat for all tortillas.
Store in the fridge or freezer. Defrost in the oven at 350F for 15 minutes or in the microwave.