These Peach Oatmeal Pancakes are a fun vegan breakfast treat. Top these oat pancakes with maple syrup for a sweet breakfast option. In partnership with The Quaker Oats Company; all opinions are my own.
Peach Oatmeal Pancakes
I'm excited to partner with Quaker to share this recipe for peach oatmeal pancakes to celebrate Valentine's Day. If you've been needing a sweet breakfast time recipe to enjoy, this is for you and your peach.
I don't think I'll ever get over how nutritionally awesome the humble, budget-friendly Quaker Oat is. A ½-cup serving of uncooked Quaker Oats is a good source of fiber, which may help support a healthy digestive system. Quaker Oats are versatile, and overall incredible.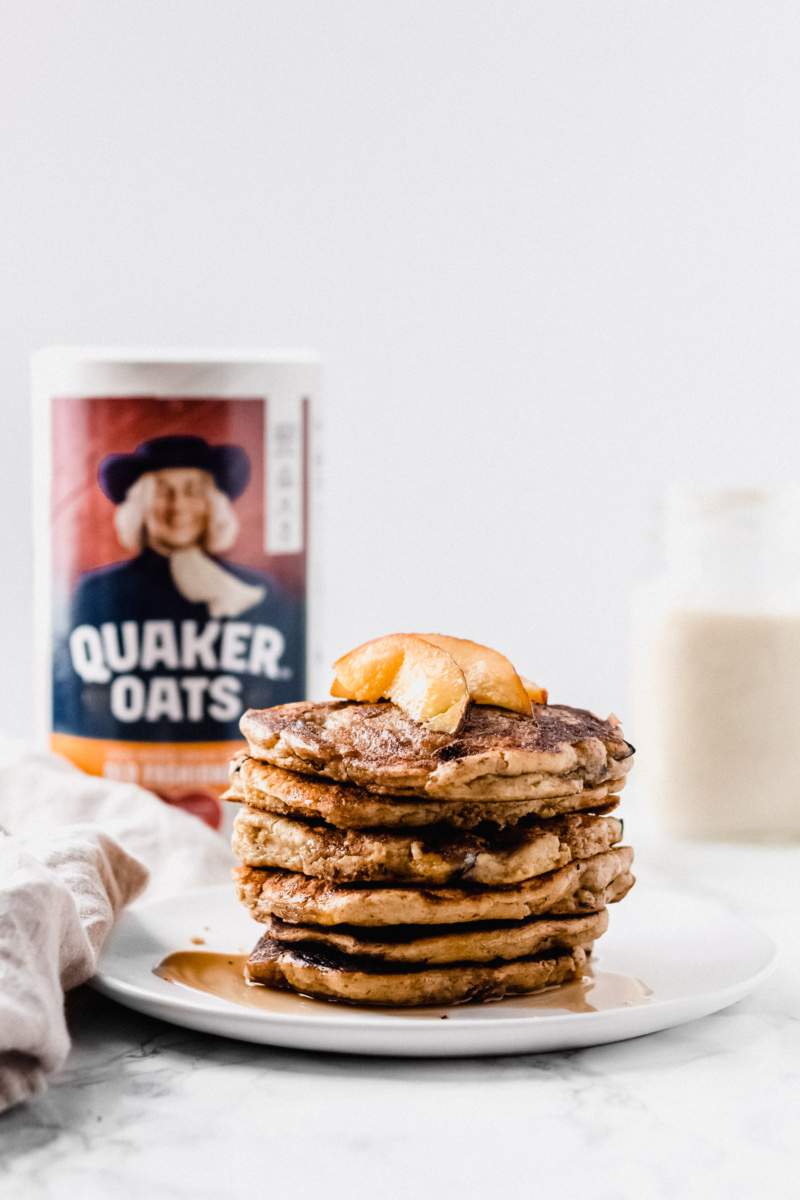 Ingredients for Peach Oat Pancakes
Thankfully, the ingredients for these vegan pancakes are simple, budget-friendly and probably in your kitchen right now. Here's what you'll need to make these peach oat pancakes:
Quaker Old Fashioned Rolled Oats. Quaker Oats are the base of these peach oatmeal pancakes. We're going to pulse them into a fine oat flour, which is a great way to add whole grains to pancakes, muffins,

crepes

, and more!
Peaches. To add the most delightful natural sweetness!
Flour. Just plain all-purpose flour.
Sugar. For sweetness.
Ground flax. Flax is used as an egg substitute to hold these pancakes together.
Spices. You'll need the common baking spices like cinnamon, salt, vanilla, baking powder, and baking soda.
Non-dairy milk. Any unsweetened variety works.
Oil. Canola oil works best here since it has a neutral flavor.
This recipe can be made vegan if you choose all vegan ingredients.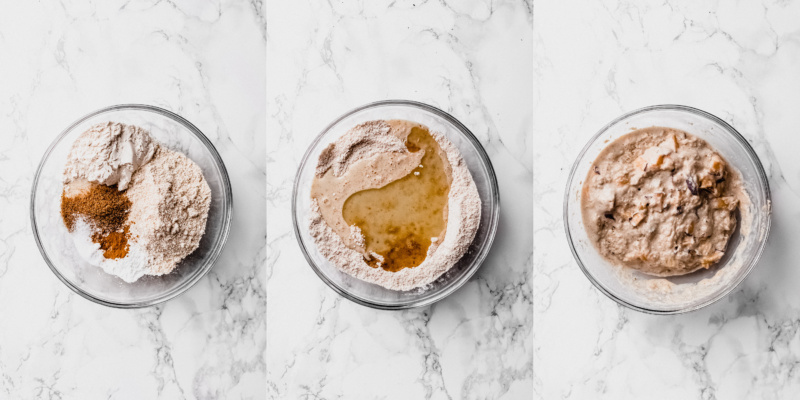 How to Make Oatmeal Pancakes
First, we'll make oat flour. Simply blend Quaker Oats in a blender or food processor until you get a fine flour.
Then, we'll add the oat flour and the remaining dry ingredients to a bowl. Add the wet ingredients, then mix. You don't want to overmix or the pancakes will come out tough and rubbery! Finally, very gently fold in the peaches.
It's important to let the batter sit for a few minutes to allow the flax seeds to gel up in the batter.
Then, we'll cook each pancake for about 3-5 minutes on each side. Oh, don't forget a drizzle of maple syrup on top!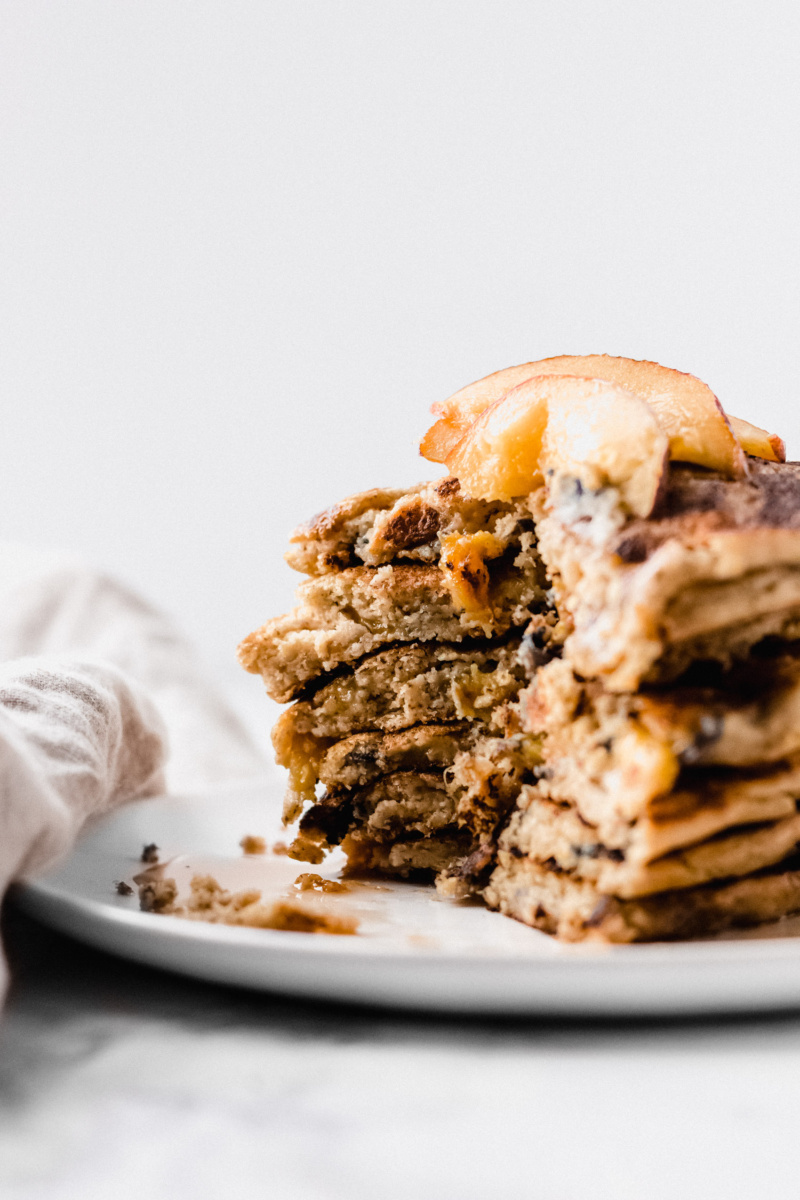 Tips for Making Vegan Pancakes
If you want to make these peach oatmeal pancakes like, right now, but you don't have any ground flax, here are some other egg substitutes:
1/4 cup unsweetened applesauce
1/4 cup mashed banana
1 tablespoon chia seeds
1/4 cup non-dairy yogurt
Also, if you want to add more whole grains to these oat pancakes, feel free to substitute the all-purpose flour with white whole wheat flour.
Finally, you can really use any fruit you want to substitute the peaches! Blueberries, strawberries, plums… you name it, you could use it in this recipe.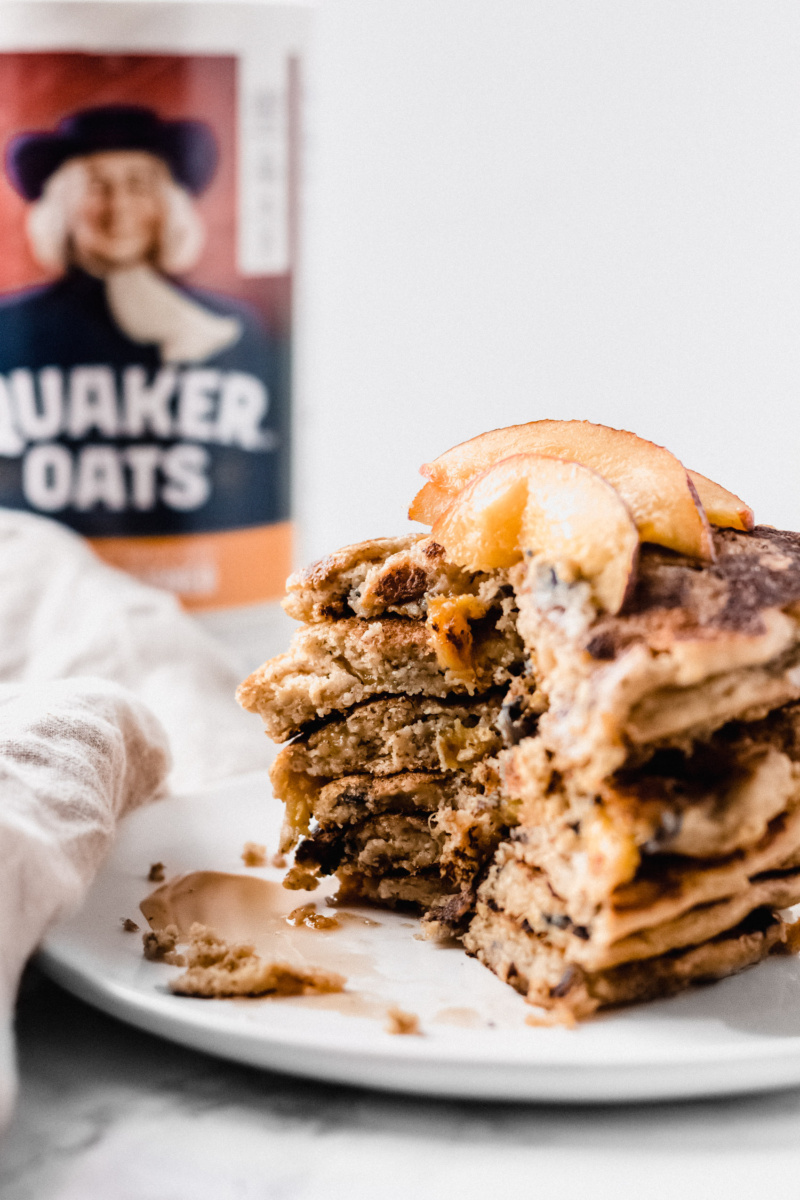 Print
How to make:
Peach Oatmeal Pancakes
These Peach Oatmeal Pancakes are a fun vegan breakfast treat. Top these healthy oatmeal pancakes with maple syrup for a sweet breakfast.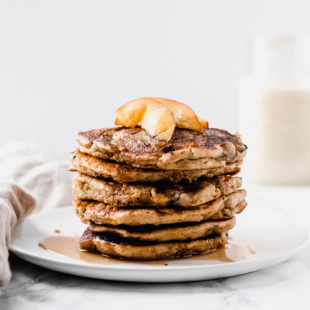 Ingredients
1 cup

Quaker Old Fashioned Rolled Oats

1/2 cup

all-purpose flour

2 tablespoons

sugar

1 tablespoon

ground flax

2 teaspoons

 baking powder

1/2 teaspoon

 baking soda

1/4 teaspoon

 ground cinnamon

1/8 teaspoon

 salt

3/4 cup

unsweetened non-dairy milk

1/4 cup

canola oil

1 teaspoon

 vanilla extract

1

peach, finely chopped
Your favorite syrup, for topping
Instructions
Preheat a medium skillet or griddle over medium heat. Lightly grease with cooking spray.
In a blender or food processor, add oats. Blend until a fine flour forms.
To a large bowl, add oat flour, all-purpose flour, flax, baking powder, baking soda, cinnamon, and salt. Stir to mix. Add milk, oil, and vanilla. Whisk to combine; do not overmix.
Add peaches; gently fold into batter. Let the batter sit for 5 minutes.
Pour 1/4 cup of batter in the pan to form each pancake. Cook on one side until bubbles begin to form, about 3-5 minutes. Flip and cook about 3-5 more minutes. Repeat until batter is used up.
Serve with a drizzle of your favorite syrup.
Thanks to Quaker for sponsoring this post! I love working with brands whose products I really love and would honestly recommend. Thank you for your support!