These Peach Pancakes feel like eating peach cobbler for breakfast! They're the fluffiest oat flour pancakes topped with lots of sweet peaches! In partnership with The Quaker Oats Company; all opinions are my own. (Originally published February 9, 2021)
Oat Flour Peach Pancakes
I'm excited to partner with Quaker to share this recipe for a delicious stack of oat flour pancakes to celebrate Valentine's Day. And this isn't just any ol' stack of oat flour pancakes. These are peach pancakes, and they taste just like peach cobbler. If you've been needing a sweet breakfast time recipe to enjoy, this is for you and your peach.
I don't think I'll ever get over how nutritionally awesome the humble, budget-friendly Quaker Oat is. A ½-cup serving of uncooked Quaker Oats is a good source of fiber, which may help support a healthy digestive system. Quaker Oats are versatile, and overall incredible. They're perfect for making a fluffy stack of pancakes.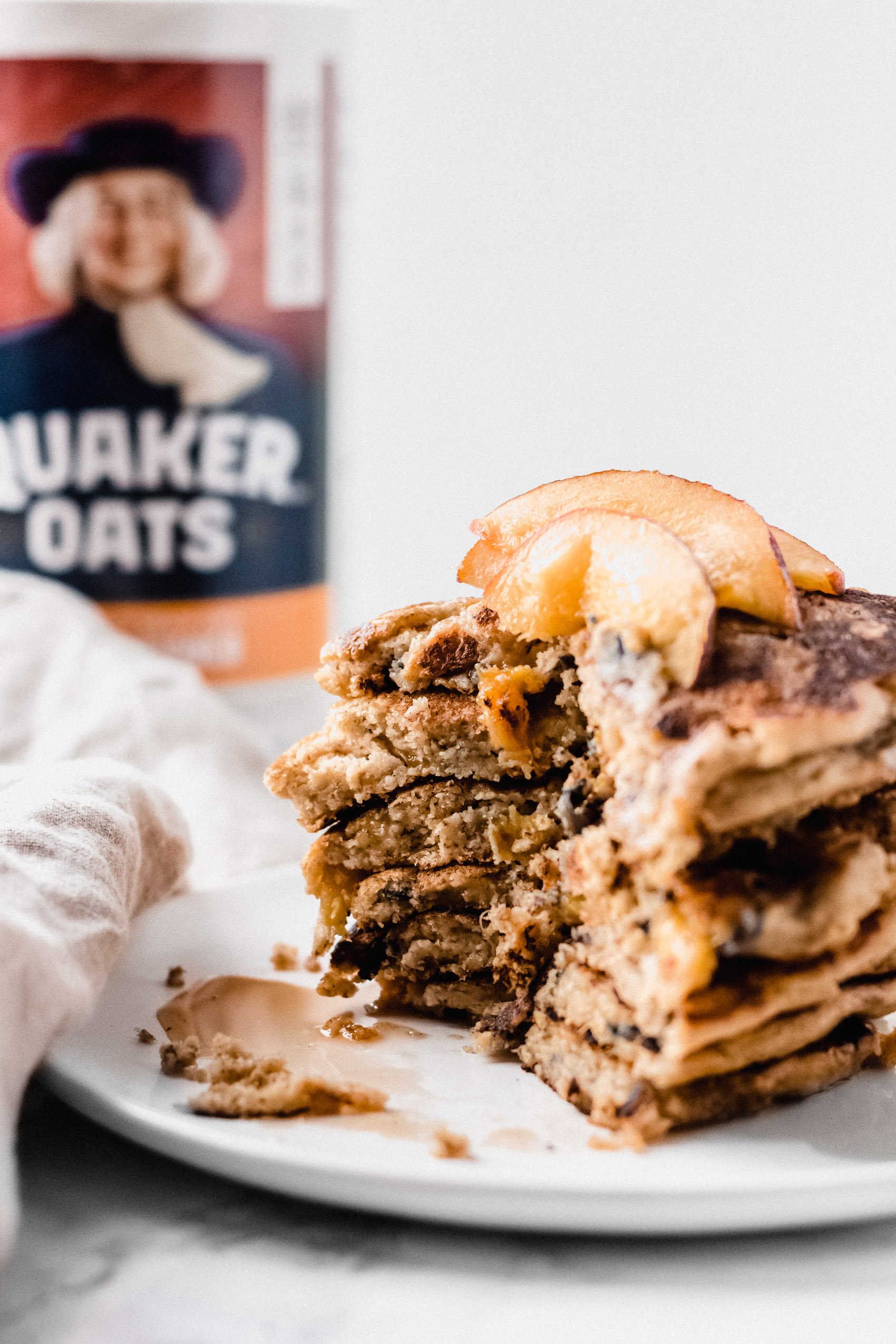 Ingredients for Peach Pancakes
Thankfully, the ingredients for these vegan oat flour pancakes are simple, budget-friendly and probably in your kitchen right now. Here's what you'll need to make these peach cobbler pancakes:
Quaker Old Fashioned Rolled Oats. Quaker Oats are the base of these peach oatmeal pancakes. We're going to pulse them into a fine oat flour, which is a great way to add whole grains to pancakes, muffins,

crepes

, and more!
Peaches. To add the most delightful natural sweetness!
Flour. Just plain all-purpose flour.
Sugar. For sweetness.
Ground flax. Flax is used as an egg substitute to hold these pancakes together.
Spices. You'll need the common baking spices like cinnamon, salt, vanilla, baking powder, and baking soda.
Non-dairy milk. Any unsweetened variety works.
Oil. Canola oil works best here since it has a neutral flavor.
This recipe can be made vegan if you choose all vegan ingredients.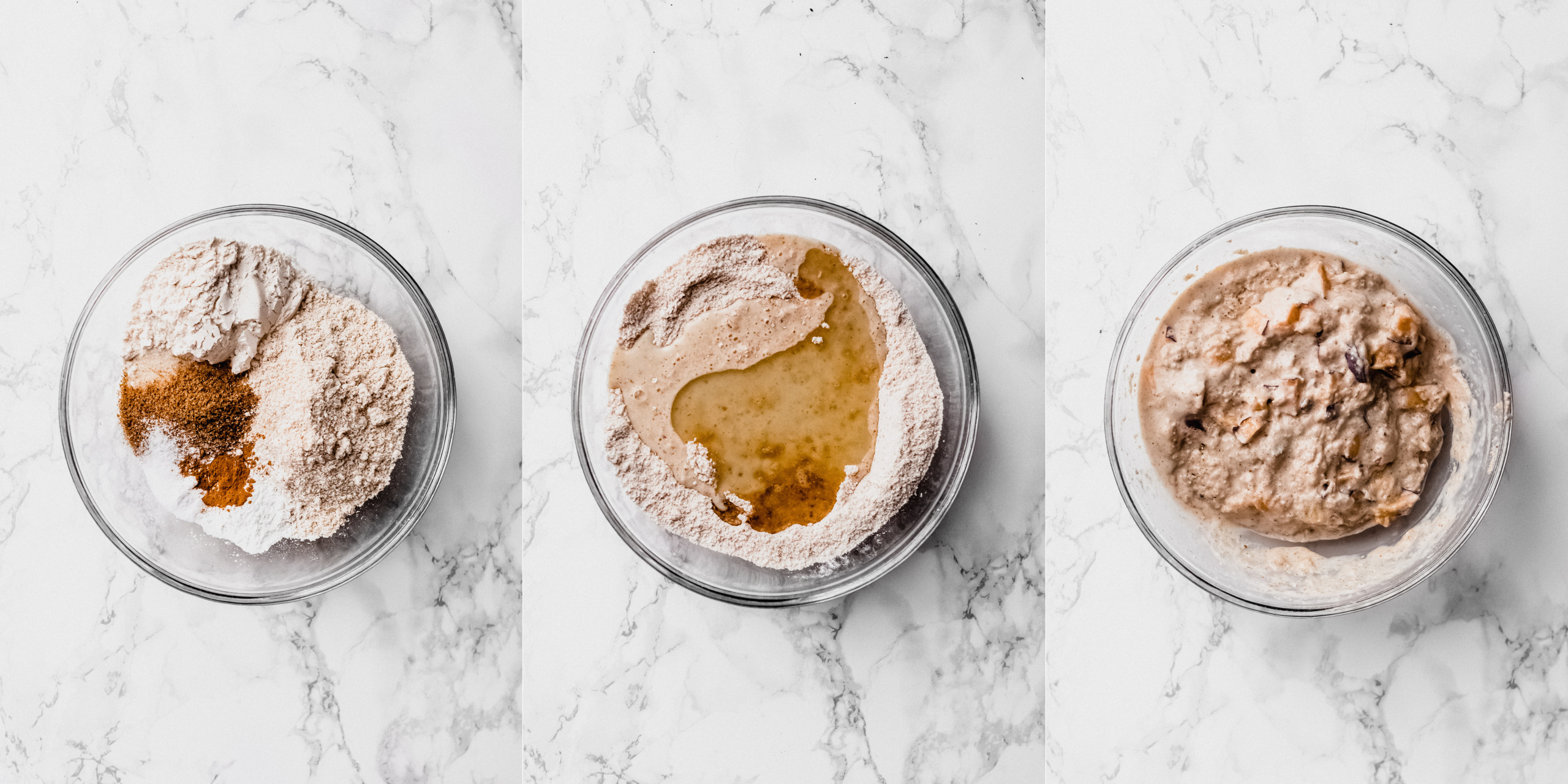 How to Make Peach Oat Pancakes
We're blending up oats to make oat flour for these peach pancakes. Not only does this help us pack in a bit of extra protein and fiber, but oats also add a delicious nuttiness to our pancakes that perfectly complements the super juicy peaches. It's actually super easy to make your own oat flour at home, so grab your trusty Quaker Oats! Here's how to make a batch of these oat flour pancakes:
Preheat a medium skillet or griddle over medium heat and grease it with cooking spray.
Blend oats in a blender or food processor until a fine flour forms. This is our oat flour!
Add your dry ingredients to a bowl and mix well to combine. Then add in all the wet ingredients. Be careful not to overmix!
Add your peaches and gently fold them into the oat flour pancake batter.
Cook your pancakes for about 3-5 minutes on each side.
Serve with extra peaches on top and a drizzle of your favorite syrup.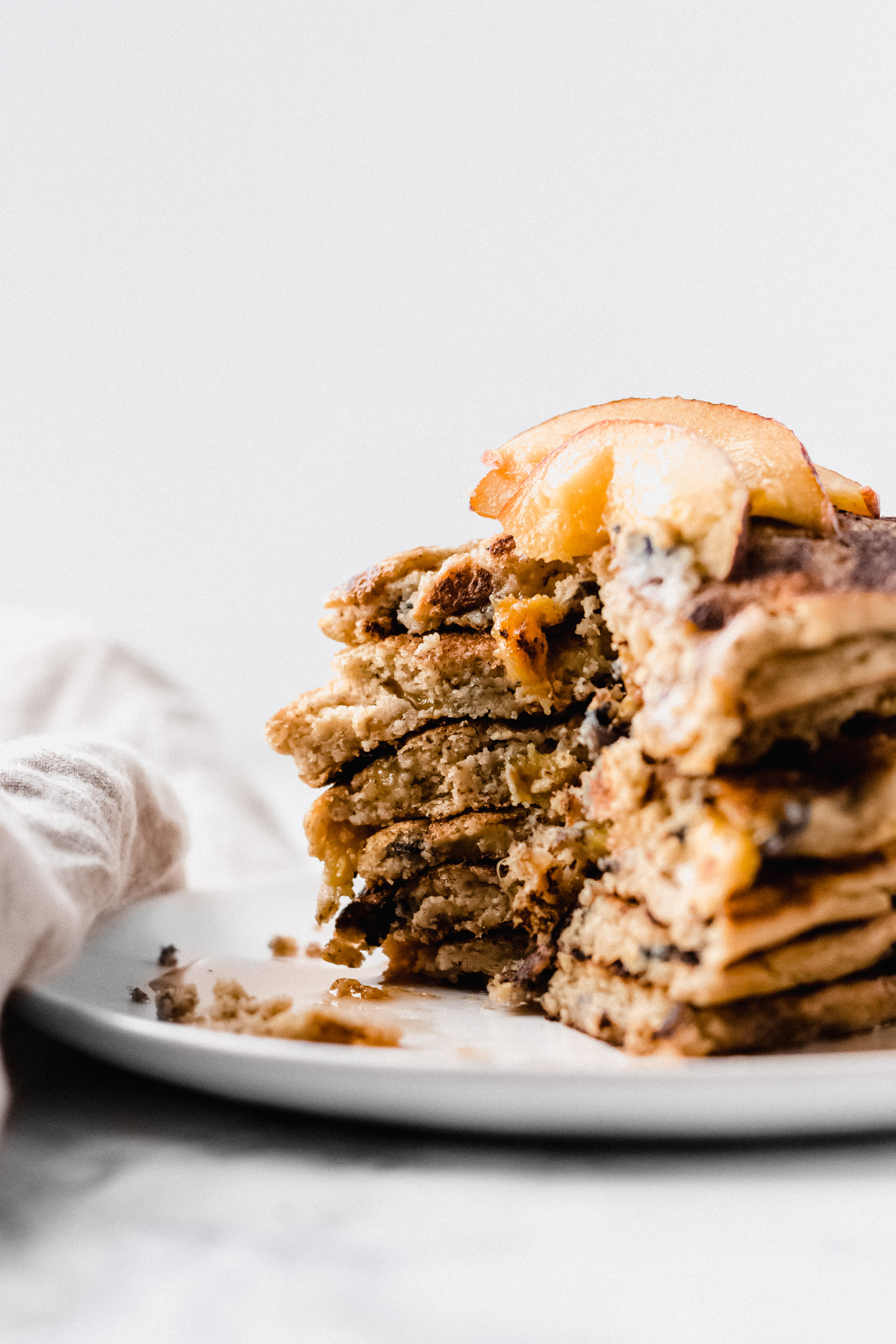 Tips for Making Oat Pancakes
These oat flour pancakes are pretty simple to make, but I have a few tricks up my sleeve to make sure they turn out perfect every single time you make them! Here are a few things to keep in mind to make sure you end up with the most delicious stack of peach pancakes possible.
What if I don't have flax meal? That's okay! Other egg substitutes you can try for these vegan peach pancakes are 1/4 cup of unsweetened applesauce, 1/4 cup of mashed banana, 1 tablespoon of chia seeds or 1/4 of non-dairy yogurt.
What if I don't want to use all purpose flour? I like the blend of oat flour and all purpose flour to create the fluffiest pancakes possible, but you could also sub out the all purpose flour for a whole wheat flour for more whole grain goodness, try using all oat flour, or use a 1:1 gluten-free flour blend.
The peaches at the store weren't ripe! Use any other fruit! Blueberries, strawberries, plums, you name it! Any fruit you like works!
My pancakes turned out really dense! Next time, watch your mixing! Since we're using all-purpose flour, it's really important to not over-mix the batter. The more we mix, the more gluten we will develop, and the tougher your pancakes will be.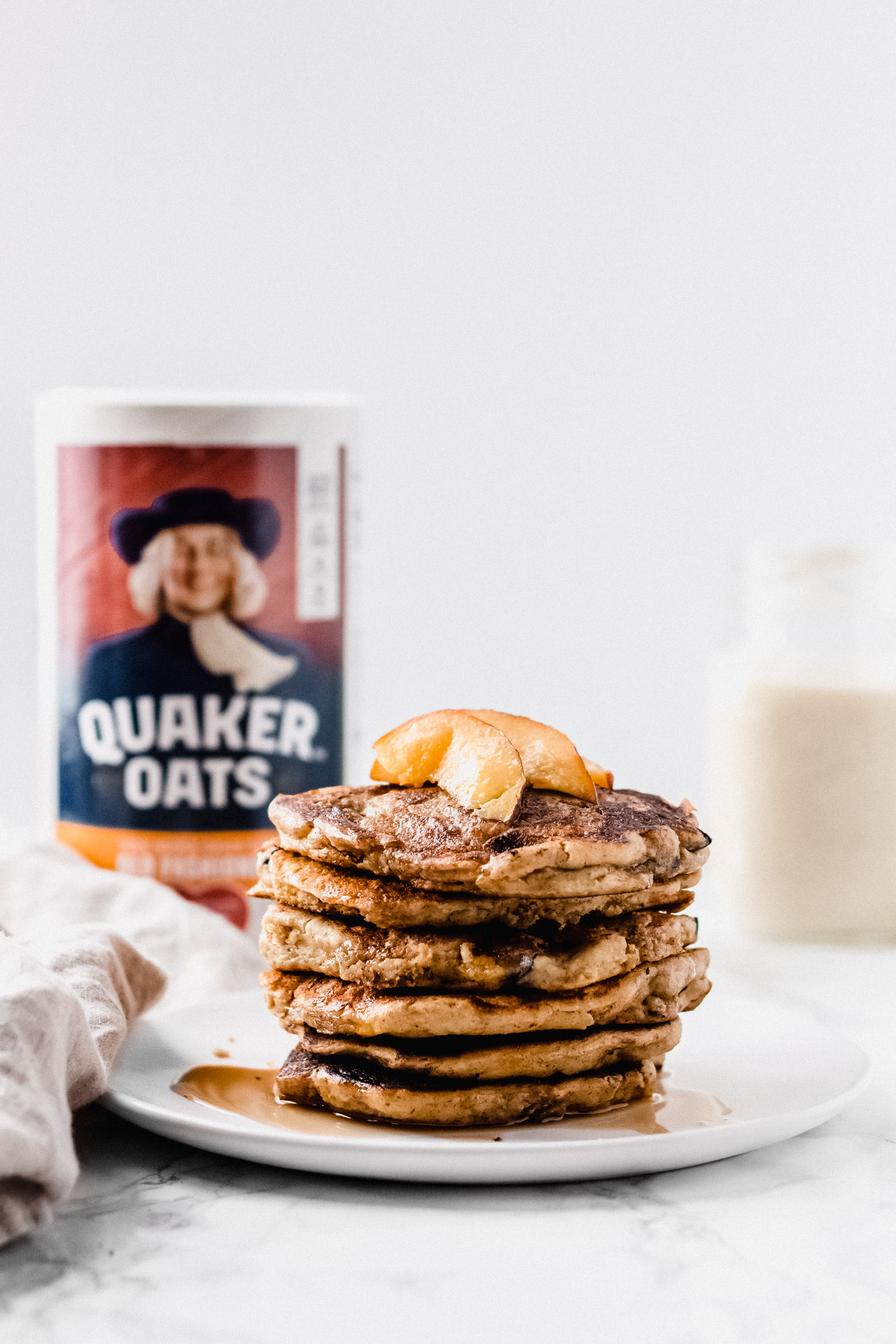 More Vegan Pancake Recipes
If you can't already tell by the number of vegan pancake recipes I have on the blog, then I'll tell you right now that I'm a big pancake lover. So if these peach pancakes aren't quite your style, I've got plenty of other vegan pancake recipes for you to try! From classic vegan buttermilk pancakes, to red velvet pancakes and even savory chickpea pancakes, I've definitely got ya covered on the pancake front. Try out these other vegan pancake recipes after you try out these peach cobbler inspired ones!
Print
How to make:
Oat Flour Peach Pancakes
These Peach Pancakes feel like eating peach cobbler for breakfast! They're the fluffiest oat flour pancakes topped with lots of sweet peaches!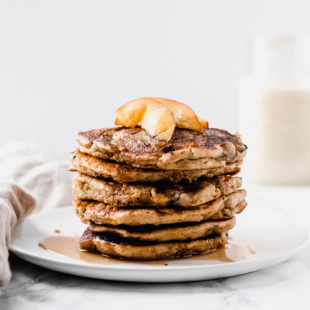 Ingredients
1 cup

Quaker Old Fashioned Rolled Oats

1/2 cup

all-purpose flour

2 tablespoons

sugar

1 tablespoon

ground flax

2 teaspoons

 baking powder

1/2 teaspoon

 baking soda

1/4 teaspoon

 ground cinnamon

1/8 teaspoon

 salt

3/4 cup

unsweetened non-dairy milk

1/4 cup

canola oil

1 teaspoon

 vanilla extract

1

peach, finely chopped
Your favorite syrup, for topping
Instructions
Preheat a medium skillet or griddle over medium heat. Lightly grease with cooking spray.
In a blender or food processor, add oats. Blend until a fine flour forms.
To a large bowl, add oat flour, all-purpose flour, flax, baking powder, baking soda, cinnamon, and salt. Stir to mix. Add milk, oil, and vanilla. Whisk to combine; do not overmix.
Add peaches; gently fold into batter. Let the batter sit for 5 minutes.
Pour 1/4 cup of batter in the pan to form each pancake. Cook on one side until bubbles begin to form, about 3-5 minutes. Flip and cook about 3-5 more minutes. Repeat until batter is used up.
Serve with a drizzle of your favorite syrup.
Thanks to Quaker for sponsoring this post! I love working with brands whose products I really love and would honestly recommend. Thank you for your support!