Complete your dinner with this Easy Quinoa Salad with Tomatoes & Spinach as a healthy side dish! It's vegan, gluten-free, and also makes a great lunch.
Simple is always best.
I love blogging because it keeps me creative. It keeps me on my toes and it keeps my brain gears churning away. I've always loved art, creating, music…anything that I create hands-on. I'm doing the same thing now, just in the kitchen.
But blogging also makes me feel behind sometimes. It can make me feel inadequate, like I'm doing will never be enough to get me noticed. It makes me feel like I have to constantly create, create, create something new and bold that's never been done before. Something so inventive and out-there that it just has to catch people's attention.
But simple is always best.
That 24/7 full throttle rat race to the "success" line (which doesn't even exist) gets exhausting. It's common for me to work into the late hours of the night and still feel like I didn't do anything productive. I have big ideas but little confidence in my ability to make them happen. I can lose my drive and confidence and feel like this is all useless.
But then I come back to the simple things.
The simple reasons why I wanted to do this blog: to help people cook healthier food that makes them feel good. The simple recipes I love so much: burrito bowls, stir-fries with anything in the fridge, oatmeal with fruit & peanut butter. The simple phrase I should always believe in: I can do it.
Simple is always best.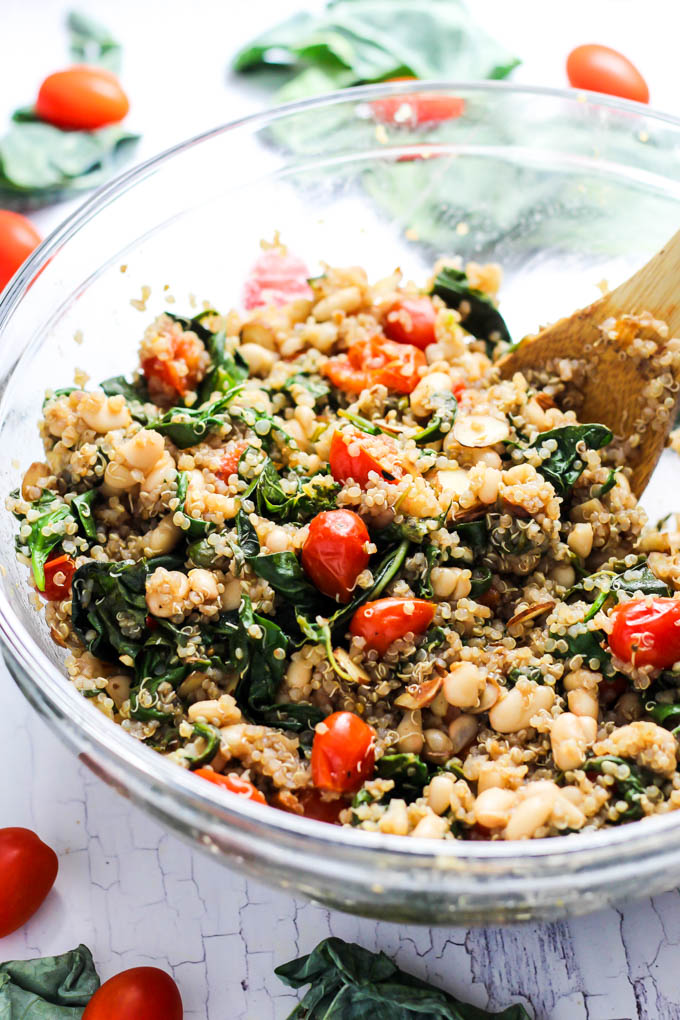 I love the creative side of me, the side that can think to bread cauliflower steaks in vegan Parmesan and serve them over pesto zucchini noodles. But I also love the simple side, the side that shares an easy quinoa salad recipe because that's the food people actually want to cook & eat.
Most of you want to eat healthier, but don't know where to start. I get it. That's why I'm doing this. Because I talk to people every day who are exhausted by conflicting opinions about nutrition, recipes that take 6 hours to cook, and a $200 weekly grocery bill.
My job is to tell you that it's not complicated or expensive. It's simple. It's some fresh produce, dry beans, grains, and nuts/seeds. It's lots of water. It's grabbing an apple as a snack. It's roasting a ton of vegetables on Sunday to have throughout the week.
Simple is this easy quinoa salad made with ingredients you probably already have. Those are always the best meals anyway.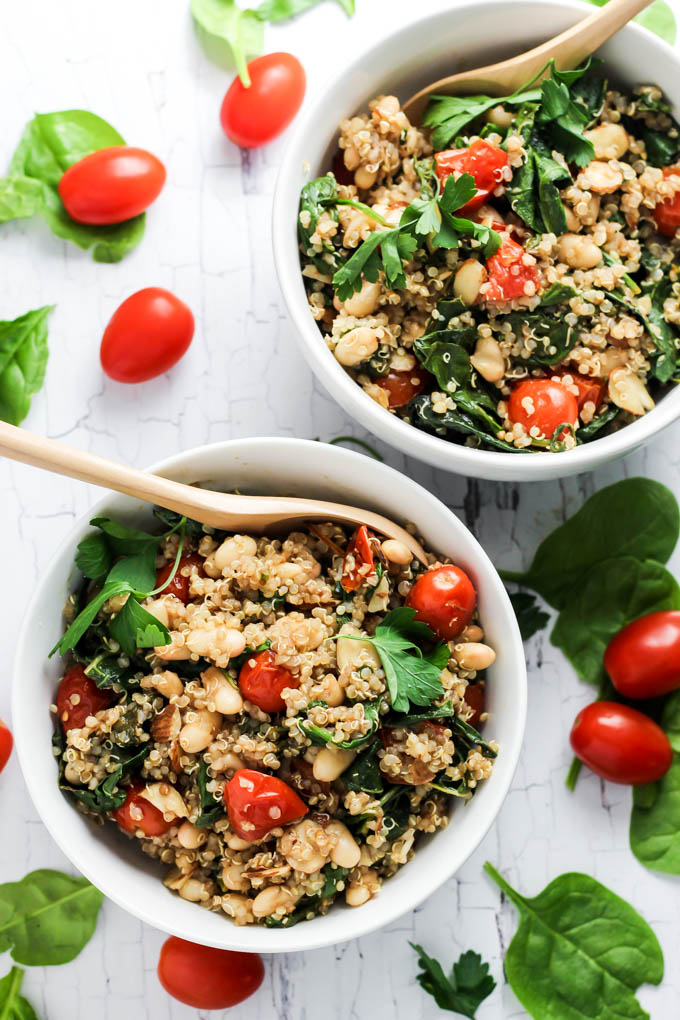 I always hesitate to post super easy recipes like this, but I know that you all need easy and realistic recipes for your real busy life. That's exactly what this easy quinoa salad is!
It's just a simple mix of quinoa, vegetables, beans, some almonds, and a light balsamic dressing. Done in under 30 minutes. Vegan & gluten-free. Oh, and it's also Christmas colors, which is always fun for this time of year.
I've been enjoying this easy quinoa salad as a side on my dinner plate, but I also think it would be a great light lunch on its own!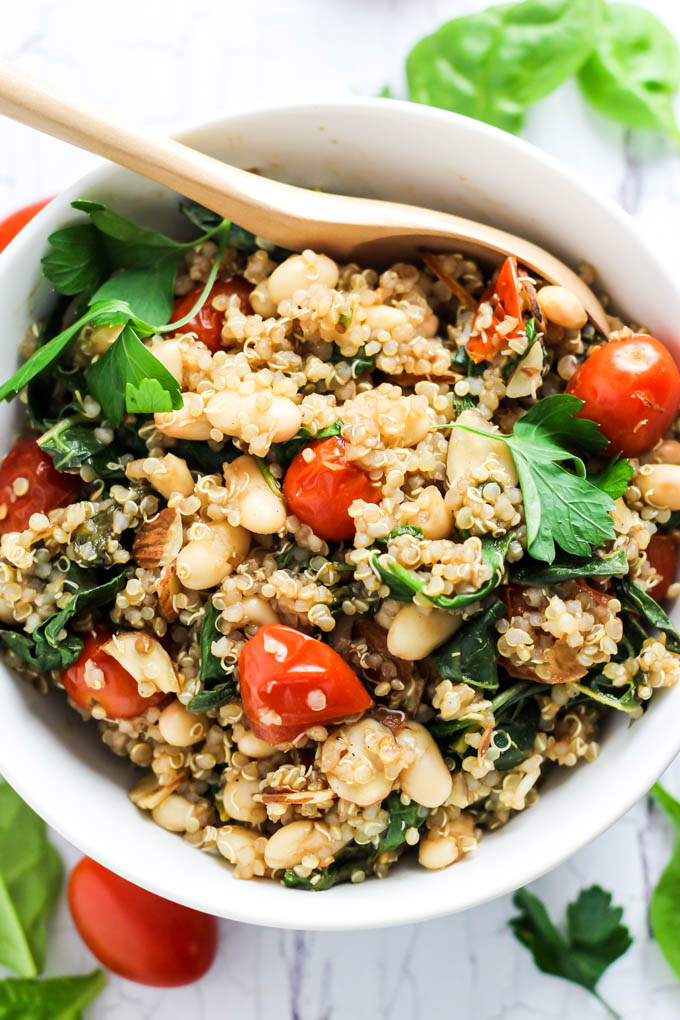 I hope some of you are able to serve this alongside your Christmas dinner this holiday season. And if you miss that, heck, make it any day of the year!
If you get to try this healthy, easy quinoa salad, I'd love to see a pic! Take a pic, post it on Instagram with the hashtag #emilieeats, and tag me @emilieeats.
My question for you today: When do you find yourself going back to the simple things in life?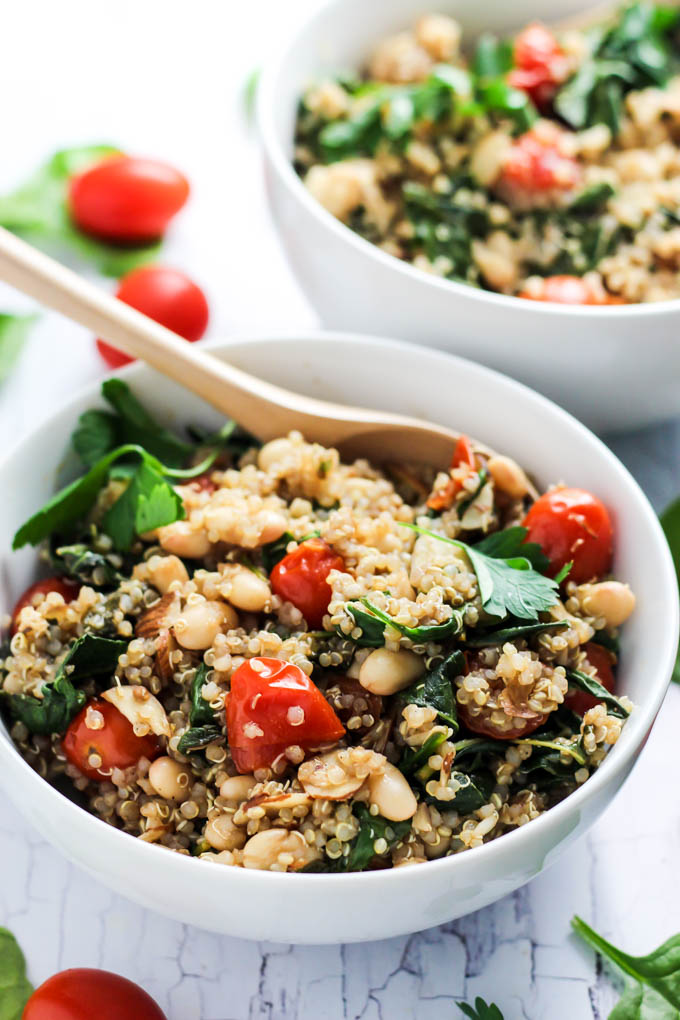 Print
How to make:
Easy Quinoa Salad with Tomatoes & Spinach
Complete your dinner with this Easy Quinoa Salad with Tomatoes & Spinach as a healthy side dish! It's vegan, gluten-free, and also makes a great lunch.
Ingredients
1/2 cup

dry quinoa

2 cups

cherry or grape tomatoes, halved

2 1/2 cups

spinach, chopped

1

15-ounce can white beans, drained and rinsed

1/3 cup

slivered almonds

1/4 cup

balsamic vinegar

1/2 tablespoon

maple syrup

1/2 teaspoon

garlic powder

1/4 teaspoon

salt

1/4 teaspoon

pepper
Instructions
In a medium saucepan over high heat, add quinoa and 1 cup water; bring to a boil. Cover, reduce heat to low, and simmer for 13-15 minutes. When done, fluff quinoa with a fork.
While the quinoa is cooking, heat a little water or oil (if using) in a skillet over medium heat. Add tomatoes; cook for 5 minutes, until tomatoes begin to burst. Add spinach; cook until wilted, about 5-7 more minutes, stirring continuously.
In a large bowl, add quinoa, vegetables, beans, and almonds. Stir to combine.
In a small bowl, add vinegar, maple syrup, garlic powder, salt, and pepper. Whisk to combine.
Pour dressing over the other ingredients. Stir to combine.