These Grilled Vegetable Portobello Mushroom Tacos are hearty, flavorful & easy to make! They're sure to amp up your taco night. (vegan & gluten-free) Made in partnership with Pompeian!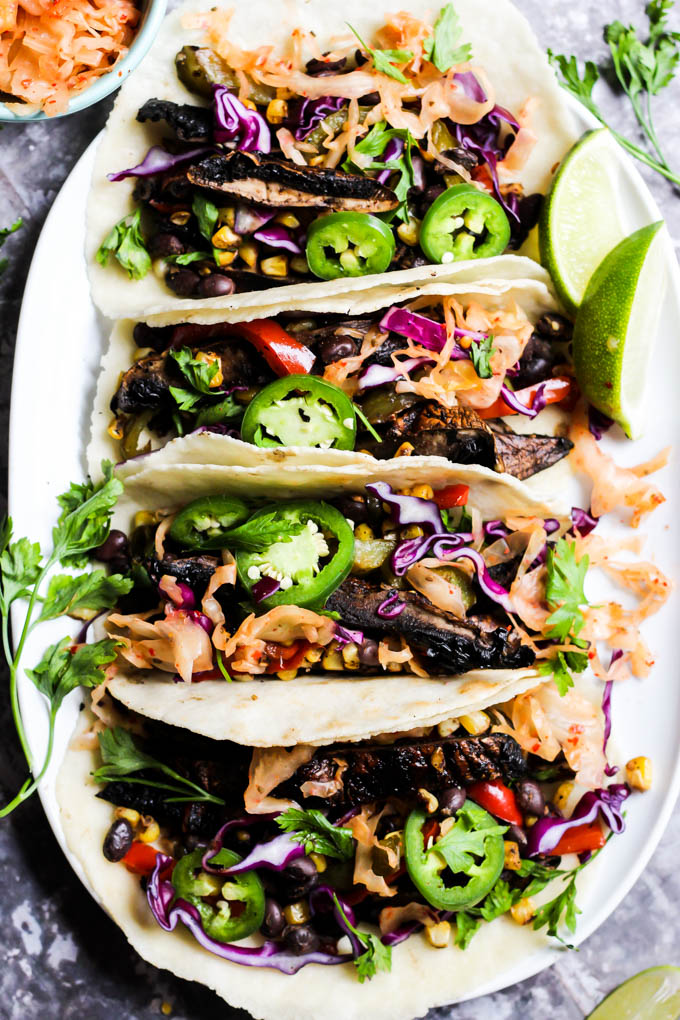 Are you a chronic future-planner? I can hopelessly spend hours planning out the next 1, 5, 10, 20 years – complete with every detail from where I'll be, to what work I'll be doing, to what plants will be planted on my porch. Literally.
I've always been this way, which can be good and bad. Good, because it makes me responsible and able to think about future consequences when I make a decision. Bad, because it keeps me from being present in the moment.
One example of this is apartment decorating. Oy vey.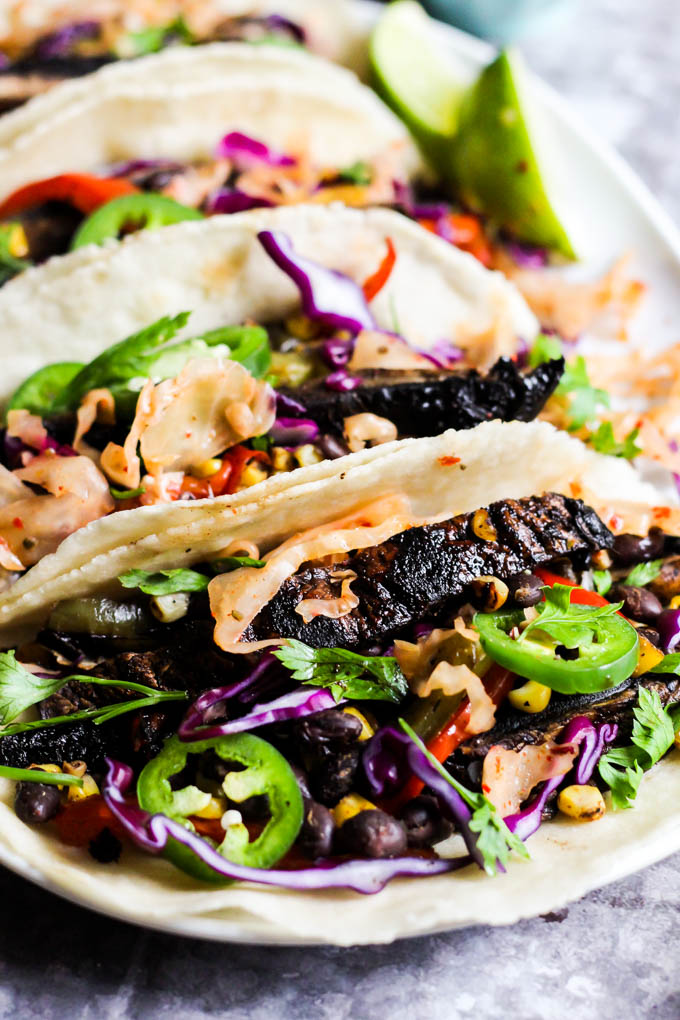 I love being in a space that is inspiring and comforting. I feel my best in bright, beautifully designed coffee shops. Obviously, I want my apartment to feel the same way! I'm moving in a couple weeks (agh) and have been planning the design for months. Obsessively. I've got a Pinterest board full of ideas and almost no time to get it all done, so it's kind of very stressful.
My mom taught me is that it's all a process. She has a gorgeous, brightly colored outdoor area with plants on plants on plants, and I always admire it when I go home. What she said to me was, Emilie, this didn't happen over night. This has taken me years to grow.
Leave it to your mom to teach you the best lessons.
I'm learning to let go of the expectation that everything will be perfectly decorated the week we move in. Maybe I don't have the open apartment with big, bright windows perfect for plants and a porch and vintage rigs right now, but one day I'll get there.
Something else I'd love to have on the porch of this future home? A grill. Because TACOS.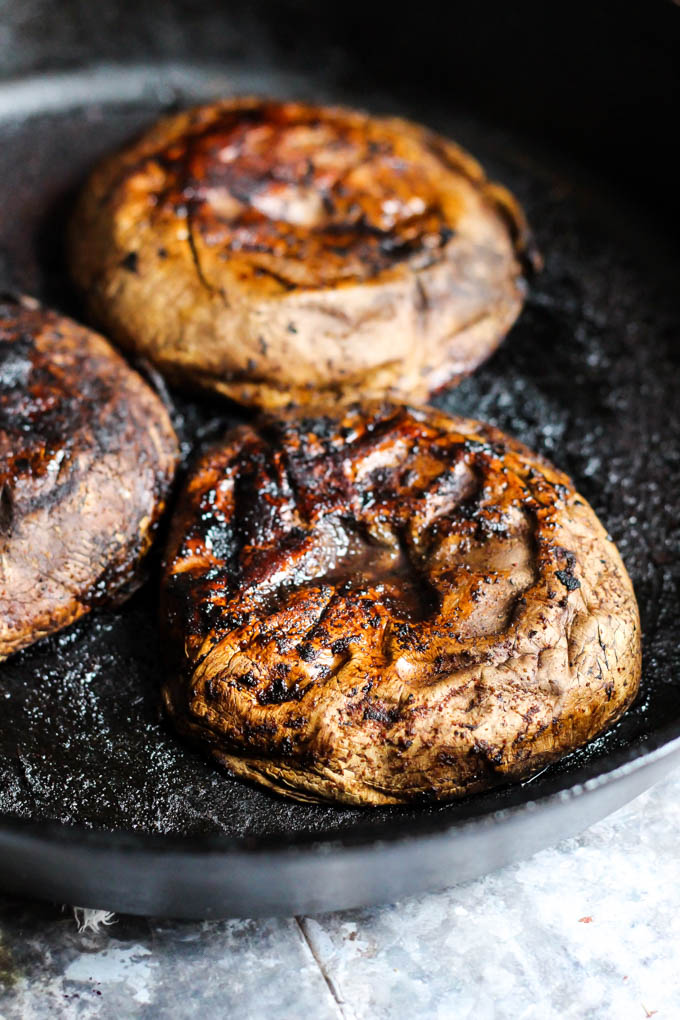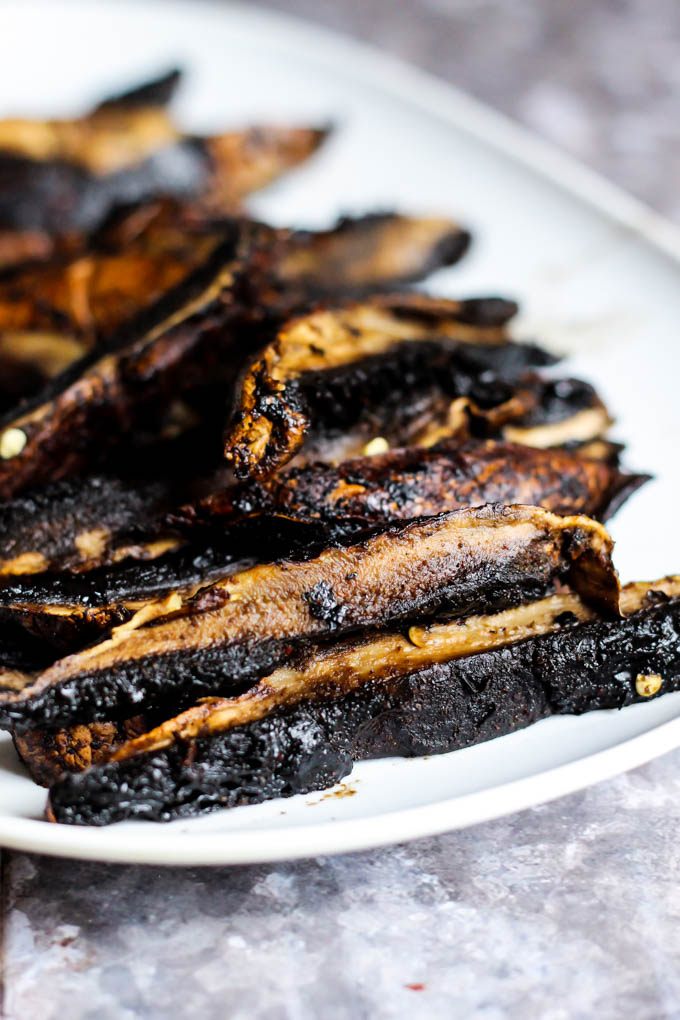 I'm beyond excited for you to try these tacos because 1. look at all those colors! and 2. summer is made for grilling. Seriously, what is summer without cracking open the grill and cooking up some veggie burgers?
But, if you're like me in a tiny apartment without a fancy grill, no worries! You can totally make these indoors. I recommend a cast iron skillet to really get that nice browning, but any skillet will do.
The *magic* in these tacos are the portobello mushrooms! Mushroom haters: listen up. You will love these. We're drenching them in a zesty balsamic marinade made with Pompeian Organic Balsamic Vinegar for maximum flavor, then throwing them on the grill (or skillet) to get nice and juicy. The Organic Balsamic Vinegar is made with grapes picked at the ripest moment, so you know it's the good stuff.👌🏼 When cooked, these mushroom caps have a texture that is quite "meaty," if you will, which is perfect for a hearty, healthy taco filling!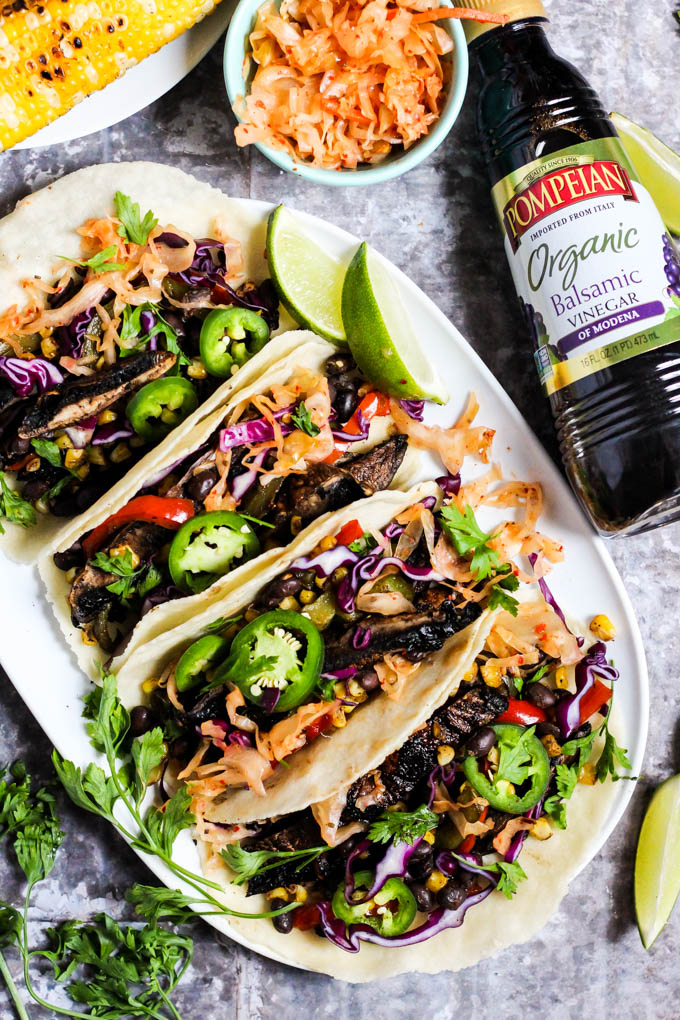 For the rest of the filling, I used grilled corn, bell peppers and black beans, but you can use any other vegetables you want to grill! Think zucchini, asparagus, sweet potatoes, etc.
For toppings, I went with red cabbage for crunch, jalapeño, lime juice, cilantro and KIMCHI. Have you tried it? It's Korean fermented vegetables that are spicy🔥 and oh-so-good for your gut bacteria, which are just some of the reasons why it's currently #TrendingInTheKitchen. Gotta get those probiotics wherever I can!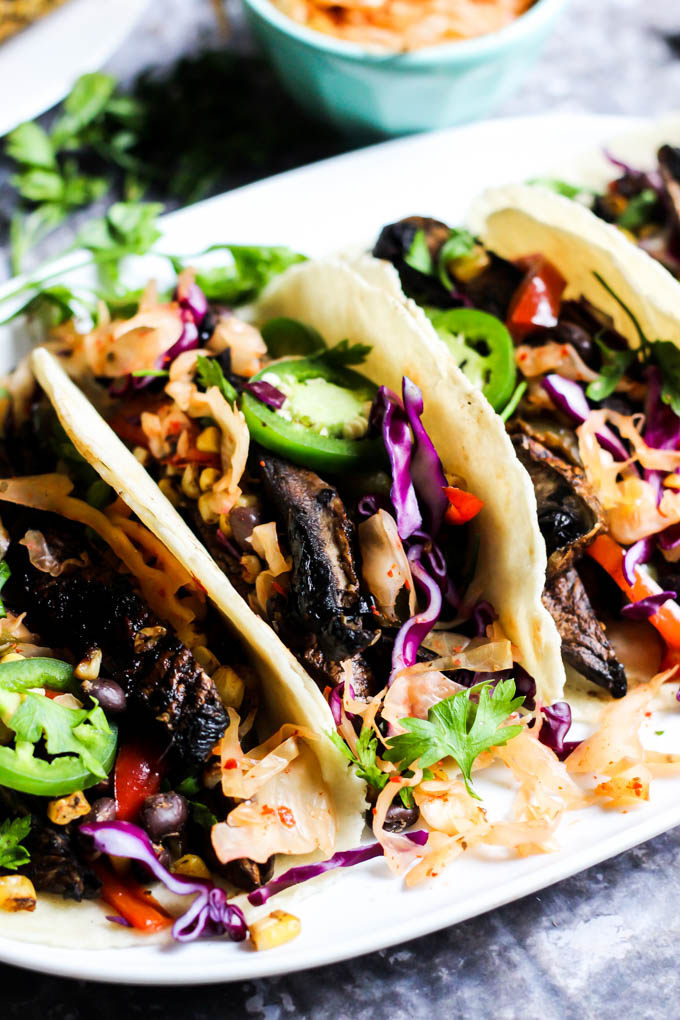 I'm eating these portobello mushroom tacos on repeat this week, and you totally should too. No pressure. But…TACOS. How can you say no?
Happy Taco Thursday! (<— not a thing, but totally making it a thing now)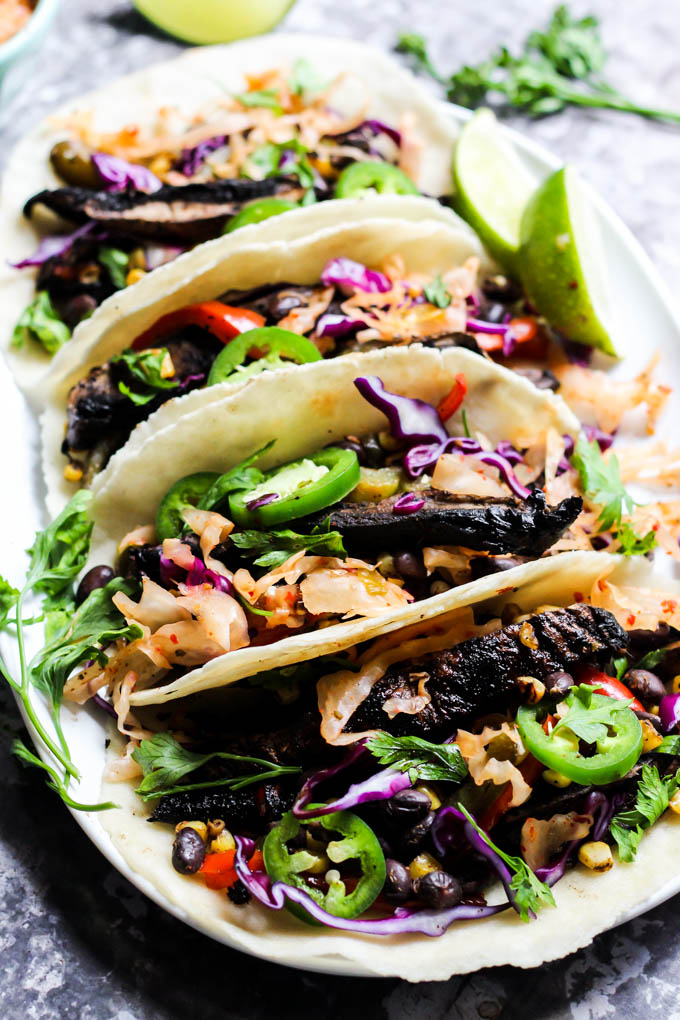 Print
How to make:
Grilled Vegetable Portobello Mushroom Tacos (vegan & gluten-free)
These Grilled Vegetable Portobello Mushroom Tacos are hearty, flavorful & easy to make! They're sure to amp up your taco night. (vegan & gluten-free)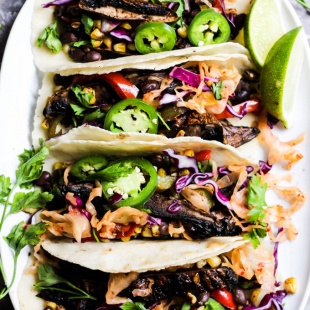 Ingredients
1/3 cup

Pompeian Organic Balsamic Vinegar

2

limes

1 teaspoon

chili powder

1 teaspoon

ground cumin

1/2 teaspoon

garlic powder

1/2 teaspoon

smoked paprika

1/2 teaspoon

salt

1/4 teaspoon

black pepper

3

portobello mushroom caps

2

ears corn

2

bell peppers, sliced

1

15-ounce can black beans, drained and rinsed

2 cups

red cabbage, thinly sliced

1 cup

kimchi

1

jalapeño, thinly sliced

2

limes, sliced into wedges

1 cup

fresh cilantro, chopped

8

–

12

corn or flour tortillas
Instructions
Heat outdoor grill or, if you don't have a grill, heat a skillet over medium heat.
In a large bowl or plastic bag, add balsamic vinegar, juice of 1/2 lime, chili powder, cumin, garlic powder, paprika, salt and pepper; stir to combine.
Add portobello mushrooms; toss to coat mushrooms. Let them sit for at least 15 minutes, flipping and stirring the mushroom caps.
Remove corn husks. Using a grill pan, grill corn and bell peppers until browned, about 10-15 minutes. Rotate corn to brown on all sides. (If you don't have a grill, sauté peppers until tender and browned, about 10 minutes. Place corn on a baking sheet, broil for 5 minutes, flip, then broil for 5 more minutes.)
Place mushrooms on the grill, or a skillet. Cook for 10-15 minutes, until browned.
Place black beans, cabbage, and kimchi in individual bowls to prepare for serving.
When the vegetables are fully cooked, remove from grill or skillet. Slice mushrooms thinly. Cut corn off the cob. Place all vegetables on a serving plate.
To make a taco, place a tortilla on a plate. Add mushrooms, bell peppers, corn, black beans, cabbage, and kimchi. Top with jalapeño slices, a squeeze of remaining lime juice, and a sprinkle of cilantro.
Thanks to Pompeian for sponsoring this post! I love working with brands whose products I really love and would honestly recommend. Thank you for supporting this blog that I love oh-so-much!